Best Fly Fishing Flies Reviewed & Rated for Quality
last updated
Jul 25, 2019
When people think of fly fishing, they usually think of the rod, the line, and of course, the fish. However, there's one aspect of fly fishing that's just as important as those other three: the fly. This may confuse the uninitiated since it's widely agreed upon that fishing uses bait. This is true, but a fly is bait of a different stripe. Whereas bait is what you use to catch bigger fish by mimicking the appearance of smaller fish, a fly is meant to look like, well, almost every type of food that a fish eats; small fish, bugs, worms, and all kinds of other stuff depending on the type of fly you're using. This means you have a better chance of catching a wider variety of fish. The following entries can be considered the 10 best flies to start out with for maximum effect.
In a Hurry? The test winner after 11 hrs of research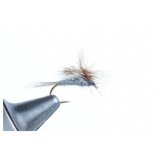 Parachute Adams Dry
Why is it better?
Can be used year-round
Versatile appearance
Commonly owned among fly fishers, so the price is usually rather low due to low demand
Can be used on many types of fish, but is perfect for trout
In a
Hurry? Editors choice: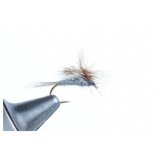 Test Winner: Parachute Adams Dry

3
Researched Sources
9k
Reviews Considered
11
Hours Researching
10
Products Evaluated
Model
Durability
Versatility
Style
Weight
By Default
In Depth Review Top 10
Parachute Adams Dry
Hare's Ear Nymph
The Rainbow Warrior
San Juan Worm
Royal Wulff
Zebra Midge
Pheasant Tail Nymph
Bead Head Wooly Bugger
Blue Winged Olive
Caddis Elk Hair
Table of contents
Criteria Used for Evaluation
Expert Interviews & Opinions
Frequently Asked Questions
Sources
10 Best Fly Fishing Flies
Criteria Used for Evaluation


Model
The question you should always ask before you attach your fly is: which one do I need? There are three different types of flies commonly used by fly fishers, each having their strengths, weaknesses, and proper time and place of use. They are as follows,
Dry Fly
This is the ideal fish for fly fishing for trout. Trout eat primarily underwater, but they also love eating insects by jumping out of the water and catching the food in its mouth in midair. So a dry fly makes for a fun experience since dry flies are called such by their ability to rest atop the water. So, a fish swimming below looks up, sees a delectable caddis fly, leaps out to eat it, and gets caught in your trap in the process. While trout can be caught with any of the three types, fly fishers prefer dry flies purely for the fun factor of it.
Nymph
Not only do trout primarily eat underwater but they have a particular taste for the early stages of insects including mayflies, caddis, or stoneflies. This stage is known as the nymph, and the fly fishing version of the same name is about the same size, and unlike the dry fly, is meant to rest near the bottom of the water, where the aforementioned insects spend the majority of their nymph stage of development. As such, when a trout comes swimming by for a snack, it'll scoop up the fly and you'll have caught it.
Streamer
When you fish with a streamer fly, make sure to have a heavier weight for the tippet. Because fish tend to hit streamer flies hard and fast. Streamers are meant to resemble insects that are fast and tend to get away easily. So the fish have trained themselves to attack the moment they have the bug in their sights and they can squeeze off an attack. The best way to fish with a streamer is by casting the line out into a lake, usually the part that looks like it has the most trout. You then strip your line in short or long pulls, causing the streamer to move and draw attention. Keep doing this until you get a bite.


Durability
If the catch fails at the moment of truth because your hook snapped off in the fish's mouth. The hook used to make the fly should always be considered a top priority because it's going to be what helps you bring the fish in after catching it. Most fish hooks are made of steel, so them breaking is unlikely, but it can happen under the right circumstances.
In a more general sense, the durability of the fly should always be a subject of interest. The reasons for this are fairly obvious. Clearly, we want the flies we cast out to actually work properly, not unravel as time goes on, etc. In a majority of cases, however, this is not a problem. Manufacturers have been at this for a long time and know-how to make these things to last.


Versatility
What does this mean? Well, look at the top spots on this article, one of the main pros of the entries up there is how they can be used in various different situations. The best ones can be used at any point in the year. And they can also be used against any kind of fish that's looking for something to snack on. Versatility is king because that means you don't have to spend as much on more flies.


Style
The presentation of a fishing fly refers to the ripple effect, sound, and general impact they have upon hitting the water after casting. The presentation of your fly is incredibly important because the idea of a fishing fly is to replicate the appearance of whatever insect or fish your fly is supposed to represent as much as possible. So you need to make sure your fly doesn't hit the water too hard. Many things determine the presentation of the fly, most of which will be on this list, but the important thing to remember is that subtlety is key when fly fishing, so your presentation should always be considered.
But getting it out there is only half of the battle. The other half is making sure it can fool the fish you're planning to catch. How you determine this is simple: does it or does it not look like something the fish normally eats. In the case of trout, this may be the caddis fly, or aquatic worm, or some other insect or creature that the fish in question loves to eat. The fly needs to resemble these foods as long as possible until the fish bites down on it, letting you reel it in. How well the fly in question resembles the fish determines whether or not they can be included among the all-time great fishing flies.


Weight
There are three weights you must consider when putting together the perfect fishing rod. There's the weight of the rod, the weight of the fishing line, and finally, the weight of the fly. The weight of the fly determines a lot, which may come as a surprise. After all, how can such a tiny object determine so much of your cast?
Very easily, turns out, since you'll be throwing that object out into the water, held up only by an incredibly thin string and the force of your throw. If the fly is too heavy, then it may alter its course in midair, or it may not go out as far as you need it to. However much your fly weighs should determine how far you plan on throwing it and how hard you'll have to throw it in order for it to reach that distance.
Expert Interviews & Opinions
Most Important Criteria
(According to our experts opinion)
Experts Opinion
Editors Opinion
Users Opinion
By Default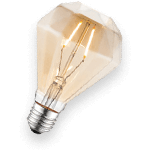 Know what is needed
There are many things your fly may need in order to perform its function to its fullest extent. There are tufts, little extra bits of cloth or fuzz that help to sell the look of a specific type of insect. There are weights for when you're using a streamer or nymph, for when you need to get the fly to the bottom of a particularly deep body of water for the best catch, and there are even things like fake wings to help you see the fly better when it's on the water. How well these accessories help to strengthen the abilities of the fly is what separates them from the generic brand.
Frequently Asked Questions
q:

What's a leader?

a:

A "leader" refers to a line between the fly line and the fly itself. This line keeps the fly held up in a certain way, and a certain manner, in order to better fool the fish when it hits the water. If you are, say, casting out a streamer, then you need to make sure that the streamer goes straight down and you can lead it back to your position, in order to lure fish to try and eat it. This is done by use of the leader. By pulling on the leader, you fool schools of fish into thinking that your little trap for one of them is actually a tasty morsel.
q:

I have at least one fly of each type and I'm ready to start fishing, which one do I choose and how?

a:

This is a complicated question to answer because it's dependent entirely on the situation you're in. What type of fish are in the lake, what do they eat, and what type of insects frequent the lake the most. Summing this all up is referred to as "match the hatch", a term referring to how you need to choose a fly that matches the behavior of whatever insect is in the biggest abundance at your fishing spot. There should be information regarding that at the nearest bait shop, but there's also, of course, plenty of information to be found on the topic online.
q:

How many flies should I get before starting?

a:

Whichever one you need the most for your nearest fishing source should be the one you get first, but generally, you should try to make sure that you have at least one of the three categories: a dry fly, a streamer, and a nymph. That way you have options when you start fly fishing in different bodies of water, for different types of fish. If you're fishing on a lake, for instance, a dry fly may serve you better, whereas a nymph is better suited to streams or rivers.
q:

I have the money to buy my own flies, but instead I want to make my own. Is this possible?

a:

Certainly! It will take some doing, but the necessary guides are all over the internet. Tying your own flies takes much practice, trial and error, and you will screw up many times before you succeed. However, when you catch your first trout with a dry fly that you tied yourself from your own string and hooks, there are few more satisfying experiences in the world. There's something so fulfilling, knowing that you caught a fish using materials of your own creation and possession. So if you think you know how, you have the guides, equipment, and necessary ingredients then, by all means, give it a go and see what happens!
q:

What's mending and how do I learn about it?

a:

Mending refers to a technique wherein the caster repositions the fly line on the water with the goal of improving the fly's presentation to the fish. Now that sounds easy, but in practice, it can be really difficult if you don't know what you're doing. If you do it wrong you can actually end up giving away the entire game to the fish and scaring them off. Like with other techniques, guides can be found all over the internet. Enough practice and you'll get it in no time.
q:

I know I need a leader, but how do I choose one?

a:

Leaders come in 3 different varieties: knotted, knotless, or braided. A knotted leader is made via tying 4-6 lengths of mono together until you reach what's called the "tippet diameter", and it can be either 3X, 4X, or more. A skilled enthusiast will prefer knotted leaders as it helps them turn over flies better.

A knotless leader is a single strand of mono that tapers from butt to tippet. The fly fishing company Orvis has a method by which they use a heavier butt and a specialized taper that makes them cast better.

Finally, a braided leader is suppler, in order to reduce drag, transfer energy, absorb shock, and allow for faster, smoother tippet transition. The one you choose is actually just based on which one sounds more appealing to you. A braided leader, for instance, will have a better presentation on the water because it will help absorb the shock. If that appeals to you, then a braided leader will do wonders for you.
q:

I know what type of leader I want, how do I decide length?

a:

Now, this is actually the simple part. What length you choose depends on what type of body of water you're dealing with. If, for example, you're dealing with a slow-moving stream, where a fish could easily spot the fly line, then a 12' leader would be the best choice. If you're using a dry fly on a calm lakebed, then 15-18 inches will be the leader of choice for you. Finally, if you're using dry flies or nymphs on faster-moving water, then 9 inches is the best choice for you. Find a dealer with a wide array of leaders for you to choose from, and then pick out multiple leaders that you think you may need. The important thing to remember is that, as long as you know the criteria, there are no wrong answers.