Best Climbing Shoes Reviewed & Rated for Comfort
In a
Hurry? Editors choice: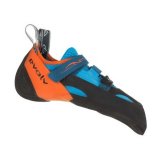 Test Winner: Evolv Shaman

So, you've chosen your sport, you've chosen your venue - now you need to make sure you've got all the right kit to make sure your climb is as safe and enjoyable as it can be. There's more to your kit than the latest
pants
and shirts, the best harness,
gloves
or anything else you need to prepare. A decent
climbing
shoe can make a huge difference between a great climb and a terrible one, not to put aside an emphasis on the safety aspect too. So, there it is, a good review to help you on your way when you're shopping for the ideal pair of climbing
shoes
. There is plenty of food for thought and hopefully useful enough to be of assistance in your hunt. Happy climbing!
Standout Picks
Criteria Used for Evaluation
Model
Whether you are a beginner, intermediate or an experienced climber, you will probably be aware that there are different types that match your ability and the type of climb you intend to take on. A neutral climbing shoe is beneficial for beginners and for more seasoned climbers who want a comfortable all day shoes. They are produced as a relaxed fit and allow your toes to lay flat within the shoe - providing all-day comfort, they have thicker, flatter soles so you may be limited in the types of climbing you can do safely in them.
Next type you will most likely come across is moderate types of climbing shoe. The shape of these climbing shoes is distinguishable due to the curvature of the toe end, it slopes neatly downwards and enables a greater variety of climbs to be undertaken. The soles on these tend to be thinner and have more traction than the neutral shoe, and this provides better grip and they are still comfortable to wear.
Features
Another aspect of the climbing shoe you want to be aware of are the different features different shoes offer. One type is the slip on, this is predominantly made with an elastane closure; it increases sensitivity and has the lowest profile of many types of climbing shoe. They benefit from having a stiff sole which is ideal for training purposes and encourages strong growth in your feet. Strap closures are usually loop and hook in design and are quick to put on and take off, they are also beneficial for gym climbing or training as you can remove them without any hassle. Lace-up climbing shoes are the most versatile for those days when the temperature is up and you need some relief for your feet. They are adaptable to changes in your feet when they are hot and this allows you to be more comfortable and less restricted when it's hot. The laces allow you to adjust areas of tightness on your feet so allowing more freedom of movement and increases the overall functionality of them.
Materials
As a rule, your climbing shoes will probably be made of either leather or of man-made synthetics. The latter will not be prone to give after prolonged use, and if they are designed with perforations they may increase breathability and wicking. Some synthetics are treated to improve both these functions so be ready to check the shoe specifications. Leather climbing shoes are either lined or not, lined shoes will not give as much as unlined  - which can be prone to stretch up to a full size over time. Bearing this in mind when you are making your purchase will save you money in the long run so it's always best to check before you part with your cash.
Subscribe to our Newsletter