Best Waffle Makers Reviewed & Rated for Quality
Did you know that the human race has been enjoying waffles since as early as the 1300s, maybe even earlier? That is a long time and a lot of waffles. Obviously, we've come a long way from the original waffle irons that involved very long wooden handles and included baking in a hearth.
Featured Recommendations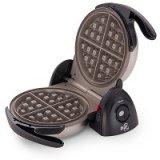 Presto 03510

Our rating
180 Degree Flip
Price:

See Here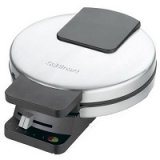 Cuisinart WMR-CA

Our rating
Darkness Adjustment
Price:

See Here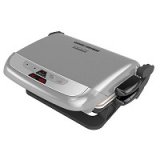 George Foreman GRP4842P

Our rating
Removable Ceramic Plates
Price:

See Here


The first waffle maker that started to resemble what we have today came to us in the 1860s and was actually a stovetop model that even had a flipping option. Our love for waffles as a people runs deep, so deep in fact that there are two separate holidays every year just for waffles! International Waffles Day lands on March 25th and National Waffles Day in the USA is on August 24th, the day the waffle maker was patented. In our waffle-loving society you will be hard pressed to find a home that doesn't have a waffle maker or a person who hasn't at least tried them.
Now that we've established how long waffles have been around and a tiny bit of how the original waffle makers started, let's take a second and appreciate just how far we've evolved in our waffle making process. Not only do we have small units that heat up and cook quickly after simply plugging them in, they are also capable of making way more than waffles if you want them too. They are very affordable and will produce nostalgia worthy breakfasts that you will want to make for your kids someday and them for their kids. So, where is a good place to start in your hunt for the best waffle maker? Let's go over some of the most loved units.
10 Best Waffle Makers
1. Presto 03510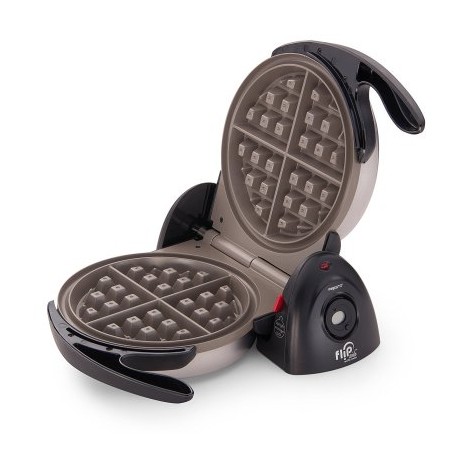 Here, you will get perfect waffles that have a crispy outside and a delicious, tender inside. The waffle maker flips to ensure the best texture possible. It also has neat features like a locking vertical position for easy
storage
, a countdown timer, and an appealing brushed stainless steel design.
Expand to see more
180 Degree Flip

To get the best Belgian Waffles possible, you simply pour your batter in and flip the entire unit over. It rotates 180 degrees and has cool touch handles so nobody is burned in the process. This will give you crisp exteriors to your waffles and the soft fluffy interior that you crave.

Countdown Timer

No more guessing when your waffles or done or wondering how long they've been in the waffle maker cooking. This unit has a countdown timer right on the front. Once your batter is in you cook for 4 minutes and they are perfect, on both sides, every time!


Cost and Value

If you are a waffle lover, any waffle maker will be worth the cost as long as it isn't crazy expensive. Lucky for you, this very popular and quality unit is not! It comes very reasonably priced and should make you delicious waffles for years to come. Here's to a regular breakfast date with your kitchen!

Easy to clean
Includes a countdown timer
Interior is non stick
Grid is extra thick and waffles have a 7 inch diameter
Timer operates on battery power and they will need to be replaced overtime
Waffles will stick if you season the waffle maker
2. Cuisinart WMR-CA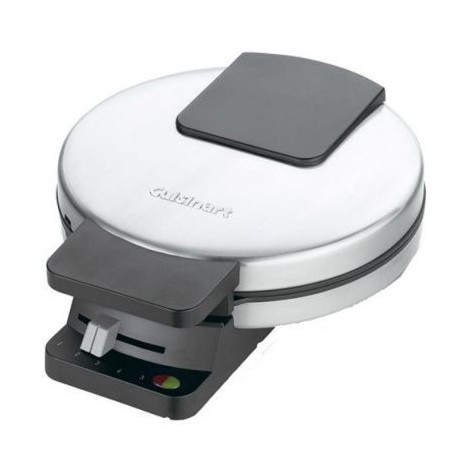 This Cuisinart Waffle Maker will produce delicious waffles every time. It is easy to use and even comes with a recipe
book
to ensure that you are using the right recipes to get delicious waffles. Whether you like sweet waffles with fruit in the morning, chocolate ones with ice cream for dessert, or cheddar and chive ones to compliment your dinner, this waffle maker has you covered.
Expand to see more
Darkness Adjustment

A nice feature found here is that you can adjust how much you want your waffles browned. This allows you to have extra dark and crispy for those who like their waffles that way, but lighter and fluffier for those who fall on that end of the spectrum. All of your waffles needs are satisfied with this unit.

Rubber Feet

An appliance that moves around your countertop while in use or when opening and shutting is nothing but annoying. Cuisinart has you covered here by including rubber feet on the bottom of the unit. You can rest easy knowing that your waffle maker will stay right where you want it to for as long as you want it to.

Cost and Value

This waffle maker is very reasonably priced. It is a pretty standard Belgian Waffle Maker with enough helpful features to help it stand out from the crowd, but nothing crazy that makes it cost a ton of money. All of your early morning or late night waffle needs will be met without breaking the bank.

The lid is weighted so that it doesn't rise as the waffles do while baking
Cord is stored underneath the unit where it wraps around and neatly tucks in
Includes indicator lights that let you know when the unit is hot and ready to bake in addition to letting you know when your waffle is ready
Can be stored vertically if desired
Indicator light isn't always accurate on the cook times
Hinge feels a little flimsy
3. George Foreman GRP4842P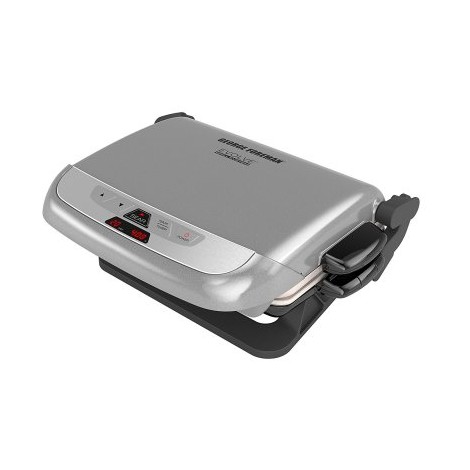 Why is a George Foreman grill included on a best waffle makers list you ask? Well, to put it simply, it will also make delicious waffles. Yes, it does many other things, but it does come with waffle plates and all the other features you get with other waffles makers. It works like a charm and will satisfy your waffle needs and absolutely earns it's place on our list.
Expand to see more
Removable Ceramic Plates

An uncommon feature in a waffle maker, which is actually an essential feature here, is ceramic plates that are removable. This is a great advantage because you can take them off, change them out, and perhaps best of all simply throw them in the dishwasher for cleaning. No more picking waffle batter out of each pocket and hoping it's clean enough to store until it's next use, no, just put those plates in the dishwasher and be done with it.

Multipurpose

The elephant in the room with a George Foreman is that it isn't actually originally intended as a waffle maker. It is, in fact, a grill and a great tool to help you remove fat and cook all sorts of complete meals even. However; for the space challenged in the kitchen, this is an awesome appliance to have because it does the work of many, and does it well. You'll have great waffles on top of all the other great things you can make with it.

Cost and Value

All things considered, you are getting a great deal when you purchase this grill and waffle maker. It is much more expensive, almost double, than most on our list but easily earns that price with its versatility. If you need a waffle maker that will also do more than that, keep this one high up on your list.

Temperature is variable so that you can set it where you want it
Buttons are in line with the rest of the unit so clean up is easy
Removable plates are dishwasher safe
Can cook more than just waffles
More expensive than others on our list
Grill plates start to stick after repeated use
4. Hamilton Beach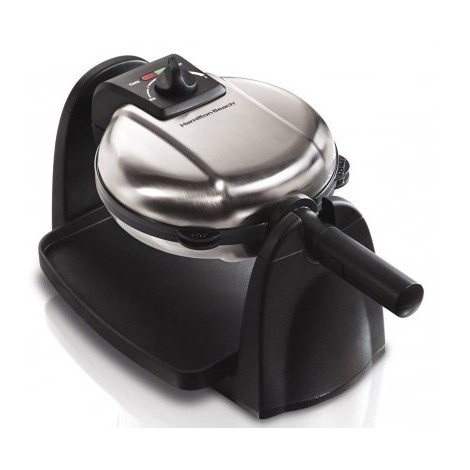 If you want to eat and cook like a chef, you'll need to use tools that will produce the same quality of food. This Hamilton Beach unit is a great place to start. It makes beautiful and delicious 6 ½ inch diameter and ¾ inch thick waffles in no time. They will be crisp and fluffy all at the same time and you can even adjust the darkness level to what you prefer.

Expand to see more
If you want to eat and cook like a chef, you'll need to use tools that will produce the same quality of food. This Hamilton Beach unit is a great place to start. It makes beautiful and delicious 6 ½ inch diameter and ¾ inch thick waffles in no time. They will be crisp and fluffy all at the same time and you can even adjust the darkness level to what you prefer.

Features cool touch handles
Includes a ready to cook and a power on indicator light
Browning control is adjustable
Both the grids and drip tray are dishwasher safe
Waffles take a long time to cook
Company does not offer the best customer support
5. Hamilton Beach 4-Piece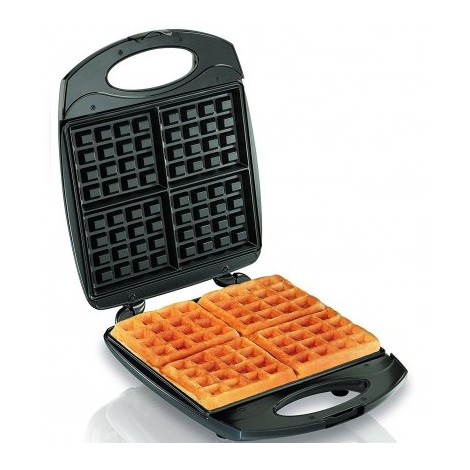 If you want fluffy, thick, square waffles cooked four at a time then this is the waffle iron for you. It has all you need to make delicious breakfast. It includes indicator lights so that you know when it is hot and when you waffle is ready, is small and easy to store, and comes in a nice stainless steel design.

Expand to see more
4 Piece Waffle Maker

Almost all the other waffle makers on our list only make one waffle at a time. That's fine if you have the time to wait for each individual waffle to cook, not so much if you're a little pressed for time. This one will make 4 waffles at the same time! Yes, they are all just a little bit smaller than one single waffle from other units, but they will certainly satisfy more than one person. Ultimately, you're cooking more faster which can make a big difference.

Non Stick Grids

Here you find non-stick grids that will make your life a lot easier on several levels. First off, they are non-stick. That means as long as you waffles are adequately cooked, they will come right off and leave little to no residue on them. Secondly, they are very easy to clean. Just take a paper towel or cloth, wipe them clean, and store the unit until next time.

Cost and Value

While towards the low end of our list price wise, you still get a great waffle when using this waffle maker. It is just a little bit less fancy. No ability to flip, no big fluffy waffles, not too many moving parts. Less can often mean more in the long run and if that's what you're looking for, look no further.

Aesthetically pleasing stainless and black design
Can be stored upright to save space
Makes 4 waffles at a time
Has indicator lights to let you know when the power is on and when to add batter
If batter sticks for whatever reason, it is a pain to clean
Cooks somewhat unevenly
6. Disney DCM-12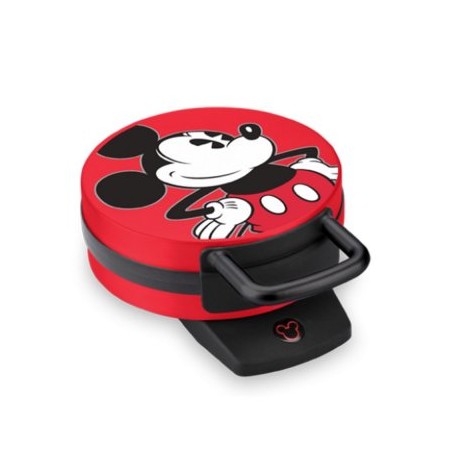 The odds are good that either you or someone you know and are very close to is a Disney Lover. If so, then this is your a waffle maker that you need in your life. It makes perfectly shaped Mickey Waffles and even comes in a Minnie Mouse version if you'd like a set. Waffles will be delicious and you will be able to celebrate your love for Disney no matter the day or time.

Expand to see more
Indicator Light

If it isn't enough to have a Mickey Mouse logo on the top or have your waffles shaped like Mickey's head, no worries, the indicator light on this unit is also the shape of those well loved mouse ears. This unit truly is all Disney and just looking at it will put you in a good mood.

Quick Cooking

The waffles produced by this item are thinner than many others on this list which also means that they cook faster. As may very well be the case here, if you are cooking for an army of small children the odds are good that they aren't the most patient bunch. As such, it is essential to have a waffle maker than can mass produce waffles in as little time as possible. That is what you get here.

Cost and Value

Surprisingly, this is one of the least expensive waffle makers on our list. It will make yummy, festive waffles all year long and put a smile on your face simply by looking at it. That alone makes it worth the cost. This is not the best waffle iron you will ever own, but if you're in the habit of buying Mickey shaped waffles at the grocery store, this will easily pay for itself in no time.

Produces perfect, Mouse-ear shaped waffles every time
Will allow you to save money by making your own rather than buying boxed Mickey shaped waffles
Cooking plates are non stick
Has non skid rubber feet
Waffle consistency resembles the consistency of pancakes
Feels somewhat flimsy and cheap
7. Cuisinart WAF-300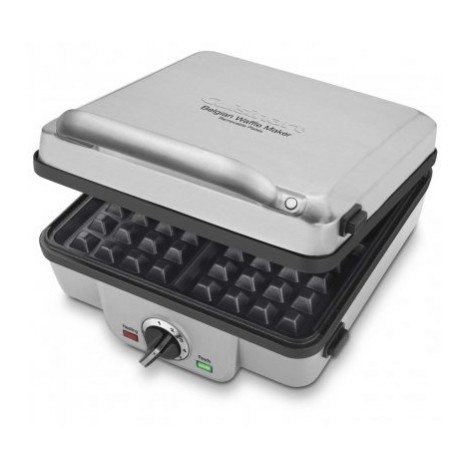 This waffle maker may be one of the fanciest on our list. Not only does it make waffles, but it can also make pancakes. It has a beautiful stainless steel exterior and be can be stored on it's side if you need to save space. It has 6 different temperature settings so that you can get the cook just right. Additionally, it makes 4 at a time and everything is BPA free.
Expand to see more
Removable Plates

A big perk found here is that the plates are removable. Not only that, but they are dishwasher safe so you can easily clean them when needed. The cherry on top, is that it also comes with pancake plates. This will allow you to fulfill all of your breakfast needs with one unit and add a little variety with minimal effort on your part.

Audible Alarm

While most units include a light to indicate when the waffles are done baking, as does this one, you also get an audible beep with this one. That means that once your waffles or pancakes are done it will beep at you, drawing in your attention from chopping up berries or making whip cream to top your waffles and prevent you from burning anything. Lights are helpful, but beeps are better and will always catch your attention more immediately.

Cost and Value

When you want the best, you have to pay for it. However; typically when you are willing to spend more money on a product it is because it is a better product and that is absolutely the case here. This waffle maker has all of the features found in others here, with a few extra. You will not be disappointed with this purchase.
It is very easy to remove the plates
Non stick surface is truly nonstick
Any overflowing batter will drip onto the counter, not stick to the outside of the unit making clean up a breeze
6 different temperature setting options
Exterior of the unit gets pretty hot when in use
Expensive
8. Cuisinart WAF-F20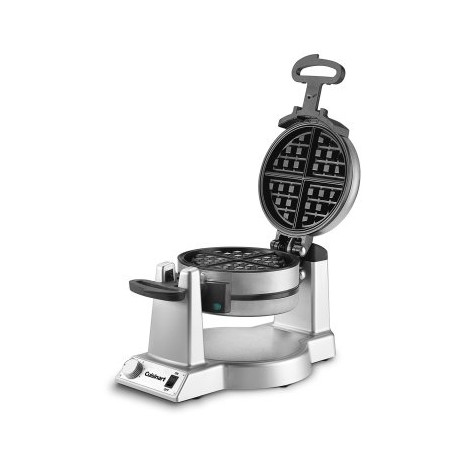 If you are truly serious about your waffle making, this should be near the top of your list of potential waffle makers. It will give you professional quality right in the comfort of your own home. It is beautiful and produces thick, fluffy, and perfectly textured waffles every time. It has a powerful 1400 watts and is mostly stainless steel.

Expand to see more
Double Belgian Waffles

Two is almost always better than one and that is absolutely the case here. This unit will make two big, round waffles at the same time. The rotary handle easily rotates the unit and you can fill both the top and the bottom with batter and make double the waffles in the same amount of time as a standard waffle maker.

Indicators

Just like the last one on our list, to ensure that you don't overcook your waffles this one not only has indicator lights to tell you when your waffles are done, but it will also beep. It has a light for both sides and will beep 3 times when the waffles are done. Perfectly cooked waffles every time will be the result.

Cost and Value

This is one of the more expensive units on our list, but rightfully so. It is essentially two waffles makers in one and earns the price of two. It is of high quality construction, durable materials, and will work well for a long time producing twice the waffles of a standard waffle maker.

Cooks two big, round, fluffy waffles at one time
Waffle thickness is one inch
Features a browning control knob
Batter is evenly distributed thanks to the flipping mechanism
Electrical cord is short
Can be difficult to clean if batter gets lodged for whatever reason
9. BLACK+DECKER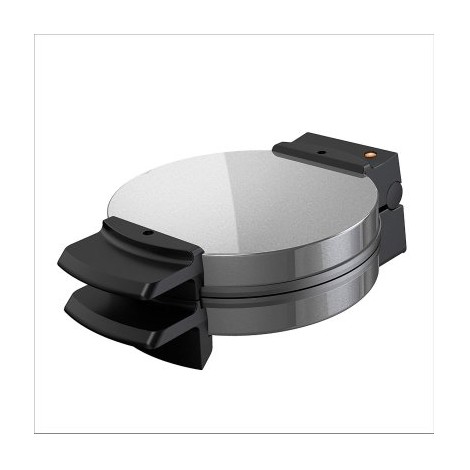 Sometimes you don't need the biggest and fanciest waffle maker. Sometimes all you want is a unit that does its job well, reliably makes delicious waffles, and doesn't cost you an arm and a leg. This is that waffle maker. It has everything you need to make good waffles - nonstick plates, cool touch handles, can be stored vertically, and looks good thanks to it's stainless steel construction.

Expand to see more
Cool Touch Handle

The handle that allows you to access the inside of the waffle maker is cool touch. This is a critical element because you need to open it in order to access your waffle once it is done cooking and also to put more batter in. No need to worry about that here, you can simply lift it up when needed and take care of business.

Diameter

Waffles made with this appliance have a diameter of 7 ¼ inches. That is the perfect size for a single serving of waffles. It makes it easy to estimate how much to make in order to feed a crowd and is not too big nor too small.

Cost and Value

This is perhaps the least expensive unit we discuss. Don't let that lead you to believe this is a crappy waffle maker though. On the contrary, it has a very important place on our list and in reality. It more than lives up to its price.

Very affordable
Can easily be stored vertically so that it takes up less space
Indicator lights let you know when it is both hot enough to cook and when the waffles are done cooking
Nonstick grid plates are easy to clean
Outside gets really hot
If batter drips on the front of the unit it is hard to clean
10. Oster

This no frills waffle maker is simple to use, easy to clean, and cooks delicious waffles quickly. It will satisfy all of your waffle needs without any of the extra frills, which also means no extra cost. This unit looks good and will store easily so that you can sit it on your counter top or put it in a cupboard without taking up too much room.

Expand to see more
DuraCeramic Coating

Unique on our list to this waffle maker is the DuraCeramic titanium infused coating that makes it nonstick. It is ultra safe with no PTFE or PTOA, is scratch resistant, cooks up to 4 times faster than a standard waffle maker nonstick surface, and is up to 4 times more durable meaning it lasts longer and will cook you more waffles. Not only that, but it is very easy to clean and won't flake or chip off like traditional nonstick surface coating tends to do.

Temperature Control

You are in control of how your waffles are cooked on this waffle maker. Do you like the light and fluffy? Simply set it at a lower setting. Or maybe you are in the dark, crispy, outside and fluffy inside camp? That is very much achievable here too, simply turn it to a darker setting and let it cook a little bit longer.

Cost and Value

The cost to value ratio here is excellent. It is near the bottom of our list price wise but will last just as long as the more expensive units. The coating is excellent and will allow you to use it for many years. You will save time cleaning and cooking with it as well which will make it so that you are committing less of your life to cooking. You really can't go wrong here.

Nonstick coating is a step above most others available
Flavor doesn't stick to the coating - meaning you can make savory waffles for dinner and breakfast waffles the next morning with no crossover whatsoever
Gives the functionality of a more expensive unit for very little cost
Waffles cook quickly
Doesn't always heat consistently
Plates are not removable
Criteria Used in Choosing the Best Waffle Makers
Making waffles need not be complicated. Really all that you need are two hot plates you can stick together with batter inside. As long as your waffle maker will do that, then you are good to go. Good news: every waffle maker on this list does that! So, choosing the right waffle iron for you is more in the details. How exactly do YOU like your waffles? Do the like them thin or thick, light or dark, circle or square? Do you have a preference in color or grid depth or type of nonstick material used? All important questions to ask and all will ultimately lead you to the best waffle maker for you.
Shape
The very first decision you want to make is what shape you want your waffles to be in. The standard options are circular or square/rectangular. However; there are also fun shapes, like Mouse Ears. You don't want to live your life eating square waffles that you wish were big and circular every time you eat them. Likewise, if you're feeling the Disney pull, just make that your decision.
While the shape of the waffles has mostly an appearance effect, there are other things that it does play into. One of those is the ability to reheat in a toaster. You can much more easily reheat little rectangles than you can bigger circles, though the latter is typically doable. Also, if you are someone who likes a stack of waffles instead of just one square may be more your style as they tend to be a little smaller and eating more than one is not frowned upon.
Another part of shape is the ability to flip. Flipping will supposedly help to spread the batter more evenly and ensure that you get a more even cook. The ballot isn't completely out on that though, so if you want square waffles or don't want to bother with flipping, then you will be just fine without a flip version.
Depth
Next up is how thick you want your waffles to be. Some waffle makers will make big, thick, fluffy waffles. They'll have deep grids and nice pockets to fill up with butter and syrup. Others may not have as much depth and instead offer a thinner, crispier waffle or even a little bit more pancake-y waffles. All are delicious in their own right, it just depends on your preference.
Versatility
What do you plan on using your waffle maker for? Technically, you can cook many things in a waffle maker besides just waffles. Cake batter, hashbrowns, and even biscuits. This will allow you to use your waffle maker for many purposes, morning and night. However; some waffle irons handle this type of versatility a little better than others. Typically ones that have deeper, thicker pockets will allow for heavier fillings. This is especially true when you want to add in things like nuts or chocolate chips.
If you're looking for even more versatility than a basic kitchen hack, there are also options that include reversible or interchangeable plates. The sky's the limit here and can include anything as simple as pancake plates to as complicated as grill plates.
Temperature
This is one of the big variables that will really make one waffle maker stand out above the others for you. Some get piping hot and can mass produce waffles in a matter of minutes. Others take a little longer to heat up and never get quite as hot which ultimately means they take longer to cook the waffles. The two processes can give very different end results and you may prefer one over the other. There are also some that allow you to choose your temperature with adjustable settings. If you have family members or friends with strong opinions on how they like their waffles, this may be a good option for you.
In conclusion, there are a number of great waffles makers at nearly any price point. There are a number of extra features if you want them, but all options, even the most basic, on this list will adequately make delicious waffles. So, next time you don't want to wait in line at a restaurant to get yourself a glorious waffle, make sure you get yourself a waffle iron and make them at home. You won't be the only one who appreciates them, that is a guarantee.
FAQ
Frequently Asked Questions
Q: Do the grills comes out?
A: It largely depends on the model. It is about a 50/50 split. It depends on the coating and the overall functionality of the unit. Very often the plates that come out are interchangeable with other types of plates.
Q: Is there an indicator light or timer to say when the waffles are done?
A: Most have some sort of indication, typically a light or a timer depending on the model. However; a good way to tell is if there is resistance when you open the lid. If so, then your waffles need a little longer to finish. If it opens right up, they should be fully cooked and ready to go.
Q: Will these waffles fit in a toaster to reheat later?
A: Most of the waffles made by appliances on this list will fit into a toaster later. You are guaranteed a better fit if you go with the square, 4 at a time, options as they are a little smaller and more toast shaped.
Q: How big are the waffles?
A: That depends on the waffle maker, however; most of the circular Belgian waffle makers have about a 7-inch diameter and the square or rectangular ones fall around 4 inches per side.
Q: Can I make waffles with add-ins like nuts or chocolate chips in this unit?
A: While it depends on the waffle maker you get, if you plan on using more than just straight waffle batter you will want a unit that makes thicker waffles. They can handle the thicker batter and additions better than say, the Mickey Mouse unit that makes a fairly flat waffle.
Q: Why do you need to flip a waffle iron?
A: Flipping is said to help spread the batter more evenly. Thus, your waffles are more consistent and cook more evenly for a better product overall.
Sources