Best Electric SUP Pump for 2023
In a Hurry? Editors choice: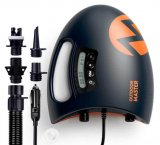 Test Winner: OutdoorMaster Shark II SUP Pump

Manual iSUP pumps are a workout in and of themselves. Save your time and energy for paddling on the water, not pumping up your inflatable SUP! These 5 SUP pumps will give you everything you need to get you out on the water faster and with fresher arms. Read on!
Standout Picks
The Best of the Best
1

. OutdoorMaster Shark II SUP Pump
Our favorite all-around electric air pump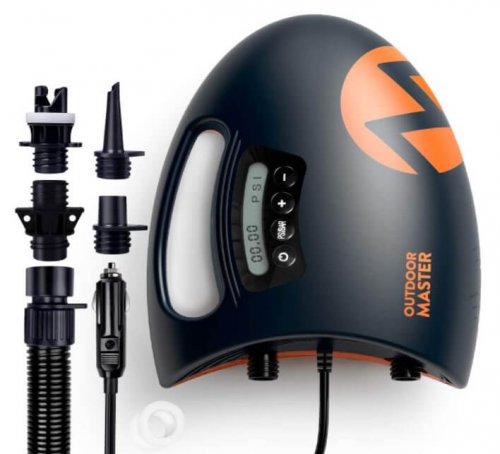 Solid design
Top-notch pumping strength
Large LED with target PSI and real-time PSI monitoring
Multiple nozzles for ultimate compatibility
We love the Shark II by OutdoorMaster. This second generation version can blow up to 20 PSI and will suit just about any inflatable you decide to bring to the shore, not just your iSUP. Like most electric air pumps, it plugs into your car's 12V DC connector. OutdoorMaster even includes a set of nozzles to swap out which will work to inflate almost any high-pressure inflatable. This pump's ability to fill higher than 15 PSI makes it a great fit for iSUP brands like GILI and Bluefin.
We usually list cons. In the case of this SUP pump, there are no cons.
This SUP Pump features:
-Compatible with high-pressure iSUPs.
-Full set of nozzles to fit all types of inflatables like iSUP, kite-surf, wing-surf, kayak, etc.
-Patented quick-cooling feature keeps the pump from overheating during inflation.
-Quality certificated by CA65, CE, RoHS.
- Made from environmentally-friendly materials.

2

. StartSmart Blowfish SUP Electric Pump
Our runner up SUP pump and best value buy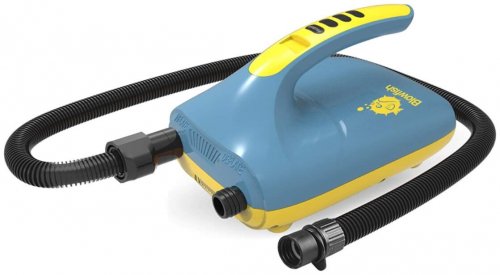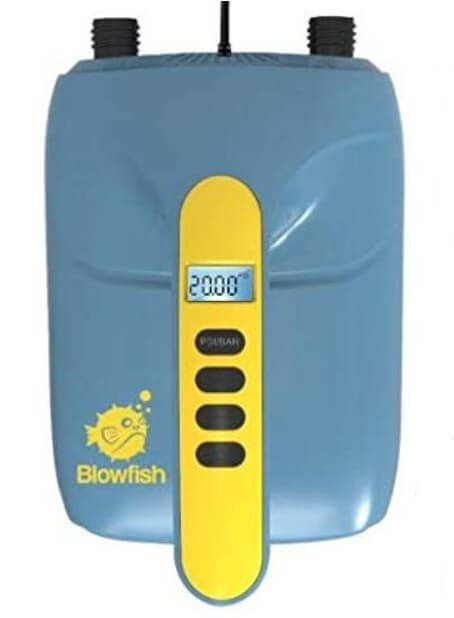 The Blowfish by StartSmart is a super handy little electric air pump for your iSUP or other inflatable toy. Complete with a two-stage pump, 12v plug connector, and multiple nozzle fittings, this SUP pump will get the job done.
We did notice that this pump struggles a bit more than others once you get above 12-13 PSI. Aside from that, we found it to perform quite admirably.
This SUP Pump features:
- Dual-stage pump design.
- Multiple nozzles for ultimate compatibility.
- Lightweight, ultra-portable design.
- Real-time pressure gauge.

3

. Seamax Electric SUP Pump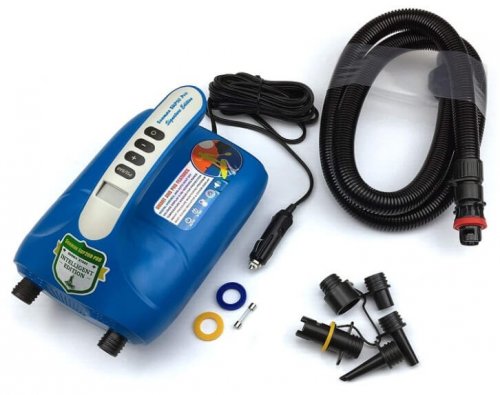 The Seamax SUP20D PRO Signature Edition electric air pump is a newly-upgraded model from the Seamax brand. Its unique feature is its dual-stage motor which monitors real-time air pressure while inflating. This allows the pump to switch to its second stage automatically for optimum pumping efficiency.
Like our other top SUP pump recommendations, the Seamax SUP20D Pro also includes multiple nozzles to ensure compatibility with all of your inflatables.
This SUP Pump features:
- Programmed intelligent proactive digital controller.
- A voltage sensor, temperature sensor, and built-in overheat protection safeguard.
- Major parts made from durable marine-grade engineered ABS and Nylon.
- Low power consumption range 60-120W (PSI and stage-dependent).
- Lightweight (4 lbs) with handle for easy portability.

4

. SereneLife Electric Rechargeable Paddle Board Pump
Pump with a cordless option!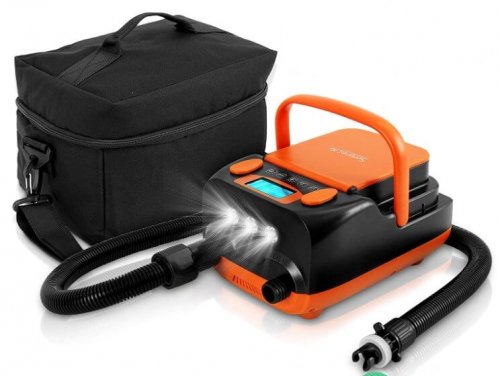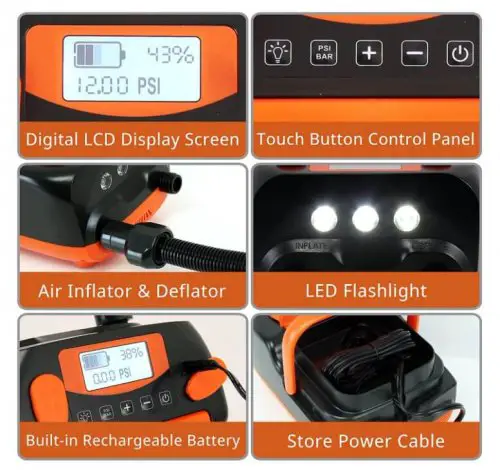 This electric SUP pump by SereneLife stand out due to its inclusion of a rechargeable battery. With it, you have the option to inflate your iSUP while plugged into a 12v socket or, if charged, anywhere and everywhere!
The tradeoff: the pump maxes out at 16 PSI. If you have a higher-end iSUP which fills to a higher PSI than 15 (which is standard), this won't get the job done. Additionally, you may see some lag and slow down from the pump as you near the 14 - 15 PSI mark.
(Works great with a SereneLife iSUP!)
This SUP Pump features:
- Option to go cordless!
- SUP air pump inflator + deflator system.
- Smart inflation design with target air pressure preset.
- Deflation mode.

5

. Tuomico Electric Air Pump for iSUP
Our best budget option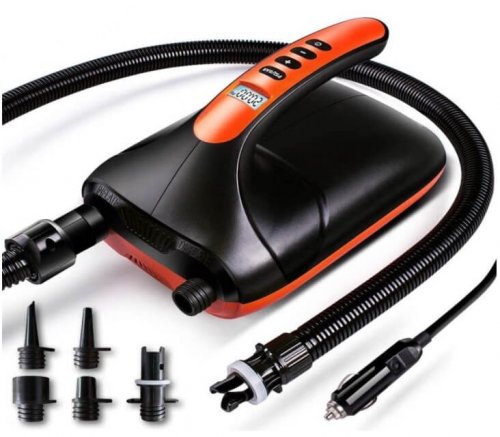 This budget-friendly SUP pump by Tuomico rounds out our list of electric SUP pumps. We did not physically purchase and test this particular pump but did significant analysis before including it on our list. Nonetheless, this pump, or one of the many like it (see Disclaimer below), is a simple, generally reliable, all-around electric air pump for you iSUP or other inflatable water toys. We suspect it may not stand the test of time quite like the OutdoorMaster, nor will it pump as quickly, but as they say, you get what you pay for.
This SUP pump features:
- Digital LCD pressure readout.
- Inflate and deflate modes.
- Max pressure of 20 PSI (note - it typically takes between 10-15 minutes to reach 15 PSI).
- 3.4 lbs - ultra light construction.
- Set of 6 different nozzles for optimal compatibility.
(Disclaimer: a quick search through Amazon shows that this pump is clearly mass-produced overseas and re-branded by a number of different vendors.)

Subscribe to our Newsletter