Best Cheap Paddle Boards Reviewed
In a Hurry? Editors choice: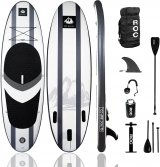 Test Winner: ROC SUP Paddle Board

Stand-up paddleboarding (also referred to as SUP) is one of the fastest-growing outdoor activities. Thanks to the introduction of inflatable paddleboards (aka iSUP) a few years ago, stand-up paddleboarding is now accessible to just about anyone on any budget.
With the sport's ever-growing popularity, the market has become inundated with scores of manufacturers putting out model after model of cheap paddleboards. For anyone newer to stand-up boarding, it can be difficult to decide which cheap SUP to begin with.
We have taken the time to scour the market, analyze manufacturers, and even put
a few boards
to the test. After spending some time deep in the Amazon paddleboard weeds, we've highlighted and ranked our favorite cheap boards. Read on for our recommendations of the best cheap SUP options for the beginner or casual paddle boarder.
Standout Picks
Things To Consider
Size
A paddle board's size will have a major impact on the board's performance, especially when considered in tandem with the rider's size. Most boards in our cheap SUP category (under $400) will measure either 10'-11' in length and be 29"-33" wide. Pretty much every iSUP is 6" thick nowadays. If you find one that's thinner (and billed for adults), skip it and move on. Three good rules of thumb are as follows:
1) The heavier the rider, the larger an iSUP he or she should get. Average and larger males will typically be better served with 11' SUP boards (or longer). Shorter boards are typically good for teenagers or small- and average-sized women.
2) The larger the board, the more stable it will be -- especially in choppier water. This is simple physics: more surface area will provide a greater base for stand-up paddleboarding and other aquatic fitness activities.
3) The shorter the board, the more maneuverable it will be.
Now that we have these ground rules established, let's move on.
Stability
Stability is a key feature in the stand-up paddle boarding world and you will see the term tossed around by every manufacturer. While almost every company wants to brag and tout their boards as the most stable on the market, very few live up to the hype. After all, there are a number of variables that play into an inflatable SUP board's stability.
Width
A board's width (and length) is the first and most obvious factor in a board's stability. The wider a platform, the more stable it will be. Of course, width isn't the only factor. If it were, every 32" wide iSUP would basically perform the same. But they don't! Why not? There are other factors...
Materials & Construction
The quality of materials and construction which go into an iSUP play a huge role in a board's stability. This factor becomes even more critical when evaluating cheap paddleboards. As we often point out, you get what you pay for (usually), so in the cheap SUP market, we always find ourselves asking, "what has this brand sacrificed to offer such a good price?"
Sometimes, it's evident that manufacturers skimp out on materials, or they resort to faster and lower-quality production processes in order to justify their lower prices. Weaker materials and less-robust design (especially on an iSUP's internals) will hurt an inflatable board's stability.
Rigidity
This goes hand-in-hand with materials. Rigidity refers to how hard (aka rigid) an inflatable SUP can become when inflated. Because most (if not all) iSUP are PVC, it would be tempting to assume that they will all be the same. However, that's just not the case.
The lower quality of the iSUP, the lesser inflation pressure (PSI - pounds per square inch) it can withstand. In general inflatable boards' PSIs can range from 12 psi all the way up to 28. Most riders will be well-served by a board that is built to withstand 15psi. We consider 15psi the minimum PSI for optimal rigidity, and thus, stability.
Versatility
Here we assess what the board is good for...or not good for. In the realm of cheap SUP, these boards will fall into the All-Around category. This means they'll perform sufficiently for touring, cruising, exercise, yoga, etc, but they're not built specifically FOR any one particular stand-up paddleboarding activity type.
For the general population of beginner and casual SUP riders, these boards will perform just fine and will likely provide a lot of fun time on the water. For more avid stand-up paddleboarders, check out our other list of the best premium iSUP.
Value
Are you getting a decent or good product for the price you pay? Does the quality increase notably as you spend a little more money? Will the iSUP deliver an enjoyable experience on the water or is it likely to pop a seam or fall apart, thus wasting your money and ruining your outing?
If you're going to go for a cheap SUP, it is imperative that you select a brand that will stand by its product and that has a track record. You can search all over and find a million brands of Amazon paddleboard, Costco paddleboard, or even eBay, but how do you know what you're getting? We factor quality and value into every board we review and test so that you can feel confident in what you're buying, even if it's a cheap SUP!
The 5 Best Cheap SUP Boards
Consistent, Reliable, Simple, & Enjoyable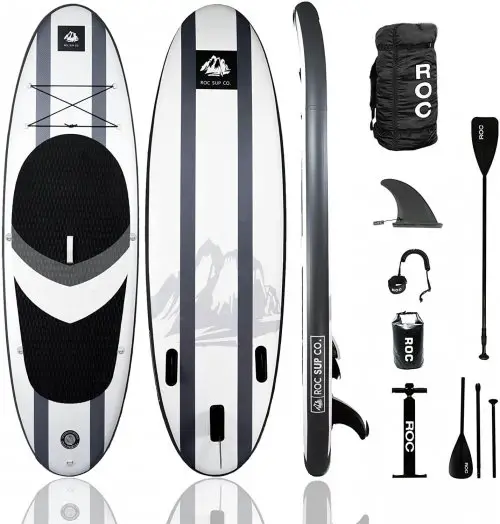 Excellent stability
Great feel underfoot
Able to handle a wide range of activities
Clean, simple, and attractive design
The ROC inflatable paddle board is one of the best entry-level boards on the market and our top choice for the best all-around. ROC manufactures only two board designs with 6 color options. They're a company with a strong focus on doing one thing very well.
Length: 10'
Width: 32"
Weight: 17lbs
Capacity: 300lbs
Simply going off the statistics, the ROC iSUP lands pretty much in the middle in all four categories, except weight, where it boasts a slender 17lbs. Unlike other lighter boards, however, this inflatable SUP can hang with the big boys and performed wonderfully in our tests.
The Good:
In the vein of keeping things simple, ROC has built THE all-around crowd-pleasing paddleboard. Pumping this board up is, like all iSUP boards, a good workout. Once up to 15psi, the ROC's EVA decking is the first thing we noticed - right mix of soft (but not deep & squishy) and grippy (but not hard on the feet). It felt more akin to its more expensive cousins on this list.
On the water it navigated very well, was easy to steer, and maintained great stability through some choppier patches.
Its clean lines and design also drew looks from passer-bys and my children fought over who would get to try it out next.
The Bad:
This board isn't built for speed. Then again, if you're out there for racing or long-distance touring, you'll want to opt for a higher-end board from our best-of-the-best list. Other than that, I have nothing negative to add. ROC is a US-based company and stands behind the quality of their products.
Conclusion:
We found the ROC board to perform on all criteria points higher than its direct competitor inflatable SUP brands like DAMA, MaxKare, and SereneLife. Handling and steering were better easier, whether turning or cutting long lines, and it holds up better against turbulence. Coming in under $400, the ROC inflatable paddle board lands at the upper end of our price range, however, our experience makes us believe that the extra investment is worth making this your go-to board.

2

. DAMA Nature Paddle Board
Best looking iSUP for 2021!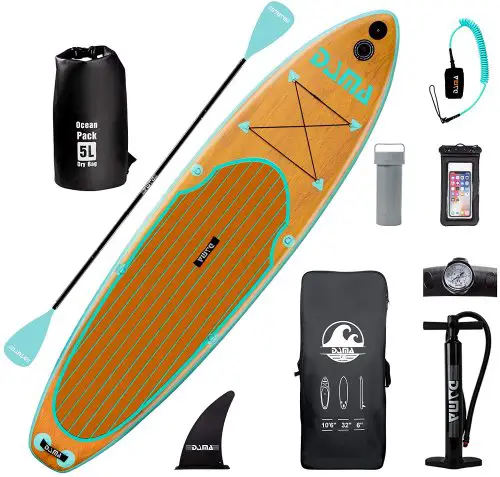 Beautiful design
High quality EVA footbed
Pumps up faster than most lower-cost inflatable SUP boards
The leader in DAMA's line of inflatable paddle boards, the Nature performs well, is a great value, and is a beautiful piece of design. Whereas the other boards on our list may be built for function, the DAMA Nature is built to appreciate.
Length: 9'6"
Width: 30
Weight: 17lbs
Capacity: 275lbs
DAMA is one of those newer entrants to the market offering two blow up paddle board options to choose from. We have selected, tested, and profiled the Nature model because, quite simply, we think it looks amazing.
The Good:
For a board looking this good, I would've expected a price tag of at least $400, but for $300, this is almost a no-brainer. The color scheme and EVA deck of this board just made us go "WOW." DAMA nailed the wood grain board surface which makes you feel like you're riding on a traditional solid core board. This iSUP looks and feels at home in any body of water. But it wasn't all looks - it performed well on the water and held up well to some abuse by our testers. The shorter/smaller design of the Nature makes it a little easier to handle, however, you can also get it in a 10'6" model.
The Bad:
At $299, you always have to ask yourself what the manufacturer is cheaping out on. In this case the paddle left a lot to be desired. One of our taller guys had a hard time getting an adequate stance for paddling simply because it was so short.
Also, its lightweight build feels lightweight. You can get moving decently well but you may find yourself at the mercy of the elements if there's wind or choppy water.
Conclusion
Ranging in cost between $299 and $339, this inflatable paddle board is one of our top value deals for 2021 and hands-down the best-looking iSUP you can get at this price point.

3

. SereneLife Thunder Wave iSUP
Multiple options by a low-cost manufacturer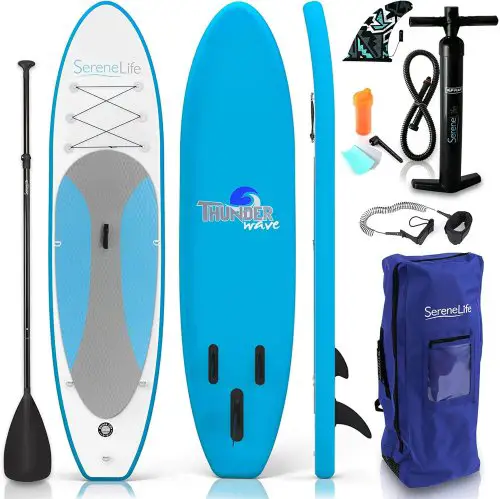 Great stability
High quality materials at a reasonable price
Good for general all-around activities and families
Near the top of our list is SereneLife - a board brand that offers multiple options for beginner and casual paddle boarders. From the very basic Free Flow model to the more mid-level Rising Flow board package, SereneLife offers something for almost everyone. Our review focuses on the Thunder Wave - their mid-level iSUP.
Length: 10'
Width: 32"
Weight: 19lbs
Capacity: 275lbs
SereneLife has really emerged in the last few years as a major ecommerce player in the blow up paddle board market. Their product offerings shine in the all-around beginner and mid-level range.
The Good:
Once getting the Thunder Wave inflated and on the water, the iSUP handled both calm and choppy waters with decent stability and did a great job cutting forward with very little lateral play. It performed better than we expected for a budget board!
Additionally, it proved easy to steer, turn, and was even able to handle some higher speeds with more aggressive paddling.
The materials feel strong--though definitely not premium--and the construction appears solid. We did not observe any notable defects in the PVC or foam deck.
The Bad:
Not gonna lie here - the accessories are terrible. Particularly the paddle. I'm not a paddle snob but this one feels like it's made out of bricks. Get another paddle if you go with this board.
If you have an eye for design (which we do), you might also find the SereneLife Inflatable SUP on the bland side of life. There are many other prettier boards on this list.
Conclusion:
The SereneLife Thunder Wave inflatable paddle board offers a great value for just about all levels of activity. It's probably not your choice for full-day treks or inflatable paddle board races, but we think it'll provide plenty of hours and enjoyment for most casual paddle boarders.

Rigid, high-capacity cheap SUP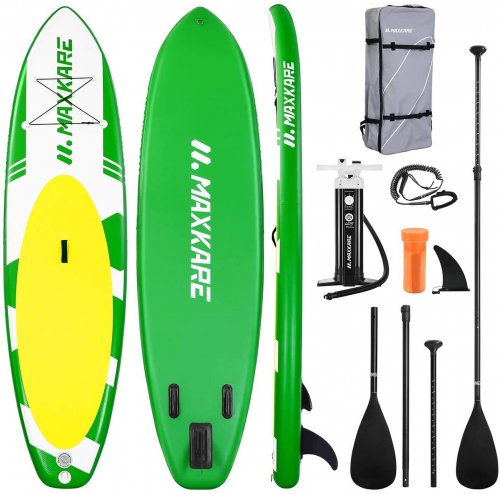 Above-average weight capacity
Good value
Quality and consistent manufacturing
Green+yellow makes me think about lemon/lime
MaxKare really hit the scene and became a name in 2020 when people were clamoring for summer outdoor gear during the pandemic. They offer a consistent line of over a half-dozen inflatable SUP boards for beginners, intermediates, and the all-around casual paddle boarder.
Model Reviewed: Green
Length: 10'6"
Width: 32
Weight: 19
Capacity: 370
MaxKare boards are solid, stable, and get the job done for beginners and intermediate boarders. While trekkers and speed-seekers may find these lacking, anyone looking for a good but cheap SUP will find that these fit the bill and serve your needs.
The Good:
The green MaxKare iSUP is the highest-end of MaxKare's product offering, primarily because it's the biggest board they offer. I found that it still performed admirably despite its size, although I question the 370lb weight capacity (I'd probably give it 300-325lbs). It's lightweight for a larger board and decently stable. Once pumped to a full 15psi, this board feels like a tank. Compared to most other cheap SUP, this board earns top marks on its rigidity.
Generally speaking, this is a no-frills inflatable SUP board which makes our list of best paddle boards due to MaxKare's consistency in quality and value.
The Bad:
Using the pump is not a pleasant experience. I was sweating bullets after 10 minutes of pumping up this board and had barely even reached 10psi. Getting to 15 was grueling and I ultimately pulled out a different pump I had lying around from an old board. Also, the paddle is only so-so in quality.
Performance-wise, this board is pretty clunky on the handling. Understandable as it's kind of a tank. Don't expect a real nimble paddling experience on a MaxKare.
Conclusion:
MaxKare ranks as a best cheap paddle board brand due to their consistency of quality with their boards. Mind you, their inflatable stand up paddle board is geared toward the beginner-to-intermediate level rider. I personally own one of these and can attest that it is a good all-round family-use board at a good price.

5

. FB Sport Inflatable SUP Board
Cheap SUP with 15 Color Options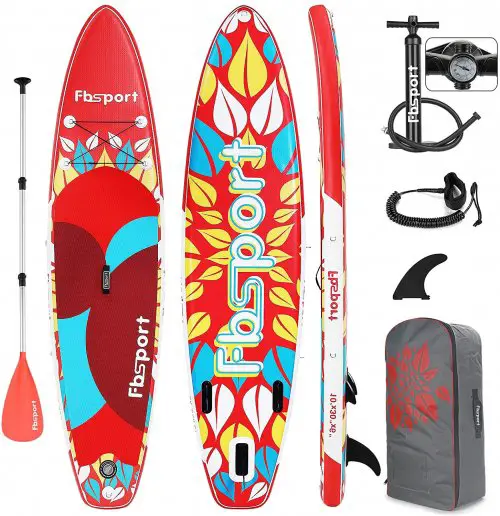 Lots of fun design and color options
Above average construction at a low price
Surf-style board shape give it good speed and maneuverability for a cheap SUP
FB Sport offers a nice, low-frills and low-cost iSUP line which we see worthy of a spot on our list. A defining aspect of these cheap paddle boards is that there are 15 color options to choose from. And most of them will cost you less than $300!
Length: 10'6"
Width: 30"
Weight: 22 lbs
Capacity: 280 lbs
Another great iSUP for our list, the FB sport board offers a super low-cost option to get out on the water.
The Good:
This board has a little more heft to it than the other cheap paddle boards on this list. To us, that's a good thing. In our analysis, it's a sign of heavier-duty materials and, to the touch, it feels like a stronger board. It pumps up relatively quickly and easily (remember to remove the extra valve closure on the side of the pump once you get over 10 PSI), and feels just about as rigid as the ROC and MaxKare boards.
Due to its narrower design, this board is a little faster and easier to maneuver. It was able to handle my wife's weight (130 lbs) plus our 5 year-old (~40 lbs) with no problem, and she was able to get up a decent speed and flow. We were generally satisfied with its performance at all basic levels of paddle boarding.
The Bad:
With a 30" width, it lacks in the stability department. Especially in choppy water, the FB Sport board gave us less confidence than its larger competitors on our list. Also, the paddle is pretty cheap and feels flimsy.
Conclusion:
For the price, the FB Sport Premium iSUP is a great cheap SUP option. For anyone new to stand up paddle boarding, it offers a great entry point that won't break the bank. Being a little heavier, it may not be preferred by smaller riders, however, we think it's a very competent all-around board to consider. We also like this board for anyone who wants to stock a few extra iSUP to share with friends and family .

Subscribe to our Newsletter