Backpack Hunting Checklist: The Gear You'll Need For A Successful Hunt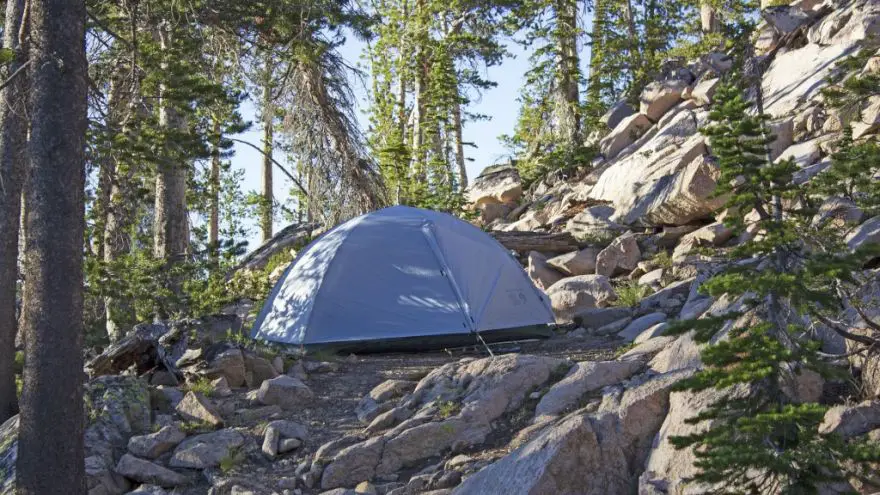 Backpack Hunting Checklist: The Gear You'll Need For A Successful Hunt
thegearhunt.com
Backcountry hunting is a different approach than many are used to and requires proper preparation for success. Your backpack hunting gear list will boil down to a list of essential categories and how you choose to fill your pack. Picking your gear will be dependent on your hunt location, hunt time, and pursuit style. Each of these will impact your clothing system, sleep system, food amount, and any additional tools you may need to maintain your weapon.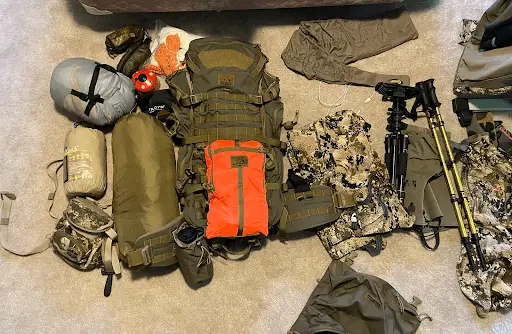 A Quality Backpack
The market for hunting gear has no shortages of packs, and a quality one that will comfortably hold your equipment is crucial. This is an expensive purchase, but a reusable and long-lasting part of your hunting system. Getting started in backpack hunting is expensive but choosing where you spend your money, in the beginning, will prevent replacing pieces down the line.
Additionally, the size of your pack and its modularity can affect how much you can actually carry and ultimately affect how much time you can spend in the backcountry. Many pack companies are available, but Kifaru, Stone Glacier, Mystery Ranch, EXO Mtn Gear, and Eberlestock are some of the top brands to look into. The size of each pack will vary based on your pursuit, so choose wisely.
If you're a casual backcountry hunter, consider going for a pack system that allows for modularity via external attachments. Kifaru is an excellent example of this because you can purchase a multi-day pack like the 44 mag, a 72.1L bag, and additional pouches to increase your overall storage space, quickly making this pack more versatile in different hunting scenarios.
Additionally, a quality pack will last many years and tough hunting situations because they are designed with both comfort and durability in mind.
Daily Food Requirements
Backcountry nutrition is critical to adequate recovery every day and making sure you are keeping up with your calorie usage. Your calorie usage will depend highly on your hunt and your body, but generally speaking, you should opt to have at least 3000 calories per day of food and snacks available. You can use online calorie calculators to calculate your estimated need based on your body type and exercise level to give you a more accurate number.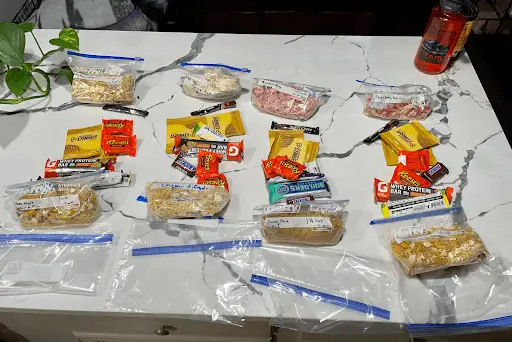 Above is an example of my daily food options for a 4-day backpacking trip. Each day had two freeze-dried meals from Peak Refuel, protein bars, candy bars, instant coffee, tuna packs (not shown), energy bars, and electrolyte mixes. All in all, my daily calories came out to around 3100, and I am a 6'2" man weighing around 240lbs. I highly recommend varying your daily food options.
I wish I would've given myself different candy bars and snack foods because after eating the same protein bar a few times, I started to have difficulty consuming them. Shoutout to the peak refuel biscuits and gravy; it was voted a favorite amongst myself and a few hunting companions. 
Opt-in for foods that are high in protein and have a high calorie to weight ratio. High protein will give you adequate nutrients for daily recovery, and a high calorie to weight ratio will let you consume more calories without sacrificing pack space and weight. Justin's Almond Butter is famous for its calorie-to-weight ratio because of its small packaging and incredibly high-calorie content.
A food system can be pretty versatile and straightforward. Most backpackers will carry freeze-dried food that needs boiled water to rehydrate. A design like the MSR Windburner or the Jetboil Flash will work great to keep you fed. All you need is the system and a fuel canister with you to be able to boil water. It's a good idea to pack an additional cigarette lighter alongside these because things happen, and your ignitor on your boiling system may fail and leave you without a way to start a fire to boil water.
I prefer the Jetboil canister because it has an indicator on the side showing you when the water has reached a boiling temperature. As elevations rise, water will boil at different temperatures, so having this indicator makes it stupid simple to boil your water. 
These food systems can also be filled with snow and boiled to create water in cold weather conditions; pack fuel appropriately for these scenarios because you will likely go through fuel much faster.
Finally, get yourself a long handle camp spoon. Most freeze-dried meal packages are deep, and a regular spoon will just leave you with sticky fingers and hands.
Clothing and Base Layers
Base layers are a must for almost any hunt. Merino wool is an excellent choice for your base layers because of its moisture-wicking and warming properties. Clothing is a highly situational choice for each hunt because you will likely not need to carry a puffy jacket if you're hunting during a Wyoming drought where temperatures vary between 50F and 80F. Elk hunting, for example, can also have a long season depending on your choice, and those temperatures can swing wildly.
Overall, every backcountry clothing system should contain at least a set of base layers, adjusting the weight of the base layers based on the expected temperatures, lightweight being for warmer environments, and rain gear. BlackOvis sells quality merino wool base layers for all situations to meet your needs. Rain gear should be packable and compact to save on space. Kuiu sells great ultralight rain gear like the Chugach that packs well, as well as Sitka's many gear options.
Beyond the basics of your rain gear and base layers, the options can vary on your environment. The tried and true rule of "layer your clothes" still applies here, so know that you can stretch the warmth of your gear that way. Aside from the base layers and rain gear, some additional clothing gear to consider for your hunt is
Pull-overs/fleece pull-overs

Puffy jackets and pants (packable ones preferred)

General hunting jacket that can be used over all your layers

Hats (ball cap or

beanie

)

Gloves (insulated or noninsulated)

Some types of thin gloves, like the Sitka shooter gloves, are great to protect your hands if you need to crawl on a stalk.

Blaze orange

If you're hunting with a firearm, most states have a blaze orange rule, and how much blaze orange you need to wear can vary; check with your state's regulations.
Sleeping and Shelter System
Aside from your nutrition, sleep and shelter are other vital parts of your backcountry packing list. Sleeping bags come in all shapes and sizes, but your budget and temperature rating are most important. A temperature rating on a sleeping bag means what temperature the bag will be adequate to and typically comes with a comfort rating and a lower-level rating.
Personally, a 20F bag should suffice for many scenarios; you can always unzip the pack if it is too hot and wear your insulated hunting clothes inside the sleeping bag to stretch the bag's effectiveness. A trick to add some warmth to your bag is to boil water and place it in a Nalgene bottle and sleep with it in your bag to keep you warm, and hand warmers work great also.
In addition to a sleeping bag, a sleeping pad is a good choice. There are many options, but I would opt for a lightweight inflatable one like the Klymit Static V. My personal favorite is the Klymit Static V Luxe Insulated because it is extra wide for side sleepers like me. The insulating properties keep you warm against the cold ground. Additionally, the Thermarest NeoAir XTherm is a tremendous packable sleeping pad.
Finally, your shelter system. A tent is essential because it will help keep you warm and protected from any inclement weather that you may run into. My personal use tent is the Hilleberg Nallo GT 2, which works great for two people and gear and is a 4 season tent. This is a pricey option, but for a shelter system, I would opt-in for purchasing a 4 season tent: the lighter weight, the better.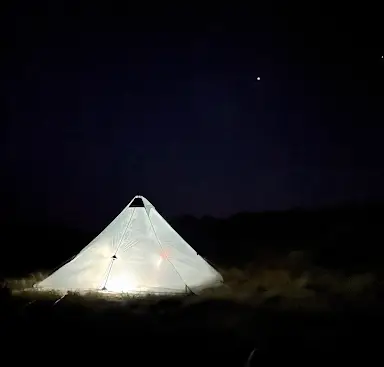 Tipis have also become very popular for the ultralight crowd because you can use your trekking poles to mount the tipi, saving on weight, and can even be packed in with a titanium stove to burn a fire and keep you warm and your equipment dry. On a recent trip to Wyoming, we used the Seek Outside Cimarron, and it reduced the tent weight between 3 hunters from 10 lbs to 3 lbs. We would have otherwise brought the Hilleberg Nallo GT2 and the Hilleberg Akto between the three of us. We did not have a stove to carry but plan on it in the future.
Water Storage and Purification System
A water system is a must for a hunting trip because water can be limited and need to be purified. The water bladder, as well as purification, is vital to consider. This can also vary from trip to trip based on your environment. Wyoming, for example, depending on your hunt area, may be very dry and have limited water choices, whereas a rocky mountain hunt may not.
For purification, a personal choice is the Katadyn Hiker Pro because you can quickly pump water into many different containers this way. Additional options like the Steripen and other gravity-fed filtration systems also work well and are highly personal preference. Things like a lifestraw aren't the best because you really can't fill many storage systems quickly. Whatever water filter you choose, pick one that lets you filter a lot of water at once. 
In addition to manual filtration systems, Aquatabs are great as an additional step to purifying water. One tab treats about 0.75L of water, and they are tiny and lightweight. For sanity's sake, I typically use them alongside a manual system as a precaution. They will leave your water with a chlorine taste, however.
For water storage, the best of the best water bladder is the MSR Dromedary. They come in three sizes, 4, 6, and 10L, and are quality bladders that won't leak. Do not skimp on your water bladder. I can't think of a worse feeling than being a few miles back and finding out your water bladder has started leaking or even burst in your pack, drenching all of your things in water and leaving you without anything to drink.
In addition to a water bladder, it's a good idea to bring some sort of water bottle, like a 1L Nalgene bottle, for you to mix flavored drink mixes or hydration mixes to keep you feeling your best. Between a 4L bladder and a 1L Nalgene, you can easily carry 5L of water with you at any time. The size of bladder you choose should depend on the amount of space you have in your pack and what you reasonably will be consuming in a day.
Freeze-dried meals require water to be edible, and you should account for this when picking your water system. On average, you can expect to drink around 2L in a day and have another liter for your food. You can always underfill a bladder also to save on weight and space in your backpacking gear.
First Aid, Emergency Response, and Hygiene
A first aid kit is quite essential and also quite versatile. At a minimum, you should carry ibuprofen, a few bandaids, Excedrin, Benadryl, antiseptic wipes, Leukotape (for any blisters or sore spots you develop from hiking), burn gel, and anti-itch cream.
You never know what you'll run into when in the backcountry, so a basic first aid kit is great to have and make your experience better. Additionally, in a worst-case scenario, a CAT tourniquet might be a good idea. While you never want to run into a trauma scenario, accidents happen, and a tourniquet may be the reason you survive. 
Pairing your first aid kit with an emergency response system is a great idea to keep you safe and keep you connected with any loved ones. Garmin InReach is the gold standard in backpacking GPS and emergency systems. The Garmin InReach comes in full size and mini size that pairs with your phone. You can use InReach to send text messages to people, retrieve up-to-date weather, and request emergency rescue all without cell service.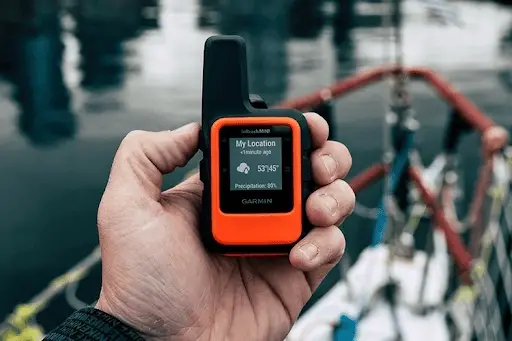 To keep yourself comfortable in the backcountry, a basic hygiene kit is a necessity. A foldable travel toothbrush, travel toothpaste, and some wet wipes will fulfill a great majority of the things you would need for hygiene. The excellent toilet paper vs. wet wipe debate rages on between backpackers, but personally, wet wipes are a clear winner. You can use them when using the restroom, wipe yourself down, and even "bathe" yourself to feel refreshed after a long sweaty day of hiking.
Electronics Charging
This is a pretty simple category but can be pretty helpful for keeping your cell phone and emergency response system fully charged. At a minimum, I would carry a 10,000mAh power bank and some basic power cables to act as chargers for your phone and electronics.
If you're taking a GoPro or other camera equipment, you can also carry a few of these power banks or look into a backpacking solar panel. You'd be surprised how little battery your phone will use if on airplane mode when hiking, but having backup power in case of emergencies is a great idea.
Headlamp and Fire Starter
A headlamp is a super small and important piece of gear. I usually carry two with fresh batteries for each trip to have a backup in case I lose one or have a failure. Black Diamond and Petzl both manufacture quality headlamps in compact sizes.
My personal favorites are the Petzl Tikka and Petzl Tactikka. I would not use a rechargeable headlamp unless you plan on charging it every night. Rechargeable batteries do tend to lose their efficiency over time and it's much easier to replace a set of AAA batteries before each trip.
The old-school way of using a firestarter with a flint and steel is long gone and really can be more complicated than needed. You should already plan on carrying a small cigarette lighter or two to help with your food system, and you can use your dryer lint with petroleum jelly to make smaller fire starters. Store a couple of these in a ziplock bag in your pack and you can have a handy fire starter for your backcountry bonfires whenever you need them.
Hunting Season Essentials
Game Bag and Kill Kit
These are the essentials we all hope to use when backpacking, the items you'll need with a successful hunt. Game bags can come in many sizes and styles but generally speaking, you should pick a set of game bags for the animal you are pursuing. Game bags are crucial because they help protect your meat from dirt and grime as well as act as a way to store and carry your meat.
In certain hunting areas with bears and other predators, they can act as a way to hang your meat in a tree where it can't be eaten by unwanted visitors. Consider carrying 50-100ft of paracord with your game bags too. I usually carry four 25 foot sections of paracord so I have something to fix my pack if things break and hang my meat if needed.
Black Ovis sells reusable game bags with reflective tape that makes them easy to find with a flashlight and come in a few different sizes. Additionally, a kill kit consisting of knives is essential. This, like many other things, can vary on your hunt. Elk hunting for example is notorious for needing multiple blades to fully field dress an elk since a single elk will likely dull many knives.
There are many different ways to approach this, knives like the Havalon Piranta with replaceable surgical blades or a single knife with a sharpening stone. The choice on a kill kit is personal, but the speed of replaceable blades and their lightweight designs make them a favorite amongst many backcountry hunters. 
Glassing and Rangefinders
Glassing is a must for western backcountry hunting. There is so much country available to hunt and you simply will miss plenty of animals and opportunities simply because you could not see them.
This video from Kuiu at their mountain academy provides a lot of great insight on gear and techniques for glassing. Overall, you need a sturdy and lightweight tripod, a rock-solid mount for your binoculars or spotting scope, and a lot of patience.
A solid tripod with a sturdy mount will pay dividends when you are staring into a set of shade under some trees a mile away and notice a slight ear flick of a mule deer bedding midday. A glassing system that isn't steady will have your eyes miss these subtle signs and also increase the speed at which your eyes fatigue. 
For glassing, it's great to have a 10x magnification set of binoculars with quality glass. Spend money on great optics, they can truly last a lifetime, and finding a reliable company like Swarovski, Leica, Leupold, or Vortex will give you a strong warranty and customer service system behind your binos.
All too often people skimp on quality glass and end up spending less time spotting games during the day. Some of these companies like Vortex have lifetime no-questions-asked warranties giving you the peace of mind that no matter the situation your investment will be safe. 
A spotting scope is definitely nice to have when glassing, they aren't crucial if you're on a budget but sure are nice to verify things at a distance. Whenever I glassed animals I could identify them via a set of binoculars but could not verify them until I had a spotting scope. It makes a great difference when you pull out your spotter and can determine the type of game and maybe even features about the animal from a distance to evaluate whether or not you want to make a stalk. 
Weapon Specific Essentials
In a rifle hunting scenario, you might want to carry a small target to stick on a tree should you lose confidence in your rifle due to a bad fall and want to confirm your zero. Good covers for your optics and potentially rifle is a great idea too. Caldwell's Fast Case gun cover is a great cover for rifles that lets you protect your rifle and still get access to it quickly. Additionally carrying a lens cloth to wipe your scope or binoculars is also nice to have.
In an archery hunting scenario, bowhunters should consider carrying allen wrenches to tighten the parts on their bow, as well as some string serving in case your box incurs some damage when pushing through some brush. There are also plenty of bow covers that protect your strings and cams and act as a sling for your bow, making it easier to carry.
Be careful with your bow when hunting in the backcountry, because neglect can quickly turn your one-week big game expedition into a day hunt if you don't have your equipment protected.
Summary
A backcountry hunt is an awesome experience to test yourself, unwind and disconnect from our fast-paced world, and an exciting thing to plan for. Thinking deeply about your hunt and its requirements months in advance will set you up to succeed when the time comes and will keep you energetic throughout the difficult scenarios you encounter.
I hope this article provides you with a good high-level checklist of items you'll need so you can prepare adequately for your hunts and think through all of the different things you'll need in advance. Fortune favors the well prepared and for that once-a-year hunting season or maybe even once-in-lifetime hunts, preparedness is a must. 
Most Read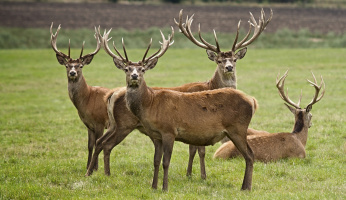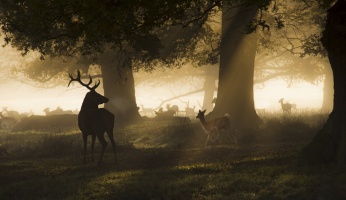 Subscribe to our Newsletter