Best Trekking Shoes
In a Hurry? Editors choice: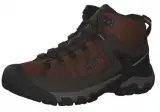 Test Winner: Keen Targhee III

Any hiking adventure requires great boots that support your feet, let them breathe, offer stability on your terrain, and hold up over the long run. If your "hike" is long enough and demanding enough to be considered a "trek," you need footwear with enhanced properties to make your journey fun, safe, and manageable.

The meaning of "hike" and "trek" overlaps some, but a trek usually involves multiple days of journeying from place to place on foot, over rougher terrains. A camping trip of a couple days that includes some hiking through the woods, may not qualify as a trek, but backpacking in a foreign country or scaling high mountains might. The point here is that appropriate shoes are important for any hike or trek; the more vigorous, moted, and challenging the route, the more durable and supportive the shoes must be.
Standout Picks
Criteria Used for Evaluation
Stability
A good hiking supports the movement of the foot, often with cushioning, a semi-curved or curved shank, and medial support. One sign or a stable shoe is a sole as wide as the upper to maximize contact with the ground.
Stable hiking shoes resist twisting and compression, while flexible shoes twist easily – which is not always a good or bad thing. Footwear that is stiffer might be more protective on tough terrain and support a heavy load, but they also restrict the natural movement of the food, don't flex enough for the terrains, and may interest with a natural gait – and lead to injuries.
Comfort
The best hiking shoe in most circumstances is one that feels comfortable to the wearer. This means that the shoe properly supports all parts of the foot and ankle and facilitates stability.
Shoes or boots should be the right size so that they do not rub or irritate any part of the foot, heel, or ankle and have proper insoles, pads, or cushioning to prevent this. That's why many well-regarded shoes have thick foam insoles, padded colors, and toe and heel pads.
Durability
Durability refers to how well hiking boots or shoes hold up after use and the passage of time. What determines durability includes factors such as the materials used, the design, the construction, how long and where they are used and the weather conditions. In general, leather is the most durable for this type of product.
Details such as toe bumpers, stitching, and quality soles can prolong the life of a boot.
Breathability
When you are trekking, your foot heats up and perspires. A good boot or shoe has ventilation that allows moisture to escape from the boot. Many hiking shoes or boots, even leather ones, have patches or layers of nylon mesh that allow the shoe to breathe and increase the comfort they offer.
Top 10 Picks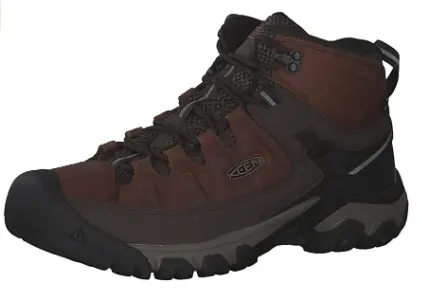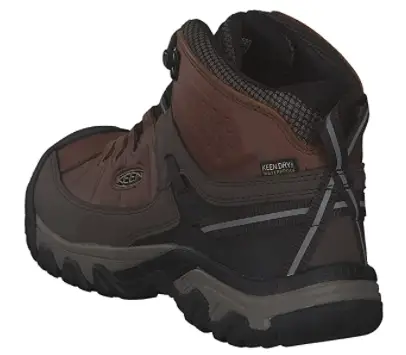 Soft comfortable uppers: leather
Durable sole
Good traction
Waterproof + durability
The Keen Targhee III is a soft leather boot that is kind to your feet and the environment. Coupling a Certified Better nubuck leather upper with an All-Terrain leather sole with Biocide Free insoles, and Keen All -Terrain rubber outsoles, this boot is 3.75 '' high. It combines the comfort of a hiking shoe with the traction, support, and stability of a hiking boot.
Cushioning / Support
The boot is comfortable right out of the box.
The upper fits securely in the foot and has a padded tongue and collar to make it feel great on the foot and ankle when laced. Its removable, metatomical dual-density EVA footbed functions like an orthotic to provide excellent arch support while cradling to the natural contours of the foot. The toe is wide enough to accommodate heavy socks and features a protective toe bumper.
Breathability
The combination of the nubuck leather and the Omni Tech lining make this product very breathable. In real life though, some reviewers found that their feet sweat in these – often a problem when bost are waterproof.
Stability
Though flexible, the boots do not have good side-to-side stability. However, the Targhee IIIs have an excellent lacing system that keeps the foot secure, plus an External Support Shank (ESS) and injected TPU heel-capture system and to provide support on uneven surfaces.
The combination of sole flex and a pronounced rocker shape might impact stability for some. Yet, the rugged outsole with 4mm lugs will provide all the traction you'll need on rocky surfaces and mud.
Durability
A combination of leather and synthetic materials, the boots are constructed with multiple seams, which make them very flexible. After use, the seams can split and leak, so treating them with a product such as Seam Grip can make them last longer.
Weight
Weighing in at an average of 2.4 pounds, depending on size, the boots are considered light by many Amazon reviewers who report that they are much lighter than comparable boots from LL Bean. This makes you feel nimbler as you move along challenging ground without having a boot that feels like a brick.
Waterproofing
With PFC water repellency, the Targhee III is marketed as waterproof, but the many seams offer leakage points that need sealing for better protection. The flood level on these boots makes them suitable for low water levels, but a higher boot might be better for walking through higher water.
Price
Prices for the Keen Targhee III boot, which come in sizes up to 17 W, start around $150 on Amazon.
Verdict
Should you buy? Though the boots feel short in a couple of areas, 88% gave the brand a 4 or 5 start rating on Amazon.
Also Consider…
Before buying these boots, buyers want to look at some other options from Keen such as the Pyrenees, Venture Mid Hiking Boot, and EXP Mid Waterproof that might offer better stability, materials, and overall quality at a potentially higher price.

2

. Oboz Sawtooth II Low B-Dry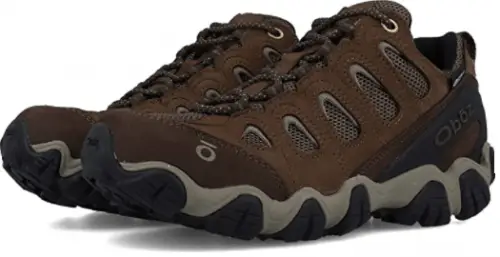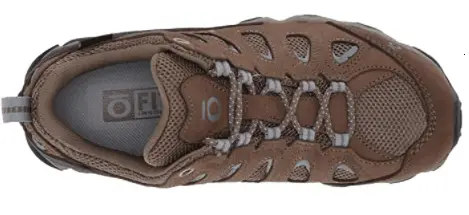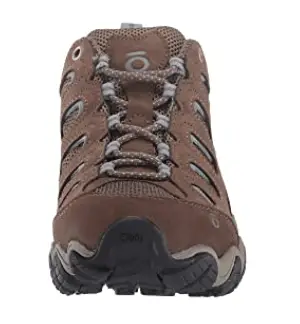 Uppers are a combination of nubuck leather and textile
Very good water protection
Traction: Sawtooth Outsole
Breathability is standard
Good cushioning
Supportive
Good protection
Durable
Hand built, not a factory line product
Low-cut hiking shoes are often the thing to wear on day trips, but because they are light, some long-distance hikers turn to these shoes even when trekking. Though low cut, the Oboz Sawtooth II Low B-Dry is built for tough terrains, including tricky slopes and wet gritty rolling trails. The traction is that good and the build of the rest of the shoe offers the support, comfort, and protection you need and want.
Made of durable waterproof nubuck leather & highly abrasion-resistant textiles, this boot is made for long walking. Its asymmetrical collar comfortably protects your ankle, while its molded rubber heel counter helps maintain a snug, supportive fit.
Cushioning / Support
For comfort, the Sawtooth has the advantage of being hand built for accurate fit. Both the forefoot and the heel are cushioned to absorb shock on flat surfaces or slopes and when carrying a heavy backpack.
Breathability
Made with B-Dry construction, the Sawtooth has a moisture-wicking comfort top layer and built-in water membrane to dissipate the sweat and keep feet dry.
Stability
With the Oboz Sawtooth, your feet do not move forward, so they feel stable due to a midsole that delivers precise torsional stability and protection. A nylon shank adds support between the heel and forefoot, while a dual-density EVA offers balanced cushioning. This shoe is renowned for its excellent traction on surfaces of all types.
A sculpted EVA arch, heel cup, and pods under the ball of the foot and heel add support and stability to the foot. The zig-zag layout of the sole ensures excellent traction on all surfaces so you feel confident and stable at all times.
Durability
This shoe is designed for durability, even when they are worked hard. The leather and textile combination with thick soles, coupled with durable seam stitching, make the shoes last and retain their shape.
Since the shoes are hand-made, occasionally if an assembler goes too light on the glue and the toe bumper delaminated. Oboz customer service will make occasional problems like this right,
Weight
At 2.8 pounds, this shoe is heavier than some options, but the weight is what makes the shoe a winner for longer, tougher excursions. What adds to the weight are thick rubber soles with lugs that grip the ground and support the hiker.
Waterproofing
While some trekking shoes claim to be waterproof, this one gets high marks from testers and reviewers. The leather and textile outer keeps the shoe dry, but treating the leather with a wax cream or spray will make sure it stays waterproof. The shoe is high enough for your feet to stay dry after walking through puddles and shallow streams, but shoes dry out quickly if you walk through deeper water.
Price
Starting at $140 on Amazon, the shoes come in three colors in sizes up to 14.
VERDICT
Considering the design purpose, all types of challenging terrain, and wet weather this shoe belongs in a high-performing category. On Amazon, 91% of reviewers gave it 4 or 5 stars.
Also Consider
Others to consider might be the Merrell Moab 2 WP, X Ultra 4 Gore-Tex, or the Spire GTX, which might have better traction and waterproofing.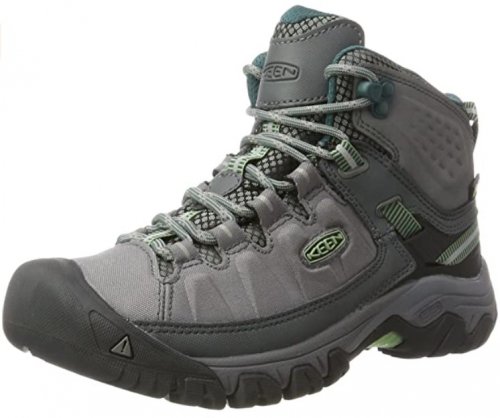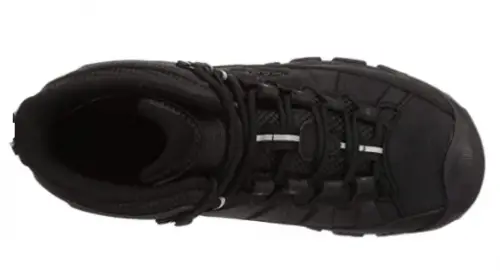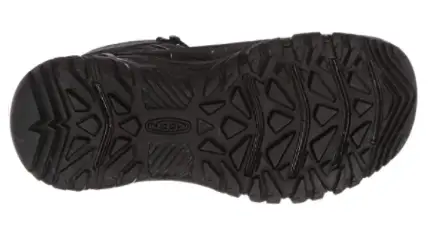 Comfortable
Tough + durable
Lightweight
Nice stability
Fair traction
Waterproof
After three updates, the Targhee Exp Mid Wp stands at a medium price tag while incorporating some of the best features found in the brand's other mid-boot options. With uppers are comprised of nubuck soft leather panels and synthetic material panels stitched together, the shoes combine support with stability and traction.
Cushioning / Support
Users report that these boots seem stiff and narrow right out of the box, but they conform to the feet quickly. The footbed and the heel/arch cup cradle and effectively support the feet, while the speed hook lace-up system helps adjust the boots so they are comfortable and stable overall. The removable, dual-density EVA footbed with arch support contributes to all-day comfort
Their durable polyurethane toe guard prevents painful collisions with sharp tree roots and stones, and foam padding around the ankle and tongue gives protective comfort around the ankles.
Breathability
The waterproof membrane helps keep the feet dry, but reduces breathability – a disadvantage when hiking on hot summer days.
Stability
At 6", the boot sits on a tough rubber outsole with multidirectional tread 4mm thick that offers excellent traction on multiple terrains that are slick or dry.
Durability
A KEEN.ALL-TERRAIN rubber outsole with 4mm multi-directional lugs for higher-traction grip for traction assures that these boots will withstand many challenges.
The boots are built to be long-lasting for those who hike and trek for recreation as well as for mail carriers and meter readers who walk a lot. Some reviewers complained that sole came loose prematurely
Weight
The boots are light at 2.3 pounds although they look they like would be much heavier.
Waterproofing
Like all Keen Targhee boots this model features a waterproof yet breathable membrane that keeps your feet dry when walking through puddles and shallow streams. For multi-day hiking in very wet or heavy snow conditions would require a pair of heavy-duty winter hiking boots.
Price
Priced at $112 up on Amazon, many users claim that they last twice as long as cheaper boots. Available in three colors, they come up to size 17.
VERDICT
The Targhee Exp Mid Wp stands at a medium price tag while incorporating some of the best features found in the brand's other mid-boot options. After a 3rd upgrade, user feedback is very positive.
For those looking for a light, comfortable, protective option with good durability, these boots are excellent value for the money. Amazon reviewers agreed by giving them 91% 4 and 5 star reviews.
Also Consider…
Along with this selection, other Keen models such as the Venture Mid Height Waterproof Hiking Boot, the Revel III, and Targhee III might suit most buyers.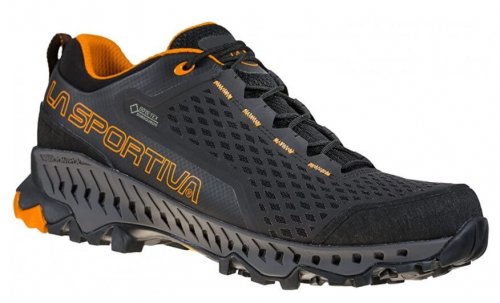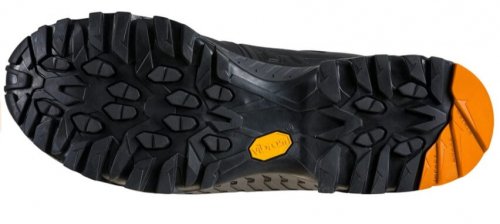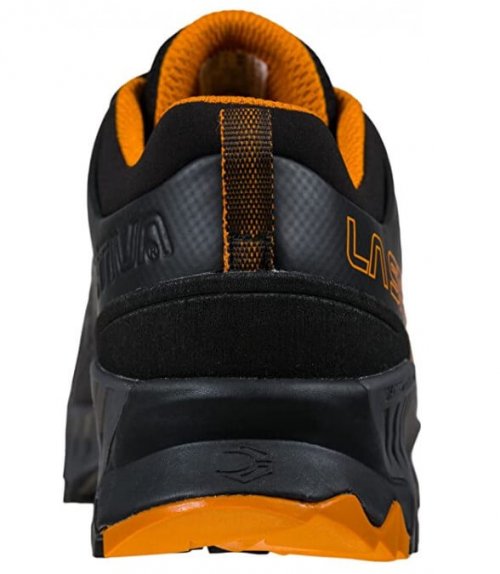 Impressive comfort
Lightweight
Good support
Protective
Solid traction
Effective water-proofing
Breathability is good
Durability is good when used for design purpose
Made of synthetic fibers, the La Sportiva Spire GTX looks like the many knit sneakers on the market today, but the shoe has the comfort of a trail running shoe with more features that make it suitable for hiking.
For people who don't like their ankle constricted by a shoe, this model can be the answer for any time that you do not need a higher boot to get through water or support more weight.
Though stylish in appearance, the shoe includes many proprietary systems that yield comfort and performance.
Cushioning / Support
The GTX has a durable abrasion resistant mesh upper that protects the foot with a Vibram® XS Trek with Impact Brake System™ sole for traction and grip. Its lace-up closure ensures a secure fit.
Inside, a compression-molded EVA midsole provides long-lasting shock absorption.
Breathability
The shoe features Nano Cell 2.0 technology which works with the Gore-Tex surround system which provides ventilation channels for the foot and midsol. It also pulls perspiration away from the feet, which keeps them comfortable year-round.
Stability
The shoe features support for all types of terrains you might encounter while day-hiking as it has a design that ensures good lateral support. A three-inch high ankle collar sits just below the ankle bone and prevents the potential for rolling ankles
With a sole soft enough for trail-running, TPU Techlight inserts at the toes and heel ensures a balancing stiffness, to keep you stable, even on challenging surfaces.
Durability
Many hiking boots are made primarily of leather, but the synthetic materials used in this shoe ensure long lasting performance for day-long hiking, moderate weight backpacking, and multiple trail conditions.
If you need a shoe to navigate through deep snow and constant wet weather conditions, you might be better off with a more waterproof hiking boot.
Weight
The shoes weigh about 2 pounds so they will not drag you down.
Waterproofing
The Gore-Tex Surround aeration channels also make the shoe waterproof; even if you put your foot under running water, the show will keep your sock dry. A 5mm Ortholite footbed pull perspiration away from the feet, even in warm weather.
Price
Price at $190 on Amazon, the shoe is costly but well worth it if your requirements are in line with what the issue offers. Sizes run up to 13.5.
VERDICT
The combination of comfort, support, stability, protection, and weight for a day-hiking shoe makes test shoe a great choice. Ninety-two % of Amazon reviewers loved the shoe too.
Also Consider…
Other worthy competitors on the market include the Salomon X Ultra 4 Gore-es, the Arc'teryx Aerios FL GTX, and Mountain Trainer Lite GTX.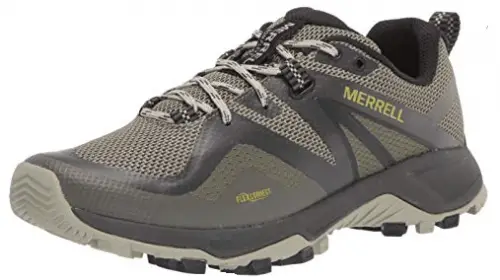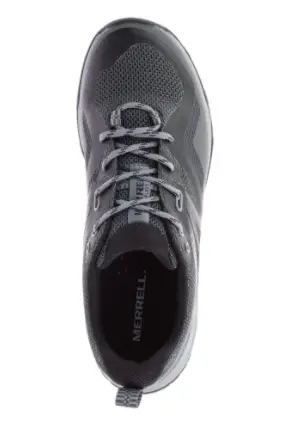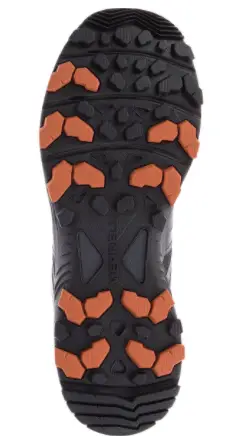 Feels light and quick
Versatile
FIT is accurate
Breathability is good
Works well for trail running and day hiking in warm weather
Like the La Sportiva Spire GTX, the Merrell Mqm Flex 2 looks like a trail running show but has serious hiking shoe qualifications. Fast in the forefoot and protective in the rearfoot, it combines all the best features of a trail runner and a hiker into one fast, protective shoe. This means it has the support, flexibility, light materials, protection, comfort, traction, and durability needed in both types of shoe.
Cushioning / Support
This second iteration of MQM features tear-resistant athletic uppers, a flexible cushioned EVA midsole and a mountain-grade outsole. Adding to interior comfort is a Merrell Air heel cushion that absorbs shock and a Trail Protect pad for more support off road.
The show is flexible and feels light on the feet.
Breathability
The upper mesh construction on this shoe offers good breathability as it lacks the Gore-Tex lining that makes such a shoe waterproof. The Merrell Mqm Flex 2 is a fair-weather shoe for spring and summer and not for heavy wet weather.
Stability
The Flex 2 has a solid heel cup that works well in both hiking shoes and trail shoes to keep the foot stable and prevent ankle rolls. Even when your adventure takes you into the mountains, the outsole on the show will give you the traction you need when climbing hard rocks.
Durability
Anyone who does serious rock climbing might want a tougher shoe, as rough granite, for example, wears off the tread as well as the lugs on the bottom. In conditions that put lighter demands on the shoe, reviewers note that the shoe maneuvers the terrain well and looks and performs well after months of use.
Weight
Weighing 2 pounds, these shoes won't hold you back.
Waterproofing
The Flex 2 lacks a Gore-Tex liner that makes it waterproof, which means that the shoe will let in water even if you step in small streams or puddles. If you wade in in the water, the shoes will dry quickly as the synthetic uppers do not absorb water.
A version with Gore-Tex is also available.
VERDICT
The performance is good and the shoe design has an appealing silhouette combined with a standard level of expected comfort. For those looking for a warm-weather hiking or running shoe, this is affordable and a good choice as 86% of Amazon reviewers attested with a 4 or 5 star rating.
Also Consider…
The La Sportiva Spire GTX, the Oboz Sawtooth Low B-Dry, and the Adidas Duramo 7 are low shoes you might consider along with the Keen Targee III Mid which is a higher cut.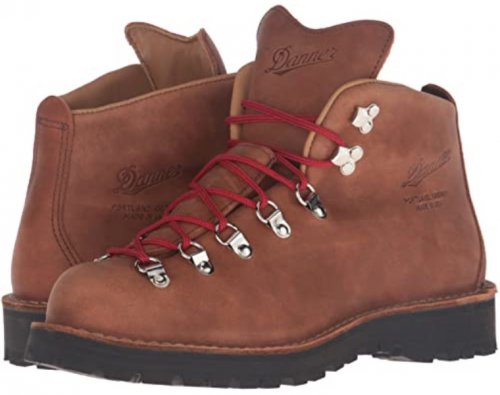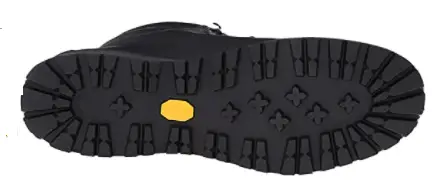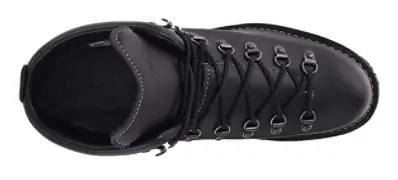 When you are prepared to make an investment in hiking boots, the Danner Mountain Lights are worth serious consideration. A leather ankle boot, these boots do not sit on the fence between trail shoes and hiking boots; they are built for years of performance.
Cushioning / Support
With a full grain, one-piece, all leather upper, the 5.5" Danner Mountain Light offers superior waterproof protection and a classic look. It has a robust rubber sole with a fiberglass shank that offers both stability and flexibility. The sole is sewn in place, not glued.
The boots run long and narrow, so online buyers should look carefully at reviews and the company's sizing chart and for the best fit the first time around.
Breathability
Leather is a breathable natural material, so the boots remain breathable; the Gore-Tex liner allows moisture to evaporate if the boot gets wet. These properties result in breathability that is great when the weather is cold or moderate, but the boot might be too warm when it's hot. The company does offer a summer version that is more breathable.
Stability
With a Vibram kletterlift outsole specifically designed for comfort and durability and an Airthotic heel that provides superb shock absorption, this boot is very supportive all around. A wider platform and a toe-to-top lacing system also stabilizes the foot, while the higher styling embraces and supports the ankle.
Durability
The quality materials in the Danner Mountain Light boots make for a long life, even when they are put to the test in harsh environments year after year.
Since the boot is stitched together, it can be recrafted and repaired
Weight
The boots weigh over 2 pounds, yet they are light on the feet.
Waterproofing
The leather is thick enough to offer some protection against water, and with its Gore-Tex liner, this boot is waterproof even in cold, wet hiking conditions. The waterproofing properties will remain intact by regular conditioning with a boot wax.
As the boot is one piece, no water can seep in at the seams.
Price
At $389, Danner boots are an investment that is well worth it to a serious hiker. Where cheaper boots might last for a season or two, these Danners are made to last.
VERDICT
User feedback is consistently pointing out that the boots' performance exceeds expectations; 91% of Amazon reviewers gave 4 or 5 stars.
Great for hill walking, they can do much more. These are a long-term investment and worth adding to your kit.
Also Consider…
As these boots are pricey, you might want to consider the Danner Acadia.

7

. Timberland Pro Euro Hiker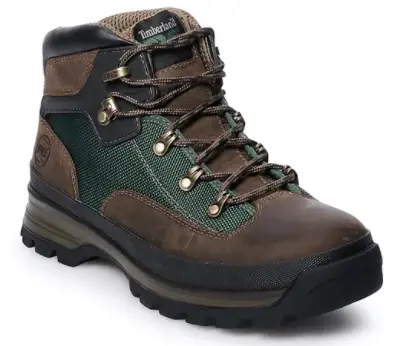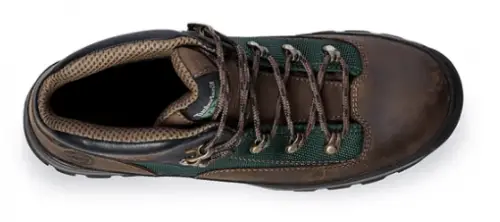 Leather and ballistic nylon upper
Vibram sole
Spacious toe box
Padded tongue/collar
Durability when used within the boot's intended range
The Timberland Pro Euro is a moderately priced ankle-height hiking boot that has a following among those who wear work boots too. Also available in leather, the boots under review have a leather and textile upper
Cushioning / Support
The boots have breathable leather at the toe and heel, with ballistic nylon panels stitched into the boot on each side up to the laces for structural support. The padded ankle cuffs and tongue keep out the dirt and grit.
EVA blended foam midsoles cushion the foot to prevent rubbing and blistering. After use, however, the midsole is subject to thinning that may require an additional insole.
Breathability
As this boot is designed for warm weather hiking, it does not have a Gore-Tex lining that increases water proofing but limits breathability. The mesh lining in this shoe offers not just breathability but odor control.
Stability
With a D-ring lace-up system, the boot can be tied tightly to keep the foot stable. Its 5.5" from the arch also adds to stability.
A fiberglass shank helps the shoe keep its shape, while supporting the foot.
Durability
The nylon panels add to the durability of the boot itself, while its Vibram rubber sole has an aggressive lug patterning that gives it strong traction on wet and drip surfaces. Users who enjoy these boots in warmer, dryer weather have high praise for their durability.
Weight
The boots weigh 3 pounds
Waterproofing
Though the boot does not have the Gore-Tex lining, the boot stays dry due to its leather and nylon construction up to a depth of a couple inches. Someone who needs better waterproofing might select a higher boot with the right lining or given the reasonable price of these boots, have another pair to alternate with.
The ideal time to buy boots is in the afternoon as feet swell throughout the day. You should not plan on hiking footwear being much more comfortable after it is broken in. To account for the socks you may wear with your boots, allow a half inch between your toe and the front of the boot, and if you are between sizes, go up a half size.
In an era where many buy boots online. make sure to read reviews for feedback on how the boots fit and pay attention to the company size chart, which may indicate that should go longer or narrower than usual
Price
A newly-released version of these boots start at just $80, which make them a tempting purchase.
VERDICT
For those looking for a dry season hiking boot for moderate environments, this boot comes at a lower price tag than expected for a good brand. Many purchase these as work boots, they have style and they are comfortable.
About 83% of Amazon reviewers gave these 4 or 5 stars in the ratings,
Also consider…
Before buying this model boot. Buyers should carefully consider if they need more waterproofing. If so, there are several Timberland styles with this quality, perhaps at a higher price.

Subscribe to our Newsletter