Best Paddle Board Paddles
In a Hurry? Editors choice: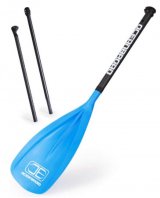 Test Winner: Oceanbroad 3 Piece Carbon Fiber

With all the buzz nowadays surrounding
stand up paddle boards
, all of the focus tends to revolve around the boards themselves. Naturally - an investment of $300 -$1200 requires some time and consideration. Regardless, even if you buy the absolute best SUP or iSUP on the market, the quality of your paddle can make, or break, your experience.
Almost all iSUP packages now include a paddle, along with other accessories. Unfortunately, many of these paddles are an afterthought to the manufacturer. A paddle is a must-have item to entice people to buy their paddle board without needing to make any additional purchases. For many users, these generic SUP paddles will suffice. However, for anyone wanting to invest in a better iSUP experience than, say, a Costco paddle board, we think it's worth looking for a higher quality paddle.
Standout Picks
Our Top SUP Paddle Choices for 2021
1

. Oceanbroad 3 Piece Carbon Fiber
Best all-around paddle board paddle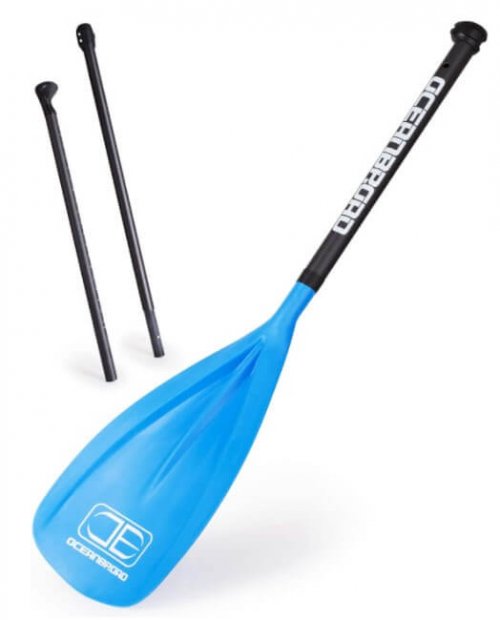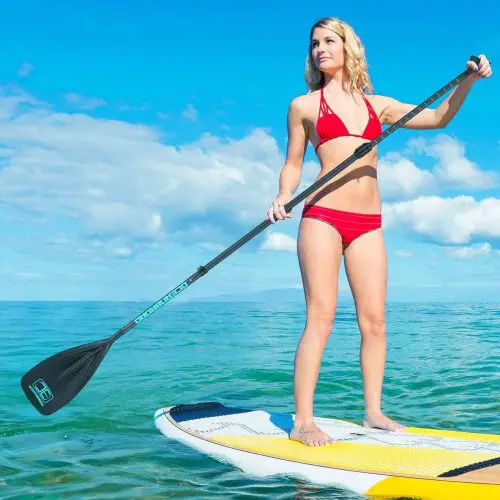 Fully-adjustable carbon fiber shaft
Fiberglass-reinforced blade
Excellent value
We love this paddle's economic combination of a carbon fiber shaft and nylon plastic blade. For most paddlers out there, this paddle delivers the perfect bang for your buck. It even includes a soft sided carrying case to keep it safe during transport and storage.
Shaft: 3 Piece Carbon Fiber
Blade: Fiberglass-reinforced plastic
Blade size: 98 sq inches
Weight: 30 oz
Length range: 67" - 86"
Color options: 1 - Blue
The Oceanbroad 3-piece hybrid SUP paddle covers the best of all worlds, being lightweight, super-adjustable, and reasonably priced.
The Good
Featuring a carbon fiber shaft, this 3 piece paddle board paddle weighs in at 30oz. This weight point makes it easy to handle for beginners and/or children, yet firm enough for the experienced paddle board enthusiast.
For the blade, Oceanbroad has developed a fiberglass-enforced plastic (nylon) blade for this paddle which balances performance, durability, and price. We found it to be firm but not rigid, and think it likely to hold up to a good deal of paddling and abuse. With a surface area of 98 square inches, it will function well for midweight to heavier people. However, thanks to the carbon fiber shaft, we believe that even larger kids or lighter-weighted individuals will find this SUP paddle a joy to use.
Plus, you can choose between a black or blue blade.
The Bad
I always prefer 2 piece paddles over 3 piece. Fewer parts to keep track of, fewer things that can break or fail, etc. Additionally, there are no pins nor is there an internal groove fitting between the upper shaft handle and its lower counterpart. This means that the plastic collar clamp is the only thing stopping the shaft from rotating while paddling. We wish they had engineered a twist-mitigating design into the shaft components.
Conclusion
To find a carbon fiber paddle board paddle with a fiberglass-reinforced blade of this quality for under $100 is fantastic. If we have any concerns, its whether the collars & clamps which hold the shaft sections together will stand the test of time. But on first review, this baby stands out as our favorite paddle board paddle.

2

. Abahub 3 Piece adjustable
Best budget paddle board paddle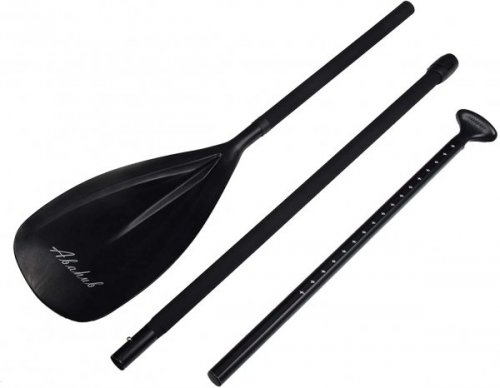 Abahub offers a paddle board paddle for all levels of iSUP activity and ability. We found their entry-level aluminum paddle about the best for its price and construction. We highly recommend this adjustable aluminum SUP paddle for anyone needing to replace a basic paddle or as a backup for your current paddle.
Shaft: 3 Piece Aluminum alloy
Blade: Fiberglass-reinforced plastic
Blade size: 102 sq inches
Weight: 35 oz
Length range: 68" - 84"
Color options: 6(!)
The Good
Aluminum iSUP paddles often get a bad rap for being clunky and heavy and difficult to manage. In the face of negative stereotype, Abahub has designed an aluminum shaft paddle which only weighs 35oz. That's spectacular! The multiple color options give a little something for everyone - we like that. Everybody likes to personalize nowadays. Plus, this paddle truly floats. While most manufacturers claim their paddles float, this one will not be making a surprise dive to the bottom of your lake when you lose control of it.
The Bad
Primarily, the clamping mechanism on this paddle is what we find most lacking. We wish it had a twist-lock channel or something of the like to stop it from shifting while paddling. That said, the movement isn't severe and is outweighed by the benefits enough to stay atop our budget paddle board paddle list. Also, the 102 sq inch paddle is a little on the large size. For smaller users this might feel a little clunky or unweildy.
Conclusion
We think this paddle is the perfect choice for the beginning or casual SUP paddle boarder. There are plenty of higher-quality options out there, but this paddle board paddle is a phenomenal value and will get you moving on the water. We also think it's a great buy to have handy as a backup paddle in case your main SUP paddle breaks or (gulp!) sinks.

3

. SupPly Adventurer SUP Paddle
Our budget SUP paddle runner up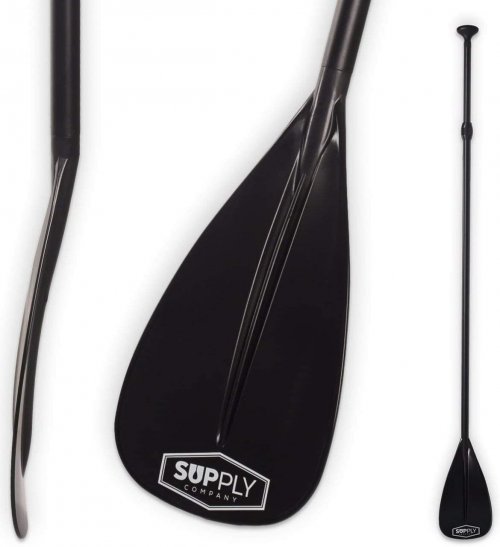 The Adventurer SUP Paddle by SupPly Company is a strong runner-up in the budget paddle board paddle category.
Shaft: 3 piece aluminum alloy
Blade: Plastic/nylon
Blade size: 100 sq inches
Weight: 35oz
Length range: 67" - 85"
Color options: 4
The Good
The SupPly Company aluminum paddle board paddle is relatively lightweight, easily transportable, and easy to use for any casual or beginner iSUP rider. It flexes noticeably and doesn't stand up to more rigorous SUP paddling, but what do you expect for $35?
In reviewing this paddle for what it is, it was a huge improvement over the aluminum/nylon SUP paddle which was included with my MaxKare iSUP. There's not much more to say here - this is an all-around, low-cost utility paddle.
The Bad
Adjusting this paddle wasn't always the best experience. From time to time, with no rhyme or reason, the collar and adjustment mechanism would just get sticky. A gentle shaking and/or bumping of the shaft would do the trick to get the parts unstuck. Frustrating but not a deal-killer.
Conclusion
An admirable choice for any of you weekend warrior, lake-house traveler, on-a-whim iSUP rider types. The SupPly Company 3 piece SUP paddle will hold up to any casual or basic paddle board paddling and is also a great choice as a backup paddle. At $35, it's an easy insurance policy in case a paddle breaks or sinks!

4

. Abahub 3 piece CF/Nylon
Our best hybrid paddle alternative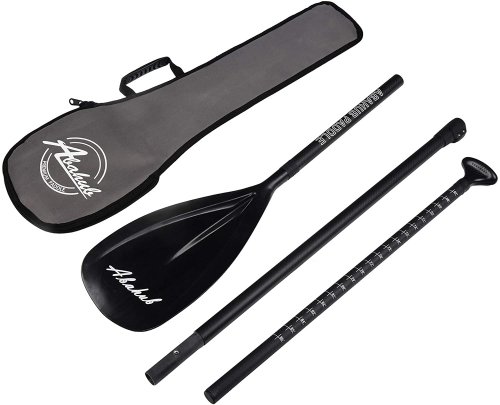 Following on the heels of the Oceanbroad hybrid paddle board paddle, this SUP paddle by Abahub bridges the gap between casual and serious riders.
Shaft: 3 Piece Carbon Fiber
Blade: Fiberglass-reinforced plastic
Blade size: 102 sq inches
Weight: 30.5 oz
Length range: 67" - 86"
Color options: 3
The Good
This carbon fiber paddle by Abahub checks just about every box in the midrange/hybrid SUP paddle category. On performance, we found this paddle equal with the Oceanbroad hybrid SUP paddles, however, it will cost you a little more.
Generally speaking, this paddle holds up well against aggressive paddling and offers that just-right rigidity for just about any rider. Its 3-piece adjustability makes it accessible for teens thru tall adults. And it floats! It actually does. We made sure of that.
The Bad
Really not a lot to list here. We are a little suspicious of the longevity of the plastic clamps which hold the sections together (this is a common thread throughout many of these reviews). It seems Abahub uses the same plastic clamps on all three lines of their SUP paddles. We'd prefer they upgrade their clamps with each level of paddle.
Conclusion
You'll have a hard time going wrong with this paddle if you want an upgrade from your aluminum-shaft paddle board paddle. For right around $100, it's still a good value buy and will suit just about all iSUP riders' needs!

5

. BPS 2 Piece SUP Paddle
Best Value Carbon Fiber SUP Paddle!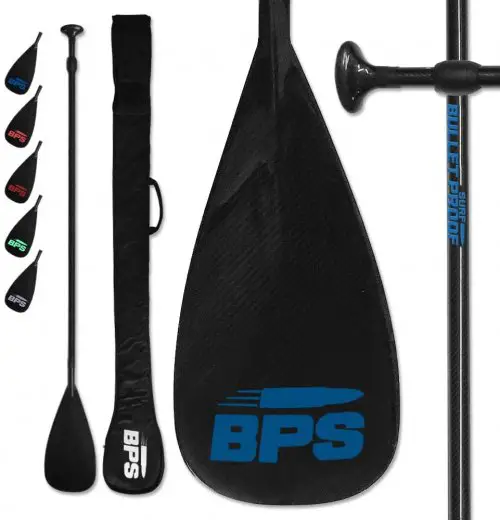 We like keeping our reviews short and sweet but we just had to add one more spot for this BPS SUP paddle. With full carbon fiber construction for under $200, these BPS SUP paddles are a great choice for an intermediate or advanced iSUP enthusiast who is willing to pay more for better performance.
Shaft: 2 Piece Carbon Fiber
Blade: Carbon fiber
Blade size: 96 sq inches
Weight: 22.4 oz
Length range: 71" - 84"
Color options: 3
This SUP paddle wins our best performance value award. Priced at under $200, we thought there had to be a catch. Well, nothing is perfect but this paddle is a great buy for anyone looking to invest in a higher quality paddle for their iSUP adventures.
The Good
A full carbon fiber SUP paddle for under $200? Have we said it enough? OK. I'll stop.
For real, it's lightweight, the grip is good, the paddle is well-suited for most riders, and it only takes a touch to know it's built well.
The Bad
It seems that BPS skimped a little on the locking mechanism which holds the two sections together. While ours didn't have any immediate issues, we've heard mixed stories from a lot of other users. At the end of the day, we're a little suspicious of BPS's quality control.
Conclusion
The positives for this paddle far offset the negatives. When it comes to the locking mechanism or other facets of the SUP paddle construction, we recommend to inspect and test the paddle as soon as you receive it. For what BPS lacks in manufacturing consistency, they make up for in customer service.

6

. Super Paddles Elite 12k Carbon Fiber
Our favorite high-end paddle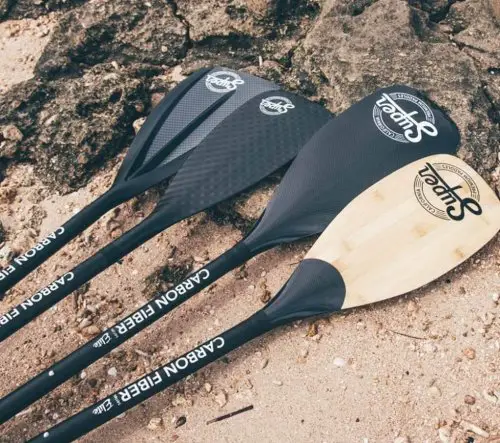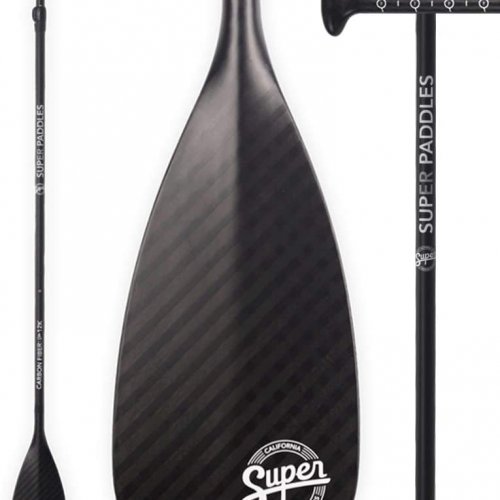 Super Paddles is a top manufacturer of higher end SUP paddles and this bad boy tops their list. We love its construction, weight, looks, and think it's worth the money for any serious iSUP rider.
Shaft: 12k Carbon Fiber
Blade: 12k Carbon Fiber
Blade size: 102 sq inches
Weight: 28.8 oz
Length range: 72" - 86"
Color options: 2 - Black or Bamboo Veneer
The Good
This 12k full carbon fiber paddle board paddle is one of the top dogs for premium performance. It is lightning fast to assemble (well, sub 20 seconds), nice and lightweight, and paddles very quickly and efficiently. It has a little more heft than other carbon fiber paddles we have tested so it's not an ultra-lightweight paddle, but that's a testament to its build quality. This paddle will certainly take on a lot of paddling miles and abuse.
The Bad
Again, we are skeptical about the shaft-locking mechanism. We noticed a little bit of movement while paddling. We weren't concerned but hardcore paddlers and purists may find it distracting or annoying. When we find a paddle manufacturer who gets this mechanism right, we will add them to the top of the list.
Conclusion
An excellent premium paddle for the discerning iSUP enthusiast. This is a performance paddle and best suited for intermediate or advanced iSUP riders.

7

. Abahub Pro Full Carbon Fiber Paddle
Our high-end runner up SUP paddle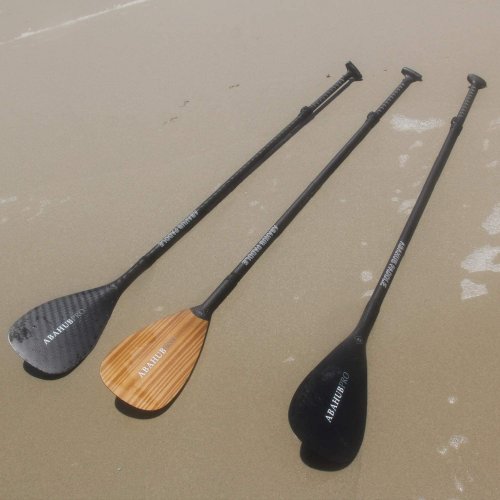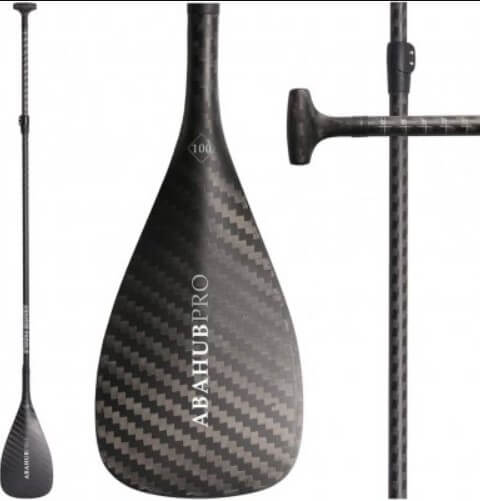 Rounding out our list is another entry from Abahub. We think their full carbon fiber paddle is a strong competitor amongst high-end, premium SUP paddles and recommend it for the intermediate or advanced SUP or iSUP rider.
Shaft: 12k Carbon Fiber
Blade: 12k Carbon Fiber
Blade size: 100 sq inches
Weight: 23.5 oz
Length range: 67" - 86"
Color options: 3
The Good
The Abahub pro is the lightest paddle board paddle on our list - a meager 23.5oz! Many people may not think that a few ounces make a big difference but once you've been out on the water for a long time, you'll begin to think differently. This paddle really handles like a dream and cuts swiftly through the water. With a blade area of 100 sq inches, it moves you through the water deceptively quickly. Even our larger iSUP riders found it an easy ride.
The Bad
We are a little concerned quality control here. With all the paddle board paddles that Abahub ships out, it seems that quantity may be their focus instead of quality (or, at least consistency of quality). For the paddles without defects, I'd say there is very little to complain about -- perhaps a little bit of play in the locking mechanism (surprise surprise). That said, with another, there was a lot of twisting in the shaft and the paddle took on water which needed to be drained.
Conclusion
If you're willing to risk potential defects, these paddles are excellent when they're produced properly. Abahub's production inconsistency is the main reason this paddle didn't get our top spot for carbon fiber SUP paddles. That aside, this paddle is SO light and a joy to ride with. We loved our overall experience with it.

Subscribe to our Newsletter