Best USB Charging Stations Reviewed & Rated for Quality
In a
Hurry? Editors choice:
Test Winner: Anker

Any crowded household requires an effective and reliable charging station with many USB ports. Charging is an activity that takes place every day. This is because each one of us uses either a
tablet
, laptop, a cell phone, or even headphones. If your household runs out of outlets for charging their devices, you may catch family members or friends fighting for a charger.
With advanced technology, modern USB charger stations are present on the market. However, you need to choose wisely. Not all brands can be compatible with your powered devices. It is advisable to do research before shopping for one. Check the fundamental features like the number of USB ports, portability, durability, and safety among other factors. This article will guide you on choosing the best charging station for your devices.
Standout Picks
Criteria Used for Evaluation
Capacity
The capacity of the USB charging station depends on the model. Some have a capacity to hold up to a maximum of 10 devices and a minimum of 4 devices. You can make your choice of selection depending on your needs. But irrespective of the number of ports and devices being charged, the station has the capacity to work optimally.
In fact, it has the fastest speed of powering your device, which can be up to 2.4 amperes on each port. Why go through the hustle of connecting long cables and overwhelming your extension? All you need to do is purchase a station and this will alleviate the lengthy cords.
Compatibility
Tired of competing for a socket for charging your devices? Or you may want a tidier place with no intertwining cables. Or perhaps save yourself from borrowing a charger when you leave yours at the office or home.
A power station is exactly what you need. It is universal. That means it's compatible with any device that uses a USB cable. These devices include Android phone and tablet, IOS devices, power banks, smart watch , micro, and mini USB devices together with other android devices.
Ease of Use
The item is the simplest to use. All you need to do is connect it to a power source, after which you may connect the device you want to charge to the right port. The item comes with cables which are compatible with certain tablets or cell phones. The only thing you need to know is which head they use.
Features
Charging stations does the work of powering or holding your phone in place. It has several ports, each with a USB cable. It sources power from the house socket and converts it into the quantity required to charge your set. Some have led lights which can be used at night to track how much power you have.
Dividers are the plastic plates which are attached to their ports. Their sole purpose is to support the items being charged in a vertical position.
Power cords sources power from the main socket into the charging station; from which it's converted into powering items that are charged using the station.
USB cables are provided as a bonus by the manufacturer. That means, they can be absent in other brands. They are also each designed to fit a certain device which requires a USB cable. The cables may include micro USB, USB type C, mini USB, and other USB types.
User guides give directions on how to use the charging station and the role of each component that is packaged with it. With a user guide, you can never go wrong.
Portability
Charging stations are portable. They are made into small sizes that can easily be carried like a power bank. That means you have accessibility to it at your convenience.
Top 10 Picks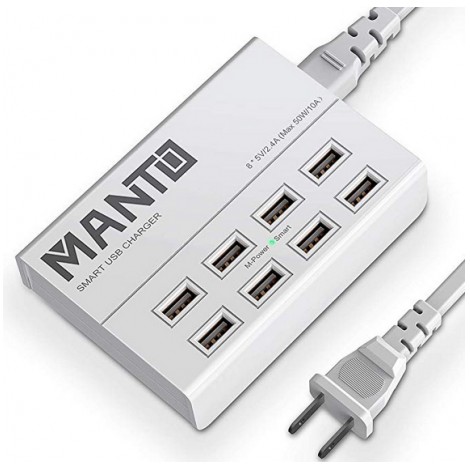 The MANTO charging station is a safe and compact multiple charging systems. It has 8 USB ports in one design that makes it suitable to charge eight devices simultaneously and at maximum speed. What you'll appreciate is the multi-protection it offers to any device plugged in it. All electronic devices that use USB cables are more compatible with this model. Enjoy the intelligent IC technology that it offers, as the charger identifies the best current for your smart devices. Product measures 5.1 by 2.3 by 0 inches and weighs 0.16 ounces.
Eight In One Design
The vital thing about this model is that it charges eight devices at the same time and with full speed. Being a portable mini size, you can carry it with you whenever needed. When 8 ports are being used, the embedded SMART chip is there to limit the maximum current automatically. This prevents overload and overheating. Let it work great for you and your loved one's devices!
Easy USB Charge
You should no longer use converters or adapters. This device will get the work done. All you need is to keep it tidy and neat at home or in the office just with only one power cord. Powers faster and saves you time. You don't need to line up your electronic devices for charging. Grab your smart and safe MANTO unit and enjoy multiple protection.
Cost and Value
No argument here! The warranty policy is provided with your purchase. You will have 365 days of online customer service support. You only need to call, message, or email them and they'll respond instantly. More than that, you will enjoy 18 months hassle-free warranty. Its multi protection is what gives it more quality. The unit is available for purchase.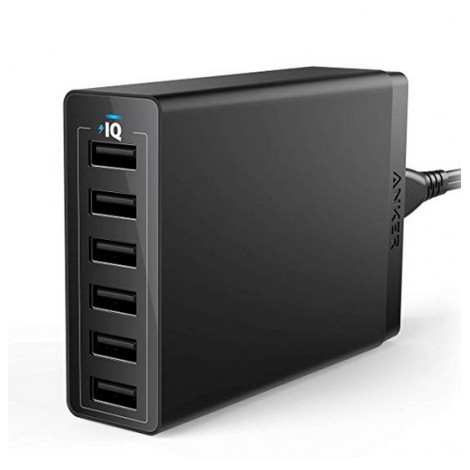 Measuring 3.9 by 2.8 by 1 inch, the Anker 60W USB model is an effective charger when compared to other compatible devices. This is because it has multiple slots for you to place a tablet or smartphone or multiple devices. It also comes with voltage boost and PowerIQ to provide the fastest charging ever. Think about the flexibility that Anker brings to you. Most importantly, the presence of the on/off button switch ensures 100 percent safety. The weight of the charger is 9.4 ounces.
Ultra Powerful
Its powering functionality is faster and saves time. The 6 ports contained in it pumps out 60 watts to offer the best charging speed. This enables simultaneous multi-electronic device charging. In fact, you only need to plug into your items for a few minutes and they will be fully charged. Effective and faster powering will be contributed by this reliable model.
Advanced Charging Technology
With advanced technology, Anker has voltage boost and PowerIQ that combines to provide an easier way of charging mobile devices. Every port charges up to around 2.4A or 12 amps overall. Also, it ensures safety in all dimensions. Get it because this device is rendered certified and safe.
Cost and Value
Think of what you'll get. You can't ignore its 18-month warranty! The manufacturer offers assistance every time you have a problem installing it. Its features such as the ultra-powerful charging technology make it a valuable item in the market. There is no money back guarantee offered from the manufacturer. For more information regarding the policy, you may reach out to the seller at any time.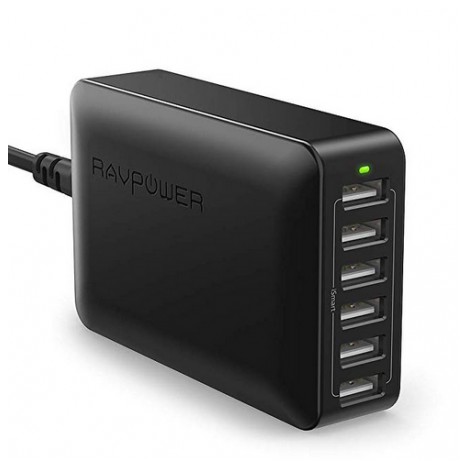 The RAVPower USB unit contains 6 USB ports; meaning that you can charge 6 devices with it. The speed is fast and effective. No more long wait times. You can use your smartphone while at the same time charging it. Each port utilizes smart technology to deliver and to recognize a device to ensure an optimum charge. All you need is to appropriately connect it to a power source. Dimensions are 6.0 x 4.8 x 1.5 inches and the weight is 12 ounces.
Built-in LED Indicator
This is very important because it alerts you when the mobile device is fully charged. Also, you can easily confirm whether you've connected your device properly to the power source. This proves how it is easy and straightforward it is to use. With a recognizable technology, RAVPower is capable of producing a remarkable optimal charge through its compatibility.
Worldwide Safety
Safety is one factor that needs consideration when you're dealing with charging your items. With this brand, your mobile devices are fully protected from any cases of overcharging, short-circuiting, and overheating. It offers a 100-240V input which is safe for any electronic device.
Cost and Value
The RAVPower powering station offers a gigantic 60w with maximum speed. All this proves it worth. It comes with a user's guide, a detachable power cord, and an 18-month warranty - plus 12-month extra on registration. There is an 80 percent money-back guarantee and a friendly customer service support from the manufacturer.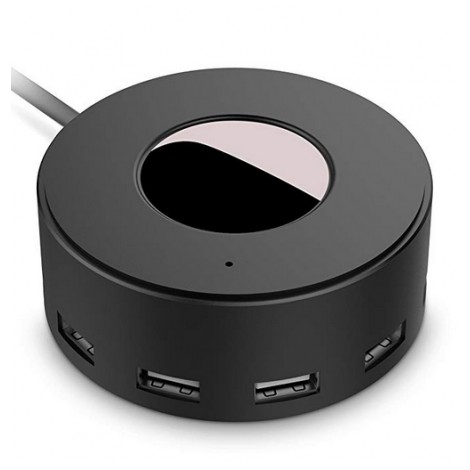 If you are looking for smart charging technology, you'll get it from VOGEK brands. It automatically identifies all the connected devices in addition to their unique charging requirements. It comes with a 6-port connection where each port delivers the correct amount of power so as to match your electronic devices' needs. The brand has unique features such as a built-in LED indicator, multi-protect safety system, and a multi-port USB charger. Item dimensions are 3.2 by 3.2 by 1.3 inches and weighs 7.7 ounces.
Multi-Protect Safety System
The device is highly recommended; in which this has been contributed by its features. Every person want their devices to be safe from electrical overload. Since it offers a 100-240V input, the model is certified by the FCC, UL, and RoHS. You're free to plug your smartphone in it with no stress. Also, its small and compact shape makes it portable to carry around when needed.
Charge 6-USB Devices
The unit offers you a good chance to power up to 6 electronic devices simultaneously. Whether you have a laptop, wireless earphones, wireless speaker, power banks, smartphones or an e-reader, this model is really compatible. What's more? It charges with maximum speed.
Cost and Value
A 12-month warranty is fully guaranteed. Throughout the installation process, the manufacturer is ready to offer free assistance. Also, you'll enjoy a 100 percent money-back period and a free replacement for defective devices. The unit's popularity has been contributed by its optimal usage and safety. The item is readily available for purchase and the shipment is quick.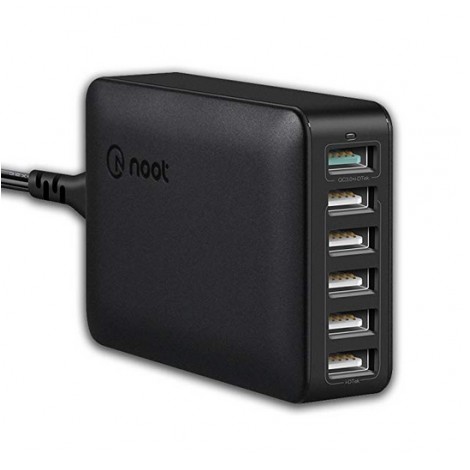 Noot is another reliable model that comes with a long, detachable cord. It is well-designed, making it compatible with different types of Android and Apple devices. Its quick charge feature enables the user to power various devices in less than forty minutes. Furthermore, it can work pretty well with devices that have a quick charge technology. It comes with 6 ports that make it useful for powering up multiple devices simultaneously. When compared to other models, this brand has one of the latest charging technology - meaning that it can power faster when compared to competitive models The item's dimensions are 10 x 7 x 2.6 inches and weighs 192.8 g.
Sleek and Compact Design
This is a compact charger that doesn't take a lot of space when plugged in. Its 6 USB ports are vertically arranged, making the unit slim and small. Its sleek design makes it a perfect option for travelers since it can slip easily in their pocket or backpacks.
Fast Charging Technology
iDTeK –This device can easily identify all the connected devices. iDTeK is known for delivering high, optimum charge speed for various devices. Each dedicated port is capable of drawing a current of up to 2.4 amps. This charger is compatible with different mobile devices, and it can power up to four times faster from other top-rated models. As mentioned, this unit comes with six ports that charge various devices simultaneously. You will always have more room for your mobile devices. It is compatible with a micro USB cable, lighting cable, and USB type C cables.
Cost and Value
This device is affordable and relatively cheaper as compared to other standard models. Interested buyers can easily place their orders online. Customers are given a two-year hassle-free warranty and an easy to reach, reliable customer service support team. This means that they can easily contact the seller once they have any issues with their device. The product can be delivered in as little as 5 to 8 business days.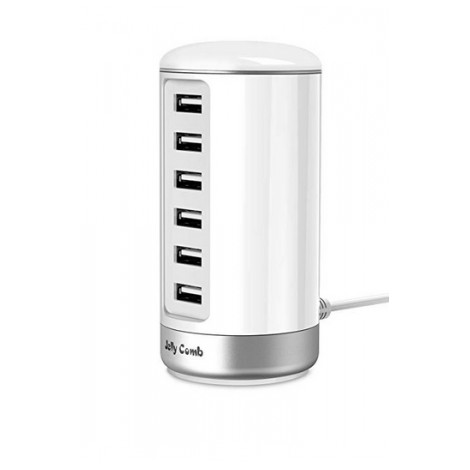 The Jelly Comb is a smart, multi-port charger tower that has a unique, stylish design. Office workers and homeowners can buy this device to eliminate the messy clutter of wires and chargers. With this charger, all your charging needs will be combined into one neat and simple charging location. It is designed with a rubberized bottom that makes it more stable even when all the ports are in use. The ports are well-designed in such a way that they can dynamically and safely alter the output while charging - making it one of the most efficient units. It can handle either 240v or 110v. Furthermore, it is made out of high quality and fireproof composite materials. The dimensions are 2.1 x 4.1 x 2.1 inches and its average weight is 7.4 ounces.
Universal Compatible
It comes with six ports that enable one to power various devices at the same time. It is also compatible with different devices including cameras, tablets, light, fans, smartphones, as well as other mobile devices. With this gadget, you don't need to use different adapters when charging your USB devices.
Sleep-Friendly Indicator Light
In addition to its sleek design, the Jelly Comb charger comes with a sleep-friendly indicator light that ensures that the user is not distracted while sleeping. This light is meant to notify the user that the device is working for him/her once it is powered up.
Cost and Value
The model has multiple ports that you can use for powering your devices simultaneously. These ports can easily reach the designed charging current for a device, thereby minimizing the time needed. Most buyers are impressed by the quality, portability, and simplicity of this affordable charger. It is relatively cheaper as compared to the other standard models in the current market. It is a great option for travelers who travel with several rechargeable devices. It comes with a one-year warranty and a money back guarantee.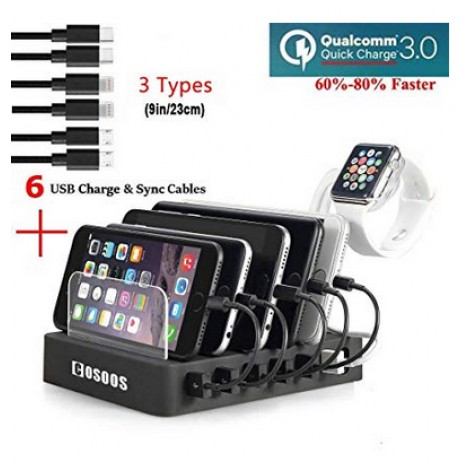 The COSOOS USB charging unit comes with 7 USB cables that are tidy and organized. Unlike other models, this brand is capable of powering mobile devices three times quicker. If you have an iPhone, Apple, or tablet, this could be your gift. It will power all of them at the same time. Another encouraging aspect is its innovative removable baffle design that offers more space for your multiple devices. Safety and protection are superb. The 3.0 charging ports are faster with this station. The item measures 6.3 by 4.9 by 1.2 inches and weighs 1.5 pounds.
7-USB Charger Cables
Organized and tidy, this multi-charger unit includes 2 micro USB chargers, 2 iPhone chargers, sync cables, and 3 type charger cables. With this, you can power up multiple devices. In fact, these features make this device highly recommended. Having it means that everything is organized. You can just sit comfortably doing your phone activities at the same time it is charging.
Provides Protection & Safety
It is advisable to charge your electronic devices in a safe place. COSOOS charging station offers protection against over-charging, short circuit, and overcurrent. The voltage that ranges from 100 to 240V is environmentally friendly. It is designed with a built-in 100 percent premium copper wire that is FCC ROHS Certified.
Cost and Value
This model comes with a 1-year warranty. Being a multi USB charger, COSOOS provides a charging solution for the whole family. It is also suitable for restaurant, hotel, and company use. The model works smoothly with an iPhone, iPad, and Android smartphones.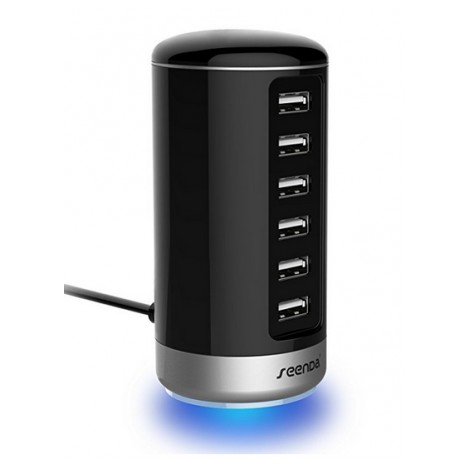 With 6-USB slots, the Seenda charging station is capable of supplying power up to 6 devices simultaneously. It is compatible with tablets, smartphones, cameras, as well as USB-powered devices. The model is certified and is characterized by smart identification. You can't afford to miss it in your office, company, or your home. It is both lightweight and compact. The model measures 4.1 x 2.0 x 2.0 inches and weighs 7.5 ounces.
Smart Identification
Seenda has this unique feature that other brands don't have. The smart identification feature helps it to detect all connected powered devices easily. Also, if the device is charged completely, the device produces a specific color. This is very beneficial to users who use many smart items at the same time. You only need to plug it in and allow the unit to do the work for you!
Perfect for Travel
Commonly known for its lightweight and compactness, this model is suitable for travel. Whether you're planning for a tour, this brand is best for you. It will serve you especially if you are planning to bring along a camera, earphones, and tablets with you.
Cost and Value
Choose quality! This USB charger might be expensive to some people, but quality proves its worth. The charger is readily available for purchasing. You'll be given an 18-month warranty from the manufacturer. In addition, friendly customer service is provided. You're assured a 45-day money-back period.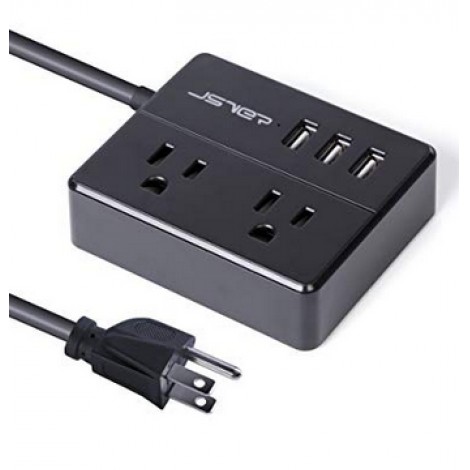 The list wouldn't be complete without the JSVER charger. It provides a total power of 1250W. You will love the intelligent charging technology applied to make it work effectively. In the market, it is one brand that has gained demand for sure. Don't forget about the 3 USB charging ports that protects your mobile device from over-changing, short-circuiting, and over-current. The dimensions are 3.6 by 3.1 by 1.1 inches and weighs 8.8 ounces.
Compact
It provides enough power outlets for the job. Furthermore, can handle all your devices smartly. Whether in a hotel room, a coffee shop, or an airport; this is a phenomenal choice for all your needs. The major benefit is that you don't have to select which device to power up first.
Universal Smart Charging Hub
Each port supplies a remarkable 2.4 current. You'll really benefit from the device's technology that helps you to detect the connected devices. What else would you need except better charging services? With this charger, you've got it!
Cost and Value
The product comes with a guaranteed 18-month warranty. Also, you will get friendly customer service from the manufacturer. Protection is what everyone needs when dealing with multiple powered devices. You have to get this model right away! Even though there are no refunds offered, customers will be provided an 18-month warranty that covers defects. You can contact the seller for policy information.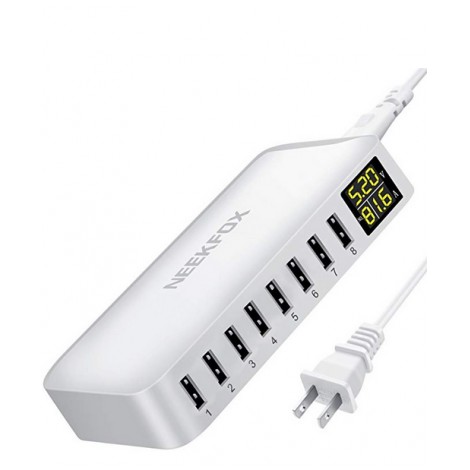 The USB Rapid Charger by NEEKFOX comes in an attractive design. It is not only convenient but also safe and efficient to use. The quality of this unit is phenomenal as it supports quite a wide range of changing for smartphones, tablets and other items that require a USB cord. If you've used it, you'll agree with me that your devices are always protected from overcharging and overheating. This means that it has been built to enhance all safety measures. In fact, the charger is compatible with 8 USB charge ports. Product dimension measures 5.1 x 2.8 x 1.2 inches and weighs 10.2 ounces.
Rapid Charging Technology
You only need to plug into the wall outlet, then you can charge even 8 USB devices simultaneously. It delivers the fastest and quickest possible charge to any device like tablets, Android, smartphones and power banks. It charges up to 2.4 amps for each port or a total of 8 amps overall. It goes without saying that your items will be charged at maximum speed. Safety and reliability are also enhanced. Overall, it won't disappoint you, your friends or guests.
Wide Compatibility & Safety Guaranteed
It offers multi-charging. You can power more than one device at the same time. Whether it's a laptop, tablet, camera, smartphone or other mobile devices, this rapid charger is compatible with all. This is enhanced by a multi-port adapter. Moreover, you can power your Bluetooth headphones, e-reader and portable speakers as well. It comes with an LCD display that easily detects and shows the current and voltage of each port.
Cost and Value
This unit comes with goodies! In fact, you should not miss this. With a 30-day guarantee and an 18-month limited product warranty, the services are a sure bet when any fault is discovered when using it. They will not only assist you but they will also replace the device whenever there is a problem. Its effortless portability makes it more valuable.

Subscribe to our Newsletter