Best Coffee Makers Reviewed & Rated for Quality
In a Hurry? Editors choice: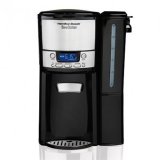 Test Winner: Hamilton Beach 12-Cup

Coffee…one of the liquids most drank on the planet comes in many different brands, flavors, and varieties. Whether it's a traditional
cup of joe
, a strong espresso, over ice, or one of the specialty blends that feature flavors and tons of whipped cream with chocolate or caramel drizzled on top, most people drink coffee today and love it. And if you aren't willing to leave the
house
in order to grab a delicious cup of coffee, we have a solution. If you are unsure about which coffee machine is the right choice to fit into your lifestyle and kitchen, don't worry, below you will find a buying guide that will list the top 10 best coffee machines out there for sale today and the criteria you need to use to find the one that will make the perfect mug of coffee to start or end your day with.
Standout Picks
Criteria Used for Evaluation
Brand
Brand & Types
The first criteria used for determining the best coffee makers were the type of coffee makers available. The top-rated ones that made the list were single-cup, full brew, and coffee/espresso combinations. What it comes down to when it comes to the type of coffee machine you need for your kitchen is preference. If you are a traditional coffee drinker, then a traditional coffee maker is probably the right choice for you. However, if you love everything from espresso to specialty drinks, then you will want to purchase a combo model. The same goes for choosing between single serve and full-brew coffee machines. If you only drink a cup at a time, then it makes more sense to go with a single serve maker, however, if you have a family of coffee drinkers or love entertaining a crowd, then full-brew is your best choice.
Style
Style
Another factor to consider when searching for the perfect coffee maker is the appeal and design of that particular coffee machine. The top-rated models are mostly sleek and elegant and will look at home in any kitchen.
Value
Cost & Value
One of the biggest factors in determining what is the best machine for you has to be the cost. The more bells and whistles the coffee maker you're considering has, the more expensive they are going to be. The top-rated on this list range anywhere from $20 for basic, no-frills coffee makers to almost $300 for coffee makers that do everything, including making specialty drinks and keeping the water hot. You need to consider your budget and the type of coffee you want to have when trying to make your final decision.
Size
Counter Space
As with any other small appliance that goes into your kitchen, you need to determine the amount of counter space you have before you decide on the size of the coffee machine you are going to buy. For example, if you are living in a tiny space where the kitchen has no counter space, then you are probably better off with a single serve coffee machine that doesn't take up much room or a machine that can be mounted under the cabinet. If you have a huge kitchen with plenty of counter space, then you can go with any of the machines on this list and be fine.
Durability
Solid Construction & Durability
The top-rated coffee makers on our list are durable and made of solid materials. That is one of the most important things to look for when looking to spend money on a new coffee machine for your home. You want a machine that is durable, made of high-quality material and able to withstand whatever amount of coffee making you do. The one thing you don't want is a coffee maker that leaks or breaks within a couple of months of you using it.
Features
Features
The days when coffee was made in a single pot on the stove or over an open fire are long gone. Today, coffee machines are common and people are extremely particular about how they drink their coffee. One of the top metrics used to build this top 10 list was the features that came with the different machines considered. From programmable settings that have your coffee brewed and waiting for you when you walk into the kitchen in the morning to automatic shut-offs that take the worry out of leaving the coffee pot on when you leave the house, there are many features that top-rated coffee makers come with. The choice of which of those features you need is totally up to you, however, remember the more features included, the higher the price of the coffee maker. Do your research carefully and then decide which is the best for you and your coffee drinking needs.
Our Favorites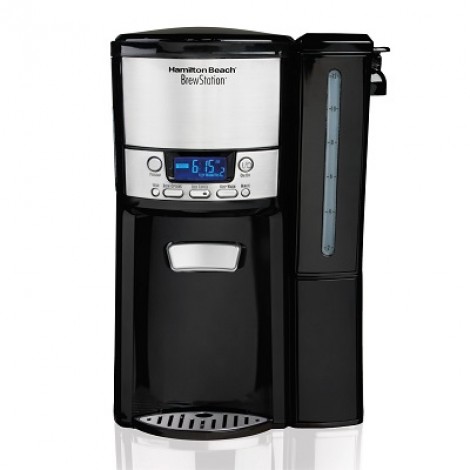 This Hamilton Beach coffee machine is perfect for someone who wants just one cup of coffee or even for the times when only a whole pot will do. It's stainless steel and has programmable settings as well. It's 950 watts, brews 12 cups in the carafe or up to 14 ounces of the magical brew in a travel mug, for those mornings when you don't have time and need to grab your coffee on the way out the door.
Two Ways to Brew
There are times when you need a whole pot of coffee and other times when just a single cup will do the job. This machine makes that possible by giving you two ways to brew your coffee. Brew 12 cups at a time with the carafe included or brew a single cup on the single serve side instead. The choice is yours, according to the amount of caffeine you need that day.
Advanced Brewing
When you have to get up extra early to be somewhere in the mornings, the smell of freshly brewed coffee can do the trick when it comes to dragging yourself out of bed. This machine features a built-in programmable timer that lets you set your coffee to brew 24 hours in advance.
Cost and Value
For the price, this is a perfect standard coffee machine that features two ways to brew the coffee many people thrive on. Add in the programmable timer for advanced brewing and this is a coffee maker, any kitchen would be lucky to have.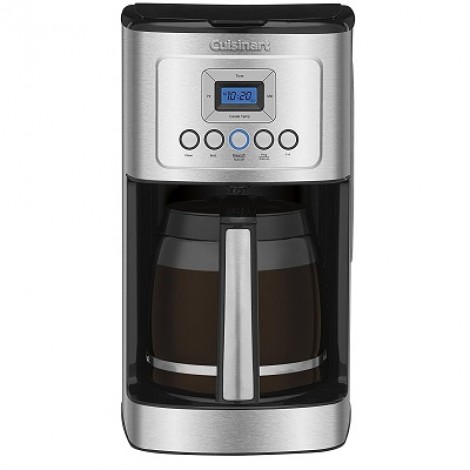 The Cuisinart 14-cup coffee machine is perfect for a family of coffee drinkers. It features a permanent filter basket, programmable clock, a one to four cup setting and has an automatic shut off after four hours. The best thing about this one is that it features state-of-the-art technology that allows it to keep the coffee hot, hot without sacrificing the flavor that coffee lovers everywhere love.
Brew Strength Control
This one features brew strength control so that you can choose how strong your coffee is going to be. Every coffee lover knows that sometimes you need strong coffee to get you going and at other times weaker coffee will do. This state-of-the-art coffee maker lets you have it either way!
Fully Automatic
Most coffee drinkers need to grab that first cup of coffee as soon as their feet hit the floor and they stumble into the kitchen in the mornings. It is hard to wait while the coffee brews, the aroma wafting through the kitchen as you salivate waiting for it to brew. This one is fully automatic and can be programmed for up t0 24 hours in advance, so your cup of fragrant brew is ready whenever you are.
Cost and Value
Though this is one of the pricier coffee machines on the market today, it's also one of the best. With the state-of-the-art technology for hot, hot coffee without losing the flavor and the pot being fully automatic, this one is well worth the money spent to purchase it.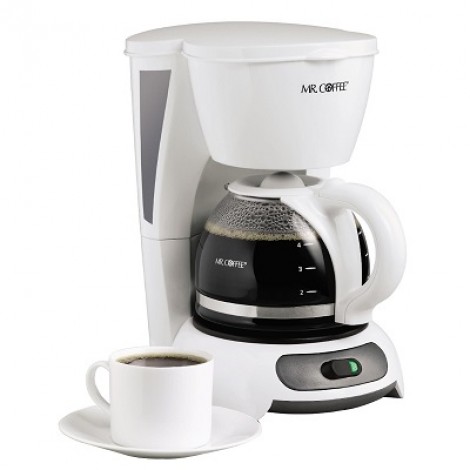 This Mr. Coffee, coffee machine is a basic 4-cup switch maker in white. You can brew up to four cups of your favorite coffee brand at a time and it comes with a basic off and on switch. It features a window that lets you know the water levels as you fill the back of the pot, so no more spilling when pouring the water in! It also features a stop and grab pause button. If you want simple, yet highly functional, this basic coffee machine is the one for you.
Pause and Grab
Many people are in a hurry in the mornings but don't want to leave the house without coffee in hand. This one features an auto pause, so you can grab your coffee and be out the door in a hurry if needed.
Lift and Clean Filter
The one features a lift and clean filter, which allows for easy cleanup. No more do you have to deal with trying to get those used paper filters out of the coffee maker without making a mess.
Cost and Value
This one is one of the least expensive on the top 10 list, but it is also one of the best basic coffee makers on the market today. With the lift and clean filter and the automatic pause, it's a good little coffee machine to have in any kitchen.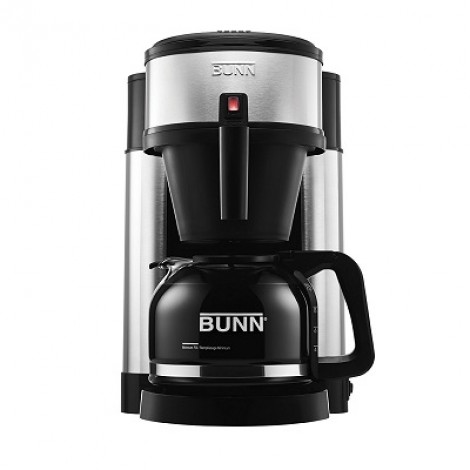 The Bunn NHS Velocity is the fastest making coffee machine on the list. It is a 10-cup home coffee machine that is capable of brewing a full pot of coffee in three minutes. It features an exclusive drip-free carafe and has internal hot water, which means it always makes super-hot coffee. If you are looking for the best to put in your home kitchen, this is the one for you.
Drip-Free Carafe
This one features a drip-free carafe and is said to deliver the cleanest pour on the market today. No longer do you have to worry about dripping all over your countertops when pouring that morning coffee. This carafe arcs the coffee into the cup and wicks the remaining drips back into the pot where they belong.
Vacation Switch
Since this coffee machine has an internal hot stainless steel water tank, which means the coffee is always hot. However, if you aren't going to be using the coffee maker for a bit, or you are going on vacation, take advantage of the added vacation switch to turn off the heat while you're away.
Cost and Value
While it is one of the most expensive coffee machines on the list, with the high-tech technology this coffee machine features, it is certainly worth the extra money you will spend. If you want piping hot coffee in approximately three minutes and a drip-free carafe to reduce spills, then, well, you get what you pay for and this one is worth it.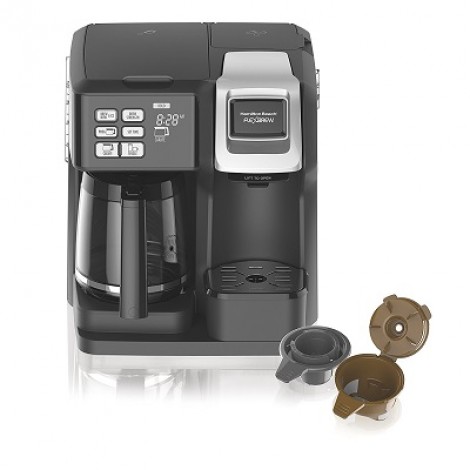 The Hamilton Beach is a single serve and full serve coffee maker that works with K cups or ground coffee, giving you two ways to brew the coffee that you love. It features separate water reservoirs so that each brewer has its own and is easy to fill. They also feature windows for each reservoir, so it's easy for you to tell which one has how much water at a glance.
Brew Strength Options
Not everyone in the house likes coffee the same way, some like it with milk, some with sugar, and many like it black. By the same token, not everyone likes theirs at the same strength. That's why this product features brew strength options that allow you to choose either bold or regular strengths.
2 Coffee Makers in One
This product is actually two pots in one. There is a single serve brewer that lets you use K cups or ground coffee, the choice is yours. Then, there is the full-serve side that allows you to brew an entire pot of coffee in the glass carafe. This coffee machine has everyone in the family in mind, no matter what their coffee preferences might be.
Cost and Value
For the price, this would be a great one to have. Just the fact that you can brew a single cup of coffee or a full carafe is enough to recommend it for cost and value. Add in the brew strength options and the fact that you can use ground coffee or K cups and you have a winner for sure.

6

. Shark Ninja Coffee Bar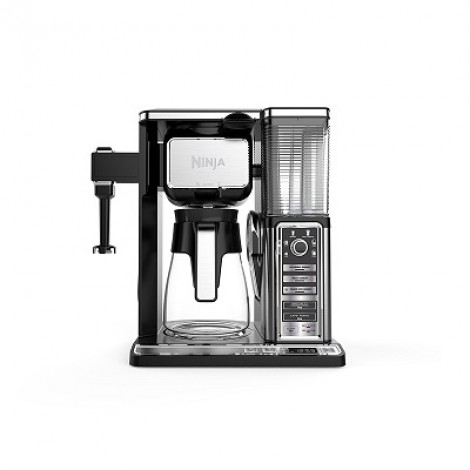 The Shark Ninja Coffee Bar is perfect for those who love a little bit of everything to do with coffee. It features the ability to make your traditional coffee, but can also make ice coffees and the specialty coffees so many of us love as well. The multi-serve dial also makes it possible for you to brew a full carafe, a half of a carafe, a travel mug, or just a mug full of the delicious brew you crave. This is the perfect coffee maker for entertaining and the included double wall stainless steel carafe keeps coffee warm for up to two hours without a warming plate!
Thermal Flavor Extraction Technology
This coffee bar features thermal flavor extraction technology that allows the user to dial the flavor extraction they want. You can choose richness levels such as classic, rich, over ice or specialty drinks for hot and cold drinks that are flavorful and rich.
Auto IQ One Touch Intelligence
This one is known far and wide for its auto IQ one touch intelligence. It uses just the right amount of water to make the perfect pot of coffee every time. It does this based on the brew size and brew strength you set the pot to before brewing.
Cost and Value
This is one of the more expensive coffee machines on the list, but completely worth it, as it's not just a coffee maker but a coffee bar as well. The fact that you can make everything from traditional coffee to iced and specialty coffees, makes it worth the price. The IQ one touch intelligence and thermal flavor extraction technology are added bonuses as well.

7

. Technivorm Moccamaster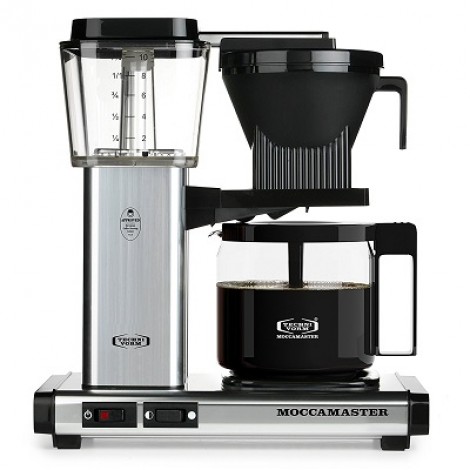 The Technivorm Moccamaster is a coffee maker that can make a full carafe of coffee in under six minutes and do so quietly, something you rarely find in coffee makers. It features a unique copper boiling element, a glass carafe, and an automatic shutoff. If you are in the market for a new coffee machine, then this one should be at the top of your list of possibilities.
Copper Boiling Element
This one features a unique copper boiling element that heats water quickly to a controlled boiling temperature of 196 to 205 degrees Fahrenheit. The element automatically switches itself off when the water reservoir gets empty, making for the perfect carafe of coffee every time!
Quiet Brewing Process
This one features a quiet brewing process, which is something that doesn't happen often with coffee machines. You can be sure that the smell of the coffee brewing is what will drag you out of bed in the morning, not the noise this one is making while brewing it.
Cost and Value
While this coffee machine is the most expensive on our list, it is also able to brew you perfect coffee in about six minutes, has an automatic shut off, and brews your coffee quietly and fast. This makes it worth whatever money is being asked for it if you are in need of a coffee maker with these features.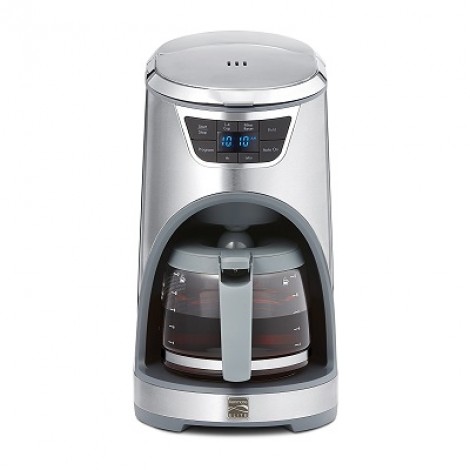 The Kenmore Elite is a stainless steel 12-cup coffee machine that is perfect for those coffee lovers who like theirs with no frills. It features a 24-hour timer that can set your coffee up to brew for you, charcoal water filtration, a gold-tone filter basket, and a removable water reservoir for easy filling. If you are looking for an elite cup of coffee, then this product can deliver.
Removable Water Reservoir
Featured with this one is a removable water reservoir that makes it easy to fill with water and not have to worry about dripping it all over your countertops and floor. If you are a neat freak, like many of us, this is the right machine for you.
Cost and Value
When it comes to cost and value, this one delivers. It has a sleek design that makes sure it will fit in any style kitchen, a removable water reservoir that keeps you from spilling and a 24-hour programmable timer, so what's not to love?

9

. Delonghi Nespresso VertuoPlus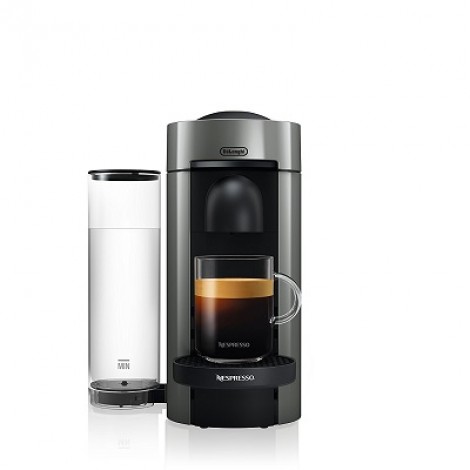 If you are a coffee lover who loves your traditional coffee but never minds a little bit of espresso on the side, then the Delonghi Nespresso VertuoPlus is indeed the right one to suit your needs. Choose either grey or red in this single serve coffee maker, so you can fit it right into your kitchen's decor. You can brew Barista coffee by choosing one of the different coffee cup sizes at the beginning of the brewing cycle. It also comes with a free complimentary gift to get you started on your path to the perfect mug of brew!
A Smart Coffee Maker
With this smart machine, you will be able to brew a single serving cup of coffee or espresso that is perfectly brewed every single time. This is made possible by Nespresso's Centrifusion technology that reads and brews the perfect cup time and time again.
A Free Gift Included
With this machine, you will receive a complimentary gift of a Vertuo capsule welcome kit. The kit is filled with different capsules to make your coffee and espresso drinking experienced varied and wonderful. Just the free gift alone is worth looking into this machine for, not to mention the great tasting coffee when it is done brewing!
Cost and Value
For what it does, the price of this coffee and espresso maker can't be beaten. From the free gift to the smart technology, if you are looking for a single serve coffee and espresso maker, you won't want to miss this one.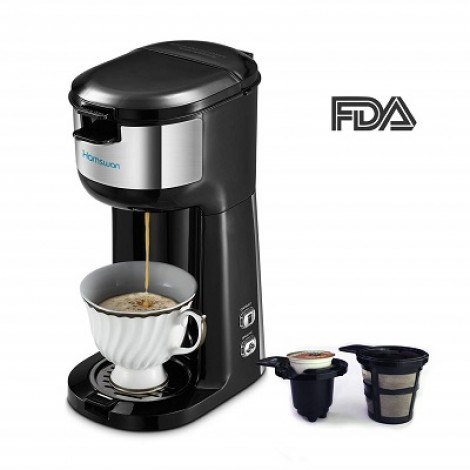 The Hamswan single serve machine is the perfect addition to any coffee lovers kitchen. This product can make coffee in one of two ways - either by using K-cup pods or using ground beans like a traditional one. If you are looking for a new machine and don't require more than a cup at a time, you may have just found it with this one! It has a sleek elegant design and will work well anywhere you want to place it!
Sleek Compact Design
This one features a sleek, compact design that makes it a perfect fit for any kitchen. Its small design will find a home anywhere on your counter top and be your favorite single-serve drip coffee maker in no time at all.
Automatic Shut Off
No longer, do you have to worry about whether you shut the coffee off after you are halfway across town to work in the morning. This one features an automatic shut off that does that job for you!
Cost and Value
For what it does, this coffee machine is affordable and worth the money being asked for it. Just the automatic shut off alone, when combined with the compact design of the coffee maker is enough to recommend it.

Subscribe to our Newsletter