Best Garmin Watches for Running Reviewed & Rated For Quality
In a Hurry? Editors choice:
Test Winner: Vivoactive 3

Most experts agree that a fitness tracker watch is almost indispensable for any runner looking to get serious about their
fitness and progress
. The standard Garmin activity watch can do everything from tracking your run,
measuring your heart rate
, measuring your pace, and giving you active feedback about your progress. When compared to smartphones, these watches are on average more accurate and easier to use. They are much smaller, more responsive, and more importantly, won't interrupt you mid-run with a phone call. A Garmin watch is perfect for runners of all levels who need an overview of their progress and are looking for ways to keep improving!
Standout Picks
Criteria Used for Evaluation
Accuracy
Any seasoned runner knows that accurate data is vital when it comes to improving your performance. Any statistic that is just a little bit off could possibly throw off your progress, this s why the accuracy of your device is of such vital importance.
The accuracy of your device will more or less rely on its GPS capability. Most GPS watches or activity trackers rely on the Global Positioning System (GPS) to figure out where you are and where you're running to. In turn, this data is also used to determine other factors such as your running speed, pace, and distance.
However, not all devices were created equally and there can be a vast discrepancy in accuracy that varies from devices but even from the kind of activity that you're doing. The strength of your GPS signal can also be determined by external factors like the occasional obstacle that temporarily gets between you and the GPS signal.
It's these external factors that usually cause a lag in connecting to the GPS satellite or could cause your connection to break off mid-run. However, a device with a less than perfect GPS capability could potentially give you inaccurate results.
So how do you make sure to get the most accurate device for your budget? Firstly, you should make sure that the device you're buying is absolutely tailored to your preferred exercise. If you prefer running on a treadmill, opt for a device that can accurately pick up indoor running. If you love open water swimming, you should cherry pick devices whose signals don't get crossed while its underwater.
By selecting a device that's most suited to your preferred activity you will always get the most accurate results.
Apps
Ever since the dawn of the smartphone, most people have started to use an ever-increasing amount of apps to help manage their lives. Most tech devices quickly incorporated this app culture and this is no different when it comes to activity trackers.
Whether your not you need access to a wide variety of apps will largely depend on your needs as a runner or athlete. You still get basic GPS watches that simply allows you to track your run and a few basic stats associated with it.
However, the growing trend is to allow the user to access a wide array of health and fitness apps using their watch and to share training data between these devices. Most mid-range devices allow you access to a fairly varied number of health and fitness apps using Garmin's Garmin Connect and Connect IQ store.
However, the advanced devices really up the ante when it comes to apps. Most devices in this level area come pre-loaded with dozens of apps, each suited to a different exercise or activity for optimal tracking.
At the end of the day, your app preference will largely depend on you. The triathlete or sports enthusiast will likely be drawn to devices that have pre-loaded apps and access to other existing health and fitness apps, while the beginner might simply want to go outside and run, without giving it too much thought.
Comfort
When you're at that last stretch of your training the last thing you want is an ill-fitting watch that distracts you and causes you discomfort. More importantly, when your device has a built-in heart rate monitor, it is vital that your watch strap fits correctly to ensure accurate monitoring.
The ideal watch should be lightweight, have an unobtrusive watch face, fit comfortably around the wrist, and be constructed of a soft yet durable material that won't annoy your wrist.
A lightweight watch is essential to ensure that it does not impede your performance or interfere with your daily life in any way. This same goes for the watch face design. Take care to stay away from products with overly big watch faces, or any significantly protruding buttons as this can easily get caught on clothing during workouts.
Most devices are available in a wide variety of wrist strap sizes and the product description will generally give the exact dimensions of the various sizes. If you know that you have a larger or smaller wrist than the average individual, it is well worth considering to opt for a smaller or larger size to ensure a snug fit.
Lastly, the material should soft enough to not annoy your skin, while being durable enough to withstand the weather. Materials like silicone are ideal since they are not compromised by excess sweat and fit well around the wearer's wrist.
Versatility
As a runner, you may not necessarily require versatility from your device, however, for the sports enthusiast this could a valuable added extra.
Versatility refers to two all the activities that your device is capable of tracking as well as other general functions that it could offer.
Versatility would be an essential criterion for triathletes and individuals who partake in multiple sporting activities. These individuals should consider what other activities their device is capable of measuring and with what degree of accuracy.
Generally speaking mid to high-end devices offers a lot more choice in this regard. The user can easily navigate through a variety of pre-loaded apps that are specifically tailored to a certain sport of activity. This app is automatically configured with all the stats that should be measured while performing this activity.
However, there is another aspect of versatility and that is simply all the other functions that your device is capable of performing beyond the sporting field or gym. Thanks to technology, most activity trackers act more like smartwatches and allow you to do everything from receive notifications to conducting contactless payments.
The choice of versatility, however, should ultimately be decided upon by the user as while some might find this added functionality useful, others may feel that it hinders their performance.
Watch Face
The face of the watch itself is of major importance for two reasons: Firstly, the physical construction of the watch face itself and secondly, the display of the watch.
The physical construction can be a major deciding factor in your love or hate in a watch, especially when it comes to a watch that has been designed to be used for exercising. Ideally, the watch face should lightweight and compact so that it won't annoy you or interfere with your workout or daily life in any way.
Then there is the display. Ideally, the display should be easy to read in a variety of weather and light conditions. Opt for a bright, high-resolution display with a font size that is comfortable to read during exercise. Other added extras to look for is scratch resistant glass, a strong backlight, and a watch face that is weather-resistant.
10 Best Garmin Watches for Running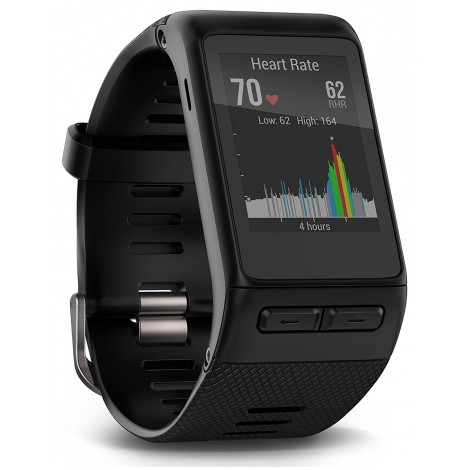 While this product is technically a smartwatch, it still delivers the same reliable and accurate performance that you'd expect from a device that is dedicated to running and exercise. The Vivoactive HR boasts a high-resolution touchscreen display, built-in heart rate monitor that works 24/7, a long battery life, and easy connection to any smartphone. This is a powerhouse of fitness technology and is suited to a wide variety of athletes for versatile and efficient training.
The Vivoactive HR boasts a variety of built-in apps dedicated to a specific sport or activity. This allows you to simply open up the app and start tracking your progress. Using the apps will allow you to get more accurate data specific to the sport or activity that you're performing.
No more uncomfortable and unnecessary chest straps! The Vivoactive HR boasts a highly accurate and reliable wrist-based heart rate monitor that gently monitors you throughout the day. This way you get accurate stats about your resting and working heart rate to understand your health a lot better.
Despite the fact that the Vivoactive is technically a smartwatch, it still has a fairly moderate price compared to other smartwatches on the market. This product offers all the easy connectivity that you'd expect from a smartwatch but with the added benefit of highly accurate performance tracking, that is a definite must for the athlete looking for a multi-functional device.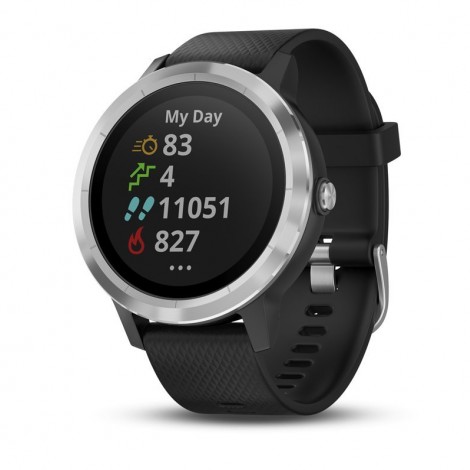 The Vivoactive 3 combines accurate activity tracking with smartwatch intelligence. This device can be tailored to a wide variety of exercises and activities including running, yoga, strength training, swimming. It has various highly sensitive monitors for highly accurate and comprehensive data over your activities. Moreover, this device features all of the functionality that you'd expect from a smartwatch such as contactless payments, apps, and receiving notifications.
Each Vivoactive 3 device comes pre-loaded with 15 different indoors sports applications. This allows you to maximize your effort and get the most out of every workout. While exercising, your device will track comprehensive biomechanical stats to make you a better athlete day by day.
Never fumble around for your wallet again. With Garmin Pay, you can easily connect your bank card with the Vivoactive 3 that will allow you to simply tap your watch to pay. With this feature, you can keep your wallet safe from prying eyes and wear it safely on your wrist.
Compared to the majority of other smartwatches currently available on the market, the Vivoactive 3 is practically a steal. Considering its commitment to sports performance and GPS accuracy, this device is ideal for the athlete who wants more functionality from their activity trackers.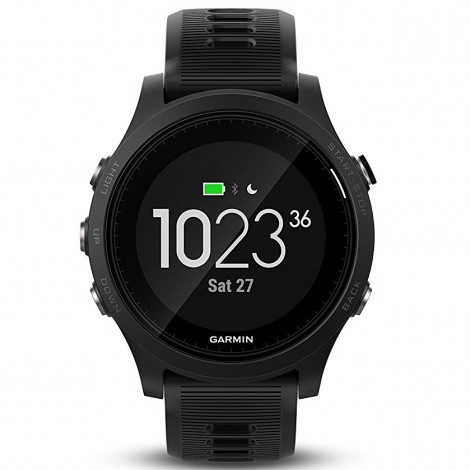 A well-loved favorite among runners and triathletes alike, the Forerunner 935 takes the mystery out of your training program. The Forerunner 935 measures every aspect of your training and performance and can be used for a variety of activities such as running, swimming, cycling and gym cardio training. While it offers the accuracy of an activity tracker, it includes the convenience of a smartwatch. You can easily connect to your smartphone to get notifications to your watch and to export all data to any health and fitness apps on your phone.
Unlike most other watches, the Forerunner 935 can be tailored to a wide variety of exercises including running, swimming, cycling, etc. This watch provides detailed feedback on various aspects of your training including pace, stride length, ground contact, etc. to help you improve your form.
The Forerunner 935 is easily compatible with iPhone, Android, and Windows devices. With Garmin Connect you can receive notifications from your smartphone, listen to music, share your workouts and export all your training data to your smartphone for deeper analysis.
The Forerunner 935 is considered a mid to high-end product when it comes to running trackers. However, this device offers immense value for money with its highly accurate sports performance analysis, its multi-functional approach, smartphone compatibility, and durable construction.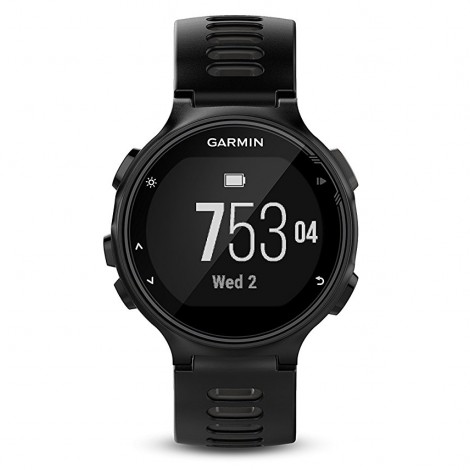 The Forerunner 735XT remains one of the top activity watches for triathletes out there thanks to its simple design and accurate performance measurement. This powerhouse device is suited to a variety of sports and includes a heart rate monitor in the wristband for an accurate performance analysis. The device itself features an ultra comfortable silicone strap with an old-school button display. This is ideal for the serious athlete with a no-nonsense approach to fitness.
The Forerunner 735XT is perhaps one of the most lightweight activity trackers out there. It fits effortlessly on any wrist and is small and lightweight enough to not interfere with your workouts. The silicone strap ensures a comfortable fit and includes a built-in heart rate monitor.
Ideal for triathletes or simply the sports enthusiast, the Forerunner 735XT comes pre-programmed with several modes suited for a variety of activities such as running, hiking, cycling, swimming, etc. Simply select your exercise and the 735XT will measure your performance accordingly.
With its mid-range price, the 735XT is perhaps one of the most affordable solutions to an accurate multi-sport tracker. Each device includes various sensitive tracking sensors for accurate performance analysis and you can connect it to your smartphone to export the data.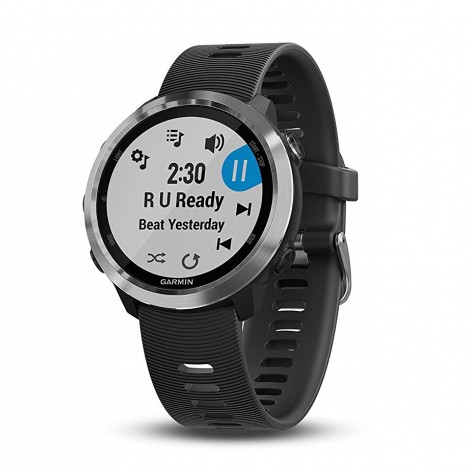 Just like the name suggests, the Forerunner 645 Music is the ideal solution for the music lover. This device offers reliable performance tracking with the added feature of downloading up to 500 songs on to the device itself. In addition, you can access various music streaming services to listen to your favorite songs via Bluetooth earphones. This device also includes advanced biomechanical measuring during your runs.
The Forerunner 645 Music allows you to keep all your favorite songs right on your wrist. You can download up to 500 songs to listen to via Bluetooth earphones. You can also access all your favorite music streaming services to listen to music offline.
This device provides you with a simple way of keeping on top of your performance and progress. The 645 Music provides a comprehensive overview of all your biomechanical statistics during your runs. This way you can easily track your progress as an athlete.
The Forerunner 645 Music is arguably more expensive than the average activity tracker. However, this device offers much more functionality than the average fitness tracker. It allows you to store music, access music streaming services, conduct contactless payments, keep a comprehensive overview of your performance, and so much more.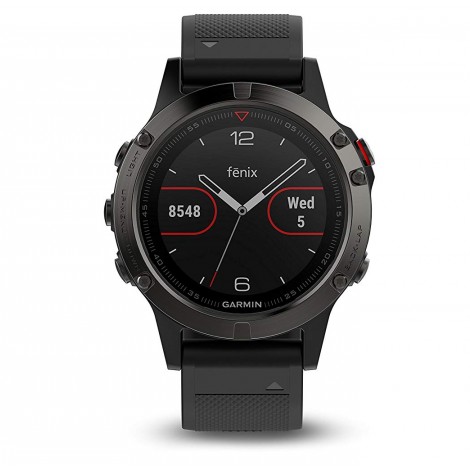 Start training smarter with the unique features of the Fenix 5 Sapphire. This multifunctional activity tracker combines accurate, reliable tracking with all the added convenience that you'd expect from any smartwatch. This product includes an Elevate wrist heart rate monitor, a rugged design for durability, and a user-friendly interface that allows you to access all your training stats with the touch of a button. This versatile device is ideal for any level of athlete of fitness fanatic that is looking to up the ante on their training routines.
The crisp LED display with ultra-high resolution allows you to quickly read all your stats even while you're on the go. The Sapphire version also includes crystal clear, scratch-resistant glass to make reading your stats effortless, regardless of the weather conditions.
The Fenix 5 Sapphire was made with adventure in mind. With its ultra-durable construction of stainless steel and scratch resistant glass, the Fenix 5 Sapphire is perfect to take with you wherever you go. Whether you like to get your kicks in the gym or in the great outdoors, the Fenix 5 Sapphire can take whatever life throws at it.
This product is perhaps one of the most expensive Garmin activity trackers and with good reason. Every single aspect of this watch simply shouts premium quality. From its highly rugged design to its sensitive outdoors sensors, and added smartwatch functions, this is a multi-functional watch that is well worth the investment.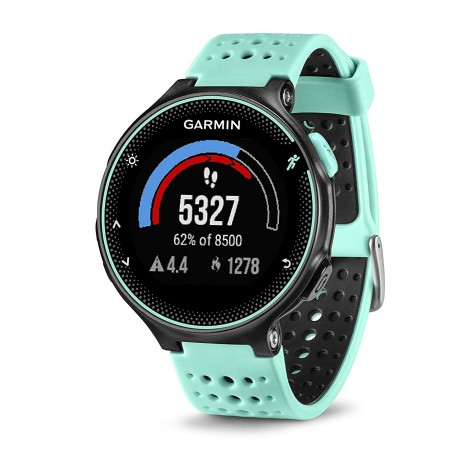 With its eye-catching design and high-resolution display, the Forerunner 235 will appeal to even the pickiest athletes. This activity tracker has a built-in wrist heart-rate monitor, a large screen display for easy reading, easy smartphone connectivity, and up to 12 weeks of battery life. It effortlessly trains you to be a better athlete with audio prompts that give you info about lap times and distance covered. This is the ideal solution for beginner to mid-level athletes who are looking for a more comprehensive overview of their training sessions.
Wear your heart on your wrist with the Forerunner 235's built-in heart rate monitor. This monitor tracks your heart rate 24/7 to give you a better insight into your overall health. There is no need for any other uncomfortable chest straps, simply put on your watch and go.
One of the Forerunner's most impressive feats is its long-lasting battery. This device can last for up to 12 weeks depending on usage and which mode it is used it. Regular watch mode can last for up to 12 weeks, while training mode can last for up to 12 hours.
What makes the Forerunner 235 even more ideal is its price. This device enjoys a low to mid-level price that makes it a great choice for entry-level or intermediate athletes. Despite its low price, it still provides accurate biomechanical stats and stores up to 200 hours of training sessions for comparison.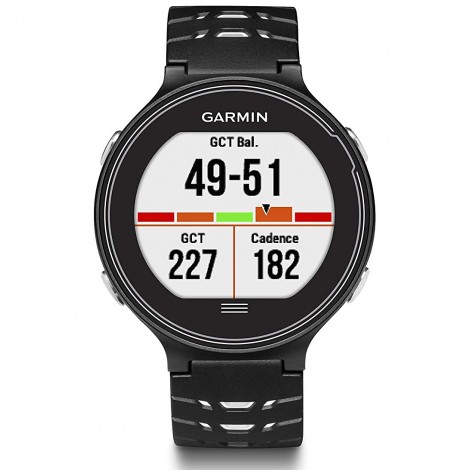 Expect accurate data in real-time from all your training sessions with the Forerunner 630. This device has been designed to be simple yet powerful with its touchscreen display, advanced built-in sensors, and smartphone connectivity. The Forerunner 630 is dedicated to second-generation running metric and accurately measures all your advanced running data such as stride, cadence, ground contact, vertical ratio, etc.
Take your runs up a notch with the Forerunner 630. This device accurately tracks and records advanced second generation running dynamics to help you get the most out of your runs and become a better athlete.
The 630 is capable of automatically interpreting your data to help you track your progress in a way that is easy to understand. It creates charts based on your performance to give an overview of your progress so you can easily identify where there is room for improvement.
What makes the Forerunner 630 particularly attractive is its mid-range price. This watch has enough advanced high-end sensors and accurate data tracking to appease the advanced athletes, while its moderate price and user-friendly interface makes it approachable enough for beginner and intermediate runners.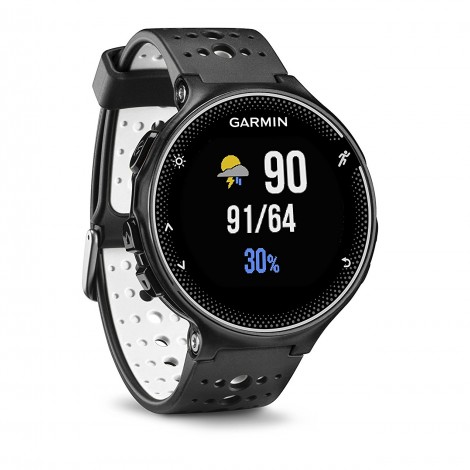 With its simplistic design and powerful tracking capabilities, the Forerunner 230 is almost as dedicated to your health and fitness as you are. This device is capable of tracking everything related to your fitness including steps taken during the day, calories, and even sends you reminders to get up and move if you've been sedentary too long. This is the perfect companion for anyone at any fitness levels who are looking to improve their overall condition.
The Forerunner is so much more than a GPS watch. With its simple, unobtrusive design and multi-functionality, this is a watch you can take beyond your daily runs. It tracks your exercise and all other activities during the day, calories burned and sends you reminders to move.
The battery life is perhaps one of the biggest upgrades that the 230 received in comparison to older models. While battery life varies widely based on how you use it, the Forerunner 230 can last up to 5 weeks when used in watch mode.
This product enjoys a mid-range price compared to other similar devices currently available. The Forerunner 230 offers tremendous value for money with its larger screen display, accurate tracking of all your stats, 27/7 activity tracking, and long-lasting battery life. This is a great choice for both entry-level and intermediate runners.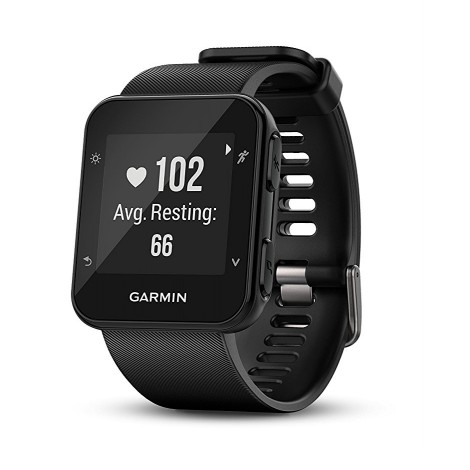 The Forerunner 35 holds a special place in the annals of running technology since it was one of the very first running watches and still is one of the best budget buys for runners of all levels. This product features a built-in heart rate monitor, GPS, and can even connect to your smartphone. This watch is capable of accurately measuring and tracking all your standard running metrics and exporting it to your favorite health and fitness apps. This is a great way to get the beginner level athlete more motivated about their daily runs!
The Forerunner 35's highly accurate built-in GPS takes the guessing work out of your daily runs. It connects quickly and easily to measure everything from your running distance, running speed, and your route.
This device features an Elevate heart rate monitor built into the wrist strap itself. This allows for much more accurate and convenient measurements 24/7. You can measure your heart rate while you're resting and on-the-go to help you improve your overall health.
The low price of this great device makes it ideal for all entry-level runners. While it may not offer the extensive biomechanical measurements of more high-end devices, the Forerunner still offers plenty of bang for your buck with its highly accurate built-in sensors and great overall performance.

Subscribe to our Newsletter