Best Electric Blankets Reviewed & Rated for Quality
In a
Hurry? Editors choice: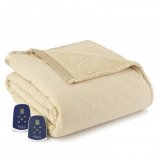 Test Winner: Thermee Micro Flannel

Who doesn't love a good blanket? They keep you warm, make you feel all soft and cozy, and are generally a staple of any self-respecting household. Most normal blankets are just enough for people to get the job done when things get chilly. Sometimes people use
weighted blankets for comfort
, too. Regardless, blankets provide warmth and comfort and are the perfect environment for snuggling with the significant other or
pet
. But when a regular blanket doesn't keep you warm enough, look to the electric blanket instead. Here's how it works: through the use of a remote, you have the electricity charge heat through the blanket to make it warmer. We picked our top ten for you to choose from below:
Standout Picks
Criteria Used for Evaluation
Comfort
It doesn't matter how many features, doodads, or other various gizmos you through in there. If it isn't comfortable, it isn't comfortable — end of discussion. So, we chose electric blankets made out of nothing less than the best material on the entire market. Whether it's microfiber or pure polyester, we looked for the comfiest, yet most durable fabrics we could find. And yes, durable, because electric blankets are packing some serious hardware.
The last thing you want is for the dog to chew through the blanket and deep fry themselves by biting into one of the many dozens of wires strewn throughout the body of the blanket. A combination of both of these traits makes a recipe for a very high-quality electric blanket. But there is a lot more that goes into getting on this list.
Effectiveness
One of the biggest things that play into how comfortable an electric blanket is is the thickness of the wires used inside the blanket itself. The wires spread the electrical signals to super small nodes that then give off heat. But if you want the blanket to be anywhere near comfortable, then those wires better be just as small, if not smaller. It's not even like manufacturers have a good excuse, eeing as how we live in the age of fiber optic cables, and electrical signals that can be sent wirelessly.
Maybe someday soon someone will figure out how to do away with having wires in these things altogether, as technology becomes more advanced, as well as more commercially available. But until then, the thickness of the wires used for an electric blanket will play a large part in how enjoyable it is to use these things.
Of course, it wouldn't be much of a heated blanket if the heat it generated was subpar. Luckily, this wasn't much of a problem for us to figure out, as most of the entries we looked at got this down pretty well. And even if they didn't, they had more than enough in their favor to pick up that slack. But still, we felt it was vital that this criterion is included, due to it being the reason you're buying the blanket in the first place. But there's another side to this that some manufacturers tend to forget, the fact that we don't want our blankets to cooking us outright, which can happen with any heat put out if left there long enough, which is why our next criteria are just as vital.
Accessories
This refers to the length of the cord used to plug the blanket into the socket of the wall. Because in most cases, you do still need to connect these things into the wall to get them to work. But in other cases, the cord is just there to charge up the controller for the blanket, and the remote is what turns it on wirelessly. But in either event, the last thing you want is for your comfort to be hampered by how much length of cord you have.
And on top of that, they can also be safety hazards if too short, tripping people over and causing injury. This can also happen if they're too long, however, giving the cord so much slack, that it bundles and coils up into convenient traps. This is why most corded electric blankets go for a middle ground of 16 ft. Long enough to get to any outlet, without being too long in the process.
Features
This is where the auto shut off feature comes into play. After a set amount of time (the average seems to be about ten or so hours) the blanket will just shut itself off, not having gotten any input from its owners during that time. Every time you press a button or even pick up it, the timer for shut off will reset, as the machine will be told that you're still around.
This is not to say that you're in any actual danger when you have a heated blanket on for too long. But we imagine you don't want to wake up sweating up a storm, and you don't want to deal with the heating and electric bill that comes from leaving one of these on, along with the regular thermostat, for too long of a time.
Value
The final criteria we looked at was the price of each entry and was one of the more fascinating topics for this list; mostly because the prices seemed utterly inconsistent. However, as we ran down the final entries for this list, we realized that the price tended to vary based on the size, thickness, and amount of layers used by the blanket. So, we looked at each price, then at the product in question, and we asked ourselves whether or not it was actually worth the price. This helped with the culling process rather quickly.
10 Best Electric Blankets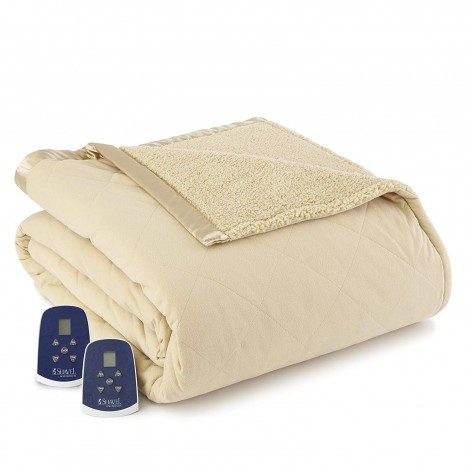 Thermee Micro Flannel Electric Blanket. We depart from the previous entry's small and minimalist nature, for a much bulkier, thicker blanket. Its larger size alone will make it more desirable to most people already, but there are a lot more reasons than that to try out this fantastic blanket.
8 secure heat settings
Any good electric blanket should come with a series of different heat settings. But this blanket takes it up a notch by having eight heat settings, much more than you usually find, even today. Sure, there are some with equal, even more, heat settings elsewhere, but this blanket was one of the first to do it.
Auto shut off
When dealing with anything that puts off high amounts of heat, it's always a good idea to have a failsafe in place. Which is why this electric blanket comes with a 10-hour auto shut off function that will automatically turn the blanket off if it doesn't receive any input from its owner.
Cost and Value
Of course, you don't offer such a big, bulky blanket, with so many advanced features, without the price is pretty high. And sure enough, this blanket is very firmly in the triple-digit price range, regardless of which retailer you consult. However, we can safely say that you're getting what you pay for.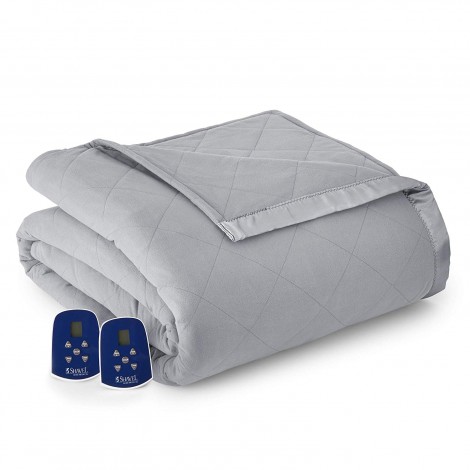 The Shavel Home Products Electric Polyester Blanket is next on our list. Once again, we have a king-sized, a bulky blanket that provides you and whoever is snuggling up with you, maximum warmth and comfort. So what else does this blanket have going for it? Let's find out.
Micro flannel construction
The material primarily used throughout this blanket is known as micro flannel. Micro flannel is, essentially, ordinary flannel, but with smaller fibers than usual. This allows for more fibers per square inch, making for a softer, warmer, and just generally more comfortable feel when using this blanket. And on top of that, micro flannel doesn't shrink or pill and is 100% machine washable and dryable.
16 foot cords
The cords of an electric blanket are always the most significant downside, most of the time. With other electric blankets, the cable is usually too short or too long, either way, causing the people around you to trip over it always, which is why this blanket has just the right length for its cord, about 16 feet — more than enough to get to any plug nearby, without risk of people tripping over it.
Cost and Value
For large, multifunctional electric blankets like this and the previous entry, the prices they're usually found at represent an average. Not necessarily for all-electric blankets, but definitely for ones their size.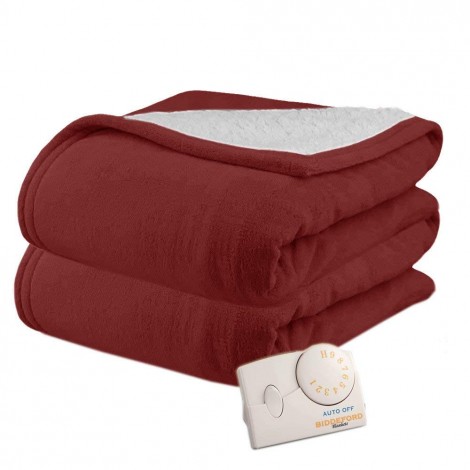 Next, the Biddeford Electric Heated Blanket. This heated blank looks more like a quilt than an electric blanket. This blanket nonetheless gives you excellent service with its polyester micro plush construction and ultra-thin wire interior.
Energy saving
Did you get an electric bill that's eating you alive? You probably want to turn it down, but it might be winter, and you can't without freezing your butt off. This is the biggest reason to buy an electric blanket in general, but this one helps by being low voltage. Now you can warm yourself up, and keep the thermostat down, keeping your electric bills at a reasonable level, while also making sure you don't freeze to death.
10 Heat settings
Eight heat settings are all well and good, but what about 10? This blanket comes with up to ten different heat settings, allowing for even more control than you already had for your electric blanket. So, if none of the settings on eight setting blankets are doing it for you, now you can buy this blanket for added control.
Cost and Value
This blanket is somewhere between the previous entry and the one before that in terms of price. Making it, not the cheapest on the list, but still definitely up there. You'll rarely find this one in the triple digits, and if that's all you need, then look no further.

4

. Beautyrest Soft Sherpa Heated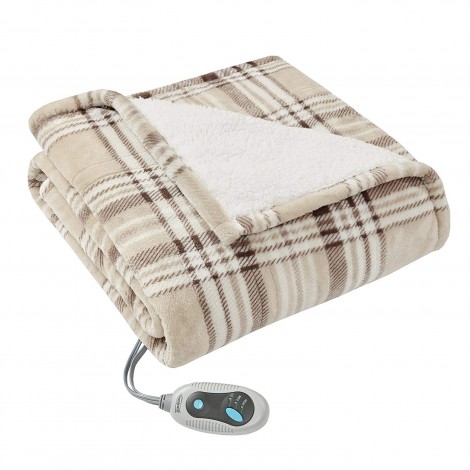 An ultra-comfy, stylish, heated throw blanket with an attractive plaid pattern, this heated blanket is what you should look for if you want the best in unique heated blanket technology.
U shaped snuggle wrap
Unlike a standard, square blanket, this one has split down the middle. This makes for an easier time using the thing, as it wraps more securely around the body, and thus brings better heat to the body overall. While not necessarily meant for the lower body (so wear socks when you use it) it brings a great deal of warmth and comfort to the upper body and especially the shoulders.
Easy to care for
It's easy to assume that you can't throw an electrically powered blanket into the washing machine. But, as long as you disconnect the power cord, you should be fine. You also need to make sure that it's on a gentle wash with no bleach and no ironing afterward. Tumble dry after washing.
Cost and Value
This electric blanket is sold at a rather average price for a blanket of its quality. So, if you want a high-quality electric blanket for a modest sum, then this should do the trick just fine.

5

. Sunbeam Quilted Fleece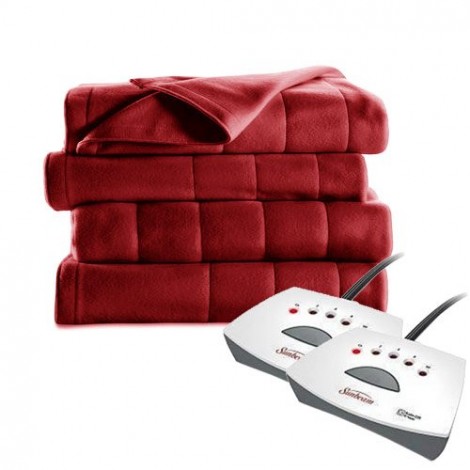 The Sunbeam Quilted Fleece Electric Heated Blanket. This is our first Sunbeam entry for this list, and we can't think of a better one than this. This is a quilted blanket that will deliver you consistently distributed heat. How does it do this? Let's find out.
ThermoFine Technology
This polyester quilt has a lot more going for it than just sheer comfort, though that's a big part of the appeal. It's also equipped with what's known as ThermoFine technology. Boiling down the definition into the essentials, it means that this blanket delivers consistent, evenly distributed warmth throughout the entirety of the blanket, with absolutely no cold spots to be found.
Auto shutoff function
Heated blankets are all well and good. But the problem with them is that if you fall asleep while using them, or forget to turn them off, they can end up draining a lot from your electric bill. Fortunately, this electric blanket will automatically shut off after ten hours. So, you never have to worry about accidentally leaving your heated blanket on.
Cost and Value
This costs about the same as the previous Sunbeam blanket, which makes sense. One of the best things about Sunbeam is their consistency with pricing.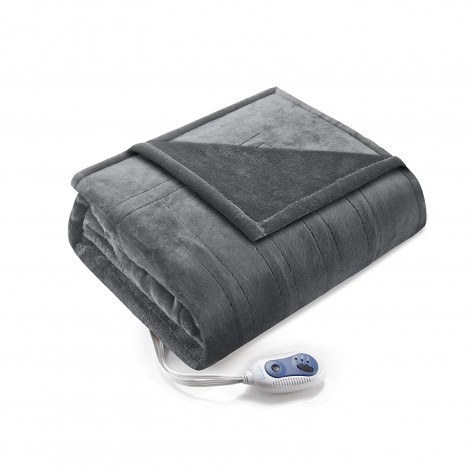 We chose the Comfort Spaces Heated Snuggle Wrap Blanket for the next spot on our list. We return to the single person, U shaped snuggle wrap for this entry, and while not quite as sophisticated in terms of features and construction, this is still one of the best single-person electric blankets on the market.
Microlight fabric
This blanket is made of a material known as a microlight. While not the thickest material, or the strongest, it's the perfect material for a single person, and even better for use with an electric blanket. It's thick enough that the user won't feel the wires underneath but thin enough for the heat to escape without much difficulty, compared to the other entries. Meaning this material is comfortable, but also breathable.
Complete wrap
This blanket is large enough to cover the whole body. Wrapping around your body entirely in warmth and comfort.
Cost and Value
The best part about this entry is its price. While not the cheapest on this list, it is certainly up there, giving you excellent service for an electric blanket, at a more than reasonable price.

7

. Biddeford Comfort Knit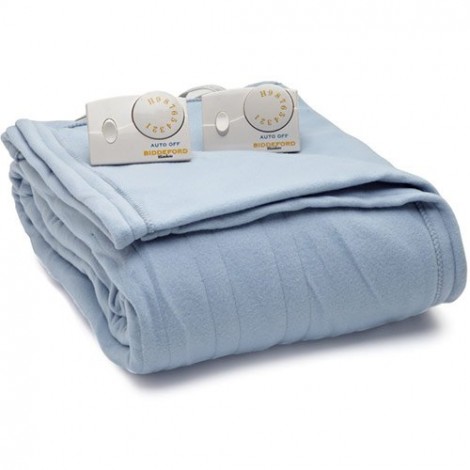 In the next spot, we chose the Biddeford Comfort Knit Fleece Electric Blanket. Our last Biddeford entry for this list, but it goes out giving us two of the best electric blankets on the entire market. So, what is it that makes this one so good? Let's take a closer look and find out.
Ultra thin wire
One of the primary sources of discomfort when using an electric blanket is feeling the wire poking you through the fabric. And when the cable is heating the blanket, it gets even worse, because that wire is a lot hotter than it's making the rest of the blanket. Fortunately, this blanket proposes a solution by making the wire incredibly thin. It seems like a small thing, but a thinner wire is one that you can't feel as quickly, making it easier to deal with when you're using the blanket.
Comfortable material
But a blanket is only as good as the materials you make it out of. It doesn't matter how good the rest of the electric blanket is if it doesn't feel good when you use it. If the material isn't soft or comfortable enough, then you probably aren't going to care. Fortunately, this is not a problem with this blanket, which is made from polyester comfort knit fleece — one of the comfiest fabrics on the market. So, comfort has never been an issue with this blanket.
Cost and Value
The best part about this blanket is the price. This is one of the comfiest electric blankets that you're likely to find on the market right now, so you'd better believe that it should cost a lot. However, this is one of the cheapest entries on the entire list.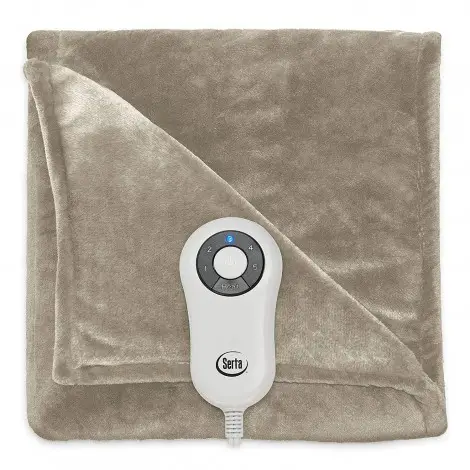 Here we have the Serta Electric Throw Blanket. Serta, an offshoot of the Perfect Fit Brand, is one of the most trusted names in comfort and quilt. Known more for their mattresses, this company also makes some wonderful electric blankets. As demonstrated here.
Superior controller
We've seen plenty of controllers across this list, from the sophisticated to the simple, but always of very high quality. But none of them hold a candle to the user-friendliness featured on this blanket's controller. Featuring an easy to the program interface, ten heat settings, and a built-in timer, this controller is dead set on spoiling you when it comes to electric blanket controllers.
Micro thin wires
In the age of fiber-optic cables, there is little excuse for a wire to be anything more than microbe thin if comfort is the idea. Wires aren't very comfortable, after all. As such, the wires used for this blanket are micro-thin. They are barely felt even when you actively start feeling out for them between the layers of the blanket.
Cost and Value
While not as cheap as the previous two entries, the margin between them isn't much. So, if you're looking for a perfect electric blanket on a tight budget, then this might be what you've been looking for.

9

. Softheat by Perfect Fit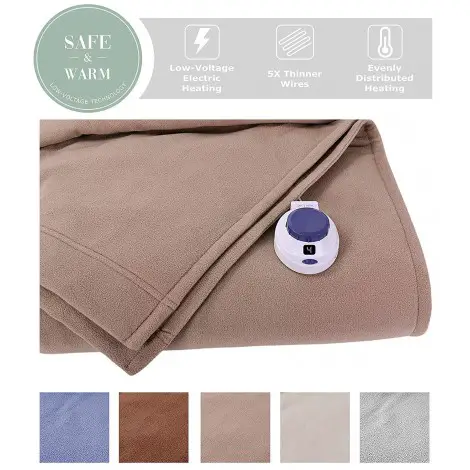 Coming up next on our list, we have Softheat by Perfect Fit. While not the large, multi-layered blanket of the previous two entries, this is still a pretty large blanket, certainly larger than the first entry. We are representing an excellent middle ground between the two extremes. So, what makes this blanket so popular? Let's find out.
Safe with moisture
It stands to reason that you should be careful when having liquids around most electric blankets. While the layers of cloth in the blanket is usually enough, a large enough splash of water will short circuit the blanket like any other machine, which is why this blanket has a safe and warm, low voltage technology making up its system. So, no matter how much liquid gets on it, the resulting short circuit won't be nearly enough to pose any actual danger.
Easy night time adjustments
Trying to adjust an electric blanket at night is much harder a task than it sounds. The reason for this is because most electric blanket remotes aren't backlit, so without exterior light, it's hard to see what you're doing, which is why this blanket chose actually to give their display a backlight. It's a small fix, yes, but an appreciated one, nonetheless.
Cost and Value
While not too much cheaper than the previous two entries, this blanket is still low enough in price to turn the heads of the more budget-minded in the audience.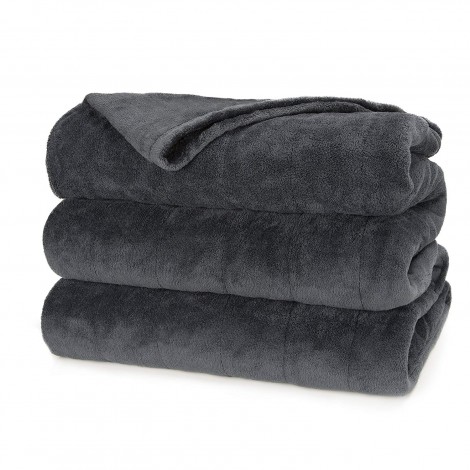 Here we have the Sunbeam Microplush Heated Blanket. Sunbeam is one of the top names in comfort and electric blankets, known across the world as one of the go-to guys if you want the best of the best in this niche market. So, with that said, let's look and see how they earned that title.
ComfortTec Controller
An electric blanket is nothing without a controller. Well, not exactly nothing, but without a means of controlling the heat output, it's just your run of the mill blanket. Fortunately, this blanket is equipped with a ComfortTec controller, with digital display and push-button controls. You are making it one of the most user-friendly electric blankets on the market.
Adaptable
Not even electric blankets are free from the constant need to make our electrical appliances as self-sufficient and learning as possible. This blanket senses and adapts its heat output to the current body temperature of its user. Taking full advantage of the fact that it's so close and so covering of your body, it's in a prime position to know exactly how hot you need to be.
Cost and Value
The reason that Sunbeam is, so renown is that they put out high-quality products for very reasonable sums. And sure enough, this electric blanket is probably the second cheapest on the entire list.

Subscribe to our Newsletter