Best Mobile Camera Lenses Reviewed and Rated
In a Hurry? Editors choice: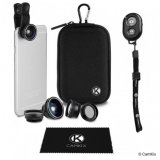 Test Winner: CamKix's 5-in-1

These days, a smartphone with a
camera
is inescapable and has quickly become an essential part of modern-day convenience. Using our smartphones, we can instantly create, and share memories and video call loved ones who live thousands of miles away. While the smartphone camera has evolved extensively since it was first featured on the iPhone, these cameras are still far from perfect.
Their limited image sensors and issues with processing
light
can still compromise that perfect snapshot. Enter mobile camera lenses. These lenses have been solely created to be used on your smartphone to enhance your image or to give it a certain effect. At any given time, you'll likely find thousands of lenses available that can either give you the images and videos you want. Continue reading down below to find out how to select the kit that best suits your needs!
Standout Picks
Criteria Used for Evaluation
Compatibility
This should be your very first consideration when you start looking at smartphone photography kits. Especially since not all kits could fit your specific device.
When you selected a device that is not intended for your specific device, it could cause an array of problems with lens alignment. This means that you could experience trouble attaching your lens to your device correctly. In turn, this could lead to a variety of lens issues such as vignettes, blurry pictures, etc.
So before you buy, you should consider which device you'd like to use your photography on. Will it be primarily your device? Will friends and family also use it? Do they have similar devices? Will this kit fit on your next smartphone? Asking these questions can help you make a better-informed decision on the specifics of your device.
In terms of compatibility, you should also consider which app you mostly use for taking pictures and whether your intended kit will be compatible with it. Whether you use your smartphone's native picture taking app, Instagram, Snapchat, or any other social media or picture taking app, you should ensure that your intended device will be compatible with it to avoid disappointment.
While some devices claim to be universal, experts recommend that you finally read through both the product description as well as through other users' reviews to ensure that the lens kit and its attachments will fit snugly on your device.
Use
This aspect could also greatly determine which product you end up choosing since certain kits are better suited to certain modes of photography than others.
The casual or novice photographer will likely not have any specific requirements. Generally speaking, these photographers, mostly just play around with their lenses to get a better sense of photographer and to take better pictures.
Expert photographers or filmmakers, however, will have a vastly different and more sophisticated list of requirements. For example, a filmmaker might require an included tripod for static shots, while the wildlife photographer might require a telephoto lens for taking photos from a distance.
To determine your needs in this way, you should think about why you're interested in buying a photography kit. Take into consideration when and where you intend to use this kit the most. These considerations will be invaluable in guiding your decision-making process when selecting your new kit.
Features
Generally speaking, the standard photography kit will include either one or several of the following options: a wide-angle lens, macro lens, telephoto lens, and a fisheye lens.
Your personal photography needs will likely determine which of those you require. However, it is also important to understand what effect each lens creates.
The wide-angle lens allows your smartphone camera to "see" a little bit more of the environment that you're photographing. This is ideal for landscape photography or scenic photography.
The telephoto lens is a powerful zooming lens that allows you to take detailed pictures of a subject several feet away. Some smartphone telephoto lenses also come with a manual focus ring that allows you to fully optimize your picture to your needs. This lens is ideal for wildlife photography.
The fisheye lens is perhaps the most self-explanatory of all. It creates a "fisheye" effect, meaning that your images will appear spherical. For the most part, this lens is mostly used to add a fun effect to a picture.
Lastly, the macro lens can be used to create a detailed up-close picture of objects often invisible to the naked eye.
Your specific lens needs will require on the kind of photography that you're interested in. Some photography bundles even include all the above lenses which leaves you spoiled for choice. To determine your needs, it might be useful to look at your own camera roll and see what kinds of pictures you take most often.
Do you mostly take selfies with friends? Well, then a fisheye lens may be fun to play around with. Do you travel often and would like better pictures of the sights you've seen? Then you should consider a telephoto or wide-angle lens.
10 Best Mobile Camera Lenses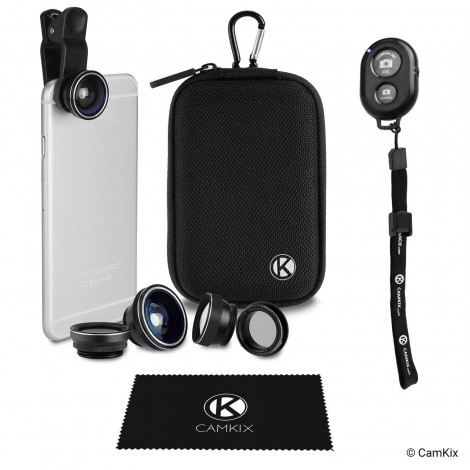 Whether you're an experienced photographer or simply want to take the perfect selfie, CamKix's 5-in-1 lens set is perfect for all levels of camera users. The lens kit includes 5 easy contact lenses, a carrying kit, a Bluetooth camera remote, and universal lens kit. The lenses are easy to attach to any Apple or Android device and have been constructed using high-quality aluminum for durability.
Bluetooth Camera Shutter Remote
One of the features that sets CamKix apart is its included Bluetooth-operated camera remote. After pairing the remote with your smartphone, you can easily control when you take a picture from the camera app of your choice. This is ideal for selfie sticks and nailing the perfect group photo.
Five Different Lenses
This purchase includes five different camera lenses all constructed from high-quality aluminum. Included in your kit you'll find a macro lens, wide angle lens, telephoto lens, circular polarised lens, and a fisheye lens.
Cost and Value
While the CamKix lens kit is somewhat more expensive than other products, it's not hard to see the reason behind the higher price. This lens kit comes with 5 high-quality lenses, a carrying case, smartphone remote control, and a lens clip. This product offers you a complete lens kit that gives you a wide variety of camera effects.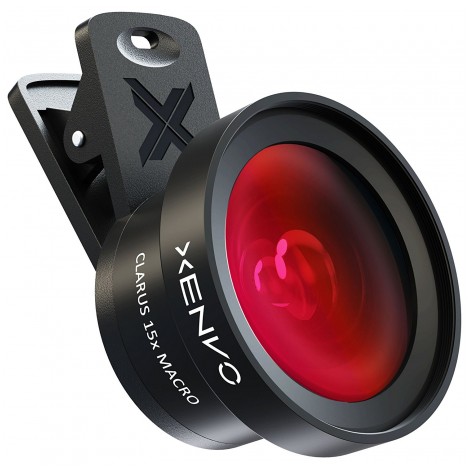 Xenvo's camera lens kit offers enough sophisticated features to satisfy even the pickiest photography pros. This iPhone kit includes a wide-angle and macro lens along with other accessories just as a carrying case, lens clip, cleaning cloth, lanyard, and a unique mini rechargeable LED light to create the perfect light with every photo. The lenses promise to address a variety of issues that photographers commonly encounter just as unwanted vignettes or lens flare. This is a definite must-have for any budding photographer.
High-Quality Lenses
The two included lenses were constructed aircraft-grade aluminum for optimum durability. In addition, these lenses use optical glass for added clarity. This is the smartphone photographer's unique solution to common problems such as vignettes, lens flare, and ghosting.
Accessories
The sheer amount of included accessories are highly notable both for their quality and utility. Included in every purchase you'll find the two lenses, the clip-on attachment that is used to connect the lens, a carrying case, lanyard, cleaning cloth, lifetime warranty as well as a rechargeable LED light that you can attach to your smartphone for a quick-fix lighting solution.
Cost and Value
While the Xenvo lens kit may be more expensive than most other devices, this is likely because of the several included accessories included with every purchase. Every Xenvo kit comes with a variety of high-quality accessories that are essential for that perfect shot. Moreover, this product is covered by a lifetime warranty.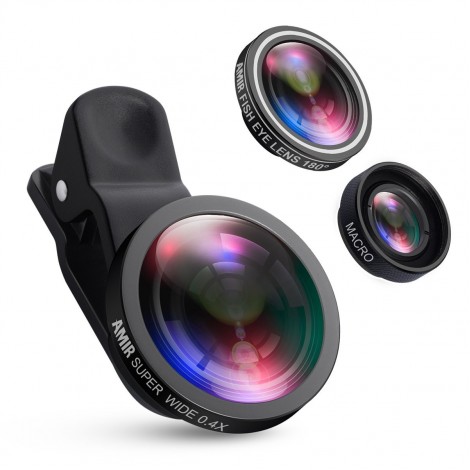 AMIR has combined professional lens craftsmanship together with smartphone convenience to bring you this lens kit. This lens kit has three different lenses including a 0.4X super wide angle lens, 10x macro lens, and a fisheye lens. Every lens in this kit has been crafted using 6 layers of SLR glass for gorgeous imagery. This kit also includes an easy to attach a clip-on clamp that is compatible with a wide variety of smartphones and tablets.
Professional Lens Quality
Make every photo beautiful with AMIR's unique professional lens quality. Every lens in this kit has been constructed using 6 layers of HD SLR glass for optimum images. This reduces any ghosting or glass flares that could be caused by light disturbances or reflections.
Lens Efficiency
Every lens included in this kit has been constructed to serve its purpose with the utmost efficiency. The 0.4X super wide angle lens can greatly expand your smartphone's field of vision, while the macro lens allows you to explore objects up close and allows you to take photos as close as 50mm away from the object.
Cost and Value
The AMIR kit is very competitively priced, especially considering the craftsmanship and care that went into constructing every individual lens. Each lens has HD quality glass for optimal pictures and this purchase includes three lenses, a clip-on attachment, and carrying bag.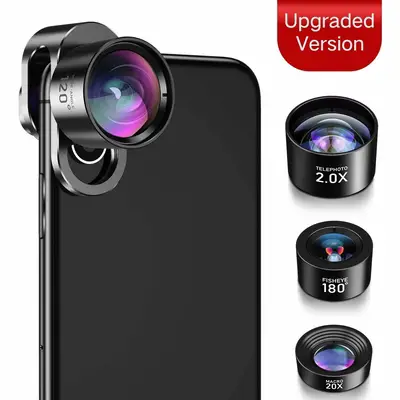 Upgrading your phone's camera equipment has become a whole lot easier with Jopree. This kit features 4 different professional DSLR lenses including a 20X Macro Lens, a 2.0X Zoom Telephoto Lens, a 120°Wide Angle Len and a 180°Fisheye Lens. Each lens was created to fit most mobile phones giving you the versatility you need to change your lens from phone to phone whenever you need it. Due to these being professional grade lenses, they take your camera from already taking great images to taking exceptional, high-quality professional camera images with all the details that come with using a well-constructed camera lens.
Versatile Photography
Due to having 4 different lenses, this kit packs a punch. Every kit comes with a different lens that allows you to get creative on how you would like your images to be displayed. As a result of this, every lens was constructed to give you a new perspective of the object you're photographing.
Universal Compatibility
While this kit is marketed towards iPhone users it compatible for all mobile phones. The two detachable clamps that it comes with are equipt with a screw fixing device that can be adjusted according to the thickness of your phone. This is all done without leaving any scratches or dents on your phone once the lens is adjusted or removed.
Cost and Value
This kit is quite competitive in pricing when it comes to other options on the market; however, you do get a little bit more here. You're getting different lenses that fit multiple mobile phones, a protective carrying case, detailed instructions on how to operate each lens and a 60-day money back warranty.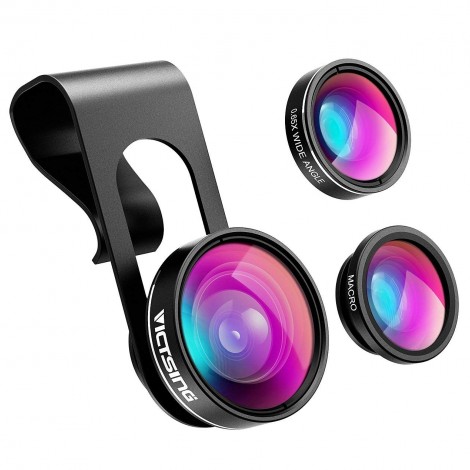 The kit from vicTsing allows you to turn your regular smartphone into a high-quality DSLR camera. This kit includes a fisheye lens, a 0.65x wide angle lens, as well as a microlens that will help you see the world in an entirely different way. Installing lenses is quick and easy with the unique included slide-on attachment. With its variety of lens effects, this kit will awaken any budding photographer.
Slide-On Attachment
Most lens kits feature a clip-on attachment that holds the lens in place. However, vicTsing's kit uses a unique slip-on attachment that can be used on either the front or rear camera. In addition, this attachment has unique rubber padding to keep it firmly in place and to prevent any scratches to your smartphone.
User-Friendly
Thanks to its slide on design and easy lens replacement function, the vicTsing is perhaps one of the most user-friendly kits currently available. Moreover, it is widely compatible with the vast majority of both Apple and Android smartphones as well as tablets.
Cost and Value
VicTsing's 3-in-1 lens kit is one of the cheapest bundles currently available, which makes it an attractive choice for the novice photographer. Despite its low price, you still receive three different lenses crafted from optical glass as well as its unique rubber padded slide-on attachment.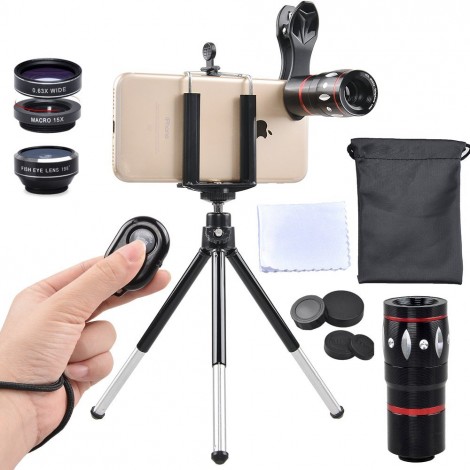 Apexel's kit contains a wide variety of accessories that are sure to delight both the expert and novice photographer. This kit includes a telephoto, fisheye, wide angle, and macro lens that is widely compatible with a variety of devices and photo apps. In addition, this bundle includes a mini-tripod that can comfortably position a wide variety of smartphones as well as a Bluetooth camera remote that puts the power in your hands to take gorgeous pictures.
Telephoto Lens
Unlike the majority of lens bundles, this one from Apexel features a telephoto lens. This lens features a unique manual focus ring that will allow you to take incredible pictures from a distance.
Photo Accessories
Apexel has created a full mini photographer's kit thanks to the sheer amount of included accessories. In addition to the 4 camera lenses, you'll receive a clip-on attachment, mini-tripod-cleaning cloth, Bluetooth camera remote, lens covers, and waterproof carrying bag.
Cost and Value
This bundle is perhaps somewhat more expensive than other mobile photography bundles currently available. However, this one features astounding value for money thanks to its wide variety of included lenses as well as the many included photo accessories.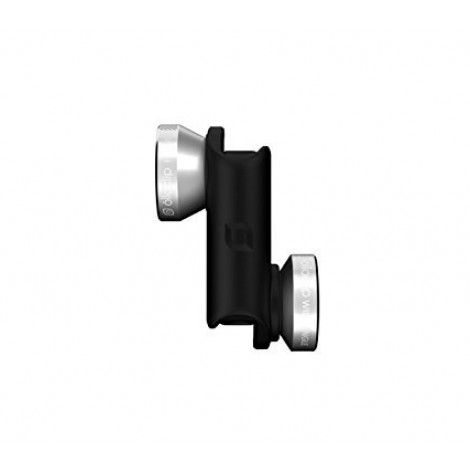 Olloclip has created the mobile photographer's minimalist solution to powerful photography. This lens kit contains 4 lenses including a fisheye, wide-angle, and two different macro lenses. The attachment used for attaching the lens to your smartphone features a much more sophisticated design than the standard clip-on attachment and even allows you to connect two lenses simultaneously to both your front and rear camera.
Unique Lens Attachment
The attachment used to connect the lenses to the phone features a unique design to protect both your smartphone and lenses. This attachment provides precise alignment for your attached lenses to ensure stunning pictures unaffected by unwanted lens effects.
4 Included Lenses
Most bundles include a maximum of 3 lenses. However, Olloclip truly ups the ante by including four different lenses for truly versatile photography. The fisheye, wide-angle and 10x and 15x macro lens will spoil you with choice when it comes to photographic effects.
Cost and Value
The Olloclip bundle is perhaps one of the more expensive options when it comes to mobile photography bundles. However, considering this kit's immense high-quality lenses and dedication to precision, it offers immense value for money even for the most nit-picky photographer.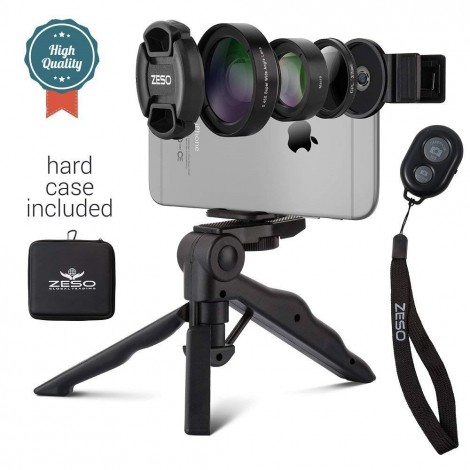 Zeso's diverse camera kit makes it possible for a photographer of any level to make their pictures come to life. The kit includes 3 lenses for versatile photography such as a wide-angle, macro, and CPL polariser lens. In addition to these high-quality lenses, this kit includes an impressive amount of accessories. Most notably among these are the sturdy tripod and Bluetooth remote control.
Professional-Grade Lenses
Each lens included in this kit has been manufactured using premium rimmed lanthanide glass that ensures optimum light filtering in every single shot. This will reduce unwanted lens effects such as ghosting, light flares, and vignettes.
Included Accessories
The Zeso kit is perhaps most notable for the diverse amount of high-quality included accessories to enhance your pictures. Included in every purchase you'll find the 3 lenses, lens covers, clip-on attachment, a sturdy tripod, Bluetooth remote control, carrying case, cleaning cloth, phone holder, and shackle.
Cost and Value
While the Zeso is arguably much more expensive than other mobile photography kits, it's easy to see why. Not only is each lens crafted with high-quality glass, but every included accessory has been carefully crafted to greatly enhance your photography experience.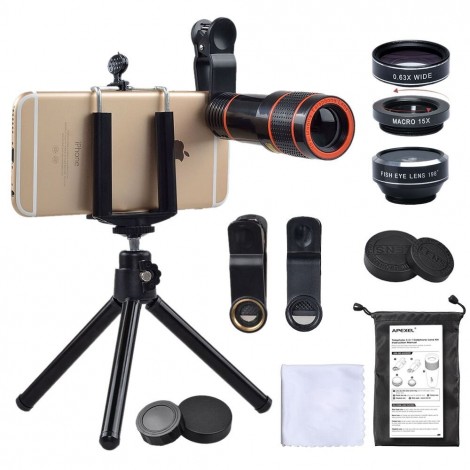 With its compatibility and many included photography gadgets, Zwish's bundle is likely to appeal to a wide variety of photographers. This kit comes with 4 lenses including a telephoto lens, macro, wide-angle, and fisheye lens. These lenses were uniquely designed to enhance your photography and are compatible with a wide variety of Apple and Android device and photo taking apps. This bundle also includes several notable accessories that will greatly enhance your photography experience.
Telephoto Lens
One of the most notable things about the Zwish bundle is its unique telephoto lens. It has a manual focus ring that gives you complete control over your photography subject. The telephoto lens can comfortably provide a 12x zoom ideal for taking pictures from a distance.
Compatibility
Another undeniably appealing benefit of the Ziwsh bundle is its high compatibility with various apps and devices. This bundle can be used on Apple and Android devices including HTC, Samsung, LG, Google, Huawei, and Xiaomi. This bundle can also easily be used on tablets and PCs.
Cost and Value
The Zwish kit is surprisingly competitively priced, especially considering the sheer amount of included accessories. Included in your purchase, you'll find 4 high-quality lenses, a multifunctional tripod, phone holder, lens covers, clip-on attachment, and cleaning cloth.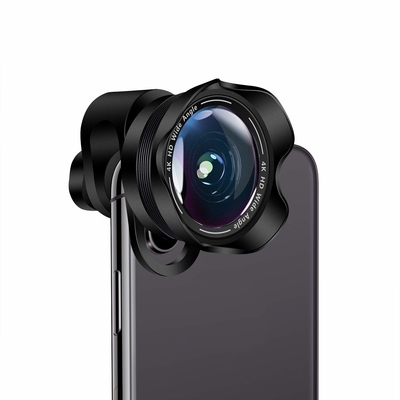 To conclude this guide, we wanted to bring a simpler option for those that want a straightforward lens that gets the job done. This lens comes with the ability to take impeccable images without the need of using multiple lenses to achieve them. This is not a lens kit it's a 2 in 1 lens that gets the job done. Featuring a unique aspherical 110°wide angle design this lens was constructed to bring you distortion-free images time and time again. Additionally, this design is great for those that want to focus on capturing clear, crisp images in low light settings.
High-Quality HD Lenses
This lens is quite superior to others as it does feature a 4K HD wide angle ability; therefore, there are no dark corners when taking an image. Constructed out of aircraft-grade aluminum and premium optical glass this lens is durable and sturdy while still having the ability to capture excellent images. Additionally, the lens was created without a mirror which makes it ideal for those that enjoy photography as a hobby or even for those that take it more seriously.
Multitasking
With this lens, you're not conformed to one kind of photography instead you can take as many images as you would like in any setting without compromising its integrity. Many mobile lenses won't have this feature as they simply emphasize the quality that already exists; however, this lens takes it up a notch by bringing camera quality images directly to your phone without the bulkiness of a camera. This is perfect when you want quality without having to carry multiple different types of equipment.
Cost and Value
This lens is a bit more expensive than most on our guide, given the fact that it's a 2 in 1 lens and not a kit. However, you're getting a universal product that fits most devices, a 45 days money back guarantee and a lifetime warranty, you also get a cover to keep your lens protected from most.

Subscribe to our Newsletter