Best Wall Clocks Reviewed & Rated for Quality
In a Hurry? Editors choice: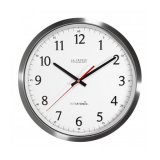 Test Winner: La Crosse Technology

Wall clocks have been around almost as long as the clock itself. After grandfather clocks fell out of style, people wanted something a bit more compact, but that could do everything those large beautiful beasts could do. This is where the wall clock came in, and it hasn't fallen out of fashion since, despite hundreds of years of innovation, we always have a use for it. They are different uses that
alarm clocks
. Generally, they're decor
timepieces
. And we're counting down the ten best of them currently on the market, here today. So, put away that wristwatch, and we hope you like the sound of never-ending ticking because these are the:
Standout Picks
Criteria Used for Evaluation
Sound Quality
Based on our little tangent back at the first entry of this list, you can imagine that we don't very much like the constant ticking noise made by your average wall clock. And really, why should we? It's annoying and considering that not a single entry on this list has it, completely unnecessary in the modern market.
You should always make sure to get your hands on a wall clock that puts off as little sound as possible. Some wall clocks are quieter than others, and it's not necessary to have complete silence, just the more prominent sounds. This should especially be a priority if you want a wall clock for such areas as your bedroom or office, spaces where quiet and concentration are the utmost priority.
Accuracy
This one should be obvious, since why would you buy an inaccurate clock? A broken clock is right twice a day, true, but we imagine you want that number to be a bit higher. Pretty much all clocks, so long as they're intact, are accurate enough, but things become more complicated when you move between time zones.
Usually, this is as simple as knowing the time difference between each zone and adjusting the clock accordingly, but electronic clocks nowadays prefer to do that kind of work themselves. So, one perk that isn't necessarily needed but is nonetheless helpful to have is an automatic adjustment based on what time zone you currently inhabit. Whether it's just the time zones of the country you live in or every time zone in the world, this is a boon to the accuracy of your wall clock.
Ease of Use
A clock isn't all that useful if you can't make out what you're reading on the screen. What this means is how easy it is to understand what the clock is trying to tell you. This is one reason why, though they do exist you don't see that many wall clocks going for the minimalist design choice. This usually translates into removing the numerical symbols, the second hand, really everything but the frame and the minute/hour hands, and that is difficult to pull off and not make a confusing, stripped-down husk of a product.
There's also the matter of being able to read a clock from different angles and distances in the room. If you're sitting at a desk, which is stationed against the same wall as the wall clock is mounted on, then you're probably going to have a hard time reading it. Same if you're across the room trying to understand the wall clock from where you are.
This problem is most apparent with wall clocks trying to be compact and not take up a lot of space, as that usually translates into the text on the clock as well as the hands being too small actually to read. You need to find a suitable wall clock that is readable from almost any angle and distance as possible. You won't be able to find one that is perfectly readable from every angle or distance, because wall clocks are not holograms. Not yet, anyway.
Durability
Sometimes you misjudge where you put the nail, sometimes you bought the cheap nails, and the cheap ones are always useless. Or maybe the part of the clock that you use to mount it to the wall broke and you failed to notice until it was too late. But whatever the reason, there comes a time when fate is just against you that particular day and decides to send your brand new, out of the box wall clock crashing to the floor.
This is why you go for a clock that's made of something better than balsa wood and duct tape. Luckily, we found plenty of entries on this list that made sure to go for the best materials they could get their hands on. From high-quality wood to stainless steel, we left no stone unturned to make sure that every entry on this list could take the occasional fall and still turn out okay.
Value
The final criteria we looked over for this list was the price of each object. Typically speaking, the amount of a wall clock varied based on the size, width, features offered, and the efficiency of each entry. As such, we judged each entry by how well they accomplished each of those aspects. If, for instance, a wall clock cost $50, but had the features and efficiency to back up that price tag, then we were more likely to be okay with that.
Top 10 Picks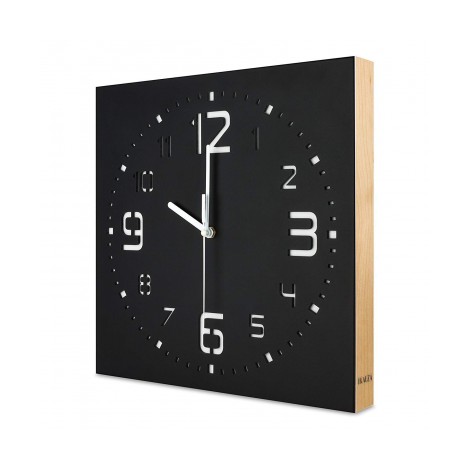 Here we have the KAUZA Matt Black Handcrafted Wall Clock. This 3D laser cut wall clock is the ideal choice for anyone who wants a good wall clock to complete their room's modern aesthetic. So, let's see what features this one actually brings to the table.
Completely silent
Hey kids, do you like it when something is continually making the same noise when you're trying to work? The kind of sound that isn't necessarily loud, but just noticeable enough that, after a straight hour of it, you want to throw the source of said noise into the fires of mount doom and cackle as it burns? No? Then you're not going to love a lot of wall clocks. The constant ticking noise has always been the big downside to these otherwise beautiful devices. Fortunately, clocks such as this have taken the hint, and have thus found ways to operate without slowly driving those nearby into Lovecraftian existential madness.
Durable materials
Having a clock made of woods sounds nice, but the novelty tends to wear off the first time it falls on the ground because you bought the cheap nails. The usability of the clock after such events depends entirely on the kinds of materials used when crafting the clock. And this clock is made of some of the best wood that money can buy, including multi-layered, waterproof plywood (MDF) for the clock's body. Add onto that stainless steel for the clock's mechanism, and it will take a lot more than a pure accident to break this clock.
Cost and Value
The price of this clock is rather average for a clock of its size and construction. But considering the materials it's made from and the features it offers you, it could be a lot pricier than it is.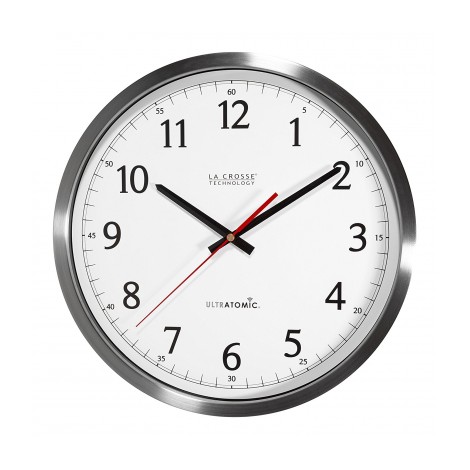 Next, the La Crosse Technology UltrAtomic Wall Clock. This is similar to other entries but upgraded and generally better in pretty much every way. And while that means it's a lot more expensive than the last entry, as we will soon see, it is more than worth the money.
World time zone setting
Time zones are annoying little necessities, aren't they? You get on a place on the 17th, and you get off on the 16th, and then you wake up in your hotel, and it's the 17th again, and now you have no idea what the concept of time is anymore. The time differs hugely depending on where in the world you are, which can make setting a clock a bit tricky. Fortunately, this clock's mechanisms are outfitted with a world time zone setting, which automatically attunes it to whatever time zone it currently inhabits.
Stainless steel frame
When you're paying as much as you are for a clock like this, you want to make sure you can see it through the occasional accident or two. Well, don't worry, because this one won't let you down. Its stainless-steel framework allows it to survive even the nastiest of falls and keep on trucking.
Cost and Value
Like we've been saying, the main issue with this clock is the price. It's pretty expensive, but we can report on no uncertain terms that you are getting more than what you pay for with this entry.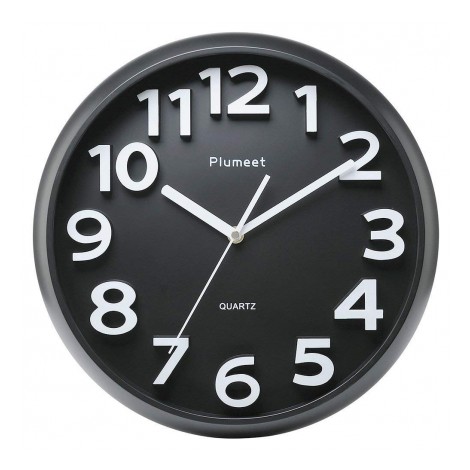 Next, we chose the Plumeet large Number Wall Clock. This is one of the more striking entries on this list, being white on black, rather than black on white. This is preferable to some, who may find that the solid white background hurts their eyes. Of course, that isn't the only thing this entry has going for it.
Easy to install
You wouldn't think that such devices would be all that hard to install, but you would be wrong in more than one case. Wall clocks need to be mounted onto the wall via nail, so it's easy to see why there'd be a bit of dust left behind. Not with this entry, however, as it comes with its installation kit, which helpfully guides you through installing the clock within the span of a few seconds.
Eye-catching
White on black is technically just as striking as black on white, but the white background can reflect the glare of the room's light, or the view from outside if it's directly across from a window. This is where a black background has the advantage, as it would just absorb that light, giving you a better view of the clock through the glass.
Cost and Value
This clock is affordable enough, for what it is. Some might not be okay with paying so much for a clock so primary, but we believe that it does just enough for the price it's asking for.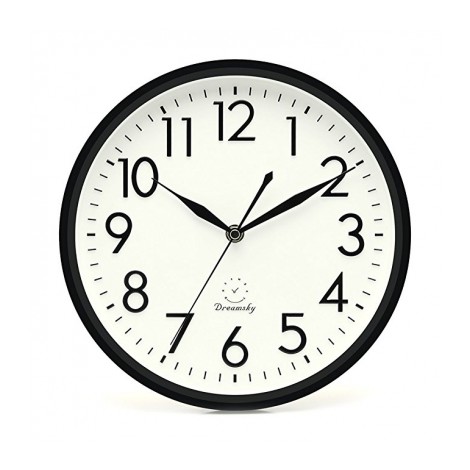 Next, we have the DreamSky Silent Quartz Wall Clock. The design of this clock is much more of what you expect from a wall clock, black numerals on white background, round design with a black outline, etc. But of course, it wouldn't be on this list if "generic" was our highest praise for it.
Large and clear 3D design
The problem with these flat wall clocks is the matter of being able to tell the time from awkward angles in the room. For example, if you're sitting at a desk that's against the same wall as the clock. With other clocks, you would have to either get up from the office or lean back in your chair. But with this clock and its clear and large 3D intuitive numeric indicator, you can make out what's on the clock from pretty much any corner of the room you please.
Functions in any weather condition
Your basic wall clock will have the background of the clock, where the numbers are printed, be made out of cardboard. Cardboard does its job well enough but has something of an allergy to water. So, if the clock gets wet, and these things are not airtight, you may have just ruined your clock entirely. But this clock's background is made from solid plastic, meaning that moisture cannot damage it, and it won't seep through to the mechanism behind it either.
Cost and Value
Being very simple in design beyond those two points, it makes sense that this would be one of the cheaper offerings on this list.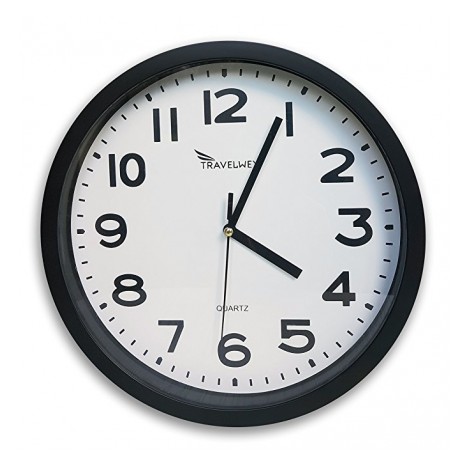 Here is the Travelwey Home Wall Clock. Once again, we have a pretty standard design for a wall clock and one that's small and compact enough to be perfect for your kitchen, bathroom, or bedroom. But the question is, what else is it good for?
Can be seen from any distance
One pet peeve that people tend to have with wall clocks is not being able to tell what the time is from across the room. The characters are either too small, or the hands are too thin to be seen clearly. Neither problem plagues this clock, however, as both are just big enough to be seen from any distance in the room you place it in, without getting in the way of this clock's compact design.
Quartz accuracy
Most wall clocks these days are made with quartz built into their mechanism, and it isn't hard to see why. Quartz is one of the high "if it ain't broke, don't fix it" technologies, that always seems to work. Namely, it helps keep the clock accurate, and on time, all the time. So, if you're looking for a new wall clock, always look for one made with quartz.
Cost and Value
The best part about this entry is its price, which is one of the cheapest listings on the entire list, especially so far.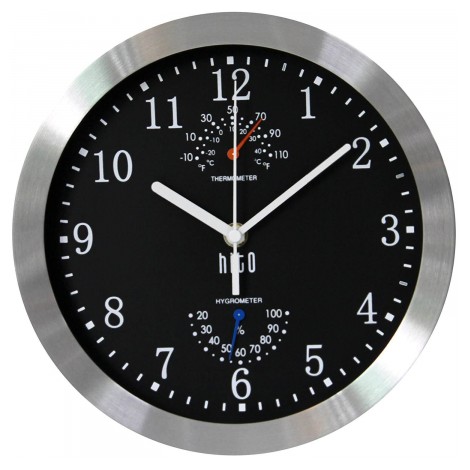 Here's the Hito Modern Silent Wall Clock. With this entry, we return to more traditional wall clocks, with a second hand, all the numbers intact and everything. But of course, it wouldn't get on the list if it didn't have something new to bring to the table beside that.
Thermometer and Hygrometer
The main thing this clock brings to the table is its two other measuring apparatus', the thermometer and hygrometer. Lots of clocks come with thermostats, but a hygrometer is a bit rarer. A hygrometer measures the amount of humidity in the air around it, so if you live in a tropical region like Florida, then this is a must-have clock for you.
Superior silence
It sounds odd to say that this clock is more silent than other clocks. After all, whether or not something is silent should be a pretty open-shut case, shouldn't it? Well, the truth is that there is a multitude of small sounds that even so-called "silent" clocks make besides ticking. All of which are removed by this clock, which makes absolutely no sound. And because it has a second hand, you can tell rather quickly that it's working when you plug it in.
Cost and Value
Considering the amount of quality that this clock gives you, it's astounding to find that it doesn't cost all that much, at least not when compared to its contemporaries.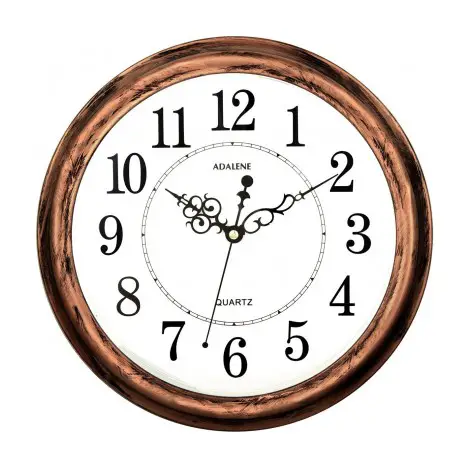 There's a reason that we put the Adalene Silent Wall Clock on this list. The design of this wall clock makes it ideal for a house with a really rustic design, resembling an antique wall clock without all that annoying rust thanks to its elegant bronze construction. So, what got this clock onto the list? Let's close out our list and find out.
Shatter proof cover
You can make the rest of a clock as durable as you please, but the glass is the part of a clock that is actively dangerous to you if it breaks. The last thing you want is for a piece of glass to slide across the floor after breaking off of your clock, and for you to not find it until you or your child steps on it, and suddenly has blood where their foot should be, which is why this clock's cover is made from shatterproof, scratch-resistant, acrylic crystal.
Great aesthetic
An excellent aesthetic means that there are more places in which you can put this clock without worrying about its design clashing with the rest of the area. And the great thing about bronze as a color is that it's incredibly versatile and possesses a wide range of colors that match just fine with it, which means that there are tons of walls and room colors that you can quickly put this clock in without hurting the atmosphere.
Cost and Value
The cost of this clock is about the same as the previous entry, which means it's just affordable enough for it to be worth it if you want a decent and functional wall clock.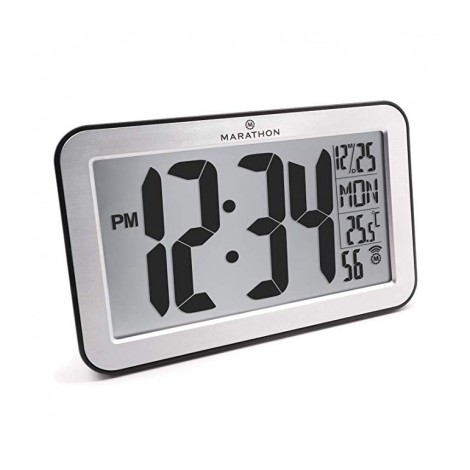 Next, we have the Marathon Panoramic Atomic Wall Clock. The main difference between this and every entry before it should obvious the minute you look at it. Unlike those others, this one is an electric clock with a digital display. So, let's see just what a difference this choice makes.
Can be placed anywhere
Don't want this clock on your wall, or don't have anywhere to put it? No problem, this clock functions the same whether you're putting it on your wall or your nightstand. This clock can be used for both, making it one of the most versatile entries on the entire list.
Multiple display modes
Being a digital clock, it, of course, comes with all of the advantages that format brings. This includes the ability to switch the type of display you have on the fly. The modes you can switch to add 12 or 24-hour presentations, and indoor temperature measurements in either Fahrenheit or Celsius.
Cost and Value
For an advanced digital clock that you can fit on your wall, the pricing of this entry is rather affordable. So, if hand clocks aren't your cup of tea, then this is the clock for you.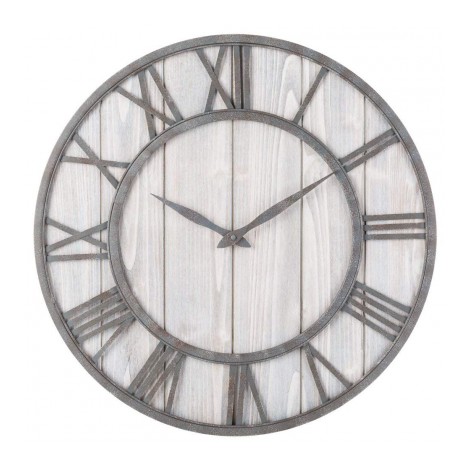 The Oldtown Clocks Farmhouse Wall Clock is next. With its grey wood and metal construction and rustic aesthetic, this clock is indeed perfect for any farmhouse in need of a brand new clock. So, besides the aesthetic, what does it have going for it? Let's find out.
Completely noiseless
Like a lot of the other entries on this list, this clock makes absolutely no noise when it works. However, due to the lack of a second hand on this clock, you will have to watch it for a second or two after installing it to make sure that it's working. But beyond that, this clock should give you absolutely no trouble.
Great aesthetic
This clock comes in a very warm grey color, but if that doesn't match what your room or farmhouse is going for, then a quick 15 minutes with 60 grit sandpaper will bring it back to a lighter wood coloring, without any damage being done to the clock itself.
Cost and Value
The main problem with this entry is the price. This is easily the priciest entry on the list so far, and unfortunately, it doesn't do a lot to actually justify the price it's asking for.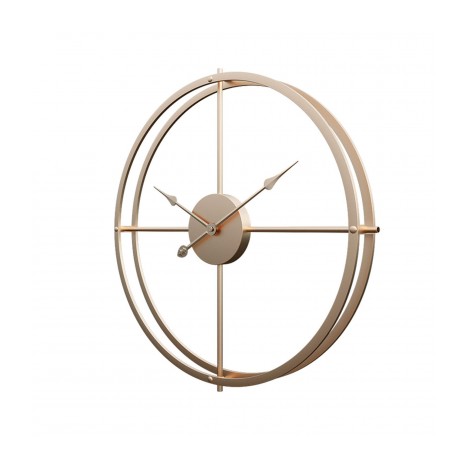 We chose the Aero Snail Gold European Wall Clock for a reason. This is definitely one of the most unique designs on the entire list, given the fact that it is about as minimalist as a wall clock can get, only consisting of a frame, the clock arms, not even the numbers indicating the time. This can seem, well, silly to some, but there is a definite method to the madness.
Beautiful aesthetic
Not everything is meant for the minimalist design aesthetic, but when it works, it works. As shown here, as this clock is one of the most pleasing to look at on the entire list. Besides the gold metal frame, this clock is almost completely see-through, so there isn't a big break in the consistent color of your room's walls.
Durable
The main benefit of the design of this clock is the fact that metal is a lot harder to break than the other materials that make up your traditional wall clock. And because of the perfectly rounded design, if the thing did fall, the impact of said fall would be redistributed, rather than focused on one part, which would ensure breakage.
Cost and Value
The price of this clock is not quite as high as the previous entry, but it's still pretty pricey for what it's offering you. But if the design of this clock fits your house's aesthetic, we cannot recommend it enough.

Subscribe to our Newsletter