Best Stick Vacuums Reviewed & Rated for Quality
In a Hurry? Editors choice: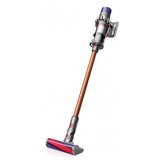 Test Winner: Dyson Cyclone V10 Absolute

In 1901, a man called Hubert Cecil Booth would revolutionize the way we clean our homes forever by inventing a suction powered device used to clean the floors indoors- also known as the
vacuum cleaner
. Of course, in 1901 the first vacuum was so large it had to be placed on a horse and carriage to move, hardly convenient for the average housewife at home. As time progressed, so did the technologies used in vacuum cleaners. Woman no longer had to fuss with dirty brooms that kicked up dust and moved half the mess around the home, instead of containing and removing it, as desired. Fast forward to 2019, vacuums are so advanced that what once took an entire horse and carriage worth of space is happily wrapped up in a light-weight,
space saving design
, small enough to fit in even the most compact condos- the stick vacuum.
Standout Picks
Criteria Used for Evaluation
Ease of Use
No one likes cleaning, but it can be less of a nuisance if you have the right tools for the job. The stick vacuums available today are chock full of user-friendly features that make tidying up less of a chore. The least favorite part of any vacuum owners day is emptying the bag or canister. Manufacturers have caught on to this grievance, and many of the products we recommend include features to make this task pain free. Canisters easily detach with the press of a button, empty from the bottom to reduce the risk of missing the bin, and have built-in mechanisms for slide or coach the dirt out without having to touch it with your hand. Canisters with built-in dirt compactors allow you to clean more and empty less, saving time and energy better spent on more enjoyable tasks. Low profile powerheads make it easy to reach under furniture without having to move things out of the way, another great time-saving feature seen in many of these products.
Battery Life
Considering most stick vacuums are battery powered, it is important to consider the battery life, as this will dictate the amount of cleaning you can achieve before having to stop and plug your vacuum in. A longer lasting battery allows for maximized run time, which is preferable, since no one really likes spending all day stuck inside cleaning. Some units come with more than one battery pack, allowing the user to switch up the dead battery with a fresh one, meaning you don't need to put your cleaning on hold just because you forgot to charge your vacuum last week. Other manufacturers have used a universal battery platform for a variety of home appliances, meaning you can easily switch the dead battery out of your vacuum for the fully charged one in another device.
Effectiveness
It goes without saying that the main reason for anyone purchasing a stick vacuum is cleaning; therefore, it makes sense to chose the most effective product that suits your budget and cleaning needs. The effectiveness is essentially measured by the suction power it offers. Consider the surfaces you will be using your vacuum to clean- if your home has only hardwood floors then you may be able to get away with a less powerful product. However, if your home has many area rugs, you own a furry, shedding pet or will be using your vacuum in high-traffic areas, you may need to look into more powerful models that offer greater suction power.
Weight
Less weight means less effort. So it is no surprise manufacturers have worked to make today's stick vacuums the lightest we've ever seen. For people with multiple stories in their homes, having a lightweight vacuum is an especially important consideration, as no one likes lugging a heavy, cumbersome machine around. The less weight you have to push around, the quicker your cleaning can be completed, and with less fatigue and frustration to you.
Flexibility
Flexibility makes everything in life easier, and vacuuming is no exception to that rule. Modern designs and engineering have made it possible to clean up anywhere, with minimal effort and bending. From under beds and couches to hard to reach areas like corners and crevices, today's stick vacuums can conquer any mess. Some units convert to a handheld device, allowing easier maneuverability for cleaning cars and small spaces. Look for features like lay flat technology or extreme recline which make reaching under beds and large furniture pieces a breeze- reducing cleaning time and frustration. Swiveling powerheads can reach even the tightest crevice, meaning no crumb gets left behind.
10 Best Stick Vacuums
1

. Shark IONFlex DuoClean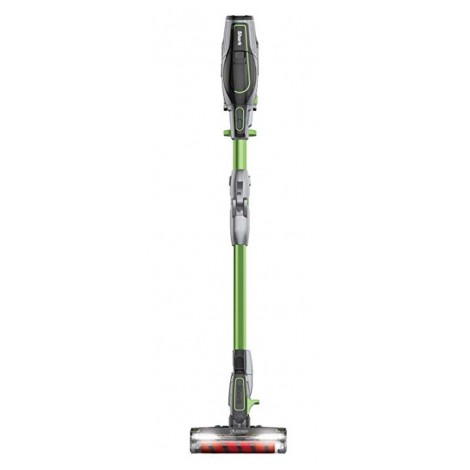 The Shark stick vacuum truly checks all our boxes. Removable, rechargeable battery pack, a variety of performance-enhancing settings, an extendable wand for hard to reach areas and a double bristle power head system that sucks up both fine dust and small to large particles. Included with the vacuum is an assortment of attachments that make cleaning any area of your home a breeze, and at no extra cost to you. It folds in half, which is an added bonus for those low on storage space, as it can be easily stored under a bed. Don't worry about cleaning messes in areas other than your floor, IonFlex Technology easily converts into a handheld vacuum or a bendable wand, to reach even the toughest corners and crevices.
DuoClean Technology
The Shark uses patented DuoClean Technology, to ensure no dirt or debris gets left behind. The powerhead feature deep cleaning stiff bristles, to muster up stubborn, ground in grim, as well as an additional soft brush roll, to buff and shine hard floor surfaces, and capture fine dust particles. The brush roll is designed to work in unison, providing double cleaning power on the carpet and hard flooring alike.
Smart Response Technology
This product is as user-friendly as it gets. It is engineered with multiple settings to suit your cleaning needs, maximizing suction power and battery life. The 'extended runtime' setting is designed for everyday, basic cleaning, and provides up to 23 minutes of cleaning power. There is also a 'max power mode' for big spills or high traffic areas, as well as settings for both bare floors and high pile carpets. A variety of setting allows you to customize the suction power based on your needs, and easily being able to switch between the various modes will maximize the run time of your battery.
Cost and Value
This little green rocket packs in a ton of cleaning power, for a more than fair price. The attachments are all included with the unit at no extra cost. The battery is removable and rechargeable and can be interchanged with other Shark products you may already own. This vacuum does double duty as well, converting into a handheld unit for spot cleaning and car detailing, so you won't need to purchase an additional product further down the road. If splurging on a Dyson just isn't in your budget right now, or you simply don't love cleaning enough to spend a whole pay cheque on a vacuum, then look no further than the Shark!

2

. Dyson Cyclone V10 Absolute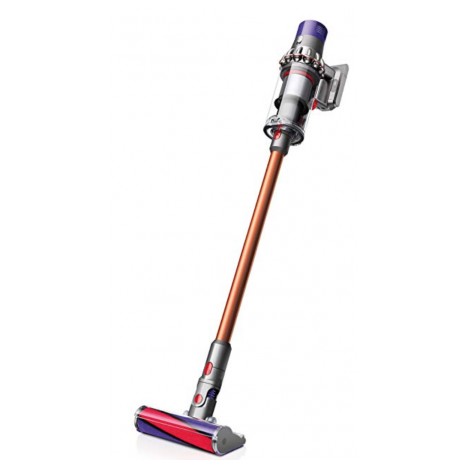 Dyson is the first name that comes to mind when you think of stick vacuums. Their slogan is 'engineered for better cleaning performance' and they certainly hold true to their word. The Cyclone V10 is Dyson's newest, most powerful vacuum, and the Absolute model comes with two cleaner heads, four attachment tools and a 40% larger dust bin. It offers the highest amount of suction for any cord-free stick vacuum on the market. The Cadillac of the stick vacuum world, there is no mess too large or house too big for the Cycle V10 Absolute to conquer. Easily converting into a handheld unit for a floor to ceiling cleaning power, the V10 can also be used for cleaning your car. It is worth mentioning as well, that all Dyson machines are certified asthma and allergy friendly by Asthma Canada.
Battery Life
The V10 Absolute offers up an impressive 60 minutes of runtime with a nonmotorized tool. This is almost triple the amount of cleaning time offered by other units on the market. The instant-release trigger means the battery power is only being used while the machine is engaged, saving you even more energy. Switch into one of the other modes and the battery life is just as impressive. Get up to 40 minutes of fade-free suction while using the soft roller cleaner head on hard surfaces and up to 20 minutes of power with the torque driver cleaner head, designed for carpets.
Patented Cyclone Technology
The Cyclone is powered by Dysons V10 motor - the lightest, strongest, and the smallest motor that Dyson has ever made. Fourteen cyclones are arranged concentrically around the center axis, allowing more air flow to the motor. With 79,000 g of suction force, the Cyclone is powerful enough to pick up microscopic bacteria and pollen particles and trap them in the dust bin. The technology works by accelerating the speed of air flow from 72km/hr to 190km/hr as the cyclones narrow, thus creating centrifugal forces powerful enough to pick up even the smallest dust particles. Engineered with a straight line from the brush head to the dust bin creating less resistance and combined with the powerful new V10 motor, the Cyclone Absolute offers up an impressive 20% more suction power than its predecessor, the Dyson V8.
Cost and Value
This is the only area where the Cyclone V10 falls short. The hefty price tag could be a deal breaker for some buyers. The Cyclone is, undeniably, the most advanced and powerful stick vacuum on the market. Therefore, it's safe to assume it would also come with a powerful price as well. We think the Cyclone is definitely worth the money, but it is really expensive and if you're trying to pinch your pennies, there are certainly more budget-friendly options, that will do almost as good of a job, to consider. For people with severe allergies or asthma or those who want to jump for joy every time they have to pull out the vacuum, the Dyson may very well be worth the extra splurge.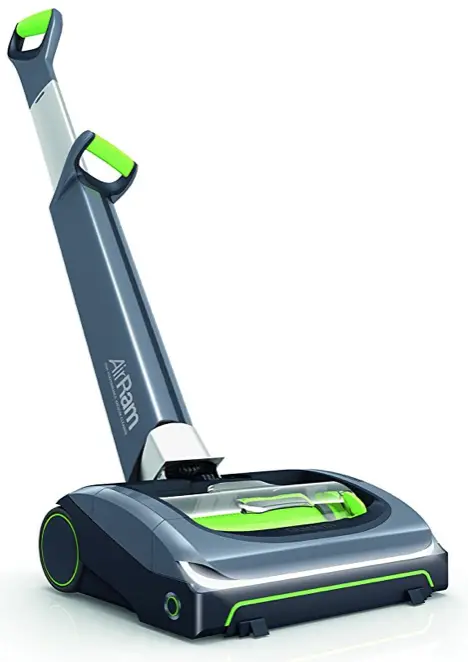 Bissell is a trusted, household name when it comes to quality floor care products, and their version of the stick vac is no exception. A modern silver design with green accents, the 1984 AirRam may be the most user friendly vacuum on our list. The brush head is engineered for optimized use on carpet and hard surface floors alike, it is ultra lightweight, easy to store and has fantastic maneuverability with up to 40 minutes of fade-free runtime. Weighing in at less than 8 pounds, its light enough to push around without fatigue.
LED Lights
One great feature on the AirRam we love is the addition of wide range LED lights along the motorized brush roll. The lights illuminate hard floors, lighting up any dirt or debris you may have missed to ensure an all over clean. This is also handy for cleaning in low light areas such as basements or if you prefer to do your vacuuming at night.
Extra User Friendly
What the AirRam lacks in bells and whistles, it makes up for in with its simplicity and ease of use. The multi surface brush roll is engineered to provide high performance cleaning on both hard surfaces and carpet, so you don't need to switch between powerheads for every room. The rechargeable, removable lithium battery is professional grade, and outfitted with indicated lights so you know how much power is left. We especially like that the dust bin on this unit is equipped with an 'Easy Empty Slider', to push out the dirt and debris so you never have to get your hands dirty. Easily turn the AirRam on or off with a large, foot operated pedal. With swivel steering and a lay flat handle, the AirRam can easily maneuver under or around furniture.
Cost and Value
While the Bissell model doesn't offer a variety of cleaning attachments or an extendable handle, it is super easy to easy to use and provides an outstanding 40 minutes of powerful, suction cleaning. If you're looking for a high performance, multi-surface cleaning tool to deliver reliable, long lasting, cleaning power at a great price than definitely check out the Bissell AirRam.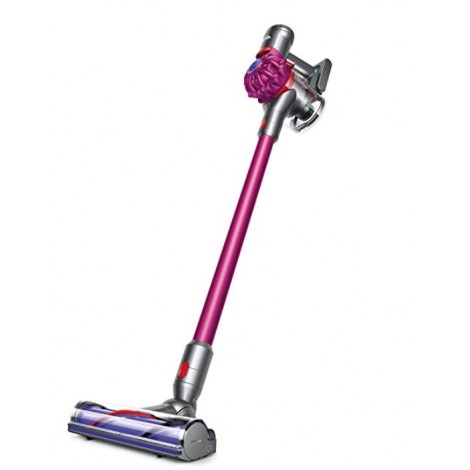 Dyson is the pioneering name in stick vacuums, and the V7 Motorhead is a great option for people who want to own a Dyson without spending a fortune. Get the reliability and cleaning power backed by the Dyson name with this super stick vac option.
Battery Life
For the price and the brand name, the V7 offers an impressive 30 minutes of run time while using a non-motorized tool. Remember that Dyson technology runs the motor only when you press the trigger, saving you valuable seconds of suction.
Cleans Anywhere
Nothing cleans like a Dyson and those who own them swear by them. The handheld units are known for being super well balanced and easy to maneuver, so you can use them up high in corners for things like hard to reach cobwebs. All cord-free Dysons easily transform to handhelds, for portable cleaning on the go.
Cost and Value
For way less than the price of the newest Dyson model, the V7 is still a mighty cleaning machine. If you've always dreamed of owning a Dyson, but a Cycle V10 Absolute seems a little extravagant, this is the perfect option to check out.

5

. Eureka NEC122 PowerPlush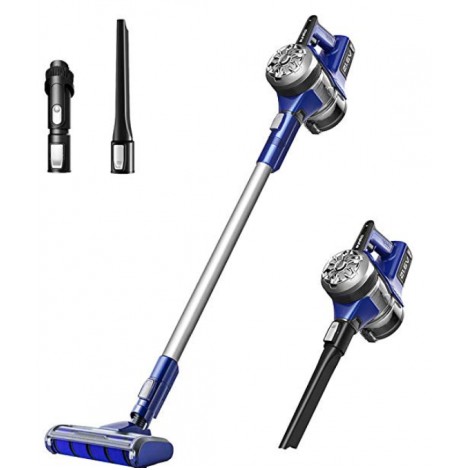 Eureka is another trusted, household name when it comes to home care products. Founded in 1909, in Detroit, Michigan, Eureka has been delivering a full line of vacuum products for over 100 years. The PowerPlush is their brand new, cordless, stick vacuum, designed to be so easy you will want to use it every day. Coming in at 5.3 pounds, it is on the lighter side of the spectrum, and serving up an average of 15-22 minutes of cleaning power on hard floors, it fairs well against other stick vacuums in our list.
PowerPlush Brush Roll
Bissells patented 'PowerPlush' brush roll is made out of a unique velvety, smooth material. While the suction power is great for picking larger debris, the soft texture of the power head captures even the finest, microscopic particles. This is unique to Eureka, and an innovative design that captures the dust directly instead of using bristles to stir it up. This works exceptionally well to clean up dirt and pet hair on the hardwood floor, laminate or tiles.
Extra Hygienic and No Maintenance Costs
The PowerPlush has a ton of cool features we love that decrease the amount of dust and allergens you are exposed to in your home and while using the machine. As we already discussed, the PowerPlush head not only sucks up dirt but captures it directly on the brush roll. Minimizing the number of microscopic particles in the air is an important step reducing irritation from asthma and allergies. The dirt cup on the PowerPlush can be emptied two ways, further minimizing your exposure to dirt, dust, and allergens. Twist it off, or open the bottom with an easy press of a button. The filters in the PowerPlush are all removable and machine washable, reducing waste and saving your money. Equipped with an anti-allergen filter that captures an impressive 99.5% of fine dust particles and allergens as small as 0.3 microns, this an allergy or asthma sufferers dream!
Cost and Value
This stick vacuum offers impressive cleaning power for an extremely modest price! While the run time may be less than some other vacuums listed and it's not recommended for highly carpet areas, the price reflects this! There are two, on board accessories for cleaning crevices, corners and curtains and a wall mountable charging station included with your unit. The PowerPlush can also convert into a handvac, great for spot cleaning or car detailing, another great feature of this unit. We especially love that all the filters on this vacuum are reusable and machine washable, so there are no hidden costs further down the road. If you need powerful cleaning power for hard surfaces without breaking the bank, the Eureka PowerPlush NEC122 is right up your alley.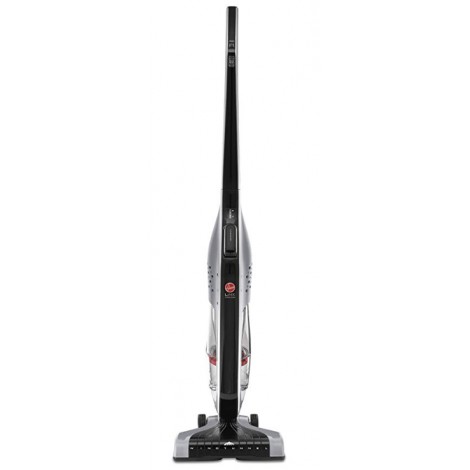 Hoover invented the first electric floor sweeper in 1908 and had continued to be a worldwide name in cleaning ever since. The Hoover LiNX is no exception. It is a sleek, versatile and cordless upright stick vac, that makes cleaning up a cinch. The power controls are located right at your fingertips, as well as a convenient battery power indicator, so you always know how much cleaning power you have left. An easy-transition brush head for multi-floor cleaning, bottom release dirt cup, and an extreme recline design, to easily slide under furniture, round out the features we like on this stick vac.
Edge Cleaning Bristles
The extra-wide brush roll on the LiNX can capture more dirt in a single sweep, saving time and energy. It also features an edge cleaning bristle design, that is engineered to capture dirt and dust all the way up to the wall, for a whole floor clean.
WindTunnel Technology
The LiNX is the only stick vac made by Hoover to feature their patented WindTunnel Technology. It works to create powerful channels of suction that lift and remove both surface dirt and dust, as well as ground in an embedded mess.
Cost and Value
The LiNx is fairly priced for what it offers. While it doesn't come with attachments or convert into a handheld vac, it can seamlessly do double duty on the hardwood floor and carpet surfaces. The extra-wide brush roll and edge cleaning technology are great time-saving features for people who need to save time.

7

. Black+Decker POWERSERIES Pro 2in1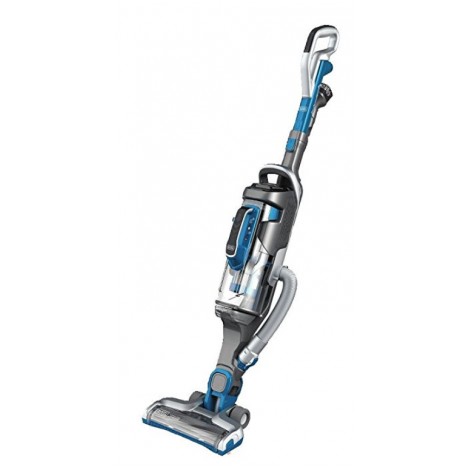 The POWERSERIES Pro is the most powerful cordless vacuum that Black+Decker makes! With a runtime of up to 60 minutes on the lowest suction setting, this is the longest performing vac on our list. There is a built-in compactor in the dirt canister so that you can do more cleaning and less emptying, and when you do need to clean the canister, it's also equipped with an ejector button, for easy, hands-free use. The canister detaches into a handheld vac, for portable use on stairs or in your car. Sensors on the display tell you when its time to clean your filters and charge the battery.
Automatic Adjusting Settings
We love the auto-adjusting feature that the Black+Decker offers. Enable the AUTOSENSE feature and the vac can tell what surface you're cleaning, automatically adjust the suction level to maximize your battery life and runtime.
Extension Wand and Hose
The Power series is the only upright vac on this list that also offers the convenience of an extendable hose, for cleaning up high and in hard to reach areas. This is a great feature for someone that prefers the ease of use an upright vac offers, but also wants the added bonus of floor to ceiling cleaning power! The hose on the extendable wand is an impressive 4 feet long, so you can easily reach even the highest mess, and the included 3in1 accessory tool is great for getting corners, cracks, and crevices.
Cost and Value
With the longest runtime in our list, this stick vac is a great choice for people with young kids or pets or high traffic households that need frequent cleanups. We love that the extra large canister only needs to be emptied occasionally, and can be detached for portable cleaning power. With an extremely fair price for all these features, it's certainly worth considering the Black+Decker POWERSERIES Pro.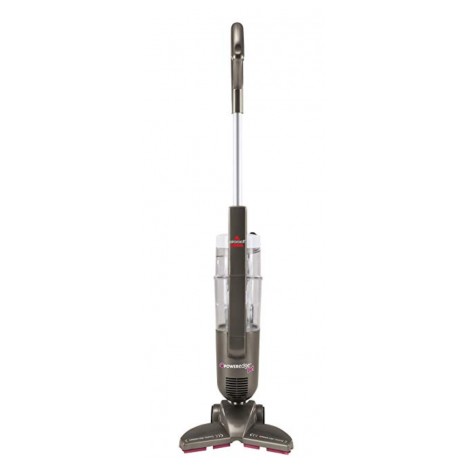 This corded stick vac is specially designed for budget conscience pet owners. It's a lightweight 7.5 pounds, features swivel steering for easy maneuverability and an innovative V-shaped base equipped with rubber wipers for high-performance pet hair cleaning.
Unique Brushroll Free Design
The base of the PowerEdge is shaped in a V, to easily reach into corners and along baseboards and furniture edges. The unique design easily captures large dirt particles in the center, and the extended arms attract finer dust and debris. The rubber wipers push large items directly into the center patch of suction, so nothing gets left behind.
Great for Pet Hair
The edge of the V shape design is outfitted with hair attracting rubber wipers. This allows the vac to pick up more pet hair than using just suction alone. Any pet owner knows how frustrating it is getting the hair out of corners and from around furniture, and the unique V-shaped design of the base easily solves this problem.
Cost and Value
This vac is one of the cheapest on our list. While it's pretty basic, has no extra features attachments or settings, the price is also basic enough that it won't break the bank. If you're looking for a fuss-free way to keep your home clean from pet hair and dirt, check out the PowerEdge Pet. It's worth mentioning that this vac is only good on hard surfaces if your home has carpet, unfortunately, you will need to invest a little more into a vac that can handle the job.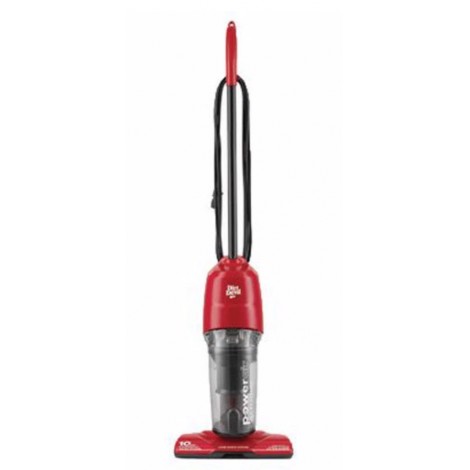 If affordability is number one on your list the Dirt Devil Power Air, is as cheap and cheerful as they come. The PowerAir isn't cordless. However, 20 feet of cord is more than ample length to span the width of most rooms. An 11' cleaning path, easy empty canister and weighing in at less than 7 pounds, the Power Air is a definite contender on this list.
Impressive Suction Power
Powered by a 10 amp motor, cyclone filtration suction is enough for all hard surface floors and carpets alike. The motor on this stick vac is comparable to motors on full-size units. Reviewers have raved about the extreme suction power this unit offers up.
No Need To Charge
Sometimes the convenience of not needing to charge your vacuum is favorable. If you're the forgetful type who always finds your appliances dead when you go to use them, a twenty-foot cord on a powerhouse of a vacuum probably won't bother you as much.
Cost and Value
Not everyone needs a vacuum loaded with tons of features, bells, and whistles. Some people just want a simple cleaning solution that's more effective and less work than using a dustpan and broom, and to prefer to spend their hard earned cash on things more exciting than cleaning appliances. If this sounds like you, check out the Dirt Devil Power Air for everything you need and nothing you don't.

10

. Shark Rocket Ultra-Light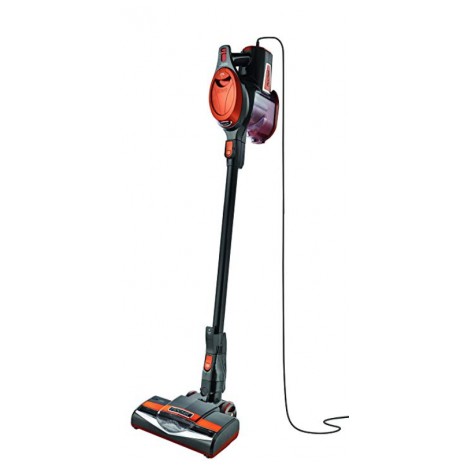 This is another high performing stick vacuum that will help you conquer the toughest messes and keep your home looking spic and span.
Lights on Handvac
We love that there are LED lights not only on the floor nozzle but the hand vac as well! This is a great feature that is super handy especially when you are cleaning your car, so you can see all the dirt and crumbs that are stuck in between the seats.
Dust-Away Attachment
This stick vac is powerful enough to clean carpets and hard surfaces alike. While most vacs come with a special attachment designed for carpets, we love that this model has an attachment engineered for hardwoods. Use it to buff and polish hardwoods, trapping dust and leaving a streak-free, shiny finish.
Cost and Value
You can clean multiple surfaces with this stick vac as well up high areas like curtains or blinds. We love that it converts to a hand vac and bonus points for the LED lights that help illuminate dirt and crumbs, so nothing gets left behind.

Subscribe to our Newsletter