Best Cordless Drills Reviewed & Rated for Quality
In a Hurry? Editors choice: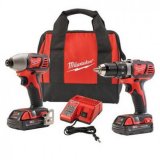 Test Winner: Milwaukee 2691-22

If you've ever done some maintenance work around your home, you know the importance in having a
toolbox
with all the right
tools
. If you're just getting around to the basics of maintenance, trying to hang a
mirror
on a wall, or doing some major renovating, having the right tools are essential. You wouldn't be able to get anything done without them.
There are many types of cordless tools out on the market today that we have researched into different categories, that cater to different maintenance needs. You may have light maintenance work, repair, and remodeling, or heavy-duty construction, which will require different types of tools to work with. We went ahead and researched the top 10 cordless tools out on the market today with different speeds, handles, and power.
Standout Picks
Criteria Used for Evaluation
Power Source
Power
They come in varying voltages, and the most common you can find fall between 6 volts to 20 volts. These can be performed for most duties around the house and even some heavy duty work. For this type, you measure the power by the battery power voltage that it comes in. Basically, the higher the voltage, the more "torque" you have, which means the spinning strength it has against resistance. Once you check the voltage of it, check to see how long the battery life is so that it can be used for the task at hand. All of the ones on this list have lithium ion batteries, and this is important to look for. Lithium ion batteries can provide twice the performance and run up to 4 times longer than your standard battery. If you ever experienced a cheap gadget with standard batteries not running at its full voltage speed, then you probably have realized that it will take twice as long with twice the effort to get the task done because it is lacking in power. Lithium ion batteries will allow it to work at 100% speed and power until it dies. All you have to do after is charge it up, and some of the ones we have listed come with back up batteries, so you never have to wait.
When you're purchasing a tool such as this, consider what you will be using it for around the house. There are ranged from lightweight to general to heavy-duty uses, and the power you need can differ based on what you get. You don't necessarily need a 9 amp tool for putting together some furniture. For light-duty which includes light maintenance work around the house like drilling into drywall, you can make do with a battery that is under 20 volts. These lightweight ones usually have a fixed socket which is limited to the accessory that fits it. For the ones made for general use, they usually come in 12 volts to 18 volts and can fit a variety of bits because you may need them for different uses and applications around the house. Heavy duty ones are usually higher than 20 volts and can fit any type of bit because it will have the largest chunk size.
Variable RPMs
RPM refers to Revolutions Per Minute, which essentially accounts for the speed of the cordless ones. These should be able to be adjusted based on what you are using it for. If you simply need to fasten a loose screw, you may not need the highest RPM setting on it. You want to look for tools with variable speed settings (which all on this list have) so you have full control over the application process. Most of these offer two-speed transmissions, which give you the full range of control in forward and reverse motions.
Style
Types
Power tools are the most common and basic type of cordless ones and are mostly used for making holes (in drywall, wood, furniture, etc) and securing screws. These can have variable speeds and torques to tailor to whatever task you have at hand and clutches can usually be adjusted to match the depth. These usually come in a drilling/driver combo that has a forward and reverse function to mimic drilling and driving. These also should come in variable speed settings to adjust.
Hammer ones pound in a consistent motion as they rotate, and this is used for more heavier duty applications. This makes making or driving holes into tough surfaces a lot easier to do so that you can easily screw.
Right angled ones are unique in that they are specifically used for tight spaces at a 90 degree angle, which makes it easier to get in those cramped spaces, especially with a larger cordless ones.
There are screw guns, which are specifically designed to work in looser screws and make it easier and quicker to get them in tightly. These are great for drywall work, like if you're trying to hang a picture frame or hang a wall mount on your drywall. These usually come with higher torque speed settings that you can adjust. These are faster and quicker to use, so it makes it easier to use and lessen user fatigue for larger, more in depth projects.
Impact drivers are more heavy duty and have a higher voltage, which is primarily used for larger bolts and jags to be screwed in quickly and efficiently. No longer do you need to keep twisting and turning your wrist to fasten the bolts and jags- these can do it for you quickly and painlessly.
Comfort
Comfortable Grip
You also want to make sure that you lessen your user fatigue by choosing a tool that is ergonomically designed to be comfortable for your hand. Most of these are considered lightweight and compact, but you still don't want to overburden the weight and comfort on your hands and wrists. Your hands should wrap comfortably around the handle, and it shouldn't be difficult for you to easily press your fingers around the trigger to start working. A lot of handles come with a rubber grip, which make it easier and more comfortable to hold. If you are getting into tight corners and using it often, you want to lessen the risk of blisters and chafing, so getting one with a comfortable grip handle is important.
Value
Warranty
All of the ones on this list come with some sort of warranty, which ensures that they are higher quality. Generally speaking, as is with a lot of things in life, the higher the price, the better quality and long-lasting it would be. Most of the ones on this list are from leading power tool manufacturers that have been around for decades, so it is safe to say that they definitely know what they're doing when it comes to making quality power tools that will last you for decades. Cordless ones aren't a cheap item, so you definitely want to make sure that they have a warranty in case yours gets damaged or breaks for some reason. Generally speaking, if you invest in a quality one, you wouldn't need to replace this every few years and the only cost is the bits and possibly replacement batteries. Lithium ion batteries last for years, so this shouldn't be a huge concern. Like a car, it is not great for the device or battery if you are not using it for long periods of time. This can cause the battery to die and if you don't anticipate periodic use, then it may be best to get a corded one that you can use only when you need it once in a while.
Top 10 Picks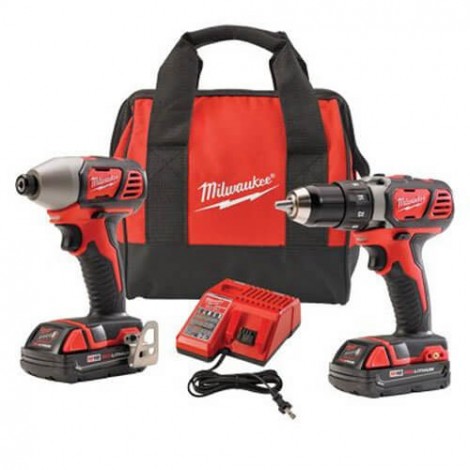 To end our list is a heavy-duty combination tool and driver kit that is meant to last for years and years. Customers state that this may be the last set you may ever need, as it tackles all the projects you can think of and has exceptional performance. We'll list some of the key features below.
High Performance
You may not need another high performing tool or driver after this- this has 400 inch pounds of torque and the heavy duty impact driver has up to 1400 pounds of torque, making this the set you look to when you need any maintenance done.
Complete Kit
This comes with one 18v compact drill/driver, and ¼ inch hex impact driver, 2 compact batteries, one charger, and a carrying case. You may not need another toolbox with this complete kit that can tackle all your needs.
Cost and Value
This kit comes at a higher than average cost compared to the average cordless driver- however it is a complete kit that includes 2 power tools that you can use for a variety of needs. Customers say that this is very worth the exceptional quality and performance.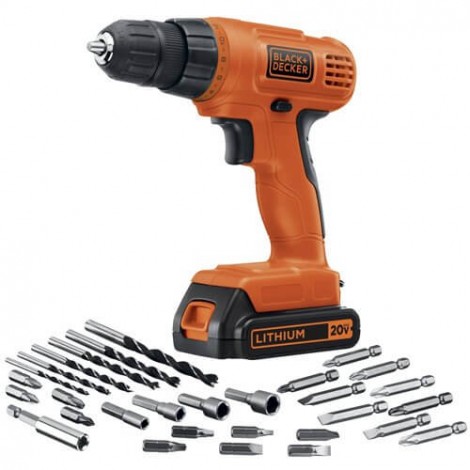 To start our list is the Black+Decker LD120VA Max Lithium Driver. Black+Decker is a leading manufacturer in power tools, so you will see a couple of Black+Decker power tools on this list that cater to different needs. This one specifically starts off our list because its simple, everyday use that is designed to tackle most tasks around the house. This is a light, compact, but powerful tool that you will turn to for almost every maintenance need around the house.
Lithium Ion Battery
One of the benefits of having a tool such as this is that you don't need to worry about finding an outlet or socket to plug the cord into when you're performing the task at hand. This lithium ion battery can hold a charge for up to 18 months, so you don't have to worry about replacing batteries often.
30 Accessories Included
This kit also comes with all the screws and bolts you need to get started on your project so you can save another trip to the store or cost in getting them. Not only that, but it also comes with a lithium ion battery and charger.
Cost and Value
Considering that this is a high rated product by a leading power tools manufacturer, the price point can be considered reasonable for what you're getting. Also remember that there are 30 accessories and battery and charger included.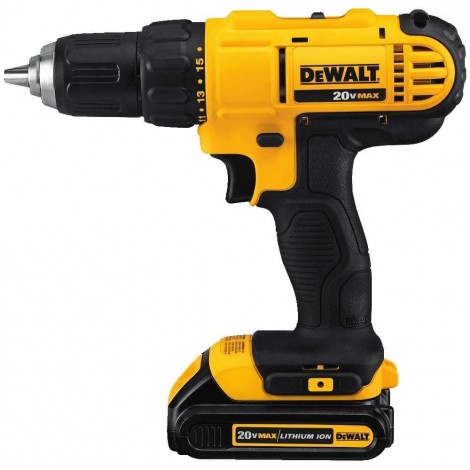 DeWalt is another leading manufacturer of power tools, which is why the DeWalt DCD771CD compact power tool is on our top 3. This driver has all the features needed to work on projects for long periods of time, in tight spaces, and in comfort. With high speed transmissions and an ergonomic design, this model will make sure you get all your bases covered.
High Performance
This compact model delivers up to 300 unit watts, which makes it powerful enough to complete a wide range of maintenance projects and applications. It works at 100% force until the battery dies, unlike some that lose power as battery diminishes.
Light
A lot of cordless tools have lights included, that's nothing new. The difference in this one is that the light can be used without having to pull the trigger, so it makes it easier to line up screws and bolts where they need be.
Cost and Value
This comes at a slightly higher price point that our number one item, but this kit also includes an extra lithium ion battery, charger, and carrying kit. Customers have said that this product was well worth the money and has held up to be brand-new even after several years.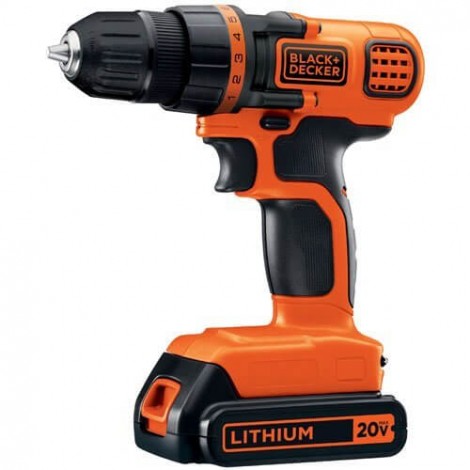 If you need a no-frills, basic cordless one for light maintenance work around the house, this one is the one for you. We have another Black+Decker item on our list at top 3 for its versatile use, compact and lightweight design, and great price point. We'll list some of the great features below.
11 Position Clutch
If you've ever done some light renovating or maintenance work around the house, you know that not everything needed to be done is at a straight 90-degree angle. This tool offers 11 different holding variations with its unique handle, so you can tackle any job from any angle.
Compact and Lightweight
Doing maintenance work is laborious enough as it is- you don't want the tool you're holding to tire you out even more. This power tool comes in at about 3 pounds, causing less fatigue when you're working.
Cost and Value
Given that this is a Black+Decker tool, we're surprised to see the affordable price point with this item. If you are looking to add to your toolbox for the first time and don't foresee doing any heavy-duty construction, this no frills, basic power tool is the one for you.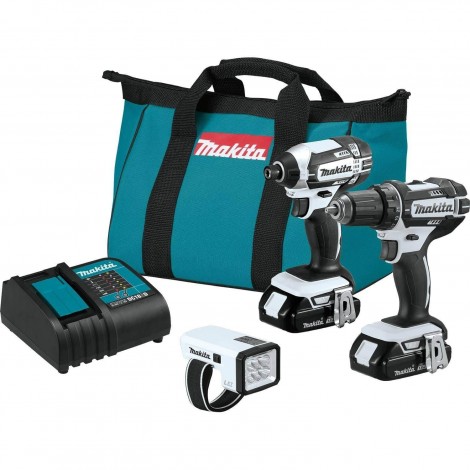 The Makita CT322W Combo kit has everything you need included for your drilling and driving needs, including a ½ inch driver drill and ½ inch impact driver, carrying case, and LED flashlight to aid in your maintenance needs.
Built In Lights
Both of the options in this Makita Combo kit have built in LED lights in the tools, which make it easy and convenient for you to see what you're doing with clarity, especially if they're in dark, tight spaces.
Star Protection
If you plan to be working for hours on end, the Star Protection on these devices make it so that your tools don't overheat, over load, and over discharge, protecting your equipment for use for years to come.
Cost and Value
The cost of this is, of course, higher than the ones on this list so far because it comes with a set of 2, which tackle different needs around the house. This is a great bargain given that it also comes with a charger, LED flashlight, 2 lithium-batteries (which are pretty pricey themselves), and a portable carrying case.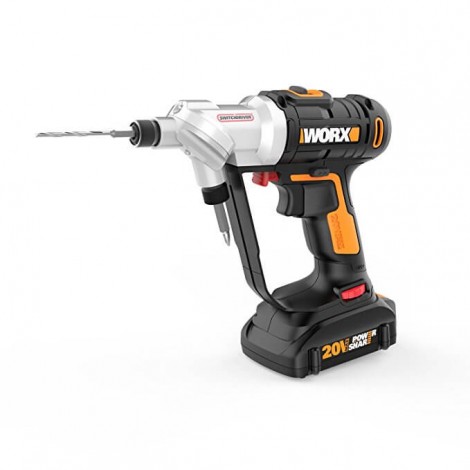 This is a product for the worker who wants things done quickly and efficiently. The Worx 2-in-1 has rotating dual chucks where you can switch them options in an instant. No need to purchase two different tools when you have everything you need right here. This also has other great features which we'll go over below.
Rotating Heads
This is definitely the selling point of this product- this has rotating dual chucks that allow you to hold multiple accessories at once and can switch from one to another in just a quick twist, allowing you to get your work done at twice the speed.
PowerShare Platform
What's great about this is that if you already own other Worx 20V power tools that need charging, you only need one charger for all of them, saving you time and money. You can also share the lithium batteries as they are part of the Power Share platform.
Cost and Value
This product is comparable to one tool, but you're getting the most bang for your luck with a power tool that has both capabilities and shareable charging platform, saving you time and money.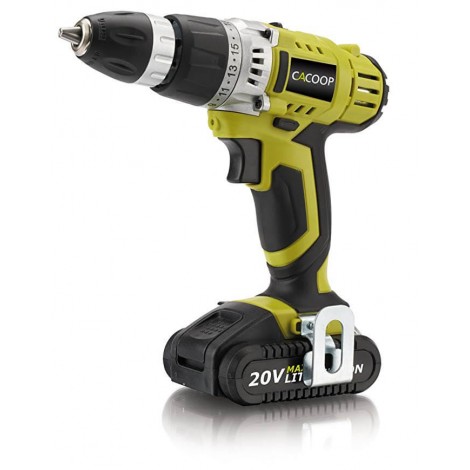 The Cacoop CCD20001L MAX compact driver has all the functions you need and more to get your job done with precision and ease. With over seven key features and a great price point, you won't be disappointed with this item.
Very Lightweight
At under 3 pounds, this is our lightest and most compact cordless power tool yet. This allows less fatigue for yourself, and allow you to work fast and efficiently so you can get your projected completed with ease and comfort.
2 Variable Speeds
The 2 variable speeds give two speed ranges- at 0-350 rpm, which is ideal for screwing projects in and out, and 1-1350 rpm, which is great for drilling. This also has 19 varied torque positions, so you have a wide range of uses around your home with this tool.
Cost and Value
The Cacoop comes at a great price point with all the great features this product offers. You will probably find yourself using this because of its versatility for a number of different projects around the house, making sure you get your money's worth.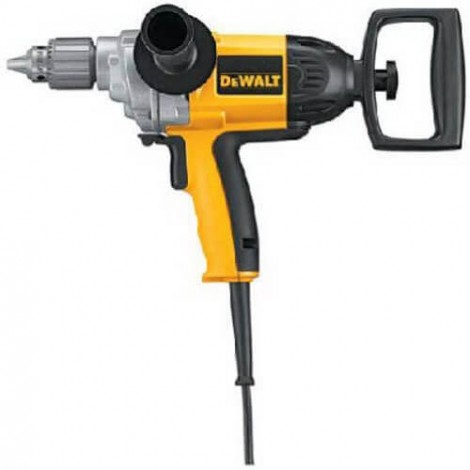 Switching gears here a bit, the Dewalt 9 amp tool is intended for heavy duty, construction site use. This is ideal for job sites that require a the mixing of concrete and mud with ease, so unless you're planning to redo your pavement yourself, this is probably for the professionals or people who have already completed heavy construction projects.
High Power
At 9 amps and 120 volts (compare to the 20 volts that we have for most of the drills we have already listed), this is an extremely powerful tool that can mix cement and mud with ease.
Versatile
Although it is primarily used for job sites and mixing cement and mud, this has enough torque power to power through wood and steel, meeting a wide variety of heavy duty applications.
Cost and Value
Because this is a heavy duty machine and not intended for everyday use, it does come at a higher price point than other cordless ones. If you have a need for an extremely powerful, high amp torque tool, this is the one for you.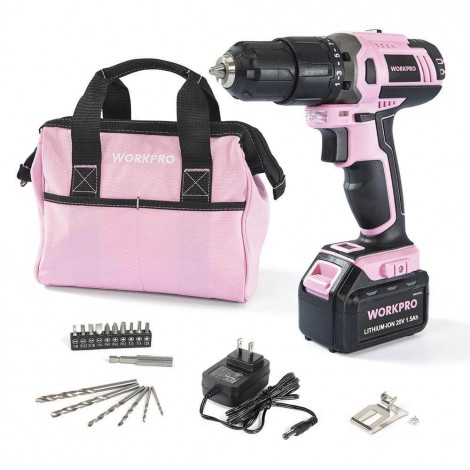 Ladies, have no fear. This WorkPro Pink cordless tool is easy to use, but powerful enough to use even if you are averse to doing home improvement projects yourself. Of course, we're not assuming that all females rely on men for home improvement projects or that they even like the color pink, but this tool has everything you need in one complete package to make it easy.
Easy to Use
This comes with a soft, ergonomic grip handle which makes it easy and comfortable to use for long periods of time. At around 3 pounds, this is light but powerful enough to use for most projects around the house.
Lighted Drill
The light on the tool make it easy to see what you're doing in tight or cramped spaces. This item also has 21 different torque settings, making it even easier to complete a multitude of different projects around the house.
Cost and Value
This set comes with a cordless driver, 6 pieces of bits, 10 piece bits, a charger, a battery, a belt holder, and even a stylish carrying case- all at a very great price point. This can make a great gift for the female in your life that just moved into a new home by herself.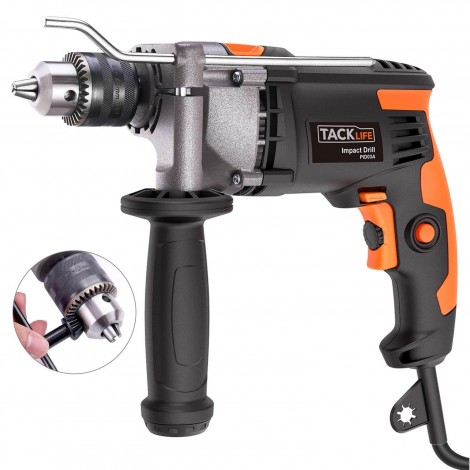 The Tacklife is another great dual function power tool that gives you all the power and torque you need to get the projects done around the house. With a versatile design and power dual mode, you can find yourself using this model for all your needs.
Hammer Drill
This model is great in that it can go from a power tool to a hammer with one switch, making this the perfect tool for all DIY and home projects that require drilling and hammering.
Adjustable Speed
You can use this for so many different things with its speed settings of 1-3000 rpm, giving you more precision over control. You can even use this as a screwdriver at the lowest setting for smaller, minimal projects.
Cost and Value
This dual hammer and driver drill comes at a great price point, and many customers are highly satisfied with the lightweight design, versatile use, and variations in torque setting and speed that this provides.

Subscribe to our Newsletter