Best Solar Garden Lights Reviewed & Rated for Quality
In a Hurry? Editors choice: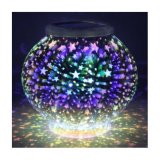 Test Winner: Color Changing Mosaic

Lighting up your outdoor space can cost a hefty amount. It can become a messy task too. And even unattractive if done improperly. Wires can get tangled this way and that way, and you'll need to find an electrical source of energy. If an outlet isn't accessible, most likely you will have to pay a professional to install an energy source or outlet.

The energy source of solar garden lights uses the sun. Solar-powered lighting mechanisms are incredibly environmentally-friendly, in that they do not in any way pollute the environment. They are also normally constructed to be weather-resistant, so they're the perfect choice for your outdoor lighting needs.

The following list was compiled in order to help you sort out the good from the bad. Also, to help you pick the right one for the application you are going to use them for.
Standout Picks
Criteria Used for Evaluation
Battery Life
Battery
There are several options to choose from. There is one product on this list that runs on a simple, rechargeable AA battery. Again, this is a pretty solar garden light–also suited for indoor use–that may not be very helpful if visibility is your goal. They can, however, create a very charming atmosphere if you're going to be hanging out with your friends or family outside on your porch or in a darkened room. There are also a few solar garden lights on this list that run on lithium batteries. These are generally for longer-term use and these are the products you'll want to look at if you're looking to illuminate your outside space over a long period of time. Then, of course, there are plenty of solar garden lights on this list that are entirely powered by the sun. In other words, they don't have a battery at all. These work by including in their design a solar photovoltaic panel. These essentially absorb the rays from sunlight and work to recharge the solar garden lights so that they can run on the energy they get from those rays for up to nine hours at a time. Some of these solar garden lights actually turn on automatically at night–much like streetlamps. So if you're looking for convenience and a hands-off experience, you might want to take a look at these. This style is even better for the environment.
Effectiveness
Guarantees
If you take a close look at each item on this list, you'll see that most of the manufacturers actually stand by their product. It's common, actually, to find that a solar garden light comes to your doorstep in a malfunctioned state; it might not even work. Or the construction may appear shoddy or glued together after having been broken. All of this is normal–things happen during delivery, and you can't always blame the manufacturer. Indeed, sometimes the manufacturer actually anticipates things to go wrong during delivery and takes steps to rectify any concerns that you, as the consumer, might have. So the manufacturer might, to that end, offer warranties. Again, if you look closely, you'll see that almost every product on this list offers something by way of warranty. There are 180-day warranties on parts; there are guaranteed refund policies, no questions asked; there are 3-month warranties; and of course, there is one manufacturer that features on this list that actually offers a whopping lifetime guarantee. These all go a long way in ensuring that the money you spend is going to be worthwhile–after all, if the manufacturer is willing to put its money where its mouth is, why should we have any doubts? We don't have anything to really lose in this case, except a little time. But then again, everything has a price. Do note, however, there are some products on this list that do not offer any sort of guarantee, but this is only because they're cheap enough as it is and not designed to weather all the elements. The manufacturer, in this case, cannot be expected to pay for a new one each time there is wear and tear on such admittedly fragile products. What's fair is fair.
Functionality
But if you're in the market for solar garden lights, chances are you're concerned with the cost, but more concerned with how useful your choice will be, what functions it will carry out. There are a variety of options to choose from, so there's certain to be something on this list for everyone, including you. There are products on this suited for the outside, as well as the inside. These you can put in your bedroom as night lights–once they've been recharged by sunlight, that is. Then there are products that you can simply stick to the ground and let do their jobs, recharging on their own and even turning off and on on their own. This can serve to make your life so much easier. Isn't that what everyone wants? Little ways to make life easier! There are also solar garden lights on this list that you can hang on walls–or stick in if that's what you prefer. This gives these solar garden lights the advantage of versatility, which should not be discounted or underrated. You will want to make sure you pick the right look. The style is part of the function, as they are decorations too. You will also see them during the day. On top of all of this, you have to pay attention also to the lumens output of each LED lightbulb. Some of the solar garden lights on this list are actually very low on lumen output, and these will not help you illuminate much. They are designed, rather, to create a more aesthetic ambiance–not much more. But then there are those that come in a set of 2, or 4, or 6, or 8, or even 16–these are all designed specifically to help you light up your outdoor space and perhaps even provide a lighted guide down a pathway. So it's important that you know what you need and seek out those details of functionality that'll help get done what you need to be done.
Reviews
The last thing that was done in the making of this list was analyzing the reviews of other users–people who had already bought and tested these solar garden lights for themselves. A manufacturer will, of course, laud their product as the cure for cancer or the product to end world hunger. But the reality doesn't always match up to their boasts. In the making of this list, it was figured the best thing to do to look at individual customer reviews. If you look closely, in fact, you'll see that every item on this list is basking in the positive glow of Amazon reviews. In some cases, those reviews number in the thousands. That means that these solar garden lights are tried and tested and sure to please. At the very least, you'll know exactly what to expect. This, coupled with the various guarantees and warranties provided by the manufacturers, should help you rest at ease knowing that your money will not be wasted and the tasks you're trying to complete will actually get completed.
Value
Cost
Electricity is expensive. Fuel is expensive. Renewable energy sources–most of them anyway–are also expensive. Solar energy, thankfully, is absolutely free, and available anywhere that there is the sun. But all things have a price. Because solar energy is free, the manufacturers cannot benefit from additional revenue. Sunlight is also scarce–remember, on a cloudy day, you will not be able to recharge your solar garden lights. Why? Simply because there is no sunlight. If there is no sunlight, there is nothing being converted into useful energy. What this means, for you as a consumer, is that the initial price of any solar garden light will be higher than comparable products. This list, however, was designed to include those items on the market that are not just functional, aesthetically pleasing, versatile, and useful, but also those items which are very affordable. This way you always get your money's worth, and you don't have to break the bank.
Top 10 Picks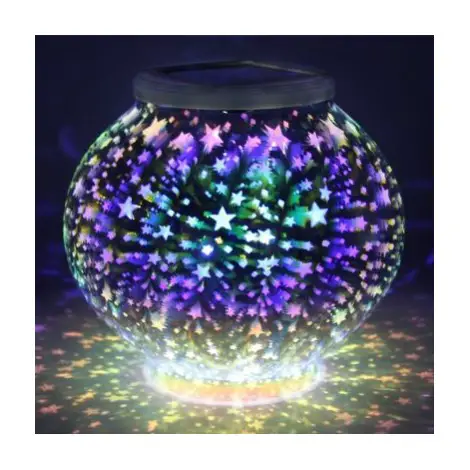 Here's another color changing solar light. This one is more simple in design and function than the previous one. It features a rechargeable, built-in Ni-MH battery, which has a runtime of up to 8 hours when fully charged. If you like its design, this is the one for you.
Easy to use
Sometimes you may get a great product that's a nightmare to actually operate. A thousand buttons, a thousand settings--it can get confusing and irritating. With this solar-powered LED light, all you do is click one button to turn it on and the same button to turn it off.
Versatile
This is not only a light. And it's not only a light you can use outside--but you can do that too if you want to. It's also a legitimate glass jar in which you can place belongings and items in.
Cost and Value
It's a nice, neat, functional item. It's not great for all users and may not withstand the elements if left out too long, but it's certainly a unique design and may come in handy as a nightlight if nothing else. In short, it's priced fairly and is a great buy.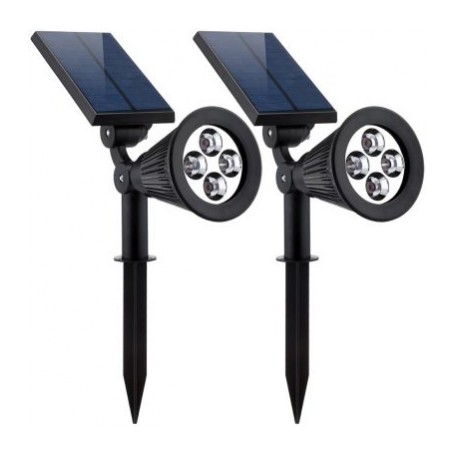 If you're looking for something versatile, something relatively inexpensive, then you've found it here in the URPOWER 2-in-1 Solar Lights. It comes with 4 LED light bulbs, each light bulb featuring 50 lumens. It comes with a built-in 18650 lithium rechargeable battery, which has a runtime of up to nine full hours.
2 in 1 Functions
The best products are versatile. And that is exactly what this one is and this is one of the reasons this landed number one on this list. If you want to stick in the ground, you can; if you want to screw it onto a wall, you can.
Waterproof
If you're going to place something outside, you're going to want to know it can withstand the elements, right? Of course! This one is waterproof, and it's durable as well, so you can use it year round without worrying about whether or not it will wear away and break.
Cost and Value
To be short, simple, and concise: this is an excellent buy. It's not only durable, constructed to last all sorts of weather conditions, it's also versatile and very functional. To top it off, it's relatively inexpensive. A good buy, for sure.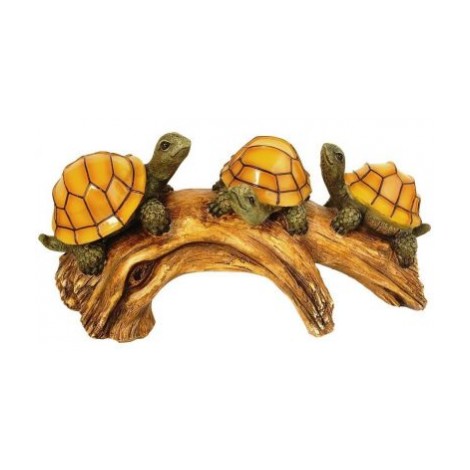 Perhaps you don't need anything too fancy. Nothing extremely strong, just something decorative, something pleasing to the eye. Well, look no further, you found it here. It is designed to resemble turtles resting on a log--what's not to like? If you're looking for something cute, this is it.
Amber LED Lights
You want something cute, but if you can't see it, what's the point? These come with amber LED lights which are entirely solar powered--they charge automatically in the day by sunlight.
AA Battery
Simple and easy. These come equipped with a rechargeable AA battery. You'll never have to worry about the batteries dying on you--if it does, simply recharge them or replace the dead batteries with easy to find AA batteries.
Cost and Value
This wasn't meant to do too much work. It was meant, really, just to be a decorative feature on your lawn. To that end, it isn't at all expensive. In fact, it's dirt cheap. So if you love turtles and love cute things, this is your thing.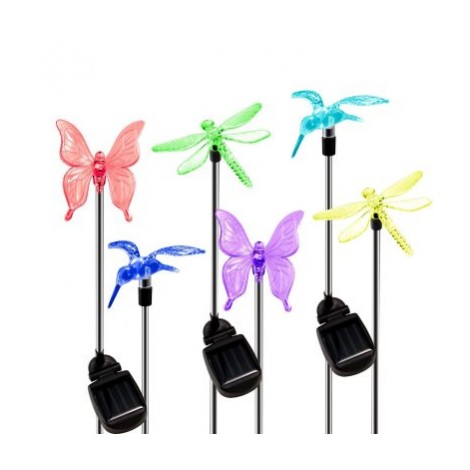 Here's another set of solar lights that come with 6 lights included. They, too, are for those people who prefer a nice, cute design--but these are not just cute, they're extremely functional too. It is battery-free and recharges during the day--with the aid of sunlight of course--and has a runtime of up to 8 hours, so you can light up your whole night automatically.
Color Changing
Unlike the other products we've seen so far, this comes with LED lights that change colors. They're shaped like hummingbirds, butterflies, and dragonflies, and they serve to really make your outside space pretty and unique.
Easy to Install
There's nothing worse than a product that's a pain in the rear-end to install. You won't have that problem with this one. There is no annoying wiring, and no external electricity source required.
Cost and Value
It is more expensive than the products we've seen on this list so far, but it's also incredibly unique. It comes with 6 lights and a battery-free design. It's also quite a pretty sight and highly functional. In short, it's incredibly worth while.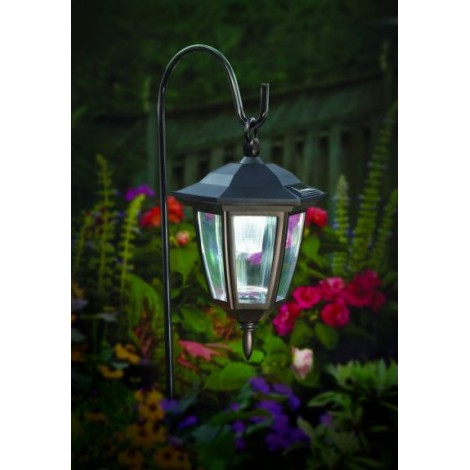 Perhaps you want something more charming than cute, something more elegant than pretty. Well, you've found it here. This is a nice hanging solar-powered light that adds a certain elegant charm to your outdoor space. And Maggift stand behind the quality of these too: if you have any problems at all with your purchase, simply contact them within the first 180 days and your problem will disappear.
Battery free
This is, like some of the other products we've seen so far, powered entirely by solar energy. It recharges during the day and the light automatically goes on at dusk, then turns off at dusk. It's convenient, it's simple, and it's great for the environment.
Weatherproof
This was meant specifically to be used outside. As such, durability is a massive concern that Maggift addresses. These hanging lights are built to withstand the elements--all of them, rain, hail, sleet, snow--and also the test of time.
Cost and Value
This comes with two lights. Given the fact that these are really more decorative than useful (useful in the sense that if you need something bright to light your way, look elsewhere), these are relatively expensive. That said, you're paying for the look, for the ambiance--if it suits you, it's a good, fair buy for sure.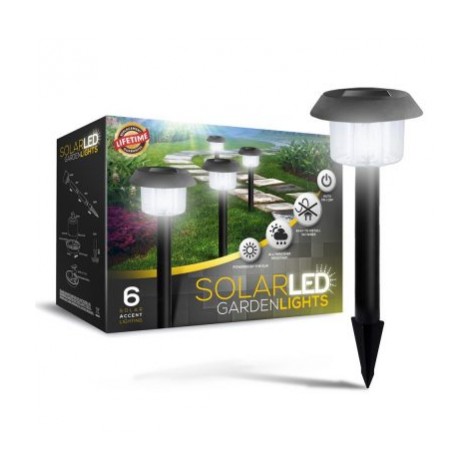 Here's an excellent choice if you need something to light up your entire garden. It comes with 6 lights, so you can space them out according to your needs--you can even create a lit pathway! It's also 100% powered by the sunlight, which means the batteries actually recharge themselves during the day. What's not to like?
Lifetime Guarantee
You can always spot a good product by the faith its manufacturer places on it. If a manufacturer is willing to put its money where its mouth is, it gives you, as a consumer, a sense of security in knowing that the product is actually quality. This manufacturer offers a 100% guarantee of replacement should you find anything wrong with their light.
Weather-resistant
If you're looking to for something that'll last long--especially when it comes to stuff that's meant to stay outside--you'll want it to withstand all of the elements, from rain to snow to hail. This, having been constructed with Rugged ABS plastic, is tough and durable and is sure to last a long, long time.
Cost and Value
It's not the cheapest thing on the market, but it's not exorbitantly priced either. In fact, for the value that it offers--and for the fact that it comes with 6 lights, where others only come with 1 or 2--it is an excellent buy.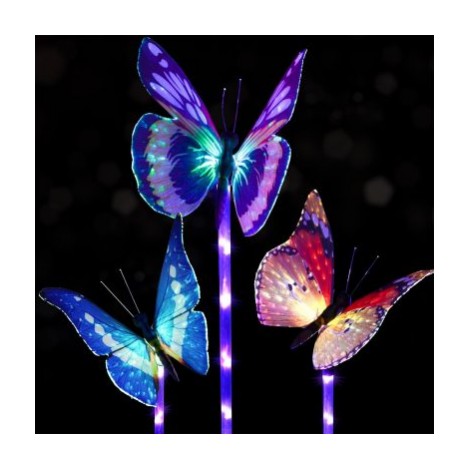 Here's another pretty light. With this, you can choose between hummingbird and butterfly shapes, and can even opt for both. For your decorative needs, this cannot be beaten. It features 7-color LED lights and an automatic lighting mechanism.
Easy to install
Unlike other products that come in a mishmash of different parts and are hard to assemble, this one is easy. There are no wires to deal with, and no external electrical power is required.
3 month warranty
Again, if you want to be assured of the quality of a product, simply look to the manufacturer for that assurance. This comes with a 3-month warranty, and 24/7 customer service is guaranteed--so if you have any problems, the solution is only minutes away. There's even a 30-day money back guarantee.
Cost and Value
The bottom line is that this is a very valuable product at an extremely low price. Do remember that this is more suited for decoration than functionality, meaning that it's not extremely bright, it's just nice to look at. If you're just looking to spice up your outside space, look no further.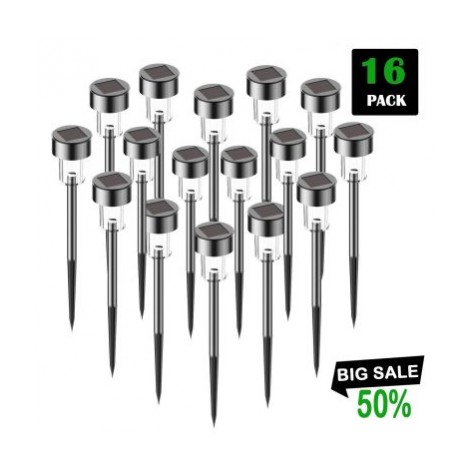 If you need something functional, yet not too bright, this is your best bed. This product by Sursun comes included with 16 LED lights, each of them featuring a tepid 1.2 Lumens. It isn't a lot, but each item was constructed with stainless steel to ensure durability, which means at the very least, you'll have a very useful and long-lasting product.
No battery
These are, like some of the other products on this--though not all of them--powered entirely by solar energy. That means you can save electricity. So if you're an environmentally-conscious person, put your concerns to bed.
Weather Resistant
In keeping with its promise of functionality over anything else, this is certifiably weather resistant. Snow, rain, hail, sleet--whatever the condition, this will withstand it and continue to light up your outside space.
Cost and Value
Not too cheap, not too expensive. Its features among the lowest lumens ratings on this list, so you need to take that into consideration as well. But in its favor, it comes in a set of 16--that means if you consider the cost of what you're getting, this is actually quite dirt cheap. All in all, a good buy, if this is what you're looking for.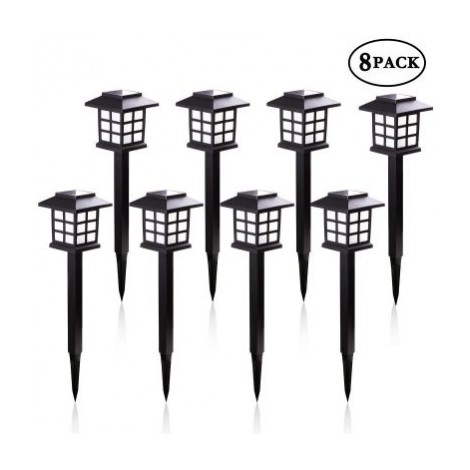 Here's one that's battery powered. The battery only requires 4 hours of sunlight to be fully recharged, which then can provide you light throughout the entire night. They have a fairly simple design, almost old-fashioned looking, so if you're looking to spice up your outdoor space, these might be the perfect fit for you.
Weatherproof
It's been stressed and stressed again--an outdoor product, whether that be a solar light, or furniture, or whatever, needs to be weatherproof. It needs to able to stand under rain and snow and hail and cold and heat without wearing and tearing to be truly effective. This is one such product.
One-year replacement
That's right--if something is wrong with your product, or if something goes wrong within the first 12 months, you can simply have it replaced for free. If you don't want a replacement, you even have a no-risk refund warranty. So you don't have to worry about being ripped off.
Cost and Value
It comes with 8 durable LED lights and a good warranty and refund policy. It's definitely durable and it does what it's advertised to do. In the end, if the design is what you're looking for, it's a good buy.

10

. Maggift 26 Inch Hanging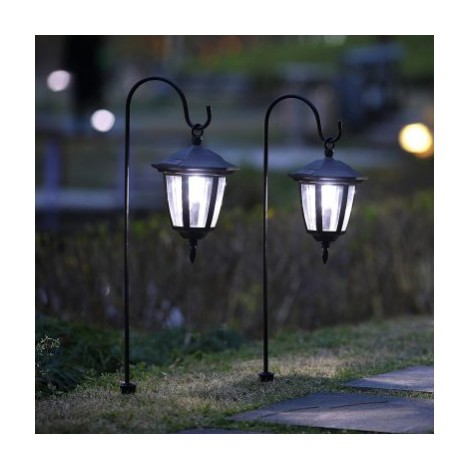 Last on this list is another excellent option by Maggift. Unlike the previous Maggift item on this list, this one has 4 lumens. That still doesn't mean it's very bright, but it certainly is brighter. It also features the same design, so do factor that into your decision.
No Battery
This one is also very environmentally friendly. That is, no electricity is required to operate it. It recharges solely by the energy of the sun alone, and once it's fully recharged it has the ability to light your outside space for the entire night.
Warranty
Like the other Maggift product, this one also comes with a 180-day product warranty. There certainly is nothing more satisfying than having an assurance of quality from the manufacturer.
Cost and Value
This comes with two Shephard hooks and two LED lights featuring 4 lumens. It's a very stylish product, sure to jazz up your outdoor space. The light may not be strong enough to take along with you on excavation trips, but it's an excellent buy if its aesthetics are pleasing to you.

Subscribe to our Newsletter