Best Dog Bowls Reviewed for the Family Pet
Shopping for a dog bowl or pet feeding station isn't always something that owners think about doing. Most often, you go to your local pet store and find the best looking or cheapest option and never look back. However, those that do take the time to research various options out there will find that there can be a great benefit to you and your pet by catering to your individual dogs' needs. If you are sick and tired of Fido spilling all his water, playing with his food by throwing it all over the floor, or just simply want something that works better for your desired activity, you have come to the right place.
Featured Recommendations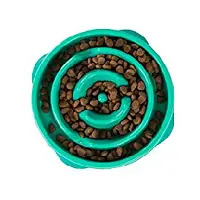 Outward Hound Slow Feeder

Our rating
Multiple Designs and Colors
Thick plastic construction
Price:

See Here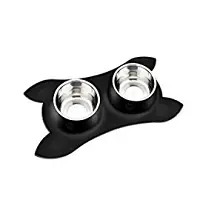 UrPower Bowls

Our rating
No-spill silicone mat
No-slip construction
Price:

See Here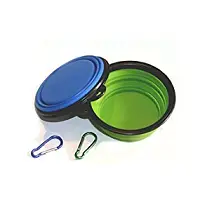 Comsun Collapsible Bowls

Our rating
Lightweight and easily packable
Multiple bright colors
Price:

See Here

What is it I'm Looking for?
Every dog has a unique set of needs when it comes to what bowl suites their lifestyle. If your dog eats fast, a slow feeder is a great solution to keep their mind active and decrease chances of digestion issues. Additionally, if Fido is large and tall, or is old or has neck/back issues, an elevated feeding station is an ideal option, as it has been proven that this can reduce digestion and arthritic issues, both now and in the future. If your pet is a messy eater and drinker, keep an eye out for setups that reduce spills and non-slip grips that keep them from sloshing them around. Collapsible bowls are a great option for while out hunting, backpacking or other forms of travel, and they are lightweight and pack down nicely.
Having a system that keeps bowls right where you left them can be an important quality if you like to keep a neat household and get sick of Fido slogging around his food dish all around the house. If you aren't looking for anything other than just a traditional bowl, rest assured you can find those here, too. Whatever it is that you are looking for, there are many different styles outlined likely to suit your needs and help keep your pet happy and healthy.
15 Best Dog Bowls
1. Outward Hound Slow Feeder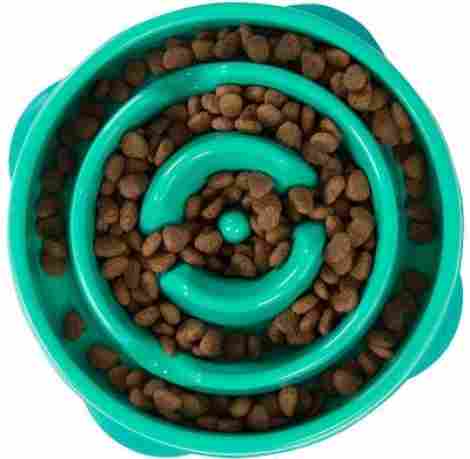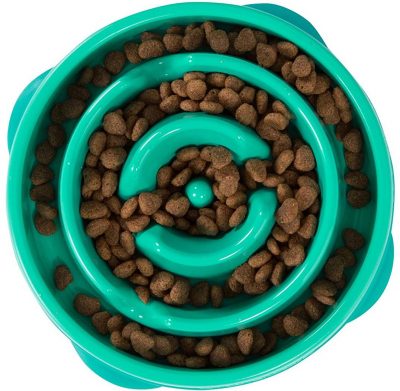 Fast eating isn't just an unattractive and unhealthy practice for humans, but it also rings true for our canine friends. Costly vet bills and upset tummies can be a common result of dogs who scarf their food down without truly chewing it. The Outward Hound Slow Feeder is a heavy duty, cost-effective way to slow your dog down and re-train them to eat in a healthy manner. It is also a popular choice for those who simply want their dog to work for their food through mental stimulation, giving your dog a sort of game to figure out how to get all of their meal.
Expand to see more
Multiple Designs
Simply choose your favorite, or buy all three to swap them out every once in awhile to keep your dog on its toes and reduce the chance of it figuring out the game too fast. This will also add to increased mental stimulation.

Heavy Duty Plastic
The heavy duty, sleek design combined with slip-resistant silicone rubber on the bottom makes it harder for dogs to move around and spill, plus makes it a durable option for pets who like to chew and play around with their bowls.

Cost and Value
As the only slow feeder outlined in the review, the Outward Hound still holds one of the lowest price points. Compared to other slow feeders, this is one of the most inexpensive options on the market, while still boasting a thick, durable build and multiple sizes and design patterns for you to choose from.
Comes in various shapes
Thick plastic construction
Silicone bottom grip
Keeps dog mentally stimulated
Big enough grooves for large snouts
Hard to wash by hand
Smart dogs can learn to flip it over
2. UrPower Feeder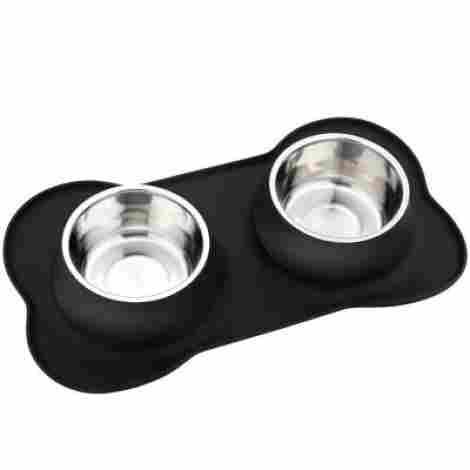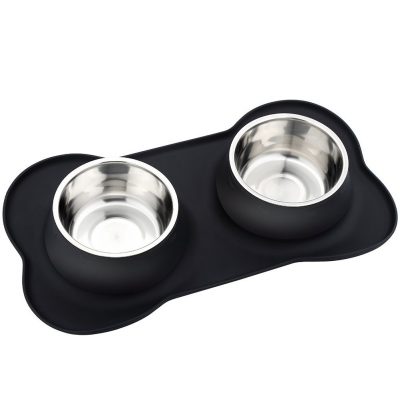 One of the most common problems pet owners encounter is a messy eater. This problem is especially annoying with sensitive flooring such as wood. The URPOWER diminishes this issue with a durable silicone mat featuring a raised lip to keep your pet's food and water right where you left it. The stainless steel bowls are likely to last for a long time, and are easy to clean when removed from the mat. The silicone mat also keeps the bowls from sliding around.
Expand to see more
Raised Lip to Hold Mess
The raised lip around the bottom of the mat keeps water off your floor and contained within the feeding system. This is the perfect feature for those with messy eaters/drinkers.

Slip-Resistant Silicone
The silicone mat makes it hard for dogs to nudge around even the slickest surfaces, keeping the bowls right where you left them and your dog focused on the food in front of them instead of the game that some pets see their bowls to be.

Cost and Value
Given that this system is equipped with two bowls, this is a fairly cost-effective feeding system for Fido. Durable silicone and stainless steel bowls make this purchase one that is likely to last quite some time in your household.
Containing rim around each bowl keeps water/food off floor
Easy to clean
Very hard to tip over
Silicone mat keeps it from slipping on the floor
Sleek design
Can be hard to remove bowl from the mat
Too small for some larger breeds
3. Comsun Collapsible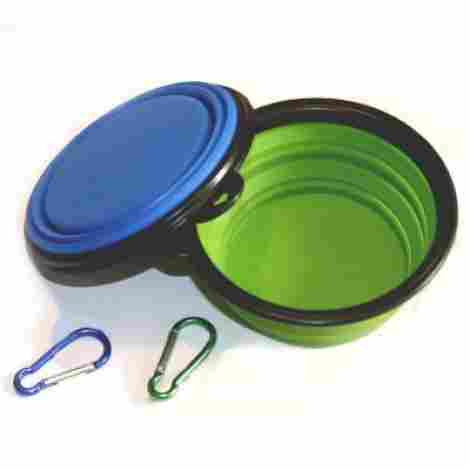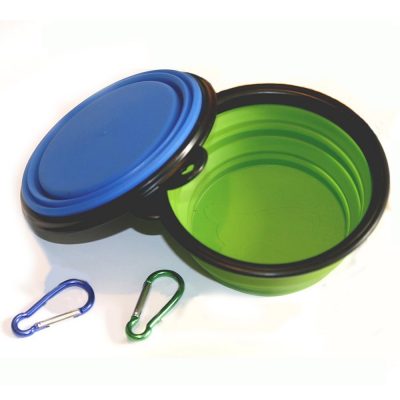 Expand to see more
Attaches to Outside of Pack
As the only collapsible bowls outlined, these Comsun bowls are a great purchase to carry around in your car or backpack for a quick solution when on the go. Coming with carabiners, you can attach these to the outside of your pack, and they are
lightweight
enough to barely notice you have them along.
Multicolors
With three different color options, either use them all for your pets, or save one for your own food while on the road or in the backcountry. The silicone material does not give off a plastic taste or odor, and can safely hold hot foods up to roughly 400 degrees. The
bright colors
are easy to find if accidentally dropped in the woods.
Cost and Value
Not only are these versatile, lightweight and a space-saver, but they are also the least expensive dog bowl outlined. The sleek, durable build make it a great option for those who need their bog bowls to be just as versatile and mobile as their day to day lives.
Great space saver
Multipurpose
Easy to clean
Lightweight for hiking/ backpacking
Flashy colors easy to find in woods
Small so not great for large breeds
Cheaply made caribiner
4. Neater Feeder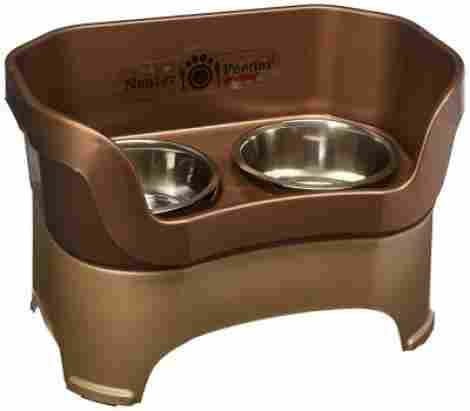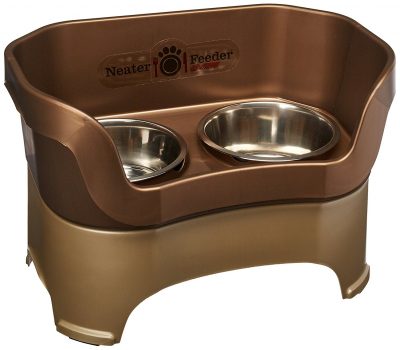 The Neater Feeder seems to have thought of just about everything needed for an effective self-contained feed and water station. Coming in multiple sizes and colors, with the option to purchase additional extension legs for your large dog, it drastically reduces mess. The bottom compartment allows water to drain down and be stored for later disposal. The high splash-guard keeps even the
messiest
of dogs from getting your floor wet.
Expand to see more
Extension Legs
For large, tall dogs who have a hard time bending down to eat, you have the option of purchasing extension legs to make it less of a strain for them to eat, while still getting the same splash-guard technology to keep the slobber and water contained.

Non-Skid Feet
While persistent dogs will probably still find a way to move their bowl around, the skid-resistant feet help to keep their bowls stable. If they do happen to move the system, the high sides are likely to catch the bulk of the mess.

Cost and Value
The Neater Feeder ranks as the most expensive feeding system outlined, however for those who suffer from some of the messiest dogs, it can be a lifesaver and save money on food, flooring and time.
High splash guard keeps water in system
Can purchase additional extension legs
Easy setup and cleaning
Large water-catch reservoir
Multiple sizes and colors
Lower quality stainless steel
Water and food dish close together
5. Iris Elevated Feeder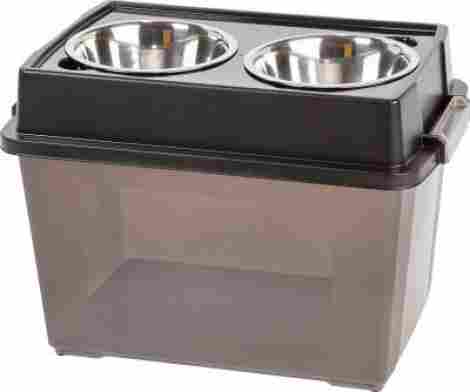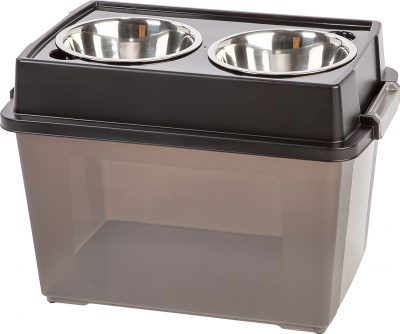 Research has proven that large dogs can benefit greatly eating from elevated food sources. It can help with digestion and prevent long-term issues with neck and back pain. The design of the IRIS elevated dog bowl not only acknowledges this research but also combines this with added storage for your pet's food. The easily removable bowls make cleaning a breeze, and the airtight storage space will keep their food dry and fresh.
Expand to see more
Airtight Storage
With this nifty design, you no longer have two separate locations for extra food and your feeding station. The sturdy locks on the storage also keep it safe from your pets prying snout, while keeping it dry, fresh and easily accessible.

Non-Skid
The non-skid coasters keep the food station in place, and are easy for anyone to install. The non-skid quality is essential for a high-profile dog bowl, to reduce the chance of Fido tipping it over.

Cost and Value
The IRIS sits at an average price point compared to other bowls outlined, and for good reason. The convenient, easy to use/clean design, with a durability that's likely to last awhile, it's a great option for those looking to rid their dogs from strain while eating.


Storage + feeder saves space in home
Sturdy build
Easy to clean
Leak-proof storage space
Comes with non-skid rubber coasters
Comes with a lot of stickers, hard to remove
Bulky design can be hard to get used to
6. Platinum Pets Double Diner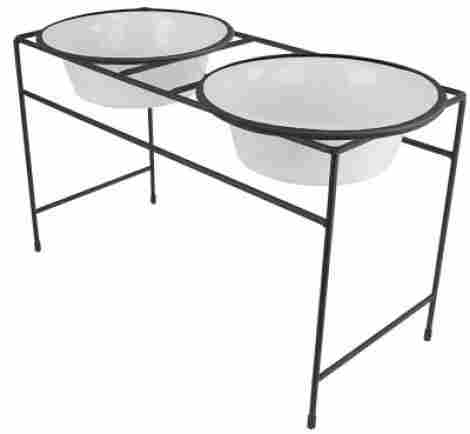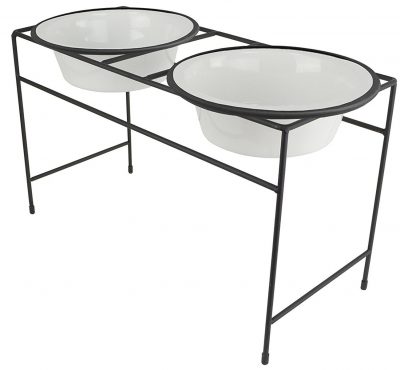 While the Platinum Pets Double Diner may be too lightweight for dogs who like to play with their bowls a little too much, it is a great option for owners who don't have those same issues. Sure to keep a low-profile in any home, the elevated design will provide the same great benefit of decreasing digestion and neck/back issues for your dog. The high-quality steel and rubberized grips along the edges of the bowls make this a great buy.
Expand to see more
Low-Key Design
A big draw for this system is the sleek design that is appealing to the eyes. For folks who don't want a clunky setup that is an eyesore, this double diner is a great choice.

High-Quality Stainless Steel
A common complaint of some stainless steel bowls is that they easily rust or chip; that is not the case with this high-quality material. These bowls will look just like you bought them long thereafter.

Cost and Value
Compared to other elevated food systems, Platinum Pets ranks about average for the price. The low-key design and no-nonsense durability are well worth the money to keep your pooch happy.
High quality stainless steel
Easy to wash
Lightweight design
Non-slip legs
Rubber rim on bowls
Bowls move around in the frame
Too lightweight for some more destructive dogs
7. Snap'y Fit Bowl Unit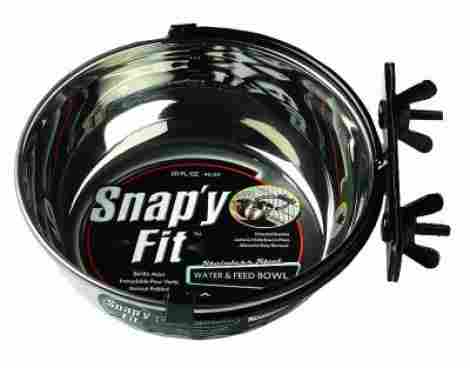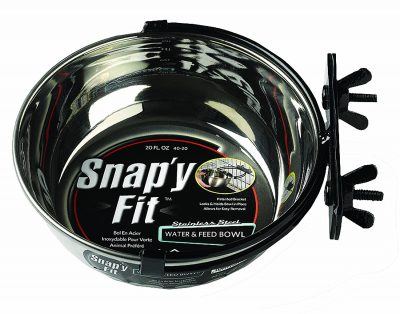 Midwest Homes for Pets has a reputation of providing low-cost, high-quality pet supplies, and the Snap'y Fit is no exception. This is specifically designed for your pets
kennel
(wire), to keep it secure while remaining easy to remove for cleaning and travel. The sturdy attachments, rust-resistant, and dishwasher safe bowls, and easy set up make this a great choice for those who travel a lot or for pets who spend a lot of time in their crates.
Expand to see more
Attaches to Crate
The only of its kind outlined, the ability to attach to crates is a great asset to reduce your dog's chances of bumping, stepping on their water/food while in their crate. If your pet spends the day in the crate while you're at work, it's important to ensure they have a sturdy water bowl to last through the day.

Sits Securely
While it can be annoying when it comes to having to refill the water bowl, the secure, snug fit of the bowl ensures less sloshing around while your pet is drinking, while you're traveling or if they accidentally bump it while moving around.

Cost and Value
As one of the cheapest bowls available, and the only who that attaches securely to crates, there isn't much reason not to get this if your pet spends a lot of time in their crate.

Grips cage well
Sturdy locking mechanism
High quality bowls
Simple setup
Secure fit in snaps
Must remove bowl every once in awhile and clean to prevent rust
Have to fill water with bowl attached to crate, otherwise it spills while snapping in
8. Pawfect Pets Elevated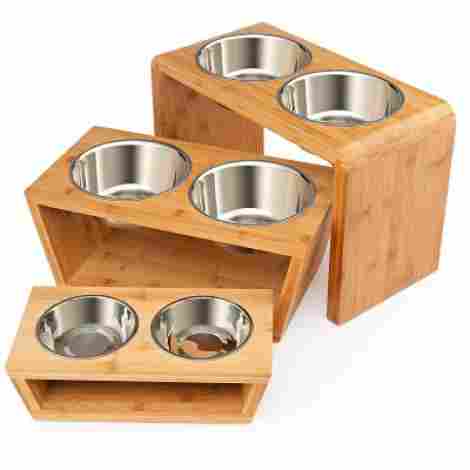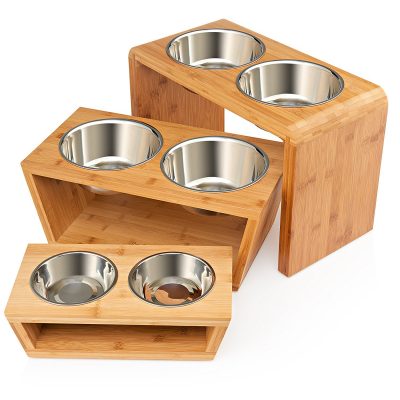 The Pawfect Pets Elevated feeding stations bring both a beautiful design and sturdy build to hold up against the most rambunctious dogs. Rubberized grips between the stainless steel bowls and the wooden support keep water from dripping down and keeps the bowls steady in place. Being that the company sends you four total bowls as well, this is the complete package for those who want a heavy-duty solution.
Expand to see more
Comes with 4 Bowls
Included in the initial purchase is an extra set of two bowls, either of the same size or different depending on what initial size you purchase, so you always have fresh bowls ready to swap out.

Heavy-Duty Base
While the heavy-duty wood base may make it harder for you to move around, this also ensures that your dog has a harder time moving it around as well. The large feeder weighs in at eight pounds!

Cost and Value
Not surprisingly, this product ranks as the second most expensive option outlined here. However, the added cost is well worth it if you have an unruly pet who tips over other, more lightweight feeding stations.
Comes with four bowls
Bowl stays in place
Practical design
High-quality bamboo wood
Stable base
Only one color option
Wood will create water marks if not dried after spills
9. AmazonBasics Feeders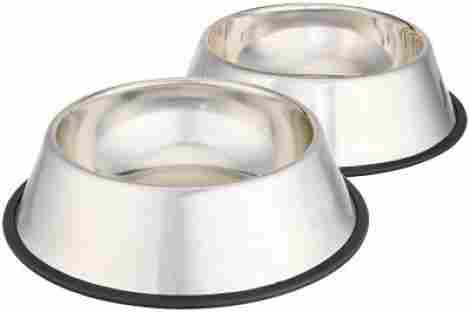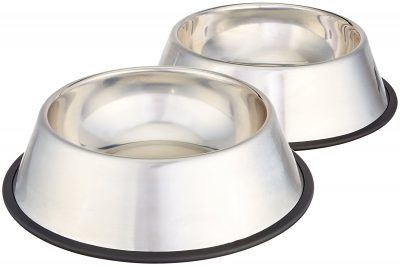 For those who don't desire any fancy contraption of a feeding station, AmazonBasics offers a simple dog bowl while still giving the slip-resistant silicone base to keep your bowl steady. The no-tip design is an added bonus for those with pets who like to play with their bowls. The stainless steel is rust-resistant and dishwasher safe, so the last thing you'll be worried about is a bowl that won't hold up to your pet or your lifestyle.
Expand to see more
No-Spill
The design of these bowls, without edges for your pet to get a hold of, makes it hard for them to tip their food or water over and make a mess.

Silicone Bottom
The silicone ring around the bottom gives an added resistance against your pet playing with their bowls, keeping it right where you left it and forcing them to focus about what's in the bowl rather than playtime.

Cost and Value
As expected, this no-frills bowl is one of the least expensive options on the market. However, this is simply because it is a straightforward product, and not because it is lesser quality.
No-slip floor grip
Dishwasher safe
Deep bowls
Low profile is hard to tip
Lightweight
Only comes in one size
Flimsy rubber bottom
10. Bergan Standard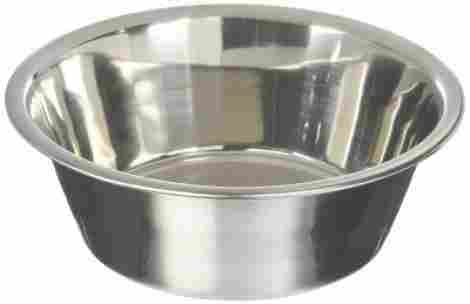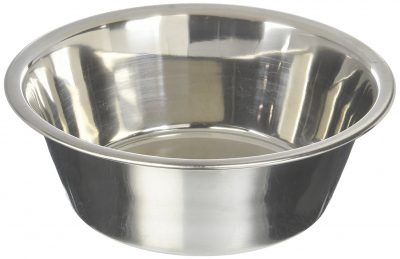 The Bergan Standard made the top ten due to the simple fact that it is not only cheap, but has also stood the test of time showing to be a simple option for anyone who doesn't really care if their food bowls get banged up, chewed on or played with. There are no extra parts for dogs to chew up, so even if it gets a dent or two, you don't have to worry about them accidentally swallowing any rubber. The lack of extra parts also make it very easy to clean, so whatever your dog puts it through, you can make it look shiny new in minutes.
Expand to see more
Indoor/Outdoor Use
The lack of rubber or any added frills make this perfect to hold up in any environment. Even if it gets dirty, it's easy to clean and there are no added parts to worry about getting dirt stuck in.
Multipurpose
Many people enjoy the Bergan because it can go just about anywhere with you. Whether it's at a
campsite
, in the house or stored in the car, the lack of excess parts makes it something you won't have to think twice about while on a trip.
Cost and Value
While the Bergan is not the most sturdy bowl, it's not slip-resistant and it's lightweight enough for your dog to play around with, it IS tied for the least expensive option available, making it a great one to buy multiple of and not have to worry if your dog ruins them in the yard.
Multiple sizes
Wide enough for any snout
Indoor and outdoor use
Easy to clean
Sturdy design holds up
Easy for dog to play with
Slides around easily on floor
11. Bergan Elevated Double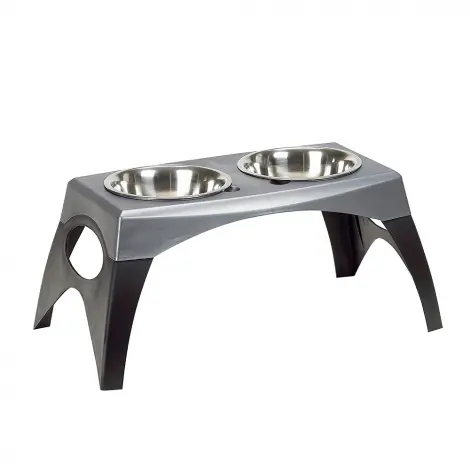 As mentioned in the previous review, Bergen makes quality products designed to make life with your pet more enjoyable. This one is a step up from the bowl only. Here you get two 6-cup bowls that can feed even the biggest of dogs and they come complete with a holder and legs to elevate.
Expand to see more
Elevated

With this bowl, you have the option to have both a food and water dish that are elevated. This is great news for your big dog, but even greater news for your aging or arthritic dog. This allows them to eat a little more easily because they don't have to bend down to do so. As an added bonus, the legs are removable so if you prefer it on the floor, that is also an option.

A Cleaner Eating Experience

Because of the bowl and base combo, this feeder helps to make feeding your dog just a little cleaner. There is no nudging the bowl all around the room or spilling on your dogs part and when it is time to clean, all you have to do is take the bowl out and throw it in the dishwasher.

Cost and Value

This is a great feeder at a great price. You will have a slightly 'elevated' dog feeding experience with this bowl/base combo as it is functional, looks good, and will satisfy both yours and your pets needs without breaking the bank.
Easy to clean
Ability to adjust level of elevation
BPA free
Easy to assemble
A bit flimsy
Included instructions aren't helpful
12. Loving Pets Bella Bowl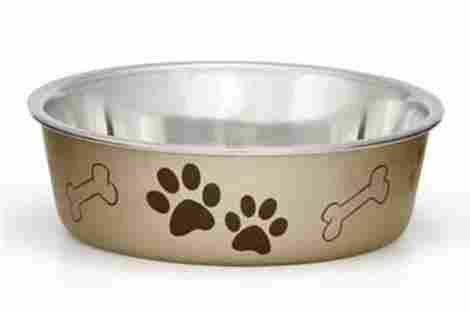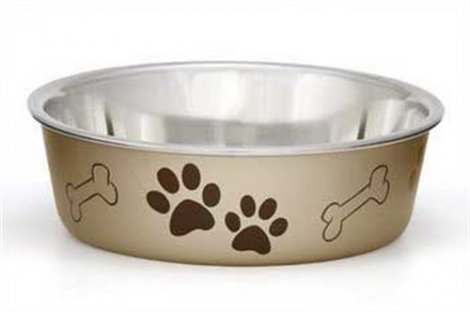 This bowl makes our list of the best for several reasons. It is well made, simple, affordable, and straightforward, but also meets all the requirements of a good dog dish. It can be anchored, is completely dishwasher safe, is odor and bacteria resistant, and is fashionable on top of that. Winning on all fronts.
Expand to see more
Solid Construction

The Bella Bowl has a stainless steel interior, which is vet recommended, but it also combines fashion with function by adding a cute design to the exterior with a poly-resin finish. In addition, it has a removable rubber base to help anchor it in place so your dog isn't pushing it around the room.

Customizable

Don't worry if you are picky about color or design here. There are several different options to match any home or color scheme. There are also several different sizes so that you can get the one that perfectly fits your pooch.

Cost and Value

This bowl is definitely worth the very small price you pay for it. You won't even break a sweat if you decide to buy one for both food and water. It's quite inexpensive but built to last a long time. Nearly everyone who buys this bowl loves and uses it for years. You will be more than satisfied with your purchase here.
Made of Vet recommended stainless steel
Easy to clean
Can match design to your home
Extremely Durable
Color can be slightly off
Dog may be able to move it around a little while eating
13. Pet Zone Designer Diner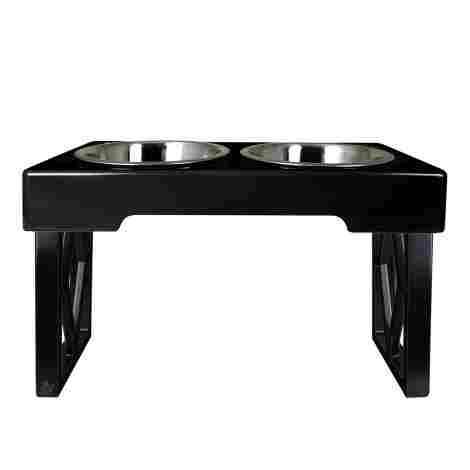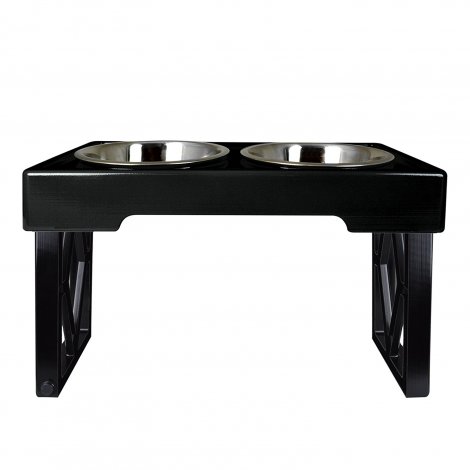 Your dog will love you for getting them this elevated feeder. It will help close the gap between their food and water and their mouth by bringing it up to them! This is sure to help with neck and joint strain from bending over to eat and drink as well as help to ease gastrointestinal issues. In addition, it looks good and will easily fit into the decor of your house.
Expand to see more
Adjustable Elevation

A big perk to this dog bowl and base combo is that you can adjust the elevation to fit your dog from puppyhood to adulthood. There are three different levels which you and your dog will appreciate. Not only that, but the legs are completely collapsible and easy to store.

Stainless Steel Bowls

This is not the only bowl that is stainless steel, but it's worth mentioning again that Stainless Steel is Vet recommended. Your dog bowl won't rust or harbor bacteria and is easy to clean. Simply throw it in your dishwasher and be on your way.

Cost and Value

Because it is raised, it does cost a little more than others on the list. Don't let that deter you though because if an elevated feeder is something you're interested in, it is well worth the few extra dollars you will spend.
Three different elevation options
Doesn't move along the floor when your dog eats
Stainless steel bowl
Simple, classic look to match your decor
Water collects and can cause damage to the feeder
Flimsy Construction
14. Bone Dry Ceramic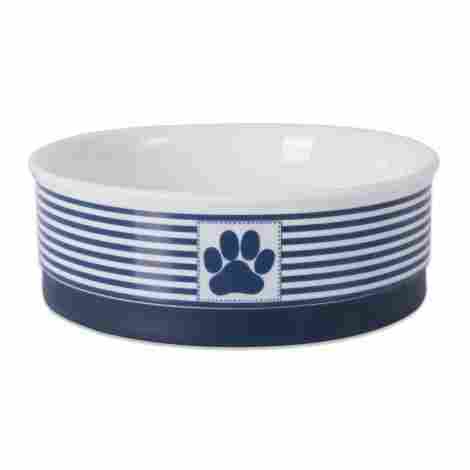 Unlike other bowls on this list, this set of bowls (yes set - it comes with two!) is ceramic. This is a heavier material, that maintains a lot of the same integrity a stainless steel bowl would. It won't rust or harbor bacteria and is harder to push around due to its weight. It's also pretty and comes in various designs to match your home.
Expand to see more
Ceramic Bowls

Because the bowls are ceramic, they are nice and sturdy. They are also very easy to clean as you can either wash them by hand or take the easy way out and use the dishwasher.

Rubber Rim

Conveniently, these bowls have a rubber rim at the bottom. This makes them non-slip and non flip. If you have a dog that loves to push things around or throw a fit and dump out his food, then these bowls will be perfect for you.

Cost and Value

Unlike others on the list, these bowls come in a set of two. This may make the initial price seem a tiny bit higher, but in reality, it isn't because you're only buying one set instead of having to buy two individual bowls like many others require you to do. They are pretty and functional and you will be pleased with them for the price you pay.
Sturdy build
Dishwasher safe
Ceramic
Non-skid and non-flip
Ceramic breaks easier than stainless
Color is a bit off from the descriptions
15. Stoneware Dog Dish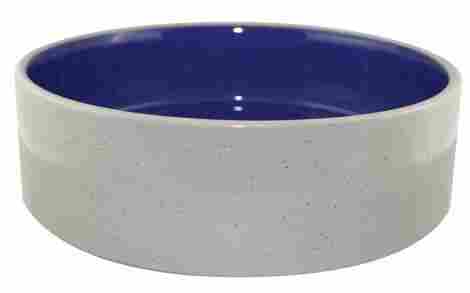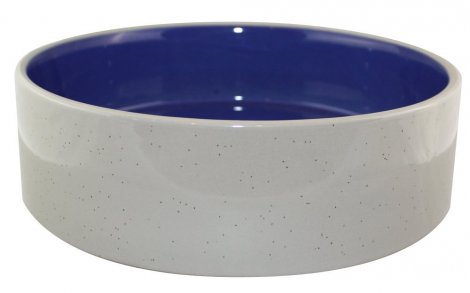 This is another dish that is made of unusual material. It is a stoneware dish, much like a crock, and is heavy enough to stay put without any sort of rubber stopper. It too boasts all the benefits of stainless steel and more - easy to clean, not likely to harbor bacteria, and no rusting. In addition, it is incredibly sturdy and well made.
Expand to see more
Heavy Stone

This dog bowl is made of heavy stone. Unlike common dog dishes, it is incredibly hard for a dog to pick up and move. If you have a dog that likes to pick up and run with their dish, then this is an excellent option for you. No picking up, playing with, or knocking over will be happening here.

Water Temperature

An advantage of having a stone bowl is its ability to control the temperature just a little bit more than a standard plastic or stainless. It won't heat up in the sun and while it won't necessarily keep the water cold, the stone is naturally cooler than plastic or metal and will keep it a little cooler.

Cost and Value

For the quality of dish you are getting, this is a great deal. It comes in a variety of sizes and each one is fairly priced. You'll get a great quality, long lasting dish at a price that won't upset your wallet or be hard to swallow.
Easy to clean
Attractive, high gloss finish
Keeps the water a little more cool than plastic
Sturdy and well made
Too shallow
May break if not packaged well
Whether you are looking for a bowl to suite your pet or working dog, messy or clean eater, playful or humble pet, etc., there are many different styles to choose from to suite your individual needs. It's important to consider both current and potential future issues when deciding the best feeding system to purchase in order to reduce overall cost. Many of the items outlined above have proven to last for many, many years when given proper care. While deciding which bowl to purchase may not seem like a life-changing decision, it CAN be so for your pet, offering a solution to issues you may not even know that they have. Whether you're looking for car, home or camping bowls, Fido thanks you for taking the time to do research on what will work best for him.
Criteria Used to Evaluate the Best Dog Bowls
You have a new dog (puppy) or are getting one soon! First off, congratulations! This is a big step and many will liken it to having a child, or at the very least good preparation for having one. Similarly to having your firstborn child, you want to make sure you are fully prepared with all the best equipment when you bring your new pup home. A critical piece of this equipment is a dog bowl. Perhaps the most basic trick to survival is food and water. So, how are you going to provide that to your dog? There are so many options out there and not all of them are created equally so how do you go about making the best choice? There are a few things that need to be considered:
Style
One of the first things to consider is what type of style you want. This is important because depending on where you place the dog's bowl, it will be seen and part of your home decor. To some, this may be a big deal, while not so much to others. Are you looking for something that will match your other decorations or do you want something that is cute and seemingly fits your dog's personality?
The next element of style that you need to decide on is do you want a dog dish that sits on the floor, is elevated, or maybe has the option to be one or the other? There are plenty in each category, with designs or lack thereof as well. Some you will be sacrificing fashion for function, but that is not always the case. If you do opt for elevated, you can do so with a big bulky contraption that holds the dog food and prevents messes, or you can get dainty legs that look sleek and modern or anything in between. There are wooden, metal, plastic, or stainless options as well.
Nail down what you're going for style wise and that will help guide you further in your decision-making process.
Elevation
Maybe one of the most popular trends in feeding your dog right now is the elevated bowl. Life elevated is better, right? Well maybe, but maybe not. Let's talk about why:
There are a lot of supposed health benefits for your dog having an elevated feeder. But contrary to what is purported by most elevated dog dish sellers isn't always true. Take reducing bloat for example. There isn't a ton of research done on the topic, so really it is all anecdotal. The research that has been down, however, seems to point towards it actually increasing bloat in dogs that are prone to it. However, there is a little bit of evidence that supports the use of an elevated dog dish with older arthritic dogs. By not having to bend down as far or often with an elevated dish, you are likely saving them a little bit of pain by raising it. Moral of the story, be smart about it and if your dog is prone to bloating perhaps get a more standard food dish and really get to learn their diet and eating habits to help prevent it and don't expect a bowl to be the answer.
Another common thought is that it's uncomfortable for your dog to eat head down. This is likely not true, as it seems they have evolved that way and survival of the fittest really is a thing! While this isn't an issue for most dogs whose owner is here reading this article, it is worth remembering that a dog's body is shaped that way and it's really okay for them to eat head down. But, they'll likely enjoy their food just as much at chest level.
Lastly, an elevated feeder doesn't necessarily mean cleaner eating. It absolutely can if your elevated feeder was built with that specifically in mind, which several on this list are, but the two don't always go hand in hand. If your dog is the type to take a bite, drop it all on the floor, and then eat each piece of kibble one by one they'll still likely do that if their food is served to them higher than normal. You will, however, save yourself a lot of hassle by getting an elevated feeder if your dog is the type to push their bowl around, or dump it out, or splash around in the water. None of these activities are nearly as effective in a raised dish. This is definitely something you should consider if that's the case.
If you place your dog bowl outside there are risks of rodents, insects, or dirt getting into the bowl. An elevated dog bowl reduces this risk.
Type of Material
There are so many different types of dog bowls – plastic, stainless steel, ceramic, stone, etc. What type works best for you? Let's get a quick rundown of each type.
Plastic bowls are light and cheap. They are also easy to pack. However, they are easy to break (and swallow small pieces!) and will harbor bacteria in each little scratch they get.
Ceramic bowls are heavy and also breakable. Because they are so heavy they are hard to move and likely won't get tipped over by your dog. You can find them in many different colors and designs which is a plus if it's important for you to match your home decor. Ceramic is porous and will need to be washed fairly regularly.
Stone bowls are very similar to ceramic bowls but have the advantage of being a little heavier and a little less breakable. These unusual types of bowls are a functional and appealing way to get something just a little different if that's what you're into.
Stainless steel makes for a classic dog bowl. It's very cost effective and quite indestructible. You'll get a lot of miles out of a stainless steel bowl. However, besides coming in all different shapes and sizes, they all look basically the same and can be moved, pushed, and carried all over your home or backyard.
Size
So now you've chosen the style you want, the elevation you want (or don't want), and the type of material you want your dog's dish made out of but what size do you get?
Dog dishes only need to be big enough for the dog's nose to fit in comfortably while they are opening and closing and licking – motions they would make while eating. This is a lot smaller than you might initially think but it makes it easier to control portions when you have an appropriately sized bowl. This ultimately makes for a healthier dog. Isn't that something we all want? It should be mentioned that sizing is slightly less important if you use a measuring cup to scoop your dog's food with because that way you know exactly how much food they are getting despite the size of their dish. Water dishes can and should be at least double the size of a food dish.
All of this changes if you're feeding two dogs at once or free feed your dog, though you should still be careful about how much your dogs are fed. Ultimately, it's up to your own judgement what size will work best for you, your pet, and your home.
Further Information to Consider
Cleaning Your Dog Bowl
Most dogs tend to lick their food bowls clean. However, the microscopic residue still remains that could conceal many types of bacteria, including E. Coli and Salmonella. If you have your dog on a dry food diet, their bowl should be washed once per day. The best time for this is after their final meal of the night. If your dog is on a wet or raw food diet, their dog bowl should be washed and sanitized after each meal.
Water bowls should also be washed daily to prevent the growth of algae, fungi, mold, and yeast. Serratia Marcescens is one of the more common types of bacteria found in dog bowls. These bacteria form a pink slime and can lead to infections like pneumonia.
How to Disinfect Dog Bowls
As with human dishes, use hot, soapy water and a wash rag or sponge to wash your dog's bowl. Be sure not to use anything abrasive, like a wire rag, to lessen the risk of scratching the surface of the bowl. You can also place the dog bowl in the dishwasher to ensure a complete sanitation. In a dishwasher is unavailable, the National Science Foundation (NSF) advise placing the dog bowl in a solution of 1:50 water/bleach dilution for ten minutes once per week for full sanitation.
If for some reason you are unable to wash your dog's bowls each day, consider purchasing multiple that you can rotate daily.
Fun Dog Facts
Do you know that studies have found that petting your dog can actually lower your blood pressure? It can!
Do you know humans actually have 5 times the amount of taste buds than a dog? Dogs rely more on their sense of smell to differentiate between different types of food.
In Latin, Fido, the classic dog name. means "fidelity".
Not only are puppies born without eyesight or teeth, they are also born deaf.
Never feed dog raisins or grapes, as it may lead to kidney failure in dogs.
The composition of apple and pear seeds include arsenic and should be kept away from dogs as it can kill your dog.
Do you know that it is illegal to keep a dog as a pet in Iceland?
FAQ
Frequently Asked Questions
Q: What Dog bowl is best?
A: There's no single answer to this. It wholly depends on your feelings to the above criteria as well as the size and personality of your dog. Weigh all those things against each other to come up with the best solution for your situation.
Q: Will my dog be able to knock it over?
A: Some yes, some no. In general, the heavier (ceramic, stone) or the higher (elevated) the dish is, the harder it is to knock over – although this is not always the case.
Q: Is the dish dishwasher safe?
A: By and large, most dog dishes are dishwasher safe.
Q: Is the bowl noisy?
A: Most of the noise comes from pushing the bowl around on the floor or banging it against things. This is countered by most of the bowls on this list with some sort of anchoring system.
Q: Does the bowl rust?
A: None of the bowls on this list should rust.
Q: Does the color fade over time?
A: The bowls on this list are built to last and made in a way that should retain all of their colorings.
Q: How much will this bowl hold?
A: That varies depending on the bowl, but most come with measurements of the diameter at the very least which should give you an idea. Some have specific quantity measurements included.
Q: Where is this dog bowl made?
A: Most of the dog bowls on this list are made in China.
Q: Is my dog dish microwave safe?
A: No, most are not microwave safe – especially the stainless steel ones.
Q: What about dog bowl placemats?
A: As with the dog bowl, use a bleach and water solution to disinfect placemats that are made with harder materials, such as plastic. For soft fabrics, check to see if they are machine-washable and if so, wash them in the washing machine.
Sources