Best Carpet Cleaners Reviewed & Rated for Quality
In a
Hurry? Editors choice: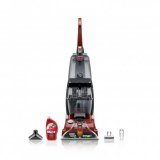 Test Winner: Hoover Power Scrub Deluxe

Well, your dog had an accident on the
carpet
again. Also, your 5-year-old just spilled their juice all over it. Oh, and also, your spouse cut themselves, and got a drop of blood on it, after spilling a plate of food on it just to seal the deal. All in all, not your best day, we think we can all agree. Carpets are a frustrating thing, aren't they? So beautiful, yet stains are almost impossible to get out unless you have the industrial level equipment. We're not sure we can give you that, but we can give you the best OTC carpet cleaners the market has to offer. Read on.
Standout Picks
Criteria Used for Evaluation
Weight
This may come as a shock to some of you, but a carpet cleaner is a bit on the hefty side by default. Indeed, while very useful machines, they are, however, very big machines. And with a large size, comes an added weight as a bonus.
We knew that size was going to be an issue across the board, although we came across more outliers to that than we thought we would. So instead, what we decided to do was judge by how much you would have to move these things around, and how complex those movements would have to be. Is the hose long enough to reach most places, or do you have to lug the carpet cleaner around, for instance.
Effectiveness
It's one thing to get rid of a surface stain or two, but it's another thing entirely to really get out the real problem. This is where deep cleaning comes into play. Deep cleaning refers to when a carpet cleaner not only removes the stains on the surface of the carpet but brushes down as deep as it can possibly go into the fabric of the carpet until it finds every last drop of liquid or the very last speck of dirt. Deep cleaning is one of the most important things that a carpet cleaner must do because you're buying/renting these hulking machines to help get your carpet as clean as you can possibly make it, so it had better be able to get the job done the way you need it to be done.
Accessories
What's a cleaning device without peripherals? It isn't just the presence of these peripherals that make for a great carpet cleaner. However, it's also a matter of the quality thereof. Because as we've shown throughout this list, there are more than enough hoses that burst, tanks that leak, and extra cleaner bottles that are expired.
We scoured the customer reviews of these products to see what the general consensus was for the performance of these accessories. Did the hose hold up to scrutiny? Did the accessories mount on the hose? Did the extra cleaning bottles help matters at all or were they useless? All pertinent questions to ask about your carpet cleaner's tagalongs.
Versatility
Judging the performance of a carpet cleaner is always tricky, because, well, these things are expensive, and we can't buy or even rent all of them to try them for ourselves. We needed to find some way to get a bead on the way they performed without having to buy them ourselves. Then, of course, we decided to turn to the customer reviews on the various store and review sites. While there will always be outliers, people who used the machine wrong and blamed it for their mistakes, or simply items that were shipped incorrectly, we judged each entry by how often either of those happened. The fewer times they happened, the more likely we were to write them off as a coincidence.
When we look for a good performance from a carpet cleaner, what we look for specifically is the speed of the cleaning itself, the depth of which the cleaning is performed, and how easy it is to move and maneuver the carpet cleaner over the carpet. Things like that, which may not seem, that big a deal, end up deciding whether or not a carpet cleaner is a pain to use.
Value
The price of a carpet cleaner is a tricky rope to walk because, to put it bluntly, these things are expensive. As in, there is a reason that people mostly rent these things instead of buying them. Renting them is, on average, significantly more affordable than buying a carpet cleaner. Not only are these carpet cleaners big, bulky, hard to move around, but they're also a drain on your wallet like you wouldn't believe.
So, with that said, when we evaluated the potential entries by this criterion, we evaluated them based around the idea of what they're doing to be worth the price they're asking for. This made things a lot clearer cut, because like a lot of products, the more features a carpet cleaner has, the more expensive it is likely to be. But even when you take out as many features as you can without hurting the functionality of the cleaner, you're still usually left with something close to or exceeding a hundred or so dollars.
Best Carpet Cleaners Reviewed and Rated for Quality
1

. Hoover Power Scrub Deluxe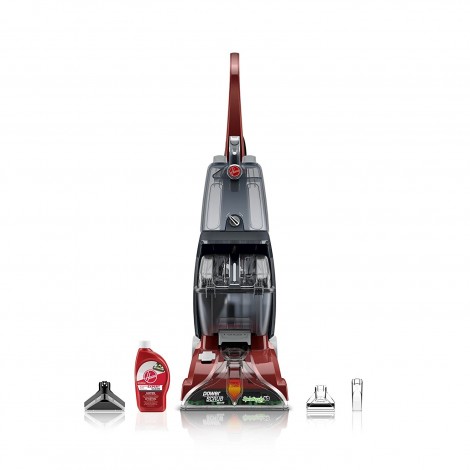 Kicking off our list with our #1 pick, what else could it be but Hoover? When it comes to high-quality carpet cleaners, Hoover runs circles around pretty much everyone else out there. And nowhere else is that more exemplified than this best seller, the Power Scrub Deluxe. So, what makes this cleaner worth all of this gushing? Well, let's take a look.
Spinscrub brush system
When you use a carpet cleaner, you want the cleaning job to be as thorough as it possibly can be. So, of course, different manufacturers have different methods of making sure that their product scrubs down your carpet until not even a speck of dirt remains. And the Power Scrub Deluxe's method is the Spinscrub Brush System.
Upholstery tools
A lot of people like to have furniture and other heavy objects sitting on their carpet because carpets don't have to be cleaned all that often unless there's an emergency, so why not? However, if that carpet takes up the entire floor, then there aren't many places you can just move the carpet. Unless, of course, you have this cleaner, and its upholstery tools, including an eight-foot hose that can reach all of those hard to reach areas.
Cost and Value
Even if you forego the accessories and various bundles that you can buy with this cleaner, you'll find that carpet cleaners are, in general, very expensive. However, rest assured that the Power Scrub Deluxe is more than worth the price.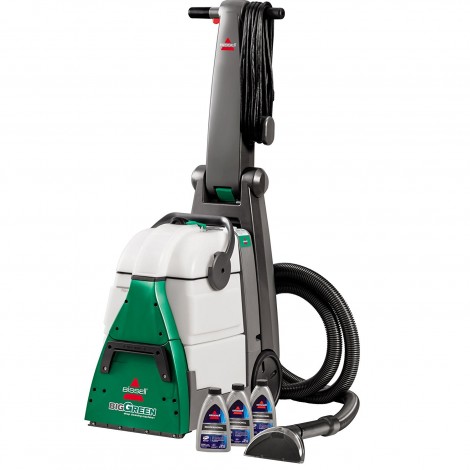 If you want to invest in a truly high-quality cleaner, then you need to look no further than our #2 spot, the Bissell Big Green Cleaner. Almost everyone who's used this cleaner from famed cleaning manufacturer Bissell has walked away utterly satisfied. Now then, let's take a look and find out what left them, such happy customers.
Deep down clean
When cleaning your carpet, you don't just want to hit the surface of the carpet. A deep enough stain will still leave a stench, and you want to get as much of it out as fast as you can, or else the stain may never truly come out. Which is why this cleaner comes with the ability to really get down deep into the carpet, no matter what kind of carpet it is, and clean out the stain at the source.
Large capacity tanks
Carpet cleaners, as you no doubt have noticed, are big machines, and the last thing you want to have to deal with is constantly going back and forth between the carpet and sink to refill the tanks. Fortunately, with this cleaner, you don't have to, as it comes with high capacity tanks that keep you filled throughout the entire cleaning.
Cost and Value
We didn't call this thing an investment at the top of this section for nothing. If you want to get your hands on one of the best carpet cleaners out there right now, then you need to be ready to pay up.

3

. Rug Doctor Mighty Pro X3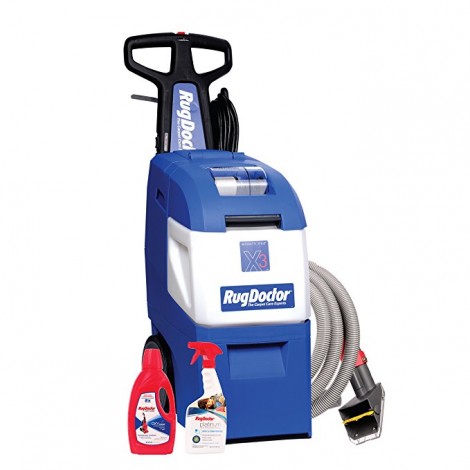 Rounding out our top 3 segment, we, of course, have the one and only Rug Doctor. When it comes to carpet cleaning, few names are as trusted as the Rug Doctor. And with our #3 spot, the Rug Doctor Mighty Pro X3, we are reminded that when the doctor is in, the problem may as well be solved already.
Included sprays
But sometimes you need more than a good scrubber, and Rug Doctor understands this. Which is why the Mighty Pro X3 includes a pair of premium sprays for certain occasions. For instance, one of these sprays is a urine eliminator spray. Animal urine is much harder to get out then a wine stain, so it helps to have that extra strength spray to get every last bit of it out.
Can clean stairs
If you have rug carpeting for your stairs, then you're likely dreading the inevitability of getting dirt or stains on it, because you definitely don't want to lug this big and heavy cleaner up each individual step. Fortunately, you don't have to, as this cleaner's several foot long hose can easily clean up those stairs for you.
Cost and Value
And we just continue to climb upwards in price, as this is the most expensive of the lot so far. While there are more expensive entries, and while this cleaner more than earns the price, this professional grade cleaner is a bit too expensive for the average consumer.

4

. Hoover Power Scrub Elite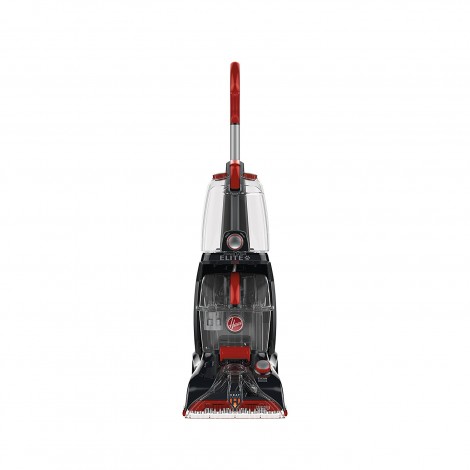 Coming in at #4, we return to Hoover for the Hoover Power Scrub Elite. As you can tell from 90% of this item's name, a lot of it is based on the Power Scrub Deluxe. However, there are quite a few notable differences between them that set this cleaner apart from its more popular sibling.
Lighter Weight
One of the drawbacks you often have to deal with when you buy a carpet cleaner is the fact that they're heavy. And we do mean heavy. It makes sense as to why, they kind of need to be at least somewhat hefty, but thankfully this one knows how to keep itself held back in the weight department. All the while still managing to do the following.
Deep, quick clean
Not only does this carpet know how to get deep into the folds of your carpet, removing even the deepest and most embedded stains, it also does so much faster than its peers. Simply turning on the quick clean mode with HeatForce will speed up the cleaning as well as the drying process. So, if you need to get your carpet cleaned for a dinner party, but also need time to dry it, don't worry, this cleaner has you covered on both fronts.
Cost and Value
The best part about this cleaner is the price. While it's still firmly sitting in the triple digit area, it's a lot cheaper than the previous two entries, almost $300 less on average, in fact.

5

. Bissell Proheat 2X Revolution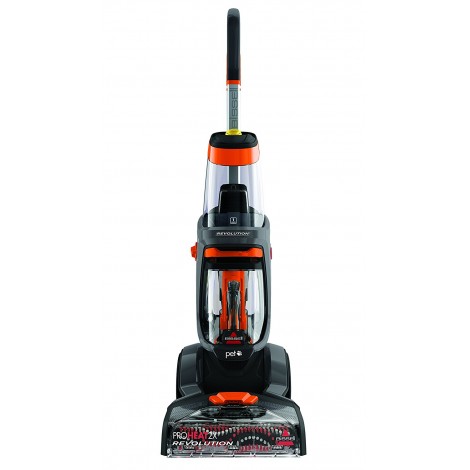 In our #5 spot, we have the Bissell Proheat 2X Revolution. Now unlike the other entries on this list, this one is specifically built with pet messes in mind. The kinds of messes that a dog or cat can make are very different from the kinds that humans make since most humans know better than to relieve themselves on the carpet. Let's see how the Proheat 2X approaches those problems.
Urine eliminator
Whereas with the Rug Doctor, you need a separate spray in order to eliminate pet urine effectively, this cleaner just has a tank filled with the stuff, so it can do the job itself. Just press a special button, and the formula will be added to the overall cleaning solution as you run over the stain.
Hair removal
If there is anything that annoys people who buy a carpet cleaner, it's the fact that, despite looking a lot like a vacuum cleaner, they don't really vacuum as much as you would think they would, especially since vacuuming is an essential part of cleaning a carpet. Thankfully, you don't have to worry about loose hairs getting stuck in your carpet even after cleaning, as this cleaner swiftly sucks up any hairs that have gotten lost in the carpet threads.
Cost and Value
While a good bit higher in price than the previous entry, that's mostly due to the added features, meanwhile, it's still nowhere close to the extreme prices of the first three entries. So if what you're looking for is a well-made, decently priced cleaner, then you can't go wrong here.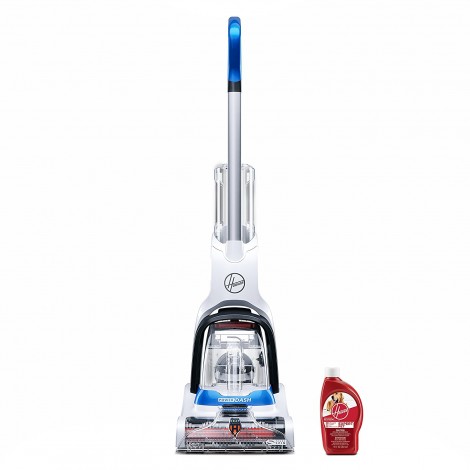 In our #6 spot goes the Hoover PowerDash Cleaner. Like we said earlier, there's really no one better at carpet cleaning than Hoover. While Rug Doctor and Bissell have their moments, they're nowhere near as consistent as Hoover. As we will show right now with the PowerDash.
Maneuverable
You're probably looking at the big, bulky machines we've showcased so far with an amount of dread. Indeed, these cleaners are not exactly the most maneuverable bunch, that is, of course, except for the PowerDash. This cleaner's leaner frame makes it a lot more lightweight and easier to carry around, and much easier to maneuver when using it to clean. Which is definitely good when you're working on those difficult to reach corners.
Easy to set up and use
The PowerDash is a very simple machine, not really equipped with the accessories and other items that the rest of the products showcased on this list have. However, the main advantage of this is that this fact makes the PowerDash the best possible carpet cleaner for newcomers. It's incredibly easy to set up and use, which is a definite point in its favor.
Cost and Value
The best part about this cleaner is the price. By ditching a lot of the other accessories and add-ons you normally expect from a carpet cleaner, this one manages to cost less than $100, making it very likely the cheapest entry on this list.

7

. Bissell SpotClean Portable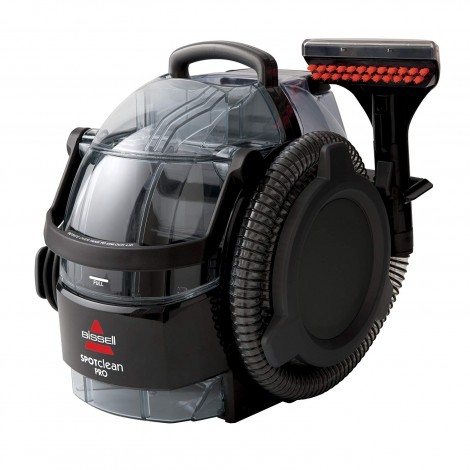 At #7, we have another entry from Bissell, with the Bissell SpotClean Portable Cleaner. If what you need from a carpet cleaner is a more portable, compact option, then this is most definitely the cleaner you're looking for. Is there anything else this cleaner has to claim its fame? Let's find out.
Portable
While there are plenty of other reasons to love this cleaner, chief among them really is the fact that this is, without question, the easiest cleaner to actually handle. It's compact, portable, easy to carry, and even easier to use. That's likely reason enough for it to make it on this list, but we're not done going over its qualities.
Foolproof to use
You can pretty much get started with using this thing the minute you get it out of the box. No assembly required, just pour in the cleaning solution of your choice, plug it in, and start it up. Definitely a far cry from other carpet cleaners, which sometimes feel like one rung below rocket science when it comes to assembling the things.
Cost and Value
While not quite as cheap as the previous entry, this cleaner's compact size and lack of dramatic flair puts its price not too far behind it.

8

. Bissell PowerLifter PowerBrush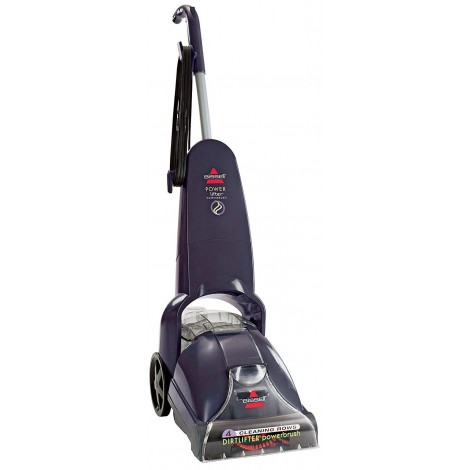 Kicking off our final 3 entries, we have the Bissell PowerLifter PowerBrush. Once again, we're back to the big bulky cleaners, but thankfully, like the other Bissell products on this list, this cleaner is of very high quality, and despite its size, you won't be paying nearly as much as you'd expect to be.
Dirt lifter
Scrubbing is only half the battle when cleaning carpets, and some stuff you just can't vacuum out. Some dirt needs to be physically lifted out of the carpet in order to be effectively removed. Which is where this cleaner's dirt lifting power brushes come into play. This set of rotating brushes scrub and lift any dirt they come into contact with, getting the kind of dirt that vacuum cleaners just can't.
2 in 1 tank
Filling and emptying these tanks have never been easier than with the PowerLift. This carpet cleaner includes a single tank that doesn't need more than one section inside to hold the water and formula. There's no harm in the two mixing prematurely, so it cuts out the middleman and lets the two mix in the same tank.
Cost and Value
Again, while not as cheap as the previous two entries, it's a far cry from the earlier ones, by being very affordable when measured by that metric. So, while you will end up paying triple-digit prices for this one, it won't be nearly as bad as it could've been.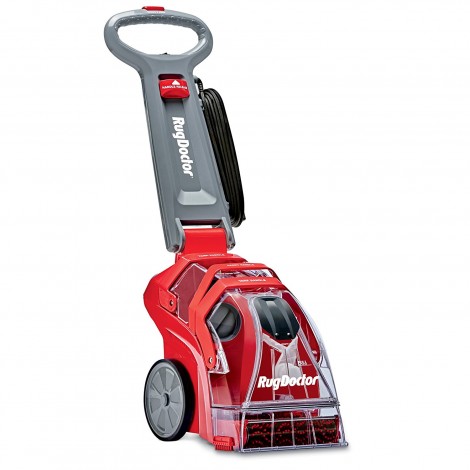 In our second to the final entry, we have the Rug Doctor Deep Cleaner. Like a lot of Rug Doctor Products, this is what you look for when you need professional quality carpet cleaning, but don't have the money to hire a pro cleaner. So, what makes this Rug Doctor such a big shot? Let's find out.
Superior suction
As we said, suction really isn't a carpet cleaner's primary function, so you're more often than not expected to just use a vacuum cleaner for this task. However, that's where the Deep Cleaner differs from its peers, possessing 75% more suction than most other leading brands of carpet cleaners.
Dual deep reaching brushes
Most of the cleaners get by just fine with only a single brush that picks up the slack by being an incredibly deep cleaning. However, this cleaner manages to have two deep cleaning brushes. And while this does add quite a few pounds to the equation, it more than makes up for this in performance.
Cost and Value
We are, unfortunately, back to the high price tags from this list's earlier entries. However, the price of this one isn't quite as high as those are, but it is still considerably expensive.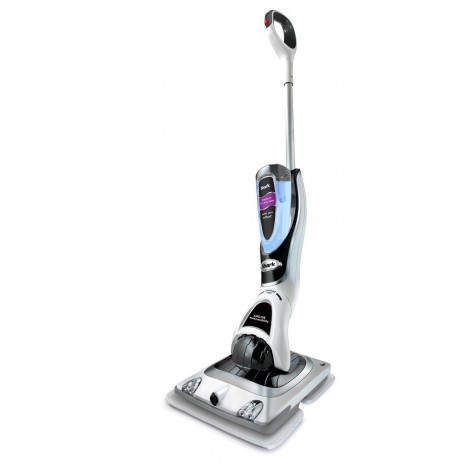 In our final entry, we have the Shark Sonic Duo Cleaner. Shark models have always been the little carpet cleaners that could, never really measuring up to the big leagues, but nevertheless still managing to be of considerable quality. And the Duo Cleaner is no exception to this.
Duo purpose
But sometimes it isn't just your carpet or rug, is it? Sometimes you need a quick scrub down for all of your floors, including those of a harder variety. With that said, this cleaner can also be used to give your hardwood floors a good scrub down. Meaning that, with only one device, you can clean your hardwood, your tile, vinyl stone, and yes, even your carpet.
Superior scrubbing
We don't really have the time to go over the amount of scrubbing carpet cleaners generally do per minute, but with that said, the Duo tends to outrank all of them at 1000 per minute. This means that you will get a deeper, faster, and more thorough cleaning with this than you would almost any other brand of carpet cleaner.
Cost and Value
This cleaner tends to sit between the previous entry and the one before that in terms of an average price. Meaning that it's still expensive, but it isn't unreasonably so.

Subscribe to our Newsletter