Best Sorel Boots Reviewed & Rated for Quality
In a
Hurry? Editors choice: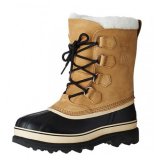 Test Winner: Caribou

Sorel Boots are iconic for winter warmth and fashion. They are a must for anyone who wants to
stay dry
, well equipped and look great doing it. Whether you need them for shovelling the driveway and walking the dog, or taking the elevator to your underground parking in the winter, Sorel has got an option for you. Founded in Canada in 1962, Sorel stands behind quality workmanship and designs made for 'people who aren't afraid to get their boots dirty'. With a huge selection of Sorel products on the market, it's hard to know which ones are right for you. Read our guide on the top ten picks for the whole family from this iconic winter brand.
Standout Picks
Criteria Used for Evaluation
Protection
Obviously, you are purchasing something from Sorel to protect your feet from the elements. How much protection you need depends on what exactly you plan to use your new footwear for. Sorel offers a full line of luxury footwear, so there's really something for everyone. From fashionable faux-fur booties that look great with fall fashions to heavy duty, rugged work options that can combat temps of -40C and heavy blizzards, to everything in between.
Traction
Winter is known for bringing icy, slippery, uneven and just outright treacherous footing conditions. No one wants the embarrassment of slipping and falling, even a pair of great shoes won't help you save face after that happens. We've included pairs with multi-direction soles are designed to give you extra ground-gripping power when the terrain is less than desirable. Vulcanized rubber soles also offer up superior resistance to slips and falls.
Style
Just because it is winter outside doesn't mean you want to sacrifice style for comfort and warmth! Sorel makes it easy to find a pair that will get you through the season looking and feeling great at the same time. We love that they truly make a boot for everyone. From classic styling, to fun and trendy designs trimmed with fur, you can look great and stay well protected. Everyone's personal style is different, and we love that Sorel offers a slew of unique color combinations on many of their designs, so you can really get something that's unique to you.
Insulation
Winter is cold, and these are usually worn in winter, so its a no brainer that you want your new footwear to keep you warm. There is a whole gamut of styles made by Sorel for all types of weather conditions. Do you need faux-fur lined or lightly insulated for running errands in fall months, or winter shoes rated up to -40C for long, hard days working outside?? Maybe you need the perfect pair that is right in between the two extremes, something that is fashionable and look great, but can keep you warm, dry and protected at the same time. Well, Sorel makes that pair as well!
Water Resistance
Winter weather brings the white stuff, sleet, ice, freezing rain and slush. Picking out a pair that not only keep your feet warm but dry as well is key. After all, any foot that gets wet will certainly be cold as well. We love that Sorel has incorporated a ton of waterproofing techniques into their manufacturing process. Seams are heat sealed on full grain leather uppers, and full rubber soles mean no water stands a chance of breaking through. If you really need to ensure your feet can endure the harshest, wettest conditions Mother Nature will throw at you, definitely check out the items on our list with built-in gaiters!
10 Best Sorel Boots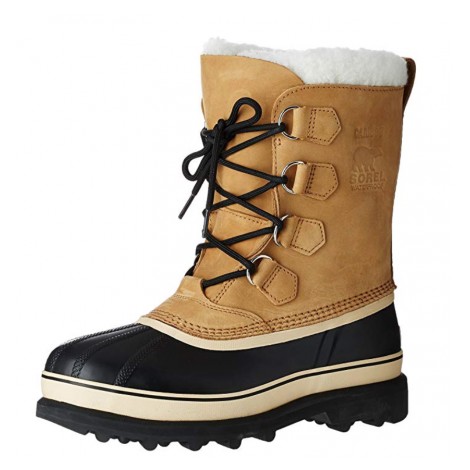 This style is the classic, midlength, calf style that most people might think of when someone suggest Sorel. A stylish, full leather outside, and vulcanized rubber outsole, are paired with a super warm ThermoPlus Felt liner to keep your feet warm up to negative 40.
Stylish Color Choices
The Caribou has a variety of fashionable color options to chose from. Winter typically lasts anywhere 2 to 5 months, sometimes longer in extreme conditions, you definitely want to make sure that strapping on your favorite footwear is not only functional but fashionable as well. With so many styles to choose from, there's something to suit everyone's tastes.
Super Warm and Cosy
Reviewers say they love the Caribou because it's incredibly easy to slip on and off. WInter rated up to temperatures of minus 40, these are guaranteed to keep your toes warm on even the coldest days. The outsoles and leather uppers are both waterproof, so these are a great choice to wear for your favorite cold weather activities. Removable insoles are easy to dry and the felt material keeps your foot warm, even if it sweats.
Cost and Value
There's a reason these have been a fan favorite for years. They offer all the protection from the elements you need, stability and traction for navigating through icy and rough footing, and they look great doing it! The liners are removable, so you can extend the lifespan, and with a ton of great color combo's to choose from, there is something that will appeal to everyone.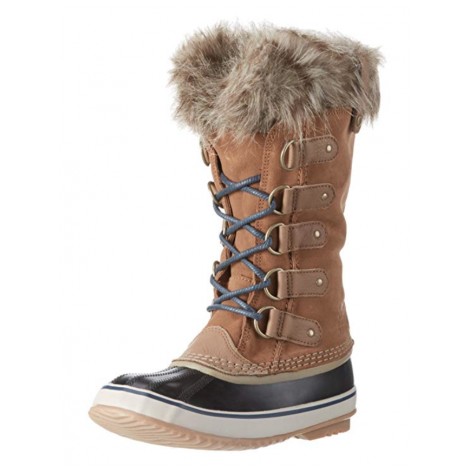 Footwear with fur is such a great idea, T-Pain even wrote a song about them once. These are another popular choice amongst super cold climate dwellers. Who says that staying warm in the winter has to be ugly or boring. These funky, fur trimmed pair are easy to couple with your favorite winter looks and guaranteed to keep your warm and happy at the same time.
High Cut Design
The Joan of Arctic comes up higher on your calf than other designs, which is optimal for keeping you dry and warm during heavy blizzards. Anyone who ever had to any walk any distance in freshly fallen snow will tell you the taller the footwear, the better. No one wants to get their pant legs soaking wet, while outside trying to brave the elements and keep warm.
Fashionable and Functional Warmth
The Joan offer all the warmth and water protection you need, but the fun faux fur addition along the top is anything but boring. Winter rated up to -32C and fully waterproof, these are ready for you to take on winter. A variety of color combinations to choose from is something else we like.
Cost and Value
This is a great investment piece to keep you warm for many winters to come, While you may not wear these all year long, that means you don't need to buy a new pair every year. Indulging yourself and splurge on a great pair of timeless shoes that will keep you warm, dry and looking great well into the future. The classic styling will be in fashion forever and the fun fur trim detail adds a wintery, arctic touch of feminine elegance to your look.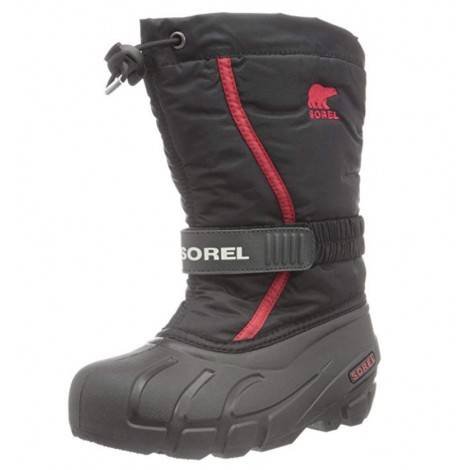 Kids are important members of the family, and they need dry and warm feet in the winter too. The Flurry is guaranteed to keep your child's feet cozy and comfortable during even the coldest, blustery months. Winter rated down to -32C, these are suitable for the worst days. The Flurry comes in a variety of colors, and it will certainly be easier to get your children excited about wearing winter footwear if they like the color scheme.
Velcro Fastenings
Kids are always in a rush, and they already have enough winter gear to struggle with putting on before the final step of getting booted up. Velcros are super easy for kids to use. This is great for parents too, who might not have time to wait for their children to tie up laces every morning before rushing off to school and work. Laces are easy to trip over, so velcro might be preferred in the winter months when slips and falls are harder to avoid. We love that the velcro on this pair creates tension around the whole ankle, trapping hot air inside and keeping the white stuff and wind out.
Secure Outersole
Winter months are treacherous and kids aren't world-renowned for their great sense of balance. Sorel has incorporated a multi-directional lug outsole, for enhanced traction and security in slippery conditions. Made out of waterproof, injection molded, thermal rubber, these are made for kids who love romping outside.
Cost and Value
Ask anyone with children what they would pay to not hear their kids whining for a day and most would say priceless. While we can't guarantee that these can solve all cranky kid problems, we can guarantee that cold or wet feet are one thing your child won't be moaning about if you purchase a pair of these. Bonus points if there's more than one child in the family since these aren't worn year around, they can easily be passed down a younger sibling once outgrown.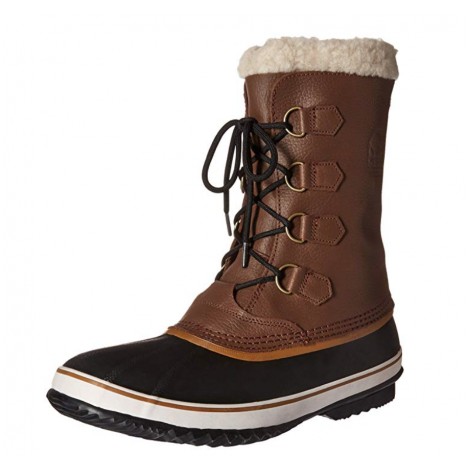 Another favorite winter classic, the Pac T has the iconic styling that is synonymous with Sorel. The uppers are all real, waterproof leather and the rubber outsole is fully waterproof as well. Staying warm shouldn't mean sacrificing great style, and we love that these offer both. Easily brave the elements in temperatures of up to -40C and look great doing so with these on your feet. Fully rubber outer soles are not only waterproof but offer security in slippery conditions, so you can feel safe with these on your feet.
Removable Liners
Anyone who has ever gotten their shoes wet inside know the best way to dry them out is the remove the liners. Stick them on an air vent for an hour, and your good to go, warm and dry, in no time. This also comes in handy because you can replace the liners every year if they become stinky and sweat ridden.
Lighter Weight Option
These are a lighter option than the Caribou style , which is definitely more suitable for urban commuting or city wear. A lighter, slimmer option is easier to pair with streamlined outfits and better suited for all-day use to avoid leg fatigue. If you need footwear that can be worn indoors, yet keep you warm and dry outdoor for a long period of time, these are a perfect pick.
Cost and Value
Keeping your feet warm and dry all day is priceless. These are light enough to be worn all day and slim enough to pair with sleeker styles. We think they're a great wardrobe investment for anyone who needs a reliable pair of winter footwear that's trendy enough to wear almost anywhere.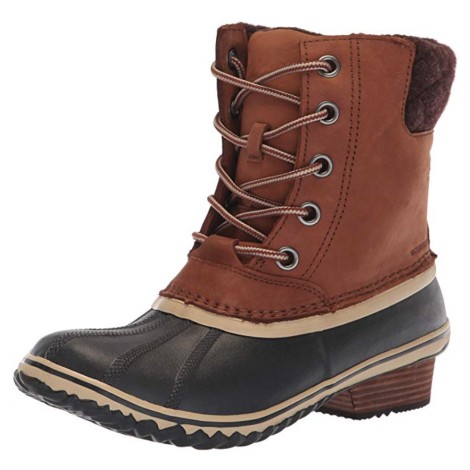 These are great for rainy or light snow days. A perfect option for commuters or city dwellers, they keep you protected from the elements and looking great at the same time. A sleek silhouette looks great with jeans or yoga pants, these are a great option for wearing all day when the weather is less than stellar.
Slight Heel
The almost 2" heel on these gives them a cute, feminine look that you won't find with a lot of rainy day styles. The height is low enough for all-day comfort, but high enough to give you an elevated feel. Perfect for looking cute and staying dry at the same time.
Versatile and Comfy
These are great because they can be worn for all of the fall seasons, and well into many winters, depending on weather conditions. If you're looking to invest in a fashionable pair of fall footwear, that will keep you warm and dry, but also look great, then the Slimpack are a great option to consider. We also like that there are a ton of color combinations to select from.
Cost and Value
These offer great value because they will definitely take you all the way through a season. Finding options that keep you dry and warm, but also look good with your favorite fall looks can be challenging. The ankle styling looks great with jeans and slimmer silhouettes, making these a perfect choice for busy urbanites and suburban moms.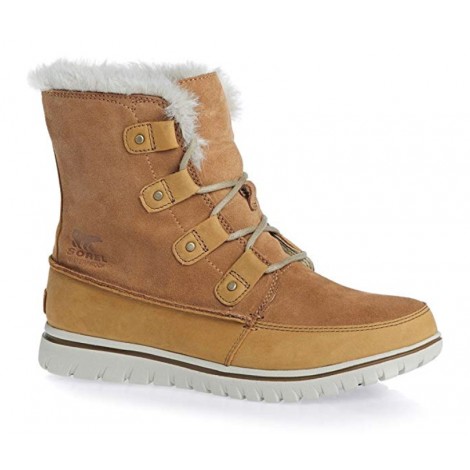 For looking great during less than perfect weather, these are a great option to consider. Go from your condo in the city straight to your cabin in the woods effortlessly with these on your feet. Faux fur lining is on trend and looks great with fall fashions. While we wouldn't say these are the multi tasking superstar like some of the other pairs we featured, they are beyond comfortable and designed for maximum all day enjoyment. Extra bonus points, celebrities Hilary Swank and Maggie Gyllenhall were both spotted sporting the Cosy Joan at the 2018 Sundance Festival.
Simple Design
The Cosy Joan feature an eye-catching faux fur inner with a sturdy rubber sole. The monotone color schemes are easy to pair with any outfit and won't distract from other statement pieces. There are brushed stud details on the lace hooks which add an urban element. The Sorel logo is embossed on the back heel, which is a nice touch that adds to the look.
Sneaker-Like Feel
These are great for all-day wear. Multiple reviewers raved about their super comfy, sneaker-like fit. Perfect for lounging around the ski lodge or running errands on a brisk fall day, sometimes we want the comfort of a sneaker but the warmth that only winter footwear can provide. Many people suggested that these do run small, so definitely size up, especially since you will want to wear your cozy socks as well.
Cost and Value
A great alternative to Uggs if you want to be more original, these are comfy enough for all-day wear and look great in most settings. While they won't be ideal for heavy storms or rainfalls, they do look great on most other days. If you're on the hunt for a great pair of casual and comfy footwear for cool weather that will have you dressed like a celebrity, you should give this pair a glance.

Another pick on the list for the little members in our families, these are super idea to keep your kids warm and dry in the winter season. Kids will like the fun polar bear design on the back of these and parents will like their kids not complaining that their feet are getting cold.
Quick to Put On
Lots of parents struggle to get out the door on time in the morning, this problem is only exacerbated by the winter elements. A slide on style with velcro closure is quick and convenient for kids on the go.
Top Velcro Closure
Kids love to frolic and play in the winter, and most of us probably remember how annoying it was to get the white stuff in your shoes. Wet socks are a real damper on warmth and comfort, and any outdoor adventure will most likely end quickly after this disaster strikes. Velcro at the top is perfect for kids to keep them dryer, longer, allowing for greater outdoor time.
Cost and Value
Investing in this kind of footwear is a must if you live in a wintery climate, and kids footwear is no exception to this rule. These are designed for heavy snow and are guaranteed to keep your kid warm and dry up to -32C. If you have more than one little one in the family, these are a great hand me down that will keep multiple pairs of feet warm and dry for years to come.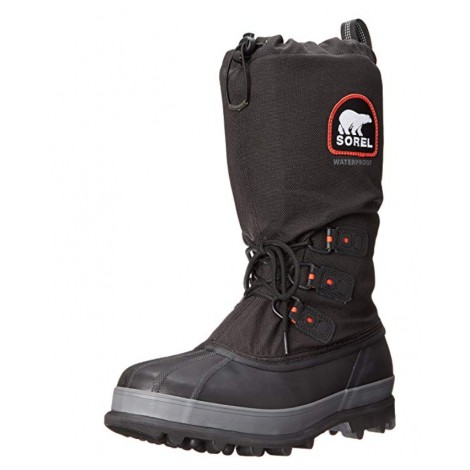 Do you need the most rugged option available? This winter superstar is a part of Sorel's XT collection, especially designed for the most extreme polar conditions. Perfect for winter activities like ice fishing and exploring, those who work outside or people who live in the coldest conditions. The extra tall height combined with drawstring closures and two layers of heat-trapping coating on the midsole and inner liners keep all the elements locked out and heat in, ensuring your feet stay toasty and warm.
Rated to -40C
Temperatures as low as -40C aren't common in many places in the world. Some people can go their whole lives and never experience such frigid, uncomfortable conditions once. But for those who have experienced the coldest of the cold, they know having a good pair to protect your toes is an absolute necessity. Nothing will make you more uncomfortable or miserable than having frozen feet, and in dire weather conditions, prolonged exposure to cold can be dangerous to your extremities. Rest assured that the Bear Extreme will keep your feet safe, and you happy during any type of polar weather expedition.
Omni-Heat Reflective Replaceable Liners
For extreme winter wear, the lining is crucial. Felt is a natural material made from condensed fibers. It dries quickly and won't make your foot cold if it does get wet. The Omni-Heat coating works to trap heat created by your body in the inner core, adding an extra layer of insulated warmth. We love that you can buy replacement liners for these, which can greatly extend the lifespan of your purchase. A new pair of liners is easily ⅓ the cost of a new pair of quality shoes, which leaves you with more money in your pocket to spend on your favorite winter activities.
Cost and Value
While these don't have the aesthetic appeal of some other pairs we've featured, they weren't made to look good. In the most extreme winter conditions, keeping warm and dry is crucial for enjoyment and safety. We think these are a fantastic investment for anyone who regularly spends prolonged periods in the white stuff or extremely cold conditions. The ability to replace the liners instead of buying a whole new pair is a fantastic money-saving feature that we also love.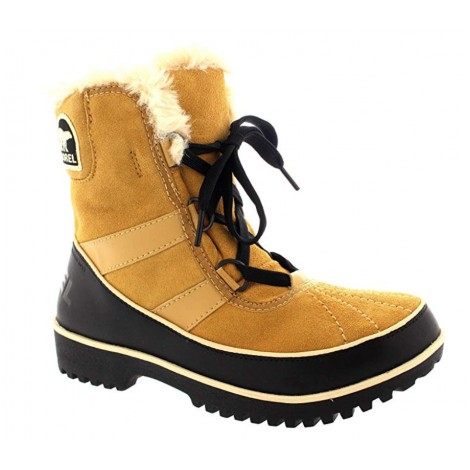 Sometimes we don't want to clomp around with bulky, ugly things on our feet. These are a great solution for anyone who spends considerable time outside but wants to look great doing so. Don't sacrifice style for warmth with these fun and sporty winter winners.
Two Inch Heel and Rubber Sole
We love that these have a two-inch heel. Many women feel more comfortable with a little added height, but sporting a pair of heels in the winter isn't always ideal. The all rubber sole of these low cut shoes offers traction in slippery or icy conditions, and the gradual, wedge heel is comfortable enough for all-day wear.
Sporty Aesthetic
We love the super sporty look that these have. They would look great at the ski slopes or the winter cabin retreat. You can easily transition from outdoor activities to indoor, without looking out of place with clodhopping shoes. There are a ton of fun color combinations to choose from as well, from red to army green, these will be anything but boring. Reviewers loved the more streamlined look and lighter feel that these offered up, when compared to traditional, cold weather picks.
Cost and Value
These lightly lined, mid-cut shoes will take you all the way through the winter season. They have 100g of insulation as well as microfleece lining, so you can stay warm on seriously cold days. Being fully waterproof is another great plus. The faux-fur trim along the top and sporty, classic styling make them easy to pair with your favorite winter looks. If you're looking for some multi-tasking footwear to wear all season long, we suggest you consider the Tivoli II.

For the working man whose job doesn't stop when the blizzard starts, this pair packs a mighty punch. Durable, rugged and long-lasting, these were made to be used and abused in cold weather conditions. Anyone who works outside in below freezing temps can attest, having warm feet is imperative to comfort. But what do you do if your job requires you to be active and light on your feet, when a traditional pair of winter shoes would be too bulky and cumbersome? Sorel came up with the answer to this question with the Conquest.
Super Rugged and Durable
We know that Sorel's motto is 'made for people who aren't afraid to get their boots dirty', but we think they really outdid themselves with this pair. Everything from the waterproof seam sealing to the injection molded, thermal rubber sole, these were made to last. The built-in gaiters only the top trap heat inside, and lock the elements out, keeping you warm in the most uncomfortable conditions and the EVA footbed was designed with all day comfort and warmth in mind.
Extra Traction and Security
These are the real cold weather MVP. The multi-direction lug sole, provide superior traction and stability on uneven and icy terrain. Another feature we love is the addition of an Achilles adjustment strap, made with a shatter resistance YKK Shokonlock closure. This is located above the ankle, for even more support navigating through extreme conditions with treacherous footing.
Cost and Value
When you can't sacrifice the support and traction provided by work footwear, but extreme cold and bliz zards are a part of your job or life, the Conquest is your answer. We think this is a fantastic investment to keep you safe, warm and dry all winter season long.

Subscribe to our Newsletter