Best Leather Cleaners Reviewed & Rated for Quality
In a Hurry? Editors choice: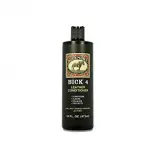 Test Winner: Bickmore Bick 4

One of the great joys in life is when you begin to restore something you have had and loved for years. You get to watch as the past almost comes back to life right in your hands. Some things are easier to restore than others, but there is one type of material that many of us have at least one item from our past is made of- leather. Whether it is an old car, motorcycle, coat, jacket, boots or even a pair of leather pants- restoring the item is something of a complete joy.

A large part of that restoration is in cleaning it up, and you can't just use anything on leather after all some types of liquids and/or chemicals can cause a lot of damage to the leather. That is why it is important to know you can trust the cleaner you are using to do the job and do it right. We here, at Gearhunt know that with the wide variety of leather and its types, comes the difficulty of finding the right cleaner for the right object. We also know that looking for the right kind at the right quality can be just as difficult and time-consuming. We wanted to make sure that our readers are assured the best quality of product to restore their beloved items back to their day of glory. Our search took us to many different types of cleaners in order to find the ones that could aid best in cleaning your products without causing damage, and we have come up with ten of the most praised products that not only did their job but exceeded expectations. Enjoy the ease of looking over each to find the one you want without having to do all the research yourself- here are the top ten best leather cleaners as we have found!
Standout Picks
Criteria Used for Evaluation
Effectiveness
Criteria Used in Choosing the Best Leather Cleaners
Cost and Value
This is important to consider with any product. No one wants to buy something that either doesn't do as described, does the opposite or doesn't do enough. With leather, it takes a particular quality and type of cleaner to take care of. Even plain water and a cloth can cause it to age rapidly and deteriorate if used in a great amount or too often. You need to have the right amount of everything required in order to care for your product and keep it in the best condition possible. With the right value cleaner, you can keep a leather product much longer which increases the value of the products.
Ease of Use
No matter the type of cleaner, you want to be able to easily use it and not have to go through an extremely tedious list of tasks before you use it. We made sure that all of these products have easy to use instructions and can be applied without hardship. Some of them are one step clean and condition, while others are two-step, but all of them can easily be applied, leave no residue, and protect even after your done cleaning. Many of the products either come with a sponge applicator or are wipes themselves and so don't require extra purchasing to apply them either. In the end, all of these products are made to clean your leather products without causing fading and condition it against harsh environments that might otherwise dry it out and cause it to crack. As always, make sure that what you buy can be applied to the type of leather you are wanting to clean.
Safety
All of these cleaners dry quickly and without residue, this means you and anyone around you don't have to worry that they will end up on your skin after the leather is clean. Since many chemicals can be harmful for hours when they don't dry rapidly, knowing that your leather will not be one surface you have to worry over is a great thing. Most of these also do not carry a heavy chemical scent either, and a couple of them stuck to natural ingredients, which means you don't have to concern yourself with cleaning your car and becoming ill, or cleaning your leather coat, jacket, etc. outside. Of course, with any cleaner, you should still keep it out of reach of young children.
Long lasting
All of these cleaners offer conditioning for your leather, and what that means is a single cleaning will help protect your leather against the elements for longer. Unconditioned leather can become dry and brittle, making it crack or crease in ways you wouldn't want for your product. By conditioning it, you are supplying it with the moisture it needs to stay semi to fully flexible, meaning your leather items will last longer thanks to a simple cleaning. There are even a few of these which add water resistance to your leather, and moisture, such as water, can cause leather to dry out faster. As odd as it sounds, you want to lock in natural moisture such as oils and lock the outside moisture, like water, to help keep your items in top condition. Some also offer protection against fading as well, which if you love your black leather, this is a great bonus to your cleaning work!
Additional Information:
Leather can be a tough gig, especially concerning maintenance and upkeep. Leather products are expensive, and for good reason. A lot of care and hours go into making coats, saddlebags, shoes, etc., so why should you not want to make sure it lasts as long as possible?
Cost aside, if you have a favorite item, say, a hand-me-down coat for example and you use a cleaner not suited for it, your item can be ruined beyond repair.
So how would one avoid this? Research for one. Always check the ingredients used on the back of the bottle. This cannot be stressed enough. As far as leather is concerned simpler is almost always better. Old-timey recipes that your grandfather learned from his hunting lodge are passed down through generations for a reason. Because they work. So, using a "cleaner" that lists elements used in nuclear fusion are a no-no.
So what kind of cleaner should you use? Well, there are several things to consider. Firstly, know what kind of leather you'll be working with. Suede, vinyl, deerskin etc. Different leathers require different methods or cleaning. Softer leathers require much gentler approaches so harsh chemicals should definitely be avoided. Microfiber cloths for gentle scrubbing is recommended.
For sturdier materials, oil should be considered to make stiffer leather more supple. There is a wide variety of these and most are meant for mixing with water to make a solution. Sprays are okay, but for quality, the more attention to detail the better the results will be.
It is also beneficial to the selection process to remember what your leather will be used for. Leather boots, for example, have a tendency to stain, so a strong soap would help with that. Cracked leather vest? A softer oil pat will do just fine. Most durable, hard-wearing materials are resistant to the harsher environments one might find themselves in, but that does not mean that special care should be shown to their upkeep.
Another thing to consider is how much you will use your leather product. If it is something you would wear on a daily basis, say a belt or perhaps a jacket, then you should clean it on a regular basis. This does not mean all the time because too much cleaning will wear out the material. It is fairly easy to tell when leather needs to be treated. Tougher materials will split or start to crack while softer ones will begin to bear holes or fray. Once or twice a month for hard-working leather is a good rule of thumb where every three months for a normal cleaning is pretty standard.
Not all of these products offer more than one intended use. Some are simply cleaners, and when you are cleaning leather you have to keep in mind that a good cleaning is also likely to strip it of some natural oils. Because of this, you will want to be sure that if the product you are purchasing is a cleaner only, to buy a conditioner as well in order to prevent your items from cracking and drying out or becoming brittle.
We hope you have found the cleaner that fits your needs on our list. May it help you restore your greatest leather treasures in life to their age-old glory, and maybe find all new memories with the younger generations. We here at gear hunt wish you the best in your journey down memory lane. If you want to know why we chose the products on our list, check our Criteria section. If you want to know more about how or what to use on your particular type of leather, check out our additional information, FAQ and source sections.
Top 10 Picks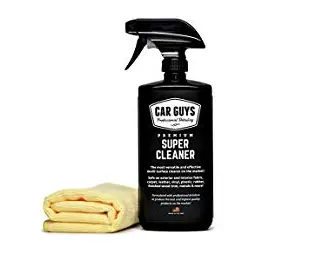 Want something made to clean multiple types of leather and not be risking damage? Try this one which cleans normal leather as well as vinyl. When you would rather only go for one product, make it this one.
Super Clean!
Getting all your cleaners at once is easier with this one. All you need besides this product is glass cleaner, every other interior is covered in just one bottle. Unlike many other cleaners out there that only claim to do the job of many, this one actually does what it claims. Clean your leather, vinyl, plastic and all other interiors for your car except for the glass and find your car cleaner than most other cleaners. Versatility is a definite up!
Satisfaction Guarantee
Don't like how it works? Think it doesn't live up to the hype? Well, don't worry! These guys believe you'll like the way this works so much that they offer a full refund if you do not like how it turned out. This is something that we look for with any product because it adds to the safety in the purchase, and not all products give you that.
Cost and Value
While this may be slightly more costly than most cleaners on our list, we feel that its value definitely outweighs its cost. Between its versatility, its deep cleaning action and its money back guarantee, the value has already outranked most. Add onto that the fact that it has less odor than most and doesn't require a lot per area and you have made a product that outperforms almost all others.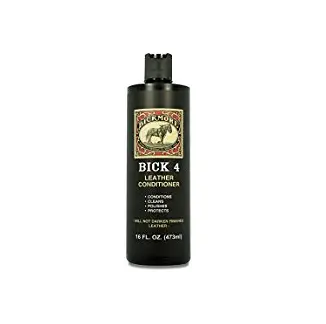 Looking for a cleaner that also conditions when you use it? Look no further that Bickmore's Bick 4! Their product doesn't just clean your leather it conditions and protects it from further damage.
Following the leader!
When done right, and this cleaner is applied as instructed it not only cleans, but it protects your leather products beautifully. It can restore older looking items back to their original luster. With just a little extra buff you can take your boots from looking as if the life is gone to looking like the day they were bought!
Don't Fade out
No color fade on an application when applied correctly, if anything, the cleaner/conditioner actually restores leathers to their former color. It also protects it from drying out either by water or sunlight. No one wants the leather to fade out from cleaning but knowing that not only does the cleaner not cause fading but protects it from being faded or cracked by outside influences as well makes it even more of a great purchase.
Cost and Value
Between the fact that this product is known to do its job better than most others, and the fact that it goes beyond even just simple cleaning to protect afterward makes it very valuable- so tack onto that the fact that it is one of the cheaper purchases on the market and you really have a hard time beating this one out on our list!!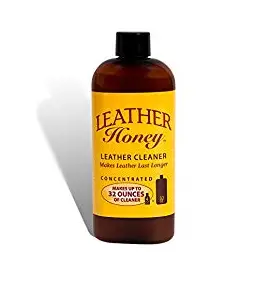 Want a non-toxic cleaner to work on your leather and vinyl products with? Try this one. With its gentle formula, you can assure you get things clean without any damage. And Leather Honey knows you'll love their product, making it as a family business means every bottle has specially cared for quality vs a big time corp.
Concentrate….
This company made sure they could ship you more for less than many of the bigger company's by providing a concentrated formula so that when mixed with water properly you actually get 32 oz. of cleaner. So, instead of overpaying on shipping costs, you pay less for a shipment since it's smaller and weighs less!
No losses!
If you don't like the way this product works you can send it back at any time for a full refund! This means you are taking no risk by trying the product out and seeing if it works the way you need it to on your leather and vinyl valuables. Try it on anything you want to clean, it's promised to be gentle enough that you can even use it on saddles without fear!
Cost and Value
When looking over any product, how well it performs tells you if it is worth what is being asked. With this product, you aren't even paying the most on comparison to other products and you are getting just as much, if not more than what the rest offers-and you can get your money back if you disagree!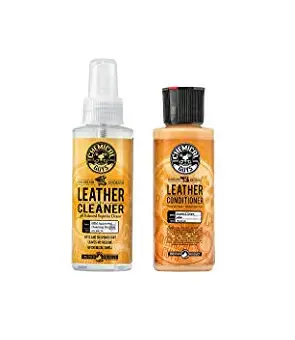 Want to get both cleaner and conditioner, but feel that a product that combines it into one formula takes away from one or the other? Well, why not try this kit instead? It offers both cleaner and conditioner, but not in one bottle. Instead, you get the comfort of knowing each formula specializes in either cleaning or conditioning and the knowledge that both come from the same company!
Cheap considering…
Where most of the products on this list are all on one bottle, this is a kit which offers two bottles- one for each part of the cleaning process and at a price that isn't nearly as much as several which only come in a single bottle. In the end, this makes this a great buy all by itself.
Follow Directions
When used properly this product actually compares quite easily to the more expensive ones out there- and unlike some of the others, the conditioner dries quickly and without leaving residue behind. This can be a great plus if you dislike feeling as if there is oil rubbing off on your skin after cleaning your car.
Cost and Value
Again, one of the best parts about this particular product is that its value is easily seen in that it cleans and conditions and does a great job at it. Instead of asking for the price they do and only having a combo cleaner/conditioner which may or may not work as well, they concentrated on making sure each part of their kit was focused on a specific task. By doing so they almost guaranteed that each part did superbly at what it was intended for. We feel this boosted its value way above its cost and gave it the place on our list that it did.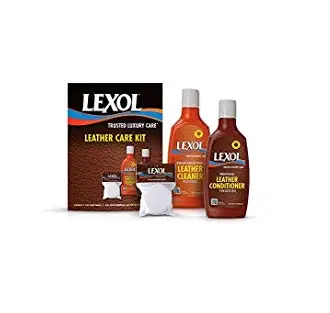 A kit that doesn't just come with the usual bottles, but also comes with the cleaning pad to give you just the right texture to work with to clean your leather and condition it right. If you are afraid that what you are using with the chemical might be too soft, or too rough and could be the cause of the issues- then try this kit and know that you have all the right pieces to clean with from the start.
No Unwanted add-ons
Sometimes you just want simple. You want to clean your leather and condition it, and don't want all the extra stuff that can end up wearing on the product such as alcohol, silicones ow even wax and or oils that actually do more damage over time than good. Not only does it save from long time use damage, but it also doesn't have that greasy feeling that some do who have these add-ons in their formula.
Supple Leather
Moisture is good if it is the right kind of moisture for leather. In this case, the product moisturizes your leather perfectly, keeping it from drying out or cracking and does so from the very start. This is important because, with some items, even a little bit of drying out can damage the product irreparably. This product doesn't- and it cleans and conditions quickly and easily with the applicator.
Cost and Value
With a product that comes with everything in the box, you can bet we saw the value meet the dollar in this one. Lexol is also a trusted brand among many who work with leather interiors in cars, and when you have a name like theirs where many know it on hearing it, you know something has to be done right.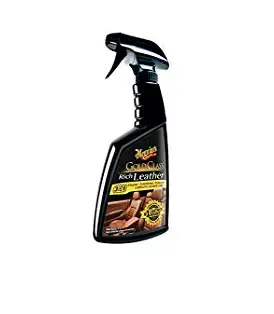 While this is an add-on product for some sites, for its price it may be well worth it. Besides, what it is added on to, you only add to the continued restoration of your leather to the highest quality possible.
Trusted line of products
While some brands are known, they may only offer one or two types of product to restore your leather. Meguiar's offers cleaners, conditioners, balms. Sealers, lotions and quick clean wipes for keeping up on the leather. With all of these products offered as the main purchase, it's no wonder that this one is worth being an add-on. After all, when you move to restore a product, you don't want to only go half way!
Easy on the Nose
While some cleaners want to leave their own personality on your leather by way of 'new leather smell' this particular cleaner only leaves you with what the leather itself already has. Instead of offering to shine or scent your products it just does exactly as it claims, it cleans and conditions your leather.
Cost and Value
Although this has to be purchased as a side item to one of the other Meguire products, the value of this particular product, when bought with one of the other ones in this line, skyrockets. It simply gives that added boost to an already great restoration to leather products. It adds both the beginning and final touches in the way of cleaning up before adding the other sealants and balms to restore any bad creases, and protection against the environment, and after in keeping it clear of dirt and conditioned against new creases and cracks.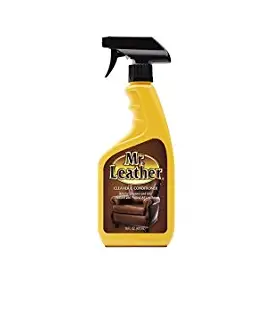 Want to clean it all and condition it without switching between bottles? Here is your second chance to do that without having to consider if you want more products along with no matter where you get it. Not only that, it is made to work on all types of leather!
Shiny Clean!
When what you want is the full clean and protect in one bottle, and you want to know it's clean. Mr.Clean cleans and makes your leather shine again so that you know it's clean and protected. It also forms a barrier between your leather and the water or other liquids that might penetrate and cause your leather to crack. When you want to protect your possessions against falling apart after cleaning, a protective layer between your objects and liquid is extremely important in keeping it together.
No ruff n buff
This 3 in one cleaner, conditioner, and protective barrier is one of the easiest to apply as well. Unlike many in the same style of products, this particular brand only requires an easy soft rub in with a cloth or paper towel. No buffing or hard scrubbing Is necessary to get a good deep clean and the same level of protection as any cleaner on the market.
Cost and Value
When used correctly and applied carefully, this product is both cheap and effective on use. Though it can take multiple passes to fully cover larger surfaces, if it is applied indirectly, it will not apply unevenly and doesn't require scrubbing more than a gentle but careful amount of passes to cover every part of the surface. Once done though, your leather looks new and is protected from the elements! The lack of a strong smell and the way it works makes this product worth what you pay for it for certain.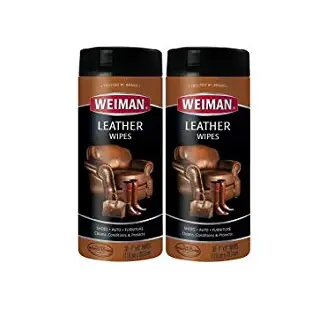 Want an easy cleaner to apply? You can't get it much easier than using wipes! No need to search out that perfect cleaning pad, nor to wonder how much cleaner to spray on the scrub, cloth or directly to the leather- a wipe is already prepared with the intended amount to clean with. Nothing says ease of cleaning than this two-pack cleaner.
Protect more
Not only do these wipes offer to clean your leather of any dirt and to condition, as well as protect it against sunlight and moisture. Of course, with Weisman you are not looking to clean a car, it is meant for your leather accessories such as purses and wallets- so if you are looking to protect something larger, you may want to find something intended for the job.
Quick and easy
You can't get a quicker clean than wipes for your smaller leather items and accessories. With these wipes your able to do quick clean ups that leave your products not just cleaned but also protected against dryness caused by the sun and keep it softer than it might be otherwise. These aren't just good for a total clean up, but for touch-ups between!
Cost and Value
Although not the cheapest on our list, they may be the most practical for what they are intended to be used on. With the ability to be easily carried in a purse or stored in a car, it makes these wipes easily accessible to quickly clean up any leather you take with you regularly or wear regularly. Because of this, we feel it definitely makes itself as valuable as its cost claims.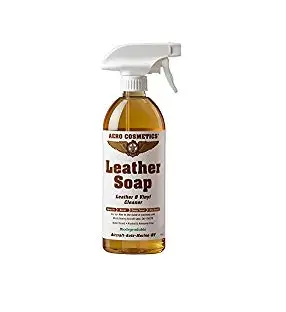 Want something that has enough quality effort put in that it is even used on aircraft leather? Then try this product out. Intended to clan everything from your furniture to commercial airplane leathers to keep them looking, feeling and smelling great!
Soft and supple!
This product leaves your leather feeling like new, soft and flexible. However, according to its instructions, this is only meant for those softer leathers- not suede or rough leathers. When used on the intended leathers it does a great job and brings life back to the material easily.
Great Scott!!
While many soaps, when used on lighter leathers, seem to darken them, this particular brand doesn't seem to do that at all. Instead, it restored what appeared to be much darker stained leathers back to newer lighter shades while lifting a lot of grease oil and dirt. Of course, as with any leather cleaner, be careful to follow directions and spot check in an unobvious spot to be sure the dyes used are not affected by the cleaner as they would be with most.
Cost and Value
While this may not be the top of our list, it is neither the most expensive, nor lacking in value. They are honest about their product- not claiming any more or less than what they can actually do on their label and even warning customers to check their leather before using them or any other cleaner on their beloved objects- and what more can you ask from any company than true honesty?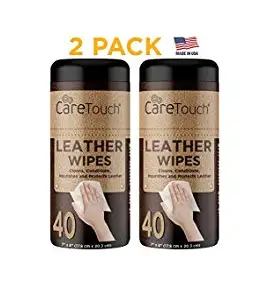 When you want to clean and condition quickly, wipes are the best way to do so- and with this brand, you can use them on most leather materials, which is a plus with something so easily portable!
No toxins here!
We know that the chemicals in most cleaners can cause a lot of troubles both if you have allergies and if you have breathing problems. No one wants to climb into a car or use a purse that may not be able to be touched without transferring some sort of toxic chemical to your hands which could then end up on any food or drink you get while out. So be toxin free with the Care Touch brand of leather wipes.
Quick and easy
These wipes efficiently clean and don't require a lot of scrubbing to get the job done. Instead, many satisfied customers have commented that they could re-use a single wipe if they could keep it moist just because of how good the cleaner and protection from the wipes are. So if you want quick, clean and protected- this is the perfect product for you.
Cost and Value
Between the ease of use, the amount of product and how well it does on leather, this product actually outdoes it's cost in its value. There is no question that these wipes are worth a lot more than is being asked for them!

Subscribe to our Newsletter