Best Ski Helmets Reviewed & Rated for Safety
In a Hurry? Editors choice:
Test Winner: Smith Optics Unisex

No one wants to get injured doing one of their favorite things. Whether you ski or snowboard or some combination of the two, you need high-quality equipment for performance and safety. If your favorite past time is spending time on the slopes, you need the right gear.

One of the best ways to protect yourself is to make sure you protect your head. And the best way to do this is with a quality and highly rated, ski helmet. Going forward, it's important to know that there is a massive amount of options of ski helmets to pick from. However, we don't want you to be overwhelmed with your choices, so we narrowed it down to 10 of our favorites. Hopefully, this will make your choice easier and you will be more comfortable and confident with your new helmet investment.
Standout Picks
Criteria Used for Evaluation
Safety Hazards
At the top of our criteria list is safety. protecting your head should be a top priority when hitting the slopes. So, starting our search with the safest helmets on the market. We looked at each helmet based on how the company created the product, what materials they were using, and how they were ensuring that consumers would be safe when using this product. And all of our top 10 picks are safety certified.
Materials
The type of materials that a company uses for the product speaks volumes about the quality and durability of it. This way, for each product on our list, we ensured that only the very best materials were used. Almost all of the helmets include reinforced materials, typically ABS (acrylonitrile butadiene styrene) and EPS foam. Both are great materials for helmets because of their, high-impact and shock-resistant properties.
Value
Whether you are shopping for a ski helmet or any other ski gear, it's important to know what benefits you are getting for your money. If you're passionate about ensuring you are getting your money's worth when purchasing something – then it begins here. In our top 10 picks, we took the time to evaluate each product based on its current marketed price. We looked at how this company was positioning their product in comparison to the rest of the competition.
The more expensive our picks, the more value they will bring you. What type of features does the product offer? Do it feature any patented systems? Do they offer customization or personalization?
BEST SKI HELMETS REVIEWED & RATED FOR SAFETY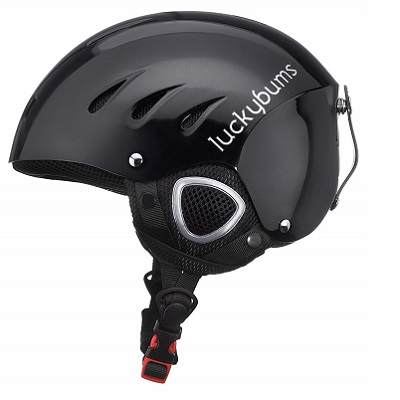 At the pinnacle of the skiing helmet market stands, Lucky Bums Snow Sports Helmet. This product has quickly become the leader in the industry, given its unique padding an innovation to not only secure an individual's head but also help improve their performance. To help make a consumer's decision easier, this high-quality and innovative product comes in over 16 different colors and sizes. That leaves many asking, why not?
Limited Lifetime Warranty
One feature or characteristic of any product that we like to look out for is warranties and assurances. To ensure consumers are receiving their money's worth, the manufacturer secures each purchase with a manufacturer's limited lifetime warranty. This specific warranty helps protects consumers should anything go wrong with the helmet. In fact, this specific warranty will cover any defects or problems during shipping, which happens to be many consumers' primary concern when shopping online.
Exceeds EN1077 Standards
What helps set this product aside from the competition is the ABS and EPS construction infused into the helmet. In other words, this is a dual-layered helmet to help protect a consumer's head and brain when skiing. Due to the ABS and EPS materials, this helmet surpasses EN1077 standards and is also CE certified. If you are new to the industry, this means that this product has been widely approved as an effective and protective piece of equipment.
Cost and Value
As with any product, it's important that consumers do a fair bit of research into the cost and value ratio. This specific helmet is priced slightly below much of the competition, and what you will find on today's list. With that being said, if you consider the value infused into this product, including the limited lifetime warranty, 16 different color and size options, and its durable and strong materials used to protect the exterior and interior layers of the helmet – this helmet is in a league of its own – hence why it's number one.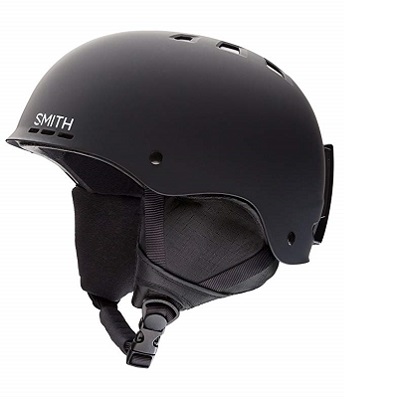 If there is one product that all skiers should know about – it's the Smith Optics Unisex Adult Holt Snow Sports Helmet. This product has ascended to the top of the industry due to it's unique, high-quality build, and the name attached to it. For those that are new, the manufacturer of this helmet is one of the most well-known producers of high-quality skiing and snowboarding products. So, if you are looking for a well-known brand who can produce great products, start with this one.
All Weather Features
One of the best features of this skiing helmet is the unique all-weather features imbued in it. Whether you are planning on skiing on the coldest day of the year or heading over to a local skate park to practice – this helmet can handle it all, keeping the consumer feeling in control, comfortable, and stylish all at the same time. Partner this with the company's temperature and moisture management systems and you have one of the best helmets on the market!
AirEvac System
This manufacturer understands the importance of securing maximum airflow in a helmet. Without proper airflow, it can lead to a buildup of moisture, sweat, and odors, making it uncomfortable for the skier. With their innovative AirEvac system, skiers will have no problem shedding the slopes in comfort and style. Additionally, if you attach a pair of goggles to this helmet, the AirEvac system can help reduce any build up of fog, which can be useful.
Cost and Value
As far as costs are concerned, it's safe to say that this product is priced slightly higher than much of the competition. Now, this should not be alarming, especially when you consider the amount of precision that went into creating this skiing helmet. The best part about this product is that it has surpassed much of the standards and certifications required to be considered a high-quality and safe helmet. With over 10 different stunning color choices, this is a valid consideration for any skier.



If there is one product that is in contention for the number one spot, consumers say it's the Traverse Dirus 2-in-1 Convertible Ski and Snowboard Helmet. This skiing helmet comes with over 9 different color and design options to choose from, all of which have receivable notable praise. Partner this with stellar safety certifications, manufacturer's warranties, and comfortable fit features and you might have the best helmet out there!
Safety Certified
The most important reason why any skier needs a helmet is for safety. With that being said, if you are looking for a high-quality helmet that can help keep you safe when shedding the hill or mountain, this product is for you. This product was designed to not only surpass all ski helmet certifications and regulations – but it also exceeds all bicycle helmet regulations. This can be attributed to the high-quality ABS exterior shell material and the comfortable EPS foam on the inside.
1 Year Warranty
When it comes to purchasing a product online, it can be difficult for some businesses to convince consumers to click the "purchase" button. In truth, everyone is slightly concerned about maintaining the quality of the product when it leaves the factory. In efforts to secure future buyers, this manufacturer offers their audience a 1-year warranty, should anything go wrong with the product. This may include any defects or damage during shipping.
Cost and Value
When it comes to comparing the cost of this helmet to others – we were quite surprised to see that this product is incredibly cost-friendly. In fact, if you are looking to draw comparisons, you might be able to see some similarities between this and the first helmet we discussed in this article. With that being said, the manufacturer most certainly packed some great value into this product, which is why so many consumers love it.

4

. Pro-Tec Classic Helmet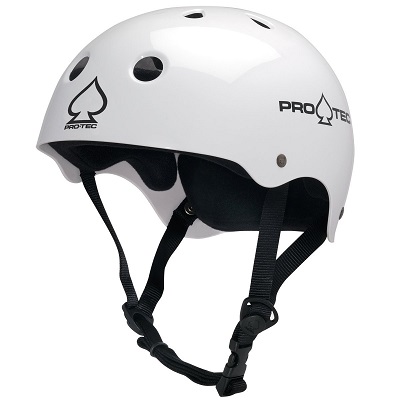 If you are looking for a multi-faceted helmet that can be used whether skiing, snowboarding, or skateboarding, the Pro-Tec Classic helmet is perfect for you. This product was made to rise to any activity where a helmet is required. What makes this product stand out from its competition is it's powerful and durable exterior and comfortable interior, protecting consumers so they can enjoy their favorite sport. With two different colors, white and yellow, you have a considerable option.
High Quality Materials
The biggest selling point about this product is the fact that it's designed from high-quality materials. For one, the exterior part, or the shell, of the helmet is made from ABS, which is great for helping to protect an individual from a quick or hard fall. In addition to this, the manufacturer all included a firm EPS foam liner to help secure a skier on the inside of the helmet, should they fall.
11 Open Vents
We all know how important it is to have a helmet with great breathability. Otherwise, after a few hours of hitting the slopes, the inside of the helmet is sweaty, moist, and smelly. If you are wanting to avoid this problem, this helmet could be your solution. With over 11 different open vents, this helmet makes it easy for air to circulate so your helmet is odor and moist free.
Cost and Value
Prior to purchasing just any helmet, it's important that consumers take the time to evaluate the cost and value of a product. This specific skiing helmet is priced slightly higher than much of the competition. Now, this can be directly attributed to the fact that the maker of this product is a notable manufacturer. Additionally, this helmet does come with significant value, including high-quality construction and materials, great breathability, and an adjustable design.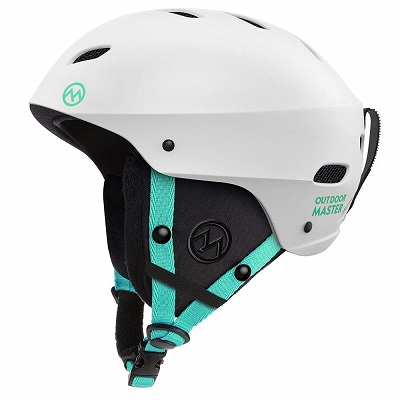 One product that is a fan favorite of many skiers is the Outdoor Master Ski Helmet. The manufacturer of this helmet notes that this helmet is built with some of the best ventilation technology and innovation in the market. To secure consumers that this product is one of the best in the industry, the company offers each consumer the unique opportunity of a 100% Satisfaction Guaranteed Warranty. In other words, this could be considered a risk-free purchase.
100% Satisfaction Guaranteed
One way that a brand can help secure future consumers is by offering them some form of a warranty. Out of any product that we have reviewed on this list thus far, this product has one of the best warranties out there. Each consumer will receive a limited, 1-year 100% satisfaction guarantee. So, you can purchase this product to see if it matches your need and, if it performs poorly, you can simply return it to the manufacturer and receive your money back. Is that a great deal or what?
Certified Safe
When it comes to purchasing a helmet, it's important that you look at how the company is going to protect your head. This specific product is built with an ABS shell, which is quite typical of the best products on the market. In addition, this helmet also has a shock-absorbing EPS foam core, which is great for reinforcing the interior of the helmet, should a consumer fall when skiing.
Cost and Value
As far as costs are concerned, this helmet could be considered cost-friendly, in comparison to some of the other helmets on our list. This is good news, especially when you look at the decent value and time the manufacturer spent on this product. If you are looking for a risk-free skiing helmet that you can return should anything go wrong – whether it's sizing or defect related, this is the product for you!

6

. Giro LEDGE Snow Helmet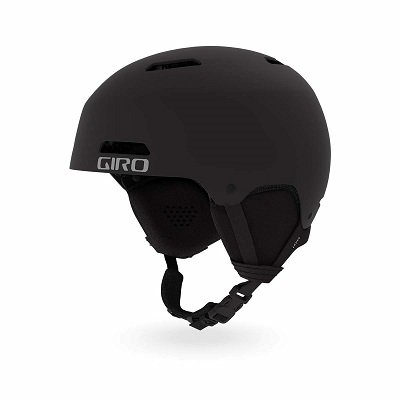 The Giro LEDGE Snow Helmet is a considerable option for any skier looking for a decent helmet to shred local mountains. This unique helmet is made from a notable skiing manufacturer who happens to produce many different accessories and attachments in the industry. Here, consumers will have the choice to pick from 10 different color helmets, all which are safety compliant and packed with some great ventilation features.
10 Different Colors
When it comes to purchasing any product, the design and appeal matters to all consumers – we can't deny it. With that being said, in efforts to stand aside from the rest of its competition, this manufacturer produces over 10 different vibrant and stunning colors for consumers to pick from. In fact, you can pick from black, green, matte black/bronze, matte marine, matte maroon mountain division, matte, titanium, matte vermillion, pink, purple, and matte black.
Safety Compliant
When picking out a skiing helmet, the design and appeal matter; however, safety features are more pertinent, when you consider the reason behind a helmet. With that being said, this specific product satisfies all ski helmet regulations, including CE EN 1077. So, if you are looking for a visually appealing helmet that is also safe – this may be worth your attention.
Cost and Value
When it comes to comparing the cost to other helmets on our list, this ski helmet is considerably priced higher. While consumers are typically turned off to the idea of paying for a more expensive product, especially when there are cheaper one, it's vital that you look into the value and quality of the product. This specific helmet is designed and manufactured by a well-known brand, who often produces only the very best products on the market. As a result, the higher cost of this product can be attributed to the brand's reputation and quality of build.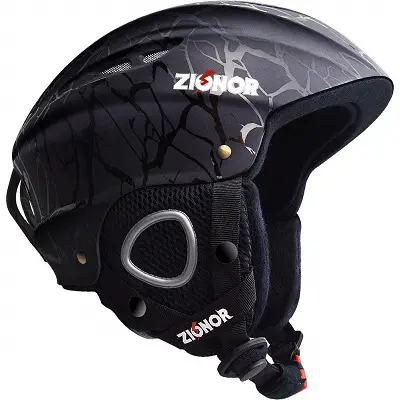 If there is one brand whose eyes are set on the top spot, it's ZIONOR with their Lagopus H1 Ski and Snowboard Helmet. This skiing helmet was designed to compete with the very best, which can be seen by its full protection materials used in construction, dual mode airflow evacuations, and unique color designs for consumers to pick from. If you are looking for a skiing helmet that's on the rise in the industry – it's this one.
Reinforced Construction
When purchasing a helmet, the first thing you need to look at is the construction and build. This specific helmet was reinforced with both strong-impact resistant ABS materials for the exterior portion of the helmet and a strong and comfortable EPS foam interior, to help cushion a skier's head. If you are wondering, due to its construction, this product does surpass ski helmet regulations and requirements.
Dual Mode Airflow Evacuations
The most notable feature of this product is the manufacturer's inclusion of Dual Mode Airflow Evacuations. For those that are new to the ski helmet industry- a feature like this is intended to maximize the breathability when wearing the helmet. So many times, helmets are designed without enough vents, causing a build-up of moisture and odors. With this specific helmet, there is enough ventilation to regulate the air and balance the heat and cold weather.
Cost and Value
When we first looked at this ski helmet, we were first alarmed by its price tag. Now, when it comes to any product, whether a skiing helmet or not, you should not judge it. After further research and evaluation, we were quite impressed by the value that the manufacturer infused into the product, making it a valuable contender and consideration for skiers. Our only concern with this product is the sizing issue, which many consumers have alluded to.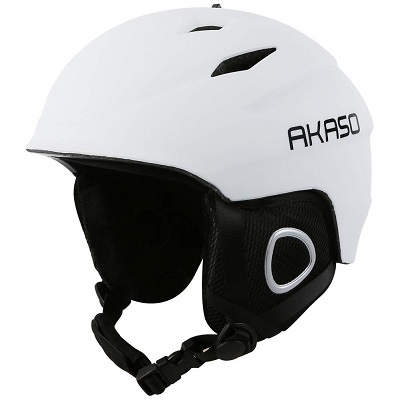 If there is one product that caught our attention during our evaluation, it was the AKASO Ski Helmet. The price of the product, it's such a great deal. This product was built with some great ventilation features and a fleece lining to help with heat retention. Our favorite part about this product was that the manufacturer included a unique breakage warranty. This company wants to ensure that you are always happy with their product.
Safety Certified
As with any other helmet on our list, we always want to look out for whether a helmet is certified or not. This specific skiing helmet is built to surpass ski helmet regulations (CE). This can be directly attributed to the great outer shell material and impact-absorbing EPS liner. So, should you have a hard tumble when skiing on the slopes, this helmet can protect you.
Lifetime Breakage Warranty
What stood out to us the most during the evaluation process was the unique lifetime breakage warranty. Typically, companies in this industry only offer a limited warranty; however, this company ensures consumers for the entire time they own the product. Should there ever be a problem with using their helmet, the company encourages consumers to contact their customer service department to see what they can do.
Cost and Value
As far as cost is concerned, this product is competitively priced with the number one skiing helmet in the industry today. The moment we caught a glimpse of the price, we were intrigued to see how this product could compete with the elite of the helmet market. When you consider the value and warranty – this is a considerable option for consumers who are looking for a newer company with a noteworthy reputation.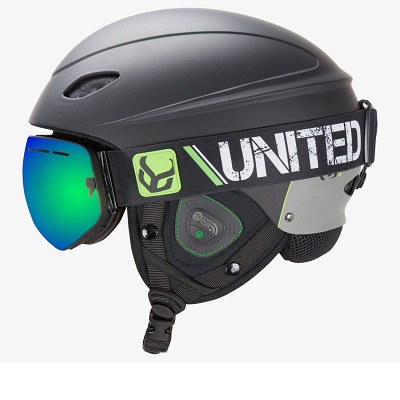 The Demon United Phantom Helmet is the first skiing helmet on our list today that not only includes a quality and safe helmet, but also notable goggles as an added bonus. This product has become a favorite among skiers not only because of the goggles, but also the notable integration of audio speakers. All consumers need to do is attach their phone and they can hit the mountain and have their favorite jams on in the background.
Safety First, Performance Second
If there is one company that is forthcoming about their intention in creating a helmet, it's this one. This company built this helmet for the purpose of getting safety certified. In fact, this helmet is not only CE approved, but it's also ASTM certified, making it a great option for skiers that are looking for the balance between innovative features and a tough build.
Integrated Audio Features
Out of the many different products on our list today, this is the first skiing helmet that includes a fully integrative audio speaker system. Typically, companies only include compatibility features; however, this brand takes it to the next level. Here, all consumers need to do is plug and connect their phone to hear music while they hit the mountain or slopes. It does not get easier than that!
Cost and Value
When it comes to evaluating a product to ensure you are receiving your money's worth – you need to look at both the price of the product and its value. With that in mind, when you consider that this company not only included enough safety features to become safety certified but provides consumers with a pair of Snow Supra Goggles and integrative audio speakers across four different color options – it's incredible. All of this is at, what we consider, an incredibly cost-effective price.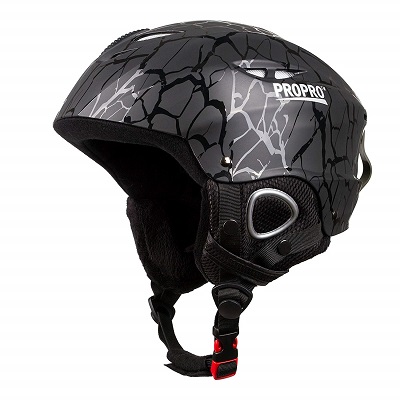 The last product on our list today is the SUNVP Ski Helmet Upscale Warmest Windproof Skiing Helmet for Men and Women. This product is probably one of the simpler products in the industry; however, it's most of the most effective. Here, you will find a skiing helmet that does not boast in features; however, it built on quality, durability, and safety. If you are looking for a helmet that is cost-friendly and can be a great compliment to the mountain – this is it.
High-Quality Construction
When it comes to any helmet in the skiing industry, it's important to look at how well the product is made. This specific helmet was made with an ABS plastic shell, which is quite typical for higher-end skiing helmets. Reason being, this material is great for protecting skiers, should they stumble or fall. Additionally, the interior of the product includes not only a typical EPS inner shell but also velvet foam for maximum comfortability and safety.
Comfortability
What sets this product aside from some of the competition is the companies dedication to a skier's comfort when shredding the slopes. To start, the company utilized a cotton velvet for the interior foam, which is great for padding, cushioning, and easy to wash. Additionally, the company included a unique adjustable button to help give consumers control over their comfort. Most uniquely, the company also infused a soft wool inner lining to help keep the skier warm and comfortable on the coldest days.
Cost and Value
When it comes to comparing this product to others on our list, this one is priced quite competitively. Now, what we would like to say is that this product is a great, simple skiing helmet that is not loaded with bells and whistles. The sole purpose of this helmet is to keep a skier safe and warm. If you are looking for features and new innovations, you may want to look at other competitors who are charging the same price.

Subscribe to our Newsletter