Best Winter Gear Reviewed & Rated for Quality
In a Hurry? Editors choice: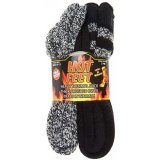 Test Winner: Hot Feet Thermal Socks

Spending time outdoors can be an invigorating experience for many, oftentimes even in the winter months. Some will enjoy hunting, fishing, hiking, or just being out in the fresh air. Others are out there year-round due to work. No matter the reason for being outside in the winter months, the cold weather can be brutal. You can layer your clothing for warmth, even slipping on heavy boots to keep your feet warm. But there are times when
thermal socks
and boots don't provide your feet with enough warmth. Here you will find that we have gathered a list of ten potentially great choices for warming those feet during the colder months of the year.
Standout Picks
Criteria Used for Evaluation
Effectiveness
Choosing the right type of winter gear to suit your situation can depend on some factors. You have to consider your end game, do you want items that you can use for several years to come? Or are you looking for a quick fix while at the moment? The length of time that your items will last can vary significantly by both the manufacturer and the materials used in making the warmer. It is recommended that you check both product reviews and with the manufacturer when seeking out the rated time of use.
Before getting any further, it is worthy to mention that having cold feet can be caused by other factors besides the obvious cold weather. Often underlying health issues can cause your feet to become cold a lot faster than usual. In this case, you will want something a little more intense than just wool socks. But before using these products, it is best to consult your physician to be sure that exposure to the cold is safe for your health.
Style
Foot warmers can be found in the form of socks, which are typically made from thicker materials like wool to provide you with an added layer of warmth inside of your boots. These socks will also allow your feet to breathe, wicking away the moisture caused by sweat, to keep your feet both dry and warm.
Another type of foot warmer, not commonly thought of is slippers. Slippers are great for warming your feet after a long days work out in the cold. They are also a perfect defense against the cold tile floors in your home in the winter. There are also those foot warmers that provide a source of heat for your feet while you are out in the cold. Before deciding if these will work for you, it is good to know how they heat your feet. These types of warmers will fall under one of the three following categories:
Activated by air:
This type of warmer is made from a mix of ingredients that will react when exposed to the air. This reaction is what will cause the warming effect. The warmth created by these will start to subside after an hour or so, but they will typically stay warm for ten hours. You can increase the warmth of these foot warmers by once again exposing them to the air.
Battery powered:
These are typically found to be socks, that will have wires running through them to distribute heat to your feet strategically. The power source for these are batteries, often they are batteries that can be plugged in for recharging. Rechargeable batteries make this type of foot warmer reusable for many years to come.
Powered by USB:
A foot warmer that can be charged from your computer or now that technology has come so far you can also plug this type of warmer into the USB port in your car. Most of the time this type of foot warmer is indeed found in the form of a slipper. You can keep a pair in your car for after a long day out on the ice, warming up your feet for the drive home.
Use
Foot warmers that are considered to be disposable are those that are activated by the air. These are a one time use, then toss them in the trash type of foot warmer. These work best for those who don't need to use the foot warmers very often, as they are cheaper than reusable types of foot warmers. Many people will find the disposable foot warmers far more comfortable to use than the reusable version.
These are foot warmers that can be recharged or like the ones that run from the USB port on your computer or in your car. The battery-powered option for foot warmers can be slightly bulky at times. So, it is essential that you choose a pair of boots that will accommodate the use of these socks.
When placed on the charger, this type of foot warmer can keep your feet cozy while working outdoors day after day. You will, however, need to keep in mind that the batteries for these will only take a certain number of charges, so replacing the batteries may be necessary.
The foot warmers that are run by USB port will limit how you can use them, as you will need to be near a port to operate them. Now, this does not mean that this won't work for you and you don't always have to be tied down while using them. Most that require a USB port to warm can easily be unplugged so that you can roam the house at your leisure.
Size
Many of the options on the market for foot warmers will come as a one size fits all option. Just be sure that when using the foot warmers in conjunction with your shoes or boots, that your feet have the room they need. As for the slipper type foot warmers, it is best to try these on whenever possible to ensure a proper fit.
Safety Hazards
1. Be sure to follow the directions provided to you by the manufacturer, this will reduce the chances for injuries or burns.
2. Never use the warmer in direct contact with the skin. Burning or skin irritation can occur if this is done.
3. Stop using the warmers if you feel uncomfortable or the warmers seem to be getting too hot.
4. Never open the actual pouch of the warmer if it does open, keep the inner contents away from your skin.
5. It is best to use caution when allowing children to use these warmers.
6. Check with a physician before using the warmers if you are diabetic or have circulation issues.
10 Best Winter Gear
1

. Wigwam Men's Merino Wool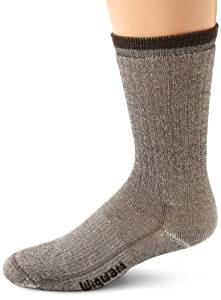 The Merino Hike is one of Wigwam's most popular styles. The socks are durable and comfortable. The thickness and appearance can be deceiving. They can be worn hiking when the sun is blazing as well as in the snow. They can be worn all year.
Use and Function
The socks are meant for light hiking and casual use. There is a thickness around the foot. The socks are not the tailored fit of performance-oriented models. For short hikes, spending time in a cabin or cold weather, they are ideal. They are fully cushioned with a seamless toe closure. The socks are available in five sizes - MS, small, medium, large, and X-large. They keep feet dry and comfortable. If they get wet, they quickly dry. The socks absorb sweat well and do not cause feet to become overly hot in humid weather.
Content
The fiber makeup of the socks consists of five percent acrylic, seven percent elastic, 21 percent stretch nylon, and 67 percent Merino wool. Merino wool is not rough and bulky wool. It is soft to the touch. Merino wool is warmer than cotton without the bulkiness. It is breathable and can be worn in the summer.
Cost and Value
The Wisconsin-based company of Wigwam has proven Merino wool socks do not have to be terribly expensive. The price undercuts the competition by quite a bit. The 67 percent Merino wool is in line with the competitors. With Wigwam socks you can have Merino hiking socks without compromising quality. A sock with only 15 to 25 percent Merino wool still carries the Merino name but is not the premium quality of this sock.

2

. Hot Feet Thermal Socks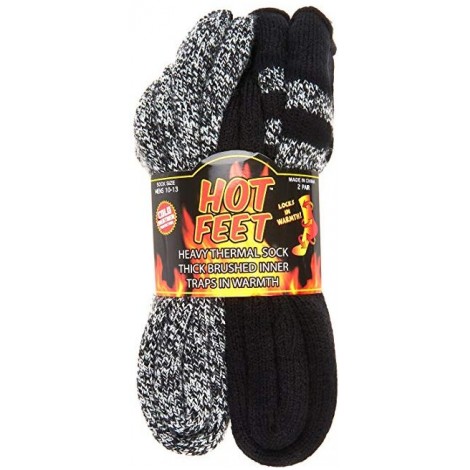 Here is another potentially great pair of thermal socks that can aid in keeping your feet warm when you need it. Having warm and dry feet will enhance your outdoor experience, as we all know that cold feet can be hard to handle.
Material Blend
These thermal socks are made from a blend of materials known not only for its ability to keep your feet warm, but they will also keep your feet dry and comfortable.
Caring for the Socks
You can throw these socks right in with your next load of wash as they are machine washable. Just be sure that you don't dry these on a high heat setting, as it is recommended that you use low heat for drying these socks.
Cost and Value
These thermal socks will come as a set of two pairs and fall right in line with the rest of the thermal socks on the market as far as cost is concerned. They have the ability to keep your feet warm, dry, and comfortable for the entire day.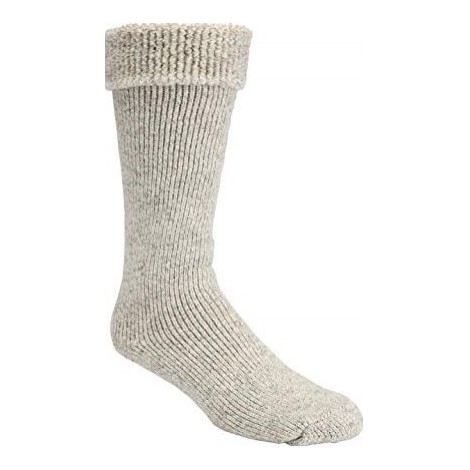 Here we will take a look at another great thermal sock option. These provide your feet with a few added benefits aside from the warmth. When looking at the name of the socks you are probably thinking that these will definitely defend against the cold.
Material Quality
These thermal socks are made from a top quality form of wool, which helps to keep your feet warm at all costs. Not only does the wool keep you warm, but it also adds to the comfort fit of the sock in general.
Added Benefits
These are loaded with other potential benefits besides their warming properties. They have been designed to hold their shape, which defends against stretching. The materials used also defend against bacteria that can be caused by foot odors. These are even said to have a cooling effect in the summer months.
Cost and Value
You will notice that thermal socks cost more than what you pay for your average pair, but one must think of the quality they are getting for the price. Do your everyday socks do as much as these thermal socks can do?

4

. SmartWool Trekking Heavy Crew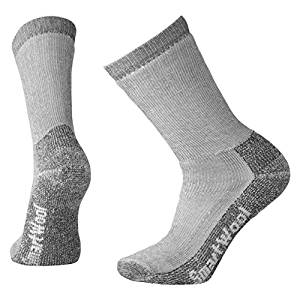 SmartWool has a reputation for making high-quality socks. People who like SmartWool's lightweight socks will be happy with these as well. The bulky socks have the traditional feel and look as the Hike Light Crew. They are the ultimate in comfort. The socks are great for leisure and active use.
Construction
These socks are made of one percent spandex, 29 percent nylon, and 70 percent Merino wool. Dry comfort is provided by Merino wool that naturally wicks moisture. The socks have a flat knit toe seam. The socks wear well and pad the feet. The Trekking Heavy Crew provides a boost in thickness and warmth around the foot. The socks work well for summer backpacking and winter outdoor activities. They have a high-density instep and sole that guard against blisters, lace pressure, and abrasion. Ample cushioning is provided in the ankle and seam.
Care
They are machine washable on a warm, gentle cycle. Turning them inside out is recommended. No bleach should be used. Hang or tumble dry on low. The socks should not be dry cleaned. They keep their shape when washed.
Cost and Value
When ordering, keep in mind, they add a noticeable amount of bulk. The SmartWool sock is a better overall fit than some of its competitors. They are priced much like other quality socks made for winter wear. The socks are thick enough that some people wear them as slippers. The cushioning offers significant impact absorption needed for backcountry excursions. The socks withstand a lot of hard use. They keep their stretch and last a long time. The socks are intended for either gender. They come in five colors - green, navy, gray, loden, and taupe.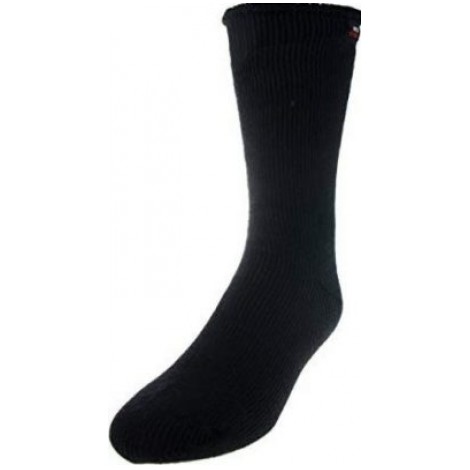 These are for those of you just looking to hold the chill off of your feet. They come in plenty of options for both style and size while protecting your feet inside of your boots.
Warmth
Thermal socks are made from thicker materials than your everyday socks. These are great for those people who don't quite need the warming provided by an actual foot warmer. Add these over your regular socks before placing your feet into your boots. This creates another layer of defense against the cold.
The Fit
An issue that many people have with using thermal socks is the actual fit. Often times this type can cause bunching both inside and out of your boots. These will retain their integrity wash after wash, allowing them to stay in place rather than bunching up causing discomfort.
Cost and Value
Thermal socks will cost more than the average pair. When looking into thermal socks you can find them sold in pairs much like these are. You have plenty of options for color so I'm sure you will find some that will suit your sense of style.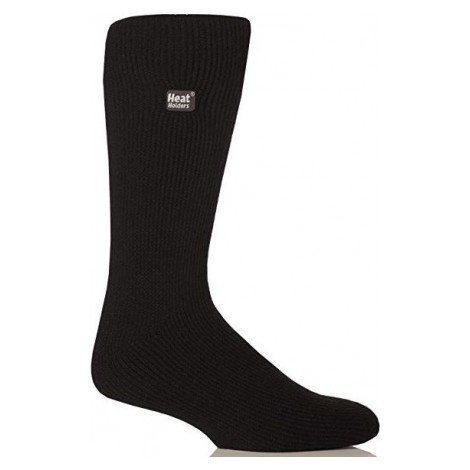 The processes used to create the next pair of thermal socks on the list will have you looking no further for warmth. This manufacturer has perfected the process to give you a pair of socks that are beneficial to your feet while you are out in the cold.
The Design
The manufacturer for these has set out to make their thermal socks stand out in the crowd. So far that seems to have worked for them. The trademark process they use to create their product has given you a thermal sock that is said to be three times warmer than any other option on the market.
Comfort
These provide added padding to all the right places that your foot will need. This makes them comfortable when paired with your boots or for just lounging around the house.
Cost and Value
As with any thermal type of sock, these will cost more than your average pair. The valuable quality you receive will speak for itself. You won't be looking any further for a pair of thermal socks.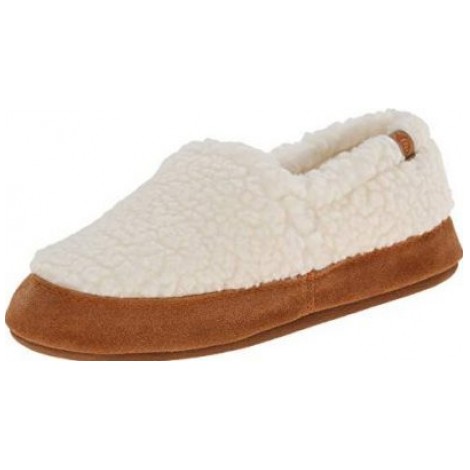 First on our list comes an option for keeping your feet warm while in the comfort of your own home. Speaking of comfort, these slippers will keep your feet cozy, warm and happy.
Warmth
These come in a number of material options for keeping your feet toasty. With uppers made from materials such as Berber and fleece, you can be sure that your feet will be warm even if you are running out to check the mail.
Comfort
The bottoms are constructed so that you can wear them both inside and out. The sides of the slippers are made from suede, which helps to lock out moisture while walking through a dew-filled lawn. Once you step into the memory foam slippers, you will feel as though you are walking on air.
Cost and Value
Although these are not the cheapest pair of slippers on the market, what you lose in cost you will gain in quality. Add to that the amount of durability the slippers have and you can be sure that your feet will be happy for years to come.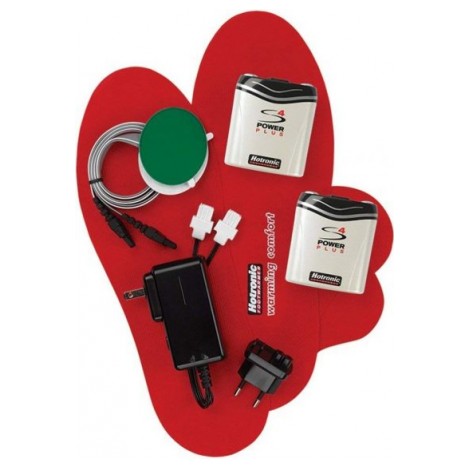 This next product on our top ten list will give us a first look at a reusable form of foot warmer. Reusable types are great for those who work out in the cold as they last for several years.
Reusable
As we have already stated, these can be used from one day to the next when working out in the cold. This makes this product a more cost-effective way to go. All you really have to do is remember to charge the battery for the following days use.
The Fit
This product is in the form of an insole so you can place them in any of your footwear. This allows you to use them in your shoes as well as your boots. A warmer such as this will eliminate the worry of adding bulk that is sometimes a hassle with thermal socks.
Cost and Value
Yes, a product such as this will cost slightly more up front than the disposable type. But when thinking of the end game, if you use a foot warmer on a daily basis, the one-time purchase far outweighs constantly spending on the disposable form.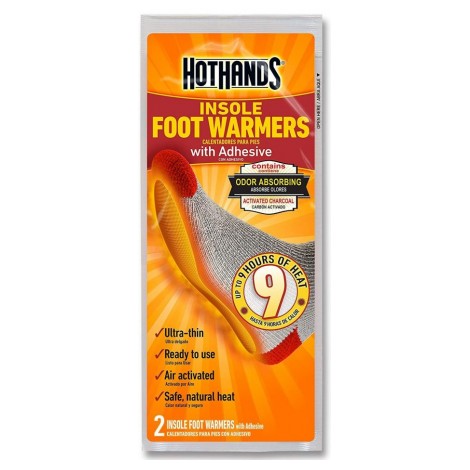 Next on the list comes our first look at a disposable option. These are definitely made for those looking for both ease of use and convenience. You can start your day out using these or carry them along to use them when you need them.
Air Activated
Since these are disposable, they will be activated by air. Once exposed to the air, the insole will begin to heat. When that warming effect seems to taper off, expose the insole to the air to activate the heat once again.
Convenience
These insoles are thin so you won't even know you have them on. Want to save them for when you truly need them? No problem, these can be carried in a bag or pocket to be worn later. The adhesive back makes placing these insoles a breeze.
Cost and Value
These are perfect for those who don't spend a ton of time in the cold. You can purchase a set when you need them then simply toss them when the time is right. When you don't spend a lot of time outdoors, a set of disposable foot warmers can be extremely valuable.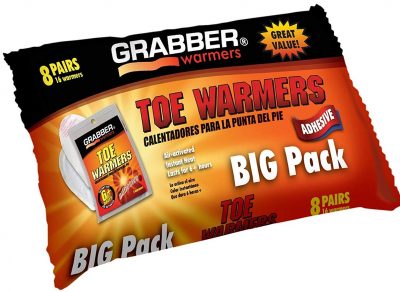 Here we have another option for keeping your toes warm when you need it the most. This product is made by a manufacturer that consumers have grown to be dependant on over the years.
Dependable
The brand that manufactures these has proven itself to be dependable time after time. That is certainly the case with this product as well. Known for lasting up to six hours, which is more than some of the others on the market, you can trust that your feet will be toasty.
Applying
These have an adhesive back to them, so applying them to your feet is as easy as 1-2-3. Peel away the protective paper from the adhesive backing, place it where you want it, and you are all set to go. No fuss, no stress just a straightforward system.
Cost and Value
These come in several different packaging sizes all at different costs to the consumer. The amount you need will be up to you to decide. The brand that produces these takes pride in being one of the most dependable on the market.

Subscribe to our Newsletter