Best Winter Coats Reviewed for Warmth & Comfort
In a Hurry? Editors choice: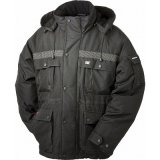 Test Winner: Caterpillar Heavy

Chances are that if you are reading this list you live somewhere cold, or are at least going to visit a place that is cold. To do so effectively, you will need a winter coat. Without one, you are at risk of getting sick, frostbitten, and freezing to death, but you are destined to feel absolutely miserable. Why put yourself through the misery when you could avoid it? To say there are a lot of options to choose from would be a massive understatement. Which one do you choose? Look into what your needs are, but look no further than this guide. We've selected 10 of the best that you can find on the market, though we know there are even more than that out there. The ones that we selected cover a handful of varieties so there is sure to be at least one that catches your eye.
Standout Picks
Criteria Used for Evaluation
Materials
Now you know what type of coat you want, but now let's answer the million-dollar question of what type of material should you look for? There are several options. Let's explore them.
Down is the first one that comes to mind and stands out as nature's warmest insulator. That alone is enough to make it stand out above any competition it may have. It's lightweight and easily packable. However, the big downfall of down is that it doesn't handle getting wet at all. So, if there's any chance of you sweating or going out in the rain while wearing down with no protection, it may not be the best option. There is such a thing as water-resistant down and it handles a little bit of wetness better, but still not great. Another thing to consider is that anything made from down is going to cost more than any of the other options.
To anything nature can create, there is almost always a man-made version as well. Synthetic insulation is very good at that. It can be waterproof, which is maybe the biggest pull towards synthetic. It's okay if you sweat or get wet, no harm no foul. It also dries fast. Synthetic doesn't pack down as well, is considerably heavier, and is definitely cheaper than down.
What if you like both options? Blend them together! Some brands do just that to offer an even better product. This way you are able to get the best benefits of both and counter the negatives. Some do an outright blend throughout, others will do down near the torso and more synthetic on the extremities. This buffers the cost of the down but also allows more waterproofing.
Fit
It's important that you're comfortable in your coat, especially if you plan on being active. Make sure to try them on first and move around to see how it feels. If you don't have the opportunity to try it on, then look for reviews and what other customers have said about the fit.
Are you someone who likes to wear layers? Do you like to choose and really customize your outfit each day? If so, you may be better served to get a thinner winter coat, or perhaps a liner, that will allow you to put your favorite sweatshirt or fleece underneath. This allows you to ditch layers throughout the day if it happens to warm up a bit or add more on if it gets colder.
On the other end of the spectrum, do you feel as if, since you're spending the money anyway, you might as well get an all in one functional piece? There is nothing wrong with that way of thinking either! Many, many good coats are built to stand on their own and will keep you perfectly warm with simply a t-shirt underneath.
Style
After you've determined just how much cold you will need to be blocking out, you will want to determine how long you want your coat to be. Generally speaking, longer coats that hit around mid-thigh to your knee are going to keep you warmer. A thicker, heartier layer farther down is going to keep you warmer, plain and simple.
However, some people simply prefer a waist-length coat and there are many good options here that will also meet all your warmth needs. This is a less cumbersome option that gives you a greater range of motion and can still keep you as warm as you need it to depend on which one you opt for.
Weather Resistance
A true winter will vary very much based on where you live. People living in the Southern United States are going to experience a much different winter than those living in Canada. As such, both parties are going to need a coat that fits their particular needs.
If you live somewhere that gets bitterly cold, you should opt for something that you know will work. Stick to well-known name brands, that likely cost a little more, but will ultimately give you the protection from the elements that you need. Anything less than that will help, but you might be selling yourself short and end up replacing or layering more than you would have to if you splurged in the first place.
On the other hand, if you live somewhere that barely touches freezing temperatures a few times a year, then odds are really good that you'll be satisfied with something far less fancy. You won't need the waterproofing, windproofing, or the ability to seal out the air that your northern friends will.
That being said, there are a lot of places that fall somewhere in between on that spectrum. If this applies to you, you'll likely be okay either way you go and it will ultimately come down to personal preference.
Value
The final consideration is fashion or function? Or both? Wearing a coat, while essential in the winter, is making a fashion statement and can say a lot about you and your style. Even, if you are someone who shoots for purely functional, that will be reflected in the coat that you choose to purchase and will put off that idea when people see you in the coat.
Winter coats, those on this list as well as others, range the entire spectrum of fashion. You can get fluffy, furry coats that are purely a fashion statement with hopes of keeping you warm. You can also get a purely utilitarian coat that looks like it was made to work hard and get things done. There are also coats that are sleek and clean or formal and stately.
The point to take away here is that you don't have to sacrifice your fashion in order to get a functional winter coat. There is certainly something out there that will please both your fashionable and functional side and you'll likely be surprised at how much the two weave together once you start looking for your perfect coat.
10 BEST WINTER COATS REVIEWED FOR WARMTH & COMFORT
1

. Canada Goose Kensington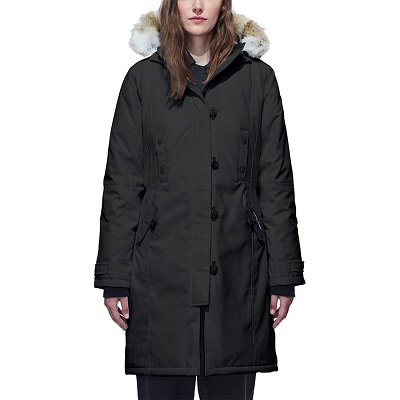 If you want the finest winter coat money can buy, look no further than this Canada Goose Coat. It is filled with duck down and has a real coyote fur ruff on the hood - which is fully removable if you so desire. It goes to mid-thigh and has a snap panel in the back to further customize and vent if needed.
Built for the Coldest Cold
This is a thick, heavy, solidly constructed coat. It is well lined and blocks any chance the wind has of getting in. Everything used is of the finest material and will ensure that you stay warm, even in arctic temperatures.
Waterproof and Windproof
If you are going to get the Mercedes of winter coats it better be waterproof and windproof. Luckily, this coat is, and does in fact, live up to that expectation. There is nothing worse than a cold, piercing wind that shoots right through. Having a coat that will break the wind makes an incredible difference.
Cost and Value
This winter coat is made of the finest materials all the way through and the price reflects that. You are absolutely paying for quality here and this is by far the most expensive coat on this list. However, if you live somewhere that gets bitterly cold you'll appreciate the fact that you splurged and bought the best of the best.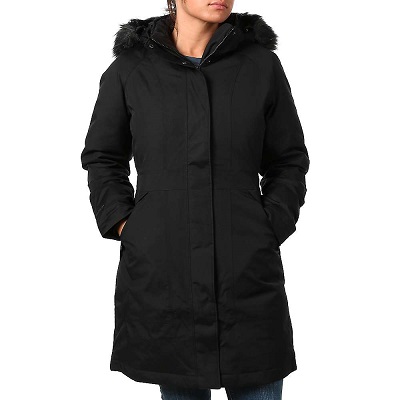 The North Face is a big player in name brand winter coats, among other things. As such, you would expect it to perform well and not leave you disappointed. That is absolutely the case here. This is a well-constructed trench coat style winter coat that will keep you warm from your head to your knees. It is down filled and faux fur lined for an extra hint of fashion.
Zipper Closure
The zipper on the Arctic Parka works from both the top and the bottom. This allows for a little more customization in sizing as well as style and function. If you need something from the bottom but don't want to go through the whole process of unzipping your knee-length coat from the top, that is no problem here! Just unzip from the bottom up until you get what you need and zip it back down.
Removable Hood and Trim
The hood on the winter coat is lined with faux fur. What if you love the coat but don't like fur? Or, what if you just need to take the fur off for a day or two? That is no problem here! Not only is the hood fully removable, but the faux fur is removable from the hood with a zipper as well.
Cost and Value
This is a very nice name brand coat and you will be paying for it. It is definitely higher up on the list as far as price goes, though still far cheaper than the most expensive. If you're only looking at quality name brand coats, The North Face is usually at the more affordable end but still provides quality that you will love and appreciate.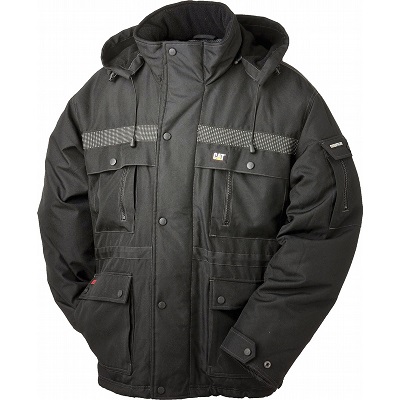 This coat is one of the most customizable on the list. It has zippers, pockets, and drawcords galore. This allows you to have a hood or not, tighten things up a bit, and store whatever you want depending on your mood. In addition to all of that, it is very warm, even in the coldest condition, water-resistant, and windproof. It is made from 100% polyester inside and out, and completely machine washable, which is more than what some coats can say.
Adjustable Draw Cords
There are adjustable draw cords at both the waist and the bottom of the coat so you can cinch things up to keep the cold out or to optimize fit. Having them in two places really boosts your ability to customize the coat to fit exactly how you want it to.
Maximum Storage
Need pockets? This coat has it! There are seeming pockets everywhere - on the chest, on the bottom of the coat, and even on the sleeves. Some of them even have an extra zippered pocket on the outside of the bigger pocket. You will be able to take along whatever you need and keep it all separated! The only problem will be remembering which pocket you put it into!
Cost and Value
This is a great coat for a decent price. It does largely protect you from the elements while providing you with some extras, so it does cost more than the most basic coats. If you're looking for something a little more complex, a little more durable, and something with a trusted name in quality this coat will be worth every penny to you.

4

. Wantdo Mountain Ski Jacket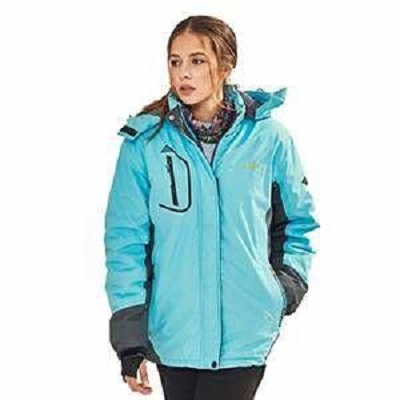 This coat comes in both men's and women's styles and sizes so there is one to fit everyone in your life. It's windproof and waterproof and is perfectly capable of keeping you warm on a day out on the slopes. It looks good and is comfortable as well.
Multiple Pockets
This coat comes with lots of pocket options. There are two on the outside for your hands, a zippered waterproof pocket on the chest, another inside zippered pocket, and a cross pocket big enough to fit your wallet. You won't be lacking pockets here.
Waterproof and Windproof
As you well know, an important part of any winter coat that promises to keep you warm while out enjoying the elements is that it has to be waterproof and windproof. Those are two big factors in staying warm. A coat can be nice, thick, comfortable and warm, but it's nothing if it can't keep the wind and water out as they are both very likely to happen at any point when you're out. This winter coat will protect you from both with its professionally coated fabric.
Cost and Value
If you're looking for a nice, warm jacket to wear on the slopes or while out mountaineering in freezing temperatures without spending a ton of money, look no further. This coat will absolutely do the job. It's got a lot of the features of more expensive, well-known brands but at a fraction of the cost. It will keep you warm and dry without hurting your wallet.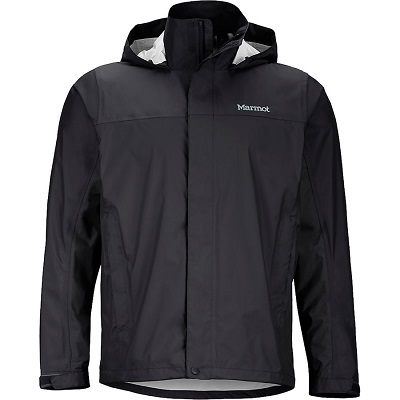 This Marmot coat is a little different than others on the list because it is more of an outside layer than a complete coat, but is designed that way and will easily fit over an insulating layer. That being said, it's still worth considering for a number of reasons. Unlike others on the list that are just water resistant, it is fully waterproof but also maintains breathability to help prevent you from overheating. It is small enough to stuff into a water bottle when you don't need it and it comes with its own pack pocket to fold into.
PitZips
Not only is this jacket made of a specialized material that will allow sweat to travel out while effectively preventing any sort of precipitation from getting in, but it also features an underarm zipper to further prevent overheating. The zipper extends into the body of the coat and is easily unzipped if you get too warm and zipped back up to seal out the rain.
Full Range of Motion
Despite its completely waterproof shell, this coat still maintains a full range of motion. It is an incredible, and somewhat rare thing, to be able to fully move your arms up and down and all around when wearing a coat.
Cost and Value
While this is another name brand coat, it is still reasonably priced. A little bit of that is countered by the fact that you will require an underlayer if you want any added warmth. All things considered, it's still mid to high range on the cost scale but is absolutely worth it if full waterproof-ability is something you need.

6

. Ubon Waterproof Ski Jacket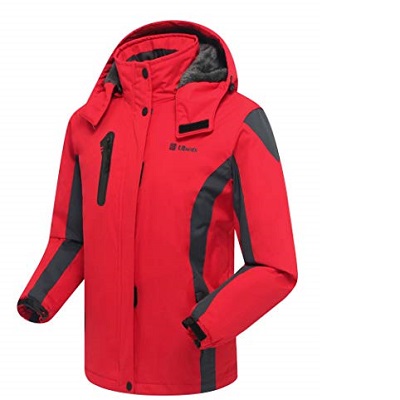 This winter coat is waterproof and windproof and offers several other cool features that will make you glad you purchased it. It has a stretchable powder skirt to ensure extra warmth and an earphone port. The inside feels soft and comfortable but the outside is just as functional as you want it to be.
Windproofing
The stand collar, removable hood, elastic cuffs, and velcro all work together to help keep the wind off of you effectively keeping you warm when you need it the most.
Quick Drying
Something that will make your life much more livable - and most importantly warm - in cold, wet weather is the ability of your coat to dry quickly. That way, if you do get rained or snowed on and get the opportunity to go inside for whatever reason, you can rest assured knowing it won't be all day before you're able to wear your coat back out in the elements. It will also dry quickly outdoors or if you spill something on it. This is definitely a helpful element to have in your winter coat.
Cost and Value
All things considered, this coat is relatively cheap. It falls towards the bottom of this list in price. You will miss out on the quality and some of the cool upgrades that more expensive coats come with, but if all you need is a functional coat that will keep you warm without spending a ton of money, this coat is exactly what you need to get the job done.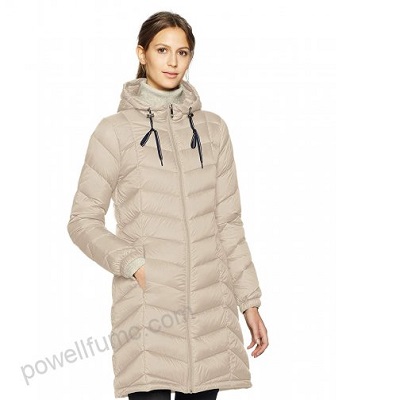 You can be sure that Tommy Hilfiger makes quality merchandise. That rings true here too. This is a warm, down alternative coat that hits just above the knee. It has a neat chevron pattern and looks and feels great on.
Buttons and Zipper
This winter coat comes with both buttons and a zipper. This gives you the option to do one or the other if you have a preference, or if you need to keep warmer, it will allow you to do both and really seal the heat in while keeping the wind out.
Machine Washable
A big perk to this stunning winter coat is the ability to simply throw it in the washer when it gets dirty. Most coats, especially those made with a chevron quilted down, require dry cleaning which is cumbersome and can take longer than you want to wait. That is not the case here. You can look good, be warm, and spill something on your coat without having to worry about paying a fortune to get it cleaned.
Cost and Value
This is a solid winter coat that will serve you very well even in very cold temperatures. It is a big brand, but because it is made with down alternative, it is still reasonably priced. Because it's suited to function in the very cold, it's more expensive than many on this list but less expensive than the others that are meant for extreme cold. Overall, you're getting a good deal with this coat and won't have to worry about warmth.

8

. Orolay Thickened Down Jacket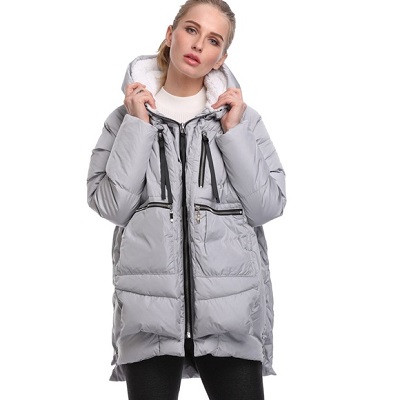 There is something very appealing about a down jacket. It is reminiscent of a nice warm bed on a cold night. That is exactly what this winter coat feels like when you wear it out. It does an excellent job of keeping you warm even when it's below freezing and has a unique style that will have you getting compliments every time you wear it.
Pockets
This coat has nice, big pockets that offer a lot of storage. You do need to make sure you remember to zip them shut before bending over, but they will hold a lot and provide a unique look to the coat as they are positioned a little differently than your standard coat.
Extra Zippers
There are zippers at the bottom on both sides of this coat. This allows you to zip them up if you need a little more space or air, or leave them down if everything is fitting just as you want. It adds a fun, unique, variable to an already unique and very functional winter coat.
Cost and Value
If you truly want a winter coat that keeps you warm when the cold really strikes, you have to pay for it. The same is true if you want some sort of fashion in your winter coat. These things are not cheap, nor should they be. That being said, you will notice the cost of this coat; although it's price tag is much smaller than some of the others on this list, it is absolutely worth the cost. Additionally, it will keep you warm and in-style for a reasonable price, especially when you consider all the value you will get.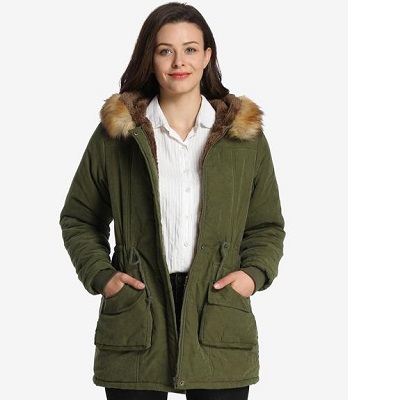 If the first thing you think of when thinking of winter coats is fluffy and warm, then this coat it for you! It is lightweight, durable, and made completely of polyester. It is completely lined with faux fur and guarantees you'll always be comfortable wearing it. In addition, this winter coat has a deep, fur lined hood that is very effective at keeping your head and neck toasty and warm.
Long Sleeve Cuffs
One very important part of a winter coat is its cuffs. This coat comes with long sleeve cuffs that fit snugly so that wind and cold cannot make their way up the jacket. The cuffs go to your wrist and won't ride up at all.
Adjustable Drawstring Belt
One of the ways this winter coat effectively mixes fashion with function is by including an adjustable drawstring belt. This allows you to cinch it up tightly or loosely, depending on your preference, and add a cute element to your overall look.
Cost and Value
This coat is both cheap and well made. It'll keep you warm in cold temperatures and help you be fashionable at the same time. It's not a name brand, but that doesn't mean it isn't high quality. It has all the looks and function of a well-made coat but doesn't come with the price of others on this list. If you're looking for an affordable coat, or only need one for a trip this one is an excellent option. It won't break the bank but will give you all the function you need.



Raise your hand if you like being wrapped up in a big, warm blanket! That's exactly what wearing this coat feels like. It is completely lined with faux fur on the inside with a windbreaker type material on the outside. It'll keep you warm and the outside lining will keep you dry.
Faux Fur
As mentioned, this coat is completely lined with faux fur. That makes for a bold - and very appealing - fashion statement. This coat will not only help to keep you warm in the winter, but it will also allow you to still maintain your higher level of dress standards. It's cute, unique, and will garner many compliments, so make sure that's something you're prepared for before you make this purchase.
Like Wearing a Blanket
Anything that consistently gets reviews that state "it's like wearing a warm blanket" is a win in my book. Perhaps because of its fur, but also largely because of its design it gives the feeling of being wrapped up in a blanket. If you size up (perhaps several sizes) it will be big, flowy, and you can wrap it around you just like you do a blanket. The biggest perk here? It's totally socially acceptable to wear it outside, recommended even!
Cost and Value
This coat is among the cheapest on this list. If you get the best version of this coat, the one that fits well comes with a zipper and has solid stitching it's like winning the lottery. However, that is not always the case so it may, in fact, be like playing the lottery. Overall though, this coat will keep you warm and keep you looking good at the same time without spending any more than you would on going out to dinner.

Subscribe to our Newsletter