Best Raincoats Reviewed
Raincoats used to be heavy pieces of fabric that were no better than a regular coat. Over the years they have made raincoats more specialized, with some of them light enough to be worn year round. No matter the changes, the most important part about a raincoat is its ability to keep the elements out. Without meeting that specific requirement, it is no better than a regular coat.
Best Brands
There are really no trademarked technologies in raincoats that will keep any one particular brand in power, which is why the list is full of different brands. There are a mix of ponchos, and they have become quite popular over the years outside of army use. Multipurpose and durable, they are far beyond the cheap plastic options offered for free at a store.
Maintenance and Cleaning Tips
Besides a minor few raincoats on the list that need to be hand washed, you can usually clean them like a normal jacket. Make sure to follow any specific instructions given by the company on cleaning and drying. Shrinkage and possible long term damage can be an issue if you go away from normal care instructions.
Our Top 3 Picks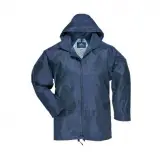 Portwest Rain Jacket

Our rating
100% PVC coated nylon
Price:

See Here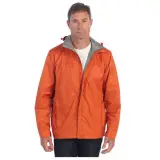 Gioberti Rain Jacket

Our rating
High quality materials
Price:

See Here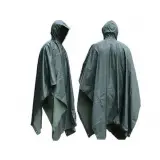 Rain Poncho JTENG

Our rating
Large but lightweight
Price:

See Here


10 Best Raincoats
1. Portwest Men's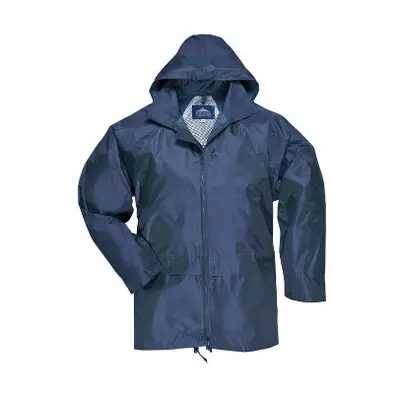 The #1 raincoat goes to Portwest, which shouldn't come as too big of a surprise. They really went all out by using a classic look and upgrading it with some really cool modern features.


Expand to see more
Avoiding The Overheating Issue
As high quality as some raincoats can be, a good portion of them block not only rain from getting in but air from getting out. This can make the user sweat while wearing a raincoat even if it is storming and cold outside. Portwest implemented a clever back vent that helps with ventilation and keeps you at an even temperature.
Features and Specifications
Sizes up to 5X
Available in Navy, Black, Yellow, Olive, Orange and Grey
Drawstring
hood
and hem
Taped seams
Price/Value
You're not going to find a better choice on the list than this model at such a low price. This is the best raincoat on the list for a reason, with enough buying choices to fit everyone's needs.
Decision Time
Portwest really outdid themselves when they put together the feature set of this raincoat. There is no better raincoat on the list that provides a better mix of comfort, rain protection and value.
Built in ventilation helps keep good temperatures
Hood doesn't flop all over the place and can be adjusted
100% PVC coated nylon
Two big and roomy pockets
2. Gioberti Men's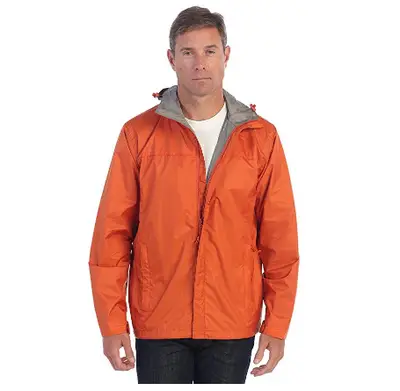 Choices is what helps this Gioberti raincoat become the #2 option, and it also helps that the design fits the quality. It's just about everything you'd expect from a modern raincoat, with some extra bells and whistles.


Expand to see more
Something For Everyone

Gioberti has a lot of colors and sizes, and didn't just focus on one. For sizes they offer small, medium, large, X large and XX large. For colors they have Orange, Black, Charcoal, Gray, Green, Navy, Red, Royal Blue and Turquoise.

Features and Specifications

100% Polyester
Fully sealed seams
2 zippered pockets with flap
Hood with adjustable pull string lock


Price/Value

Customers will be pleased with this purchase since it is low in price and contains a lot of high end materials. This is a raincoat that can really stand up to the elements, no matter how harsh.

Decision Time

Raincoats don't get much better than this model, with Gioberti putting out one of the best efforts in the company's history. They made sure there was a color and size for everyone, leading to a very pleasurable buying experience.
High quality materials
Waterproof and keeps water from entering the inside jacket
Lots of sizes and colors to choose from
Polyester is high quality and can take some abuse
Not as comfortable as some other raincoats
3. Rain Poncho JTENG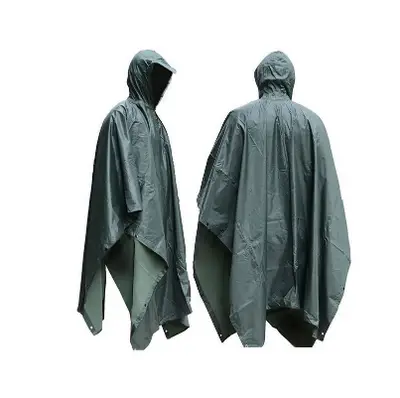 This upgraded Jteng model has a lot of people happy with its usefulness. They took all of the great things about the former model and improved upon them while also getting rid of most of the cons. It may not be in the top spot but it is certainly close.


Expand to see more
The Quality Of The Storage Bag Says It All

Being able to stuff an entire raincoat into a bag is useless if the bag itself is cheap. Jteng did a good job of offering a carrying bag that is on the same level of the coat itself, and won't give way to harsh weather or treatment.

Features and Specifications

100% Rip-Stop Polyester
Waterproof
Grommet Corners
59×55 inches


Price/Value

With this product being as durable as it is, the low cost is another factor that pads the value. Customers will be using this product for years if it is their main raincoat.

Decision Time

Having a multipurpose raincoat gives some serious benefits even to customers that just want simple rain protection. You never know when your raincoat is going to be the universal tool that makes your night go smoother.
Large but lightweight
Nylon is rip resistant and high quality
Can be used as a sleeping bag, tent or raincoat
Good dimensions for a one size fits all
Not good for serious backpacking
4. Diamond Candy men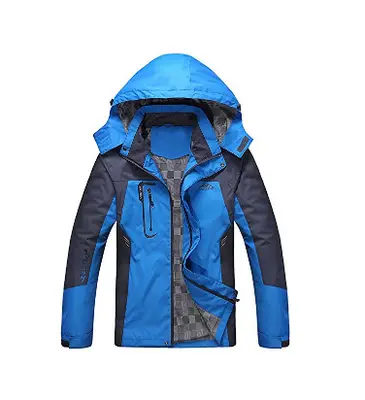 The best design on the list goes this Diamond Candy model, with its good color choices and material. Buyers will pay for quality and get it with this model that was built to be comfortable.


Expand to see more
The Most Comfortable

Now this is debatable, but the most comfortable raincoat on the list may very well be this model. Because of the great care they took when crafting all of the sizes, each one feels like it was tailor made for the user.

Features and Specifications

Available in Blue, Green and Red
100% Nylon
Omni-Tech waterproof
3 Insert pockets


Price/Value

As another of the mid-high priced raincoats, buyers can expect to get their money's worth. It is a good investment if you want a good quality raincoat to protect you from harsh weather.

Decision Time

Looks are one thing with this coat but it doubles down as a great water blocker when you want to get from point A to point B. Customers will love how comfortable it is, and may very well use it year round.
The hood isn't heavy and is removable
Very lightweight compared to the others
Comfortable to wear in different seasons
Adjustable cuff with high quality materials
May be a bit too insulated to wear in warmer weather
5. Helly Hansen Workwear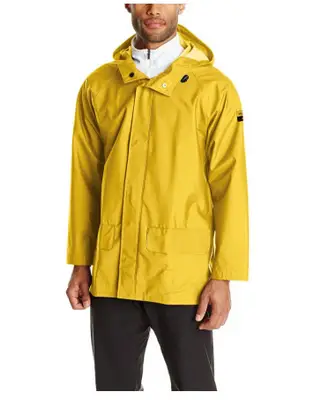 There isn't anything too fancy about this raincoat other than it having a really good fit. When you go through the entire list, this may be the friendliest fit available, no matter what size you are.


Expand to see more
Best Size Choices For Tall Customers

This Helly Hansen model goes all the way up to 6x, so taller users will find this an option that is too good to pass up. Finding raincoats that are tall-friendly is harder than you think, especially if you're looking for a quality option.

Features and Specifications

No shoulder seams
Two front flap pockets
PVC-coated and waterproof
100% Polyester


Price/Value

Even at the mid-high tier in price, this is a really good deal. Just be aware that the bigger the size, the more the price will go up.

Decision Time

With the variety of sizes and colors to choose from there is little to hate about this option. So far it is one of the more expensive choices, but still one of the best.
Available in Light Yellow, Army Green, 900 White, Dark Orange, Classic Navy and Black
Sizes go as big as 6x for tall customers
EN 343 Certified
Hood with bungee cord to keep your face safe
One of the pricier raincoats on the list
6. Baleaf Unisex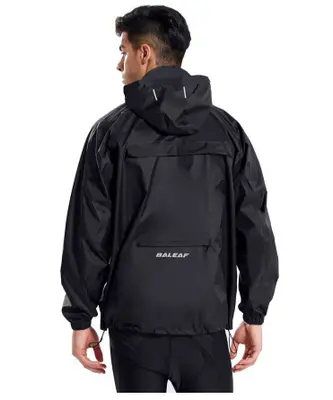 What put this Baleaf model so high on the list is a cross between materials and efficiency. Bad weather is no match for this raincoat, with a lot of buyers still depending on this model even years after their original purchase.


Expand to see more
Tough And Lightweight
There is a give and take relationship when it comes to being tough material or
light material
. The nylon material used with this raincoat manages to tip toe the line well, and all without compromising on either end.

Features and Specifications
100% Nylon
Adjustable drawstring
Reflective logo for night
Roomy back pocket w/zipper
Price/Value
The value in this low priced raincoat is that it can be used during different parts of the year, even as a daily activity coat. With the different sizes available this is a wonderful value for any customer.
Decision Time
There are some great ideas introduced with this model that will remain in the industry for a while. Buyers that need a little bit more than a regular raincoat will be fascinated with this feature rich choice.
Back pocket is like a built in fanny pack
Nylon material is comfortable
Great water resistance
Light enough to be used for different seasons
7. Covenov Multifunction Military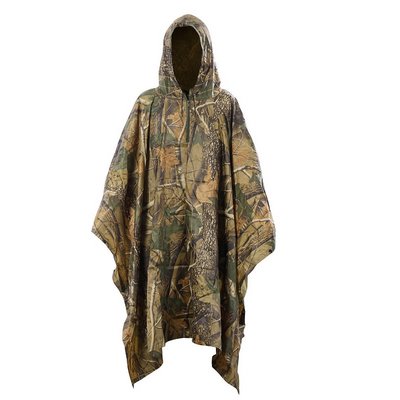 When it comes down to it Covenov may have made the most functional raincoat on the entire list. There are a lot of uses for this raincoat, and in all forms it provides
adequate protection
.
Expand to see more
Keeps The Water Out

There is an extra layer of protection built into this raincoat that keeps water out. Every now and then even the best raincoat may slip up, but the anti-leakage protection of the Covenov is really mind blowing.

Features and Specifications

Scratch resistant rain cape
100% waterproof nylon
PVC coating
Rip Stop material


Price/Value

With only the camo color, this is another raincoat on the list with a high appeal to the outdoorsman. They kept the price low like the rest, so there really is no value lost for customers that want to make this purchase.

Decision Time

With such a great anti-leakage feature it's surprising this model didn't make it further up the list. If camo is a color you can live with, then check out this well reviewed raincoat.
Solidly built even beyond the nylon
Anti-leakage protection is one of the best on the list
One size fits all with a wide coverage
Can be used as a sheet, sleeping bag, blanket and even tent
8. Mountain Warehouse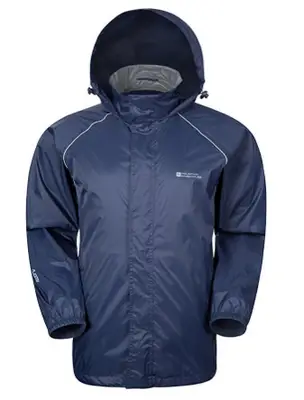 When Mountain Warehouse decided to make a raincoat they went away from the poncho design of #9 and #10 and went for a jacket. By giving up a little versatility using the jacket form, they managed to give buyers more protection.


Expand to see more
Lots Of Sizes

While the one size fits all ponchos provide great protection, it helps when a company creates something with specific body types and sizes in mind. The sizes for this model go from extra small to XXX large, covering a lot of different types of people.

Features and Specifications

Available in Navy, Cobalt, Grey and 2 different Blacks
Hi-viz reflective piping
Can be packed into a drawstring bag
Waterproof fabric


Price/Value

This model is low priced like the ponchos, so buyers should compare values based on how much coverage they want. With this Pakka having great portability, there are a lot of uses for it on the road.

Decision Time

As the first jacket on the list the Mountain Warehouse Pakka does not disappoint. This is exactly the type of raincoat you need when the water is coming down hard.
There is a size that fits everyone
Reflective piping helps during night walks/runs
Portable jacket can be carried around in a bag
100% waterproof and lightweight
Packing it into the drawstring bag can be a bit of a hassle
9. Vcansion Unisex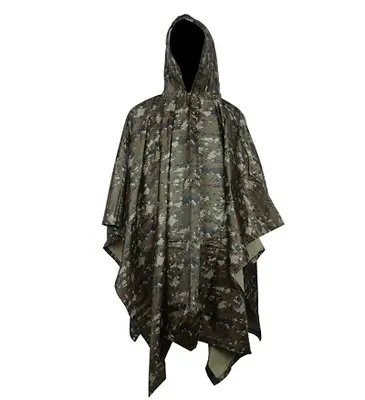 Vcansion is another brand that has put in some serious effort with a one size fits all raincoat, with a lot of color choices to go with it.
Good protection
and a unique use of design will make this a must have for a lot of buyers.
Expand to see more
Polyester To The Rescue

Using high quality polyester they created some really tough material that is still light. It repels bad weather and is pretty resistant to damage, so may even be mistaken for different material once worn.

Features and Specifications

Available in Digital Jungle, Army Green and Jungle Camouflage
100% Polyester materials
84×56 when spread out
Waterproof and rip resistant


Price/Value

The price is low and the materials are high quality, so you're getting a good deal out of it. Even if the designs may not appeal to regular rain coat users, it still does the job of keeping rain away.

Decision Time

This model seems to be more for hunters our hikers since it lets them blend in with the environment. But even beyond the colors/designs, this is a really good raincoat for getting around the elements.
Large enough to be used as a tent
Military design for hunting use
Can also be used as a ground sheet
Polyester material is strong and will last for years
Not the best design choice for normal users
10. AIRCEE Raincoat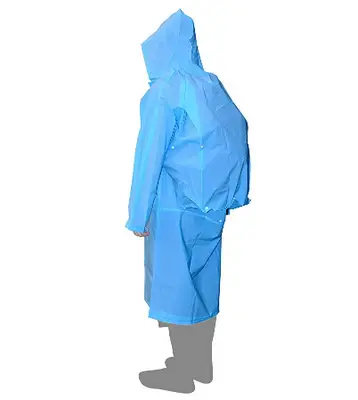 Simple yet functional, this one size fits all Aircee product is a respected model. A good raincoat is supposed to protect you from the elements, and that's exactly what this one does. Covering all of the important spots, customers will be happy with this buy if they need basic rain protection.


Expand to see more
Fun Colors
The colors available are blue, green, purple and yellow. There is nothing fancy about the colors, and they are your basic shades. The only thing that is missing is black or white, yet they've managed to make a lot of potential customers happy by not making the colors complicated.

Features and Specifications
Can cover any
backpack
under 40L
Non-PVC
Environmentally Friendly Material
Foldable Pocket Design
Price/Value
At a low price, there is no arguing how good the value is. There may be some resistance from customers that have issues with the sizing, but overall this model does the job for the price.
Decision Time
Aircee is offering a fun, safe and universal raincoat for a variety of sizes. There is a lot of value in this buy even if it isn't the most advanced raincoat on the list.
Does a good job of average sizes
Colors are simple and will please most customers
Backpack protection was thought out well
Offers great rain protection
Tall customers will find it a tight fit
How To Make The Best Decision When Choosing A Raincoat
It's always going to come down to a traditional raincoat or a poncho. Ponchos are more for outdoor and hiking usage rather than normal raincoat usage, but some users will find them a better option. This includes anyone in school that wants to cover their non-waterproof backpacks. Ponchos usually are more portable, so they make for great emergency raincoats as well.
FAQs
How Big Of A Deal Is The Material That's Used?
It's somewhat a big deal, but not a deal breaker. Some customers look at the Nylon and Polyester options as being different when it really should come down to coverage and water resistance. You can have the greatest material in the world, but it would be pointless if it doesn't keep the rain out.
Are Ponchos Better Than Traditional Raincoats?
Depends on what you're looking for. They are more multipurpose, so if that matters then make sure to pick up a Poncho. Raincoats will always provide a better fit since they don't follow the 'one size fits all' option.
Will A Light Raincoat Be Less Durable?
Only if cheap material is used, and only if you don't follow normal care instructions. Raincoats of this caliber are stitched together to keep the bad elements out. Normal wear and tear will occur over the years that may lessen their effectiveness, but it would still take a lot of wear to make it a problem.
Does One Size Fit All Raincoats Fit All Sizes?
They are made that way, so shorter customers will have to use adjustments to take care of the slack while taller customers will find some parts uncovered. Because of the way these types of raincoats are constructed, they are made to fit both small and large customers with necessary adjustments here and there.