Best Quality Raincoats Reviewed in 2023
In a Hurry? Editors choice: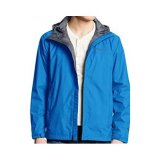 Test Winner: Columbia Watertight II

Obtaining cover from the rain is something that is easy to overlook. Well, easy to overlook until it becomes vital to you getting to work without looking like a drowned cat, or perhaps, more importantly, making sure you can hike out of a damp, chilly backwoods environment without risking hypothermia and all kinds of sickness. We speak from direct experience when we say when it comes to
dealing with rain
, an umbrella is great, a
pair of rain boots
is also vital but the best raincoat is going to allow you a bit more freedom of movement and unlike an umbrella is hands-free. And we're long past the days of the yellow button-up style, today's entries are stylish, warm and will add some spice to a rainy day, all while making you look like there isn't a cloud in the sky.
Standout Picks
Criteria Used for Evaluation
Water Resistance
This type of protection is added to the material of the coat to allow the coat to repel water. The types of materials typically coated with this feature are nylon and polyester. Although this form of protection works well in lighter rain, you will want to choose one of the best raincoats for heavy rain for harsher weather.
Waterproof coats will provide complete protection against the rain, even for more extended periods of time. This is due to the materials used to manufacture the jacket. Not all companies will use the same materials, those that use higher quality materials like GORE-TEX will be higher in cost. Some will use materials that cost less, but still, offer you a good amount of protection.
A water repellant is added to those that are water-resistant and waterproof. It is typically sprayed on the material to add a second form of rain protection. This spray will force the water to bead and roll of the material to which it is applied. Never allowing the moisture to soak into the material.
Style
2-Layer Coats
The two-layer variety is more popular with those who don't plan to be in the rain for long. These coats usually won't have any vents, making them less useful for heavy activities. If you're in the market for a high quality raincoat that won't break the bank, while keeping you dry running your errands, this type will indeed be useful for that.
2.5-Layer Coats
Coats with a 2.5-layer design are where you will find the ventilation you are looking for if you enjoy the heavier activity even in the rain. These pack well while being lighter in weight than the 3-layer coats. These are a stepping stone in determining if they suit your activities.
3-Layer Coats
This type is durable enough to hold up in even the most extreme rain conditions. This is attributed to the blended materials, such as GORE-TEX, used to construct these. Due to the quality of the materials used, this is the more expensive option.
Features
Hood
Finding a perfectly fitting hood can seem somewhat impossible. Since not everyone's head is the same size, manufacturers have added drawstring closures and in some cases, higher rising zippers to help hold the hood in place. It is recommended that you try on the hood while deciding on the coat, this will ensure that the hood is deep enough to cover your head completely.
Pockets
Let's talk about storage spaces, otherwise known as pockets. The number of pockets you might seek will probably depend on your intended use of the coat. For example, if you plan to use this coat for backpacking through the woods, you might want a jacket with several pockets available. For those of you using the coat for bebopping around town, you probably wouldn't need very many pockets. In some cases, the more pockets the coat has, the higher the cost of the coat might be.
Seams and Zippers
For a coat such as this to be considered entirely waterproof, it must have treated seams and a form of protection to the zippers. Seams and zippers when left untreated, hold the potential to allow water to leak into the coat. Seams can be treated by taping them, or some have been found to be taped and then heat treated. It is said that heated seams hold a better barrier against moisture.
Zippers can be treated in a couple of different fashions as well. There are what is called laminated zippers; these will have a cover, that protects the opening at the top of the zipped zipper. Other coats can be seen with a protective flap covering the zipper; these tend to block moisture from getting at the zipper.
Extra Closures
Some styles that are intended to be used in the heavier activity will sometimes offer added closure opportunities. Simply put, you can find coats available with added closures to both the waist and cuffs of the coat. The closures provide you a way to better block out the elements when doing heavy activities out in the rain.
Breathability
To help prevent the age-old issue of the inside of your raincoat becoming sticky, manufacturers have had to come up with a useful solution. This solution comes to you in the form of vents. Some coats have larger sized vents, which generally have zippers, so you can control precisely how much air will circulate within the good quality raincoat. Jackets with this type of venting are best for performing heavy activities.
For those who plan to be less active while wearing their raincoat, there are less expensive models on the market with a smaller form of venting. These vents are typically found in the underarm portion of the coat. They consist of smaller holes with a metal eyelet installed into these holes. Although they are not as useful as the larger vents, they will do just fine for those less active.
Size
Before purchasing the best way to test out the fit is to try the coat on. Be sure to wear extra layers if you intend to be layering under the jacket for warmth. You will want to be sure that you have ample room inside of the coat for a better range of motion. Bend your elbow to be sure you have proper arm movement, then outstretch your arms to be sure the sleeves are long enough.
To check the spacing of the chest and back area, hug yourself, reaching as far back as your arms will allow you to. If the coat is too small, you won't be able to reach very far. The small size can restrict movement within the coat to your shoulder area.
Ultimately the size of your jacket is up to you, but keep in mind what you will be doing while wearing the coat. Also, keep in mind where you will be wearing this jacket. Adding layers under the coat can prevent you from getting cold if you spend a significant amount of time in damp conditions.
10 Best Raincoat Reviews
1

. Columbia Watertight II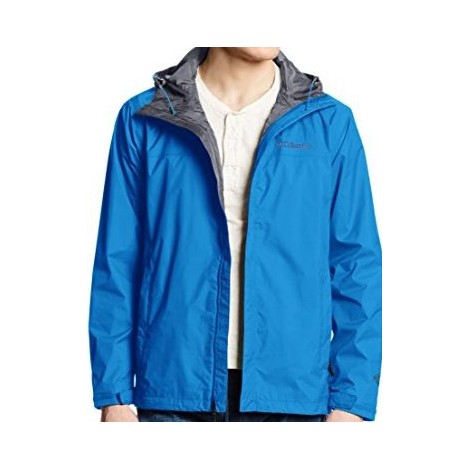 This comes packed with some of the Columbia Brand's best technology against the rain. Having the best raincoat for men that not only keeps you dry from the rain but allows moisture from within to dissipates, is great for those who undergo strenuous activity no matter what the conditions.
Technology
This comes with Omni-Tech Waterproofing, this means that your coat not only protects you from moisture on the outside but the inside as well. Whether you're on the job working, or out for a run this coat is armed with a fabric that allows your body heat to escape. This creates a good level of breathability inside the coat, keeping the amount of sweating you will do to a minimum.
Hood and Waistline
For added protection against the rain, this coat also comes with a hood. This hood has drawstrings to help you keep a snug fit in the hood. Therefore blocking out more rain than a hood without a closure. The waistline of the coat can also be sealed with a drawstring, this is helpful during those windy days. Closing the waist will provide protection against the wind that sometimes drives the rain inside of your coat.
Cost and Value
For an option with more protective features, you're going to see a higher price point. Depending on your needs, and what outdoor activities you partake in, spending a little more isn't always a bad thing. With a higher cost, you tend to see better materials used, giving the coat a better amount of durability.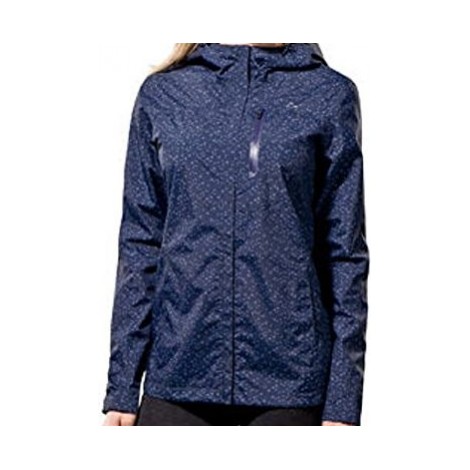 Paradox Waterproof is one of the best raincoats for women. It's a great choice on the market for protection from the rain. Staying dry while out in the elements makes being outdoors so much more enjoyable, even if your working while being out there.
Breathable
This one is made from a combination of materials that allows a good amount of breathability while wearing this coat. The materials used for this coat provide you with a lightweight option for protection. The coat has also been treated with a water repellent, which only adds to the waterproofing capabilities.
Sun Protection
As we all know, the sun can affect us even from behind those rain clouds. This offers you protection from the sun as well. With a UPF of 50, you won't have to worry about being exposed to the sun for long periods of time while wearing this coat.
Cost and Value
The protective potential of this coat will definitely cover the expense you will see. Not only does this coat have waterproofing, but the seams of the coat have been sealed to give you protection against the wind. Who can pass up so many potential benefits?

3

. Marmot Minimalist Men's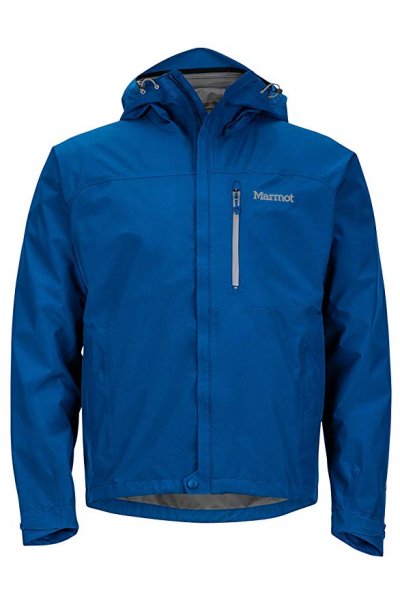 Made with Gore-Tex and Paclite Technology the Marmot Minimalist coat is one that's going to keep you dry and warm no matter how bad things are out there in the wild. The Jacket zips up high on the neck and the long hood ensures that water won't be getting where you don't want it. We also love the inclusion of pit zips so you can ensure breathability, so you don't end up sweating as much water inside the jacket as is falling outside.
Gore-Tex, Paclite Construction
What this means to you is you're getting a supremely waterproof jacket that's also eminently breathable and eminently comfortable. It's not bulky or clingy its really just right, The taped seams make it even easier to ensure you stay dry in any weather.
PitZips
A great little feature the PitZips allow you to let in some air and keep you from overheating, though the Gore-Tex construction is doing a pretty good job of that already. These are also built that even when they're zipped open they're not going to let any water in, just cool air that'll keep you comfortable and dry no matter the weather.
Cost and Value
We really love the Marmot brand but this is a bit of an expensive piece of coat. You can definitely go cheaper but there aren't many coats that can match Marmot's quality and craftsmanship. So while it is a bit pricey this is a really great jacket and definitely worth the money.

4

. Wantdo Women's Mountain Waterproof Ski Jacket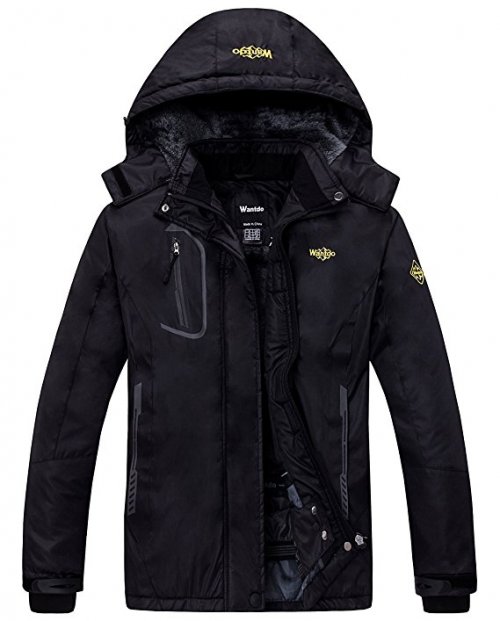 Going out into the cold is either unpleasant or exhilarating. The right coat makes all the difference in the world. You will either enjoy a brisk walk or feel miserable as your body begins to shiver.
Unique Features
This jacket has multiple pockets that include two zippered hand pockets, a zippered chest pocket for stowing cards and passports, an internal pocket, and an internal secure media pocket. A fixture that allows fastening and supporting an earphone line is available inside the jacket.
You feel as though you are wrapped in a warm blanket. The innovative material on the outside ensures cold doesn't reach you. Adjustable cuffs, stretchable gloves, and thumbholes aid in sealing in warmth. The jacket is available in six colors - black, blue, purple, rose red, red, and yellow. It is available in small, medium, large, X-large, and XX-large.
Waterproof
Being waterproof is the reason this jacket was chosen among the best raincoats. This jacket is designed to repel water. You won't need an umbrella. The quick-dry material keeps you dry even if you fall in a snow pile. An early morning hike will not cloak you in the humidity of the mist. Chill rain skates off the exterior of the coat.
The wear-resisting soft shell of the jacket makes it windproof. The storm hood is adjustable. The coat can be machine washed, but the recommended method of cleaning is gently using a banister brush and neutral detergent to wash off rain and mud to retain its durability.
Cost and Value
Reviews express customer satisfaction in purchasing the jacket. One stated it was an excellent jacket for the price. Another was impressed with the quality of a jacket at the price. The jacket does everything the manufacturer claims it does.
A thick, comfortable interior is a must in the winter. The Wantdo Jacket has the ideal inner fabric to provide the ultimate in coziness. The soft, warm fleece lining fosters heat retention. It gives 1200 g of padding to sustain an optimum heat level.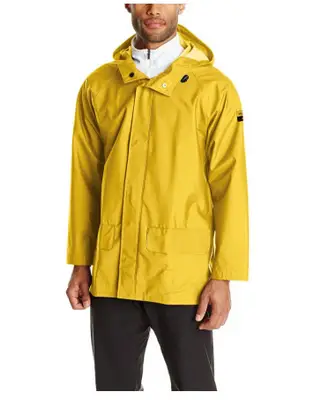 There isn't anything too fancy about this high quality raincoat other than it having a really good fit. When you go through the entire list, this may be the friendliest fit available, no matter what size you are.
Best Size Choices For Tall Customers
This Helly Hansen model goes all the way up to 6x, so taller users will find this an option that is too good to pass up. Finding ones that are tall-friendly is harder than you think, especially if you're looking for a quality option.
The Hood
Having cover for your head is a great attribute to have. Running around with damp hair can be a serious drag. Many times stuffing a hat into your pocket will work, but hoods can be easier. With this hood comes an added closure so that you can tighten up when the wind kicks up.
Cost and Value
Even at the mid-high tier in price, this is a really good deal. Just be aware that the bigger the size, the more the price will go up. With the variety of sizes and colors to choose from, there is little to hate about this option. So far it is one of the more expensive choices, but still one of the best.

6

. The North Face Women's Apex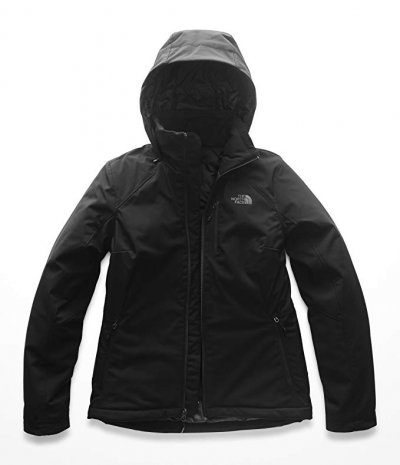 The North Face is synonymous with quality outdoor gear and this jacket is the proof of it. It's got everything you need to keep you warm and dry in the worst kind of weather. A high collar, a long hood and it's warm and waterproof. Not a summer rain jacket to be sure but no matter the kind of precipitation this is going to keep it on the outside of the jacket.
High Collar
It's a simple little feature that sometimes might seem annoying but the fact is it won't get in the way when it's zipped down, but when the weather turns horizontal you're going to want to zip this collar all the way up to the top where it almost reaches eye level. And when it's there, you'll laugh at the bad weather as it won't come anywhere near you.
Built to Last
The North Face is one of those companies that you can always count on. This is well-built clothing designed by people who actually go outside so generally they've been through the same things you've been through and design their clothing accordingly. Part of that means understanding that you want a product that's going to stand up not only to the weather but to your lifestyle.
Cost and Value
Not a bad price at all. This jacket comes in at about mid-range pricing so it gets our approval. But do keep in mind that this is a jacket that's designed for cold weather so you're going to need a spring-summer jacket as well as this.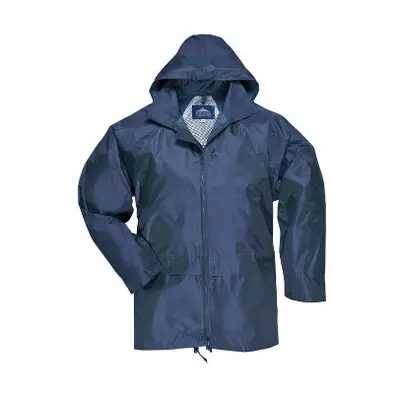 The Portwest raincoat making this list shouldn't come as too big of a surprise. They really went all out by using a classic look and upgrading it with some really cool modern features.
Avoiding The Overheating Issue
As high quality as some can be, a good portion of the block not only rain from getting in but air from getting out. This can make the user sweat while wearing one even if it is storming and cold outside. Portwest implemented a clever back vent that helps with ventilation and keeps you at an even temperature.
No Leaks
Leaky jackets while out in the rain are an issue. It actually happens more often than one would think. The seams are typically the first place that starts letting rain seep in getting your close soaked. Not with this one, the seams have been enforced with tape extending the life of the coat.
Cost and Value
You're not going to find a better choice on the list than this model at such a low price. This is the best raincoat on the list for a reason, with enough buying choices to fit everyone's needs. Portwest really outdid themselves when they put together the feature set of this raincoat. There is no better raincoat on the list that provides a better mix of comfort, rain protection, and value.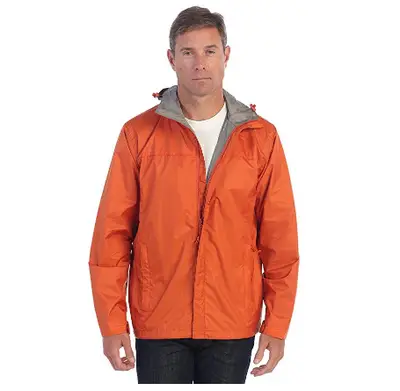 Choices are what helped this Gioberti coat earn a spot on this list. and it also helps that the design fits the quality. It's just about everything you'd expect from a modern style, with some extra bells and whistles.
Something For Everyone
Gioberti has a lot of colors and sizes and didn't just focus on one. For sizes, they offer small, medium, large, X large and XX-large. For colors, they have Orange, Black, Charcoal, Gray, Green, Navy, Red, Royal Blue, and Turquoise.
Pockets
All too often we lose things out of our pockets. Especially from coats made for the rain. That is because they are made to do one simple task, protect you from the rain. But this one has developed a way to give you useful pockets by adding a flap for cover and making them slightly deeper.
Cost and Value
Customers will be pleased with this purchase since it is low in price and contains a lot of high-end materials. This is a raincoat that can really stand up to the elements, no matter how harsh. Good raincoats don't get much better than this model, with Gioberti putting out one of the best efforts in the company's history. They made sure there were color and size for everyone, leading to a very pleasurable buying experience.

9

. Outdoor Research Helium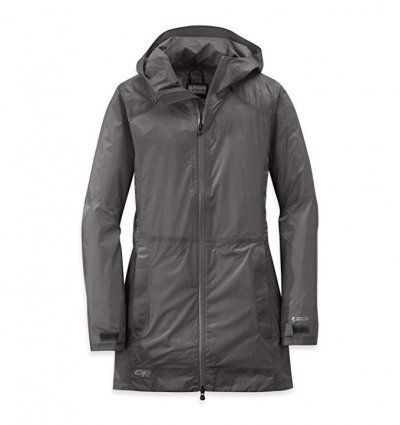 This long fitted jacket is just what the doctor ordered if you're trying to keep your whole body out of the water. It reaches down to the hemline so it'll keep most dressed dry, at least from water falling down. It also has a high neck and easy to use a hood. The double separating front zipper also helps keep you warm and dry.
Lightweight and Waterproof
For the length and the water-resistance, this jacket really gets top marks. It's long but light, and it's waterproof but not bulky or clingy. It's just a great jacket to make sure you get through bad weather dry.
Fully Adjustable Hood
Most hoods are either perfect or problematic, and this one hits the perfect mark spot on. It's fully adjustable so if you don't like the way it feels then simply fix it so it sits in a way that you like.
Cost and Value
We love the price on this jacket. It comes in at the low end of our price range but you get so much jacket for the money we were pleasantly surprised.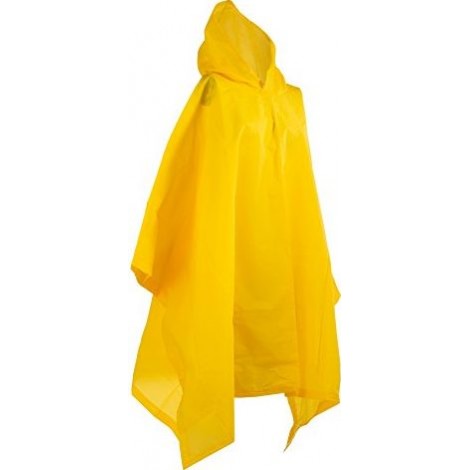 This poncho can provide quick coverage from the rain, whether your out on the lake or strolling through the park. A rain poncho such as this one can be packed in your cooler or tote bag, as it has it's very own storage bag which takes up little to no space at all.
Convenience
Provided to you with this poncho is a small-sized storage bag, so you can carry this poncho along for all your outdoor activities. Snaps down the side give you the quickness you sometimes need to take cover from the rain.
Easy Cleaning
The material of this poncho allows you to simply wipe it clean with a damp rag. Then just leave it to hang indoors or out on a line to dry. No need to worry about those sometimes complicated washing cycle directions that come with raincoats. You can even clean this poncho on the go.
Cost and Value
This poncho provides you with adequate protection against the rain for a fraction of the cost of some of the others on the market today. Simple to care for, while compact enough to store almost anywhere. Getting caught in the rain unprepared can be a thing of the past with this rain poncho.

Subscribe to our Newsletter