Best Rain Umbrellas Reviewed & Rated for Efficacy
In a Hurry? Editors choice: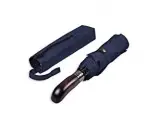 Test Winner: Balios Prestige Travel

The umbrella, one of the most immortal inventions ever conceived by man. While historians tend to agree that the umbrellas origins came from China around 4,000 years ago, the true origins remain a mystery. What isn't a mystery, however, is how ubiquitous and accepted umbrellas so quickly became the world over. And it's easy to see why they're one of those products that are just objectively useful. Of course, now that it's a business, some are doing it better than others.
Standout Picks
Criteria Used for Evaluation
Durability
Criteria Used in Evaluation of the Best Rain Umbrellas
It felt a little silly going over these umbrellas in such deep detail even after being done with it. After all, as we said at the top of this article, umbrellas are one of the most ubiquitous products in the world. Everyone has at least one umbrella in his or her house, uses it whenever it gets rainy outside, and generally knows everything they feel they need to know about them. However, we also felt it was a necessary experience. Sometimes you need to go back over the invented wheel to show yourself and other all of the various, intricate little ways it came to be what it is. There's a craft incomparable to making something that everyone has a use for, and at the very least everyone could see themselves needing under the right circumstances. And despite the design of an umbrella is so simple, as we've seen throughout this list, there is a surprisingly numerous amount of ways in which you can improve upon the idea of an umbrella, whether it's the design or the resistance. And we believe that these 10 are the best of the best. So, if you're in the market for a new rain umbrella, one of these ten umbrellas should be precisely what you're looking for.
As we looked into each entry to judge what got onto the list and how far up said list once they were on it, the list of criteria tended to form on its own, as more and more we learned about the many intricacies and complexities about rain umbrellas that eventually culminated into this list of criteria that you're reading right now. We like to think we did a pretty good job of it with this list, so let's not waste any more time. In no particular order, here are the criteria we used to evaluate the entries for this list.
Rain protection
While in no particular order, we couldn't start off with this one. This is, without question, the most important reason to buy an umbrella at all. If you don't care about anything else we've gone over in this list, know that every single entry on this list would have been tossed aside in an instant if they didn't get this down perfectly. Fortunately, they did. The amount of protection from the rain that an umbrella provides all comes down to the size and shape of the canopy itself. What the canopy is made out of will affect things like durability and wind resistance, but when it comes to protecting against the primary thing you're buying this thing for in the first place, you need an umbrella with a good shape.
This is one of the reasons why parasols are so popular. Their dome design makes sure that there is zero chance of the water getting caught on the umbrella and wearing down the material. The water slides right off like butter the minute it hits the surface. Other forms of umbrellas, especially the wider varieties, have become much more popular these days because you can usually fit more than one person underneath it in case that person doesn't have an umbrella. When it comes to finding the right umbrella, rain protection should be considered your #1 priority.
Durability/inversion risk
The other thing you have to consider is the durability of the umbrella, as well as the risk of inversion it carries. Durability is a tricky thing with umbrellas since their very nature requires that they be thin and easier to break than other objects made from the exact same materials. However, over the years, manufacturers have managed to come up with many different solutions to this problem. Most of which involve building the most critical areas of the umbrella out of materials that are tough no matter how thin you make them. Whether it's fiberglass, aluminum, or even solid steel.
And then there's inversion risk. This refers to how much the umbrella is at risk of folding inside out once faced with a bad gust of wind. If this happens with your average umbrella, then that means the wind was so powerful, it broke the metal joints of the umbrella and yanked it backward with force to break the ribs themselves. So, for one, you should take that as a sign that you should get inside now, but also that you need a new umbrella when this happens to you. When we judged each entry, we judged them as a baseline of how much risk there was of this happening to them, regardless of any other factors. And then we moved on to the next entry.
Inversion prevention
Umbrellas don't cost that much to replace, but that doesn't mean you should be in a hurry to get them trashed. So, if your area has a risk of high winds that have been known to bend umbrellas inside out in the past, you should get your hands on an umbrella that has some kind of countermeasure against the inevitability of inversion. There have been many solutions to this found over the years. The most obvious being to specially craft the ribs of the umbrella so that recovery can be made. Whether it's making the ribs double jointed as a fail safe so that they can just be bent back to normal or make them automatically spring back into place on their own. Umbrella manufacturers have gotten very good at making sure that inversion does not immediately destroy your umbrella.
Convenience
You may have noticed that less and fewer people these days have the long, wide umbrellas from the old days that you could use as a walking stick when it was sunny out, in favor of smaller, easier to store umbrellas. This is due to the later models being much more convenient and practical to use. And that's the key word, convenience. We all like to have an umbrella on us when we feel we'd need it, but today's world is one filled with a myriad of other things to keep your hands full, and there just isn't enough room on your person for a big umbrella anymore. Which is why people prefer the smaller, "fits in your bookbag" models, especially when those models get essentially the same job done that the bigger ones do. When we had a larger model on this list, we scrutinized it heavily to see what it had to offer and brought to the table.
Price
For our final criteria, we judged the price of each object. This was not as hard as it usually is with these sorts of products, which left us pleasantly surprised. We were expecting the various features and innovations each product brought to the table to lead to the price varying wildly between each entry, but in fact, the opposite was true. Apart from the occasional exception, every entry in this list was perfectly affordable. So instead, we judged each entry by what they were offering to make an already good deal an even better one.
Top 10 Picks
1

. Balios Prestige Travel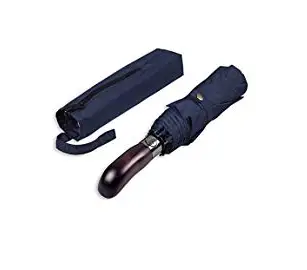 Kicking off our list, we have the Balios Prestige Travel Umbrella with Real Wood. Balios, like a lot of these classical umbrella manufacturers, have been around for a while, and have become very good at what they do. And what they do is make truly high-quality umbrellas. Let's have a look at this one as a very fine example.
Amazing materials
Just because you aren't meant to take these things out into hurricanes, doesn't mean you shouldn't at least have an umbrella that can take equal amounts of pressure. And that all comes from the materials used to make the umbrella, and with this umbrella's high-grade steel shaft and ribs made from premium fiberglass, this is an umbrella that can take quite a bit of punishment. And then there's the canopy, made from 300 thread count high-density fabric, which is some of the strongest fabric you can possibly put in an umbrella.
Excellent British design
If there are two things that utterly complete the classical English gentleman aesthetic, it is the umbrella and the cane. Since we're focusing on the umbrella this time around, it should be noted that no one does luxury English umbrella design quite like Balios. This umbrella is a seamless blend of classical and modern design flourishes that come together to make something unique.
Cost and Value
Thankfully, umbrellas, being very common and easy to make if you know what you're doing, are not that expensive, not even the really old classical models like Balios. So, you don't generally need to worry about breaking the bank with Balios.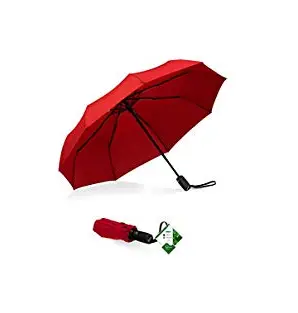 Coming in second place, we have the Repel Windproof Travel Umbrella with Teflon Coating. We go from a classical British umbrella to what you're more likely to be familiar with when it comes to an umbrella. However, don't count this one out as generic just yet, as it has quite a few tricks up its sleeve.
9 Rib Construction
The ribs are the little arms you see on the underside of the umbrella canopy, holding up the fabric and keeping it pulled taut against the water. Most umbrellas have 6-8 ribs made from aluminum, which do their job fine. But this umbrella has 9 ribs, all of whom are made from strong, resin reinforced fiberglass. Meaning that this umbrella is almost completely invulnerable to high winds, with almost no chance at all of the umbrella being turned inside out.
Superior water repellency
But it isn't just the wind that bows to this mighty umbrella, but like any good umbrella, the water also stands no chance against it. Teflon is a great material to use when you want to make something particularly water repellent, so an umbrella's canopy is the perfect candidate for that. You'll never want anything else after experiencing what this umbrella can do for you when the rain comes down hard.
Cost and Value
Once again, this umbrella gives you great service and construction for a very modest fee. In general, you'll never end up paying too much for an umbrella, even the really good ones like this one here.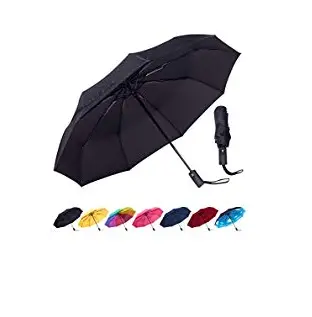 Finishing up our top 3 segments, we have the RainMate Compact Travel Umbrella. Easily the most popular form of umbrellas these days are the smaller, compact variety, and it's easy to see why. They often do everything a normal umbrella can do, at a third of the size and are thus easier to move around when traveling. And nowhere is this more exemplified than with RainMate's travel umbrella.
Completely windproof
Like the previous entry, this umbrella utilizes a set of 9 reinforced fiberglass ribs, paired with a sturdy metal shaft and frame, making it completely resistant to winds of up to 20 mph and even higher. Which, for anyone who's had to carry an umbrella in winds exceeding that speed will attest, is quite a feat in and of itself.
Fail-safe flip technology
The canopy of this umbrella is about as indestructible as an umbrella canopy can get. This is all thanks to the ribs of the umbrella, on top of being made of reinforced fiberglass, are also equipped with a fail-safe that inverts the canopy when met with strong winds that it can't handle without bending or breaking the ribs. So even after it turns inside out, don't worry, just bend the ribs back into place, and you're good to go.
Cost and Value
Considering how innovative the design of this umbrella is, with its windproof design and fail-safe flip protection technology, it's astounding that it's the cheapest entry we've shown yet. By a thin margin compared to the other two, sure, but it's a wide enough margin to be considered nonetheless.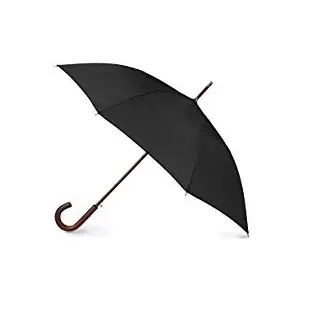 Coming in at #4, we have the Totes Auto Open J Stick Umbrella. Totes is a lesser known umbrella company, not obscure, but not garnering the same bent ears that other brands do. Which as you'll discover through this entry, is a real shame, because they turn in some excellent products when they set their minds to it.
Auto open
We've all had those days where we have to fumble to get out our umbrellas because it is just about to rain, but you can't quite pinch down hard enough in time to open it before the rain starts falling, and you're completely soaked before you even get the thing open. Which is why this umbrella allows you to open it with just the push of a button.
J handle design
When dealing with these longer umbrellas, the J stick handle design is the one you'll most commonly find, and for a good reason. It basically makes the otherwise cumbersome, long design of the handle much easier to deal with, because it gives you options of where to hang it when you're not using it. It also fits perfectly in your hand and is much harder for a strong wind to knock free.
Cost and Value
Once more, we have a very average price for an umbrella, which is to say it's perfectly affordable, and you should not have too much trouble affording it should you be in need of an umbrella of its type.

5

. Spar. Saa Double Layer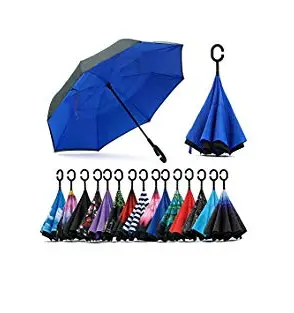 For the #5 spot, we decided to go with the Spar. Saa Double Layer Inverted Umbrella. Easily the strangest entry on the list thus far, this thing looks nothing like any umbrella most people have seen. Not a lot of people are aware of inverted umbrellas, and those that are generally don't know what to make of them. Thankfully, it doesn't take long with using this umbrella to realize that the people who made it more than knew what they were doing.
C Shaped Handle
A J-shaped handle gets the job done just fine on its own, but if you want to make sure that your umbrella isn't going anywhere, then you need to get your hands on a C shaped handle, which will pretty much guarantee that, whatever else happens, that is staying attached to your wrist. And in case you're wondering how that feels, don't worry about that either, as this umbrella is comfortably frosted and very easy to hold onto for long periods of time.
Double layer reverse opening
Now for the elephant in the room, the weird design of this umbrella. Well, believe it or not, there is a very ingenious method to this design madness. That being that this umbrella folds inward, keeping the dry underside of the umbrella as the exterior. So, if you step into your car after getting out of the pouring rain, you don't have to worry about getting the interior of your car all wet.
Cost and Value
A tiny bit pricier than the previous entry or two, but nothing too serious. So, if you have a knack for unique designs and you want something both functional and oddly fashionable, have a ball with this umbrella.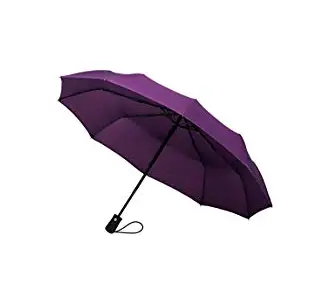 For #6, we chose the Crown Coast Travel Umbrella. This is a much more casual umbrella that you wear for light to medium afternoon showers, especially if you live in areas like Florida, where such events are commonplace. Now, this is not to say that this umbrella isn't of high quality, as we will demonstrate with the following.
Severe storm rating
While these may be built for more casual audiences in mind, that doesn't mean that these umbrellas can't measure up when it's asked of them. These umbrellas are specially designed to be able to withstand winds of up to 60 mph if need be, with a shockingly small chance of breaking. Particularly shocking when you consider that such speeds are where most other umbrellas fold.
Windproof Flex Memory Frame
Though strong against high winds, if in the event that this umbrella does go inside out from a strong gust of wind, that is not the end of things. Instead of being destroyed when turned inside out, the frame will bounce right back to normal the moment the force that put them that way has subsided.
Cost and Value
Not only does this umbrella have everything we just went over, but it's also by far one of the cheapest, if not the cheapest, entry on this entire list.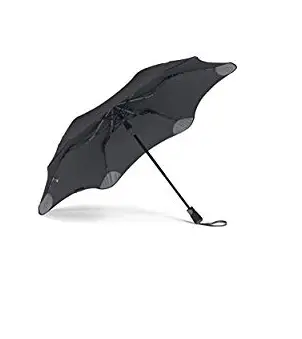 For our #7 spot, we have the Blunt Metro Travel Umbrella. This is one of the most unorthodox entries on this list, with its best qualities existing in areas we didn't even think about, which frankly, made it impossible not to put on this list. What are we on about? Well, let's find out.
Blunt tips
When you're walking down the road with friends during a rainy day, it can feel awkward moving your umbrella around, since the tips of the ribs can poke and prod at people, very rarely hurting, but always annoying. Fortunately, this umbrella solves this problem by, quite simply, blunting out the ends of the ribs, making them less sharp when they poke into you.
Rip resistant canopy
When your umbrella rips, it's time for a new one, period. It's pretty much done at that point, so you may as well get a new one. Thankfully, the canopy of this umbrella makes the chances of that happening quite unlikely. This is all thanks to its 37" rip resistant canopy made of tough polyester. This is probably one of the most durable umbrellas on the entire list.
Cost and Value
We go from probably the cheapest entry on the list, to by far the priciest. The polyester used to make the canopy is the most likely source since that material is not cheap in any amount.

8

. Totes Signature Clear Bubble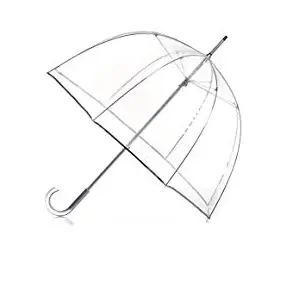 Kicking off our final three entries, we have the Totes Signature Clear Bubble Umbrella. You've likely seen this type of umbrella around before, and the most common name for it is a parasol. It's an umbrella meant only for one person but provides that person with a perfect, dome shapes protection from the water.
Stylish clear design
In many ways, a mere design flourish, but this simple change adds so much style to the umbrella. There's something so basically alluring about the idea of being so close to rainwater without it actually touching you. A feeling that this umbrella flawlessly emulates with its completely see through design.
Complete dome coverage
With a protective range of up to 47" around you, your hair and clothes will be completely shielded from the wind and rain. Especially from trickier, oncoming winds that go right under other umbrella types and blow right into your face.
Cost and Value
Thankfully we're back to much more manageable prices for our umbrellas with this entry, which is perfectly affordable while still giving excellent service.

9

. GustBuster Metro Automatic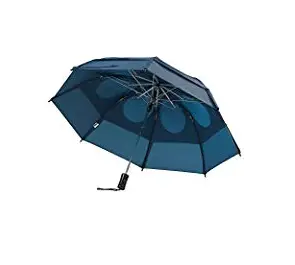 For our second to final entry, we have the GustBuster Metro Automatic Umbrella. If you live in a very windy area and need some kind of protection, both on and off of storm season, then you need to look no further than this umbrella right here. So, what makes it so effective against the wind? Let's find out.
Incredibly durable
The polyester may be tough, but it doesn't even hold an uncarved cube of candlewax, let alone an actual candle to the GustBuster Metro, which is made out of 100% nylon. This material wicks away water naturally, is incredibly durable against high winds, but is practically impossible to tear.
Automatic
Since you're buying this umbrella expressly for the strong winds you expect to face, it makes sense that you would be able to actually open the thing in those winds. Which is why this umbrella is completely automatic and impossible to keep from opening when you press that button. So, tell people to stand back when you do.
Cost and Value
The main drawback to this one is the price. While nowhere near as expensive as the previous entry, it is still rather pricey, so if you want it, you'd best be prepared to pay up.

10

. Lewis N Clark Compact For our final entry, we have the Lewis N. Clark Compact lightweight Travel Umbrella. Though appearing large when unfolded, rest assured that the best part about this umbrella is just how small it shrinks down when folded up. What else does it have to its name? Let's find out.
Water resistant and quick drying
Even other umbrellas that are completely water resistant have trouble with the latter half of that title, often taking a long time to dry off, and the parts that don't often form mildew that leaves a horrible stench behind. Which is why it's so impressive that not only is this umbrella water resistant, but also that it's very quick to dry on its own, never taking more than a few minutes at most.
Automatic open and close
Not only is this umbrella incredibly compact, going from 38" to 11" in a few seconds by folding it up, but it's also incredibly fast to do so. Most umbrellas are automatic to open, but this one also makes the button that opens the umbrella also close it just as easily.
Cost and Value
While not quite as cheap as the cheapest entry on this list, it's the closest any of the other entries have gotten up until now, so that counts for something.

Subscribe to our Newsletter