Best Sharpening Stones Reviewed & Rated for Quality
In a Hurry? Editors choice: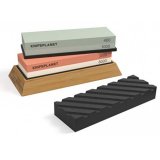 Test Winner: Knife Planet Set

We all know how annoying it is trying to work in the
kitchen
with dull knives. How many times have you ended up with squashed tomatoes because your knife blade is too dull to pierce the skin? Or even worse, had the knife slide off of the intended target - your food - and instead end up cutting your fingers? Dull knives aren't just a cause for irritation in the kitchen, they are outright dangerous. You are far more likely to injure yourself in the kitchen using a dull
knife
versus a well sharpened one. Luckily, it is easy to keep your blades in good repair at
home
with the right stone. We scoured the market to compile this list of the ten best so let's get to it.
Standout Picks
Criteria Used for Evaluation
Accessories
Knife sharpening skills aren't something most people are born with or taught in school. It is an acquired skill that takes time and practice to perfect. For this reason, anyone who is new to sharpening should look for stones with accessories that make them safe and easy to use. One tool we really love is angle guides. These assist you in holding the knife at the correct 15-degree angle. The number one mistake people make when sharpening is the angle, so these tools can be extremely helpful for beginners. Slipmats or bases will also make the job easier and safer, by securing your stone so you can focus on controlling the blade. Many of the items that made our list also come with eBooks or manuals. These tutorials can be a great starting point in your journey of knife sharpening. If you will be sharpening your knives frequently, a flattening block is also a great accessory to have. This will be useful if your stones develop grooves or ridges from prolonged use. The extra-coarse grit of the flattening block is intended to smooth and grind down the surface of the sharpening stones, returning them to their original level surface.
Ease of Use
Sharp blades always pose a safety risk and this statement is especially true when it comes to sharpening them. The first thing that will make your job easier is selecting the correct type of sharpener for the job. Smaller, pocket sized items are great for use in the feild and on-the-spot touch ups however it would take ages to sharpen a large chefs knife on a 3 inch sharpener. Other factors that influence the ease of use include nonslip bases or mats and angle guards.
Effectiveness
How effective your stone is will depend on selecting the right grit or grade for the job. Very coarse stones are perfect for repairing damage such as chips and knicks. They also work well on extremely dull edges. The grits would be too abrasive for regular use and if used repeatedly can actually wear the blade away. Super fine stones are used for honing, refining and perfecting blades. They can be used to create surgical grade edges and prepare your blades for cutting throught the most delicate materials. These grades aren't necessary for most average home use. We have included a wide range of grits, grades and complete sets in our list so you can find the perfect sharpening stone for your personal needs.
Value
Kitchen knives and utility tools are a costly investment. It makes sense that you would want to keep your blades well maintained to prolong their life. It also makes sense that you wouldn't want to break the bank on sharpening tools. We have included a wide range of sharpening stones on our list- something for every budget and every need. If you cook a lot at home or own high grade professional chef knives, you may want to invest in a set of sharpening stones which will allow you to customize the edge each time you sharpen. For basic use, a 2-in-1 stone that has 1000 grit will suit most needs and not cost a fortune.
10 Best Sharpening Stones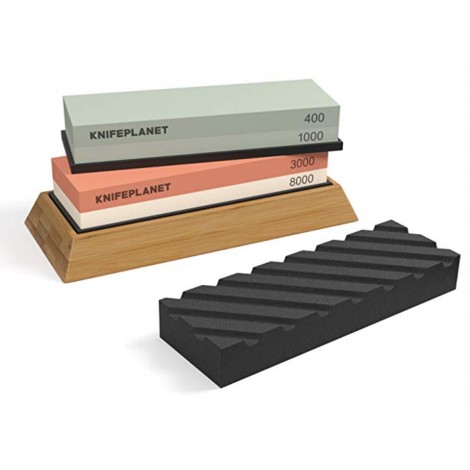 This set from Knife Planet came out number one on our list for a number of reasons. The value set comes with everything you need to keep all your blades in pristine condition. There are four different grits, a bamboo base with a rubber bottom to hold your stones in place, a coarse flattening stone for whetstone maintenance and bonus online content in the form of a tutorial called Knife Sharpening School.
Four Different Grits
Let's start out discussing the grits included in the Knife Planet Complete Set. There are two whetstones, which each feature two different grits, for a total of four different surfaces. The coarse stone is a 400/1000. Typically, a grit under 1000 should be used to repair blades that are chipped or damaged. The 1000 side is the perfect starting point for general knife maintenance. The second stone is intended for finishing and includes 3000/8000. These finer grits are perfect for refining your knives edge.
Coarse Flattening Stone
Included in this set is a coarse flattening stone. This is used to keep your whetstones in perfect working order. With repeated use, these stones are prone to hollows or grooves caused by the friction from the knife blades. This will reduce the effectiveness of your whetstone and can become a safety hazard as well. The extra coarse grit of the flattening stone can be used to maintain the level surface of your whetstones, for precision sharpening every time.
Cost and Value
The best thing about this Complete Set from Knife Planet is the great value it offers. There are two, double-sided whetstones. You will be able to repair chipped or knicked blades with the coarsest grit. The 1000 grit is perfect for general knife maintenance and should be the starting point for all your sharpening. There are also two finer grits. These are intended to refine and perfect your knives edge for precision cutting of even the most delicate fruits and vegetables. In this set, there is also a bamboo base with a rubber bottom. This will keep your whetstones secure while you are using them and make it safer for you as well. We give a ton of bonus points for the extra online material that is included in this set. Knife Planet has put together a thorough online tutorial that covers all the knife sharpening basics as well as more advanced techniques. Since this sharpening stone is a whetstone variety, you will never need to purchase oil, another factor that adds value to this product.

2

. Sharp Pebble Premium Whetstone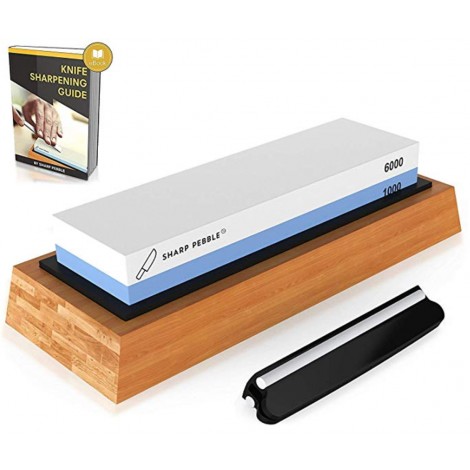 Coming in second on our list is this whetstone from the Sharpe Pebble company. Whetstones are great for using on kitchen knives as they are gentle yet effective as well as affordable. This particular stone made our list for a number of reasons and is a great pick for any discerning home cook.
Comes With Angle Guide
One thing we love about this product is that it comes with an angle guide. This is a handy piece of plastic that holds your knife at the correct angle. One of the trickiest things about knife sharpening for beginners is getting the correct angle and this guide is a great tool to use for that. One reviewer stated his mother had never sharpened a knife before and she was up and running in under 5 minutes using this product. We also like that this product comes with a non-slip bamboo base for holding the whetstone in place. This allows you to sharpen safely, with control and never worry about your stone slipping.
Free eBook & Manual
Another great feature about this option is the bonus eBook and manual that are included. Sharpening a knife is a learned skill and can be dangerous if not done correctly. Even complete noobs can feel confident using this after reviewing the information provided in the eBook and instruction manual.
Cost and Value
The grit on this stone is 1000/6000. The 1000 side is the perfect starting pointing to fix dull blades and the 6000 grit can be used to refine your edges for a razor finish. Adding even more value to this stone is the fact that it can be used on all types of blades, not just kitchen knives. Whetstones are great for use in the kitchen, and they never need to be oiled which will save you money down the road. We also love that it includes an angle guide. Since the angle of the blade is the most important factor,, this will ensure even complete beginners can use the product safely and effectively.

3

. Kota Japan Premium Whetstone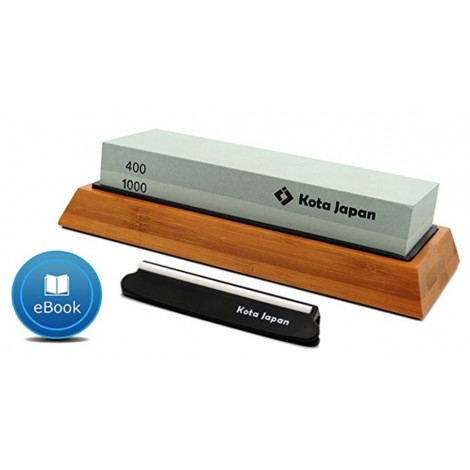 Rounding out the top three picks is the Kota Japan Premium Whetstone. This stone is available in a number of grits, from super coarse to super fine.
Depending on what you intend to use your knife for, you will want a different level of sharpness. With Kota Japan Premium, you can select the correct grit for your needs or purchase more than one stone.
Many Grits to Choose From
We love that this product is offered in a variety of grits. Different grits serve different purposes and one whetstone sometimes may not be enough for all your needs. The Kota Japan offers grits as coarse as 400. This can be used to repair damaged or chipped blades. The grits go all the way up to 3000/8000, which would be used to refine and polish an edge to the ultimate razor finish perfect for cutting delicate fruits or vegetables.
Safe to Use
The Kota Japan Premium whetstones all come with a bamboo base and an angle guide. We love both of these features not just for the convenience factor but also for safety. The bamboo base is made from genuine, polished hardwood. Thanks to the rubber non-slip base, the bamboo holder will look great on your countertop and also won't cause any damage. As we previously mentioned, angle guides are great tools for beginners as getting the right angle is the most important factor influencing the outcome.
Cost and Value
We love that the Kota Japan Premium Whetstones are all at a very affordable price point. There is a small variation in price between the various grits, but none of them will break the bank. There are a number of grit options to select from, so it easy to get the right whetstone for your particular needs. Adding even more value to this product is the included bamboo base and angle guide.

4

. Dan's Whetstone Company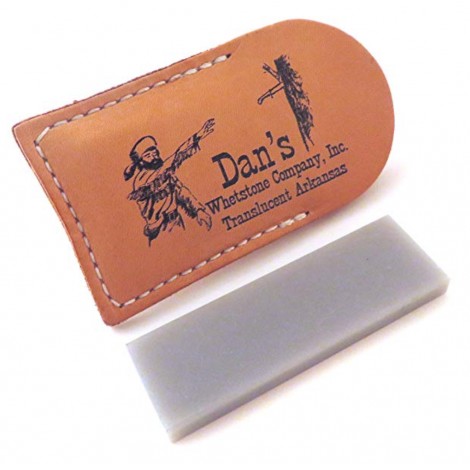 The next product on our list is from Dan's Whetstone Company. They are based in Arkansas and offer a complete line of premium, naturally sourced Arkansas grade whetstones. Unlike the previous stones mentioned which are made from ceramic, the whetstones from Dan's are all made with natural quartz stone called Novaculite, that is mined from Arkansas. The company has been making premium Arkansas whetstones since 1976 and was founded by mining engineer Danny Kirschman.
Made for Pocket Knives
Kitchen knives aren't the only type of knives out there! We really like that this product is a handy pocket size, perfect for smaller blades such a hunting, utility or pocket knives. The compact 3-inch size of this product makes it the ideal size for carrying in your pocket. This is a great item to check out if you spend considerable time in the great outdoors doing activities like hunting and camping. The small size and light weight of this item make it highly portable and perfect for touch-ups on the spot. We give bonus points for the leather carrying case that is included which keeps the stone protected and looks great as well.
Translucent Grade
Unlike Japanese whetstones which are measured in numbers, the coarseness of Arkansas whetstones is measured on a different scale. They are classified into 4 different grades- soft, hard, translucent and finally black. Soft is the coarsest grit with black being the finest. This stone is a translucent grade, which is comparable to a 5000-6000 grit on the Japanese scale. This is perfect for honing a razor edge on all your blades.
Cost and Value
This pocket-sized stone is a great buy for anyone who spends time in the wilderness. The price is equally as attractive as the leather carrying case which is included with purchase. Hunters, fishers, hikers and camping enthusiasts all rely on their pocket knives for a variety of reasons and tasks. This stone is the perfect portable size for touch-ups in the field. With this product in your pocket, you will never need to worry about carrying dull knives around with you before you head out on your adventures. We also think this product makes a great gift for any outdoors people on your list!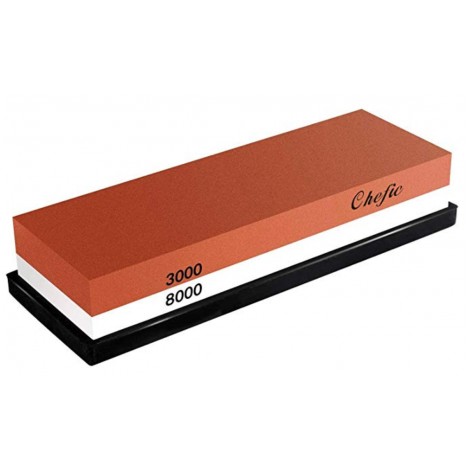 Next up on our round-up is the Chefic 2-in-1. This whetstone is offered in two different grit options and will come in handy keeping all your kitchen knives well maintained. Dull knives are much more dangerous to work with than sharp ones are, and being able to make them such at home will save you time and money versus taking them to a blacksmith.
Two Grit Combinations
Chefic offers their whetstones in two different grit combinations. The first option is 400/1000. A 400 grit is suitable for use on damaged knives that may have chips or knicks in the blade. Next up, 1000 grit is the standard starting point. For most basic cutting needs, a 1000 grit would be all you need. This stone is a great item to have in your kitchen since quality kitchen knives are not a cheap investment and you will want to keep them well maintained. The second option from Chefic is a 3000/8000 combination. The finer grits are perfect for refining and honing your edge. This is useful for the most serious at home cook or professional chef. Finer grits will create a razor finish that will be suitable for even the most delicate cutting needs.
Silicone Slipmat
Safety is crucial when working around pointy edges and kitchen knives are no exception. The Chefic 2-in-1 Whetstones come with a non-slip silicone mat to keep them securely in place. Just as you wouldn't want to lose control of your knife while cutting, the same goes for sharpening. With the slipmat, you can work with confidence knowing your whetstone won't budge.
Cost and Value
One reason we love the Chefic 2-in-1 Whetstones is the price point. These items are super affordable and great quality as well. Reviewers stated that these stones were top quality and comparable to more expensive products. Bonus points for the included silicone slip mat which keeps your stones securely in place while you sharpen. If you are looking to get and keep your knives in perfect working condition without breaking the bank, certainly check out the 2-in-1 stones from Chefic.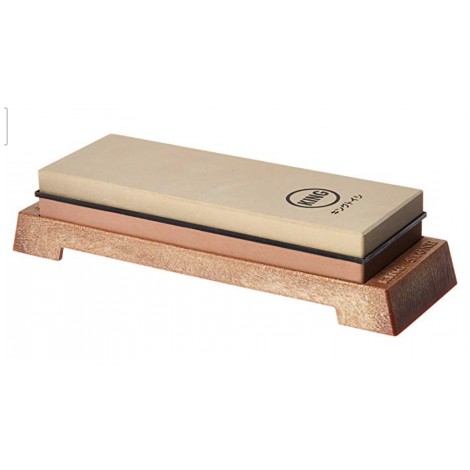 The next pick to make the cut was the KW65 1000/6000 Combination Whetstone. The price point of this item is very accessible, for professional chefs and home cooks alike. Manufactured in Osaka, Japan by a company called Matsunaga, King is one of the oldest and most recognizable makers of Japanese stones in the West. The 1000 grit on this 2-in-1 is perfect for basic sharpening and the finer 6000 grit can be used to hone and refine the edge.
Fine Grit For Polishing
Most experts agree that 1000 grit is a great starting place for basic cutting needs. If you can only buy one stone, this is definitely the grit you want to have in your kitchen. We like that this stone from King offers a finer grit for the second side of the stone, unlike some of the other options we have seen which feature a coarser 400/1000 split. The finer 6000 grit is the bridge between simply sharpening your knife, and really honing and perfecting the edge. If well maintained, you won't want to use a 1000 grit too often as it can wear down the blade. A finer, higher grit would be more suitable to someone who sharpens their knives often.
Plastic Base
Like many of the stones we have featured on our list, the King KW65 comes with a plastic base. The base is essential for safety and precision while sharpening. Professional blacksmiths say one of the top mistakes they see novices making is applying too little pressure. Four to six pounds of pressure is suggested for maintaining knives, and closer to eight pounds for an extra dull blade. Working around edges you want to ensure your safety at all times. The plastic base will securely hold your stone in place, preventing you from losing control of the knife which could result in injuries.
Cost and Value
We love this 1000/6000 Combination stone made by King. It is imported from Japan and manufactured by one of the top names in the stone world. The grit combination is perfect for people who keep their knives well maintained. The 1000 side can be used for general sharpening and the finer 6000 grit is ideal for honing and perfecting the edge. Experts recommend only using a 1000 grit when necessary to avoid wearing away your blade, so having the option of both sides is great. Adding more value to this product is the non-slip plastic base that holds the stone in place. One reviewer raved that "this item will be a staple in my kitchen until I die". With such an attractive price point, this is a great option to check out.

7

. Best Sharpening Stones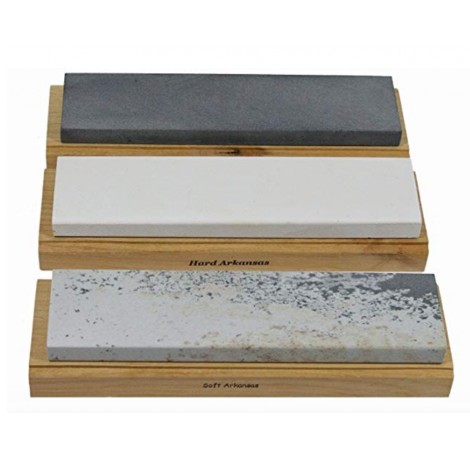 Continuing on our list, we have a complete set of Arkansas Stones from Best Sharpening Stones company. This set includes three stones, suitable for a range of needs. The stones are mounted in wooden boxes, which look great and are functional as well.
Arkansas Stone
We talked a little about Arkansas stone versus Japanese stones earlier. Japanese stones are man-made, usually from a ceramic material. The coarseness of the stones is measured in a number system, with lower numbers being a coarser grit. Arkansas stone is a naturally occurring type of quartz called Novaculite, that has been used in the production of stones for thousands of years. Arkansas stones are also measured on a different scale than Japanese ones. There are four grades, from coarse to fine - soft, hard, translucent and black. This set includes a soft, hard and black stone, which can be used to perfect a variety of blades.
Lifetime Guarantee
This set of Arkansas stones is mined and manufactured in the USA, and backed by a lifetime guarantee. This gives you piece of mind that you are investing in a well made item that will last for years to come. The wooden boxes that the stones are mounted in are made from 100% real wood, which many people prefer to silicone or plastic. It is also worth noting that the bases come with plastic feet intended to stabilize the stones if you are using the on a flat surface.
Cost and Value
Reviewers loved the value that this set offered, as it can be used to sharpen more than just kitchen knives. These can also be used for utility blades, pocket knives, hatchets, lawn mower and yard tool blades, surgical tools, etc. The three stones in this set range from coarse to super fine. This will give you the ability to do everything from repairing chipped and damaged blades with the soft stone, to putting a surgical, razor finish on your tools with the black stone. Adding more value to the product is the lifetime guarantee. This is another item that would make a great gift for hunting, fishing, camping or outdoors enthusiast. It is practical and affordable, and the wooden boxes that the stones are attached to add a decorative touch.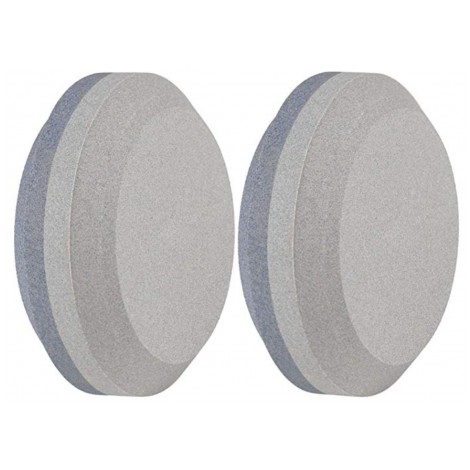 The next item on our list is more specifically designed for sharpening and maintaining utility blades. Just like in the kitchen, working with dull blades on tools can be annoying and even dangerous. Keeping your axes, hatchets, lawnmower blades and machetes sharpened will increase their effectiveness and ease of use.
Pocket Size
These puck shaped items from Lansky are the perfect size for stashing in your pocket. This will come in handy while doing yard or farm work or for people who have large properties with many tools spread throughout.
Comes With Two
Lansky sells The Pucks in a convenient two pack. Each puck is dual sided and comes with a coarse and medium side. The coarse side can be used to repair damaged or extremely worn blades. Use the medium side for sharpening and perfecting the edge.
Cost and Value
The Pucks from Lansky offer a ton of value for the money. They are sold in packs of two, which saves you money from buying individually. Each puck is pocket-sized for portability and has dual-sided grit in coarse and medium. These pucks can be used on a variety of utility blades including hatchets, axes, machetes, spades, shovels and lawnmower blades. We give bonus points for the ergonomic shape of these pucks, which are designed to fit in your hand and be easy to hold onto. This product has a ton of rave reviews and the price is super reasonable so you can afford to keep one puck in your shop and one in your garage for on the spot touch-ups whenever needed.

9

. Sharp Pebble Whetstone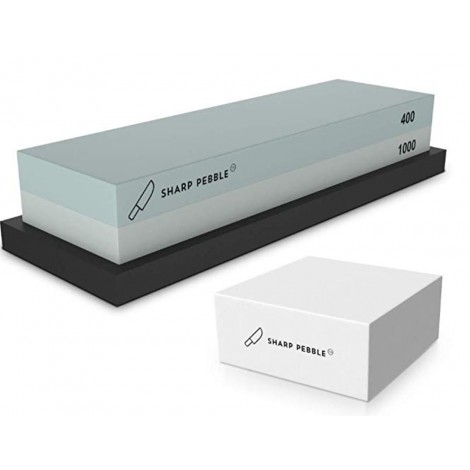 The next product we want to take a look at is the Sharp Pebble 400/1000. We reviewed the Sharp Pebble 1000/6000 earlier on our list, but this stone also made the cut because it serves a much different purpose.
For Extra Dull Knives
The lower the grit, the more coarse the stone is. Coarser stone is more abrasive and therefore removes more material from the blade. A 400 grit should only be used for damaged or extremely worn edges. This grit is designed to smooth out chips and knicks, and used alone won't leave the best edge on your blade. This is where the 1000 side comes in. Perfect for general use, a 1000 grit stone should be considered your 'go-to' in the kitchen when it comes to routine maintenance.
Flattening Stone Included
One thing we love about the products sold by Sharp Pebble is that they also include flattening stones. Over time and with repeated use, whetstones can incur grooves or ridges. This will not only affect the efficiency of your stone but can become dangerous as well, as it will be more difficult to maintain control of the blade. The flattening block is an extremely coarse grit, that can be used to smooth and restore the surface of your whetstone. Flattening blocks are simple, easy to use and will prolong the life span on your whetstone.
Cost and Value
This whetstone is a great option for someone who already owns a finer grit stone or an occasional at home cook who maintains their knives a couple of times a year. The 400 side is coarse enough to restore damaged or extremely worn blades. The finer 1000 grit is recommended by experts as the best starting point for basic needs. If used routinely every couple months, a 1000 grit will keep your knives in tiptop shape. Adding more value to this produce whetstone is the eBook with valuable tips and tricks for noobs. We also love that these products include a flattening block, for whetstone maintenance and a rubber base for safety and security.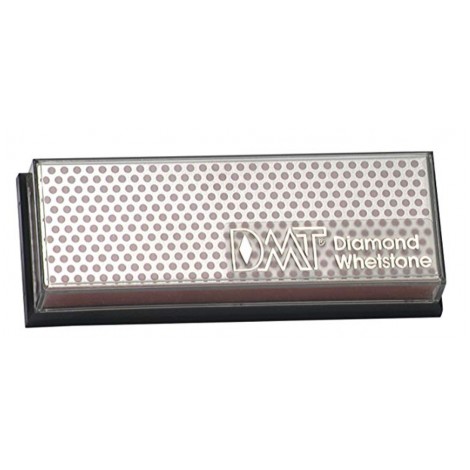 Rounding out our top ten picks is this product made by DMT. DMT stands for Diamond Machine Technology and they are an industry leader in diamond knife sharpening products. Diamonds are considered the best quality on the market and often command a higher price tag because of it. They are quicker to use than whetstones or oil stones and are more likely to remain flat after repeated use.
Fine Grit for Razer Edge
The W6FP is made from minute pieces of diamond embedded on a nickel plate. This is then encased in a plastic base, for ease of use and comfort. Diamond is the hardest stone, so it is the ultimate choice for precision use. The pattern of bonded diamonds and plastic disks on this product greatly reduce the amount of time spent working on your blade.
Easy to Use and Maintain
Diamond is considered a premium material for a number of reasons. For one, it maintains its flatness much better than an oil or whetstone would. In fact, coarse diamond stones are often used to sharpen oil or whetstones which have developed grooves and ridges. Another reason we love diamond stones is they require no honing oil or regular maintenance. Unlike whetstones which need to be soaked for up to 10 minutes prior to use, a diamond stone simply needs to be moistened.
Cost and Value
The only downside to a diamond stone is the initial price. These products can be pricier than oil or whetstones due to the high cost of the diamond used in manufacturing. What diamond stones do offer is superior performance and zero maintenance. They maintain their shape and flatness much better than oil or whetstones and require very little maintenance or upkeep. This product can be used on a wide variety of blades in your home such as kitchen knives, scissors, garden tools, ice skates, climbing equipment, chisels, and planes. This is a great investment that will serve many purposes and last for a lifetime.

Subscribe to our Newsletter