Best Bolo Machetes Reviewed & Rated for Quality
In a Hurry? Editors choice: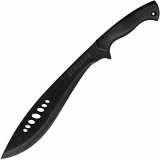 Test Winner: Schrade SCHKM1 Kukri

When it comes to being in the wilderness, whether that is in the backwoods, in the jungle, on an island or out back in your
garden
, you want a
survival tool
that is a trusted companion. A good machete is a tool you want at your side. Or in your hand, rather. It is one of the ultimate outdoor
survival tools
that allows you to apply many different functions. You can cut, chop, slash, hack, scoop and even dig. Whether you are on a hike, backpacking day trip or
camping
, a machete is the tool you want. Figure out which one is the best for you and your wild adventure needs. Backyard to back-country, our buyer's guide has you covered.
Standout Picks
Criteria Used for Evaluation
Materials
There are plenty of options to choose from for materials when it comes to handles, some for functional purposes, while others make for a more decorative piece. Some of your options will include:
Wood: Handles made from wood provide an adequate grip, but can crack over time. These handles are harder to maintain and found to be more on the pricey side.
Plastic: Plastic handles require less maintenance and usually aren't very expensive. They are however slick when wet, lessening your overall grip and control over the machete.
Stainless Steel: Handles made from stainless steel are more for decorative purposes, as they add weight to the design of the machete. They can become slippery when they are wet, which gives you less grip action.
Rubber: Handles made from rubber provides a soft but firm grip, rubber handles are also known for absorbing shock to your hand during use. This can help to combat fatigue in your hand while using your machete. Over time rubber handles can become worn out or start to rip.
Leather: Leather handles make a great decorative piece, but due to their high maintenance, are not great for practical purposes. When the leather becomes wet, it can be fairly slick, making swinging the machete more difficult.
Layered: A layered handle can be made from several materials such as paper, canvas, or fiberglass. They are quite durable and can offer a comfy, firm grip. This option for a handle tends to carry one of the highest price tags on the market but is known for lasting longer periods of time.
Size
One of the most determining factors is the blade shape. A little food for thought, most machetes although designed for specific uses can be used for multiple things. Most of the time what you hear from others will be based on their opinions, as each individual has their own preferences. When the blade is developed with a wider point, that adds the weight to the front of the machete, making it useful for chopping. For a machete that will help blaze a trail through the dense woods, choose one with a blade that isn't quite as long and has more girth. After you have selected the blade shape you prefer, you will need to consider a suitable blade length. Blades come in multiple length choices, on average 18 inches is the most popular choice. A blade that is short can make it hard to reach some areas, while a longer blade can offer a longer reach, they are harder to travel with.
Durability
Machete blades are made from three different material stainless steel, carbon steel, or high carbon stainless steel. Each of these materials has its own good and bad properties. Choose the material of the blade according to what you will use the machete for.
Stainless Steel: Stainless steel blades are soft, easy to care for and have the capability to be sharpened once dull. More commonly used for decorative purposes rather than being functional. This is because they tend to become dull fast and are more expensive.
Carbon Steel: These blades work great for all your chopping or cutting needs, as they are stronger than the stainless steel blades. Although they tend to retain their sharpness for a longer period of time, they can be slightly tricky to sharpen once the edge is dull. Carbon Steel blades do however have the potential to rust rather quickly, so they will need to be kept dry and oiled.
High Carbon Stainless Steel: Blades made from high carbon stainless steel give you the best of both worlds, taking the top qualities of both carbon and stainless steel. These blades are less likely to rust, while just as tough as the carbon steel making the blade functional as well. This material is the more expensive of the three choices, but it does offer more potential than the others.
Style
The handle of your machete is just as important as the blade, the handle should fit like a glove to your hand. You have several handle styles to choose from on the market, what works for one person may not work for you, a good suggestion will be to try before you buy. That way you know you will have a good grip, adding to the control of your machete.
Quillon Handle: This type of handle is designed to reduce the risk that your hand will either slip off the handle or slide up over the blade. You will find that there is no form of protection to the rest of your hand, which really won't affect you unless you are using this machete during combat.
Knuckle Guard Handle: As with the first design, this handle will as well keep your hand from sliding up or down the handle. The only real design difference from the quillon handle is the knuckle guard found on this handle. These handles add weight to the machete, which isn't very practical for clearing a trail. Keep in mind these handles are not one size fits all, so if this handle piques your interest be sure to test it out for the fit first.
Crossguard Handle: The crossguard provides all the same qualities that the knuckle guard handle does, the difference is in the knuckle guard design. Where the knuckle guard handle encases your knuckles for protection, the crossguard handle has extended sections across the top for protection. The crossguard handle is also slightly heavy, making it a better choice for decoration rather than work.
Value
These types of knives are designed for multiple uses, from clearing a path through the woods to chopping meat, machetes make for a useful piece of equipment. Before choosing what type of machete you will need, you will want to think about what you will be using the machete for. Once you know for sure what your intended use of the machete is, there are some features to take a look at to help you determine how to choose the right type.
One other factor for you to take into consideration when it comes to the handle of your machete is the part of the blade that continues into the handle. This part is called the tang, its purpose is to add stability to the blade and the handle. If your main purpose for a machete is for it to be fully functional, make sure your machete has a full tang. A full tang means the tang will extend into the handle and out the back, this will ensure the strength of your machete.
At the end of the day, survival is key. While that is true, having fun is also important. There is no shortage of fun when you are out clearing unwanted brush or wood when you have a trusted bolo machete in your hand.
The best part? It is totally affordable. You do not have to break the bank to have a survival tool that is sure to perform. You can't put a price on safety and security. But, if you wanted too, you're in luck! Because it wouldn't hurt your wallet with any of these buys.
BEST BOLO MACHETES REVIEWED & RATED FOR QUALITY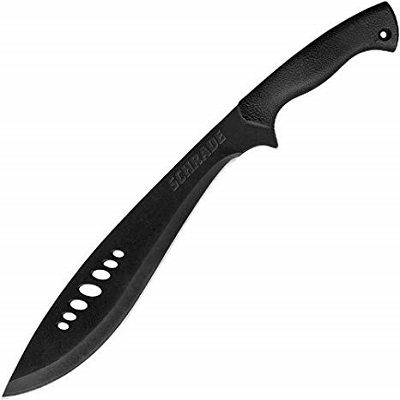 If you are looking to hike, camp, clear out brush or live off the land, the Schrade Kukri Machete is your ideal companion for all outdoor activities. This tool performs above its weight class and features a nice powder coating that looks sharp. This amazing blade is super ergonomic and comfortable to carry. Pull this blade out of the box and get outdoors!
Durable Blade:
The blade on the Schrade Kukri Machete is ready to perform. When it comes to executing bushcraft or other outdoor activities, this tool is a trustworthy one. It is lightweight but performs above its weight class. The full curved shape dominates when it comes to chopping. Additionally, with a full tang, this piece is a solid piece that should not break.
Ergonomic safety handle:
The handle on this machete is made for safety and security. It is small designed to fit most hands but is long enough so you are able to choke up on it for slicing tasks. The multi-positions comfortably accommodate your needs.
Cost and Value
As a mid-range price point piece, this is still an affordable tool for its high performance. If you are in the market for a machete and have a little extra to spare, this kukri will be a great companion for sure!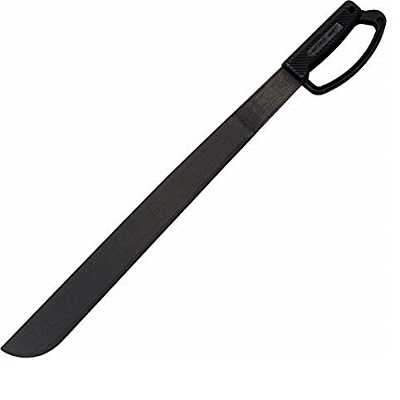 Made with military usage in mind, the Ontario Knife Company Military Machete is made to last. Its performance is high-end and is perfect for any task from simple gardening usage to clearing out unwanted brush and small trees. This handy tool is one you will want to have around. Living off of the land is easier with this machete at hand.
Solid blade:
The blade on this machete can take a beating, so no need to be nice! With a razor-sharp edge and weight at the front, the forward momentum should be on point for getting your chopping job done.
Military grade:
This machete is made for both civilian and military usage, so you know that it is crafted to last. Aside from helping clear out unwanted brush and branches, it is a survival tool through and through.
Cost and Value
This machete is at a pretty reasonable price point and it is a great value for the price. For its durable build and high performance, this is a handy tool.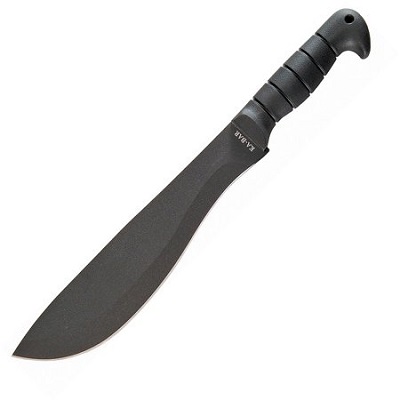 The KA-BAR Cutlass Machete is ideal for someone looking for a sturdy piece with a cutlass style. This bolo machete is great for clearing out unwanted brush, such as chopping down weeds, clearing to prepare your campsite or cutting branches. You'll love nothing more than the comfortable grip in your hand as you are slashing away on a hike, camping trip or in your backyard.
Shorter and thick design
Unlike some other bolo machetes on the market, the KA-BAR Cutlass Machete is made to be a bit shorter and thicker. This design makes it the ideal machete to cut through branches, woody stems or saplings, rather than grass or softer vines. It will work for all but performs better with the tougher components.
Reliable grip
The comfort grip on this bolo machete withstands sweat and water, so you will have a secure grip through any of your wood chopping projects in the wild. The aggressive grip makes it hard to lose it when you are swinging away.
Cost and Value
This bolo machete is among higher mid-range price points, but it is worth every cent. This machete will be a companion for years to come with its performance and durability.

4

. Columbia River Halfachance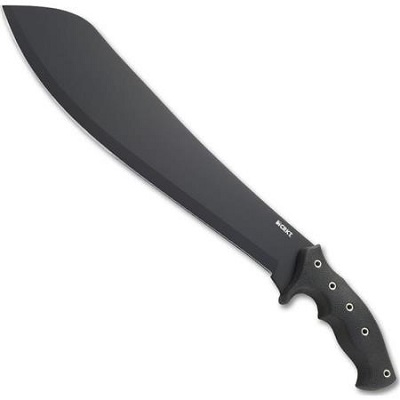 When it is just you and the wild, choose a survival tool that will help get you to safety. The Columbia River Knife and Tool Halfchance Parang Machete is the tool for you. Save the exhaustion for another day, because this machete is crafted to be easy to carry and use. You will successfully be your own rescue party with this piece.
Tough blade:
Constructed out of durable carbon steel with a black powder coating, this is the blade that will point you back to safety. It is durable in all different conditions and environments, so it offers stellar performance in the jungle and your backyard.
Ergonomic handle:
The handle on this machete features a dual-injection molded design that is ergonomically made to reduce any hand fatigue you might otherwise experience. It also features multiple lanyard holes so you can vary your grip position. As a result, you'll find it is much more efficient to slice with this bolo machete.
Cost and Value
This bolo machete is at a mid-range price point. With its durable and solid blade, comfort handle and overall survival performance, there is no doubt that it is a bang for your buck.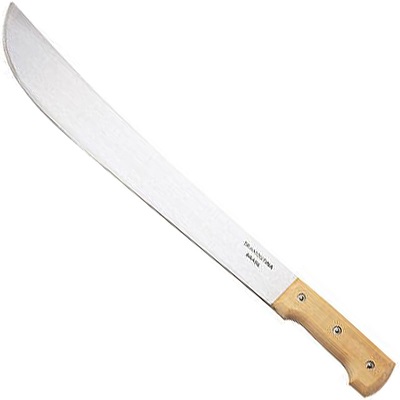 Who doesn't love a sword! And, better yet, a more tactical one to carry? The Tramontina Machete Wood Sword is there to make your dreams come true. Featuring a beautiful wooden handle and craftsmanship, this machete looks amazing and makes a great gift. What's better? It performs well, too. For your daily chopping needs, snag this machete.
Brazilian made:
The Tramontina is a Brazilian made machete. Since machetes are used in that region on a daily basis, they know what they are doing with this craft. You can whack and cut in all directions with the tough carbon steel blade. The beautiful wooden handle is not only eye-catching but comfortable to hold onto as well. This bolo machete is made to last.
Offers flex:
This machete has some flex. Before you write it off as a negative, consider that it is actually pretty standard for machetes. Having flex reduces vibration through the handle when contact is made and it is also a safety factor. When you are in full swing, you do not want your machete bouncing back or ricocheting off the tree back at you.
Cost and Value
This bolo machete is very affordable. It is important to note that with any tool, you get what you pay for. That being said, the beauty, function and overall value of this machete is undeniable.

6

. Ontario Military 9001143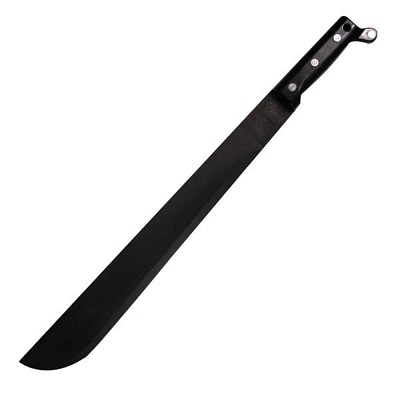 Strong enough for the military? Strong enough for you, my friend! The Ontario Military Machete is crafted with all the allure of Ontario Knife Company's high-quality military-grade machetes. Featuring a rugged carbon steel blade and an easy-to-hold plastic handle, there's no stopping you once you have your hands on one of these.
Solid blade:
The blade on this bolo machete can take a beating. So there is no need to go easy! With a razor-sharp edge and weight at the front, the forward momentum should be on point for getting your chopping job done.
Military grade:
This machete is made for both civilian and military usage, so you know that it is crafted to last. Aside from helping clear out unwanted brush and branches, this bolo machete is a definite survival tool.
Cost and Value
This machete is at a pretty reasonable price point and it is a great value for the price. For its durable build and high performance, this is a handy tool.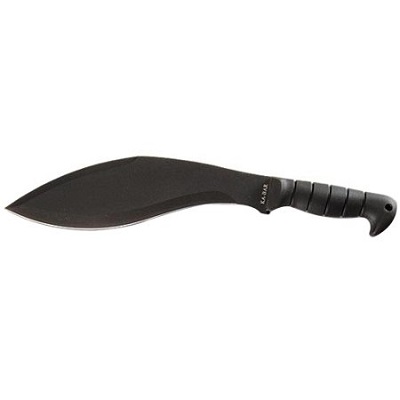 This Nepalese designed knife features a blade that curves inwards. Ideal for clearing out any brush in your path, the KA-BAR Kukri Machete is certain to be your pal. You will be able to chop down weeds, clear out and prepare a campsite or remove small branches and more. A strong blade and ergonomic handle combine to successfully aid you in these endeavors. The full tang design ensures it is a solid piece and should not break.
Curved blade and full tang:
The inwardly curved blade of the KA-BAR Kukri gives the leading edge plenty of weight to back each blow. Although the blade is blatantly curved, it is not too much for people to wield. Most people are able to handle this machete. The sharpened blade performs well on both minor and larger tasks, such as clearing weeds or chopping down small trees. Additionally, the full tang design makes it a strong tool that is hard to break. The full tang also offers added weight that helps control your every swing.
Solid grip handle:
The solid grip that the handle on this machete provides is sure to give you security. Because of this, you do not have to worry about any shifting while you are swinging and chopping.
Cost and Value
This is not the lowest price point on our list, however, it is still an affordable tool for its high performance. So, if you are in the market for a machete and have a little extra to spare, pick up this kukri for sure!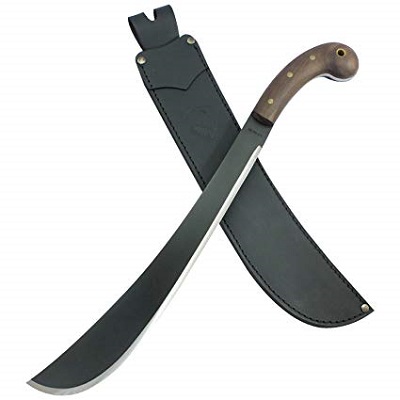 The Condor Tool and Knife Golok Knife is perfect for the avid hiker and camper and all around outdoorsman. Whether you are expert or amateur with bushcrafting, this knife will be your new go-to companion. It is a true gem to carry, chop with and throw. Not to mention, it is beautiful with a hardwood handle and condor textured blade.
Sharp versatile blade
It is easy to see the attractiveness of this blade by the condor texture, but what you also need to know is that this blade can chop. The blade is convex and therefore the geometry of it shifts the weight forward, making it well-balanced with every swing. Not only that but since the blade is thicker at the base than the tip, it allows you to use it for many different tasks by using the different parts of the blade differently.
Heavy chopper
This bolo machete knife is hefty and well crafted. It is definitely a hard chopper and will get the job done. That being said, it will chop as well as you do. You will find that you love the comfortable heft in your hand.
Cost and Value
This bolo machete comes out as pricier than more on our list, however, it is still completely affordable. If you have a little extra wiggle room on spending, do it. This knife is worth every bit of it.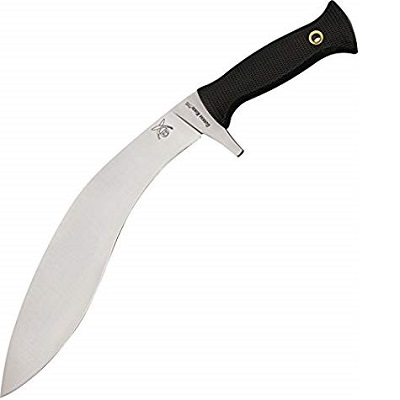 Perfect for chopping, clearing brush or other tasks out on a backpacking trip, the Cold Steel Kukri Plus Machete is a trustee companion. It features a fun, curved blade that is front heavy, giving it fantastic forward momentum with each swing or chop. This compact machete can take a beating, whatever that looks like for you. Chop with it. Throw it. Treat it right.
Light, small and effective tool:
Despite the "Plus" in the name, this machete is pretty lightweight and compact, which is great! It's the perfect companion on your backpacking day trip. Don't let the lightweight design fool you, though, because it is an effective tool when it comes to chopping and splitting wood, and more.
Curved blade:
The blatant curved blade is not only fun and sharp to look at (and touch!) it is effective when it comes to your precise swing. It is front heavy but still well-balanced. Because of this, there's great forward momentum when chopping and slashing.
Cost and Value
The Cold Steel Kukri Plus Machete is at a low price point, which is a steal! It is great quality for what you pay for. This affordable tool is one to have on hand on all of your wild adventures. You will not regret it.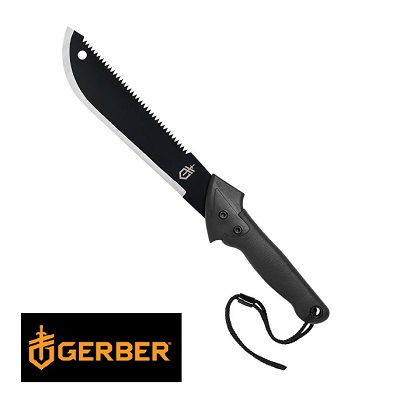 If you are looking for unwavering confidence and security in the grip of your hand, the Gerber Gator Machete is the one for you. It is crafted with high performance in mind. So, take this machete in hand and blaze your own trail while you are out on your wilderness adventures. No matter where you are, this tool will perform.
High-performance blade:
This dual-blade machete features a fine blade on one edge and a serrated saw blade on the other. The entire blade head is forged out of high-grade material. Both combine to bring you an amazing dual-purpose tool. This machete is lightweight and perfect for cutting away underbrush when you are out trailblazing.
Secure grip:
Grip the handle with confidence! Made with a rubberized texture, you will feel certain with this machete in your hand during wet or dry conditions, which makes it the ideal tool to have on you.
Cost and Value
Coming in at a low price point, the Gerber Gator Machete is a steal! Make sure to pick this one up to have on hand on all of your adventures. You will not regret it.

Subscribe to our Newsletter