Best Hunting Binoculars Reviewed & Rated For Quality
In a Hurry? Editors choice: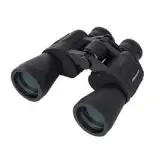 Test Winner: Skygenius 10X50

Venturing out into the
wilderness
is best done knowing you are in possession of the right equipment. Hunting is no different. Being confident that you have the equipment that will get the job done is paramount. From clothing and footwear to a flashlight and GPS, failing to furnish the best equipment for the task will determine the success of your adventure. Having the best hunting binoculars is no different and ranks up in importance alongside the quality of rifle you are armed with. We've created this list and article in an effort to help you find the best binoculars for
hunting needs
and answer any questions you may have.
Standout Picks
Criteria Used for Evaluation
Visibility
In any visual enhancing product, you start with the clarity at which you see the image. The type of prism used is where you will find the quality. The minor cases took some messing around with the settings in order to ensure the hunting binoculars were operating at max capacity- tuning those settings didn't count against the clarity. Fiddling with multiple settings isn't an issue if they're laid out well. Those that were simple to use were given a high grade.
Too much magnification can result in poor moving target retention. Any slight movement from a highly magnified object will result in a larger variation of your sight picture. This can result in the inability, or poor, tracking of game. Too little magnification and you may fail at determining important details of your target
Portability
With any binocular, you want it to be easy to carry and store when not in use. The binoculars should be lightweight so that they don't hurt your neck when hanging from the strap provided and not get in the way when they aren't being used.
Not every user likes their binoculars dangling from their chest. Some like to have it attached by the hip, which is a lot more comfortable if it doesn't have a lot of weight. Right out of the gate, hunting binoculars are predicted to be strong. Withstanding a moderate amount of damage to the body portion, while still having a lot of use left.
Consider whether you have the resources and skill to carry a non-compact hunting binocular set. Do you have room to store them? Will fatigue result in the inability to properly use your equipment as intended? Maintaining and manipulating your equipment is also necessary to be considered when choosing the best binoculars for you. Consider how your hand size will affect the use, whether you will be wearing gloves, the expected temperatures and how that will affect your dexterity.
Durability
How durable the binoculars on the list were was the next criteria used. Any binoculars you choose should be durable, solid, and sleek so as to stand up to be used during a hunt, bird watching, or whatever other events you attend. If the elements are going to be hard on your hunting binoculars, you will need to invest in a pair that is guaranteed and designed to withstand the conditions you will be using them in. Consider what the terrain will expose your binoculars too. Is there an increased likelihood of moisture, sand, dirt, or tree branches? Anything that can cause damage to your equipment should be taken into consideration when choosing which model you will use.
Adjustability
With any hunting binocular, you want to start with how easy it is to adjust the lens so that you miss none of the action at the events you attend. The ability to easily adjust the binoculars listed was taken into account in the grading of each product. Customers should be able to acquire their target and zoom in.
Weather Resistance
Exposing your binoculars to varying temperature, or between extremes, will result in the inconvenience of foggy lenses. In addition to the inconvenience and annoyance, moisture inside your lenses can damage your optics. When choosing your new pair of binoculars, it is important to keep this in mind. It is important to always ensure that your binoculars are kept in an area that is dry. Depending on what is used to purge the inner parts of your binoculars, fog may form on the inner side as a result of vapor condensation. One tip you can use to ensure that the area around which you keep your binoculars is dry is to put pockets of silica jelly around them, they are designed to absorb moisture.
Sporting hunting equipment not made to function in certain circumstances can be costly. If you are planning to use your hunting binoculars in wet climates, you may be restricted to getting only those binoculars that are waterproof. In addition to the damage potential for non-waterproof equipment being used in wet environments, their performance may leave you less than satisfied.
10 Best Hunting Binoculars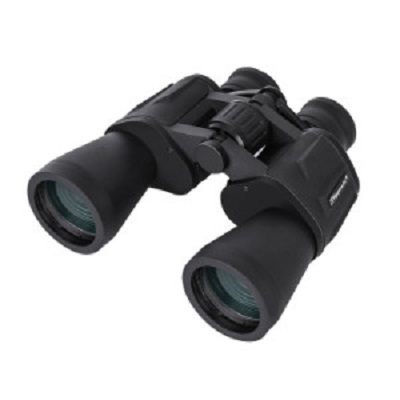 The Skygenius 10X50 binoculars allow viewers to look through a powerful binocular with a 10X magnification that will bring the world 10 times closer. These binoculars have a wide field of view and with a lens diameter of 50mm, allows more light to come through for crystal clear pictures, even when dealing with low light conditions. The Skygenius 10X50 allows the viewer to birdwatch, hunt, or just see the sights around them with ease.
Wide Field of View
With a field of view of 367 ft/1000 yds, these binoculars are perfect for seeing fast-moving objects. Whether you are hunting wildlife or attending a football game, the wide field of view will allow you to take it all in, without missing a thing.
Sleek, Solid Construction
The Skygenius 10x50 is designed with a rubber finish for solid, sleek construction with a comfortable grip. The rubber finish also helps with shock absorption.
Cost and Value
With its sleek design and affordable price tag, the Skygenius 10X50 ranks at the top of the list for cost and value. With the ease of use and the ability to see in dim light, it is one of the most affordable on the list.

2

. Bushnell PowerView Instafocus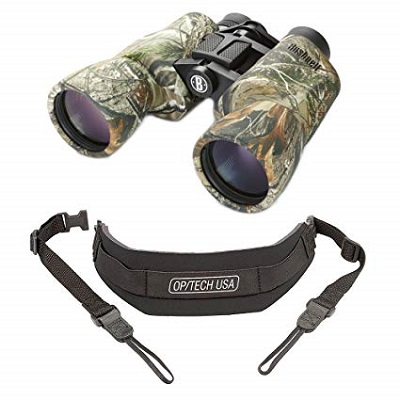 Bushnell is going to show up in our list a few times just because these binoculars are the real deal. With the PowerView you're getting a great HD view, quality materials, sturdy craftsmanship, and cool good looks. The Bushnell's will never be mistaken for opera glasses, that's for sure. These are hunting glasses built for the field.
Fold Down Eyecups
This is one of those features that you don't need until you need it, and then you can't live without it. Whether it's a pair of sunglasses or prescription lenses, having these fold-down eyecups gives a clear view without having to take the time to lose the specs.
Rubber Armoring
Rubber armoring basically means that these glasses are human proof. They'll resist scratching and breaking because there's a bit of give in the non-slip rubber armor. Think of it as bumpers around the glasses that make them shock resistant while keeping them grippy if you've got the sweaty hands or are just prone to dropping things.
Cost and Value
These are in the mid-range when it comes to pricing. But you get a lot for your money here with the prism coated optics, the 10X50 mm view, and the shock-absorbing rubber armor. All in all a great second choice.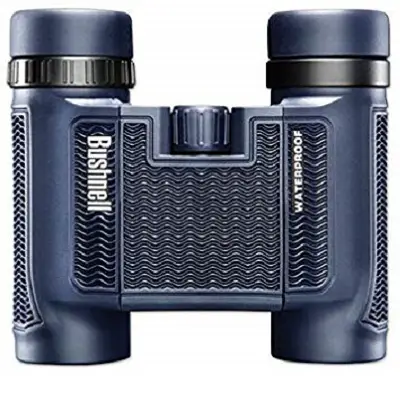 Bushnell is well-known for its top of the line binoculars and the Bushnell 138005 is no exception. With its multi-coated optics that provide superb light transmission and waterproof and fog proof, it's no wonder that the Bushnell made it onto the list. The BaK-4 prisms provide the viewer with crisp, sharp, clear images.
Easy to Adjust
The Bushnell 138005 H20 is a breeze to adjust with the large center focus knob and twist-up eyecups. You won't have to spend a ton of time adjusting your binoculars and missing the action.
100 Percent Water and Fog Proof
These binoculars are water and fog proof making them perfect for outdoor, on the water activity such as sailing, birdwatching, or hunting.
Cost and Value
With the large center knob for focus and the fact that the binoculars are water and fog proof, the price on the Bushnell 138005 H20 is perfect for on the water activities, making them a great deal at the cost and planting them firmly on this list.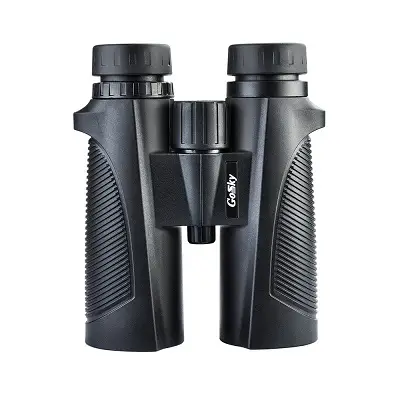 The Gosky binoculars are perfect for wherever your travels take you. The compact HD pro binoculars come with a prism lens and also includes a carrying bag for ease of use. The 10X power magnification makes the binoculars perfect for any outdoor activities you have planned from bird watching to hunting and from watching a concert to hiking and climbing.
Great Image Quality
The 10X power magnification coupled with the 307 Foot to 1,000 yards field of view ensures that you catch everything going on at any outdoor activity you are attending. Enjoy crystal clear images with the BAK4 Prism FMC lens that provides you with high-resolution images.
Solid Construction
Able to withstand even the roughest weather conditions, because it's made with rubber armor and has a magnalium framework which is very durable and sturdy.
Cost and Value
This is one of the best-priced sets of binoculars on the list. With its durable construction, crystal images, and the phone mount strap that is included, it is well worth the money. Couple this with the fact that the binoculars are lightweight and compact, and you have a winner.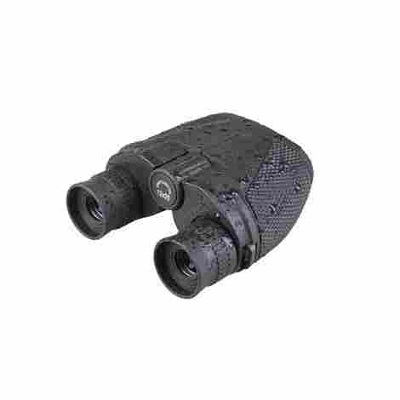 The G4Free 12x25 hunting binoculars provide 12x magnification in high definition. Built with green film optic glass lens, even your low light conditions are not a problem when sporting the G4Free 12x25 binoculars.
Waterproof
These good hunting binoculars are waterproof and are constructed with anti-fog lenses.
Construction
Their construction and functionality make them ideal for hunters of all ages.
Cost and Value
If you are looking for a pair of cost-friendly hunting binoculars that also offer some great value, check out this pair. Our favorite part is that they won't fog up during each use!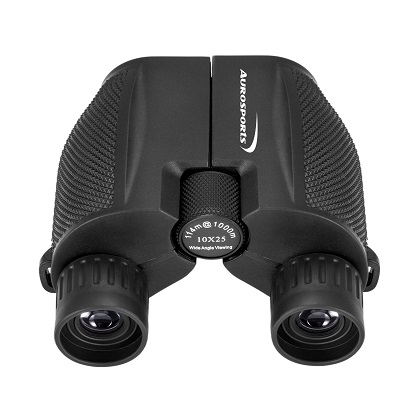 The Aurosports 10X25 binoculars bring high powered viewing to bird watching, outdoor sports games, and concerts. These binoculars can be used during the day or night, and have low-level night vision. The large field of view makes it possible to focus on objects a thousand yards out. Its lightweight construction makes it suitable for adults and children.
Pocket Size
The Aurosports 10X25 is lightweight and can be folded to fit neatly in your pocket when they aren't being used.
Easy to Focus
The binoculars are easy to focus by rotating the center focus wheel for both eyes until the image is crisp, sharp, and dazzling.
Cost and Value
For the money, the Aurosports 10X25 binoculars can't be beaten. They are well-built, compact and lightweight. Their folding design, low light night vision, and the fact that they are waterproof recommend them above other products on the list.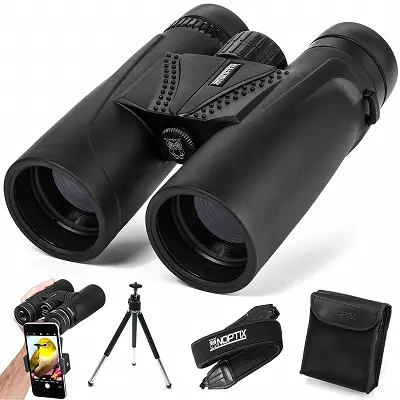 These binoculars offer 10x magnification and a large field of view, the perfect combination for hunting binoculars.
Minimal Shakiness
The Porro lens system minimizes the effects of natural shakiness, focus loss, and provides high definition images in return. This, and the central focusing system, which makes focusing on difficult targets much easier, is why the ClearSight model can be seen as one of the best binoculars for the money.
Hand-Held or Tripod Use
These binoculars can be hand-held while in the field or mounted for tripod use.
Cost and Value
When we first stumbled across this pair of binoculars we were shocked by the amount of value this manufacturer put into this product. The best part is the great price tag! If you can get past the big size of this product - it's well worth it!

8

. Vortex Optics Diamondback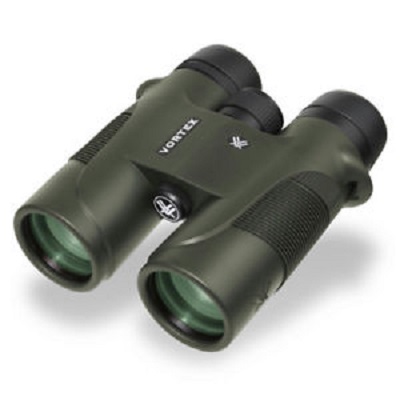 The Vortex Optics Diamondback binocular brings the ultimate in hunting binoculars. Starting with the ability to combat the elements, the Diamondback contains an O-ring seal to eliminate moisture and environmental debris from penetrating the binocular housing. This feature, along with the fog proof and waterproof qualities, makes the Diamondback utilizable in all environmental conditions.
Adjustable Eye Cups
An additional feature includes the adjustable eye cups for comfort, whether donning eyeglasses or not.
Life-Time Warranty
When it comes to standing out aside from the competition, Vortex offers an unconditional lifetime warranty with the Diamondback.
Cost and Value
This pair of binoculars are definitely worth any consumers consideration. Whether you are looking for a pair of optics for winter hunting or summer hunting - this pair can do it! With an affordable price tag - you can't go wrong!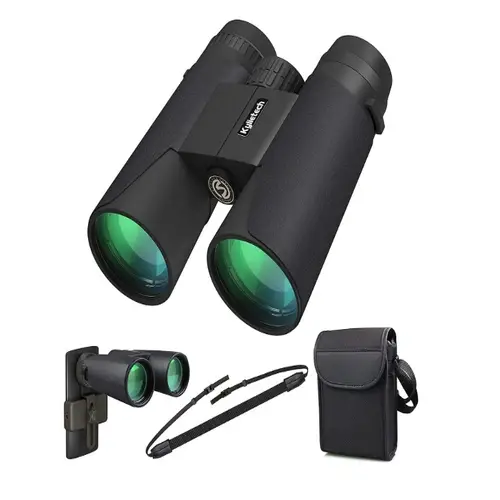 When it comes to finding quality the Kylietech binoculars gives any other brand a run for their money. Offering luxury at an exceptional price, these binoculars are one of a kind. Featuring 12x high power magnification, perfectly paired with wide-angle 42mm lens to provide crisp clear images regardless of where you are. It's the perfect way of seeing crystal clear images from afar.
Premium BAK4
Presenting 42mm fully multicoated lenses, these binoculars were designed to bring as much clarity as possible. Additionally, having the multicoated feature ensures you have the utmost brightness and color filtration possible. As previously, stated there is 12x magnification so you can spot your preferred animal from afar without having blurred images or distortion issues. The idea is to bring the very best quality possible.
Waterproof
When you go hunting there is always the element of surprise. Whether you get rained on, forget something at home or simply don't know exactly where you are going, there will typically be an unexpected circumstance that will happen. Kylietech made sure to think of everything by including a waterproof feature. The feature itself helps prevent moisture, dust, and debris from getting inside the binocular telescope. Having this aspect helps with the longevity of your item.
Cost and Value
Featuring an extensive lens mechanism, waterproof, fog-proof and anti-slip grip, the brand brings forth a new kind of binoculars with all the bells and whistles you would want and need. Though you are getting the best of the best you will not be paying a hefty price. On the contrary, they are quite cost-effective and worth every cent that is spent.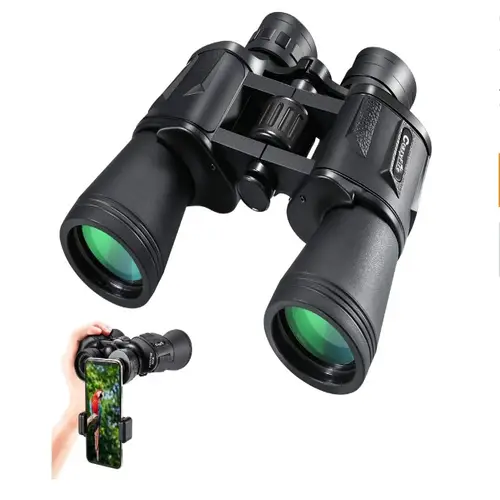 Bringing something new to the table CrazyFire's HD compact binoculars come fully equipped to help you keep an eye out on your favorite game to hunt. Featuring large lenses these binoculars ensure you get the view you want and need while hunting. Coming at 50mm in diameter, they ensure you get the most out of using them. Furthermore, having this diameter helps you to see clear sights from more than 650 feet away.
Easy to Use
Though it might seem like binoculars would be easy and simple to use, some of them due take some time to adjust to. However, this is not the case with these. They are straight forward and easy, with little to no additional information needed. Nevertheless, even though they're easy to use you are getting HD vision paired with high-quality optics. This is all due to the multicoated lenses and glass providing over 99.5% brighter, clearer images.
Smartphone Adapter
Anywhere we might go we typically will take our smartphone along for the ride. Keeping that in mind, these binoculars come with a smartphone adapter. The maximum stretch is 3.9 inches which fit most smartphones allowing you to record the images you see. This feature allows you to always keep track of all game or interesting image you see.
Cost and Value
Featuring a warranty guarantee of 12 months, paired with an abundance of characteristics, a smartphone adaptor, and carrying case, these binoculars are priced exceptionally fair. You are getting a bargain when compared to the value of the product you are receiving.

Subscribe to our Newsletter