Best Home Theatre Systems Reviewed & Rated for Quality
In a Hurry? Editors choice: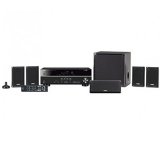 Test Winner: Yamaha YHT-4930 UBL

So, you are thinking about
buying a new TV
for your living room, but there is just one itsy bitsy problem with your plans. The speakers on the one you want are awful. Well okay, no TV worth buying these days have an awful sound, lord knows the market would eat the poor thing alive. But your needs for sound from your television may be a bit more sophisticated than your average TV may be equipped to provide. And as such, you need to get your hands on some improvement. This is where a home theatre system comes in. Let's take a look at the ten best on the market today.
Standout Picks
Criteria Used for Evaluation
Sound Quality
Well, obviously, right? Of course, this would be listed as one of the most important criteria for this list. So much so that if even five or so negative things were said about the sound quality, we booted that contestant off of the list entirely. But this means more than just how clearly you can hear what is going on, though that was, of course, important as well. But besides that, there was also the strength of the subwoofer. A subwoofer's job is to release vibrating bass lines that melt into the sound. You don't hear anything, but the idea is that you feel it, your body subtly reacting to the vibrations being sent throughout the air. Ideally, you don't really notice it, but it goes a long way to making the sound coming from the speaker appear more impactful. It is a very subtle trick that needs a lot of tweaking to get just right, so we made sure to look for the best subwoofers that accomplished this for the list. A home theater system needs a powerful subwoofer, the kind of thing that you normally only get in, well, a theater. So, for this list, we looked for subwoofers with above average vibration and strength, that would shake viewers all the way down to the fillings in their teeth.
Ease of Use
There are multiple ways in which a home theater system can be made easier to use. The first and most common of these is to implement Bluetooth capabilities, which means removing the many, many cords and cables that these home theater systems usually need in order to function properly. This is the part of the installation that you are guaranteed to hate the most, as finding a way to string up all of the cords and cables in a way that does not get in anyone's way, yet still finds its way to the central point is a nigh herculean task. But with Bluetooth, the home theater's many components connect to each other wirelessly, and so there's no need for any cable except to plug into the wall. Which then leads to the other most popular method: connecting to apps. People like music apps because it lets them have total control over their music and what songs they listen to. Which is why a lot of newer home theater systems allow you to connect your phone's music apps to the receiver and play them through the larger system. Little touches like these go a very long way to making the use of a home theater system a lot less painful than it usually is.
Value
The last criteria we judged each entry by was their price. And if you didn't think (for some reason) that home theater systems were expensive, we trust that this list has thoroughly changed your mind. Even the worst ones we found cost several hundred dollars. As such, we only had one choice for judging each one of these entries; judge their prices by how well they're justified, rather than by the prices themselves. After all, if you know for a fact that you're getting what you paid for, then you are probably going to be more comfortable paying more for a home theater than you would otherwise. People are, after all, more likely to be okay with a high price if the features it includes (advanced design, more sophisticated sound system, etc.) are reflective of that price.
10 Best Home Theatre Systems
1

. Energy 5.1 Take Classic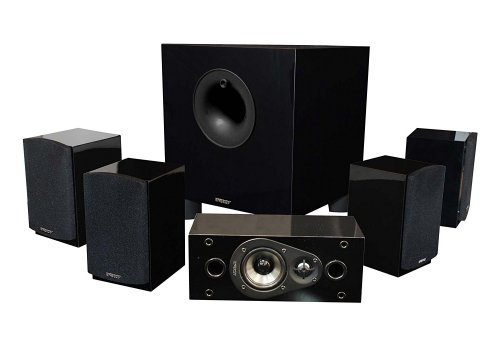 Kicking off our list, we have the Energy 5.1 Take Classic Home Theater System. This system is a set of 4 gloss black 2-way energy satellite speakers. Energy has made quite the name for themselves when it comes to their electronics and sound equipment, and this set is basically an encapsulation of all of their best qualities. Let's go over some of them now.
Great for large or small rooms
The thing about these sorts of surround sound systems is that a lot of the time, you need to be careful about the kind of room you're getting it for. Too big and the sound won't carry as well, but too small, and the sound will be like firing a shotgun in an echo chamber. However, this system has neither of these problems, putting out just the right amount of sound to be usable in either scenario. That, plus being equipped with Energy's patented ribbed elliptical surround technology, makes this sound system great for large and small rooms.
Wall mountable
You wouldn't think this would be a big deal, but in fact, a big pet peeve a lot of consumers have about home theater systems is the fact that they can't find a place to put all of the speakers. Which is why this home theater system comes with speakers that can be mounted onto the wall. Now you don't have to worry about where you're going to put your speakers.
Cost and Value
It stands to reason that a home theater system would not be cheap, and sure enough, this is quite the pricey piece of hardware. However, among its peers, we consider this system to be rather affordable, all things considered.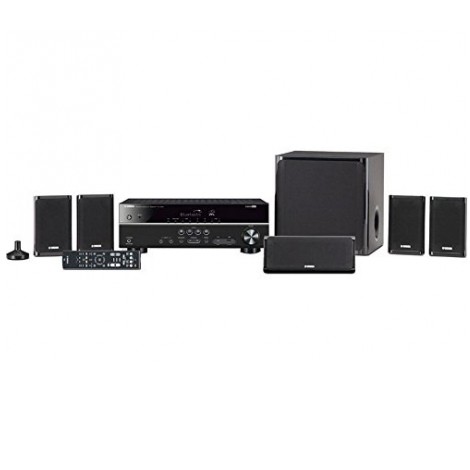 Coming in second place, we have the Yamaha YHT-4930 UBL Home Theater. Yamaha is one of the most famous names in the home television business, and they've branched out significantly into pretty much every type of field that's associated with home television, which of course includes home theater systems. And out of all the ones they've made, we consider this to be one of their best.
Wireless music streaming
Going to do some housework and need some music to pass the time? Maybe you're not all that enthused by the radio channels your TV has to offer. In this case, you can use this home theater's Bluetooth compatibility to instantly and wirelessly stream music from your phone or computer straight into your home theater, to be played on blast.
4K Ultra HD Sound
In today's television climate, the trendy buzzword of the day is "4K Ultra", an advanced type of high definition production that can refer to both visuals as well as sound. And this home theater is one of the big poster boys for how beneficial this type of sound can be because you will be hard pressed to find a more crisp, clear, detailed sound anywhere else.
Cost and Value
As we said, the previous entry is considered affordable amongst its peers, because this home theater is almost twice as expensive as the last one was. However, it would not have gotten this far if we didn't think it was worth the money.

3

. Sonos 5.1 Surround Set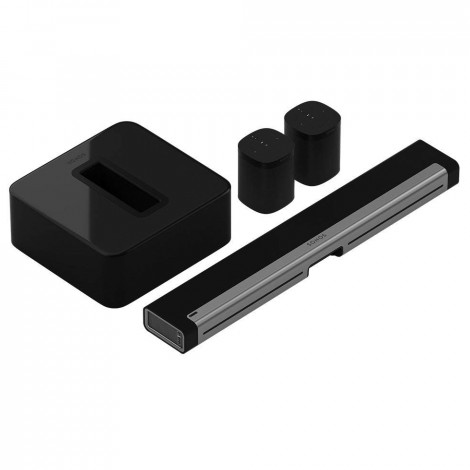 Finishing up our top three segment, we have the Sonos 5.1 Surround Set - Home Theater System. This is, without a doubt, one of the most advanced home theater systems on the market. Sonos has always been an envelope pusher when it comes to sound technology, but they have truly outdone themselves this time.
Powerful subwoofer
People not learned in the field of sound design (i.e., most people reading this) have likely asked about the purpose of a subwoofer at least once. A subwoofer's job is to add in a bass vibration that marries itself into the audible sound coming from the speaker, making what you hear feel more impactful. And the subwoofer for this home theater runs circles around the competition, delivering bone-shaking bass to the sound coming from the speakers.
Realistic, immersive sound
The speakers for this home theater can play sounds you would otherwise never be able to hear with other speakers. The sound made by this home theater is some of the most richly textured, detailed, and powerful sounds you're likely to hear in the comfort of your own home. And while, like HD imagery, this can actually break a film's immersion now that you can hear everything (including what might be happening offset) when it works, you won't ever want to go back.
Cost and Value
Do we even need to say how expensive it is? Because you can probably guess that this is one of, if not the most expensive home theater system on the list. This should come as no shock, but despite the four-digit price tag, we still consider this home theater system to be completely worth the cost.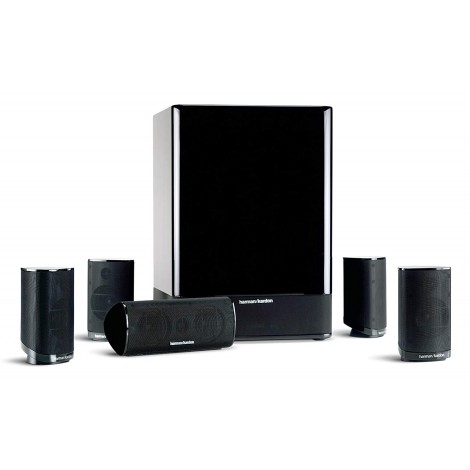 Coming in our #4 spot, we have the Harman Kardon 5.1 Channel Home Theater. While not quite as advanced as the previous entry, it is a lot more affordable, and that counts for a lot. It's also no slouch when it comes to providing beautiful, rich sound.
Adjustable subwoofer
A subwoofer is intended to be a powerful, vibrating force to join the sound coming from the speaker, but that doesn't mean you shouldn't be able to adjust it accordingly. This subwoofer comes equipped with bass-boost controls and phase switches, which allow for thorough adjustment to the power of your subwoofer.
Voice-matched speakers
Want to adjust your subwoofer or speakers, but you mounted the system too high up for you to reach practically? Don't worry, because this home theater system comes equipped with voice-matched, two-way speakers that you can use to adjust the theater system with spoken commands.
Cost and Value
While nowhere near as expensive as the previous entry, don't think you're getting a great deal for this home theater. It's still pretty pricey, but around average for what we've seen so far.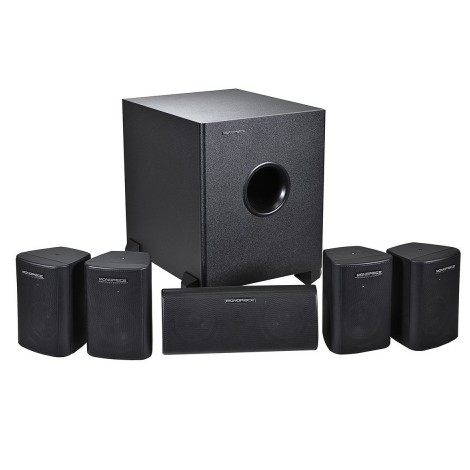 For our 5th place spot, we chose the Monoprice 5.1 Channel Home Theater System. This is one of the best home theater systems that you can buy on a tight budget. While still by no means cheap, by the standards of this list, it definitely fits that description. But don't count it out in terms of quality.
Easy to use
Sometimes, simplicity is key. With the more advanced home theaters, you get more performance, but you also get the more cumbersome design, and Wi-Fi capabilities that, let's be real here, no one asked for. But this home theater goes for the simple approach and just focuses on giving you the best sound system you can ask for at a reasonable price.
Complete surround sound
These speakers come with mounting brackets that can be put into pretty much any wall short of solid steel. So, if you want complete surround sound, then you just need to find four places to put these four speakers, a nice spot center frame for the center channel, and somewhere out of the way for the subwoofer, which isn't nearly as hard as it sounds.
Cost and Value
The best part about this product is its price, which is incredibly affordable for what it is. And considering that it still puts out top-tier sound is doubly impressive.

6

. Enclave Audio CineHome HD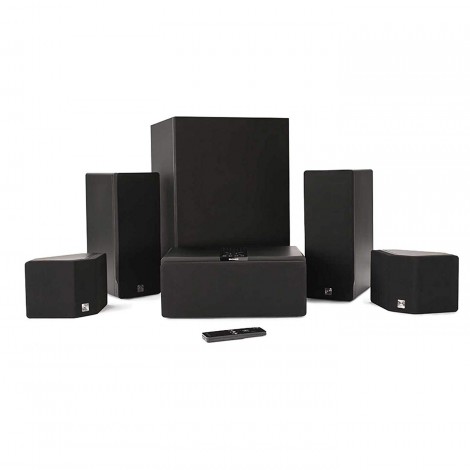 Coming in at #6, we have the Enclave Audio CineHome HD Wireless Home Theater System. We return, with this entry, to the cutting edge side of the home theater market, as this is another highly advanced, sophisticated home theater system that, if you can afford it, definitely belongs in your home.
No need for receivers or cables
The best part about this home theater system is the fact that it is 100% wireless and has no need for cables or even an A/V receiver. This, as you can imagine, makes this one of the most convenient and user-friendly home theater systems on the market right now. So, if you can afford the system itself, but are cringing at buying a receiving and cables on top of that, then don't worry about a thing.
Dolby Digital and DTS Sound
If you prefer your sound system deliver an uncompressed, intense and crisp sound, this is the home theater system for you. Thanks to 5.1 channels of LPCM 24 bit uncompressed audio, and the latest in Dolby Digital sound tech, this home theater system will deliver intense, cinema-esque surround sound, practically burying you in sound.
Cost and Value
Of course, when we return to more advanced systems, we also return to the prices thereof. And sure enough, the price of this home theater system is extremely pricey but totally worth it as always.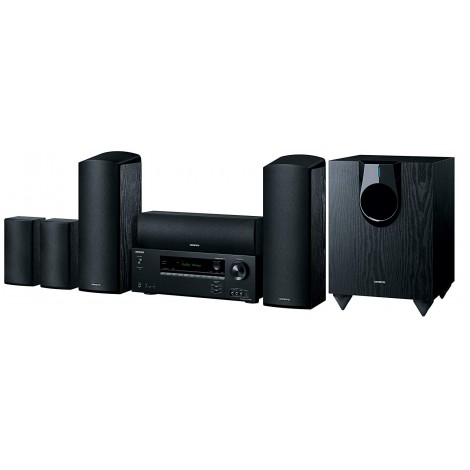 For the 7th place spot, we have the Onkyo Dolby Atmos Home Theater System. Another highly advanced home theater system, this time from venerable electronics manufacturer Onkyo. Onkyo is almost a stamp of quality in and of itself when it comes to their electronics, and you need not to look any further than this home theater system for proof of that.
App-based audio streaming
Music apps are the way of the future, giving more people better access to their music. The drawback is that most apps are accessed via phones, which don't have the most exceptional speakers. They get the job done, but your home theater's speakers run circles around them. Fortunate, then, that this home theater system has an App based audio streaming service that connects to everything from Pandora to Spotify and even Tidal.
Dolby Atmos
But the best part about this home theater system is that it has access to something very few other home theater systems have: Dolby Atmos. You may have heard of Atmos as being the touted sound system used for Pixar's Brave, a film known for having some of the best sound quality in animation history. This is a highly advanced sound system that emits a sound that moves through the room in 3 dimensional space. What this means is that this home theater system as some of the best surround sound on the market, if not the best, fully immersing you into the action.
Cost and Value
The reason that Dolby Atmos is rare to find in home theater systems like this is, surprise surprise, they ratchet up the price like mad. While it isn't the most expensive entry on the list, it's a close second, but if you can afford it, you will not regret it.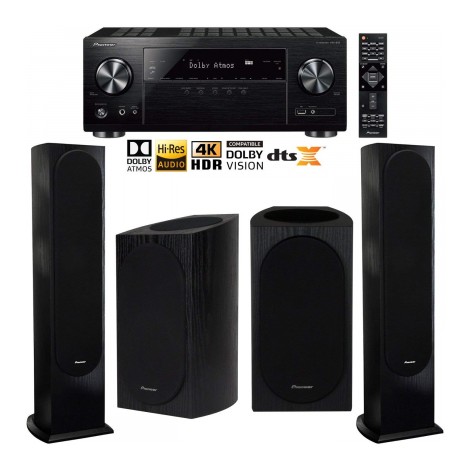 Kicking off our final three entries, we have the Pioneer 5.1 Home Theater System. If you want a highly advanced home theater system without having to spend close or even more than a grand for the privilege, then we cannot recommend this home theater system to you enough. What makes us say this? Let's find out.
Versatile
Thanks to a variety of cutting edge Dolby Digital audio technology including Dolby TrueHD and Dolby Pro Logic II, this home theater system is capable of interfacing with whatever you plug into it and your TV. From video games to movies to music, as long as it's got sound, there's nothing this home theater system can't do.
Built-in Bluetooth
Working with electronic cables, in general, is a hassle, but home theater systems are a particular pain. Mostly because you have to wire them into and through the wall to find a place to connect them. Add that onto the fact that you need to connect wires from all the way across the room if you want surround sound, without leaving wires hanging in the air, and you have a problem. Which is why this home theater system is made with Bluetooth technology that completely removes the need for cumbersome cables.
Cost and Value
The best part about this home theater system is its price. While nowhere near cheap, necessarily, for the features it has, it's a wonder that it is not higher than it is. Which is what makes it such a great deal.



For our second to final entry, we are looking at the Bose Lifestyle 650 Home Entertainment System. Bose is one of the undisputed grandmasters of home entertainment systems, and while their work is by no means cheap, as we'll get to, their qualities more than balance things out.
Omni jewel satellite speakers
The speakers for this home theater system are a couple of the smallest Bose has ever put out, and yet are also some of the most powerful. Combined with the equally slim center channel, these speakers deliver true 360 degree sound. So instead of hearing it coming from any one direction, you'll hear it all around you. So, if a television show has a character close a door behind another character, you too will hear that door closing right behind you, or at least in such a way that will make you believe such.
ADAPTiQ Audio Calibration
But the true secret weapon up this home theater system's sleeve is the ADAPTiQ system. This is a bit of adaptive technology that scans the geometry of the room; how big it is, how much stuff is in it, where the speakers are placed and so forth. It then adjusts its audio output accordingly, going as soft or as loud as it needs to be in order to provide the ideal auditory experience.
Cost and Value
If you think the other entries were pricey, you have not seen anything yet. Or rather, you have, because this home theater system is the most expensive on the entire list, by a wide margin. While it is an excellent home theater system, we doubt the average consumer would be comfortable spending several grand on something when there are 9 other options just as good on this list for way cheaper.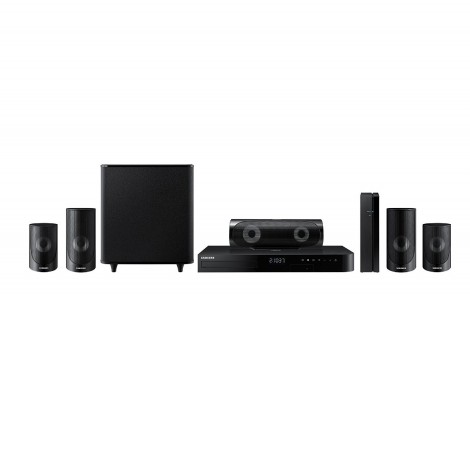 For our final entry for this list, we have the Samsung 3D Blu-Ray Home Theater System. Samsung, we're confident, needs no introduction. They're one of the world's biggest tech giants, and for a list like this, whether one of their products gets on the list is considered a matter of time. So, let's finish this list and see what got this system here.
Wi-Fi and Bluetooth
Sometimes the radio and music channels on the television just do not give you what you need, and who uses CDs anymore? Which is why this home theater system utilizes Wi-Fi and Bluetooth capabilities to connect to a wide range of music sharing sites to give you complete control over the music you listen to.
DTS digital surround sound
Dolby does surround sound better than anyone else, which is why so many of the big names shell out the money to have their tech in their home theater systems. This home theater system is equipped with DTS digital surround sound, which engulfs you and the entire room in the sound from the device.
Cost and Value
You would think that this entry would cost more than it does, but truth be told, it's a very average price for this list for something so above average.

Subscribe to our Newsletter