Best Bread Boxes Reviewed & Rated for Quality
In a Hurry? Editors choice: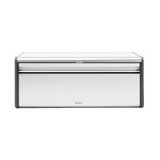 Test Winner: Brabantia Fall Front

We all love a freshly baked loaf of bread, there's nothing as pleasurable as either making and slicing your own bread or pulling a fresh loaf straight from the package and spreading your favorite butter all over it. Whether it's white, brown, seeded or a blend of different flavors and textures – there's just no avoiding the allure of fresh bread. And in an ideal world, we would all have time to make bread every day and serve it warm at our leisure. But in reality; we need to rely on a trusty bread box to keep our loaves fresher for longer.
Standout Picks
Criteria Used for Evaluation
Materials
As we have seen original bread boxes were made from wood, but contemporarily there is a greater choice of bread box materials used. These include; plastic, stainless steel, enameled, metal, ceramic, stoneware, and acrylic. All these materials make a sound storage box for your bread, but where you live and what sort of temperature range you experience may have a bearing on how long your bread actually stays fresh.
Metal and stainless steel should be avoided if you live in hotter climates because temperature fluctuations take longer to affect the material (they soak up heat and tend to cool slower), bread may warm faster and will then start to degrade. Wooden bread boxes are probably better suited for hotter climates but should be chosen with caution if you live in damp and humid conditions; as this can affect the wood itself and compromise the storage capabilities.
Size
Of course; another consideration for you is the size of your bread box, this can be determined in part by a few things. First; how much storage space you have on your counter if space is limited you may want a more upright breadbox or even one that reduces in size as the contents lessen. Another factor that may have an influence on your choice is the size of your household; if you live alone, for instance, there is little point getting a large capacity box. Likewise; if you have a larger household or eat a lot of baked foods, a more practical size may be more beneficial.
Features
There are a few variations and types of boxes, a pull open door is a common choice because it allows easy access when adding to or removing from your box. These have a hinged door and often a metal shelf to allow circulation. Roll top bread boxes have been a firm favorite for many years, these are particularly handy because they don't need extra room for the opening of the door. A basic lid top box is handy for the same reason, and some even have lids that double as a breadboard.
An adjustable plastic or acrylic box is really useful, as the bread level reduces the box concertinas inwards so reduces airspace and counter space at the same time. The trusty stainless steel models are practical and may have roll tops, and you can get some great colors so you can even color coordinate your kitchen.
Advanced Features
Benefits of using a bread box
Whether you buy store bread, fresh bread or make your own, the benefits of using a bread box to make it worthwhile. Whilst you may not consider a box for your store bread – it does keep this bread fresher for longer too – and can extend the life of your new loaf. Bread baked at home is one of the tastiest foods we make, and the box is designed with this fresh loaf in mind, intentionally recreating the original use for one. If you make anything at home that has a limited life once cooked, then your biscuits, bagels, rolls, buns, and pastries can be stored in the box to help them last longer too.
How they work…
The bread box, though probably one of the simplest and most basic tools in your kitchen, is quite ingenious in the way it keeps our bread fresh. You may consider that if your bread is tied tightly or knotted into a bag that it will keep fresh. Well, surprisingly a bread bin actually allows air to circulate around the bread to keep it fresh, by keeping the bread at a constant temperature it stabilizes the active ingredients and this, in turn, keeps the bread fresher for longer. Bread boxes aren't airtight, they allow just the right amount of humidity in to keep the freshness – by having fewer fluctuations in temperature the active ingredients are stable for longer and this slows down the nasties that cause stale and moldy bread.
Functional style
So, you've been to the mall and found an epic retro bread bin that matches your kitchen theme – the problem is; the bread bin is an odd and awkward round flat shape. Maybe best leave that purchase unless you want to store cookies or make round cottage loaves. The best shapes and styles are designed to allow good access and air flow around your bread. If the bread is squeezed in and hugs the inside, chances are it will get a build up of moisture around it and quickly turn into something hard, crispy and green.
Modern type of boxes are offered in such a wide variety of new 'must haves', but possibly you shouldn't throw caution to the wind if you really want to get the best out of your bread box. There are many contemporary coordinating boxes on the market, and if you choose well; you should have fresh melt in the mouth bread for a long time.
Bottom Line
How to Keep Your Bread Fresh for Longer
It's just a well-known fact: bread will become stale almost immediately. There seems to be some sort of invisible timer that goes off the moment you select your desired loaf of bread. Whether you bake it yourself or purchase it from a local bakery, your bread is bound to have some sort of expiration date sometime in the same week it was purchased.
And while there are many different options to help keep them fresh for longer periods of time, some of these options or wives' tales are better than most. Here are a few methods that actually work to keep your bread fresh for a few more days.
Freeze your bread
Freezing your bread is by far one of the best ways to conserve it in the state it was first purchased: delicious crusty crust, and soft butter-like interior. The freezing process works by helping slow down the staling progression that naturally happens when bread is left in open air. Reheating your bread in an oven or toaster after it's been frozen will re-gelatinize the starches, creating that classic chewiness bread is well-known and loved for.
To freeze your bread, you want to consider the option of slicing it first for easy management or freezing it as a whole. Once you have made your decision, place it inside a zipped bag that allows you to push out most, if not all of the air that may remain inside. After most of the air is out pop it right into the freezer. Bread can remain fresh in the freezer for up to two-three months.
When it is time for the bread to be consumed take it out of your freezer and place it in the oven at 350 degrees for about 10-15 minutes or longer depending on how long the bread had been frozen. Keep in mind: you might want to slice your bread or proportion it before placing it into the freezer as defrosting and refreezing your bread time and time again may create a tough exterior.
Store in a bread box
It's not like a freezer, but storing your bread in a good bread box is the perfect way of creating a well-balanced atmosphere. The box creates a circulatory balance between humidity and air circulation. You want there to be an even balance between the two to create an environment that keeps the bread in its freshest form.
Wrap your bread in plastic
Many of us are guilty of storing our bread on a countertop even though it does absolutely nothing to help maintain the freshness. If you must keep your bread on the counter, be sure to wrap it up in plastic. Doing so creates a better environment for the bread, however, the crust will be compromised due to moisture. To bring back the crunchy crust place your bread in the toaster for a few minutes before consumption.
Do not refrigerate
Refrigerating fresh bakery bread can actually speed up the staling process. This is due to the cold air getting trapped inside of the bread without any escape. On the contrary, if you purchase bread from the grocery store be sure to place it directly inside the refrigerator, as these loaves of bread contain fillers that help keep them fresh.
Not all loaves of bread are equal
While the above methods will help to keep your bread from becoming stale, there isn't much you can do to extend the life of your bread as not all loaves of bread are created equally. If you prefer a drier bread such as baguette you might want to eat it as soon as it comes out of the oven or two days after, this is due to baguettes being drier. Meanwhile, if you prefer a fattier bread such as brioche you can get away with a few days, because of those added components that make the bread richer on the inside, providing a second layer of moisture.
10 Best Bread Boxes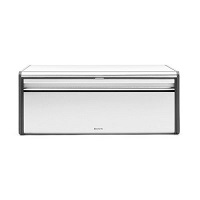 Brabantia offers this fall front box that has a big enough capacity to hold two loaves of bread without squashing them. The box size allows for a good amount of baked goods to be stored to keep more food fresh for longer. To add to the versatility the bread box; there is a flat surface on the top so allows for further storage space when countertops are in demand, and the tidy, no fuss design will fit into most contemporary kitchen styles.
Practical
This box has the benefit of a magnetic seal that only allows the correct airflow and boasts being able to keep all baked foods fresher for longer. The fall front is efficient on space saving and makes access to the food a breeze.
Durable
The matte steel finish benefits from being corrosion resistant and has a unique fingerprint-proof finish that will make cleaning a lot easier. These two features are useful especially in the kitchen areas where unfortunate spills and messy fingers are commonplace.
Cost and Value
The fall front Brabantia product serves as a great storage device that when used properly will last and last, the features included like the magnetic seal and matte finish further represent the balance between overall cost in comparison with the value, well worth the price.

2

. Creative Co-op Enameled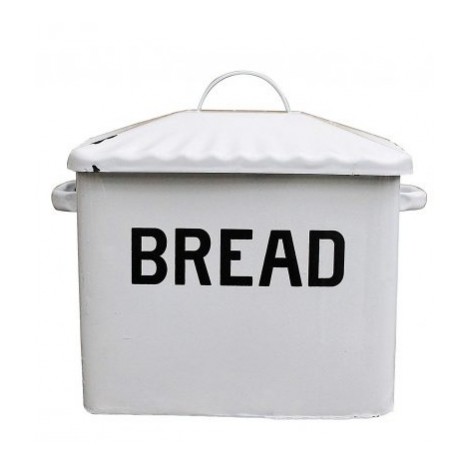 This enameled metal box is made in a more traditional design that looks like it could really belong in a Victorian kitchen, the lid has a substantial handle and is fluted all the way around. The box part of the set has two useful handles on either side for easy moving in the kitchen without lifting the lid and disturbing the air flow too much. The white crisp enamel has a bold bread sign on the front – basic and classy and straight to the point to do the job it's meant to do without any fuss.
Practical Capacity
The bread box measures in at a healthy thirteen point five inch in length, eight-point five-inch in length and twelve-inch high – more than enough space for more than one small loaf or a variety of baked goods that will benefit from being stored correctly.
Enameled
The white enamel coating preserves the integrity of the metal underneath and is carried right through the product and all over the inside too. The top has an attractive contrasting black piped line around it which improves the overall finish.
Cost and Value
The Creative Co-op Creative enameled bread box is produced using durable, enameled coating to increase its lifespan, the interior is easy to wipe clean and the stylish finish ensures this box is excellent value for money.

3

. Oggi Stainless Steel Roll Top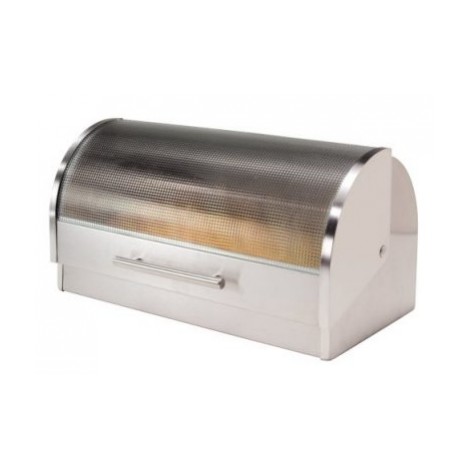 This impressively stylish box is offered with a roll top lid in a variety of finishes; frosted, stainless steel or tempered glass. It benefits from a good sized handle that requires no extra countertop space to open, and with the frosted or tempered finished top, it is easy to see what food is inside without opening it. It boasts being heavy duty and capable of holding bread and other baked products without squashing or pressing at the sides, and the easy movement of the roll top makes it easy to keep clean.
Protection
The Oggi bread box boasts having practical rubber feet to protect countertop surfaces from scratching caused through movement. The heavy-duty stainless steel construction offers durability and long-lasting storage for perishable foods.
Adequate sizing
The size of this bread bin is an impressive sixteen point five-inch by ten point two-inch by nine inch – more than enough space to fit a good-sized loaf and other baked foods, it's overall weight is a mere six pounds and this makes it easier to move around the kitchen space.
Cost and Value
When considering the tough construction used to make this Oggi box, combine that with the choice of roll top finish, and the features that include the practical handles and protective feet – the balance of both cost and value is equally reflected.

4

. Home-it Stainless Steel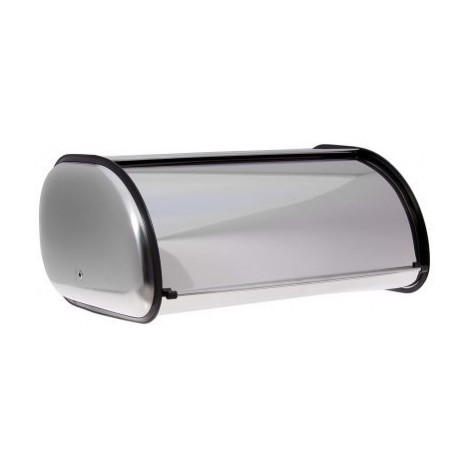 The Home-it Stainless Steel bread box benefits from a functional smooth swing down door. This is practical especially when countertop surfaces are in demand or in short supply, it has a small flat lip on the top so is able to hold light storage jars or condiments. It has a no fuss, basic stainless steel design that is finished with complimenting black edge trimming that will fit comfortably in most modern kitchens. The confidence in the product has gained it a one hundred percent satisfaction guarantee.
Practical
The bread bin size is more than enough to hold bread and other consumables with ease; its sixteen point five-inch by ten-inch by eight-inch for a larger capacity. The box is covered with smart brushed stainless steel and the inside is a darker color to assist in food preservation.
Substantial
The box is substantial enough in weight to keep it steady on any counter-top, and the tough stainless steel is designed to be tough and hardwearing as well as looking good in any kitchen with complementing stainless steel themes running through.
Cost and Value
The price of this Home-it Stainless Steel box is easily on a level balance with the cost, the smart brushed finish and tidy handles add to the overall appeal and money spent on this product is money well spent.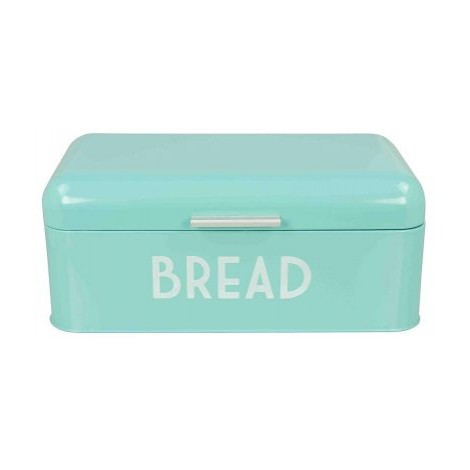 This stylish bread box is manufactured with powder coated steel and boasts being completely rust and tarnish resistant, it is available in four striking colors; turquoise, black, cream and red so should be able to compliment most kitchen color themes. The box has a hinged lid that has a functional and comfortable handle in a contrasting color and the bright stenciling on the front adds to its appeal. The corners are smooth and rounded so no more catching sharp corners when accessing to store or to retrieve bread.
Functional
The Home Basics Metal box has dimensions of; nine point five-inch by sixteen point seven-inch by six point five-inch so provides sufficient room for bread storage and any other baked products that will benefit from improved storage.
Practical
The striking color runs all through and round the bread box, so the interior looks just as neat as the exterior, the top of the box has a handy indented lip all around it so the lid closed to form a more than adequate seal for baked foods.
Cost and Value
The durable powder coating that sets off this box in any of the colors it is available in – gives it added toughness and offers a long-lasting robust purchase. The quality of the overall finish ensures this box is excellent value for money.

6

. Vintage Bread Box For Kitchen Stainless Steel Metal in Retro Turquoise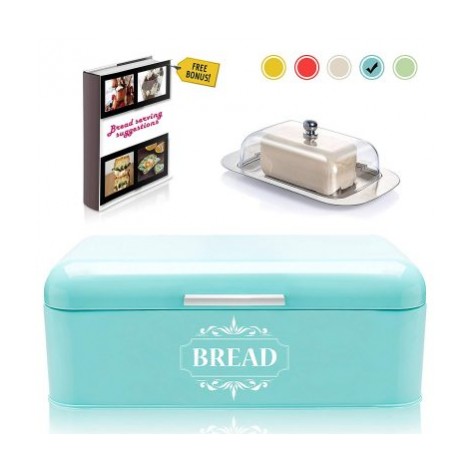 All Green Products offer this Vintage box in a stylish retro design and is available in a variety of colors; turquoise, light green, cream, and red. This box has a large capacity being sixteen point five-inch by nine-inch by six point five inch – plenty of room for a loaf of bread and other baked products that are suited to the storage conditions. It is made from cold rolled steel and has smooth rounded corners that won't catch when it is being used.
Extras
Coming with the Vintage bread bin is a free butter dish; a handy and very useful item for spreading a favorite spread on fresh bread, and it also has a practical free e-book containing bread serving suggestions that will probably come in very useful for the home baker.
Durable
The powder-coated steel boasts being chip resistant and is easy to keep clean. It has concealed holes in the construction that are just small enough to allow a suitable amount of air circulation to enable the contents to be kept fresher for longer.
Cost and Value
The tough durable coating and the smooth, sleek design of this bread box proffer value through its long-lasting quality, the free items are an added bonus and even without them included – this box is very good value for money.

7

. Betwoo Natural Wooden Roll Top Bread Box Kitchen Food Storage


The Betwoo Natural Wooden Roll Top model has been designed to have a stylish, contemporary feel to it while still being made out of bamboo. By being made out of bamboo this box is an excellent natural alternative to other options on the market. Additionally, it offers a flat top for convenient temporary storage.
Durable
The crisp, lightweight bamboo material is not only elegant, but it's sturdy enough to withstand daily transportation and everyday wear and tear. Furthermore, it comes with durable, wooden handles that are attached to a well-constructed sliding door.
Storage Space
Measuring at 6.29 H X 15.74 W X 10.26 D, this box allows you to store approximately one to two decent size loaves of bread or other baked goods that you would like to keep fresh for a longer time.
Cost and Value
Considering that this particular box is made of natural bamboo, the price point is excellent. Not only is it a cost-effective alternative but it's also good for the environment.

8

. Space Saving Extra Large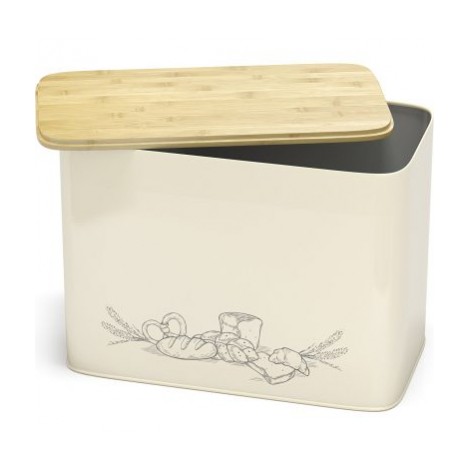 Cooler Kitchen offer this extra large vertical bread box that benefits from an eco-bamboo lid that also doubles up as a chopping board. The upright design takes up less space on the counter and it is big enough to take more than one loaf and a variety of other baked goods. The attractive bread box is fashioned out of hard wearing durable metal and has a stenciled design that compliments the exterior color. The no-fuss lid allows easy access and doesn't require extra space for opening.
Practical
The space-saving extra large box has a practical lid that doesn't completely seal the contents within, it allows just enough air flow to increase the longevity of the food that is stored within, and the box itself is safe to dishwash for quick and easy cleaning.
Functional
The eco bamboo lid is made in an environmentally friendly form and is functional because it not only serves as a lid but is also ready to hand chopping board, made to last and is easily cleaned down with warm soapy water.
Cost and Value
This Cooler Kitchen space saving box has useful features as well as the size and volume of baked foods it can accommodate, it is easy to clean – well designed and has an attractive stencil on the front too. Overall this type of box is excellent value for money.

9

. Extra Large Vertical Bread Box + Bamboo Cutting Board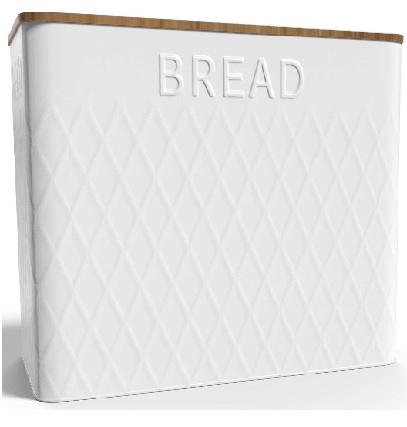 Unlike popular belief, not all bread boxes need to be horizontal, and this vertical box proves just that. It's constructed out of steel for that classic, durable feel yet it offers a natural bamboo cutting board as the lid for a unique modern twist. Additionally, the cutting board lid comes with a carved crumb catcher that is perfect for crusty loaves of bread that shed crumbs a bit more than others do.
Large Capacity
Just like the name states this extra-large box measures at 13" x 9.5" x 7.0" Inches- allowing it to have ample room for storing two well-sized loaves of bread or three small ones. In addition, you can store multiple baked goods to keep them fresh for a longer time.
Eco-Friendly Materials
What better way to conserve your desired fresh goods then inside an eco-friendly box. The box itself is constructed out of galvanized steel and the lid of pure bamboo. Not only are the materials good for the environment but they are great for conserving bread fresh for a longer time.
Cost and Value
The overall cost and value of this box are both equal in balance, the feature of having a cutting board included as part of the lid is the perfect addition to a well-made product that is cost effective.

10

. Clean Dezign Bamboo Fiber


This Clean Design model is made from bamboo fiber and is produced to provide a hard and durable box. The black or red box colors are complimentary in most kitchens and the bamboo lid also doubles up as a handy chopping board that has grooved indents to help reduce crumb mess. The weight of the bread box is sufficiently light to make it easy to move around the countertop when cleaning is required.
Good capacity
This box measures in at fifteen inch by eight-inch with a four-inch height so is ample enough to store bread and other suitable foods. The lid is approximately half inch bigger and provides a smart lip on the top of the box.
Airflow
The longevity of the food stored within this box is increased with a simple drop-on lid, the nonairtight seal provides just enough air to allow the moisture in the bread to release constantly and boasts keeping bread crusty on the outside and soft on the in without mold.
Cost and Value
This smartly produced box is eco-friendly and very versatile, the attractive hard bamboo fiber box combined with the simple drop-on lid – ensures this is equally balanced on both cost and value and is a great purchase for the money.

Subscribe to our Newsletter