Best Coleman Tents Reviewed & Rated for Quality
last updated:
Nov 04, 2019
Whether it's camping with the family, a cross-country camping adventure with your friends, or a remote camp spot in a national park, a good quality tent is necessary. They shield you from the elements, provide a comfortable sleeping area and offer privacy on your camping adventure. Because there are many different tents with unique features, choosing one that is right for you might be difficult. After extensive research on the topic, Coleman has proven one of the most reliable companies for outdoor gear. They provide quality, long-lasting products at a reasonable price. Coleman is the most logical choice in the market. They offer more than 60 different tents from which to choose. With all this in mind, we put together our top 10 Coleman tents to better help your decision.
In a Hurry? The test winner after 14 hrs of research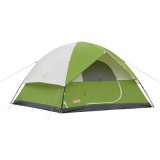 Sundome
Why is it better?
Ventilation System
Insta-Clip Technology
1000D Polyethylene durable floor
Additional rain fly included
In a
Hurry? Editors choice: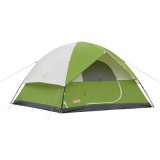 Test Winner: Sundome

16
Researched Sources
13500
Reviews Considered
14
Hours Researching
18
Products Evaluated
Materials
Size
Portability
Features
Value
By Default
BEST COLEMAN TENTS REVIEWED & RATED FOR QUALITY
Ventilation System
Insta-Clip Technology
1000D Polyethylene durable floor
Additional rain fly included
The zipper is known to get stuck easily
Can be difficult to pack in the carrying bag
Created for comfort, the Sundome tent is spacious fitting up to 4 people and multiple sleeping bags comfortably. With 59 inches of roof space, this allows you to stand and maneuver around with ease. It comes with large windows and material to help ventilate without letting in bugs. Additionally, the tent comes with a carrying bag for convenient traveling.
Insta-Clip Technology
The Sundome comes with insta-clip technology which significantly lowers the pitching time for the tent. With only 10 minutes of assembly time, this is one of the quickest setup times for poled tents on the market.
WeatherTec System
The Sundome comes with Coleman's WeatherTec system that protects you from the elements. This includes a rain fly roof to protect from both rain and shine and welded floors made of high-quality Polyethylene that keeps you dry.
Cost and Value
For this tent, you do not need to sacrifice comfort for a price. The Sundome would be considered fairly cheap for a tent. With plenty of space, easy assembly, and high-quality material, it is clear that it makes the top of our list.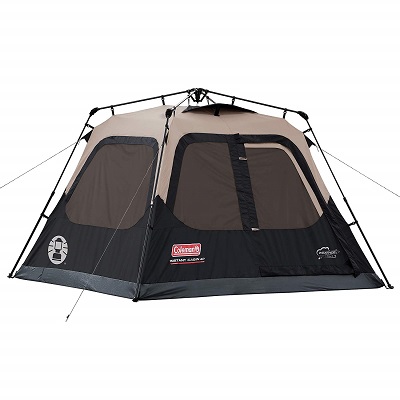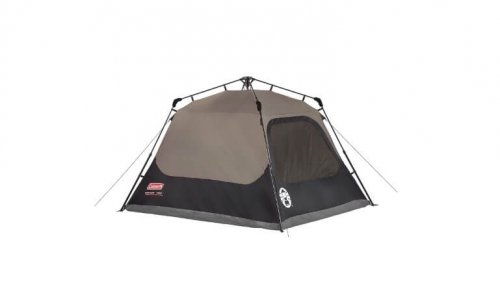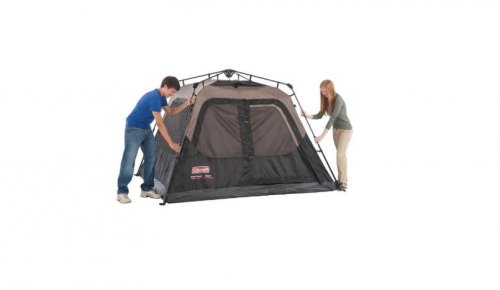 Set-up in under 60 seconds
under 10 pounds for portability
Cost-effective
Thicker polyester material
Stakes are known to break easily
Needs the rainfly to protect from rain damage
The Instant Tent is a fantastic 4 person tent. It measures 8 by 7 feet and is just under 5 feet high. It has plenty of windows with screens to ventilate in hot weather while protecting from bugs. With 150D polyester durability, it was built to last long and be weather-resistant.
Instant Set-Up
As seen in its name, the Instant Tent can be assembled quickly in under 60 seconds. With pre-attached poles, this makes set-up quick and easy allowing more time to spend outdoors.
Add-Ons
The Instant Tent comes with a versatile, detachable rainfly. With the rainfly detached, it allows for more ventilation in the summertime. While the rainfly is attached, it protects you from UV rays and rain.
Cost and Value
This is on the cheaper side of Coleman tents. With its easy setup time, durable material, and rainfly, the Instant Tent creates tons of value and is perfect for summertime.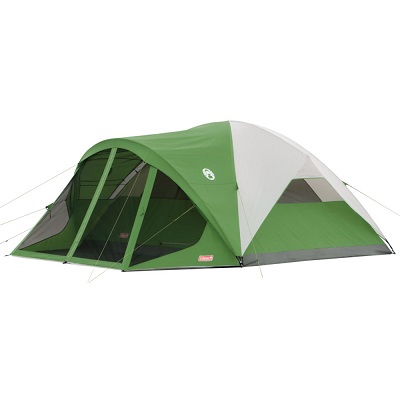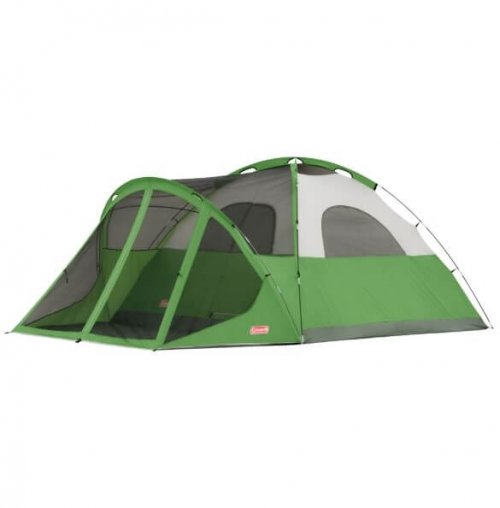 Spacious 6 person tent
Separate screen lounging area
Durable polyester taffeta
WeatherTec system to protect from rain or shine
Heavyweight not intended for backpacking
Longer set-up time
The Evanston Screened Tent is a large 6 to 8 person tentthat can accommodate any family. In total, it consists of enough space to fit two queen beds comfortably. With 68 inches at center height, there is enough room to stand and get dressed with ease. With weather-resistant material, this tent can easily protect you from the elements.
Separate Screen Room
The Evanston Screened Tent comes with a separate screen room that offers a bug-free lounging area apart from the sleeping area. This space is perfect for the storage of dirty shoes in order not to track in mud or sand.
High-Grade Material
This product comes with polyester taffeta 75D for a thicker, high-density fabric. This durable material is leak-proof and will keep you dry from the rain.
Cost and Value
The Evanston Screened Tent is the average price for tents. Although this may be true, it will last a considerable amount of time with durable material while offering plenty of space for the entire family. This makes the tent well worth its cost securing a spot in the top 3.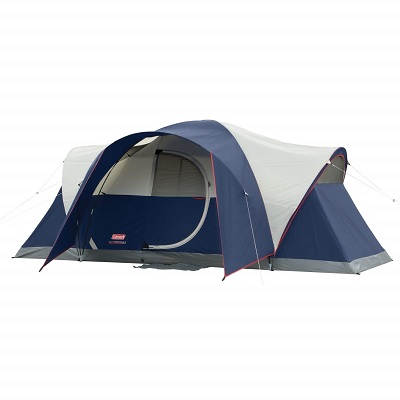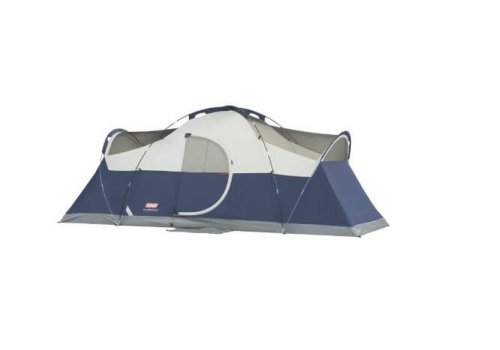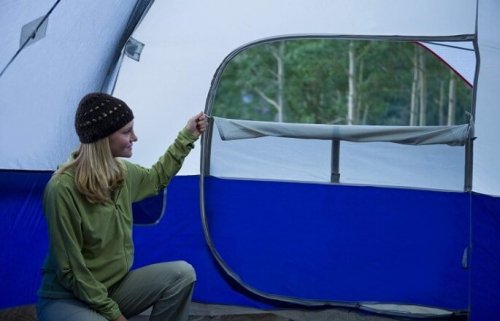 Easy to set up
Interior lighting
Waterproof
Windproof
This tent is an upgrade to the other Montana tent mentioned further down on this list. The design is the same but there are added features, and the color is different. Information about the features and performance are presented here to help decide if this tent is right for you.
Features
Details are what finalize decisions to purchase a tent. The door and maximum height are in the middle of the tent. There are windows on each end. A mesh roof makes for light during the day and allows airflow.
Layout
The layout and sturdy modified dome construction of the Coleman Elite Montana 8 make it a perfect choice for extended stays with kids. It is comfortable and spacious. The layout is narrow and long instead of square.
Cost and Value
The Elite Montana 8 is a good value for the money. It deserves a spot on this list. The tent has a small zippered opening that doubles as a ventilation inlet and access to a cooler. The lower-left corner has an electrical cable port.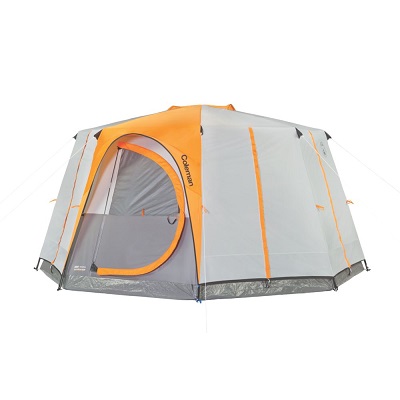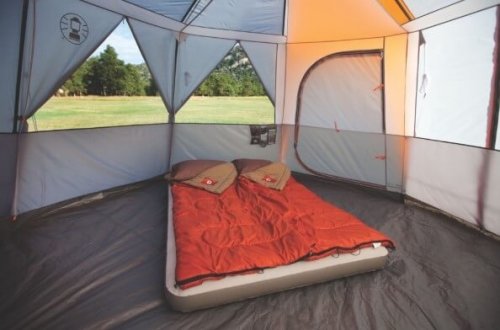 Can fit up to 8 people
durable steel poles and taped seams
Interior storage compartments
Reasonably quick set-up time
Less cost-effective
Heavy at nearly 50 pounds
The Octagon 98 is a large 8 person tent that measures 13 by 13 feet. Its unique design allows for easy assembly and the ability to divide the tent into sections for privacy. Additionally, it offers the same weather protection as other Coleman products. This product is great for long camping adventures due to its durable materials and storage ability.
High-Quality Materials
With water-resistant polyester material and taped seams, this is one of Coleman's most resistant tents. Further, the poles are steel making them less likely to break and more weather resistant.
Organization
The Octagon 98 provides exclusive inner storage pockets to help you organize clothes or equipment. Further, it comes with interior cup holders to place necessities and lessen the risk of accidents.
Cost and Value
The Octagon 98 is on the more expensive side of tents. It derives its value from its spacious interior along with its high-quality materials making it worth the expensive price. Because of its ability to last long, this is a great purchase for those who go camping often.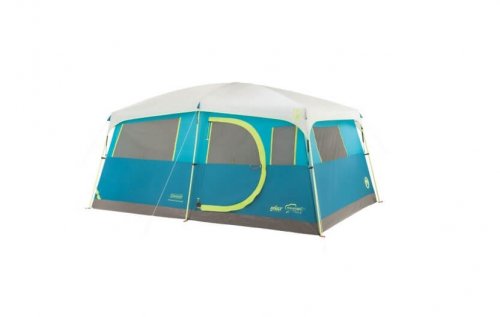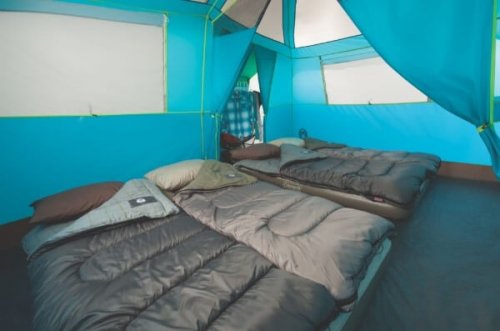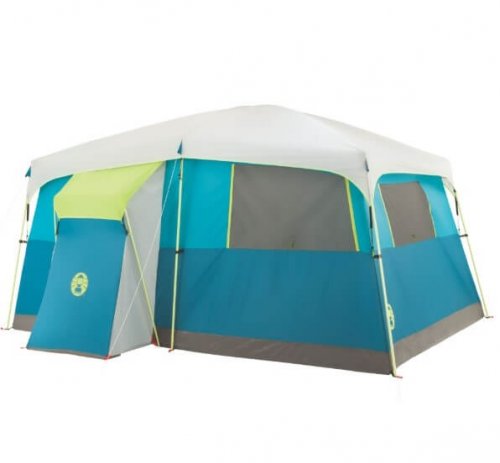 Weather-resistant
Constructed quite well
Easy to assemble
Large in size
Comes with E-port already instead inside for easy form of charging your devices
Waterproof flooring
Bedroom divider
Warranty is not the best
Not as wind-resistant as you would want it to be
If you have a large family then you know camping can be a huge pain, especially because it can be difficult to fit everyone in a traditional sized tent. The Tenaya Lake helps solve that issue by being specifically created to fit 8 people at once. Measuring 13 by 9 feet, paired with a 6 foot 8-inch center height and complete with 2 by 2 closet. Its the perfect tent for those that want to camp comfortably yet still be surrounded by loved ones.
Spacious
As stated above this tent was specifically created for those that have a large group of people with them; therefore, it only makes sense for it to be exceptionally spacious. Not only is it spacious and fits the number of people you want and need but it comes with a room divider for an added sense of privacy. Its all about bringing something extra to your tent and making it feel as home-like as possible. You can almost say this tent was made for those that want to feel as if they are right at home just in the middle of nature.
Electricity can be Used
One of the reasons why most of us have issues with camping is due to the lack of electricity. Most tents can't provide electricity but this one does. Featuring an E-port this one enables you to bring electrical power inside of the tent. You can charge your phone or laptop and even bring a small lamp directly inside. Furthermore, you do not need to worry about your power getting get as the inside was specifically created with inverted seams so the inside remains dry the entire time.
Cost and Value
Anyone who has purchased a Coleman tent knows quality is always high in Coleman products. Which is why this tent is priced quite well. You are getting an abundance of excellent features already weaved in which makes the price point that much better. Remember this tend can be used in an abundance of different weather conditions.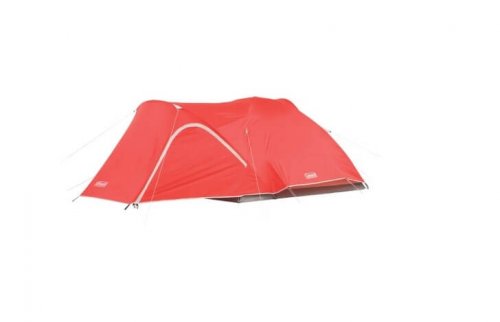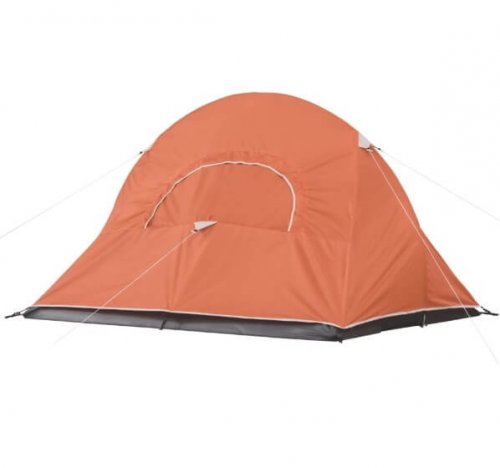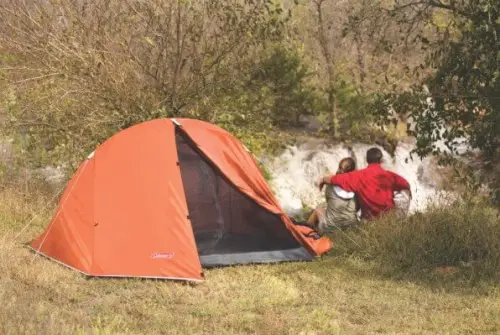 Easy to travel with
Lightweight
Design for backpacking
Fast 10 minute set up
Cost-effective
Remains dry and comfortable inside
Mesh windows for excellent ventilation
Only fits 2-4 people at a time
Not as durable as other options
While most of the Coleman tents offer space for multiple people, this one is a little bit more intimate. Built for 2-4 people, the Hooligan is great for those that want a simple, travel tends that gets the job done seamlessly. Measuring 9 by 7 feet on its interior this tent comes prepared to help you have a comfortable place to be regardless of where you are.
WeatherTec System
To provide a safe and dry environment, the Hooligan has a WeatherTec system incorporated throughout. This feature is utilized to keep the interior of your tent fully dry and comfortable. Its all about getting the most out of your tent and knowing that you will be protected from the weather elements. Furthermore, having this feature will help you feel safer inside in the act that the weather does change from sunny and clear to rainy and windy.
Easy to Assemble
One of the very first things you want to note about a tent is just how easy it is to assemble. Once you get to your campsite you want to be able to get everything in its place quickly so you don't have an issue later on. This tent can be fully assembled in about 10 minutes or less. Furthermore, it comes with snag-free pole sleeves that can easily and quickly be adjusted. It has so been paired with the brand's patented pin-and-ring system.
Cost and Value
Due to this being a two people tent the price is quite lower than the other options on the market. Furthermore, the featured touches that you are getting making this tent an excellent option to have. Additionally, you want to keep in mind, that this tent can be taken without if you hunt, travel or camp regularly.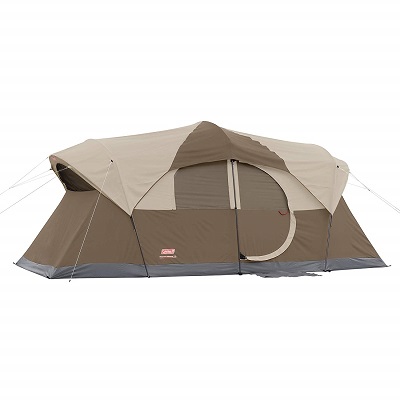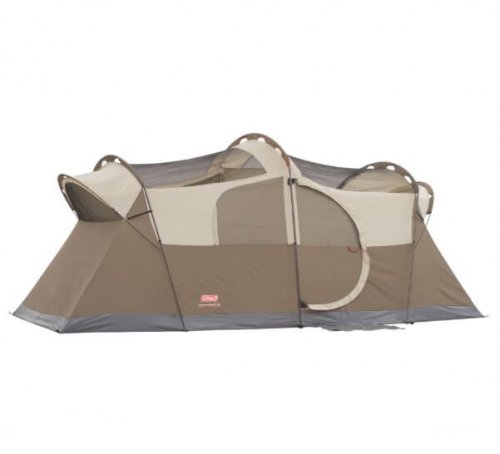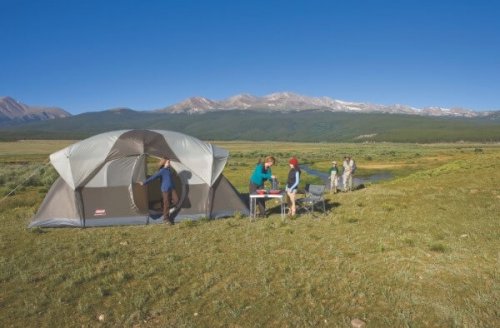 Can sleep up to 10 people
Great for long camping trips
Barriers that divide the rooms
PU coated
Less cost-effective
Can not withstand heavy rains
The WeatherMaster was built to accommodate up to 10 people. It measures 17 by 9 feet making it the largest tent on our top 10 list. Further, the center is measured at a little under 7 feet making it suitable for any tall individuals. With the same color coated poles as the Tenaya Lake, it is easy to assemble for a large tent.
Designed For Multiple Families
The WeatherMaster was built with a room divider for privacy along with D-shaped doors for multiple points of entry and exit. This suggests it was designed specifically for multiple groups to reside under one tent and maximize privacy.
Polyurethane Coating
The polyester taffeta material is coated with polyurethane making it water-resistant, lightweight, and flexible. The bottom is made with 75D fabrics giving it a thicker, more durable floor maximizing your protection from the elements.
Cost and Value
The WeatherMaster is relatively expensive for Coleman tents. Because it is spacious, accommodates multiple groups, and contains polyurethane coating, this cost can easily be justified as it has the potential to save money in the long-run.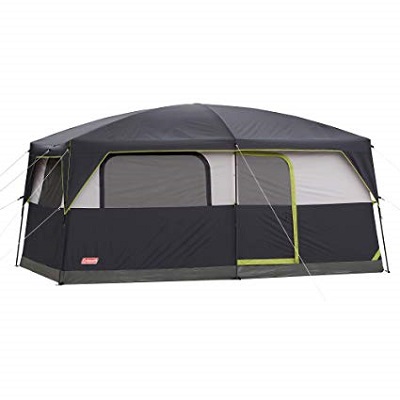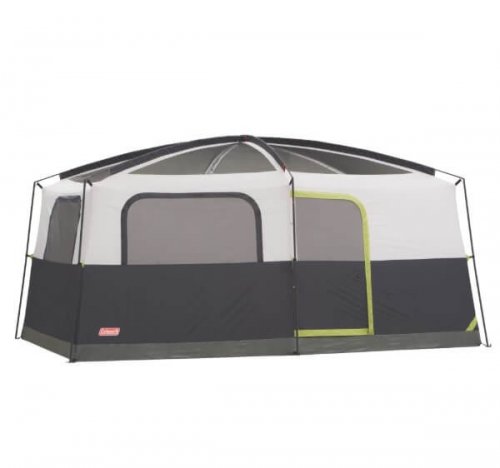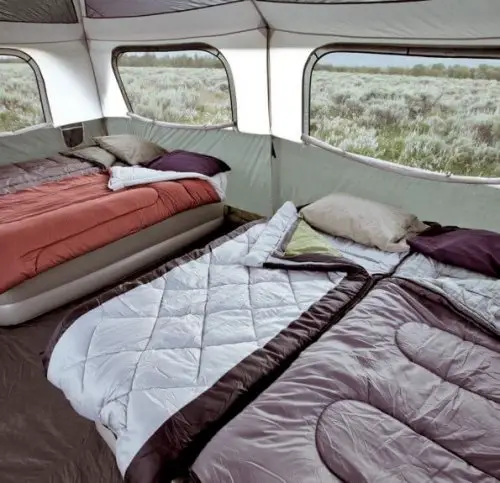 Vertical wall design provides more living space
Great for extended camping trips, scout leaders, or family car campers
Fan and LED lighting system
WeatherTec system
Lacks windbreaks or wind barriers that dispel icy winds
This tent gets rave reviews from individuals and families who love camping. The reputable brand is a reason to purchase a tent. People associate Coleman with quality camping merchandise. The Prairie Breeze Tent is well-designed and built.
Durability
The tent can withstand harsh outdoor conditions. It makes an outdoor trip safe and comfortable. The tent provides a comfortable and spacious sleeping environment. Nine people can be comfortably accommodated.
Features
A fan system and LED light to provide air circulation and illumination. The fan is not strong enough to make the tent more comfortable. There is enough space to accommodate two queen size air beds for nine adults to use. It has space to house miscellaneous items such as sleeping materials and bags. You can rest well after a grueling trek.
Cost and Value
The tent is best suited for extended camping use. The tent can be used during a rainy season or at the beach. It is sturdy enough to withstand winds and storms. The medium-priced tent provides many benefits.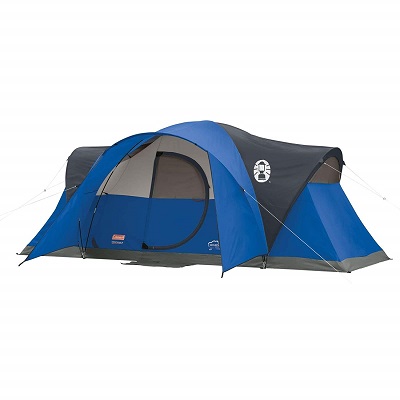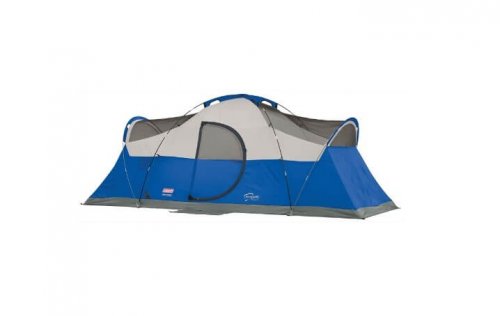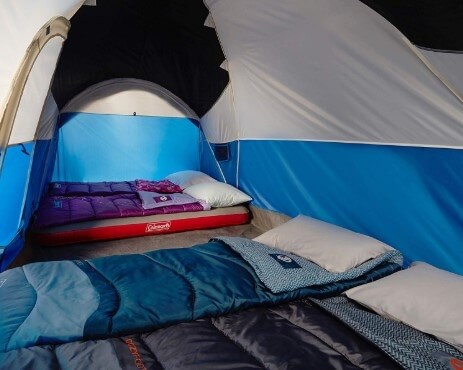 Can fit up to 8 people
Extended Awning door
Cost-effective
Waterproof polyester
Slow set-up time
Lose in durability in poles
The Montana Tent offers a large affordable tent for casual campers. It contains WeatherTec systems to help with protecting you from the elements. Additionally, it is designed for humid areas and summer temperatures with its polyester material. The tent's two windows create a constant airflow for ventilation. It is perfect for the casual camper as it comes with instructions and set-up videos to help with assembly.
Extended Awning
The Montana Tent comes with an extended door awning that can keep gear and shoes dry without tracking in mud or sand. Additionally, it offers a shaded area for a comfortable lounging area with chairs.
Spacious
Much like the Red Canyon Tent, the Montana Tent is spacious for large families or groups. It measures 16 by 7 feet and is over 6 feet in center height. This can accommodate up to 8 people and 3 queen size air beds.
Cost and Value
The Montana Tent is on the cheaper side of large Coleman tents. Although it may be cheaper than the Red Canyon, it loses some durability in the long-run. Regardless, it is still spacious, weather-resistant area at a low cost.
Criteria Used for Evaluation


Materials
Even if you live in a temperate climate, or intend only to use the tent close to home on clear days, it's good to consider a measure of adaptability in your purchase. When a tent is produced, it is rated according to its seasonality. Some of the factors that impact this are the breathability of the fabric, which allows hot air to vent during balmy summer days. Conversely, a rain fly protects against Spring showers and Winter tents and enables Summer venting to be sealed off, holding warmth inside. It's better to make a purchase based on some future possibilities, so you aren't stuck paying the bill for something else in the future. For that reason, this list leans heavily towards three and four-season tents.
The material doesn't only concern the fabric of the tent, but also the zipper, poles, and anything else that is part of the tent. These not only play a role in the seasonal rating of your tent, but also in the durability and weight. We rated based on how well the material works together to keep you comfortable and protected from the elements.


Size
Tents come in all types of different shapes and sizes and built can fit anywhere between 1 to 8 people. Since everyone's needs may differ when it comes to size, we looked at how well each tent was designed to offer maximum comfort. Is the entrance too small? Is it too short or narrow? Does it claim to fit two people but can really only fit one comfortably? These are things that may seem unimportant at first, but if the weather is not agreeable and you end up having to spend some time inside the tent, you'll quickly realize that these things matter. If possible, check out the inside of the tent before buying it. If you can't do this, check the reviews and find out others have said concerning the size.


Portability
For apparent reasons tents are designed to be lightweight and portable. As you might imagine, not all designs are created equal. A lot of the tents that Coleman creates can be very lightweight, making it incredibly easy to transport, especially on a light trip or a hiking trip. These easy to carry, light tents have been designed with minimal materials, yet durable, making these tents an all-time favorite.
The tents that are larger, with more rooms and rain shields, have been designed with more materials, making them less ideal for lightweight trips and hiking trips. These tents are more so made for large camping groups or families, looking to stay put, the entire time.
Since not everyone needs a light tent for backpacking, we rated based on how much space it takes up when not put up, and how easy it is to set up and takedown. Whether you're camping in your backyard or in the middle of the woods, convenience is important!


Features
Today's tents come have come a long way and offer a lot of really great features that can make your time outdoors much more comfortable. Of course, these features also add to the cost of your tent. So if you are just looking for something simple and inexpensive and look forward to roughing it out, then features may not be as important to you. However, if you love nature, but don't want to give up all the conveniences of modern living, then you'll be pleasantly surprised at some of the features you'll find. Some of these include mesh windows, electrical outlet capabilities, storage space, walls, and so much more.


Value
Tents can be expensive, especially when you add up all the extra features that can come with it. So it's important that you get your money's worth and receive a good quality product. When we rated this criterion we looked at reviews from customers, price, and a combination of all the other factors we discussed in this review. We also looked at what kind of warranty or guarantees were offered with the specific model. Although Coleman is a reputable brand with great products, there are still some differences in quality between models.
Expert Interviews & Opinions
Most Important Criteria
(According to our experts opinion)
Experts Opinion
Editors Opinion
Users Opinion
By Default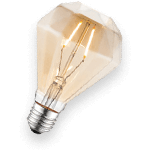 What Should I Be Looking For?
Whether the tent can accommodate your entire family or a couple of guests is important in the decision-making process. Space and the number of occupants are critical features. Additionally, understanding the tents' limits will be essential. Limits may include its weather-resistant material or its stability in certain climates. Lastly, one must look at how quickly the tent can be pitched and the degree of difficulty. A faster assembly process can give you more time in the outdoors.
Sweep Your Tent!
Whether you have kids running around, tracking in dirt or you went on a muddy hiking trip, Coleman tents need to be cleaned. Tracking in tons of debris can cause small puncture holes in your tent, so it is incredibly vital to sweep out your tent after a long weekend of camping. Puncture holes can lead to moisture entering the tent barrier and causing mold build-up, so a few minutes of sweeping will prevent a catastrophe.
Avoid Mold!
When your tent gets wet, packing it away can be fatal, as it can cause mold to build up. When in a hurry to clean up and get home be sure that you take your tent back out to dry when you get home or offer up a little ventilation, by opening the zipper. These few steps can prevent a great tent from going bad. If your tent gets a little dirt and mud on the fabric or in the cracks, it is okay to use a sponge to wipe down the filth. Just grab a bucket of soapy water and go to town, ensuring the tent is spotless. Just be sure to allow the tent time to dry, so you do not run into the same issues as above, mold.
Other Factors to Consider


Weather Resistance
You often find yourself in a pinch when it comes down to camping through a storm. Some people may purchase tents that do not offer rain protection. With the Coleman tent, you can feel comfortable knowing that you will be protected from the moisture and rain. These barriers have never been more important when it comes down to a comfortable night's stay.
Coleman offers a WeatherTec technology that assists in keeping moisture out and acting as a barrier to rain and humidity. The fabric is moisture-wicking and fast-drying, making it ideal for any weather conditions. Not only do we get the WeatherTec that Coleman offers, but they also include floors that are resistant to water, watertight seams, and more.
As you can tell, Coleman believes that waterproofing their tents, is incredibly important. Not only is comfort key, but also safety. With the weatherproofing offered here, you can be assured that you will have a safe night's sleep, never feeling the unwanted dampness.
Frequently Asked Questions
q:

My tent has a leak. How can I find it?

a:

Items in the tent may be wet for reasons unrelated to a leak. For example, condensation may have gathered due to water being drawn in from the interior of the tent being touched. Make sure it's a leak by spraying soapy water around vulnerable areas like vents or seams. If bubbles form, you've found the leak.
q:

How can I repair the leak?

a:

First, treat the leaking area with alcohol. Then purchase link sealant and apply. The sealant should dry quickly, just a few minutes after application.
q:

How do I know which conditions my tent is suited for?

a:

Tents are listed with a 'seasonal' rating of 1 to 5. 1 is for light camping in temperate conditions. 5 is for the most rugged and intemperate conditions. Weigh the rating against your lifestyle and needs. Are you planning on using the tent repeatedly in extreme temperatures or will you only use it several times a year at a public campground?
q:

How long will my tent last?

a:

Provided a tent is stored properly and used on a seasonal basis, you can expect a standard commercial tent to last around 10 years. With care and storage, it can last even longer. The longevity of your tent will essentially depend on the quality and how often you use it. You also want to consider just how often you clean it and keep it up to date. Knowing these variables will make a huge difference in just how long your tent can last.
Subscribe to our Newsletter