Best Multi-Tool Knives Reviewed & Rated for Quality
last updated
Mar 13, 2019
Multi-tool knives are used indoors and outdoors for a variety of tasks, even ones that are high level. That means a quality multi-tool can be used by hobbyists and professionals in the most efficient way possible. To make the most of a buying decision, users have looked for key criteria in their search for the best multi-tool knife. There are a lot of products to choose from, and each of them has its own strengths and weaknesses. From sets that are good for light loads to those that excel with heavy, there is something for everyone. Specific tools that are included will make the most difference since some are easier to live without than others.
In a Hurry? The test winner after 17 hrs of research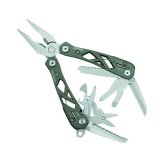 Gerber Suspension
Why is it better?
Open frame stainless steel handle
Limited lifetime warranty
Boasts incredible value given its low price tag
In a
Hurry? Editors choice: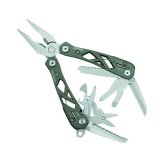 Test Winner: Gerber Suspension

22
Researched Sources
23
Reviews Considered
17
Hours Researching
33
Products Evaluated
Durability
Ease of Use
Brand
Accessories
Value
By Default
10 Best Multi-Tool Knives
Open frame stainless steel handle
Limited lifetime warranty
Boasts incredible value given its low price tag
Some tools are difficult to extract
The king of the list is Gerber, which should come as no surprise to fans of their products. This is the best multi-tool in the industry, and at a price that is really customer friendly.
Read more
Best Locking System
Safety is a concern when dealing with multiple sharp items in one tool. The Saf.T.Plus system by Gerber is built to ensure that customers get the best locking system possible without limiting the included tools.
Features and Specifications
12 in one tool
Ballistic nylon sheath included
Cost and Value
The best product on the list still maintains a low price, putting it in an elite category. Plenty of value can be found in any Gerber flagship model, especially one at a lower price than the competitors.
Good price
One handed operation
Comes in both a sheath and non-sheath version, both of which are inexpensive
Stainless Steel is dull looking
The best Leatherman product on the list is the Wingman, and it barely misses out on being the best product on the list. This is still their best model to date and is one of the better made multi-tool knives in the industry.
Read more
No Price Gouging
The sheath and non-sheath versions are around the same price, giving customers an option without killing their wallet. And even with this being the best Leatherman product on the list, it is still priced well.
Features and Specifications
14 tools in one
420HC combo knife
Cost and Value
Lack of shiny looks aside, this is a great value at the mid-price point. The only comparable option with this many features will lead consumers to the Gerber side.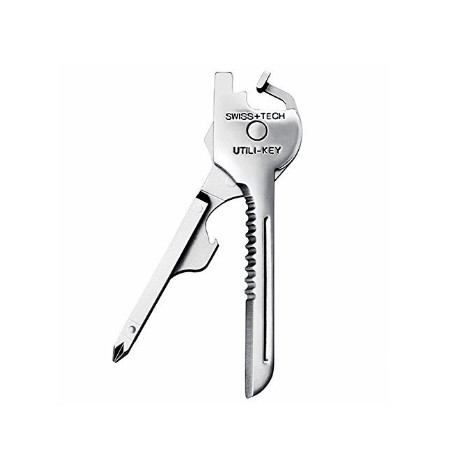 Small enough to attach to a keychain
Limited lifetime warranty
This is the most affordable product on today's list
Not strong enough for heavy-duty tasks
Price is always worthy of information when making a new purchase. With the many different multi-tool knives available in the industry, this model stands out as a good choice.
Read more
Lowest Price
Buyers will get great value for their money with the lowest priced product on the list. It also ranks as one of the lowest in the entire industry, and all without lowering the quality of what's in the box.
Features and Specifications
Available in a pack of one or two
Has regular packing or gift tin
Cost and Value
The gift tin option is a great value, even if you plan on keeping it for yourself. It is not that much more than the regular packaging and includes a nicer look.
4.25 inches
Only 2.2 ounces
The best looking multi-tool knife on today's list
Cap lifter can't be removed
The Dime is one of the many big name products from the Gerber lineup which doesn't disappoint. In direct competition with Leatherman, consumers will find it hard to ignore the pros of the Dime.
Read more
Best Looking On The List
Not only do the variety of colors help it to stand out, but the great look of the product also shines when put side by side with the competition. Available colors are black, green, purple, red and silver.
Features and Specifications
12 tools in one
Butterfly opening
Cost and Value
Amazingly, the price of this top tier product is low, so the value is incredible. Buyers won't get a much better deal than this when looking for a multi-tool knife.
5

. Leatherman - Skeletool
Some tools can be accessed while the tool is folded
25-year guarantee
Consumers can pick from four different styles
The top four introduces a completely different type of quality with multi-tools. Starting with the Leatherman Skeletool, consumers will get a product that far exceeds their expectations.
Read more
Four Different Styles
The choice is something that has been lacking in the style department, at least in the top tier multi-tool knife category. Leatherman offers the Skeletool in Columbia Blue, Moss Green, Stainless Steel and Stainless Steel with Nylon Sheath.
Features and Specifications
Locking blade
One handed operation
Cost and Value
This is the first mid-priced product on the list, but one that still retains its great value. The 25-year warranty is more than enough for any customer to get their money's worth out of the product.
6

. Victorinox Swiss Army Rambler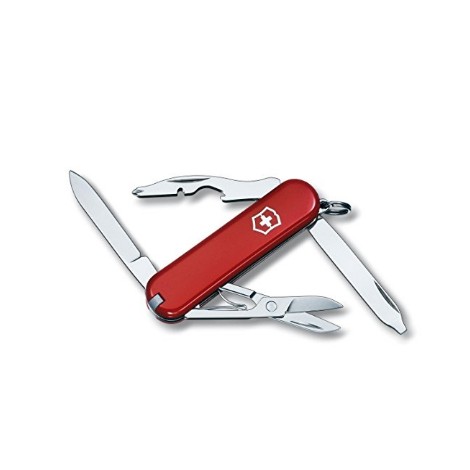 Only weights 1.058 ounces
Red ABS scales
This product is visually appealing, making it a favorable option. 
Victorinox is an underappreciated brand on many lists, even though they have one of the better product lineups in the industry. Their stylish multi-tool knives are good to look at and feature rich with quality tools.
Read more
Stylish
Made in Switzerland, and is a great looking product whether it is closed or open. Multiple color schemes would have really bumped the value of the Army Rambler, but even in its current form, it is beautiful to look at.
Features and Specifications
58mm long
10 tools
Cost and Value
Other products on the list have more tools, yet the refined 10 option Army Rambler is still a good value. The low cost and good looks are backed by a lifetime guarantee from the company.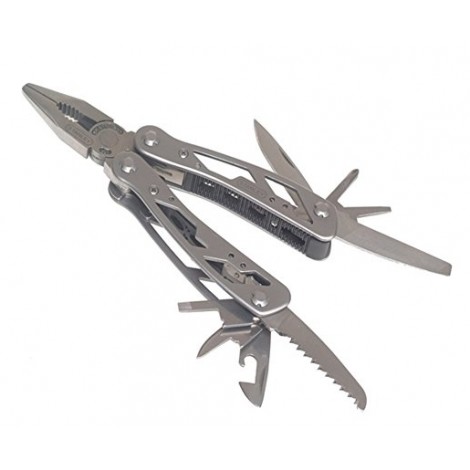 Solid steel construction
Nylon holster included
Made from one of the most notable brands in the industry today
Blades don't lock in place
A forgotten horse in the race for best multi-tool is Stanley. They are a dominant brand in the tool market, with the 84-519k a competitive product in multiple categories.
Read more
Professional Quality
A lot of times customers will talk about tools and how they feel in your hands. The 84-519k is a good example of what those professionals mean, right down to its locking mechanism and the smoothness of the construction.
Features and Specifications
12 in 1
Ergonomic handles
Cost and Value
Anyone familiar with the Stanley brand will appreciate the low price and added value of buying from a trusted company. They are in direct competition with names like Gerber and do an admirable job with their products.
8

. Hoffman Richter HR-100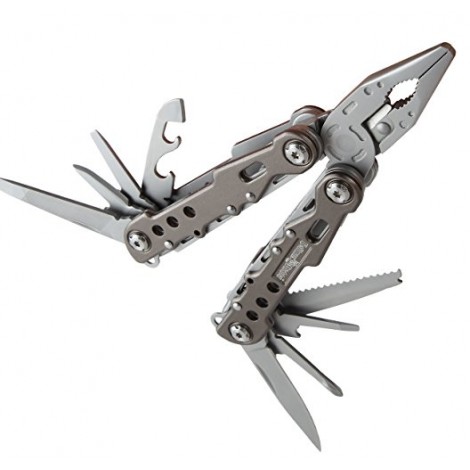 1000D nylon case with belt loop
Lifetime warranty
This product is made with a spring-loaded needle nose, which is great for rigorous tasks 
Weakest knife blade on the list
Hoffman Richter is a fantastic brand that gained a lot of positive feedback for their HR-100. It's an all in one multi-tool knife that can fit in any pocket.
Read more
One Of The Best Pliers On The List
The spring-loaded needle nose pliers have a nice grip on them, even on tougher tasks. Depending on the size of your main pliers, these could serve as an adequate replacement.
Features and Specifications
440 Stainless Steel construction
All tools lock in place
Cost and Value
Even with the weak knife blade, this is still a good value since it is low priced. The remaining 12 tools in the package more than makeup for the quality of the knife.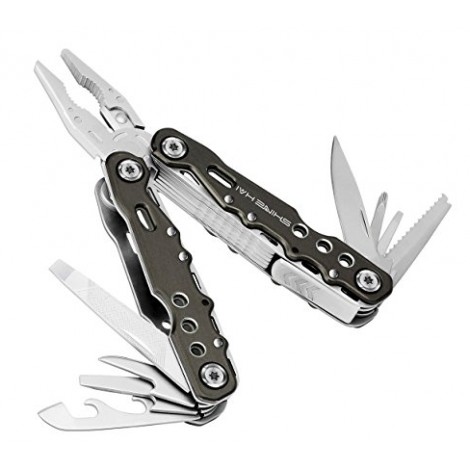 Nylon sheath included
Good locking mechanism
There are over 14 different tools embedded in this product
Warranty doesn't cover sheaths
There are plenty of options available with the Shine Hai Multi-tool, one of the most useful products on the list. The company can be considered a dark horse on a list that is dominated by two brands.
Read more
14 In 1
There are fourteen total tools in one foldable design, and it's ordered in a way that makes sense. Some of the better tools are the pliers, wire cutters, the mini and large slotted screwdriver, and the straight edge knife.
Features and Specifications
420 Stainless Steel
Lifetime product warranty
Cost and Value
At a low price, the included sheath gives this product an added value. It's a good buy when you want all of the tools for the job in one design.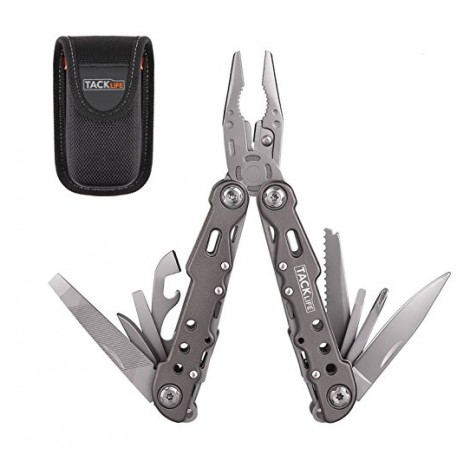 24-month warranty
Storage bag
This product is made from stainless steel
This knife is durable and strong
Organization of tools could be better
Combining a lot of tools isn't always the only winning formula for a multi-tool knife. Tacklife reinforced the durability of their product and delivers in the best of ways.
Read more
Strong Out Of The Box
Durability is the key to this product, as it is slightly stronger than the other competing products outside of the top five. This added strength helps it last longer on jobs that require more force than normal.
Features and Specifications
Stainless Steel construction
4.1 inches
Cost and Value
Like all of the products on the list, this one lands on the low price point. Buyers will get good value due to the stronger build of the MPY07.
Criteria Used for Evaluation


Durability
Durability was the first thing we looked at but made it separate from the warranty. We did this since the convenience of a warranty doesn't make it okay to have a glass cannon product. Companies like Gerber, Leatherman, and Stanley were not excluded from this check, and some of their other products didn't make the list because of this. The durability criteria mostly affected smaller brands and generic brands that had not yet established themselves.
Their products were full of complaints about durability, usually with tools that used complex actions. And a lot of these durability concerns weren't associated with misuse, so it was a real red flag. Buyers can be confident that the products in the top ten passed this deep durability test and are ready for any task you have.
Since the knife is the star of the show with the multi-tool knife, we gave that a separate category. Knife durability is important to the overall package when purchasing a multi-tool knife. We looked at how it held up to pressure, cutting and how well it took to being sharpened. Some fared better than others, while the cheaper options couldn't make it past the cutting stage. We had some heavy favorites that moved up the list due to their knife durability and maintained that spot throughout the rest of the testing


Ease of Use
Organization and ease of use were a criterion that we went over multiple times. Even the best multi-tools on the list had troubles with this, but it led to some revelations with some products. Leatherman almost took the top spot because of this, and it shows just how close the race was to #1. Some products didn't make the cut and were removed based on how hard they were to get open. And products that were billed as one-handed received harsher penalties if they didn't live up to expectations. Feeling natural in your hands is something that not a lot of products can get right. This is hard to do when stuffing multiple tools into one model, and can get even harder when maximizing durability is a concern. Yet we managed to find multi-tool knives with the best ergonomics, even with pressure applied. Only a few were able to meet or exceed the type of grip customers would expect from a hunting knife. It was these outstanding products that made a great impression and earned a higher spot on the list.


Brand
Branding is something that can't be ignored when comparing top products, and in this category Gerber dominated. We look at branding the same as we look at notoriety. They are the most active in the industry, therefore have the most to offer with innovation. Branding also helped Stanley and Victorinox, two great alternative options on the list. They both made a positive impact on their work in the industry, and each provided a unique take on the modern multi-tool knife. Some other inclusions made the list based on past and present reviews in top magazines where their flagship models were on display.
And this is where the marketing comes into play and was a key criterion to determine the effectiveness of the brand. Marketing only affected the smaller brands, and it helped to determine whether we could trust their particular product. With so many choices available in the multi-tool knife market, it would be unfair to go by top brands only while ignoring the smaller and less established ones. Marketability helped to balance out the list after we checked Brand criteria, and in the end, we got a very varied top ten as a result of this criteria. Regrettably, not a lot of products fit into this criteria. It would probably be a good 6 out of the entire 10 that really tried to impress with style. Some didn't even offer style options at all, opting simply to release their product as stainless steel. Rather than penalize products for lacking style, we awarded any that took the bold step of adding color or distinct style patterns to their products. While the benefit of styling is purely cosmetic, it adds a more pleasing aesthetic any of the multi-tool knives that implement it. The Victorinox model is a great example of style done right, and they placed highly on the list because of it.


Accessories
For the models on the list that came with cases or sheaths, we rated the quality of these accessories. Accessories should be held to the same standard as the product they are protecting. This was a difficult criterion to measure and became more difficult since the warranties were different for the included accessories. We found the best way to go about this was to take away points for low-quality accessories. If the included bundle didn't live up to expectations, then at most it would lose a spot or two on the list.


Value
Price is a complicated criterion of its own since many of the products on the list are in the low price category. A couple of them are in the mid-range category, but none high. When evaluation cost/value we looked at all of the previous criteria mentioned and then assessed an overall value to the product. If the value was met then it remained on the list. When the value wasn't met, we removed the product in favor of lower-priced competing models. This is why some big names may not appear on the list even though their products are well known through the industry.
Expert Interviews & Opinions
Most Important Criteria
(According to our experts opinion)
Experts Opinion
Editors Opinion
Users Opinion
By Default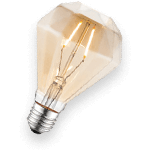 Lubricant
There are numerous different lubricants that can be used to oil your tool. However, do not use WD-40 or any other types of toxic lubricants if you plan to use the tool for any food prep. With that in mind, here are the most common lubricants used to oil your multi-tool: WD-40, mineral oil, 3-in-1 Oil, and dry lubricants.
Lubricant Application
Dust and debris will be attracted to the tool if it is overloaded with lubricant; rather than being a benefit, this can be harmful. So, remember that a small amount goes a long way. Be sure that the lubricant is applied directly into the turning mechanism. If you have difficulty achieving this, consider using a sharp toothpick moistened with lubricant. Open and close the tool many times to ensure it is working properly after the lubricant has been applied.
Warranty
Warranties are where we looked next, and for the most part, all of the products had great traction in this area. The few that offered simple 1-2 years warranties were left off in favor of the more established warranty programs. With all of the possible breakage with tools, having an ironclad warranty is a must. We also favored warranties that allowed the use of self-coating with their product up to a certain extent. So longevity and relaxed modification rules were favored when we factored in a product's warranty coverage. Looking at the overall durability of the tools is one thing, and didn't cover the knife.
Other Factors to Consider


Use
Resistance is something we tested for and was associated with how the tools in the set handled force. It's frustrating to use the screwdriver on a multi-tool while constantly fighting with the mechanics as it tries to fold back in place. Tools needed to have at least above average resistance in order to earn a place on the list. No one wants to fight with their tools, and in some cases, this can lead to an accident. We were the harshest on knives since they could be used for multiple tasks at once. When going through all of the tools available, it shouldn't take multiple tries to get a specific tool.


Features
The last thing we rated wasn't the most important, but was still a worthy criterion; the number of tools. Quantity doesn't always equal quality, but when looking at the overall features of a multi-tool knife, it's always nice to have those extras. Products were given a single point for the number of tools they had in one package. It was a simple numbering scheme that worked out well but didn't impact the top three products. It did shape the tail end of the list and helped us out when we had similar products that we couldn't make a final decision on.


Bottom Line
Portability is going to be the top thing, even if it seems trivial with the already small sizes. Most multi-tools are built for portability, but not all excel at it. One product may be thicker than the next, making it uncomfortable to carry around in your pocket. Another product may need two hands to use rather than one hand. The single-handed operation makes a huge difference between a buy and a pass depending on the intended use. And with some multi-tools now offering carrying cases, the amount of interesting products available is even bigger. Customers should also look at the strength of the main tool they will be using. If you specifically want to use the Philips on a multi-tool knife, then it can't be a low-quality add-on. Always choose a multi-tool knife that has the best of the best with the tools you'll use the most.
Frequently Asked Questions
q:

Why Is Gerber Considered A Top Brand?

a:

Gerber has its own set of flagship multi-tools made by their Gerber Legendary Blades Company. Among the notoriety for the quality of the materials, Gerber is known for its industry-leading knives. So when their sub company started specializing in multi-tool knives, they opened up a brand new dimension in the company's product line. Like all big brands of their size, customer support and warranties have a lot more clout than the competition. A little bit of research, usually leads customers to Gerber and their products. So beyond a few other notable companies, consumers will be well taken care of by going with the Gerber brand.
q:

What is The Most Important Tool?

a:

Buyers that are specifically looking for multi-tool knives will of course favor a strong knife. This isn't always the case, as some users prefer a multitude of different knives in one set rather than a single strong knife. Serrated blades are popular for outdoor use, and specific styles may dictate even further interest in a particular multi-tool. But the knife is the most important tool in a multi-tool knife product. If that one blade is below par, then the rest of the package isn't worth the asking price. There are no exceptions to this rule, and it is one of the main reasons why companies like Gerber and Leatherman are so highly regarded.
q:

Are Multi-tools Easy To Repair?

a:

Users with some technical prowess take their multi-tool knives apart completely when cleaning them. This is of course against the warranty and leads directly into actual repairs. With multi-tool knives, the warranty can be a true lifesaver. Small cleanings here and there can prolong the life of the product, but there is no accounting for parts wearing out or sudden damage. Consumers are advised to use their warranty rather than try a repair at home- unless they are out of warranty. In this case, repairing multi-tools can be a breeze or a complete nightmare. The more tools there are on a single product, the higher the difficulty will be when doing a repair on your own.
q:

Is It Recommended To Only Use Store Bought Cleaning Kits?

a:

In some cases, a company may recommend store-bought cleaning kits for interested consumers. Most of these kits are made with chemicals that work well with the materials used for the multi-tool knife. There are advantages to using these kits, like having everything you need to clean in one package. These kits are also tested well, even if they aren't guaranteed. When the kits fail to clean your multi-tool knife, there are proven home remedies that can do the trick. Often these are harsher chemicals, but more often than not they get the job done. At the very least, homemade cleaning solutions offer an alternative when the approved method fails to do the trick.
q:

Do Multi-tools Break Easily?

a:

Durability is a concern with any tool that has moving parts. Since multi-tool knives are rated for low/medium tasks, the amount of force it takes to break them will be high. That doesn't mean it won't give under minor pressure due to wear, but consumers should be informed that using a regular tool in place of any of the ones in multi-tools will allow more give. Even the most well-made multi-tool will be a step down from a single tool, at least where durability is a criterion. To keep things simple, use a dedicated tool for high-performance tasks and use a multi-tool for anything underneath. Most tasks that are considered important can be handled with a multi-tool knife of good quality.
q:

How Well Do They Function With Heavy Tasks?

a:

It was mentioned earlier that high-performance tasks are better suited to dedicated tools rather than multi-tools. When the only option available is a multi-tool, then durability is a massive concern for any consumer. This is where the grade of the materials used to create the product will matter. Higher grade multi-tools will handle high-performance stress better, even if they aren't meant for heavy tasks. For the occasional use when no other option is available, multi-tool knives are a good choice to get the job done - Just make sure they are not the primary option 100% of the time.
q:

Are They Waterproof?

a:

Not all multi-tools are waterproof, although that would be beneficial for most consumers. If you plan on using it outdoors a lot, then having some water resistance is a must. Anything can happen, and the last thing you want is your brand new product rusting a day after getting it. Advanced rust is nothing new when dealing with cheap materials, but is also a probability when high-grade materials are exposed to the elements for too long. Minor resistance can stop and sometimes completely slow down the effects of rust. It's recommended to either have a strong warranty or water resistance to get the most value out of a multi-tool knife purchase.
q:

How Do They Hold Up Over The Years?

a:

Multiple factors come into play with the durability of a multi-tool knife. The coating is one and is something that Gerber has done well. A good coating will slow down the aging of the tools being used, and can even save them from permanent damage through heavy use. General usage is the main thing that will decide the life of the product. Buyers that use it daily will notice wear and tear gradually slow down the mechanics of all multi-tool knives. This can bother things like the opening and closing of the product to the sharpness of the knife. Consumers should check their warranties often to see what is covered and for how long.
q:

Is A Multi-tool Knife Better Than Regular Hunting Knives?

a:

No, and a good way to test this out is to compare a top grade Gerber hunting knife to a top grade Gerber multi-tool knife. The difference in features is staggering and puts multi-tool knives in their place. You can apply more force with a hunting knife, and can even carve through bone. Beyond regular knife duties, there is not a lot you can do, even with all in ones. Some specialized knives have a compass, ignition pack and rope all in the butt of the handle. This still puts them below the functionality of a multi-tool knife, which can easily have over 100 uses when you factor in all the tools. Think of the multi-tool knife as the jack of all trades but master of none.
q:

What Does Coating Do?

a:

The coating protects against corrosion and rust, one of the biggest dangers to the health of a metal object. Gerber, in particular, is famous for its black coating, which also serves as a way to block light. Buyers that are hunting can use it tactically without worrying about giving away their position to nearby prey. Even if a multi-tool doesn't come with a coating, there are plenty of ways for a buyer to apply their own coating to the product. This is a common thing and is useful if you purchase a multi-tool from a manufacturer that doesn't provide a coating. Some warranties are a little relaxed on the application of self-coating, so make sure to check which manufacturers allow it. There are no cons to having a coating, and it can only improve the durability of the product.
q:

Why Are The Prices So Low?

a:

The low prices of multi-tools may turn away potential buyers that view them as cheap. Low priced doesn't always mean cheap, and that goes for more than multi-tools. The big reason why multi-tools are available for low prices has to do with their usefulness in heavy tasks. This is still something that they don't excel at, and that applies to even the top rated products on any list. Workloads will vary, and for the most part, a dedicated tool will last much longer than a multi-tool knife when used daily. Even the thickness of a dedicated tool shows a different type of craftsmanship, one that is geared towards taking punishment. Besides their extra durability, there is not a lot different from dedicated tools and multi-tools.
q:

Are multi-tool blades universal?

a:

Blades made by the same manufacturer, but different models can be swapped. However, when swapping the blades be sure to take extra care to not void the guarantee.
q:

Are Starter Kits Worth It?

a:

Multi-tool starter kits come with a carrying case and a couple of other accessories, usually related to cleaning the product. Because of the portable nature of the tools having a carrying case isn't entirely necessary. It's good for storage purposes, yet beyond that, it is unnecessary to consider starter kits a deal maker for purchasing multi-tools. It's still nice to have the option if the price remains consistent with products that don't offer starter kits.