Best Food Dehydrators Reviewed & Tested
last updated
Mar 10, 2019
We've been coming up with new and improved ways to prepare our food ever since the discovery of fire. In order to make a mark in this area, experts have created a wide range of kitchen appliances which help us during our culinary journey. One great example of this is the food dehydrator. Drying food is a way to preserve it to use for longer periods of time. It's a beneficial method that also retains the bulk of the nutrients that make it healthy. This list of our top 10 food dehydrators should be a great place to help get you started on your food drying journey.
In a Hurry? The test winner after 17 hrs of research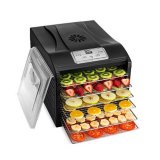 Magic Mill MFD-6100
Why is it better?
Drip tray keeps residue off of food and counter
Comes with high-quality oven mitts
Basic Design for easy use
Simple to clean
In a
Hurry? Editors choice: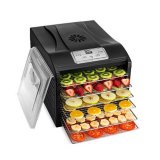 Test Winner: Magic Mill MFD-6100

4
Researched Sources
40
Reviews Considered
17
Hours Researching
10
Products Evaluated
Value
Ease of Use
Features
Versatility
Effectiveness
By Default
In Depth Review Top 10
Magic Mill MFD-6100
Gourmia GFD1650B
Chefman 9 Tray
Excalibur 3926TB
Nesco FD-75A
Chefman 5 Tray
Presto 06301
Nesco FD-61WHC
Hamilton Beach 32100A
NutriChef PKFD14BK
Table of contents
Criteria Used for Evaluation
Frequently Asked Questions
Sources
Top 10 Picks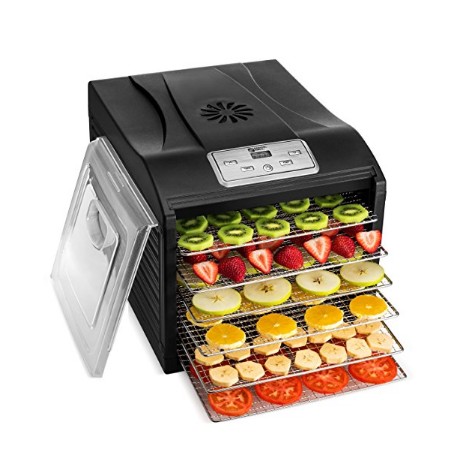 Drip tray keeps residue off of food and counter
Comes with high-quality oven mitts
Basic Design for easy use
Simple to clean
The way it handles meat is average
The Magic Mill Pro is the first food dehydrator on the list that takes on much bigger portions. It's also the first one to offer customization options with how you set the food.
Read more
Two Model Choices
You have a choice between the 6 SS Trays or the larger 9 SS Trays. Same product, but with a much more intuitive design choice for smaller or larger kitchens.
Features and Specifications
Automatic shut off from the timer
400-450 watts with a 1-year warranty
Cost and Value
As long as you're not buying this to put a lot of meat in it, then there is a tremendous value. It's average priced and should be accessible in both versions.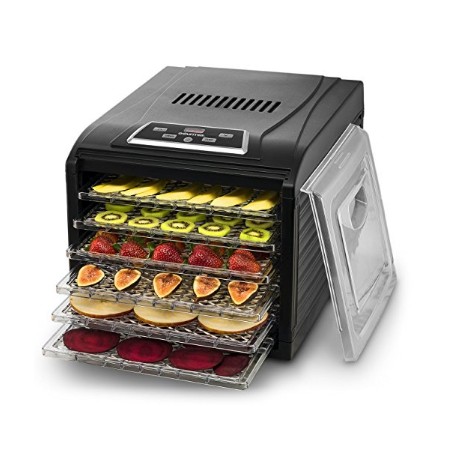 Powered by 400 watts and can heat up to 158F
The digital thermostat is both informative and user-friendly in design
Multi-Use Tray Design
Oven Style
The timer is capped at a max of 19 hours 30 minutes
Another big food dehydrator on the list is the Gourmia GFD1650B, which is the size of a toaster oven. With all the power dedicated to this one unit, customers are sure to get the results they want at a respectable time.
Read more
Informative LCD Panel
A lot of the products in the industry stay away from giving the user heavy customization or information options with food dehydrator products. In this case, the GFD1650B is in a class of its own with 8 preset temperature settings and a countdown timer LCD panel.
Features and Specifications
6 adjustable shelves or 9 if you choose the bigger model
Available in black or white
Cost and Value
The price is about average, and the value is off the charts. You'll have very few food dehydrators with this many customization features out of the box. Buyers that are going to use the digital features of this model will get the most use out of it. Even with the timer cap, there are thousands of useful recipes available to use.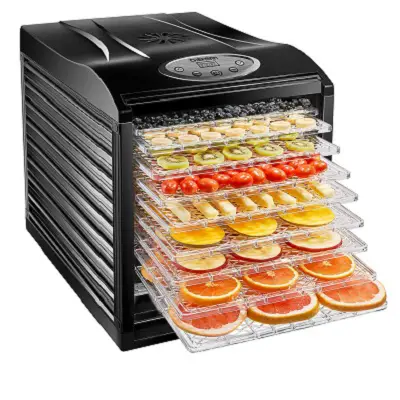 Includes 9 BPA free trays
Has preset digital settings
Transparent door allows you to observe
19.5-hour countdown timer
Some found the trays too flimsy
Some complaints about the door sticking
Chefman is one of the fastest growing companies in terms of kitchen appliances. This brand provides you with the kitchen tools you need to make preparing food easier and more efficient. The Chefman 9 Tray food dehydrator is popular among both experienced chefs and amateurs thanks to its easy to read digital settings. One of its more popular features is the ability to watch your food dry through a transparent door, allowing you to monitor the process.
Read more
Digital Settings
Regardless of your experience in the kitchen, the Chefman 9 has easy to read preset temperature settings and a timer to ensure your food is properly done. All you have to do is to do is find the right setting and start.
Lots of Space
This food dehydrator is equipped with 9 plastic adjustable trays. These trays are designed in a manner that permits you to dry a large variety of foods at the same time without mixing them, which is great for preparing more at a time.
Cost and Value
This comes in the mid-price range and offers a lot of space and a design that allows the maximum airflow possible. You also get a one-year warranty and access to videos and cookbooks.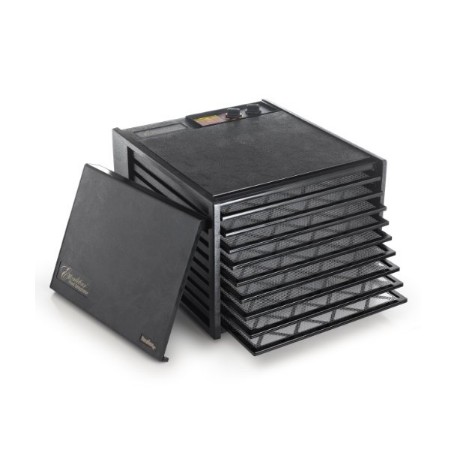 Built like an industrial food dehydrator
Great customizing options lets you go beyond a normal food dehydrator
Easy to Use
Simple and efficient for dehydrating
One of the most expensive on the list
Known around the industry as one of the best food dehydrators that residential users can buy, the Excalibur 3926tb continues to impress. It has an impressive set of features, many of which are still ahead of its time.
Read more
Adjustable Thermostat
The set it and forget it products on this list are great, but they are also limited in what they can do with certain types of food. The 3926TB does away with that issue by introducing a thermostat that can be set from 102 – 165F.
Features and Specifications
600 watts going to a 7-inch fan
26-hour timer with built-in on/off switch
Price/Value
This product would be further up the list if it wasn't for the price, which is high. Buyers that use their food dehydrators multiple times a week will get some great value out of the box with this deal.
By itself, this unit could feed an entire family, and is a real powerhouse with any type of food. When the price isn't a consideration, this is the absolute best food dehydrator you can get.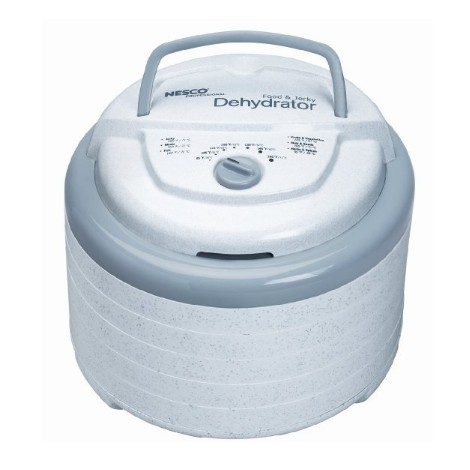 Blocks out harmful light using its opaque exterior
Comes with 52 page recipe book, 2 fruit roll sheets and 3 jerky spice packets
Easy to Clean Functions
Efficient in size
In the #1 spot and barely beating out Hamilton Beach is the Nesco FD-75A. This is an incredibly popular model among hardcore food preservers. It does everything right and avoids tying itself to common equipment gimmicks.
Read more
The Placement Of The Fan Changed Things
Rather than putting their fan on the bottom like traditional models, they put it on top. Powered by a beastly 700 watts, it dries faster, better and more thorough than any other product on the list.
Features and Specifications
Adjustable thermostat (95-160F)
5 drying trays that are expandable to 12
Price/Value
Even with it being the top product, it's also one of the lowest priced available. This makes it even more valuable than it already is, and a prime target for beginners that want to try out food dehydration.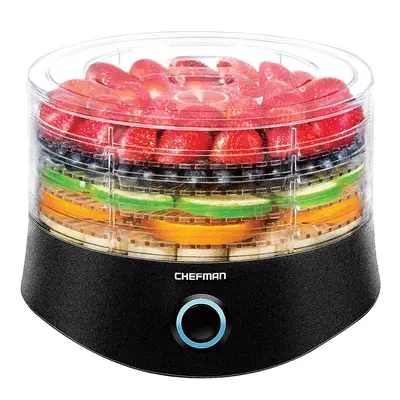 Ventilation
BPA-free
Can be used for a variety of foods
Easy to clean
Can stack up to 5 trays
Top vent helps even drying
Can't hold as much as some others on this list
This Chefman five-tray food dehydrator is a device that has a lot of great reviews and is highly recommended due to the large variety of foods that can be cooked in it. This includes all types of meats, fruits, and vegetables and can help prepare food for your long trips outdoors. Plus, it doesn't take up too much space in your kitchen. Win!
Read more
Powerful Fan
This food dehydrator is equipped with a powerful motorized fan with ventilation, which favors the drying process. Moreover, the food will get a fast and even drying thanks to the top vent.
No Preservatives Needed
Unlike other preservation methods, this device removes water content from food during the drying process and lowers the risk of spoiling. Thanks to this style or preparing food, you don't need to use any additives or preservatives.
Cost and Value
This machine was designed to last and comes from a brand that is known for the quality of its products. Furthermore, you can buy matching trays at a comparatively low price.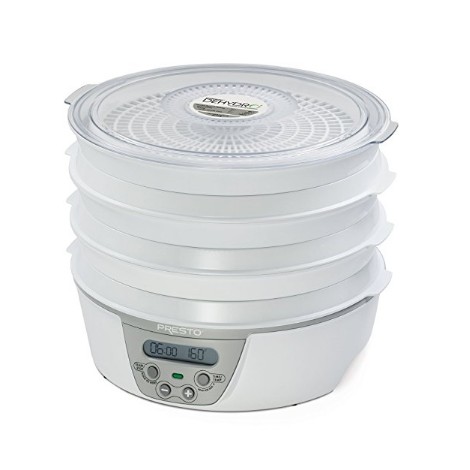 Great air flow that dries food quicker
Can dry using temperatures up to 165F
Several Functions at your Finger Tips
Convenient to clean
Advanced functions takes some getting used to
Presto comes in at #3 with the model that made hundreds of customers around the world happy. It added advanced features to an already excellent system and may have inspired some of the other modern designs in the food dehydration industry.
Read more
No Rotation Design
With the way they set up the bottom fan, you won't have to worry about heavy maintenance. It provides consistent air flow and the best drying temperatures.
Features and Specifications
Six-tray system with digital thermostat
Included six trays can be expanded to twelve
Cost and Value
You're not going to spend a lot of money on this low priced product, an amazing feat since it has such great modern features. The value is solely in the hands of the user and how quickly they adapt to Presto's system.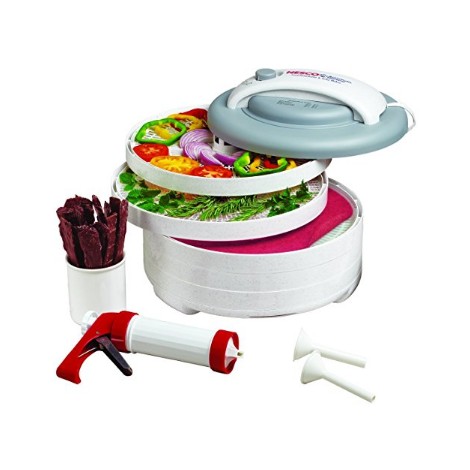 Comes with a jerky gun, 5 jerky spices/cures, and 3 tips
Also comes with more extras, including 2 clean a screens, 2 fruit roll sheets, and a thorough recipe book
Easy to Use, for Beginners
Easy to Store
No timer or on/off switch
Calling the FD-61WHC Snackmaster an all in one unit fits perfectly, with many of its features turning out to be unique to the model. They have already patented several of these features, and this could be the next big thing in the industry.
Read more
Revolutionary Time Saver
Their flow drying system is patented and dries food in a couple of hours rather than days. This puts it ahead of a lot of the major food dehydrators in the industry, with a design that will only improve over time.
Features and Specifications
Five dishwasher safe trays
Adjustable thermostat powered by a 500-watt fan
Cost and Value
Priced to move, it is so low that there are only a couple of products that can match it in the same range. With all of the extras, the FD-61WHC is a premier kitchen accessory to own. The jerky and fruit roll-up set alone is worth purchasing the system for. With some minor adjustments to the control scheme, this could have easily been the #1 product on the list.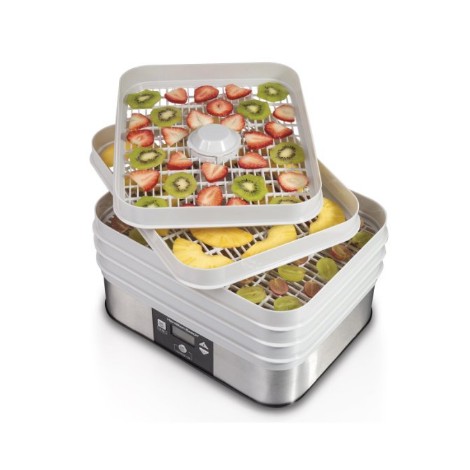 Comes with materials for making herbs and fruit rolls
Even when drying the airflow is continuous
Different Levels Available
Easy to Store
Hamilton Beach is one of the most well-known kitchen appliance brands in the industry and can be found in major retail outlets. Customers that are looking for a top three product in multiple kitchen categories will always find Hamilton Beach included in the list.
Read more
Customer Service
The brand recognition helps out a lot in this department, leading any confused customer to have faith in dealing with their customer support line. That lifeline makes a difference between keeping a product and sending it back.
Features and Specifications
48-hour timer with auto shutoff
500 watts of power to dry five stackable trays
Price/Value
Like all Hamilton Beach products, the price is middle of the road. With only five trays total, the value will come from groups that don't need bulk amounts done at one time.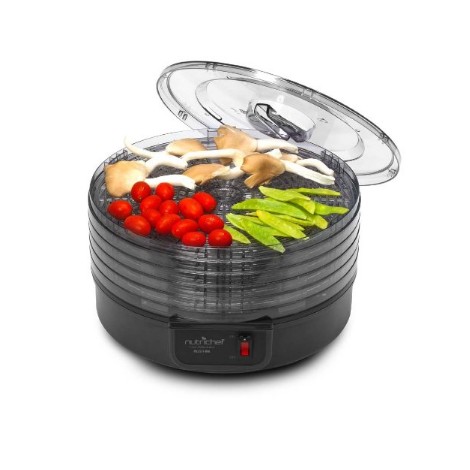 Foolproof method for food dehydration or preservation
Stackable trays and space-saving heating element makes it perfect for small kitchens
Controls temperature and prevents dryness
Easy to use
NutriChef is one of the most well-known pieces of equipment in the industry when it comes to preserving food. It manages to preserve and dehydrate with some of the easiest settings possible.
Read more
User Friendly Out Of The Box
The NutriChefis a set it and forget it model with very little customization. Taking a few minutes to read the directions will give you the information needed to get started.
Features and Specifications
Stackable 5 tier trays
Available in black or white
Price/Value
Buyers will appreciate the low price of what could be considered a starter food dehydrator. It's everything you need to prepare your food correctly.
Criteria Used for Evaluation


Value
We always say that price should never be the only criteria used to evaluate a product. However, we believe that price is the best area where someone doing a comparison should start. It wouldn't make sense to compare two products that belong to two different price ranges. We always expect products that are more expensive to provide better value than those that are less expensive. However, this does not mean that more affordable products are not good.
We always start by placing products into different price ranges. Once we have done this grouping, we look at the extras that each product can offer. Products in the lower price range that have more features than others then make it into the list. We also do the same with products in the upper price range. If the product is expensive but doesn't provide much value, we remove it from the list.


Ease of Use
You will mostly notice that food dehydrators are generally easy to use and there is really not that much difference between the various models on the market when it comes to how easy to use their products are. However, there are still a few things that separate one food dehydrator from the other: cooking the food evenly without you having to keep watching and switching the selves around. It must provide convenience.
Cleaning a food dehydrator should be an easy process too. How do we know if one model is easier to clean when compared to another? We look at the number of parts the product has. If more pieces can easily be washed in the dishwasher, it means that the owner will enjoy some convenience.


Features
In order to determine the convenience a user will enjoy, we look at the extra features a food dehydrator has when we create our list. Extra features usually mean more convenience, which is part of the value and can be used to differentiate products falling within the same price range. The extra features also determine how easy it will be to operate the dehydrator.
For a food dehydrator, controlling the temperature is one of the most important features. So, in order to achieve the best results, it will be important for you to be able to adjust the temperature. If a dehydrator has an adjustable thermostat it is a good product for drying more than one type of food.
We also checked out if the food dehydrator has a timer. Food dehydration is a process that takes many hours, so it is easy to forget. When the dehydrator has a timer, you don't need to remain apprehensive, it will tell you when you need to check the food or when it is ready.
Another feature we looked at when listing the top ten was whether the food dehydrator has an auto shut off mechanism. This is a feature which allows you to start the process of drying your food and then go do your other stuff or even go to sleep overnight knowing that when the food is ready, the machine will shut itself off.


Versatility
We took into consideration the versatility of each food dehydrator, too. This is important because variety is the spice of life! Or so they say. Either way, if your dehydrator is only good for drying one kind of food, you'll get bored of it pretty quickly.
This takes into consideration the size and layout of the dehydrator. Some are smaller with fewer racks, and therefore can only dry smaller foods. Whereas, larger dehydrators have room for larger slices of food and more variety of it at one time.

Effectiveness
While ease of use and other factors on this list are important, we believe that efficiency is high up there in criteria. What good is a food dehydrator if it doesn't properly and effectively dry your food? We made sure that this list of dehydrators not only performs well, but does so effectively, meaning that it's easy to do and has a positive outcome.
Expert Interviews & Opinions
Most Important Criteria
(According to our experts opinion)
Experts Opinion
Editors Opinion
Users Opinion
By Default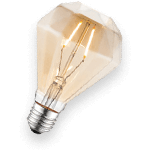 How To Make The Best Decision
Is it big enough? – There are small food dehydrators on the list, and there are also large ones. Some of the mid-sized models allow for expansion beyond the initial trays included. It's always better to go one size bigger than what you want since you can always cook less in a big unit, but you can't cook more in a small one. Get a big enough model for what you think it will be used for, that way you'll never have to question the original purchase.
Frequently Asked Questions
q:

Can you 'over dry" food?

a:

Yes, and it is more common than you think. The one button push crockpots are built to keep this from happening, but even after long periods, it is inevitable. Food that's overdone can quickly turn into free treats for the family pet. Food dehydrators with built-in timers would make sense in this case, but some of them can be limiting. Always check your recipe with the top features of the device you're purchasing. There is no point in purchasing one with a timer if its limit is 20 hours but your recipe calls for double that.
q:

How beginner friendly is it?

a:

Food preservation is really simple, which is why the one button models are so popular. You don't need to read a history book to understand how to dry food properly. Just a little bit of light reading with the included instructions should give you all the information you need to get started. Low maintenance is one of the biggest reasons to own a food dehydrator. There are thousands of recipes available for free, and the only thing you have to worry about getting right is the time and temperature.
q:

Why does my food come out bad?

a:

No one is going to become a food dehydrator master overnight, and inevitably there will be a small learning curve. Even the one button systems have rules to follow, so when in doubt, always read the manual. A lot of the listed models come with their own cookbooks. But be wary of temperature requirements for custom recipes, and always adjust when you feel it's necessary. The only way to perfect your new appliance is by taking it out for a spin.
q:

Are the trays really dishwasher safe?

a:

Most are but always check the full feature list. Putting a tray in there that wasn't built for dishwashing cycles could warp it to the point of uselessness. Replacement trays are easy enough to find, but a pain since they usually sideline your entire food dehydrator until it's replaced. If possible, always have backup trays in your home for emergency use.
q:

What are the best foods to dehydrate?

a:

You can dehydrate a host of foods including meat, vegetables, and fruits. Some foods like fruits may need to be soaked in a solution such as water with lemon juice to reduce bacteria and also keep the color. Also, bleach vegetables for short periods of time before dehydrating them to ensure that they do not lose their color. It also helps get rid of illnesses that are foodborne.
q:

How much does a food dehydrator cost in terms of electricity?

a:

As an appliance that keeps on for long periods of time, it is easy for people to be worried that it may be using lots of power. You can calculate how much your food dehydrator is using by taking the wattage of your dehydrator and multiplying it by the hours it takes to dry your food and then multiply this answer by the cost of a Kilowatt-hour in the area where you live. Practically, if your food dehydrator runs on 500 watts and you need 10 hours to dry your food in an area where a kWh costs 10 cents you can calculate the power you use in the following manner: (500 watts x 10 hours)/ 1000 = 5kWh and then 5 x $0.10= $0.50.
q:

What safety tips should I follow when using one?

a:

Most food dehydrators use electricity and you need to take the kind of precautions you do when using any electrical appliance. Ensure that the food dehydrator is used according to the manufacturer's instructions. Never handle the plugs with wet hands. If the appliance is not working properly, don't try to repair it yourself unless you are a qualified artisan. Also, ensure that the food dehydrator is clean before using it to ensure there is no food contamination.
q:

Why do I need to clean the food dehydrator?

a:

Food can easily get trapped in your dehydrator. Also, some foods have a lingering smell, ensuring that the appliance is clean will help remove this smell so that future batches will not be impacted. Keeping it clean will also ensure that you get rid of the drippings that happen while the food dries ensuring that your appliance is working for a longer time.
q:

At what temperature do you dehydrate raw food?

a:

The idea behind dehydrating food is that you are not cooking it. Different foods can be dehydrated at different temperatures. Check out the instructions which come with your food dehydrator. However, most foods will dry at about 130 °F or 54 °C. Meat normally requires higher temperatures to remove pathogens.
q:

What's the difference between a solar food dehydrator and drying in the sun?

a:

The difference is that your solar food dehydrator will dry your food much faster. Also, it can control the temperature and keep the food protected while it is drying. The advantage of this method is that you can use it in places where you don't have access to electricity, and above all, it is environmentally friendly as the power that drives it does not produce any greenhouse gases when being generated.

This would be a great appliance for someone who lives in countries where there are lots of possibilities to grow food but no electricity to run appliances like a food dehydrator. It will ensure that the food doesn't dry in the open where it can gather dust.