Best Running Headbands Reviewed & Rated for Quality
In a
Hurry? Editors choice: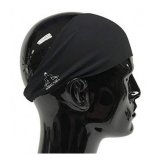 Test Winner: Temple Tape

Headbands are no longer considered a fashion blunder. Today, they are not only regarded as practical, they can even flatter your appearance as a fashion accessory. The most obvious benefit of a running headband is that it absorbs the
sweat
that would otherwise get in your eyes and run down your face. Secondly, for anyone who has ran a marathon, jogs, or just trotted for the bus, will know how irritating it is to have hair in your face. If you have not mastered that ponytail that stays put, perfected the French plait or are just looking for protection against sweat, we've compiled a list of the best running headbands that stay put - regardless of how many miles you clock up. We've done the work so that you can choose from these options without going through the multitudes of other choices that are out there.
Standout Picks
Criteria Used for Evaluation
Breathability
It is important to consider the material your running headband is made of and its texture. The fabric of a headband should be both breathable and insulating. In layman's terms, breathability is the measure of how quick or slow wetness passes through a fabric. It is typically measured in the mass of wetness that passes through a square meter of material fabric during a 24 hour period.
The moisture can pass through a fabric either by solid state diffusion or ventilation. A porous fabric is used for ventilation. It ensures that air goes directly through it. Non-porous fabrics, carries moisture through the fabric. The type of fabric used for designing breathable sportswear is equally as important.
Running headbands that are breathable work well for training, but should also be comfortable to wear during leisure time. Some are designed with a SheepCloud™ fabric, made of spandex and polyester. Together, this combination feels similar to stretchy fabric, which is both lightweight and soft. These headbands will keep you cool and dry throughout an entire workout. Softer headbands are generally recommended to avoid discomfort.
Band
Thin
Some running headbands are made of a thinner material, which can dry quickly. Another plus is that you can wear it underneath a cap.The thinner the design, the less you will notice the headband on your head. These may come in dark colors that blend in with whatever running gear you are wearing.
A thinner band balances the shape of a fuller face, and are ideal for straight hair. Especially the elastic ones.
WIde
The best headbands for sweat management are designed wide - to produce enough fabric to soak up sweat and secure your hair in place. Unlike wide fabric, a thin band does not provide enough substance to mop up any excessive amount of sweat.
A wider band balances the shape of a smaller face, and are ideal for thicker hair, especially the softer ones. Puffy, padded headbands add inches to a fuller face, while adding fullness and width to an overly thin one.
Use
Sweat Wicking and Odor Control Technology
Headbands designed for sweat control also need to account for the negative aspects of sweat. This includes odor, and making you feel sticky, hot and wet. A good sweat control headband should be able to absorb wetness. In addition, a headband should be designed to resist the growth of bacteria and germs that live off of sweat.
Hair Management
If you have long or medium-length hair, a good headband is effective at keeping hair away from your face and eyes during workouts. With a running headband, you can better focus on what's more important - without having to take a full shower or wash your hair afterwards. Another benefit of these headbands is that your hair remains dry and sweat-free.
Style
According to "The New York Times," bands were considered a popular trend in the NFL during 2008, but not just for sweat. Instead, players wore absorbent headbands as a fashion statement. Whether mimicking this trend statement is beneficial or not, is entirely your preference.
When picking out a headband, you should really think about how you will use it and where you plan to wear it. For a runner who is concerned about fashion, many manufacturers of running gear create sportier styles of headbands in various designs and colors.
A hard plastic headband or a wire band with embellishments would not be a comfortable choice for a strenuous workout. By choosing a running headband that fits the activity, you will feel more comfortable with wearing one.
Perhaps you do not necessarily need a sporty type of headband and instead you need a hair accessory to accent your outfit. In this case, you can go with something less sporty.
While it isn't critical for a headband to be identical with the workout outfit you wear, but it can have a positive effect on the way you exercise. When you look and feel good, you will find that you will automatically workout longer and harder.
Motion Control
The most important function for a headband is to stay secure on the head and keep the hair tucked away. Many headbands are constructed with mini-teeth that latches onto the hair or has slip-resistant strips that stop it from sliding while running. If it will perform as a sweatband also. Make sure it is fashioned to be used for that purpose.
It is helpful to go over the reviews from other consumers who have worn running headbands to decide on styles and brands that provide motion control. Getting a feel for the running headband at a sports store might be helpful, since you can tell if it feels like it will have a firm grip on the hair.
Taming Thicker Hair
If you have thick-grade hair, a stretchy, wide headband is recommended for taming your locks down when you do not have time for styling your hair. If you need a headband to take care of second day hair, a wider headband will quickly protect your hair while running and keep all of it in check.
10 Best Running Headbands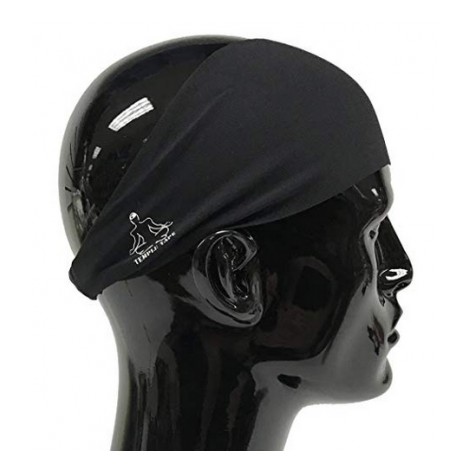 With a Temple Tape headband, you can go about your workout without having to worry about sweat rolling down your face. Temple Tape headbands are suited for any activity. You can use them for sports, workouts, or other activities. It can be worn under caps, visors, hats, or you can wear them on their own. The product dimensions are 9 x 4 x 3 inches, and weighs 5.6 ounces.
Absorbent
This item will keep you dry and cool. The moisture wicking technology used in the fabric is 8 times more absorbent than cotton sweatbands. It is a breathable material that dries fast by drawing off moisture and keeping sweat out of the way . A quick swipe is all it takes to get it back to good. Therefore, Temple Tape is the ideal headband for your next run.
Comfortable
The Temple Tape can keep up with the intensity of your run as it will fit perfectly on your forehead and stay there. It provides maximum comfort, as the ribbed back gives it maximum grip. WIth its 'no slip' technology, the headband will stay on without becoming too tight.
Cost and Value
The Temple Tape will stay comfortably during any physical activity. Chances are, that you will not remember you are wearing a headband until you are finished. No adjustments are needed. Temple Tape offers a satisfaction guarantee for their customers. In the event the band does not work out, you can reach out to them and they will issue a replacement or a refund.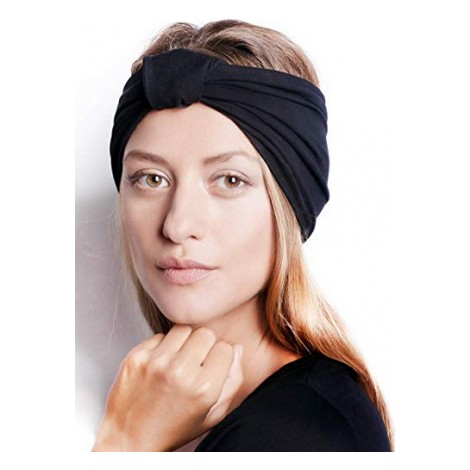 The BLOM is the ideal band for running, workouts, and sports. It has a patent pending design. You can style it to suit your mood or match your activity. The band comes in a selection of over 10 different colors to choose from, making BLOM the most preferred headband on the market. It is comfortable, sweat-wicking, and fully reversible. It stays on securely and does not slip off. You can wear it anytime, regardless of the season. The product dimensions are 9.5 x 6 inches, and weighs 2.08 ounces.
Lightweight
The BLOM is designed with a medium-light fabric to absorb sweat fairly well. It will wick away moisture just enough to keep most people comfortable. This is the ideal headband for moderate exercise. It is also a headband that will fair well in warm and cold weather. It is not ideal for very hot weather.
Quality Stitching
The stitching is high-quality and durable. Having durability means less chances of it getting out of shape and damaged. With the proper care, this headband can last for several years.
Cost and Value
The BLOM is comfortable and stylish enough to wear year-round. Due to its durability, consumers can get a lot of use out of this product. If you're not happy with your headband, BLOM offers a 30-day return for a full refund. They will pay for return shipping in the USA and the UK.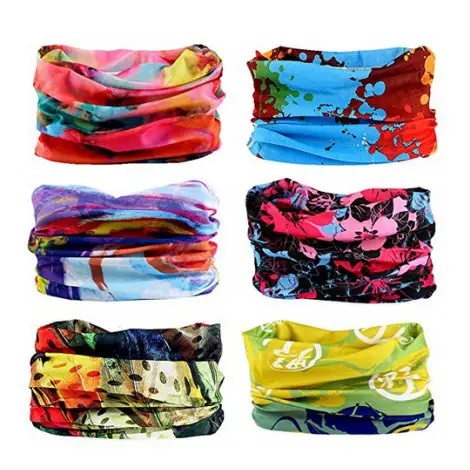 The Toes Home 6-piece running headband is constructed from a polyester material. This material is stretchable and breathable. The material is comfortable to wear, soft to the touch, and whisk away sweat. The product dimensions are 25cm x 50cm, and weighs 6.4 ounces.
Stylish Pattern
These headbands are designed with a stylish pattern for a lasting impression. The durable material protects you in the summer and keeps you warm in the winter. These headbands are perfect for sports and outdoor activities.
Sun Protection
This multi-headband is made from moisture-wicking fabric. It is reusable and washable, making it the ideal to disposable sun masks. Besides for athletic activity and sports, you can wear it for many occasions.
Cost and Value
The ability to choose from six different patterns makes the Toes Home headband easy to match with any outfit. You can fold and place it in your pocket when not in use. For the value, the 6 pieces in each shipment are worth it!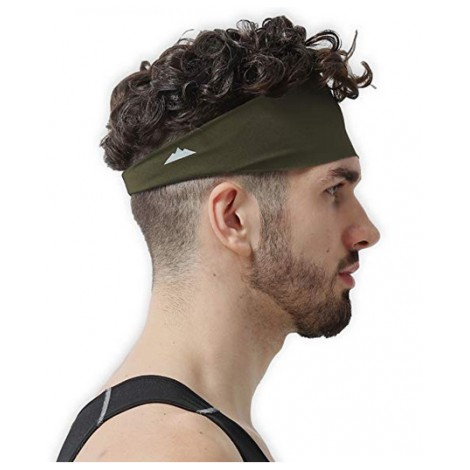 Made from 5% spandex and 95% polyester, the Tough Headwear running band is very comfortable and soft. It keeps both sweat and hair out of the way; letting you run with confidence and style. Product weight measures 0.64 ounces.
Made of Thin Fabric
This headband can be used for indoors and out. It is perfect for workouts, football, basketball, tennis, as well as running and other sports. It is made from a quality material fabric that will not slip off - even after years of use. Because it is designed from thin material, you will not know that you're wearing a headband. It can be worn under a hat or helmet.
Tough-Tested
You will not find any signs of sweat down your face with this brand - even after 40 minutes of exercising. This headband has been tested by athletes in various activities. It comes with instructions that recommends hand washing and air drying.
Cost and Value
After years of use, this headband stands the test of time against shrinking and fading. The Tough Wear headbands has over 5000 5-star reviews and is deemed the #1 choice of running headbands. Tough Headwear offers a lifetime satisfaction warranty on their products.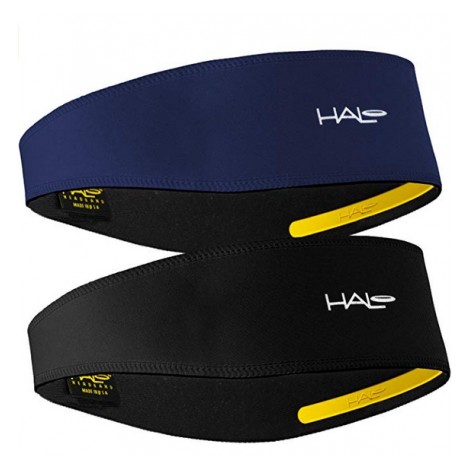 The Halo II headband is designed with an elastic pullover that is both comfortable and adjustable. It directs sweat away from the eyes, therefore you can use the headband for running and different sports activities. Comes in a variety of colors and patterns. Product dimensions are 10.7 x 2 x 0.5 inches, and weighs 5.6 ounces.
Dries Easily
The Halo II headband is made with high quality fabric that keep away moisture while providing breathability without irritation. This make the band very comfortable during exercise. It is very lightweight - thereby keeping you focused on your performance.
SweatBlock Seal
This headband comes with a patented sweatblock channel. It is designed with a silicone strip that forms a tight seal against the forehead. This redirects the sweat from the face and eyes. The Halo II is the ideal band for both men and women.
Cost and Value
Halo II pullover design eliminates the need for a sweat towel. It is made of a durable quality material which fits comfortably. This headband is perfect for sports and activities. It is designed for use under caps or hats. Halo Headbands have a one year warranty from the purchase date. Their warranty covers manufacture defects. For returns, email them at [email protected]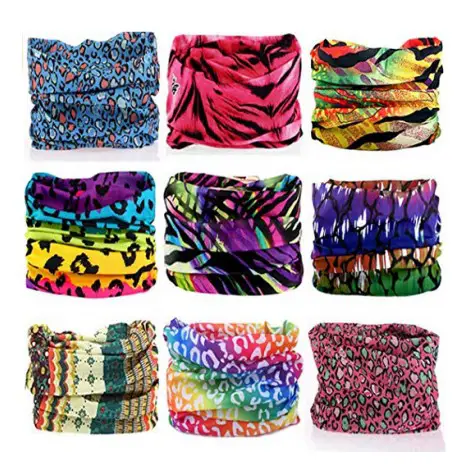 Kalily headbands' cool features and trendy designs make this a 'must-have.' You can wear it as an extra layer warmth in the winter or wear the headband as an accessory for the summer heat. These bands can be worn by people of all walks of life. Product dimensions are 9.5x19 inches.
Comes in Many Colors and Designs.
Kalily headbands are designed with 100% premium microfiber. You have over 200 designs and colors to choose from. If you have a specific design you want for your headband, you can email the company for a custom order.
Sun Protection
This comfortable headband can be worn as a face mask to protect it for the sun. It can be used during workouts or activities to keep away sweat. The headband is stretchy, soft, breathable, and comfortable to wear.
Cost and Value
The Kalily headband makes a great accessory for any activity that requires protection of the head and the face. Their bands come with a risk free, 3-month money back guarantee. If there is a problem with your item, you can email the company and they will work toward resolving any issues. They will respond within 24 hrs.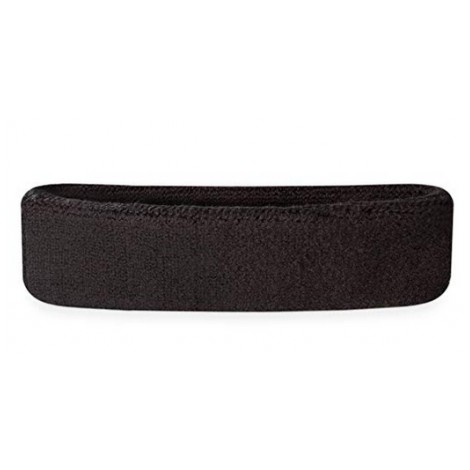 Suddora is a company brand that started with a focus on premium quality of their items. Besides being a reputable sweatband company, they offer many color options in their bands. They have both striped and solid options. They offer a variety of sizes including, 1″, 3″, 4″ and 6″ to cover your preferences. Product dimensions are 7 x 1 x 2 inches, and weighs 1.44 ounces.
Simplistic
Suddora headbands comes in a choice of 20 different colors. They are made of 12% spandex, 8% nylon, and 80% cotton. This material mix makes for a very comfortable, yet durable sweatband. Most of their other sports bands are made from the same type of material.
Highly Rated
These headbands has been highly rated. With a mix of blended materials, many users use Suddora headbands because of their many color selections that can match their outfit. They also offer multi-colored armbands, wristbands, shoe laces, and mouth guards. The headbands are used most for sport athletics and for workouts.
Cost and Value
Suddora headbands are made with an ultra absorbent, high quality material that does not irritate your head. You can wear it for longer workouts and physical activities. In case you need to return your band for any reason, Suddora has a 'no-questions-asked', 90-day return policy. Your item will be exchanged or refunded.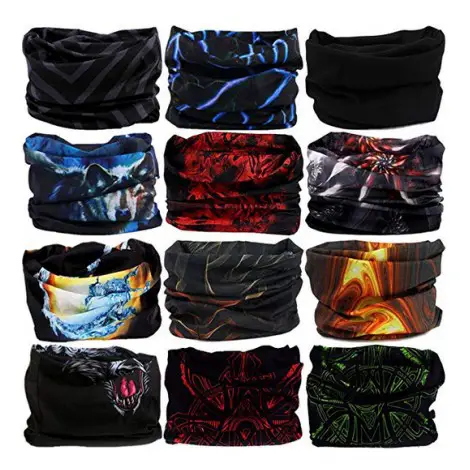 The VANCROWN Headwear headband-scarf is a great choice if you are having difficulty looking for a good headband. The headband is designed from 100% polyester microfiber. These stretchable headbands dries fast. For buyers, the VANCROWN stretchable headband-scarves rates a 4.5 star. Headband dimensions are 18.8x9.4 inches, and weighs 10.6 ounces.
Made With 100% Polyester Microfiber
Once you wear this headband, you will feel as though you are wearing nothing. Made with 100% polyester microfiber, it sits on seamlessly and fits head sizes of 21 to 25 inches. The VANCROWN headband provides stretchability, comfort, and sweat-wicking properties with no mid-motion headaches.
Tested Product
The headband-scarf is tested to be safe from any fading or staining as it has been through the Color Staining Test with saliva and sweat and the Azo Dyes Test. For maintenance and longevity, hand-washing and air drying is recommended for the best results.
Cost and Value
For comfort, absorbance, and durability, the VANCROWN headband-scarf is rated for high quality for all three factors. VANCROWN promises a 3-month, money back guarantee if you are not satisfied.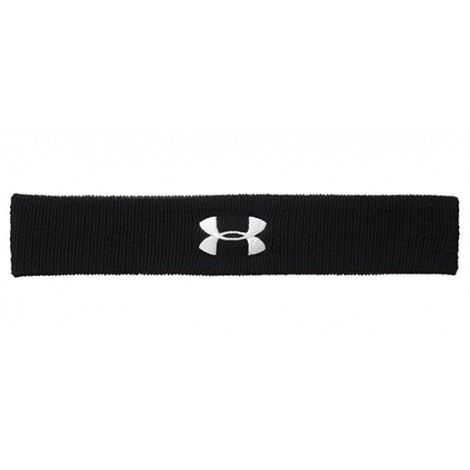 Under Armour started out creating high quality compression apparel. The company moved on to manufacturing headbands. The development team at Under Armour know what athletes need from sweat apparel, which explains why they design some of the best sweat-wicking, breathable, head and sweatbands out on the market. Product dimensions are 0.4 x 0.4 x 0.4 inches.
HeatGear Fabric
This headband has a high absorbent rate. It is made with HeatGear fabric which zaps moisture away from the skin. The Under Armour band holds a tremendous amount of sweat which makes it practical for people who sweat a lot when playing sports or exercising. When it gets saturated, remove it, and swing it towards the ground forcefully, and the sweat will fling out. It is good to reuse again.
Snug Fit
The Under Armour headband fits firmly, but comfortably when working out. Featuring a moisture transport system, this headband keeps sweat out of your eyes and face for a distraction-free performance. It always stays in place, which means that you will not have to readjust it, which can become quite annoying. The bands are designed wider, which means you never have to worry about a fit that is too tight. This band is not to thick or heavy which gives it the right feel on your skin.
Cost and Value
Under Armour offers a 60-day, free return for items purchased under Under Armour.com, UA Brand House, UA app, and Factory House store locations. You must provide proof of purchase. Items must be in their original condition. Returns for purchases from partner retailers has to go through the original retailer.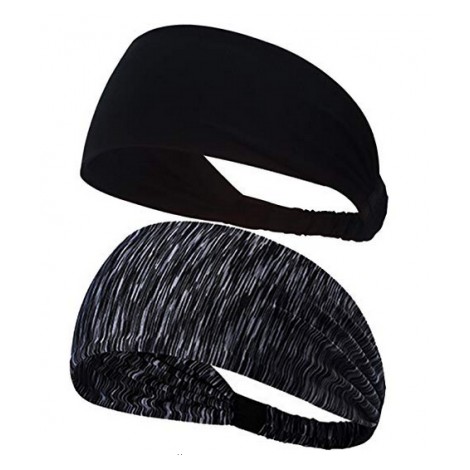 For women, here is your opportunity to keep sweaty issues at bay. The Calbeing Moisture headband for women is designed especially for sweat. It's stylish, moisture wicking, comfortable, and practical. These headbands are available in an assortment of colors. After years of use, this band retains its shape and color; as well as retaining its stretchability. Product dimensions are 3" wide, and tapers to 1" in the back, weighing 0.64 ounces.
Stylish
The Calbeing headband is a creation of comfort and style. It does everything that is expected in a great headband. Designed from lycra fabric, this headband provides elasticity and softness. Wear it wide or scrunched up, this headband is comfortable. It control your hair during performance while providing boho look.
Double Layer Design
This headband is versatile. WIth a 21 - 23 inch circumference, the Calbeing band is tailored for women and teens. It is made with a double layer design for wicking away moisture. You can wear it for hours and you are protected from sweat. This band will make a great value!
Cost and Value
Overall, women and teens will benefit from using the Calbeing headband. It holds the hairs in place; providing elasticity, comfort, and durability. Calbeing offers a 30-day refund. If you are not satisfied with their product, you will get your money back, no questions asked.

Subscribe to our Newsletter