Best Running Gear Reviewed & Compared
In a
Hurry? Editors choice: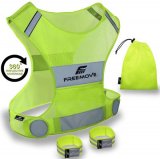 Test Winner: FreeMove Reflective Running Vest

Heading out for a run? What are you thinking about before you hit the road? The weather? Sure, but most likely you're making sure you're suited up in your favorite
running gear
, especially if it's a long weekend run. No matter the type of running you prefer, we've got you covered, literally. We want you to stay safe, comfortable and have
gear that helps you perform
better. Which is why our top picks are reflective to keep you safe, water resistant to keep you comfortable, or gear that will optimize performance. While our top picks are geared more towards running, they can be used for most any
outdoor activities
.
Standout Picks
Criteria Used for Evaluation
Ease of Use
When you start picking out running gear, you should consider how useful the gear is for running and what problems it could solve for you. We always like to ask ourselves what we need that our current running gear does not already provide. So by looking at common problems you experience with your current gear, you can have a good idea of what you are looking for in your next gear purchase.
For example, you may always have sweat dripping down your face and into your eyes which causes eye irritation and burning. You may decide that because of this need that you can solve this issue by purchasing a headband that will keep the sweat from running down your face. Once you have matched the product to the need, you are ready to decide if the accessory is worth purchasing or not.
Moreover, consider what may no longer be useful to you. Gear wears out and seasons change. You may no longer need a sweatband to keep sweat out of your eyes because you are now running in a cool environment and need a great lightweight jacket to keep you warm.
Safety Hazards
Safety is such an important part of running and running accessories that are intended to improve your safety are generally a worthwhile investment. Running itself may not have a lot of hazards, but you should always consider traffic, weather, and terrain in order to stay safe.
Considering these three hazards will help you make informed decisions as to what running gear you need to purchase. The better you plan ahead for hazards, the less likely you are to get injured. If you plan on running anywhere near cars or trucks, then you should always consider your visibility to drivers so try and find clothes that have bright colors and avoid clothing that is black or grey. Also, wear reflective gear if you plan on running at night, near traffic or in bad weather.
Also, an important safety consideration is hydration as a way to stay safe. When you are running, you will need to remain hydrated to help boost your performance and it will help prevent you from getting dehydrated which can cause major health problems. Runners have a variety of strategies that they can use to stay hydrated. Some people do not run long distances from their homes and can, therefore, grab a drink before and after they have finished running. Other people stop at a convenience store as a way to take a break. Or people who carry water with them in a water bottle or hydration backpack. How you choose to stay hydrated will determine what your needs are for accessories.
Weight
Runners should always try and look for running gear that is lightweight because the less that your gear weights, the better you will be able to perform. Heavy running gear requires you to use more energy while running which will cause you to get tired more easily and will slow you down. So look for lightweight gear that will ensure mobility and comfort. Make sure to consider the weight of your running shoes and any accessories you might be carrying. Maybe you need to trade some accessories in for lighter ones or maybe you are just carrying too much and should trade in your heavy hydration pack for a lighter water bottle or leave your smartphone at home.
Features
You may need to bring several items with you on your run: those that you can't leave home without. So if you plan running with a lot like, keys, chapstick, phone, etc..., try to pick the gear that will help keep these items organized and safe. How you choose to organize your gear will determine what you need to purchase. Many runners organize items by using pockets in their clothing, small backpacks, or running belts. Each approach is a different way to solve the same problem, but some might work better for you than others. Just make sure to plan ahead how you organize your running gear, so you can enjoy your run and know that your items are safely tucked away.
Advanced Features
Running and jogging should be enjoyable. Anytime you make your jog more enjoyable, the more likely you will want to do it more often. So make sure to pick the gear that will make running easier and more fun. If you are into performance, then you can look for running gear that will help you perform better. Maybe invest in an electronic device that can help give you a tip on how to increase your distance or speed. Who doesn't enjoy crushing their health goals? Or if you like music, invest in an armband and Bluetooth headphones so you can jam out no not have to worry about wires while you are running. There are tons of armbands to chose from to fit every need.
Best Running Gear
1

. FreeMove Reflective Running Vest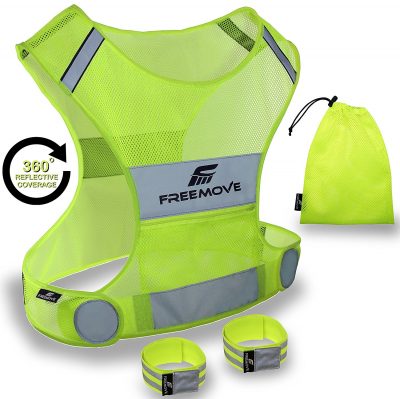 FreeMove offers a highly reflective running vest designed to mold to your body and minimize the movement of the vest while you are out on a run. Featuring a lightweight, highly breathable mesh fabric combined with durable Velcro straps to hold it in place, combined with a front zippered pocket large enough to hold phone, keys, etc., you have just about everything you need to stay safe. It also comes with two reflective wrist/ankle straps for added visibility and a storage/carrying case.
Six Different Sizes
A rarity among reflective vests on the market, FreeMove offers six different sizes in order to help you get the best fit possible. This is an important and valued quality when it comes to having clothing while running that won't flop around.
Ultralight Mesh
With the bulk of the fabric consisting of ultralight mesh, it's easy to forget you're even wearing this. The mostly mesh design also keeps air flow at a maximum so you don't build up excess sweat.
Cost and Value
Compared to other reflective vests available on the market suitable for running, FreeMove keeps its price lower than many competitors. With a sleek design specific to fit a runners body, you can't go wrong.

2

. Sport2People Running Belt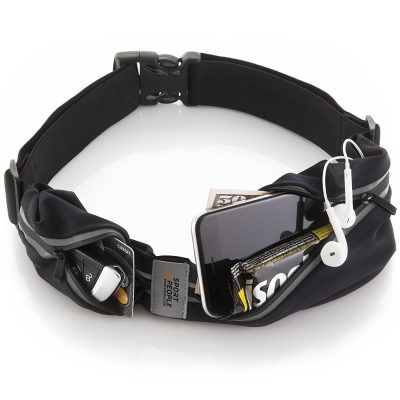 Runners are all too aware of the struggle of finding a way to hold keys, phone, etc., without having full hands or pockets that flop up and down as you run. The Sport2People running belt solves this problem, with a stretchy, waterproof belt that adjusts to fit most sizes. With one pocket large enough to fit pretty much all phones, and another smaller pocket to hold items such as keys or money, you'll have everything you need in a compact, sleek belt. This belt also features a hole for earbuds so you can easily listen to music on your phone, however, it does not compromise the waterproof nature of the material and zippers that keep your belongings dry.
Waterproof
The waterproof material combined with zippered specifically designed to keep water out of the pockets will allow you to run any time without your valuables getting damaged by water.
Multipurpose
Due to the compact nature of this belt, it's perfect to conceal at concerts, sporting events, or other such large gatherings to keep your valuables safe under your shirt or jacket.
Cost and Value
Price-wise the Run & Relax running belt is similar to others on the market, however, the large pockets that fit most modern cell phones and its waterproof, compact design are what sets it apart from the competition.

3

. Physix Gear Compression Socks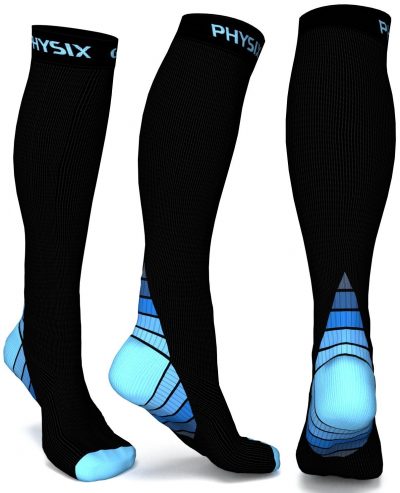 Compression socks seemed to have gained popularity in the last decade for various uses. For those who stand on their feet for hours on end, plane rides, after surgery to help prevent blood clots, or yes, for runners, compression socks boost circulation, increasing blood oxygen flow to your legs and feet, helping to reduce swelling and fatigue. These compression socks from Physix Gear Sport are designed to hug your calves, heels, and arches, putting pressure in only the places that need it. Using a combination of nylon and spandex materials, the socks stay in place and will not slide down while you're on the go. Choose from a variety of colors and sizes.
Lycra Fabric
Perfect for use in wet weather conditions, the Lycra fabric composed of 80% nylon and 20% spandex has moisture-wicking and antimicrobial properties that will dry fast after being exposed to sweat, rain, mud, etc.
No-Slip
Featuring "stay put cuffs" that keep these socks in place, they won't slide down your calf or around on your feet, allowing the compression to stay exactly where it needs to be.
Cost and Value
While these compression socks are slightly more expensive than some of the competition, these socks featuring superior design and quality are worth the few extra bucks. They are so confident in their product, they offer a money-back guarantee if you don't like what you get.

4

. Apace Vision LED Safety Light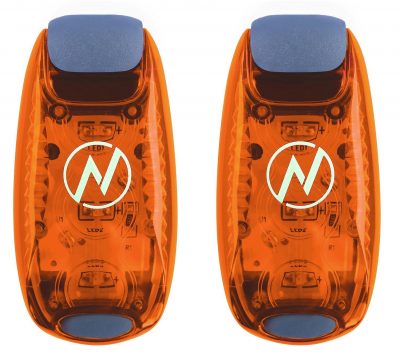 Another safety product to take along on runs, use this in combination with or as a substitute for a safety vest. Coming with two lights, extra batteries, two short and one long elastic Velcro straps, and a mini screwdriver for easy battery replacement, you have everything you need to stay safe outdoors. Lightweight, waterproof and featuring three different lighting modes, you can use this for yourself or attach it to your dog, child, bike, etc., to ensure high visibility while out for a run, on a hike or on your morning bike commute to work.
Three Lighting Modes
Offering three lighting modes: steady, slow flash, and fast flash to fit any occasion. Boasting a battery life of up to 100 hours, you can choose whichever makes you feel safer and worry less about batteries dying.
Clips Anywhere
Hook it on to your clothing, belt, vest, dog collar, dog leash... Hook on just about anywhere, or attach it to one of the Velcro straps included to tie around anything.
Cost and Value
Coming with two lights and extra batteries, the price paid for a product that could save your life someday is well worth it. Makes a great gift for yourself or anyone you love at a low price point.

5

. Tough Headwear Skull Cap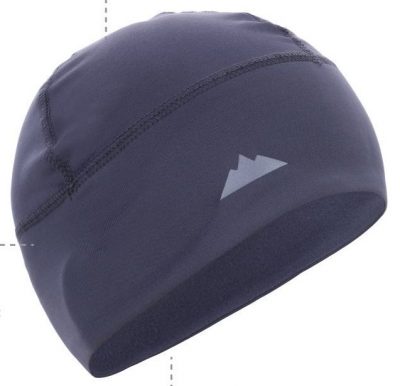 Everyone knows the best time to run is in cooler temperatures, which often means cold ears. It's hard to find a good beanie that will not move around on your head; and then enters the skull cap. The stretchy, breathable material is perfect on its own in cooler temperatures, or under a helmet/as a liner under a thicker cap in cold temperatures. Moisture-wicking and lightweight, you'll forget you even have it on. Easily throw it in the washer, and it will quickly dry for your next use. Good for runners, skiers, motorcyclists, bike riders, etc.
One Size Fits All
Composed of 89% polyester and 11% spandex, this stretchy material will fit any size head without being overly tight and uncomfortable for large heads, or too large for smaller ones.
Breathable
The breathable material will wick away sweat and water to help avoid a sweaty gross head while being thick enough to retain warmth while running around outdoors during a variety of activities.
Cost and Value
Not only does the skull cap crush the other competing running hats by maintaining a low price, but it also ranks at Best Value within our top ten picks for running gear by holding superior quality for the lowest price.

6

. Thirty 48 Compression Socks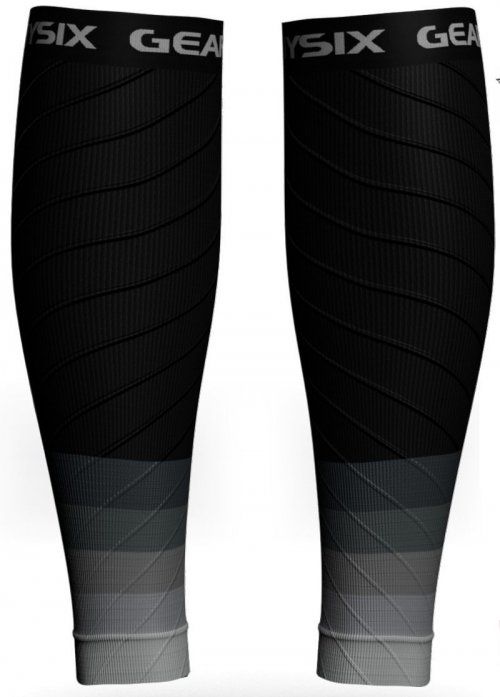 Plantar Fasciitis is one of the most common ailments that runners face, usually caused by repetitive tension and stress in the arch of your foot, aka the plantar fascia. This causes it to become inflamed or irritated, in turn causing a sharp pain in the bottom of your foot near the heel. Improperly fitted shoes can also cause this to happen. The difference between these socks and the ones mentioned previously is where the compression occurs. These focus on compressing around the nerves and muscles to increase circulation and reduce inflammation, providing all-day comfort. The moisture-wicking material will feel comfortable underneath or over your socks and keep your feet dry. However, even if you don't suffer from this ailment, they still offer compression benefits for anyone.
No Pinch Points
The lightweight and stretchy fabric used for these socks not only allow full range of motion but do not have any pinch point around areas that usually would, such as at the ankles.
Moisture-Wicking
This will keep your feet dry no matter how you choose to wear these: with sandals, boots, slippers, high heels, etc. The shorter design also means they are easier to conceal.
Cost and Value
Not surprisingly these are cheaper than the compression socks previously mentioned, due to less area covered. However, for those who want less coverage or have plantar fasciitis, these are a high-quality product that will reduce pain and swelling effectively.

7

. 4ucycling Windproof Athletic Pants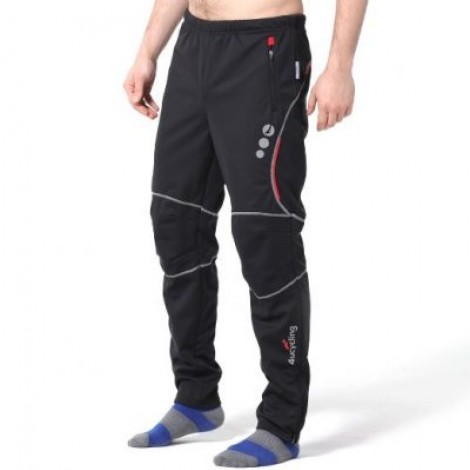 Let's face it, it is extremely hard to find the ideal pair of pants to suit the needs of athletes. 4ucycling has broken that barrier and created a low-cost solution to your needs. Water-resistant on the front, breathable in the back, reinforced materials in all the right places, and a fleece interior will keep you comfortable. Zippered pockets will keep your belongings safe while you're on the move, and the extra material in the knee area will not restrict movement during training. An added reflective logo on the side will improve visibility while out in low-light conditions. The zippered bottoms of the pant legs are designed to be zipped over your shoes to reduce the amount of extra material flapping around while on the go. These work great for both men and women, just keep in mind that they do run a bit small, so it is best to order a size up.
Fleece Interior
While the outside keeps you dry, the inside is lined with thermal-retaining fleece to keep your legs warm during those cold, snowy runs, optimizing comfort.
Unique Design Specific for Athletes
Being that the front of your legs gets cold faster while running into the wind, the front is made with a double-layer synthetic material which is water-resistant, while the back is made of a breathable polyester/spandex material to help improve aeration and reduce sweat buildup.
Cost and Value
If you go to any retail store and search for wind pants designed specifically for athletes, it is unlikely you will find something as low priced as these while still retaining the same high-quality, unique features designed for a runners comfort and needs.

8

. Level Terrain Flip Belt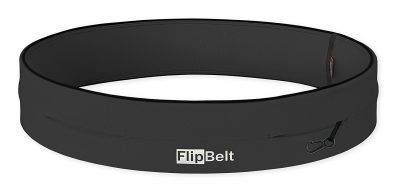 For the fashion-conscious out there, here is a product for you! Looking just like any waistband, the patented design of the Flip Belt has no semblance of a fanny pack. At 3 inches wide, simply slide it on like pants, store your belongings in one of the four available pockets, and turn it back around to lock in your belongings against your waist. This seamless design limits pinch points and provide a storage space that will not bounce while running, hiking, etc. It's thin enough to be concealed under your clothes and comfortable enough to forget you're wearing it. Keep in mind the sizes run small, so take a look at user reviews before purchasing to get the best idea of what size will be best for you.
Seamless Design
No buckles, zippers, or annoying seams to get caught on things or broken. This decreases the number of things that can get caught or cause hurtful pinch points.
Reflective
Sticking true to the safety theme we have going on here, the flip belt features two reflective strips and a reflective logo to keep you visible in low-light conditions.
Cost and Value
Compared to the other running belt outlined earlier, the Flip Belt is slightly more expensive due to its patented sleek and seamless design, however, compared to other belts available on the market, it holds a lower price point.

9

. Physix Gear Compression Sleeve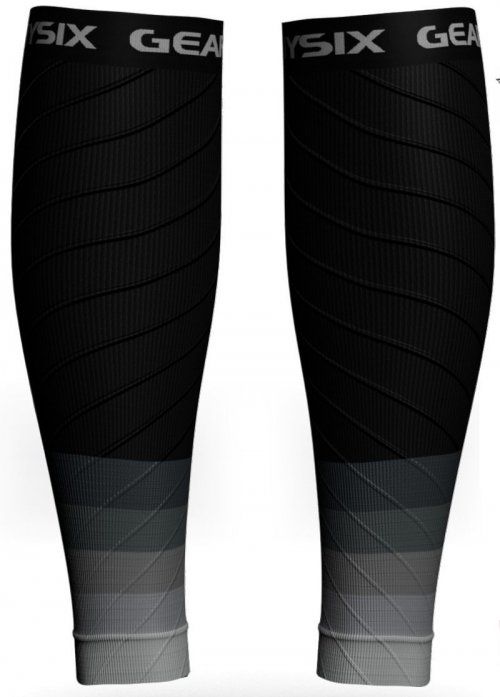 A good midpoint between the other two compression socks outlined, this no-sock option is great for those with varicose veins or problems with shin splints. The no-sock option is popular among those who don't like the constricting feeling of compression socks, yet need the support and anti-inflammatory solution that compression offers. These Physix Gear Sport calf compression sleeves will not roll up or down, will not pinch behind the knee, and provide the same moisture-wicking properties as the other Physix product reviewed. Choose from a variety of sizes and colors to suit your preference and needs.
Double-Stitched
The double stitched seams provide added durability to hold up to any activity you use them for, as well as provide a strong connection to hold up to your washing machine.
Fast Drying
The moisture-wicking properties of the material not only provide comfort but also allows for quick drying so you can leave them out overnight while traveling and put them on in the morning dry and ready for another hard day.
Cost and Value
Cheaper than the other compression socks outlined in this review, you can get the same great benefits of lower leg compression for a lesser cost.

10

. Garmin Vivoactive Watch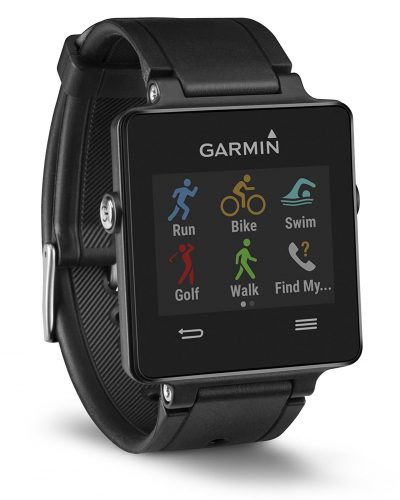 For the technology buffs out there, the Garmin Vivoactive smartwatch is the perfect running partne. Capturing data such as distance, time and pace, and syncing to your smartphone to display alerts of texts, call, etc., you'll have everything you need while out. The high-resolution touchscreen is easy to read in the sunlight, and you can customize the icons on the home page to those that are most pertinent to you. Use for a wide variety of activities such as running, interval training, golf, or as a way to track your daily step count to help achieve a daily distance goal. You can customize all screen available, as well as band colors and material. The batteries are long-lasting and rechargeable.
Optional Heart Rate Monitor
For an additional price, purchase the heart rate monitor which syncs to your smartwatch and provides instant data on where your heart rate is at currently and in the past.
Personalized
From the office to the trails and beyond, there's an app for that. Simply go to their Connect IQ store to download various features in order to get the most out of your watch for any activity you participate in.
Cost and Value
Not surprisingly, this is the most expensive item reviewed here. However, compared to other watches that offer the same features, the Vivoactive is one of the least expensive you can find on the market without compromising a lightweight design and a wealth of possible uses.

Subscribe to our Newsletter