Best Running Gear Reviewed & Compared
When it comes to running, there are a few universally important things to consider before hitting the trail: safety, comfort, and heat regulation. These are the premises that we have kept in mind when choosing the top ten pieces of gear out of thousands of options available on the market. No matter the type of running you prefer, whether it be a trail, road, long-distance, or professional, the items listed below are universal in their effectiveness.
Featured Recommendations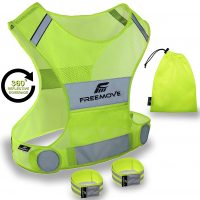 FreeMove Reflective Vest

Our rating
Fits Tight Against Body
Lots of Reflective Surfaces
Price:

See Here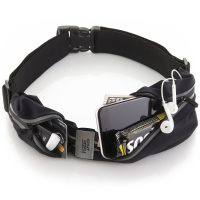 Sport2People Running Belt

Our rating
Fits Large Modern Phones
Waterproof
Price:

See Here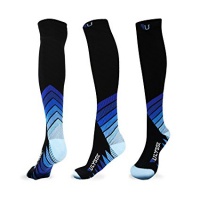 Physix Gear Socks

Our rating
Comfortable material
Variety of Colors
Price:

See Here

You may notice a common theme among the products listed is having a reflective quality. Every year, runners are put in danger when running near high-speed traffic. While this is often no fault of the runner, it is important to put your safety first and ensure you are as visible as you can be. This is what I like to call "defensive running", as you cannot control the actions of others, only protect yourself from possible accidents. A theme for the products outlined is featuring some sort of water-resistant quality. Not only does this increase comfort, but it can also help prevent injury and illness while exercising in wet or cold weather. The last thing you want is mild frostnip due to improper clothing. This quality also helps protect any other gear you have along with you, including your phone, money, keys, etc. Last but not least: comfort. While this isn't always imperative, it's really nice to have gear that allows you to feel comfortable while out running. This includes non-restrictive clothing, no unnecessary pinch points, and quality materials. Listed below are ten quality pieces of running gear that will help you perform more efficiently.
15 Best Running Products & Gear
1. FreeMove Reflective Running Vest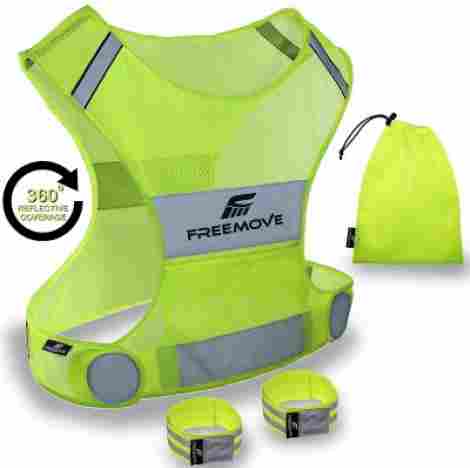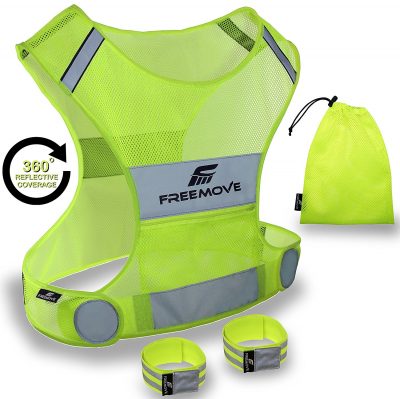 Enjoy running at night? Or, want to go the extra mile (pun intended) by keeping a higher level of visibility even during the daytime? FreeMove offers a highly reflective running
vest
designed to mold to your body and minimize the movement of the vest while you are out on a run. Featuring a lightweight, highly breathable mesh fabric combined with durable Velcro straps to hold it in place, combined with a front zippered pocket large enough to hold phone, keys, etc., you have just about everything you need to stay safe. It also comes with two reflective wrist/ankle straps for added visibility and a storage/carrying case.
Expand to see more
Six Different Sizes
A rarity among reflective vests on the market, FreeMove offers six different sizes in order to help you get the best fit possible. This is an important and valued quality when it comes to having clothing while running that won't flop around.

Ultralight Mesh
With the bulk of the fabric consisting of ultralight mesh, it's easy to forget you're even wearing this. The mostly mesh design also keeps air flow at a maximum so you don't build up excess sweat.

Cost and Value
Compared to other reflective vests available on the market suitable for running, FreeMove keeps their price lower than many competitors. With a sleek design specific to fit a runners body, you can't go wrong.
Long range of visibility
Easy to move around in
Lots of reflective areas on the vest
Very light weight fabric
Sizes for all ages/weights
Zippered pocket can move around when heavy items are in it
Sizing can be tricky to figure out
2. Sport2People Running Belt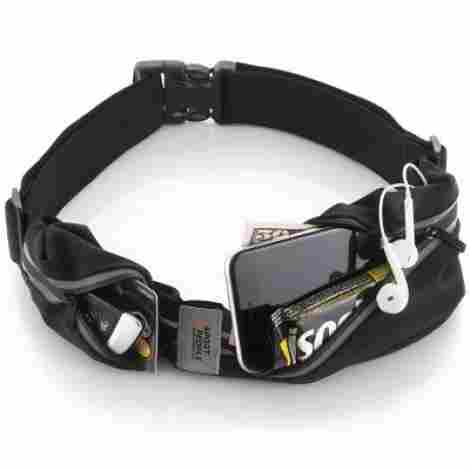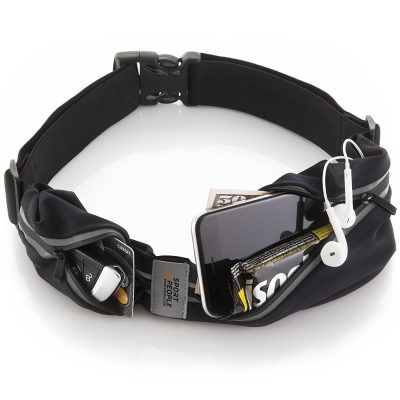 Runners are all too aware of the struggle of finding a way to hold keys, phone, etc., without having full hands or pockets that flop up and down as you run. The Sport2People running belt solves this problem, with a stretchy, waterproof belt that adjusts to fit most sizes. With one pocket large enough to fit pretty much all phones, and another smaller pocket to hold items such as keys or money, you'll have everything you need in a compact, sleek belt. This belt also features a hole for earbuds so you can easily listen to music on your phone, however, it does not compromise the waterproof nature of the material and zippers that keep your belongings dry.
Expand to see more
Waterproof
The waterproof material combined with zippered specifically designed to keep water out of the pockets will allow you to run any time without your valuables getting damaged by water.

Multipurpose
Due to the compact nature of this belt, it's perfect to conceal at concerts, sporting events, or other such large gatherings to keep your valuables safe under your shirt or jacket.

Cost and Value
Price-wise the Run & Relax running belt is similar to others on the market, however, the large pockets that fit most modern cell phones and its waterproof, compact design are what sets it apart from the competition.
Doesn't slide around on waist
Fits large phones
Features reflective stripes
Earbud hole in pocket
Stretchy material
Should not wear directly on skin
No water bottle holder
3. Physix Gear Compression Socks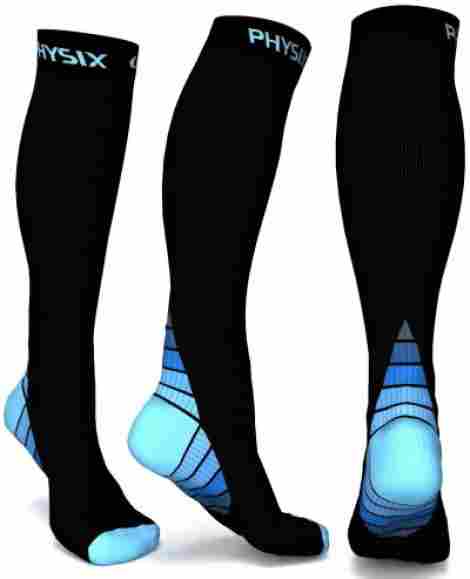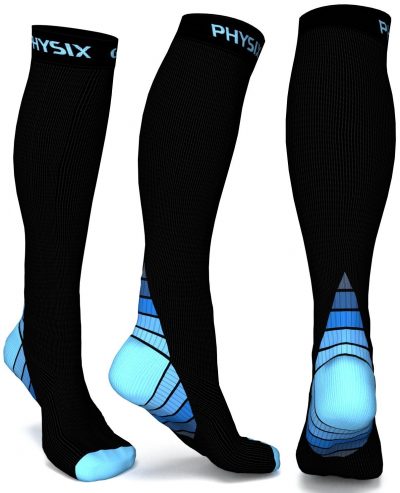 Compression socks seemed to have gained popularity in the last decade for various uses. For those who stand on their feet for hours on end, plane rides, after surgery to help prevent blood clots, or yes, for runners, compression socks boost circulation, increasing blood oxygen flow to your legs and feet, helping to reduce swelling and fatigue. These compression socks from Physix Gear Sport are designed to hug your calves, heels, and arches, putting pressure in only the places that need it. Using a combination of nylon and spandex materials, the socks stay in place and will not slide down while you're on the go. Choose from a variety of colors and sizes.
Expand to see more
Lycra Fabric
Perfect for use in
wet weather
conditions, the Lycra fabric composed of 80% nylon and 20% spandex has moisture-wicking and antimicrobial properties that will dry fast after being exposed to sweat, rain, mud, etc.
No-Slip
Featuring "stay put cuffs" that keep these socks in place, they won't slide down your calf or around on your feet, allowing the compression to stay exactly where it needs to be.
Cost and Value
While these compression socks are slightly more expensive than some of the competition, these socks featuring superior design and quality are worth the few extra bucks. They are so confident in their product, they offer a money-back guarantee if you don't like what you get.
Won't roll down like other socks
Reduces foot pain and swelling
Don't pinch
Fashionable colors/designs offered
No seams that will rub in wrong places
Thin material may wear down after repeated washing machine use
Top band can be uncomfortable
4. Apace Vision LED Safety Light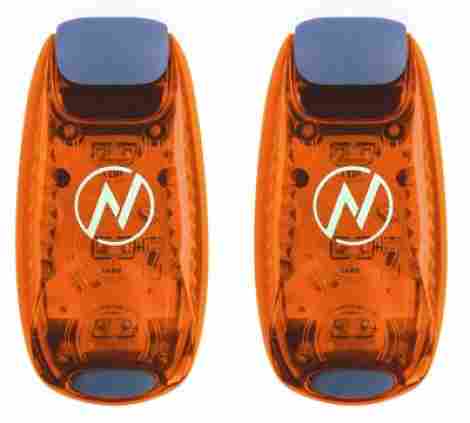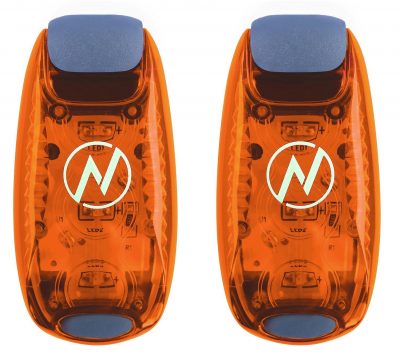 Another safety product to take along on runs, use this in combination with or as a substitute for a
safety vest
. Coming with two lights, extra batteries, two short and one long elastic Velcro straps, and a mini screwdriver for easy battery replacement, you have everything you need to stay safe outdoors. Lightweight, waterproof and featuring three different lighting modes, you can use this for yourself or attach it to your dog, child, bike, etc., to ensure high visibility while out for a run, on a hike or on your morning bike commute to work.
Expand to see more
Three Lighting Modes
Offering three lighting modes: steady, slow flash, and fast flash to fit any occasion. Boasting a battery life of up to 100 hours, you can choose whichever makes you feel safer and worry less about batteries dying.
Clips Anywhere
Hook it on to your clothing, belt, vest,
backpack
, dog
collar
, dog leash.... Hook on just about anywhere, or attach it to one of the Velcro straps included to tie around anything.
Cost and Value
Coming with two lights and extra batteries, the price paid for a product that could save your life someday is well worth it. Makes a great gift for yourself or anyone you love at a low price point.
Comes in five different colors
Easy to take on and off
Long range of visibility
Operate for a long time on one set of batteries
Better to use Velcro on dog collars than the clip option
Difficult to change batteries; they are tiny
5. Tough Headwear Skull Cap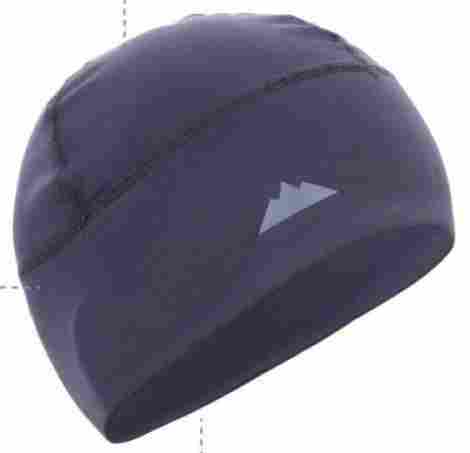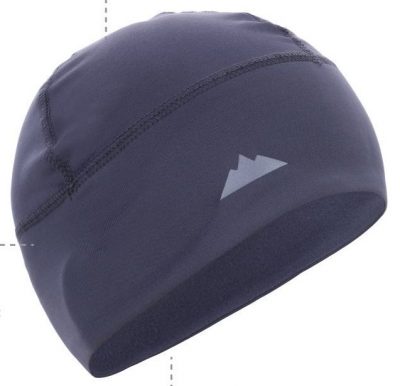 Everyone knows the best time to run is in cooler temperatures, which often means
cold ears
. It's hard to find a good beanie that will not move around on your head; and then enters the skull cap. The stretchy, breathable material is perfect on its own in cooler temperatures, or under a helmet/as a liner under a thicker cap in cold temperatures. Moisture-wicking and lightweight, you'll forget you even have it on. Easily throw it in the washer, and it will quickly dry for your next use. Good for runners, skiers, motorcyclists, bike riders, etc.
Expand to see more
One Size Fits All
Composed of 89% polyester and 11% spandex, this stretchy material will fit any size head without being overly tight and uncomfortable for large heads, or too large for smaller ones.

Breathable
The breathable material will wick away sweat and water to help avoid a sweaty gross head while being thick enough to retain warmth while running around outdoors during a variety of activities.

Cost and Value
Not only does the skull cap crush the other competing running hats by maintaining a low price, but it also ranks at Best Value within our top ten picks for running gear by holding superior quality for the lowest price.
Works under helmet
Does not make head overly sweaty
Does not shrink in washer
Lightweight
Reflective icon on front
Not warm enough to wear alone in winter
Size runs a bit small
6. Thirty 48 Compression Socks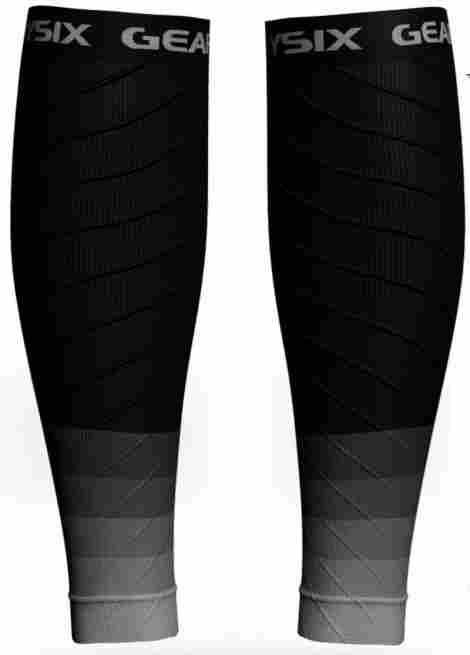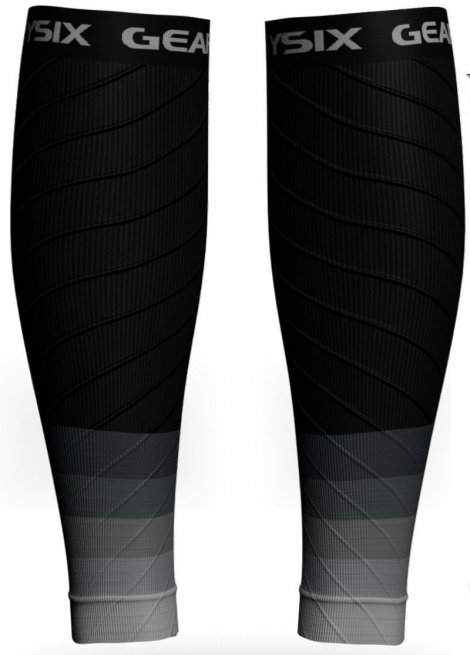 Plantar Fasciitis is one of the most common ailments that runners face, usually caused by repetitive tension and stress in the arch of your foot, aka the plantar fascia. This causes it to become inflamed or irritated, in turn causing a sharp pain in the bottom of your foot near the heel. Improperly fitted shoes can also cause this to happen. The difference between these socks and the ones mentioned previously is where the compression occurs. These focus on compressing around the nerves and muscles to increase circulation and reduce inflammation, providing all-day comfort. The moisture-wicking material will feel comfortable underneath or over your socks and keep your feet dry. However, even if you don't suffer from this ailment, they still offer compression benefits for anyone.
Expand to see more
No Pinch Points
The lightweight and stretchy fabric used for these socks not only allow full range of motion but do not have any pinch point around areas that usually would, such as at the ankles.

Moisture-Wicking
This will keep your feet dry no matter how you choose to wear these: with sandals, boots, slippers, high heels, etc. The shorter design also means they are easier to conceal.

Cost and Value
Not surprisingly these are cheaper than the compression socks previously mentioned, due to less area covered. However, for those who want less coverage or have plantar fasciitis, these are a high-quality product that will reduce pain and swelling effectively.
Firm support
Thin, therefore not over-constricting
Reduces foot pain
Easy to put on and take off
True to sizing
May slip up when put tight shoes on
No compression around toe area
7. 4ucycling Windproof Athletic Pants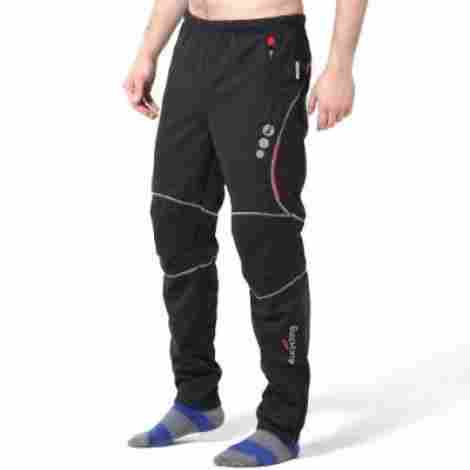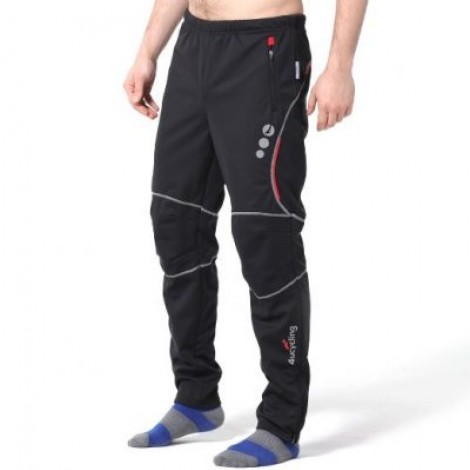 Let's face it, it is extremely hard to find the ideal pair of pants to suit the needs of athletes. 4ucycling has broken that barrier and created a low-cost solution to your needs. Water-resistant on the front, breathable in the back, reinforced materials in all the right places, and a
fleece
interior will keep you comfortable. Zippered pockets will keep your belongings safe while you're on the move, and the extra material in the knee area will not restrict movement during training. An added reflective logo on the side will improve visibility while out in low-light conditions. The zippered bottoms of the pant legs are designed to be zipped over your
shoes
to reduce the amount of extra material flapping around while on the go. These work great for both men and women, just keep in mind that they do run a bit small, so it is best to order a size up.
Expand to see more
Fleece Interior
While the outside keeps you dry, the inside is lined with thermal-retaining fleece to keep your legs warm during those cold, snowy runs, optimizing comfort.

Unique Design Specific for Athletes
Being that the front of your legs gets cold faster while running into the wind, the front is made with a double-layer synthetic material which is water-resistant, while the back is made of a breathable polyester/spandex material to help improve aeration and reduce sweat buildup.

Cost and Value
If you go to any retail store and search for wind pants designed specifically for athletes, it is unlikely you will find something as low priced as these while still retaining the same high-quality, unique features designed for a runners comfort and needs.
Drawstring belt
Extra knee room
Block wind effectively
Zippered pockets
Great for a wide range of activities
Large logo across the leg is visually obtrusive
Run a little short in length
8. Level Terrain Flip Belt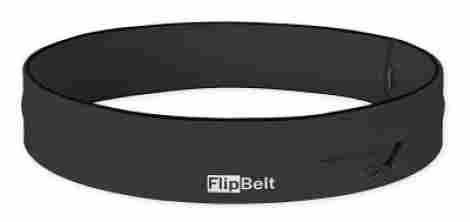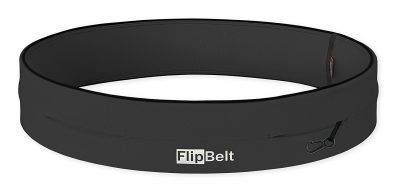 For the fashion-conscious out there, here is a product for you! Looking just like any waistband, the patented design of the Flip Belt has no semblance of a fanny pack. At 3 inches wide, simply slide it on like pants, store your belongings in one of the four available pockets, and turn it back around to lock in your belongings against your waist. This seamless design limits pinch points and provides a storage space that will not bounce while running, hiking, etc. It's thin enough to be concealed under your clothes and comfortable enough to forget you're wearing it. Keep in mind the sizes run small, so take a look at user reviews before purchasing to get the best idea of what size will be best for you.
Expand to see more
Seamless Design
No buckles, zippers, or annoying seams to get caught on things or broken. This decreases the number of things that can get caught or cause hurtful pinch points.

Reflective
Sticking true to the safety theme we have going on here, the flip belt features two reflective strips and a reflective logo to keep you visible in low-light conditions.

Cost and Value
Compared to the other running belt outlined earlier, the Flip Belt is slightly more expensive due to its patented sleek and seamless design, however, compared to other belts available on the market, it holds a lower price point.
Doesn't bounce while running
Looks like a regular waistband while on
Easy to attach earbuds to phone
Easy to forget you're wearing it
Durable material
Not waterproof
Some get freaked out by the concept of no zippers
9. Physix Gear Compression Sleeve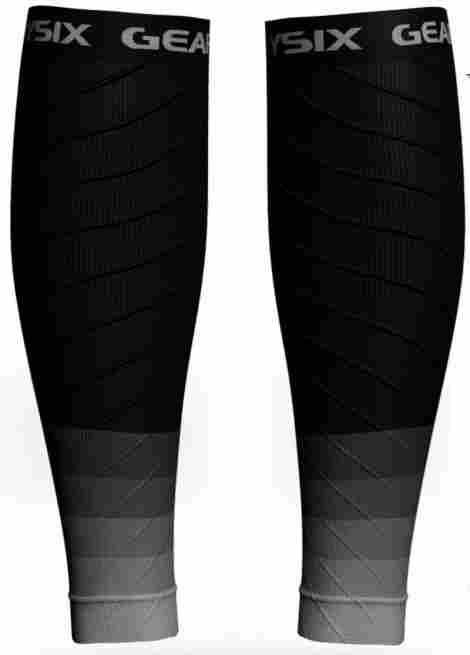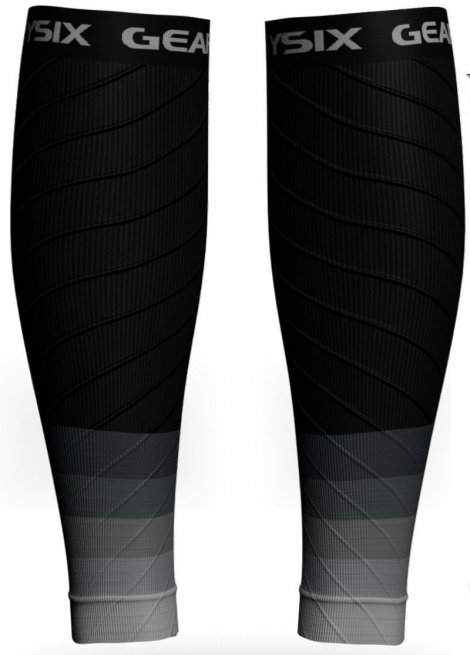 A good midpoint between the other two compression socks outlined, this no-sock option is great for those with varicose veins or problems with shin splints. The no-sock option is popular among those who don't like the constricting feeling of compression socks, yet need the support and anti-inflammatory solution that compression offers. These Physix Gear Sport calf compression sleeves will not roll up or down, will not pinch behind the knee, and provide the same moisture-wicking properties as the other Physix product reviewed. Choose from a variety of sizes and colors to suit your preference and needs.
Expand to see more
Double-Stitched
The double stitched seams provide added durability to hold up to any activity you use them for, as well as provide a strong connection to hold up to your washing machine.

Fast Drying
The moisture-wicking properties of the material not only provide comfort but also allows for quick drying so you can leave them out overnight while traveling and put them on in the morning dry and ready for another hard day.

Cost and Value
Cheaper than the other compression socks outlined in this review, you can get the same great benefits of lower leg compression for a lesser cost.
Does not restrict the feet
Comfortable material
Won't roll up or down
Reduces pain and swelling
Many colors to choose from
Lower ankle sleeves can be too tight
Sizes run small
10. Garmin Vivoactive Watch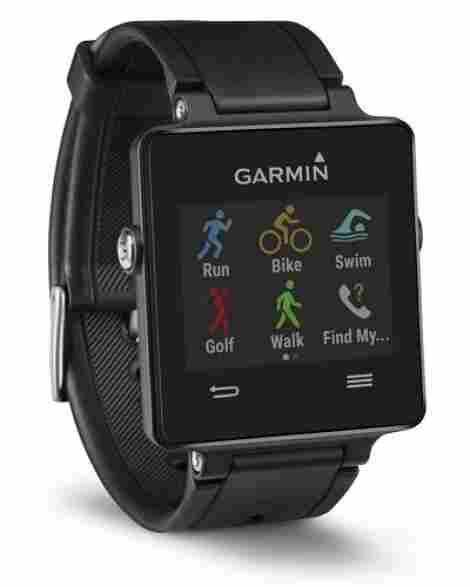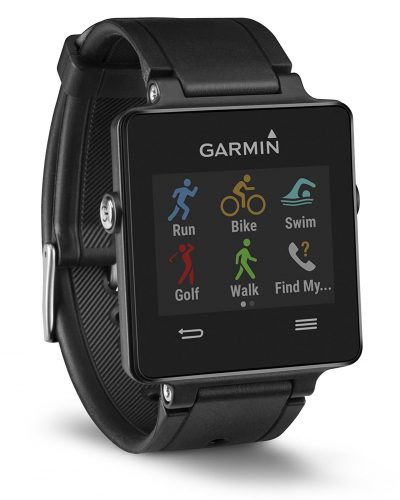 For the technology buffs out there, the Garmin Vivoactive smartwatch is the
perfect running partner
. Capturing data such as distance, time and pace, and syncing to your smartphone to display alerts of texts, call, etc., you'll have everything you need while out. The high-resolution touchscreen is easy to read in the sunlight, and you can customize the icons on the home page to those that are most pertinent to you. Use for a wide variety of activities such as running, interval training, golf, or as a way to track your daily step count to help achieve a daily distance goal. You can customize all screen available, as well as band colors and material. The batteries are long-lasting and rechargeable.
Expand to see more
Optional Heart Rate Monitor
For an additional price, purchase the heart rate monitor which syncs to your smartwatch and provides instant data on where your heart rate is at currently and in the past.

Personalized
From the office to the trails and beyond, there's an app for that. Simply go to their Connect IQ store to download various features in order to get the most out of your watch for any activity you participate in.

Cost and Value
Not surprisingly, this is the most expensive item reviewed here. However, compared to other watches that offer the same features, the Vivoactive is one of the least expensive you can find on the market without compromising a lightweight design and a wealth of possible uses.
Can be used in the water
Very small and lightweight
Fast connection to satellites
Accurate distance measurements
Long battery life
Cannot answer calls or texts through watch, just see them
Display is fairly dim for use indoors
11. Luxolite Head Lamp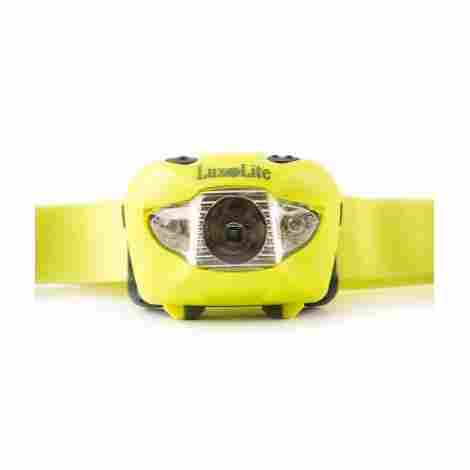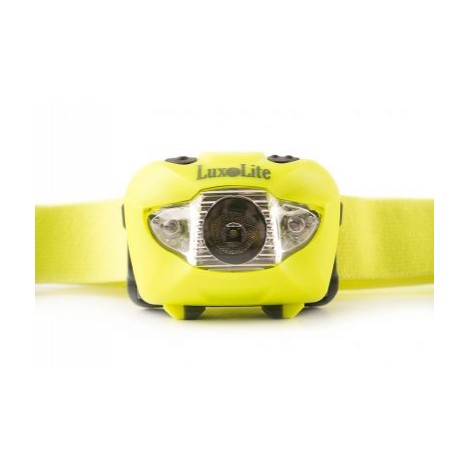 Whenever you are running around traffic, you should always take every step possible to make sure that you are visible to traffic. This headlamp fits securely around your head and illuminates your path while also alerting drivers of cars and trucks to your presence. You have a variety of light settings to choose from so that you can pick the setting that will work best for the time of the day.
Expand to see more
Lightweight

Runners should always try and find gear that is lightweight and at three ounces you will barely notice that you are wearing this headlamp while you are running or jogging. The hand and is fully adjustable so that it doesn't squeeze your head.

Waterproof

You can wear this headlamp to help you stay visible in the rain or the fog since it is fully waterproof. Rainy and foggy conditions decrease visibility so wearing this headlamp is a great way for you to stay safe.

Cost and Value

You will see this headlamp sold at an average price for running gear. It is a great value for the money because it is long lasting and works in rainy weather to help you stay safe and visible.
You can switch between white and red lights with a total of six different visibility modes.
You can tilt the light in the direction that you need it so that your path is properly lit.
This headlamp runs on AAA batteries which are widely available and inexpensive to replace when needed.
The headband is fully elastic and adjusts easily so that the light is held securely to your head.
Wearing this headband allows you to keep your hands free while you are running or jogging.
Some reviewers have mentioned that latch around the battery area breaks easily after changing the batteries.
Other reviewers have mentioned that the light is not as bright as they expected it to be.
12. Mava Sports Knee Sleeve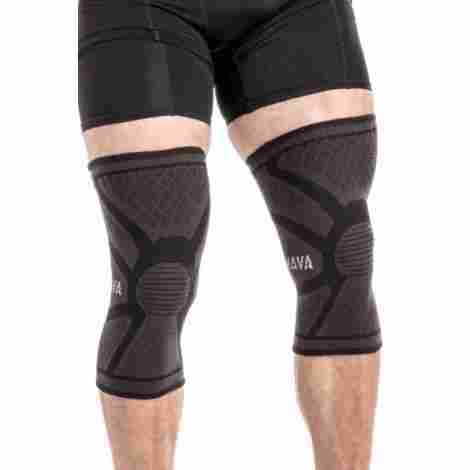 Running is a sport that can be hard on your knees. Many runners end up feeling joint pain in their knees due to the high impact nature of running and jogging. This knee compression sleeve helps relieve pain and ensure your safety during your run. It will help reduce inflammation and swelling that you can develop if you run on a regular basis or run on rough terrain or trails.
Expand to see more
Anatomically Shaped

This compression sleeve is designed to fit tightly around your knee while still allowing for a full range of movement. The extra body heat trapped around your knee will soothe your muscles and promote your recovery after running or jogging.

Everyday Use

The product is designed for everyday use. It is made out of material that will not itch or irritate your skin in any fashion which allows you to wear the sleeve as much or as little as you would like.

Cost and Value

You will see this item sold at a price that is slightly higher than the average for running gear. This compression sleeve is a must-have for anyone who experiences knee and joint pain while they are running so it's well worth the extra cost.
The compression sleeve helps to provide pain relief and reduced swelling from running, walking or jogging.
It has a heating effect which will promote blood circulation and increase muscle recovery times after running.
It has anti-slipping silicone material which keeps the sleeve from moving around or falling down on your knee.
The product is made from a material that is comfortable for your skin and will not itch.
You can wear this brace every day all day long so that you get plenty of support.
Some reviewers have mentioned that the sleeve is too tight on the top and bottom bands
Other reviewers have experienced the sleeve rolling down from their knee when they move around in it.
13. B.Seen LED Armband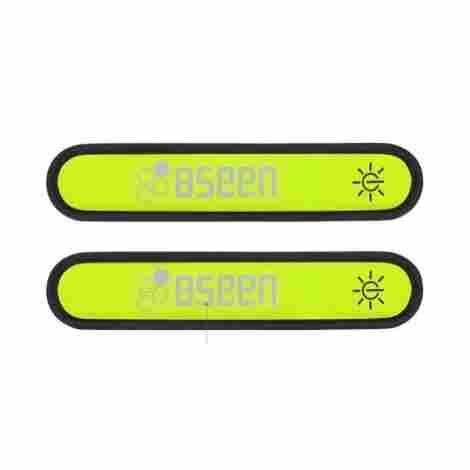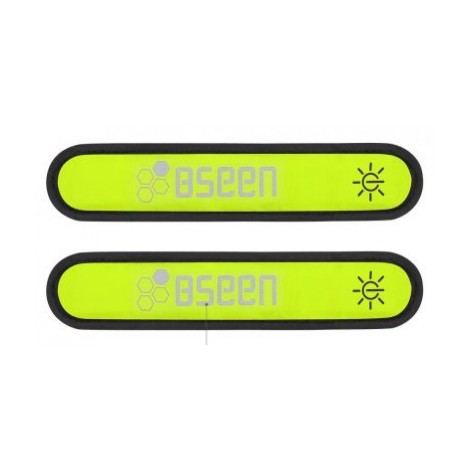 This armband is a great way for you to maintain visibility while you are running in adverse weather. It comes in a pack of two so that you can put an armband on each of your arms. The armbands feature LED lights which are bright and alert drivers of cars and trucks to your presence which helps to avoid accidents. The armband is lightweight and you won't even notice you're wearing it.
Expand to see more
Fully Elastic

The armbands are fully elastic and will adjust to anyone. This allows the armband to be worn by men, women, and even pets while you are running and you can choose to wear them snuggly or loosely depending on your preference.

Long Life

The batteries are designed to last between 50 and 70 hours before you need to change them. This allows you to use the armband frequently while only having to change the batteries every once and a while.

Cost and Value

You will see this armband sold a price that is lower than the average for running gear. It is an excellent value for the price because it will help you avoid car and truck accidents while you are running in low light.
The armbands are sold in pairs of two so that you have to wear one on each arm.
It is fully adjustable and can be worn by men, women, or even dogs.
They are powered by a CR2032 battery that can last between 50 and 70 hours on a battery.
You can purchase this armband in either green or red colors depending on your preferences.
Extra batteries are included with this armband so that you have backup batteries when you need them.
Some reviewers have reported that the lights do not last when they have been exposed to rain.
Other reviewers have mentioned that the battery does not last as long as its advertised to last.
14. DRSKIN Baselayer Pants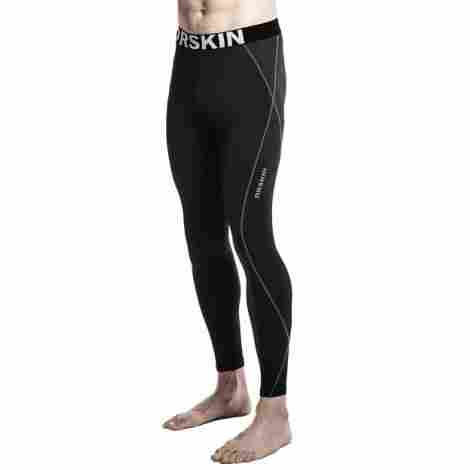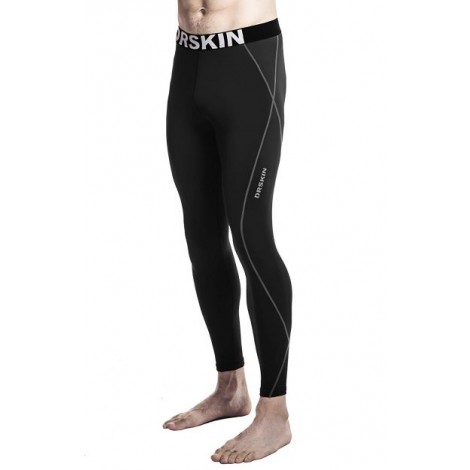 If you are looking for a pair of baselayer pants that will help you stay warm and wick away moisture quickly, then you should consider these compression pants by DRSKIN. The pants are made from a fabric that is highly breathable and moisture wicking so that you can feel dry while you are running or jogging. The pants are fully elastic and compress your muscles to help improve blood flow.
Expand to see more
UV Blocking

Whenever you are running outdoors, you will need to be mindful of the fact that you can get a sunburn. These pants block 98.8% of UV rays so that you do not need to worry about your legs getting sunburnt.

Polyester and Spandex

The pants feature a blend of 92% polyester followed by 8% spandex. This results in an elastic material that maintains a snug fit and will wick away moisture from your skin quickly. These pants will help you avoid skin rashes and chafing because the fabric is non-abrasive.

Cost and Value

You can plan on seeing these pants sold at an average price for running gear. They are a great value because they will help you stay warm and dry while you are running in cool or even cold weather.
You can plan on these pants feeling extra soft thanks to the polyester fabric used to make them.
The pants are thin and lightweight so that you will not even realize that you are wearing them.
They are made from a quick-drying fabric that removes moisture and sweat from your skin quickly.
The fabric is non-abrasive which means that you will not need to worry about rashes or chafing.
It blocks up to 98.8% of UV radiation so that your skin is protected from sunburns.
Some reviewers have reported that the material is too thin and it isn't durable enough for regular use.
Other people have said that the legs are too short and do not make it to the ankles.
15. Mubasel Gear Hydration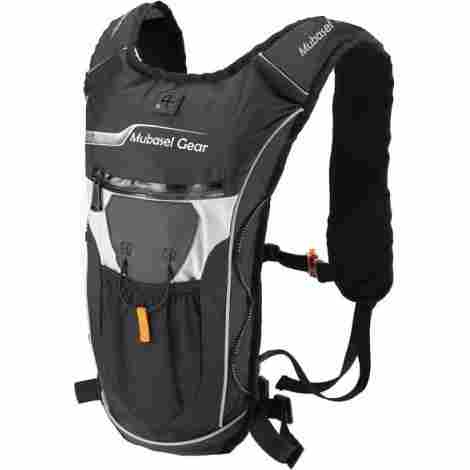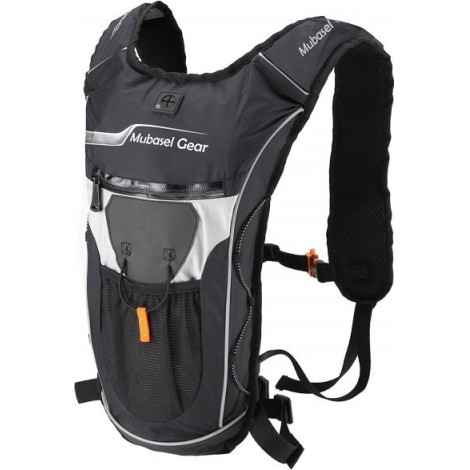 Everyone who runs understands how important it is to stay hydrated. That is why a hydration backpack can become extremely useful when you are picking out running gear. This backpack can keep liquid cool for hours at a time and it has a capacity of two liters so that you have plenty to drink. It is the perfect item for long distance runners who plan on spending hours in the hot weather.
Expand to see more
4 Hour Cooling

You can expect your liquids to stay cool for up to four hours when you are using this hydration backpack. The long cooling time gives you more than enough time to spend several hours running outdoors in hot weather.

2L Capacity

You can use up to a two-liter capacity bladder with this backpack. Two liters of water or some other liquid will provide you with an ample amount to drink while you are running long distances or spending hours outdoors.

Cost and Value

You should plan on seeing this product sold at a price that is higher than average for running gear. It has a higher price because it is a full hydration backpack that keeps its contents cool and has plenty of storage.
This hydration backpack includes a two-liter bladder that is FDA approved food grade.
It weighs less than a pound when it is completely empty which makes it great for runners.
There are additional storage compartments that allow you to carry items such as your keys or wallet.
The bladder can sustain up to 132 lbs of weight which means you can use it as a pillow.
It has a large opening in the bladder which makes it easy for you to clean.
Some reviewers have reported that the chest straps are too low which makes it uncomfortable to wear.
Other reviewers have experienced problems with the bladder leaking fluid while they are wearing the backpack.
While the products outlined above may be suited more towards athletic ventures, that does not mean they do not have a wide variety of purposes. Many can be used out in the woods hiking, hunting, etc., as well as for general walking about. After spending time discovering our top ten picks, hopefully you have found your next gear investment, and can hit the trail better equipped to kick some butt, work harder and stay safer.
Criteria Used in Evaluation
Usefulness
When you start picking out running gear, you should consider how useful the gear is for running. It is best that you ask yourself about what you need that your current running gear does not already provide. There are plenty of examples where a certain accessory can fulfill a need. For example, you may find that your sweat is constantly dripping down your face and into your eyes which causes eye irritation and burning. You may decide that because of this need that you can solve this issue by purchasing a headband that will keep the sweat from running down your face. Once you have matched the product to the need, you are ready to decide if the accessory is worth purchasing or not.
Thus, we come to the subject of usefulness. A running accessory is only useful if it can satisfy a need. When the running accessory is no longer able to satisfy your needs, then it is no longer useful. Chance are that you will either start to leave it at home when you go for a run or you may even get rid of it altogether. After all, what is the point of wearing a running armband that no longer fits your phone or having a pair of running shoes that have worn out soles? If you have such items collected in your running gear, then chances are that you are no longer using them. You may choose to replace them or you may decide that they are no longer necessary for you to have while you are running. After all, things change eventually and as things change, your needs will change. While your needs change, your choice in running accessories will change with those needs.
There are a few reasons why your needs will change. One case is where a running accessory that you have purchased has become obsolete. The example above regarding the running armband is an example of a running accessory no longer being useful because it is now obsolete. If you end up purchasing a new smartphone and it no longer fits in your armband, then you will need a new armband that works with the new smartphone. The old armband is no longer useful to you because it can no longer perform its intended function since you purchased a new phone. The new phone changed your needs and therefore changed what you need from a running armband.
Another reason that a product is no longer useful for you is that it is worn out and can no longer satisfy your needs. Running shoes are an excellent example here because if you are a serious runner, then you will need running shoes. However, running shoes do not last forever. Eventually, they will break down and will no longer cushion your feet properly or support your ankle while you are running. Since the old product has worn out from use, you will need to purchase a new pair of running shoes in order to satisfy your need for running shoes. The old shoes are no longer able to perform the original function and are no longer useful, so you replace them with shoes that are useful for you.
You may find that external factors such as seasons and weather will determine how useful a running accessory is. Let's consider the difference between summer and fall running. In the summer, it is hot outside so you do not need gloves for your hands. A pair of running gloves during this time of the year would not be useful as there is no need for you to keep your hands warm in the summer. However, as you approach the fall and it starts to cool down, you notice that your hands are starting to feel cold every time you go out for a run. The running gloves suddenly have a use because if you wear the gloves while you are running, your hands will feel warmer than what they would without wearing the running gloves. As the weather changed, your needs changed as well so a running accessory that previously had no use is now suddenly useful.
The issue of usefulness should always be a criterion that you use when you are thinking about purchasing any gear for running. If a product such as a step counter has no ability to solve a particular need that you have on your run, then there is no reason to spend the money on the item. People who are new to running may be tempted to go out and purchase a lot of different running accessories, but realistically, it only makes sense to purchase an item when it can satisfy a need that you have and therefore serve a purpose. If you aren't sure what items are going to be useful, then you should spend some time running first so that you realize what your needs are. Once you understand your needs, then you can make informed decisions about what running accessories are useful.
Safety
Running accessories that are intended to improve your safety are generally a worthwhile investment as you will always want to come home safely after you have finished running or jogging. Running itself doesn't have a lot of hazards, but you should always consider the main hazards when you are assembling your running gear. Some of the more important hazards are traffic, weather, and terrain. These environmental conditions will help you make informed decisions as to what running gear you need to purchase if you plan on running for exercise or fun. The better you plan ahead for hazards, the less likely any hazard is going to affect you which means you are less likely to get hurt or injured.
If you plan on running anywhere near cars or trucks, then you should always consider your visibility to drivers. Most of the accidents caused by runners and vehicles are a result of the driver of the vehicle not seeing the runner in time to avoid the accident. You can't control what the driver does, but you certainly can do your part to help the driver see you. This starts with you choosing to wear clothing and use running accessories that will help make you visible to drivers. When you are picking out clothing for running, you should try and find clothes that have bright colors and avoid clothing that is black or grey. Wearing bright colors will help you get noticed by drivers while dark colors will cause you to blend into the background. Once you have picked out the proper clothing, you should look for items such as reflective tape, headlamps, or LED running lights that you can wear on your body. All of these items will make you much more visible to drivers especially when you are running in low light conditions such as the morning, evening, night, fog, or rain.
You will also want to consider hydration as a way to stay safe. When you are running, you will need to remain hydrated. Staying hydrated is important because it helps to boost your performance as a runner and it will help prevent you from getting sick from running. Runners have a variety of strategies that they can use to stay hydrated. Some people do not run long distances from their homes and can, therefore, grab a drink before and after they have finished running. Other people stop at a convenience store as a way to take a break. Then there are people who carry water with them either by having a water bottle or with a hydration backpack. How you choose to stay hydrated will determine what your needs are for accessories.
For example, if you plan on purchasing a bottle of water at the convenience store during your run or after your run, then you will need to bring money with you. You can either carry cash or some form of plastic to pay for the water but either way, you need a place to securely hold these items. You can address the need by wearing pants that have pockets, or you may purchase a running armband or a running belt with a pocket. A person who chooses to carry water with them may use a hydration backpack or they may purchase a sports water bottle. A person who doesn't run far from their home may not need to carry water, but they may want to have a house key which affects which running accessories they may need. Since water is an essential need to runners, you will need to look for gear that helps you stay hydrated in order to stay safe while running.
Where are you running also matters. If you are running on pavement, at the gym, or on a track, then it is unlikely to experience injuries that are related to your feet slipping on these surfaces. People who run off road such as running trails may need to purchase running shoes that better grip the ground or support their ankles. If you are running where there could be undergrowth, then you will need to purchase knee-high stockings in order to keep your legs from getting scratched up from the undergrowth. The last thing you want is to experience an ankle sprain because your foot slipped on a rock or a tree root. If you are running in such areas, you will need to adjust your gear accordingly so that you maintain safety.
Safety is an important need while you are running and you should take it seriously. No run is worth getting into an accident or getting sick or injured. If you take the time to properly identify safety hazards, then you can purchase running gear that will help you manage the risk. We have covered a few of the more major risks here, but there are plenty of other hazards that you should consider when you are going our running. Prevention of disasters is always preferable to experiencing one.
Weight
Runners should always try and look for running gear that is lightweight because the less that your gear weights, the better you will be able to perform. Heavy running gear requires you to use more energy while running which will cause you to get tired more easily and will slow you down. Conversely, lighter gear helps you stay more nimble and you will be able to run much easier than what you could with heavy gear. When you are determining what running gear you should get, you should consider weight. It is always best to try and look for gear that is lightweight and only bring additional accessories with you as they are actually needed. The better job you do at picking out your running gear, the more enjoyable your run will be.
Most runners try and wear as little clothing as they can. Clothing is obviously important, but it also traps body heat, sweat, and adds weight to your body. When you are picking out gear for running, you will want to consider your clothing as a starting point. You should wear enough clothing to stay decent, cool (or warm depending on the season), and protected from the weather. Your running clothing should have a tight fit and should not be loose or bulky. When you are running in cool or cold weather, it is better that you dress in layers as opposed to wearing full winter clothing. Layers can be easily added or removed as your body warms up. Finally, you should try and look for athletic clothing that is made out of lightweight synthetic fabrics rather than heavy natural fabrics. This clothing will reduce the amount of weight that you will feel from your clothing.
Your shoes are also important when you are picking out gear for running. Any running shoes that you wear should be strong enough to protect your feet and ankles. Running is a high impact sport so your shoes should have enough material to sufficiently protect your feet from impact and support your ankles. That being said, heavier duty shoes will add additional weight so you should be on the lookout for running shoes that are lightweight and won't feel bulky. You will be able to run and perform much better than what you could if you wear shoes that have an appropriate weight. Nevertheless, when you are picking between weight and safety in terms of your running shoes, you should still favor safety. It won't matter how much your shoes weigh if you end up not running due to an ankle sprain.
Clothing and shoes are essential running gear that you need in order to run. However, much of the running gear that is sold today is not essential. You do not need a headband in order to go running, nor do you really need your smartphone. When you take such items along with you on your run, you are adding weight. Although there is nothing wrong with having such items on your run or jog, you will want to pay attention to what you really need to bring along. Generally speaking, you should try and only bring exactly what you will use on your run since every item that you bring will add weight. The fewer items that you bring with you, the less weight you are also carrying on your run.
You can also reduce the weight of such non-essential items by simply making sure that they are lightweight in the first place. For example, if you plan on bringing your smartphone with you while you are running, then you can always purchase a lightweight running armband as opposed to a heavy duty one. Runners who want to carry water with them should consider how much water they actually need for their run. Even if your hydration backpack can hold up to two liters of water, do you really need to fill it to its capacity if you are only going to go running for a short distance? You can make other choices that reduce weight such as only bringing your ID, health insurance card, and a debit card with you rather than bringing your entire wallet with you. This isn't to say that you should not bring items that make your run enjoyable and fun, but only to consider how much they weight and if you are really going to use them.
Having lightweight running gear can make your run more fun and enjoyable. If you have a lot of heavy running gear, then you will start to feel bulky and overloaded. Your body will use more energy than it normally would need to in order for you to carry that extra weight. Runners who reduce the weight load from their gear tend to perform better than runners who carry too much. You can reduce weight by taking a look at your shoes and clothing along with any accessories that you choose to bring.
Organization
You may need to bring several items with you on your run: those that you can't leave home without. For example, it is not uncommon for people to dress in layers while they are running in cooler weather, but this begs the question as to where they are going to put a piece of clothing that they take off during their run? Other runners may need to carry items such as sunscreen, lip balm, or bug spray depending on where they may go running. People who are running on a hot day may need to carry water with them so that their bodies stay properly hydrated. All of which leads into organization. While you should ideally only take what you need with you while you go running, there are going to be times where you need to take a number of items. You will want to return home with all of your items and while you are running, you do not want to feel them bouncing around as that will become distracting. Thus it is important that you organize your gear.
How you choose to organize your gear will determine what you need to purchase. Many runners organize items by using pockets in their clothing, small backpacks, or running belts. Each approach is a different way to solve the same problem, but some approaches may work better for you than other approaches. The better you plan ahead with how you organize your running gear, the better you will enjoy your run so it is worthwhile that you take the time to think out how you will organize it.
Sometimes you only need to bring a few small items with you while you are running. If this is the case, then you can normally fit everything you need in the pockets of your clothing, assuming that your clothing does have pockets in the first place. It is possible that your running pants or shirt does not have pockets since pockets add additional weight to your clothing. If your clothing does have pockets, then you will want to make sure that they are large enough for all of your items. You should also make sure that the pockets can hold your items in a secure fashion without them bouncing around as you run. The last thing you want to experience is having your ID or credit card fall out of your pockets on your run where you have virtually no chance of finding it. Whenever it is possible, you should try and look for running clothing that has pockets that button or zipper shut. That way your items are locked into the pockets and will stay secure.
If you have too many items for pockets or your clothing does not have pockets, then you might want to take a look at a running belt. Running belts are a useful accessory because they will provide you with several organizational pockets and loops for your items. For example, many running belts have a water bottle holder that allows you to insert a sports bottle into the belt without having to worry about losing it. They generally have zippered pockets where you can securely store small items such as lip balm or sunscreen in the pockets. A good running belt can be adjusted to fit tightly around your waist so that you will not feel the belt or your items moving around while you are running. Items that bounce or move around can become a major source of distraction and it can damage the items as well.
Another alternative is a running backpack. These backpacks should be lightweight and you should not be able to overload them with too much gear. The idea behind the backpack is to allow you to securely and safely store the items that you need for running as opposed to being able to do a four-day hike into the rocky mountains. Backpacks that are made for running usually only have one or two main storage compartments. The shoulder straps can be adjusted to fit your body tightly, and you will not feel the backpack move around while you are running. There are also hydration backpacks which not only provide you with storage, but they also allow you to carry water or another beverage with you and drink from a straw while you are running. These backpacks can be extremely useful when you are running long distances in hot weather.
If you find that you need to bring more than a few items with you while you are running, you will want to think about organization. Organizing your items helps keep them safe and secure since you will not need to be concerned with dropping your items or having them fall out. You can generally store items in your pockets, a running belt, or a running backpack. All three options will create a great spot that allows you to carry what you need. You should pick the solution that is best suited to your comfort and situation.
Enjoyability
Running and jogging should be enjoyable activities for you. Anytime you can make it more enjoyable, the more likely you will want to go for a run. You're running gear can help make a morning or evening jog relaxing and fun which will encourage you to run longer and further. The more that you run, the healthier your heart and other areas of your body will be so it's worth your time to look for running gear that will enhance your time running. You can find different clothing and accessories that can make you feel great about running. If you are someone who is into performance, then you can look for running gear that will help you perform. If you are more about fashion, then you will find more than enough choices for clothing, shoes, and accessories that will make you look great. Casual runners can also find running gear that will make running into a pastime.
For example, many runners love listening to music while they are running. In today's world, many music lovers can stream their favorite playlists directly from their smartphone. There are plenty of running armbands that are available today that will provide you with the perfect place to carry your smartphone with you while you are running. These armbands have a special pocket where you can securely store your phone and plug your headphones into the phone so that you can listen to music. You can even ditch the corded headphones altogether and use Bluetooth headphones so that you don't have to worry about wires while you are running. There are more than enough designs, choices, and styles of running armbands for you to pick from, so you really just need to look for one that fits your phone and conforms to your likes. Many fashion and casual runners wear running armbands with their phones because they look great and make running a more enjoyable activity.
Sometimes people like to look their best during their run so the market has stepped up to the plate and provided runners with plenty of options when it comes to running fashion. Today's running clothing is made from synthetic materials which allow men to have longer running shorts or women to have shaping running pants. Many running tank tops for women are cut in different styles so that you can personalize them and they even have built-in sports bras so that women only have to wear the tank top without additional undergarments. Both men and women have lots of options when it comes to running shoes and you can pick from just about any style, pattern, or combination of colors. This allows you to highly personalize your look and match your running gear to the rest of your clothing. Lots of running clothing can shape or flatten certain areas of your body so that you can look better during your run or jog.
Performance runners may want to look for running gear that helps them run better. For example, you will see running pants available that are thin and lightweight. They will usually have a mesh lining so that you do not need to wear undergarments with the running pants. The less clothing that you wear, the better you can perform as a runner because it means less weight and better-regulated body temperature. Performance runners may also want to look for compression running gear that compresses areas of your body to help promote blood and oxygen flow. You can choose from items such as compression socks, compression sleeves, leggings, and shirts. Compression gear can help prevent injury, recover after running, and regulate your body temperature. In addition to the compression gear, performance runners may also be interested in items such as sweat headbands so that they do not feel sweat running down their face as they run.
You should always keep in mind that running gear isn't cleanly divided between casual, fashion, and performance gear. That means that you are truly free to choose any kind of gear that you would like to bring with you while you are running. You may be a runner who is into high performance running but still wants to have a running armband while you are training. Lots of fashion runners love to wear compression gear because it helps shape their body and makes them look better. Just about any serious runner will consider wearing compression sleeves because they help reduce injury and promote recovery. The point is that you should always be on the lookout for running gear that makes running a fun and enjoyable activity for you.
The more you enjoy running, the more likely you will want to go for a run. Your selection of running gear can go a long way in making sure that you love what you are doing. When you are picking out running gear, you should always try and look for clothing, shoes, and accessories that will make your run fun. You will be glad that you did.
FAQs
Frequently Asked Questions
Q: What gear do I need to start running?
A: At the bare minimum, you will need a pair of running shoes, running bottoms, and a running top. The running bottoms can be shorts or leggings depending on the time of year and the climate you are running in. As for the running tops, this can be a t-shirt or a tank top depending on how warm it is where you are running. You should always try and pick shoes and clothing that are made for running.
Q: How should I dress when I am running in cold weather?
A: It is always recommended that you dress in layers while you are running in cold weather rather than wearing bulky winter clothing. Dressing in layers helps your body regulate temperature and moisture better and you can remove layers as you start to get warm and put them back on when you start feeling cold again. Running clothing is thin and is designed to be worn in layers so it's normal to see runners dressed in lots of layers.
Q: How can I make sure I am seen by traffic?
A: Most accidents between runners and vehicles happen because the driver did not see the runner in time. You can make sure that you are seen by traffic by making sure that are wearing bright and reflective clothing. You can also wear clip-on LED lights or other kinds of running lights which will help drivers notice you. Above all else, try and make sure that you do not blend into the background by wearing dark colors like black or grey.
Q: How can I protect my skin while running outside?
A: You should always think about protecting your skin from sunburns while you are running outside. Your running gear can be a huge help in this area because it can cover your skin and block UV radiation. If you are someone who burns easily while you are running, you should look for running clothing that has a UPF rating. Such clothing will prevent UV radiation from reaching your skin and causing you to burn. You should wear sunscreen over any skin that isn't covered by clothing.
Q: Why are some running clothes antibacterial?
A: As you run, your body will produce heat and moisture which is the perfect breeding ground for bacteria. Bacteria causes odor and the more bacteria that grows in your clothing the worse you will smell after you have finished running. Lots of running clothing are naturally anti-bacterial because they are made from synthetic fibers that do not retain heat or moisture but some advertisers like to specifically mention how their running clothing is anti-bacterial for runners who are concerned about bacteria.
Sources
Runner Click, How to Choose the Best Running Gear for You
Crypto Savvy, How to Choose the Best Running Gear