Best Sunscreens Reviewed for Protection
In a Hurry? Editors choice: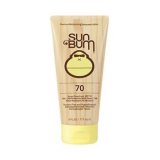 Test Winner: Sun Bum Moisturizing

With the dangers of
summer
always lurking, the sun is one of the biggest long-term dangers out there. The
sun
can cause many painful issues to the skin in a short amount of time or on a long-term basis. Sunscreens are created to prevent these issues from happening, as long as you are using the sunscreens as directed. At one point or another, everyone will experience at least one bout of sunburn. With so many sunscreens available on the market, there should be no reason that you can't be
protected
. More often than not, there are sunscreens that still allow you to get sunburnt, so we've compiled a list of the best sunscreens available on the market, so you know what works!
Standout Picks
Criteria Used for Evaluation
UV Protection
When out in the sun, it is incredibly important to know what and where you need to protect. Sun has major dangers that lurk, causing skin cancers, sun damage, sun burn and much more. When you are in a situation where the sun can be potentially threatening, it is wise to choose the right sunscreens to protect your body from these hazards. Long term damage from the sun leads to long term damage to your skin that can be life-threatening.
UVA and UVB rays are the most damaging for your skin. When you are sitting in the sun for prolonged periods of time, these rays will penetrate the skin and can cause life long or life-threatening damage. Skin cancers, aging skin, and cataracts are some of the damages caused by these rays. With these rays being strong enough to rip through the earth's ozone layers, there is only a matter of time before they do the same to your skin. Being ahead of the game by choosing a great sunscreen will assist you in becoming more aware of the dangers that these rays can cause you.
Effectiveness
The SPF that you will find on all sunscreens on the market stands for Sun Protection Factor. The SPF that is offered is incredibly important when choosing the right sunscreen to protect you and your family. No matter how much sunscreen you put on at the beginning of the day, there is still a chance that these harmful rays can penetrate and cause damage. Pay close attention to detail when choosing the right SPF.
The Sun Protection Factor number that you see after the words SPF, on a bottle of sunscreen, stands for how much and how long you will receive protection from the sun. The lower SPF indicates a lesser time of protection, and the higher SPF indicates the longer length in protection. When you are looking for a sunscreen to help with protection for longer periods of time, you will want to go with a higher SPF.
No matter what sunscreen you buy, you will never have full protection against the UVA&UVB rays. The way that the higher SPF work is based off of a percentage of protection from the sun. Even your SPF that sit around a 15-30, you will get a 95% protection from the sun, with 15-30 mins of non-penetration from the harmful rays. That being said, a lower SPF you will have to apply more than a higher SPF.
Water Resistance
While no sunscreen is waterproof for sure, there are water resistant sunscreens available on the market. When you are searching for sunscreens, it is wise to find one that is water resistant while you are out and about near, or on the water. Another important factor to consider is sweat. Sweating will help diminish a non-water-resistant sunscreen. While the FDA doesn't allow a sunscreen to say waterproof, it is said that they must list the time that they are water resistant, if they claim that they are.
Many people mistake that statements on the bottles of sunscreens and think that just because they state that they are water resistant for 40 minutes, doesn't mean that you need to re-apply and get out of the water within that amount of time. What this means is that you will be protected from the sunscreen actually declining in the SPF for that 40-80 mins. After that time, you run the risk of losing the amount of SPF protection that the bottle claims.
With sweat playing a large factor in the reduction of SPF protection, most people do not consider this. There is a lot of times where people will be out in the sun and are drinking more and more fluids, and reducing the protection that they are expecting. Remember that sweat declines your SPF, so choosing a water-resistant sunscreen is one of the better options, especially if you are working hard out in the sun.
Style
With sport sunscreens becoming more and more popular over the course of the last couple of years, there is a common mistake when people are shopping for sunscreens. It is said that sport sunscreens are more protective than your average, everyday sunscreen, and that may not be the case.
Sport sunscreens are said to have higher UVA&UVB protection than regular sunscreen. What is most common is that you see more and more sports sunscreens becoming available that are water resistant. These sport sunscreens have been highly tested to see where their strengths are at and how long they last, versus a regular sunscreen.
Sunscreens that are claimed to be a sports sunscreen are more popular as time goes on due to their eco-friendly makeup. With sports sunscreens being used in the ocean and on the lake, it is said that they are more protective of the atmosphere, making marine life safer and happier, over a long period of time. With sports sunscreens having a better make up for aquatic life, it has become incredibly popular for use, especially on the ocean and the reefs in the oceans.
Regular sunscreens can still be made safe for the atmosphere and also water resistant. The major difference between the two is going to be the material makeup. If you are looking for something in particular, it is wise to look at the ingredients that these sunscreens use and compare it for yourself, while making a choice.
Application
The kind of sunscreen application can make a big difference when it comes to full-coverage skin protection. All of the sunscreens on this list are lotions and meant to be applied by hand. However, there are sunscreen sprays and sticks out there as well. While these kinds of applications can still offer protection from the sun, their applications end up being much more streaky and uneven than a lotion.
Top 10 Picks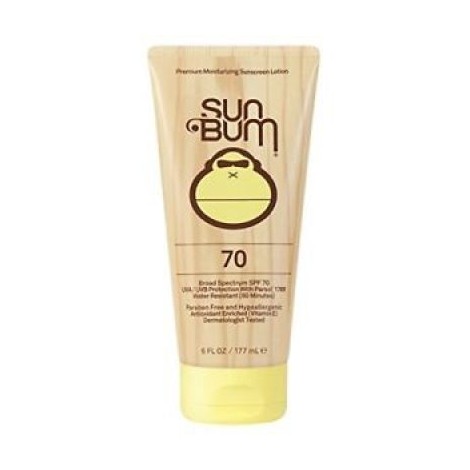 Here is a sunscreen that is like most sunscreens, ideal for anyone. Made with specialized materials for the most sensitive skin, this sunscreen is bound to protect all areas of your body from sun damage. Having a sunscreen this good, you will feel confident in knowing that you can go into the sun or to the beach and protect yourself from damaging sun rays.
Vegan
As a vegan sunscreen, you can be sure that you are using some of the best materials for your skin. Paraben free, this sunscreen also kicks all of the other materials to the curb, that are harsh and harmful.
Hypoallergenic
Many sunscreens contain different materials that those with sensitive skin can be allergic too. With this sunscreen, you do not have to worry about what is in it because it is vegan and hypoallergenic, leaving you happy and satisfied when it comes to soaking in the sun.
Cost and Value
As incredible and safe as this sunscreen is, you cant miss out on it. Offering all the properties you need to keep your skin safe, plus more, this is a great option for sunscreen, not just for you, but the entire family too!

2

. Neutrogena Ultra Sheer Dry-Touch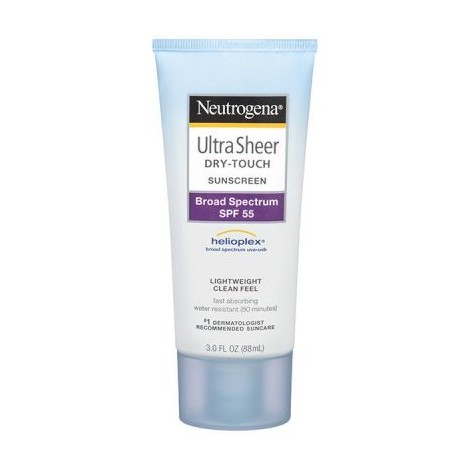 This is a sunscreen that could be mainly for personal use or the use of children. Offering a high SPF of 100, this is best used on the face and small children, to prevent damage from the sun. Lightweight and non-greasy, this sunscreen is full of great benefits and features to allow you an enjoyable and pain free day in the sun.
Helioplex Technology
This sunscreen contains the helioplex technology that assists in protecting your skin against the harmful sun rays. While other ingredients run out, this technology takes over when the weaker materials give out.
Ultra Sheer
There is a technology put into place to assist in all of the unwanted problems that regular sunscreens cause. The Ultra Sheer technology leaves your skin grease free and is not slippery and oily like regular sunscreens.
Cost and Value
The benefits and value of this product definitely outweighs the price. With this sunscreen being great for the skin, it is really made for anyone and everyone in the family.

3

. EltaMD UV Clear Broad-Spectrum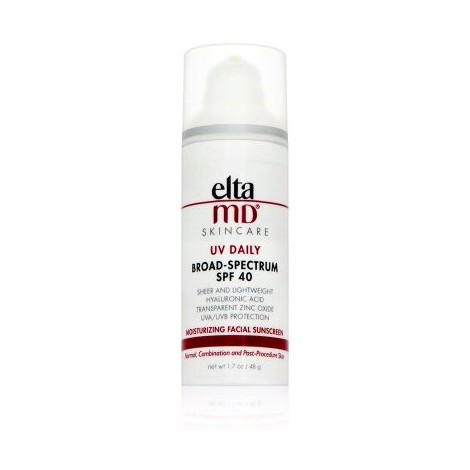 This is a great option for all your sunscreen needs. Each and every bottle is packed full of great nutrients for your skin and is also great protection against the sun. Dermatologist recommended this sunscreen is bound to not clog pores and cause other irritations that normal sunscreens can cause. Making the top list for the best sunscreens available, this one sure has a lot to offer you.
Dermatologist Recommended
This amazing sunscreen is a great sunscreen for the skin. With known benefits, this sunscreen does not clog pores and cause breakouts as other sunscreens can. One of the best benefits is that this sunscreen assists in promoting healthy skin that looks and feels great!
Oil Free
Having a sunscreen that is oil free is another benefit to a top-rated sunscreen. Every time you apply this sunscreen, you no longer have to worry about having oily looking skin. Nothing is more embarrassing than a face full of oil, but with this product, you no longer have to worry.
Cost and Value
With a product so great for the skin, and even approved by dermatologists, there is no reason to turn away from this product. This sunscreen assists in boosting a healthy skin appearance and is known to not clog pores. Great for anyone, this is by far one of the best sunscreens on the market.

4

. Biore Sarasara Aqua Rich Watery Essence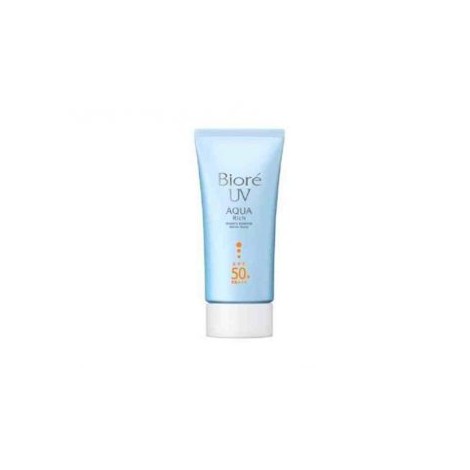 This beautiful, water-based sunscreen is an all-time favorite for several people, for several reasons. Most popular for its amazing protection properties, this sunscreen is also well-liked for the fresh and fruity smell that it gives off. Take action against the sun with this amazing sunscreen.
Water Resistant
This sunscreen is well known for its resistance to water. Being that it is water resistant, you can wear this sunscreen for the whole day at the beach and bank on being protected for long periods of time, without the hassle of having to reapply.
Easy On
Unlike cheaper and traditional brands of sunscreen, this sunscreen is easy to apply to the skin and will not take long periods of time to rub in. The biggest complaint that consumers have is applying a thickly based sunscreen and that will not be an issue with this product.
Cost and Value
Having a sunscreen that has a pleasant smell and one that is water resistant is great to have around. Everyone loves a sunscreen that is easy to apply and doesn't leave a chemical smell behind. Light on the skin, this sunscreen is great for anyone, even those with sensitive skin.

5

. Blue Lizard Australian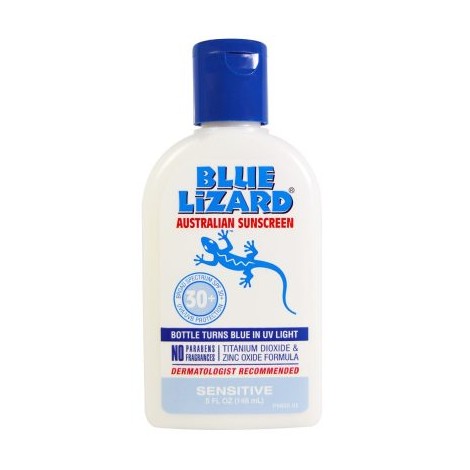 This sunscreen is great across the board for anyone. This sunscreen has been made for those with sensitive skin and easy to apply. Say goodbye to the thick and sticky mess of traditional sunscreens, this one has you covered and protected from the sun, all hours of the day.
Sensitive Skin
If you remove the harsh chemicals out of a sunscreen, this is what you would get. This sunscreen is made for those with the most sensitive skin. Being that it is dermatologist approved, you should feel at ease knowing your skin is protected on all levels, and not just from the sun.
Fragrance Free
Fragrances can be incredibly strong and cause a lot of issues and damage to those with sensitive skin. This sunscreen is completely scent free and will care for your skin like no sunscreen ever will.
Cost and Value
As safe as this sunscreen is, it is hard to pass up. Each and every ingredient is great for the skin and will assist in protection from the sun. Easy to apply and non-greasy, this sunscreen is a win for the whole family.

6

. La Roche-Posay Anthelios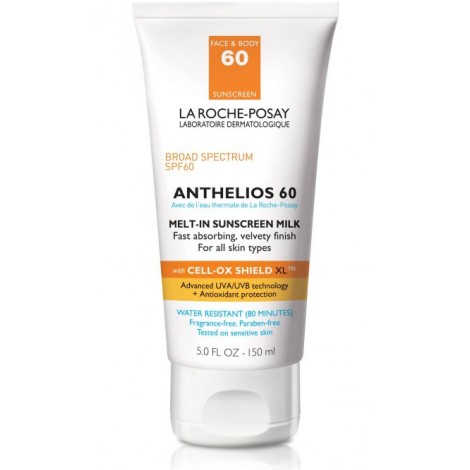 This sunscreen has been designed to give your face maximum protection against the sun. This sun screen is not thick like other sunscreens and is designed to absorb into the face fairly quickly. Made with few oils, this sunscreen is good to protect the skin without leaving that greasy feeling or look behind.
UVA/UVB Protection
This sunscreen is one of a kind and has been formulated to block and protect your face from any sun burn or sun damage. With long time use the UVA/UVB protection will help with long term damage that the sun can cause.
Sensitive Skin
With as many people that there are out there with sensitive skin, this is the sunscreen for you. Lighter based ingredients are in place to assist with any breakouts or damage that low quality sunscreens can cause.
Cost and Value
As one of the top-rated sunscreens, this one has a lot to offer the skin as far as protection. Made with a lighter material, this sunscreen does not leave the greasy after feeling or look and has a nice finish that is matte.

7

. Hawaiian Tropic Silk Hydration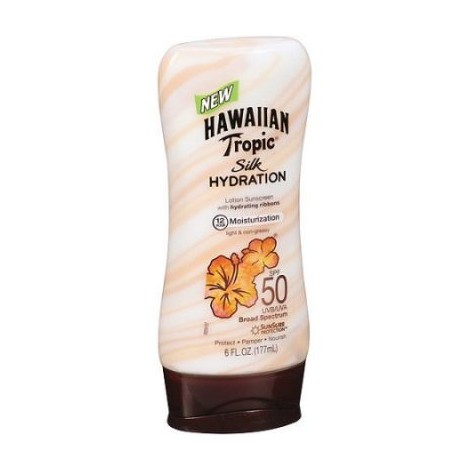 Here is another great sunscreen that promises to protect your skin from sun damage for long hours at the beach, or long hours in the sun. With specialized formula, this sunscreen will protect and moisturize, while assisting in constant protection from the harsh rays that the sun puts off.
Hydrating Ribbons
This sunscreen has specialized hydrating ribbons that are built into the ingredients list. These special hydrating ribbons will moisturize your skins, for long lasting protection from dryness and is non-greasy at that.
Light Scent
This sunscreen is not like any other sunscreen on the market. The majority of sunscreens on the market have a strong, potent smell, but this one has a light smell that reminds people of tropical lands. It is very refreshing, especially for a sunscreen.
Cost and Value
Made for families that spend a lot of time in the sun or at the beach, this sunscreen has a lot to offer as far as protection of the skin. Not only do you get protection if harmful sunrays, but you also maintain a healthy, non-dry skin feeling with moisture ribbons infused. Easy to apply, this sunscreen offers a faint smell of the tropics and is non-greasy.

8

. Banana Boat Sport Performance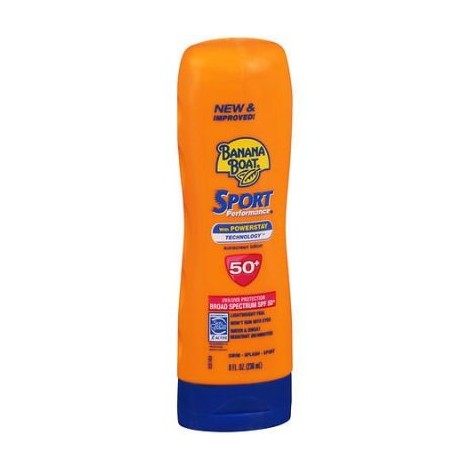 Here is a sunscreen that is great for the family and promises to shield and protect against the suns harmful rays. This sunscreen is both gentle on your skin and has the ability to keep you safe during the hottest days. With many added benefits, this sunscreen is great for you and your loved ones.
Non-Greasy
Unlike traditional sunscreens, this sunscreen goes on smooth and soaks into the skin for the ultimate non-greasy protection. Put greasy sunscreens in the past and use this for the optimal skin feeling.
Water Resistant
Having a sunscreen that is both water and sweat resistant has never been more wonderful. Most of the time, sunscreens are used on hot days and days at the beach. You no longer need to worry about your sun protection coming off of your skin due to sweat or water from the beach or pool.
Cost and Value
With such a valuable sunscreen, you protect all areas of your body for a fun filled summer day. No more suffering a horrible sunburn due to having a sunscreen that can come off in the water or from sweat. Just sit back, relax, and let this sunscreen soothe you.

9

. Neutrogena Beach Defense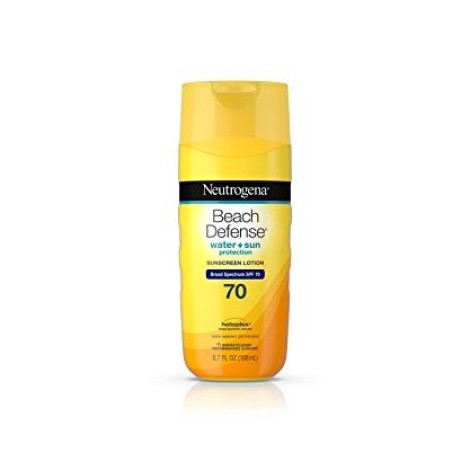 This amazing sunscreen has a lot to offer the buyer! Each bottle contains special ingredients to help protect against the suns harmful rays while promoting beautiful skin! Having a sunscreen that is ideal for the whole family has never been better with this product!
UVA/UVB Protection
This lotion offers a helioplex technology that stands tough against the suns harshest rays. This formula is dermatologist recommended and withstands a bigger fight than normal sunscreens, promising protection for extended periods of time.
Water Resistant
Here is another sunscreen that is incredibly water resistant. Ideal for families and the great outdoors, this sunscreen is great for everyone playing by the water. There is no need to worry about the family beach days any longer, this sunscreen has you protected.
Cost and Value
With all the great qualities that this sunscreen has to offer, it definitely ranks high next to its competitors for its helioplex protection. Great for days at the beach, this sunscreen offers optimal protection and will keep you satisfied all day long.

10

. Aveeno Protect + Hydrate Face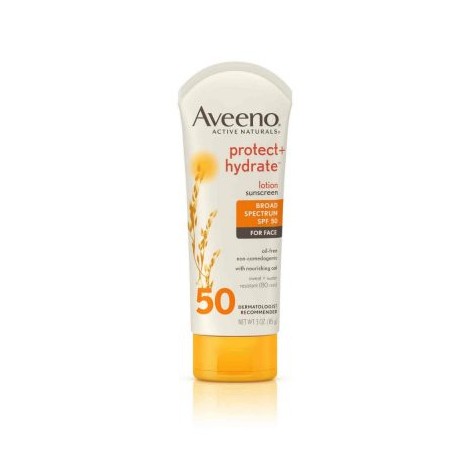 This smooth and easy to apply sunscreen is good for just about anyone. Both great for the skin, and good at protecting the skin, this sunscreen is great for any use for outdoor fun. This sunscreen can be used on anyone and is great for fair and sensitive skin types. Put sunburn in the past with this great product.
Helps Skin
This sunscreen is incredible for your skin. The oats that are put into this sunscreen assist in nourishing the skin and keeping you fully protected in the sun. So not only does it prevent sunburn, but it also prevents dry skin!
Easy to Apply
Several sunscreens are very difficult to put on and are incredibly thick. As soon as you apply these sunscreens you are rubbing for long periods of time, trying to get them to rub into the skin. With this product, you can be sure that you will not run into issues and it will soak right into your skin, nourishing every inch.
Cost and Value
With a sunscreen lotion that serves two purposes, you can't go wrong. This sunscreen will not only protect your skin but will also assist in nourishment with its added oat ingredients. With a soft, delightful smell, this lotion is a sure buy!

Subscribe to our Newsletter