Best Jazzercise Shoes Reviewed & Rated for Performance
In a Hurry? Editors choice: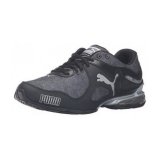 Test Winner: Puma Cell Riaze

Jazzercise, the original dance-fitness class, has been around since 1969. This full-body
workout
may have a less-favorable stigma, some believing it belongs back in the '80s with a leotard-clad Jane Fonda, but that's simply not the case. Jazzercise has evolved with the times and is still popular around the world today! Whether you are checking out one of the many class formats available, some of which include Strike (kick-boxing), Strength60 (60 minutes of strength), HIIT (Interval), or the original Dance Mixx, you will need the right equipment. You'll need sneakers that will not only supply you with flexible impact support, but you'll also want to be able to pivot, plié, and chassé with ease. Here are some great options that'll ensure an awesome class.
Standout Picks
Criteria Used for Evaluation
Support
Of course, support is a major factor in any fitness shoe. For Jazzercise specifically, it's important to look for shoes that support lateral movements. This is especially important if you have weak ankles. Every foot is different and requires a different type of support so make sure you know what your needs are. If you have flat feet, wide feet, narrow feet or any other special foot needs, your sneakers need to help you feel comfortable throughout your class. Sneakers also vary in their level of cushioning in the heel and forefoot, so look for a shoe that will give you the level you prefer. Some people don't like the feel of a squishy insole, but make sure your chosen Jazzercise shoe offers some level of cushion to avoid too much wear and tear on your dancing feet.  
Another way to keep your feet supported throughout your Jazzercise class to make sure it fits snugly. Depending on how your feet are shaped, you may need a great locking system to keep your laces tight, a velcro strap across the top or anatomically placed cables to make sure your foot stays put. With that said, a great rule of thumb when making sure your foot is snug when choosing a sneaker for Jazzercise, it's always a good idea to get a half size bigger than you normally wear if you plan on giving it you all in class. During high impact training, your feet tend to inch forward a little in your shoes and you don't want to cram your toes.
Flexibility
Not all cardio fitness programs require a flexible sneaker, but in Jazzercise, your shoe's flexibility will help determine how much you get out of your workout. Because the dance fitness program combines dance, interval training, yoga, and strength training, it's important to have a shoe that will bend with you. Many dance moves are done on a ball of the foot or require you to lift your heel. With a flexible shoe, you will be able to execute any move cued by your instructor accurately and effectively. When you go shoe shopping, pick up the shoe and bend it around in your hands. If it fights back a little too much, it's probably not going to be a great option for Jazzercise.
There are a number of shoe companies that offer great flexible sneaker models. Some even include things like flex-grooves and patterned outsoles that flex easily while not sacrificing support.
Shock Absorption
If you are a healthy exerciser looking to get a high impact workout in Jazzercise, make sure your sneakers offer shock absorption to avoid any unnecessary injury to your joints.  One of the great things about this dance fitness program is that it can be adapted to many fitness levels, so it doesn't have to be done high impact if you are either unable or unwilling to do so. In fact, any Jazzercise instructor will agree that low impact does not equal low intensity. This means that you can get a great workout whether you are getting a lot of air under your feet or not! However, if you do choose to jump, skip, and hop, then shock absorption is definitely important. Without the right level of shock absorption, you may find you have achy feet and joints during and after your workout.
Many sneaker models offer shock absorption in the outsole in the form of a cushioned heel and/or forefoot as well as specialized styles by the manufacturer. For example, Ryka's REZORB is the company's shock absorption technology that they put in several of their styles.
10 Best Jazzercise Shoes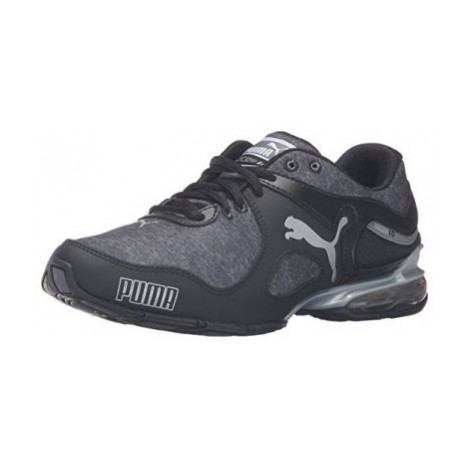 The Riaze offers Puma's 10-cell bubble technology in the insole which provides supreme shock-absorbency. It also boasts a two-part pivot point and cushioned midsole, allowing ease of movement and comfort. With its higher profile design, the Raize offers superior ankle support for lateral dance moves. It is a practical sneaker choice with its lightweight and stylish design.
Shock Absorbency
Jumping and skipping can be hazardous to your joint health. The Puma Cell Raize combats possible joint pain with its 10-cell bubble technology in the heel. Cushioning and comfort is a sure thing with these sneakers.
Easy Pivoting
The sole of the Cell Riaze has a smooth low-traction profile, making it ideal for pivoting, sliding and chasséing. You don't want to get caught on the floor due to high-traction, that could cause some serious knee and ankle injuries.
Cost and Value
At a cost of just under one hundred USD online, the Puma Cell Riaze hits the wallet a little harder than some other sneakers on this list. However, if shock absorbency, easy pivoting, and good ankle support are high on your list, this shoe could be a great option.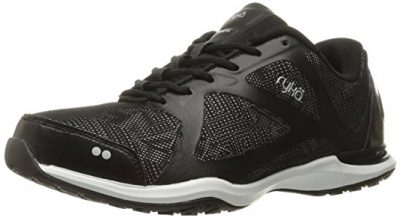 The Ryka Grafik is a great option for someone looking for a comfortable, low-impact sneaker. Like many Ryka studio shoes, this model has a circular pivot point it's sole, where the ball of the foot would be. The sole also includes a flush diamond-shape pattern which is ideal for gripping the dancefloor safely, without getting caught. With a low-profile and lightweight design, this sneaker offers both function and style.
Low Profile
Many sneakers feel bulky on the feet but the Grafik feels almost like a second layer of socks with its low profile design. The upper is very flexible and the toe box has a rounded design, making it sleek and comfortable.
Dance-Efficient Sole
With its pivot point and flush diamond-patterned sole, the Grafik is an excellent sneaker option for sliding and gliding safely and effectively across the cardio-dance floor.
Cost and Value
If the price is a major factor in your choice of a Jazzercise sneaker, the Grafik is a great option. This high-quality dance-fitness studio sneaker won't hurt your wallet while helping you dance through class safely.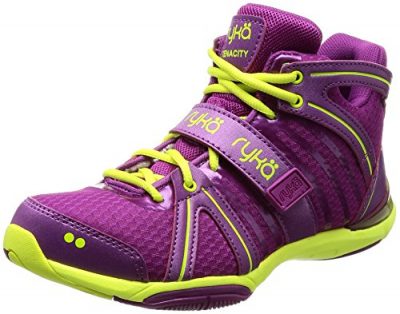 The biggest benefit of this different looking sneaker is the amount of support it offers. Unlike other dance-fitness shoes, the high-top Tenacity laces up to the ankle, ensuring a greater amount of lateral and ankle support. The upper is made using Ryka's Flex-Foil and Direct-Fuse technology. Another supportive feature is the sneaker's RE-ZORB footbed which focuses on absorbing impact.
Superior Support
The ultimate purpose of any high-top sneaker is to provide a greater amount of support against rolling ankles. The Tenacity is a force against any such injuries. The shoes upper is lightweight yet supportive in design and the added hook and loop velcro strap makes this sneaker fit snugly to your foot.
Perfectly Danceable
Not only does the Tenacity offer amazing support, but it is also shock-absorbent and very flexible. Like other Ryka models, it also offers the pivot point on the ball of the foot. With its support, REZORB, flexibility, it's perfect for executing any dance move.
Cost and Value
Along with the assurance of support and danceability, the Tenacity carries with it a bigger price tag. This is the priciest of the sneakers on this list but if you want a shoe that is practically perfect in terms of support and design when it comes to dance-cardio, then the price is worth it.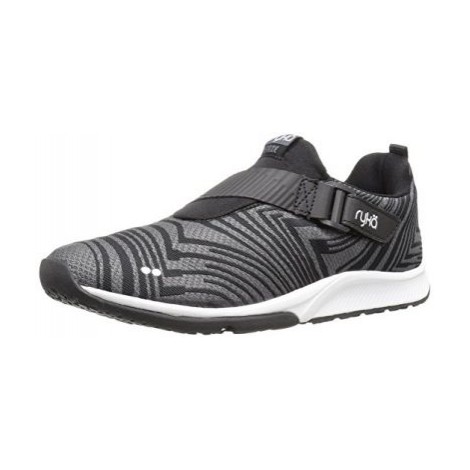 As the only slip on cardio dance shoe in this lineup, the Ryka Faze is certainly an eye-catcher. This sneaker offers lots of great features conducive to dance fitness including a pivot point, flex grooves, a shock absorbent heel, and an Anatomical Precise-Return footbed. The hook and loop velcro strap keeps this low-profile shoe in place and is available in both regular and wide widths.
Designed to Dance
The Faze is Ryka designer's favorite shoe for many reasons. The sole of the shoe boasts a unique pivot point design and flex grooves, allowing for seamless transitions and flexible comfort when working that relevé. The heel provides shock-absorbency while the rubber sole wraps around the heel and up under the footbed. Also, the sneaker's Anatomical Precise-Return footbed provides additional support.
Available in Wide Width
Not all feet are created equal and it can be pretty frustrating trying to find a fitness shoe with a wide width option. The Ryka faze is an excellent option for anyone looking for a great dance fitness sneaker in wide width.
Cost and Value
The Ryka Faze is an affordable slip-on dance fitness sneaker. With its long list of great features, the Faze is an outstanding value. You get a great dance cardio sneaker at a smaller price tag with this one.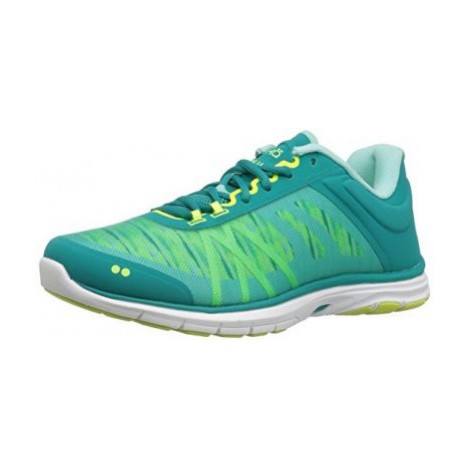 Yet another Ryka model comes in at #5 boasting more flex grooves than other dance fitness shoes and a removable Ortholite foam insole. Although the upper is comprised mainly of mesh, this sneaker has a unique sturdy outer shell, allowing it to withstand high impact and lateral movements with ease while remaining breathable at the same time.
Sturdy Outer Layer
The Dynamic 2.5 boasts a unique high abrasion exo-shell over the mesh layer so it is not likely to get misshapen no matter how high you jump or ball-change. This sneaker will keep you comfortable yet supported throughout your class
Removable Insole
The Ortholite insole of the Dynamic 2.5 is super cushioned and supportive but not everyone has healthy feet. For that reason, they may have their own custom-made orthotic inserts that they are required to use. This shoe is great because, with a removable insole, they could get a great sneaker with the customer support they need.
Cost and Value
These sturdy sneaks will set you back a little more than some of these great sneaker options. However, the Dynamic 2.5 is an excellent choice if you want to be sure you won't beat up your sneakers too fast. For the cost of two beat up pairs, you can get one pair that'll last longer!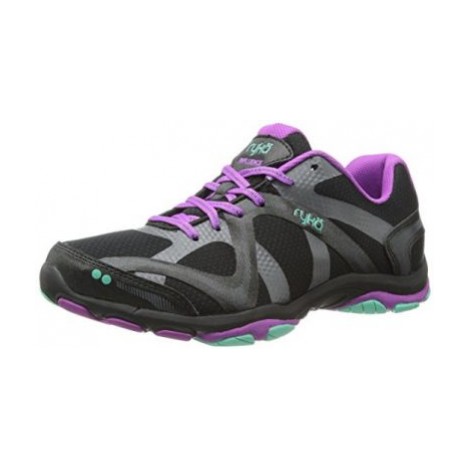 When you walk into a Jazzercise class, you might notice the Ryka Influence making a popular appearance. This fashionable sneaker is a favorite among students and instructors alike. It offers an array of cardio-dance friendly features and comes in several trendy colors. With Flex-Foil and Direct-Fuse layers on the body of the shoe, it supports both lateral and forward/backward movements. Like the Faze, the Influence also includes a pivot point and an Anatomical Precise-ReturnTM footbed but unlike its fellow dancing shoe, this sneaker has a dual impact N-Gage Eva sole to absorb energy and keep shape retention.
High Impact Support
The Ryka Influence has a couple of qualities that make it ideal for a high-impact workout. Not only does it offer the trademarked Precise-ReturnTM technology, but it also has a dual impact sole. The midsole is made from high-density foam while the bottom of the shoe has N-Gage EVA energy return, which absorbs energy and retains shape.
Traction Control
Along with its pivot point, the Influence has a traction outsole and footprint design. These features are specifically designed to help with ease of movement in class. Too much traction can be bad on the knees and ankles, while not enough can send you flying across the room. The Influence provides just the right amount.
Cost and Value
Although it's not the most expensive option on this list, the Influence is a little pricier than some shoes that made the cut. It is very similar in design and price to the Puma Cell Riaze (#1 on the list) and offers many of the same features. It would seem that if you are looking for easy pivoting, lateral support, and traction control, this is the amount you'll have to spend.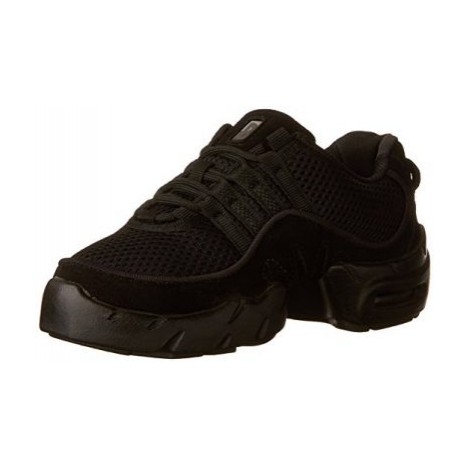 Getting off the Ryka train, we are brought to the Bloch Booster Sneaker. This shoe is definitely built for "dancing". At a glance, it may look like an ordinary sneaker but if you take a look at this unique shoe's profile, you'll see the difference. Unlike any other shoe on this list, the Bloch has a split sole design. It also includes built-in arch support, Dri-Lex lining, D.R.T. cushioning, and what is called a "spin-spot". This shoe is unlike any other in its class.
Dancing Made Easy
If you are heading to Jazzercise mainly for the fun dance moves and not so much worried about all the awesome cardio exercise you'll be getting, the Bloch is an excellent shoe for you. This sneaker is worn by dancers (not necessarily all Jazzercisers) and is made for that purpose. The split non-marking sole, arch support, shock absorbing heel, and "spin-spot" (similar to a pivot point) will make your dance moves look seamless.
Odor Resistant
Unlike other sneakers mentioned here, the Bloch boasts a non-wrinkling Dri-Lex lining on the inside of the shoe that is made to resist odor and mildew growth. That means you could even wear this with no socks and not have to worry about them stinking up your gym bag.
Cost and Value
This dance sneaker is a good value for anyone looking to perfect their dance technique. Although slightly pricier than some, it is definitely unique in its construction, which is aimed at dancers. Since it is solely a dance shoe and not a cross-trainer, it can be made to last longer if only used for dance fitness classes.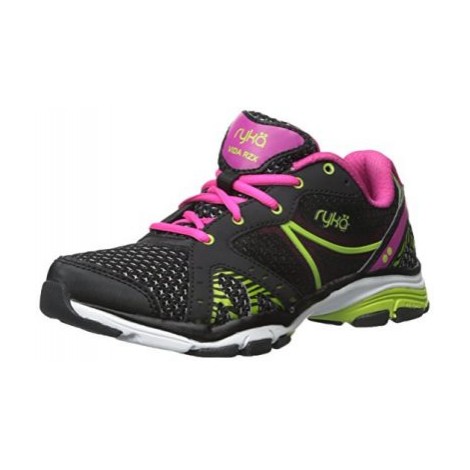 The Vida RZX offers a combination of many of the features already listed all in one shoe. Not only is it sleek in design, coming in an array of eye-catching colors, but it also offers quality performance. This brightly-hued sneaker includes Ryka's infamous pivot point as well as flex grooves, providing a great way to execute turns and other ball-of-the-foot movements. It is also equipped with RE-ZORB cushioning in its heel and Ultra-Flex in the forefoot. Like other Ryka models, it includes the Anatomical Precise-Return in the insole.
Made to Flex
This sneakers' shining aspect is its ability to flex. Not only does it have the strategically placed flex grooves on the bottom of the sole, but it also has an "Ultra-Flex" forefoot. This means if you are big on working those calves and glutes by getting up on your toes easily, you'll have a lot of help doing so with the RZX.
Stunning Colors and Design
The RZX is sure to brighten up your workout wardrobe with its brightly colored body and detail options. Even if you go for the more subtle black option, your feet will still be splashed with neon green and fuschia accents.
Cost and Value
This is one of Ryka's newer designs and carries a slightly heftier price tag. But if style and high-quality dance fitness performance is your game, then the RZX is right for you.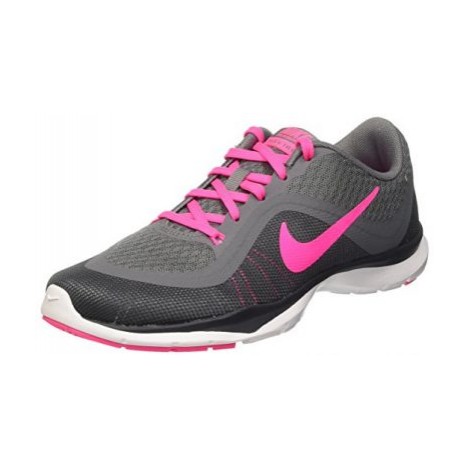 Nike makes another appearance on our list with the Flex Trainer 6. As the name suggests, it is made to flex. Like the Ryka RZX, the technology used in its sole construction is designed to enhance flexibility. Unlike other dance fitness shoes, the Flex Trainer 6 has a sole not made entirely of rubber, making it extremely light on the feet. The sneaker's lightweight mesh design provides breathability and comfort while the Phylon midsole gives excellent cushioned support.
Light on the Feet
This sneaker is definitely made to feel as close to a sock as possible. Because it has minimal amounts of rubber on the outsole, is composed of flexible foam, and has a mesh upper, each shoe weighs in at an incredible 7 ounces each. This is a great feature for anyone having "maximum comfort" on the top of their list.
Tons of Color Options
Maybe you want to invest in multiple lightweight sneakers for class. If so, the Flex Trainer 6 comes in a plethora of color options. Anything from white to bright blue and a mixture of colored "swooshes", your outfit and shoes will never look more coordinated.
Cost and Value
This sneaker costs around the same as many other dance fitness shoes. Of course, Nike is a household name around the world, so of course, you are paying for the well-known "swoosh". Overall, it's a great option to wear in and out of class at a decent price.

10

. Nike Flex Supreme TR 5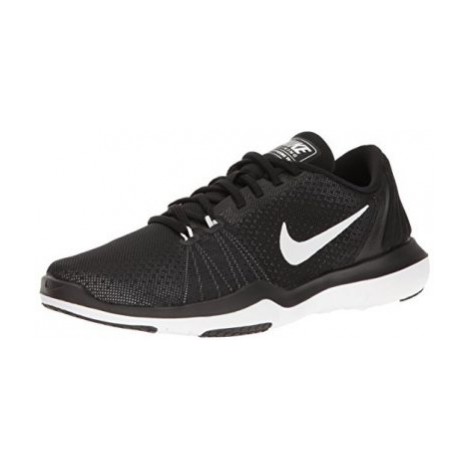 Rounding out our top ten list is another Nike model: the Nike Flex Supreme TR 5. From an outsider's perspective, this sneaker bears a striking resemblance to the other Nike models on our list. Unlike the Flex Trainer 6, the Flex Supreme's claim to fame is its snug fit. With anatomically placed foam pods at the heel and Nike's "Flywire" cable technology in the forefoot, it provides minimal heel and toe slippage. As suggested by its name, the Flex Supreme also prides itself on great flexibility.
Snug As A Bug
Nike's "Flywire" cables make an appearance again in the Flex Supreme's forefoot. These cables are designed to function like the cables on a suspension bridge, offering support and ensuring a tight yet comfortable fit. Combined with the foam pods at the heel to prevent heel slippage, these sneaks are sure to stay in place throughout the class.
Uniquely Flexible Outsole
The sole of the Flex Supreme TR 5 is not only made to flex with the wearer's movements, but it also exhibits a hot-knifed hexagonal pattern. This means that the pattern doesn't go all the way through to the midsole, making it super-flexible yet supportive.
Cost and Value
Despite the slightly higher price tag of the Nike Flex Supreme TR 5, it still remains an excellent dance cardio footwear option. With a name like Nike and the unbeatable fit of this sneaker, it is still a great value that'll help you get the most out of your Jazzercise classes.

Subscribe to our Newsletter