Best Running Armbands Reviewed & Rated for Quality
In a
Hurry? Editors choice: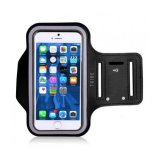 Test Winner: Tribe

There are those days when every sign in the world says it's time to get outside for a run. It doesn't matter what the weather is like it doesn't matter whether it's a mile or a half marathon, some days, as the Boss says we're just born to run. And when the call comes you need to be able to answer with the best shoes, and gear available and that's why we're here. But you know what can ruin your running groove quicker than almost anything? When your tunes die. One of the great things about all your tech these days is that you can create your very own soundtrack, as well as track every stop of your run. So you've got you're earphones, and you've got your phone, so it's just right that you have a great place to put your phone. A running armband is just the thing.
Standout Picks
Criteria Used for Evaluation
Flexibility
Some cell phones and MP3 players are large and bulky. This can pose a challenge when you are working out and just want some tunes. If you are dealing with bigger devices or device cases on your run, walk, or jog, then picking the right armband can really be helpful. In addition to the device case, you should check that you can adjust the armband so that it fits tightly against your arm. If you are unable to make the armband fit tightly, the armband will slide up and down on your arm which can be annoying and make your workout less pleasant.
Compatibility
Smartphones and MP3 players come in an array of different shapes and sizes. Some armbands are made to work with one particular device, while others are designed to work with multiple devices. It is important that you pick one that fits your chosen device, or if you use more than one, pick an armband that will work with several devices. Some are designed specifically for Apple devices and some are designed specifically for other devices such as Samsung. When searching for a running armband, make sure your pick is one that is best for your device needs. If you plan on using headphones, you will have two options.
One option is to use Bluetooth headphones that connect to your device wirelessly. Wireless has an advantage because you will not need to worry about wires or compatibility while you are working out. Also, make sure to check if the case on the armband allows you to access your volume control and your power buttons. It's important that the armband is designed to access these button and controls easily, and that the case fits well and is not too tight that it presses against the buttons or the touchscreen on your device.
Water Resistance
It is always best to get a running armband that offers waterproof protection for your devices if you plan on running outside. This will keep your device and important items you are carrying with you while you work out safe and dry. While some are not waterproof, there are many to choose from that offer waterproof or water-resistant protection.
You should first consider if you plan on using the running armband indoors, outdoors or both. When you are spending time outdoors, there is always the chance that you could be exposed to rain or other elements. You never have any ability to control the weather and spending a little extra to protect your device may be worth it. It is better to be safe than sorry! Moreover, if you plan on running indoors it still might be a good investment to have an armband that is waterproof or water-resistant to protect your device from sweat, humidity or dirt.
FeaturesRunning armbands have lots of features to choose from. Some of our favorites include pockets for items such as keys and credit cards, reflective material for safety and/or armbands that fits you and your device well. If you want to listen to music, make sure there is a place for your headphones or a device that is Bluetooth compatible so you don't have to worry about cords while you exercise.
Durability
Running armbands are like any other athletic gear, you have to clean and care for them so there are no issues with bacteria. The better you take care of your armband, the longer it will last. No one wants a stinky armband drenched in sweat, so make sure to take the necessary steps to properly clean your armband. When you are cleaning your armband, you will need to first determine what parts need to be cleaned. Running armbands that can be removed from the case are the best ones for cleaning. This is because you can remove the device case and then wash the elastic armband part of the running armband.
Style
We're not completely about looking cool while you're running, but hey it doesn't hurt. So we'll be gauging our choices with an eye to how they look. So, we'll make sure that the armbands we're suggesting not only do their job effectively but also look good doing it.
10 Best Running Armbands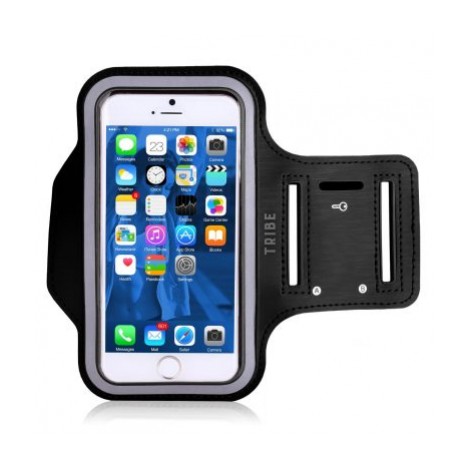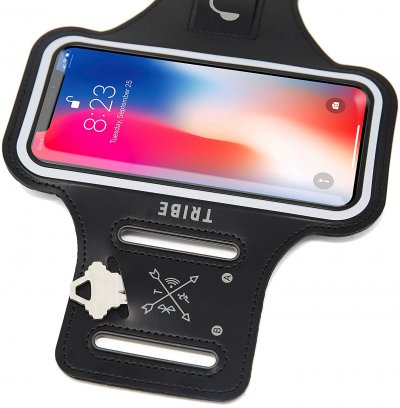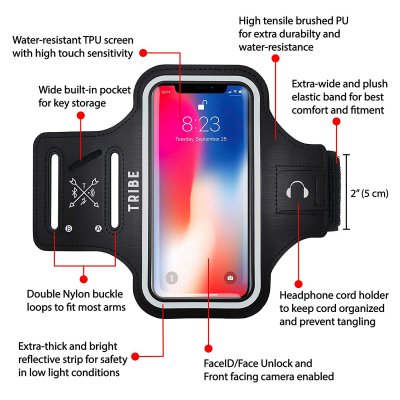 The Tribe Water Resistant Cell Phone Armband is a must have for any serious runner. It comes bundled with an iPhone screen protector and offers a headphone port for listening to must while running. The armband fits just about any size arm, offers a key holder, and is lightweight. The material is breathable to help maintain the runner's comfort.
Fits Many Phone Models
The Tribe armband is compatible with all current iPhone models and a number of Android phones. It features a scratch-resistant screen protector and securely holds the phone in place. Runners need not worry about dropping their phone on a jog.
Lightweight and Comfortable
The armband is made from highly breathable material. It weighs about 1.5oz and fits arm sizes from 8" to 16" in circumference. The armband is fully adjustable to help make a secure fit.
Cost and Value
The Tribe armband is a mid-priced armband when compared to the other armbands on the list. Its value comes from its secure fit of a variety of smartphones and providing runner comfort.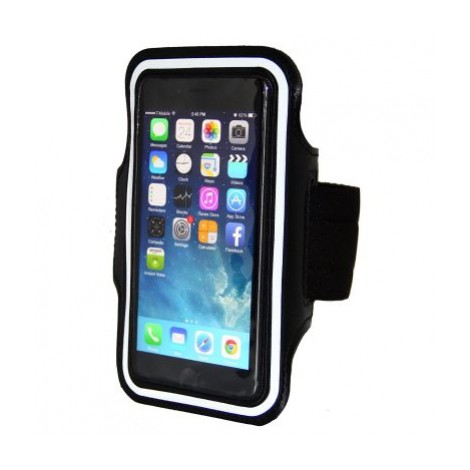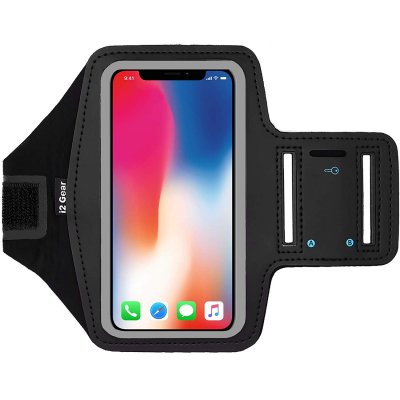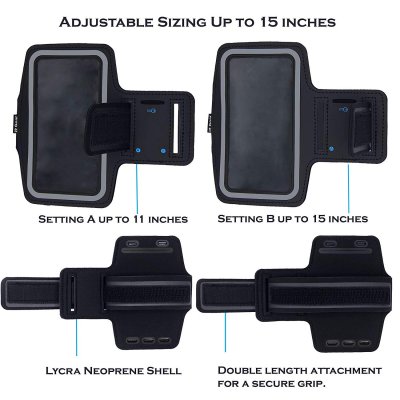 The i2 Gear Armband provides a low-cost alternative to other armbands on the list. It securely holds smartphones and offers screen protection and headphone jack. The armband itself is fully adjustable, is soft to the touch, and is reflective for nighttime safety. It's low-cost price tag make it an excellent value for its price.
Large Case
The armband has a large phone case, which allows for large phones or even placing items such as credit cards and phone together in the case. It has a keyholder also which allows for storage of house or car keys.
Soft and Durable
The armband is fully adjustable for arms from 9" all the way to 15". The fabric is soft yet highly durable. The armband has night time reflectors for increased night safety.
Cost and Value
This armband provides excellent bang for the buck. It has many of the same features as other armbands on the list, but it is the lowest priced item out of any of them.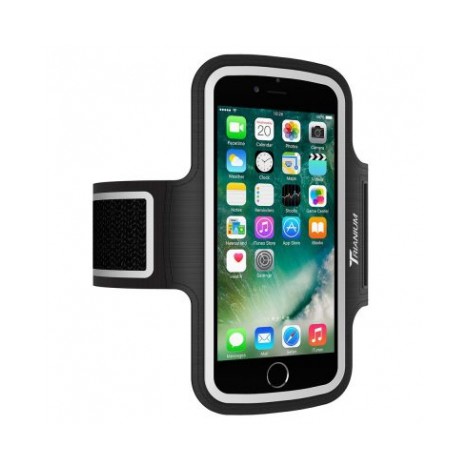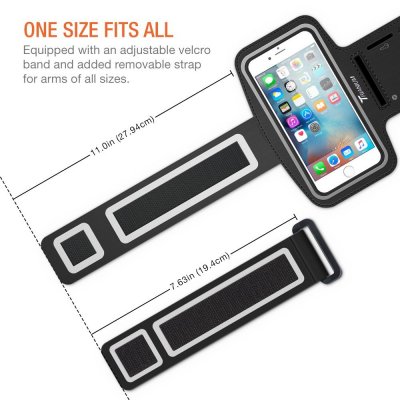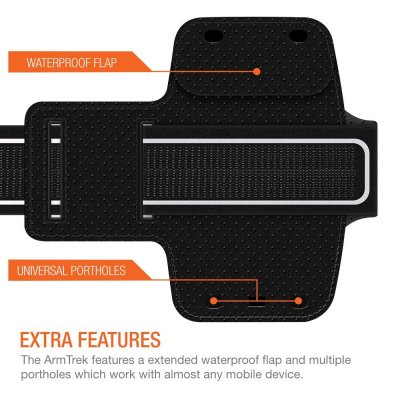 The Trianium armband has a phone case that is big enough to allow users to keep their phones in protective cases such as Otterboxes. It has a lifetime warranty and fits a large variety of smartphones. The armband itself features a multi-slot adjustable velcro allowing to fit securely on many different arm sizes. The armband material is resistant to stretching making this a long lasting armband.
Protective Case Compatible
According to the manufacturer's description, the phone case on the Trianium armband fits Otterbox and Lifeproof cases. That means users do not have to remove their phones from these cases to use this armband.
Multislot Adjustable Armband
The Velcro armband has multiple slots, allowing users to adjust the armband to secure a more secure fit. The armband can fit any arm up to 14 inches.
Cost and Value
This armband is in the average price range when compared to other armbands. Its value comes from the multislot armband and compatibility with phone cases. Many customers will also have peace of mind from the lifetime warranty.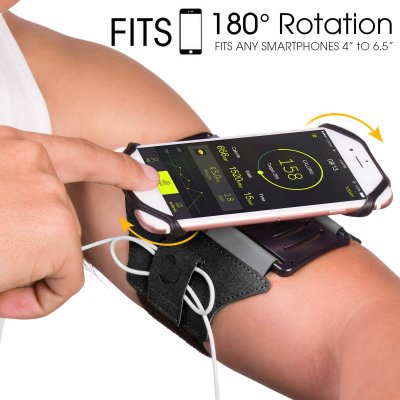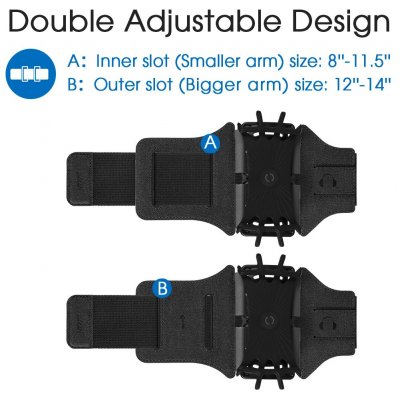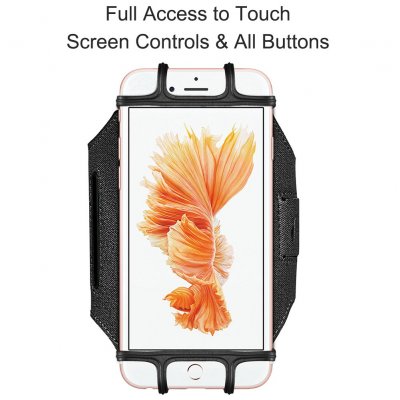 This is one of the coolest armbands out there because it fits just about every phone imaginable. The straps expand to allow just about any phone to fit on its unique rotating base. We also like the strap because it's breathable and wicks moisture away from your skin. And don't even get us started on the rotation because that's just the one feature that you didn't know you needed.
Skin Friendly
The band itself is made of neoprene and lycra. It stretches comfortable and washes easily. It also has an extra fabric layer that keeps the water away from your skin and helps evaporate it back into the air. The materials also ensure that you can use it just about forever and it won't pick up your exercise funk. Feel free to test this but when the time comes to be comforted knowing you can also wash it.
Compatibility
This armband is compatible with almost all of the kinds of phones we know of. It manages this through the use of elastic bands that wrap around the edges of your phone as opposed to fitting inside a pocket. Before you but take a look and make sure it's compatible with your device because there are some it doesn't fit but not many we've found.
Cost And Value
This is one of the cheapest armbands we've come across. Considering the 180-degree rotation the compatibility and the great sweatproof, comfortable material that makes up this armband we honestly expected to pay a lot more. It was a nice surprise to see this one come up so easily affordable and well built. This is just a great solid armband.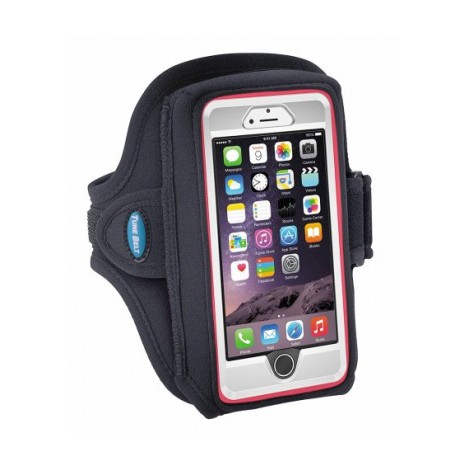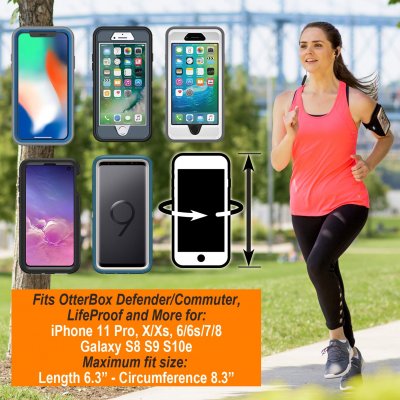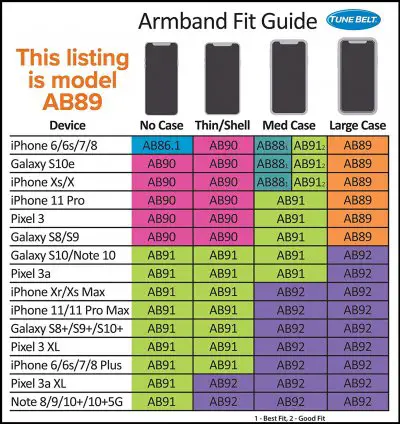 The Tune Belt Armband is a premium workout armband that provides exceptional comfort. It has features such as sweat-resistant wicking fabric, a flap to wrap cords, and maintains a secure grip on the phone. The phone case is large enough to fit cases such as Otterbox and Lifeproof cases. The armband is snug enough to keep the phone from bouncing or slipping without feeling too tight on the arm.
Wicking Fabric
This armband boasts wicking fabric that provides exceptional comfort by wicking sweat away. There are no openings exposed directly to the skin either to provide additional protection against sweat.
Large Phone Case
The phone case is large enough to fit brands such as Otterbox, Lifeproof, or other similar phone cases. Users of such cases do not need to endure the hassle of removing their phone from their phone case first to use the armband.
Cost and Value
The Tune Belt is the highest priced item on the list, but it boasts the highest quality. The armband wicking features and is highly sweat resistant. It has fine details such as flaps to hold cords in place.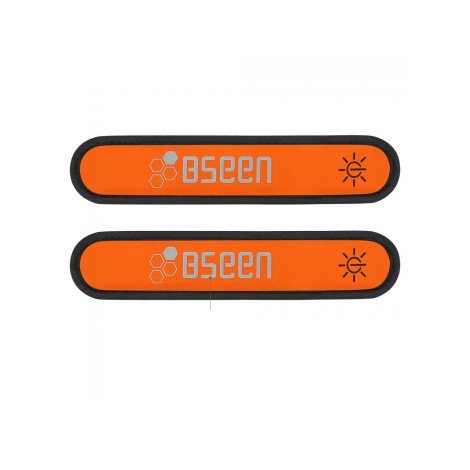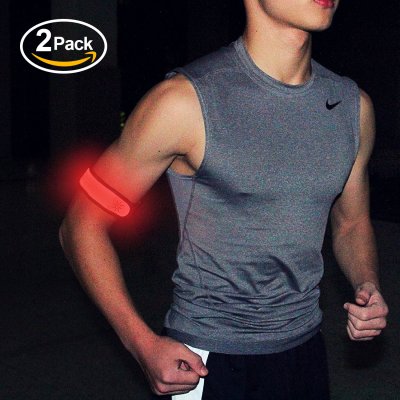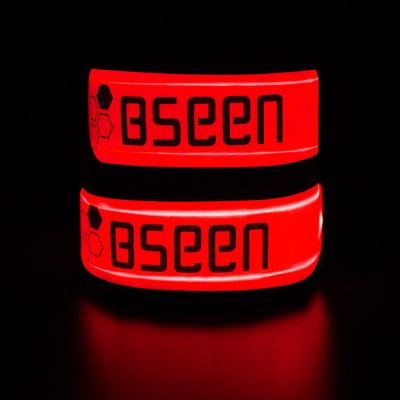 The B.Seen LED armband is meant for use in low light or after dark. It uses powerful LED lights to help a runner stay visible and is sold in a two pack. Users can wear the armbands on each arm, ankles, or combination. The LED light has three different light modes and has an exceptionally long battery life.
Bright LED Lights
The LED lights can run up to 70 hours before changing the battery. The lights have three modes: on, off, or flashing. The lights are very bright to help people stay visible in low light.
Multiple Functions
Each pack comes with two braces. The braces are highly adjustable and can be worn on arms, legs, or combination. Some people even put the armbands on bicycles or pets.
Cost And Value
The B.Seen LED armband has a medium-high price. However, each pack comes with two armbands which bring down the cost per armband. They are long lasting and work for a long time on a single battery.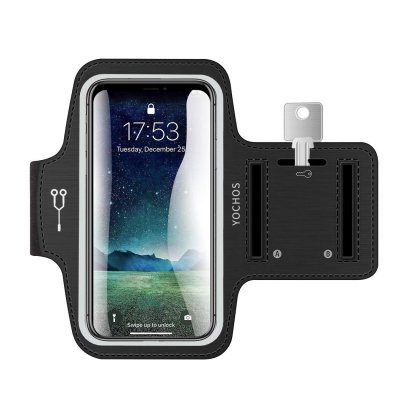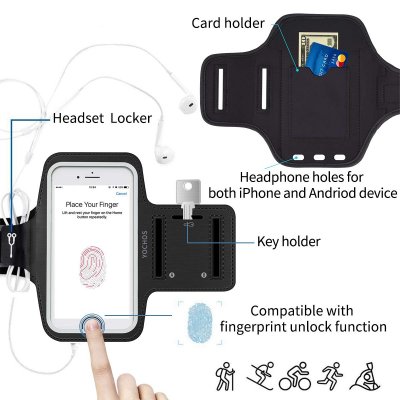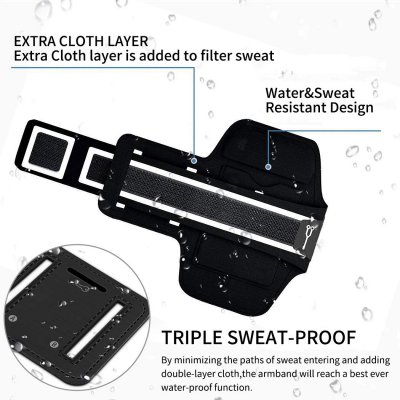 This armband is designed specifically for use with almost all iPhones and Galaxies so keep that in mind. We love that this is an all-weather band in that your phone slips safely inside this waterproof pouch easily. Once it's safely inside you can still use the touchscreen thanks to the sensitive see-through window. We also love the lycra band that's made for hard use and the key holder in case you're running shorts don't have pockets.
Exercise Proof
The phone pouch itself is water-resistant but no only from the falling rain but it also works to keep sweat away from your phone thanks to the lycra and neoprene armband that wicks moisture away from your body and your phone.
Touchscreen Functionality
Think of this as a really nice screen cover and you're in business. The screen has full functionality and it fits snugly so you won't have to worry about it slipping and sliding inside its case.
Cost and Value
Another great price. With its moisture-wicking armband, it's full-screen functionality and room for keys and credit cards this is simply a great value for the price.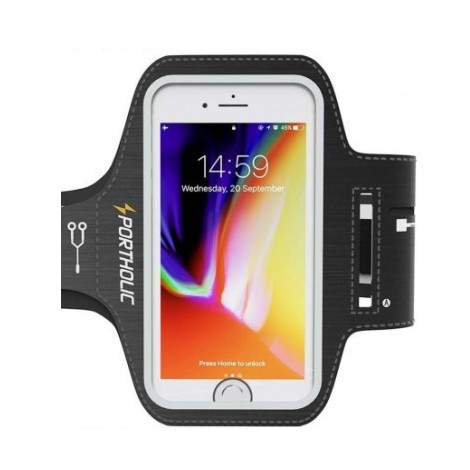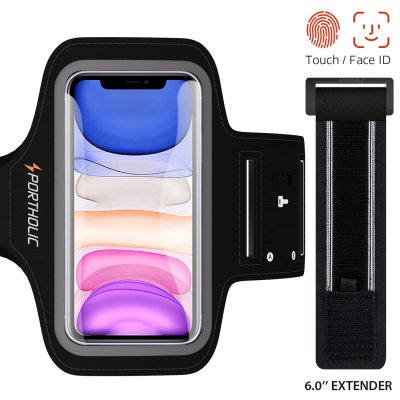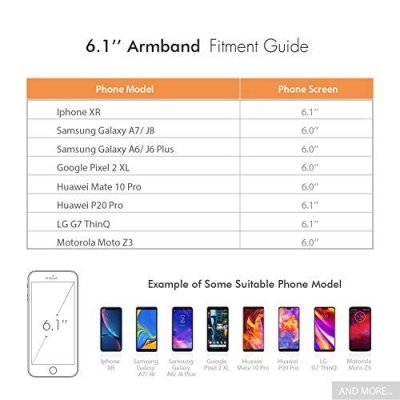 The Portholic fits large phones and is compatible with phone cases such as Otterbox. It also lets users make use of modern phone features such as fingerprint unlocking. The Portholic fits a large variety of iPhone and Android phones, making it widely compatible. The manufacturer backs up the product with a lifetime warranty. It also has key and credit card holders.
Fingerprint Unlocking
Many modern phones have fingerprint sensors for unlocking the phone. The Portholic is unique in that it provides a way to unlock the phone using a fingerprint.
Skin Friendly Materials
The armband itself is made out of Lycra and Neoprene, which makes it resistant to sweat. The Portholic is lightweight, stays odorless, and maintains a shake-free fit.
Cost and Value
This product has an average price. It's unique is that it provides ways for users to use up to date phone technology such as fingerprint unlock. It's also able to hold phones inside of their own cases such as Otterbox.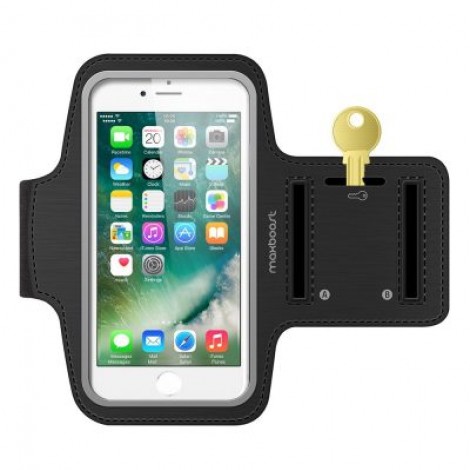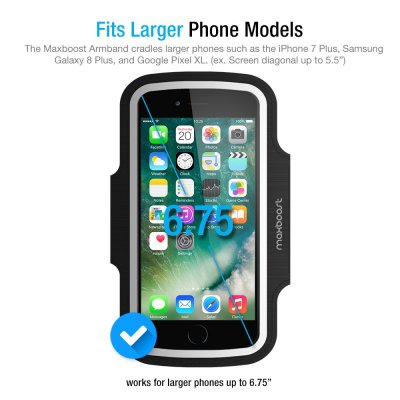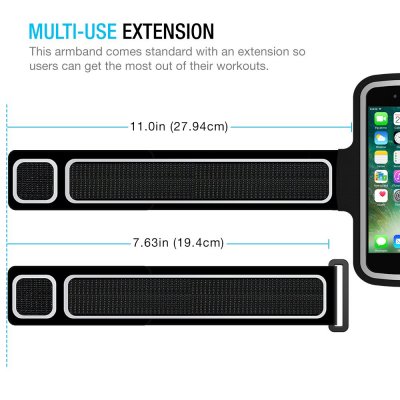 Maxboost provides many features found in higher-end armbands. It has a secret key holder that allows people to hide their house or car keys. The armband has a comfort grip to keep it from slipping your arm while working out or running. The phone case is water resistant to help protect the phone from sweat.
Adjustable Fit
The Maxboost armband has two slots for small (8"-11.5") and large arms (12"-14"). Users should have no trouble finding the perfect fit when wearing the Maxboost.
Multiple Portholes
The phone case has multiple portholes. This allows users to plug in headphones or even charge the phone itself. The portholes make it easy to charge the phone without removing it from the case.
Cost and Value
Maxboost is averagely priced and has many of the features found in other armbands. The armband offers convenience in that it is easy to plug in headphones or even charge the phone without removing it from the armband.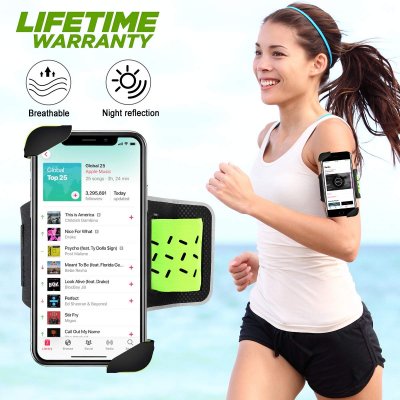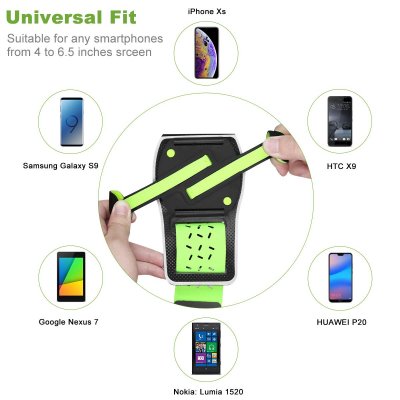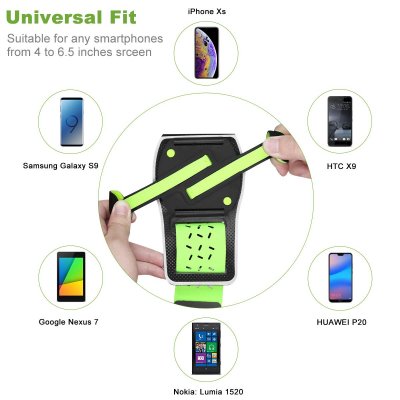 Another simple armband that adapts to fit just about any phone. This band expands or contracts to fit almost any kind of phone but doesn't involve putting your phone in a pouch where you can't actually use it. We also like its reflective surface and the fact that it's not too clunky but sits easily up on your forearm making it a truly hands-free experience.
Breathable Design
This band is designed to pull the phone away from your body and that keeps water and moisture away from your phone. And the band itself is meant to wich moisture away from your body.
Storage Bag
An invisible storage bag makes room for one or two keys or credit cards so you can have an easy way to access your stuff when you need it.
Cost and Value
Another great price, this one comes in at one of our lowest prices and while it's a simple design it does what it's meant to do keep your phone secure on your arm really well.

Subscribe to our Newsletter