Best Exercise Bands Reviewed & Rated for Quality
In a Hurry? Editors choice: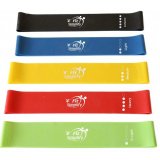 Test Winner: Fit Simplify Resistance Loop

These days bodyweight exercise is all the thing. All kinds of workouts are using the fact that you just happen to be carrying a fair amount of weight on our bodies. Using that to tone up can save time and money. But weights are a great way to tone particular parts of the body, but who wants to spend thousands on machines. But there are ways to enhance your own body weight without adding metal weights. Enter the exercise band, a simple stretchable band that can turn your basic bodyweight into a full-time gym. Here's our list of some of the best exercise bands.
Standout Picks
Criteria Used for Evaluation
Ease of Use
If leisure land is where you want to be, then perhaps exercise bands aren't for you. But if you're looking to get into the giant rubber-band for your personal health, then you've got to keep all of the build qualities in mind.
There isn't a lot of complications when it comes to exercise bands. Especially when you're discussing the smaller end of the budget scale. But some things to consider are the reviews regarding snapping. Because of the tension, these bands are put under, the worst thing that can happen to you is the snap. You'll find tons of reviews and photos of welts and marks from snapped bands, or mistakes made. Premium brands come with a no-snap guarantee.
Other key areas to pay attention to are the stitching and make of all handles, attachment, and grips. This doesn't apply to those exercise bands that are just elastics in a loop without an end.
The additional pieces to the box sets should also be taken into consideration when looking at the quality of these products. Are the carrying bags well made? Is the doorstop strong?
Think of the product guarantee when considering how well the thing is made. Companies that do not put forth any sort of promise of quality might be ones to ignore, but also take into consideration user reviews.
Versatility
Unlike a lot of the things we review and discuss on this site, exercise bands aren't the most varied of products. All of them are essentially rubbery elastic bands used for strength and exercise. Sure, there may be a difference in the ends. Whether or not there are permanent handles, or perhaps things to attach different ends too, like wrist and ankle straps, or different shape handles. But the base of the product is always going to be the same.
The variety comes in the sets. Some of these various products come in a set of five, a full range of exercise bands going from one end of tension strength to the other. Often these sets come with things like a carrying bag, or flavor infuser water bottles. Who doesn't want something to put flavor in your h2o?
Other options include single tension bands for sale (which is oddly not the norm), or sets that come with fantastically in-depth and easy to understand workout guides.
Getting a lot out of your box set (or very little, by desire) is key here. Ensure you get the things you need, with the accouterments you desire, should be priority number one.
Value
The reason why so many people head down this avenue for their at-home or travel exercise needs it because they are looking for a cheap way to improve their routines. The price of these exercise bands are never, and should never manipulate your wallet into the realm of painful forfeit of funds.
It's a cheap form of strength and conditioning training, but that doesn't mean you're going to get flossed out of good money, or not have options available at the cheaper end of the marketplace. But all in all, the marketplace isn't a deep pool. For a great set of exercise bands, you won't pay more than a night out for dinner and a movie with a friend or partner.
Don't forget to check all of your options when shopping for anything. It's imperative to seek out as many options as possible. But as with most marketplaces, spending the most usually means getting the best.  
Compression
Exercise bands are all different there are different tensile strengths and different lengths. So we're going to make sure and offer you exercise bands that will grow as you get stronger, and give you all kinds of options for different exercises.
Style
At the end of the day, just like workout gear, you can't completely ignore how you look when you work out. The same goes for your exercise bands and so we will be keeping an eye on the coolest looking bands so you can look cool while you work out.
10 Best Exercise Bands
1

. Fit Simplify Resistance Loop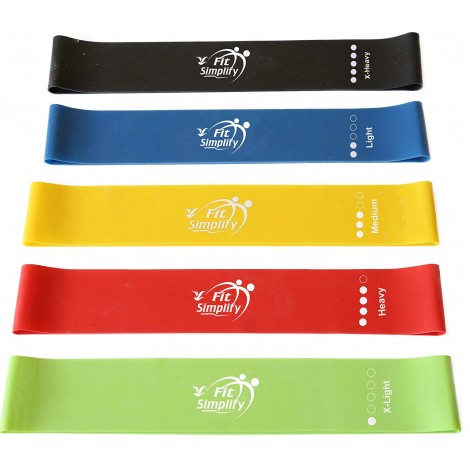 It's hard to make a bad exercise band. That's a weird way to start off this list, isn't it? Let me explain. The essential ingredients to an exercise band are difficult to screw up. At their core, they're elastic strips of rubber, made to various widths and lengths. So when picking the stand-out, we decided to focus on ensuring the product comes with all you might need. The complete package, if you will. And Fit Simplify does just that.
Getting The Band Back Together
Much like the Blues Brothers did -- you need to watch that movie if you haven't -- Fit Simplify if putting a bunch of bands together. In this package, you get five bands, all of the various colors denoting their tension strength. The rainbow of bands all fit nicely into the supplied carrying bag as well, ensuring that you can easily pack away, or take with you, all of the exercise bands you need.
Order the Workout
One of the best parts of the Fit Simplify package has to do with that thing we mentioned during the introduction. We might not want to tell you how to exercise, nor do we want to assert any of our hardly accrued knowledge of how to use exercise bands, but we sure can pick a product that not only comes with amazing bands but also has a large workout guide. The "Ultimate Resistance Band Workout Guide" will teach you far more than we can about all sorts of workouts with your new bands, from beginner training to serious workout guides.
Cost and Value
Less than the price of a meal for two at a local fast food joint, you can start working off all of those previous meals from that same "restaurant" and do it with the extensive guide provided. The value is insane with the Fit Simplify set because you have everything you could ever need right out of the box and for barely any dough. The only thing you'll have to bring to the table is motivation, and that you can't buy.

2

. BBT Fitness Resistance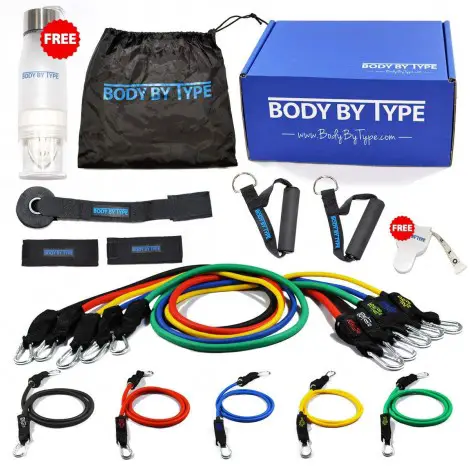 If the previous entry in this list is the best place to start, then the Body By Type package available here is the best option if you know what you're getting into prior to engaging in the market search. The Body By Type set comes with an absolutely staggering amount of stuff for those looking to purchase a large collection of exercise bands, and any of the addictions you might come to desire or expect.
The Non-Fundamentals
When you're shopping for something, especially if that something is an essential tool for something like a workout, such as exercise bands, you need those fundamental aspects. But it's nice to get a lot of extras, right? The offer might be "while supplies last", but Body by Type is offering free measuring tape and flavor infuser water bottle with all purchases of this box set. Those are two awesome extras.
Putting the Fun in Fundamentals
Not only does the Body by Type give you a few perks with your purchase, but you're also getting an absolutely smashing set of bands to boot! It might seem a little standard at this point in our list, but BBT offers five resistance levels (all color-coordinated) along with the necessary additions in that department. You get two sets of handles and a door anchor that lets you use a door as a resistance anchor for your workouts. You even get a carry bag and ankle straps.
Cost and Value
What kind of price tag can you put on a package that contains a whole lot of everything you need, and has a few extra good things thrown into the box? Well, the folks at Body by Type aren't trying to gouge you for their amazing box set. And it's going to be the one order you'll ever have to make in order to get you completely ready to go.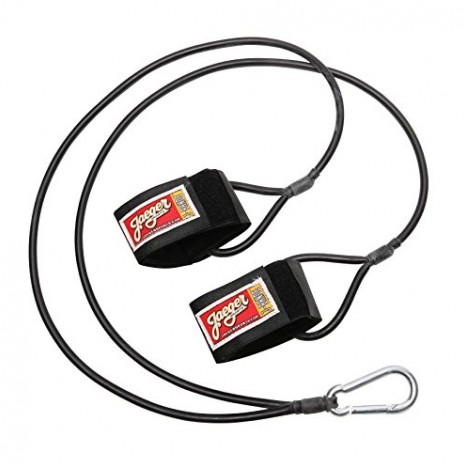 Developed with athletes in mind, the Jaeger Sports Exercise Bands are a match made in heaven, especially if you're of the vocation where arm strength is key. The unique design and build of the Jaeger Sports Exercise Bands are made to boost movement strength and replicate the cable trainers from the best gyms on earth.
Center Tie
In order to simulate the workout environment that is provided by the wire cable trainers, the Jaeger Sports system for your home needs a tie-down spot. Essentially, the center tie acts as the … well … tie, and you can freely use both ends of the exercise band for your special workouts for strength and conditioning. This design removes the need for an anchor, or for the weird ties that some use to tie-down the center of normal exercise bands.
Quit Playing Games
There's no need for the flash and pomp here with the Jaeger Sports Exercise Bands, but rather a whole lot of pride in the simple things. There's nothing extra here, and that seems to be the way things were designed. The product might be a unique twist on an established formula, but that's all that they send you. It's just the band, and the band is all you could ask for.
Cost and Value
This premium quality and uniquely designed exercise bands are a bit of a stake in the funds' department, but what you get for those bucks truly makes a huge difference. Jaeger Sports might not be attempting to reinvent any wheels here, but they sure do give you some extra ease of use for a product that other people have been trying to use in a better way for years. Kudos to Jaeger Sports for this little twist.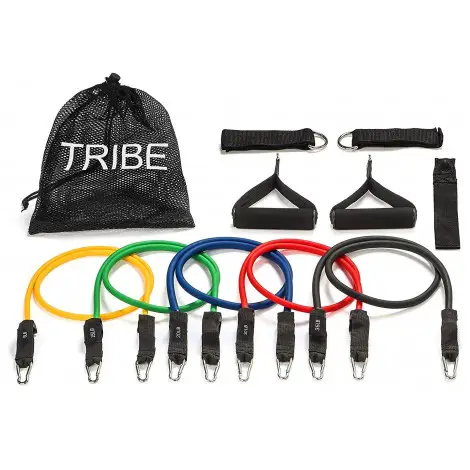 If you've ever been to a gym or had a crew of pals for workout motivation, then you can understand why a designer and manufacturer of exercise equipment might name their company Tribe. Because keeping fit and getting healthier can sure feel like a tribe at times, and who knows, you might need that tribe to keep you motivated.
A Real Fiver
Like many of the great packages we've got on this list, the Tribe box set comes with five different exercise bands, with hooks for either the handles that come with the set, or the straps for your wrists or ankles. Matched with their "anti-snap promise" the five bands from Tribe can reach the max pull strength and resistance of one hundred and five total pounds.
More On That Promise
Not only does Tribe offer up a guarantee that their exercise bands will never snap or break, but they also boast a one hundred percent satisfaction guarantee with their products. And that's a lifetime promise. Tribe states that if at any point in the entire span of your ownership of their products you become unsatisfied, you can ask for your full money back. With the addition of their US-based customer service team, you're in good hands buying into what Tribe is selling.
Cost and Value
Roughly in the middle of the price range of the market, and you get a whole lot of amazing exercise bands for your buck, backed with the extensive insurance from Tribe themselves that you will absolutely adore their products. The tribe has a great thing going here, and though they're a new name in the exercise game, they sure are going to make a brilliant name for themselves in this market.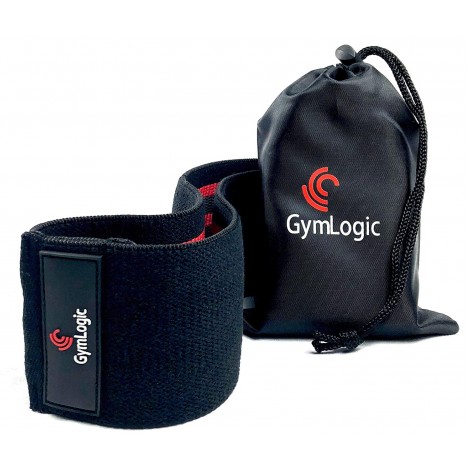 Another version of the current standard exercise band is the resistance band, which is more commonly made out of weightlifting belt materials and stand real wide. These exercise belts are often used for workouts such as thigh and glute toning, wrapping around the outside of your thighs, giving resistance to movement and spreading. GymLogic has made an incredible exercise band here that could be your solid go-to for a long time coming.
Size Matters
The awesome GymLogic resistance belt comes in three sizes, and unlike other exercise bands, the resistance belt you need is determined by your size, and not your desired resistance strength. The small is designed to assist those of one hundred and ten pounds or less, the medium is for those one hundred and eleven pounds up to one fifty, while the large size available suits folks who are anything over one hundred and fifty-one.
Conducting the Band
Unlike some of the other uses, the resistance band from GymLogic has an additional use, and that's to keep your lazy butt in check. The greatest benefit of using the band is that is restricting your movement, making it impossible to do certain moves improperly. Improve your form for your squats, or lunges, and more.
Cost and Value
The cost and value of the GymLogic exercise band are both extremely high, and ultimately, logical. So we suppose the rightful name of this company really brings out a whole lot of truth in the matter of the quality and value of their products. If you're looking to strike up some extra strength, or keep your squats in check, the GymLogic band is the way to go.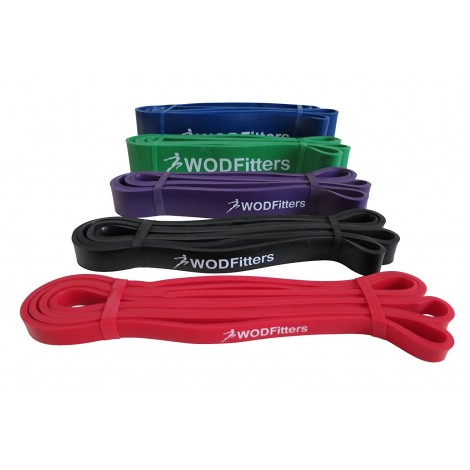 In comes the pinch hitter, the gold standard, the ideal product for those when they visualize what an exercise band might actually look like. The WODfitters bands are plain in the best way possible. They are the perfect example of exercise bands and will stop at nothing to fulfill that exact need, regardless of your level of expertise. There's a failsafe in simplicity, and it doesn't get much simpler.
Kitted
Sure, WODfitters exercise bands are available as single entities, but it's the multiples and the full set of five that you're going to want to keep your eyes on. Get one of each strength, and use them in tandem with one another to create a varying range of resistance modifiers. Get some of the full kits, or get completely kitted out, if either one is on your priority list, this is a fantastic place to start.
Competence
There's nothing truly to exercise bands, and there really shouldn't be. WODfitters takes that mantra and applies it to a very essential and important part of the at-home exercise bundle, creating one of the least complicated, and most competent additions to anyone's workout routine. We're serious. These insanely paired down bands are insanely great.
Cost and Value
Plenty of these sets of bands only come in just that, a set. Often, a set isn't what one is looking for. So, although WODfitters can also be purchased in a set of three, or four, or five, you can pick up single bands of various weight resistance as well. All at an incredible price.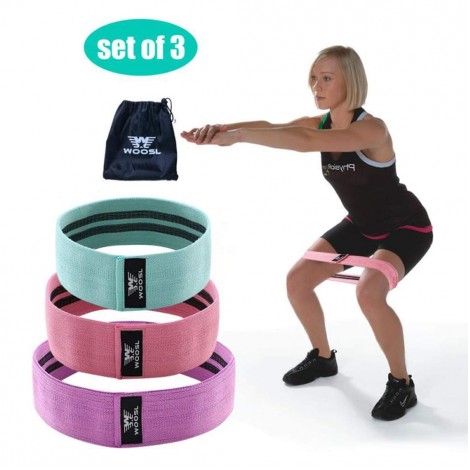 You might be asking yourself about these thigh bands, and you're probably right too. But the truth is that they essentially do one of the most used jobs in the exercise band trait, just far better than any ordinary thin band can do. They are the quintessential, and beautifully well designed one-trick pony. And these horses are worth betting on.
The Checks
Earlier we spoke about one of the greatest reasons to get a resistance exercise band for your things, and that was the fact that they are designed to keep you in line and perfect your movements when performing all sorts of bending exercises. The Moserking offerings are fantastically manufactured flawless works of exercise perfection. They will also keep your squats in check.
Pastel Clouds
Quite possibly the most beautiful product on this entire list, or perhaps even in the entire market, the Moserking exercise bands come in three beautiful colors that denote the size of the bands. There's a wonderful lavender, a coral, and a mint green. All three of these colors are stunning. Plenty of workout gear is designed for efficiency, proud usage, and quality, but not a lot of companies take an extra moment to ensure the products are aesthetically pleasing.
Cost and Value
At nearly a fraction of the price of other units on this list, the Moserking exercise bands come in a pack of all three sizes, combined into one set. You get the small, the medium, and the large sizes, in their brilliant colorways, all with a handy carrying bag.



We got all the way to number eight on the list before we tried to pull a sneaky fast one on ya. Here is that fast one. The Super Exercise Band Heavy Duty Door Anchor isn't an exercise band, in any sense of the word. It's not anything you can use on its own to exercise with at all. In fact, It's one of the best additions to any kind of exercise band workout you can get. Especially if you're in a home.
The Anchor
The best feature of this product is the product itself. The exercise band door anchor is one of the best tools to add to your arsenal. One can use the knot to put behind a door, prior to closing it (the door), leaving you with a wonderful strap on your side of the door to which you can string your general exercise bands creating an anchor for your exercise needs.
Protection and Lifespan
Both the door anchor end of this device, and the band strap end are covered in soft materials for the protective use of both your exercise band and your precious door. Obviously, just the use of this product puts a lot of strain on whatever anchors it, which is why the door jam is used, with its metal structural integrity. But thanks to some considerate design work, both of those things will be safe, and sound.
Cost and Value
The addition of one of the best improvements of your exercise band games is nothing more than a few bucks, and yet it completely changes how or where you're able to use run through your exercises. The value is absolutely obvious in the exemplary improvement it supplies to your at-home workout game.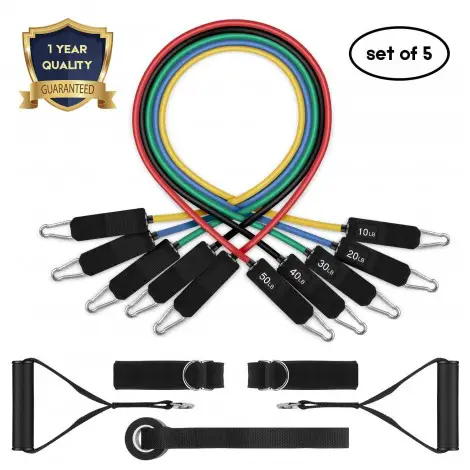 Leekey swings into the marketplace with an amazing option for those looking to pick up an entire set of exercise bands. Ranging from ten all the way up to fifty pounds of resistance. But that's not all. Of course, they truly wouldn't have made this list if all they were showing up to the party with was some simple chips and maybe a dip or two.
Complete Package
The exercise band set from Leekey comes with eleven pieces total. You're looking at five color-coated exercise bands for all your resistance needs, two wrist or ankle straps, two attachable handles, and even a door anchor. All of these things come in an awesome carry bag that will see to it you have the full ability to use these exercise bands in so many ways, for a very long time to come.
The Guarantee
It's kind of unfortunate that not all manufacturers of exercise equipment offer a good warranty, especially when you consider the strain we put them and ourselves under to use them. But Leekey has a great one, which will help put your mind at ease when shopping for bands. You get a one hundred percent quality assurance warranty with the Leekey band set.
Cost and Value
This product is the exact right price. It's not a completely budget set of exercise bands, but it's not on the premium end of the scale, yet somehow Leekey has offered up an amazing set of equipment, all backed by their extremely awesome warranty!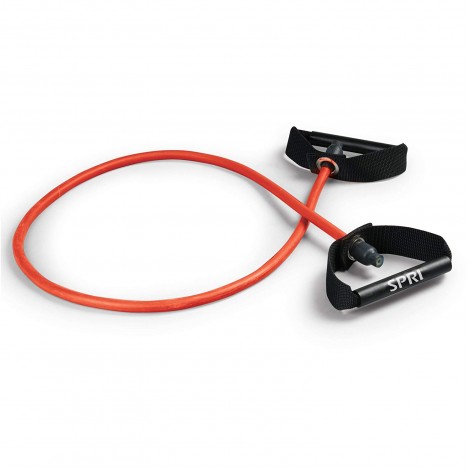 In the interest of all sorts of fairness, we had to include the most minimal, simple, and incredibly well-made solo effort. In steps SPRI, the sports equipment company, to bring you the easy way to the high road. It's twenty-eighteen, and the whole world is being taken over by the desire to have simply designed, and minimalistic things. Well, here you go.
Long Live the Resistance
Though they come in singles, and you miss out on the opportunity to get multiple tension strengths like are on offer from other manufacturers, there is a wide range (five total) of strengths. The yellow denotes a very light resistance, the green means light, red is a medium, blue is a heavy, and purple is ultra heavy.
The Beauty of One
Something that people might not think of -- and the manufacturers or sellers sure aren't going to bring up -- is that it might be slightly awkward or cause you to be over-encumbered if you're carrying five or ten exercise bands with you in your travels if you're going to the gym or something. The beauty of having a single band is that you're far more mobile with it, as it'll take up less space than a standard camera strap.
Cost and Value
Being that SPRI doesn't beat around the box set bush with their offerings, you're only going to be able to purchase a single exercise band at a time (sure, you can add a bunch of them to your cart and do things that way), you're not going to spend more than a hot meal for a single, extremely well-made exercise band. The offer of a simple, but the effective product has tremendous value.

Subscribe to our Newsletter