Best Portable Air Conditioners Rated For A Breezy Summer
In a Hurry? Editors choice: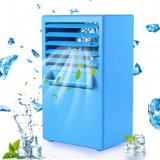 Test Winner: ShamBo Personal Cooler

Today we're going to look at some fantastic fans that will keep you cool anywhere you go. These products aren't limited by the ball and chain that is an electrical outlet. No, these are good to go wherever, and whenever, you need them. Portable air conditioners are a godsend for people everywhere. They offer relief from the worst heat waves that nature can send our way. Because of their portability, you can take them… well, anywhere! Family gathering? Move a couple into the living or dining area.
Standout Picks
Criteria Used for Evaluation
Effectiveness
Efficiency
The last thing you want to deal with in the summer is an astronomical cooling bill. This is all too often the case when the sun is shining, and temperatures are rising. It's so easy to reach out, turn on a dial, and feel sweet relief as soon as your air conditioner kicks in. Part of the reason the portable versions are so popular is the lower usage of energy. While this isn't true across the board, there are small, personal models that definitely use far less energy.
Efficiency was one of the biggest pieces of criteria because it's the biggest concern for a lot of readers. You can bet that if it made it onto this list that it probably is a fairly efficient product overall.
Size
Size Of Area Affected
Alright, so the phrasing is strange. What we mean is that the square feet the cooling unit can effectively reach is extremely important. This can be the difference between a barely changed temperature and making sure that you're actually getting cooled off.
Most of these will cool off at least 250sq. Ft. This is a fairly high area! There are models that cool off as much as 500sq. ft., however, so keep that in mind. If you're in an apartment, then you can probably get away with the model that only does 250sq. ft. However, those who live in houses should probably invest in a model that can do a little more than that. Take your surroundings into account, as well as what you plan on using the model for. This will give you a good idea of what you need to purchase to fulfill your needs.
Size Of Unit
Obviously, if a unit is overly large it won't be very portable. We tried to include a range of products that vary from handheld devices to large towers. This also goes back to where you're using it. Let's go over a few different sizes and where you can use them most effectively.
Handheld Unit: These are fantastic for dorm rooms, offices, and more! If you're stationary for a while, then you can set it up and use this low-energy, cost-effective option pretty reliably. These are also great for car rides, especially if your AC isn't working correctly, or is just outright broken. Even if it isn't you can still save some gas by choosing to use a portable unit rather than going right for the car's AC.
Square Unit: These are stout and short. They're great for slightly larger places, such as apartments. Dorm rooms can also make use of them, depending on their size. If you live in a hot climate we suggest going with one of these models instead of a handheld device. These are also great for barns, or workspaces. Many equestrians love using them to keep themselves, and their horses, cool in the heat.
Tower Unit: This is the tallest version of these models. Tower units are awesome for large spaces that need a lot of power. Houses, for example, are great for tower units. They're also great for offices since it provides cooling power for the whole place instead of just your desk. If you're the boss of an office space, then definitely invest in one of these. Your employees will be incredibly thankful. It's great for morale!
Features
Bells & Whistles
This is actually pretty important, as it turns out. Bells and whistles are a huge turn on to many consumers since you feel like you're getting more. Here are some popular ones that you should look out for:
LED display
Remote control
Precision temperatures
Dehumidifying
Smart controls
Sleep mode
There are absolutely more, but those are some of our favorite features. If you want to really get bang for your buck, make sure at least some of these are included in a product. There's no point in spending a couple hundred dollars on a cooling unit that you aren't getting the most out of.
Top 10 Picks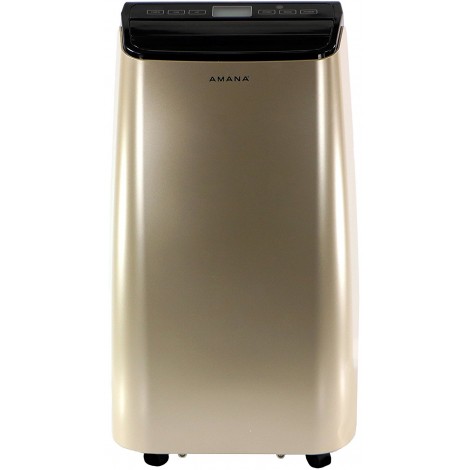 Don't let that crazy name fool you! This little machine has everything you need, and then some. We haven't found a product better in all of our time searching! It's a classic build that won't get in the way and blends in with almost any decor. This Amana model comes in a metallic gold, which is accented by black features. It cools large rooms, and even comes with a remote control! You really don't get much better than that. Click that "expand" button to find out more about this Amana product we've come to love so much!
An Accessible Option
Amana includes a remote control with which this model can be controlled. This is a swell add-on! Those with disabilities are more likely to be affected by high temperatures and bad air quality. Whether the summer heat has you weak, or you have issues with mobility, Amana has you covered. This makes it a perfect product for the elderly, too! And, of course, it's a bonus for those of us who are just plain lazy (myself included).
Oh So Mobile
Worried about having to lug your portable air conditioner from room to room? Worry not! Amana included wheels in their design, which means moving this model is a snap. While this style of product is notorious for easy maneuvering anyways (it's in the name), Amana takes it to a new level. No matter where you are, or where you need to be, stay cool on the go! Every room in the house is covered with ease.
Cost & Value
We're not going to lie, folks. This product comes with a fairly hefty price tag. However, that doesn't mean it isn't worth your time. Quite frankly, this is the best product on the market right now. You can expect to pay a little more to get a little more. With its ease of accessibility, stylish design, and wheeled bottom, you'll not likely find a better buy than this cooling unit by Amana. Did we mention it also dehumidifies? Yeah. It does that, too. So, essentially, if you have the money then this is your go-to. If not, skip to number three on our list! The number three product has the most bang for your buck.

2

. ShamBo Personal Cooler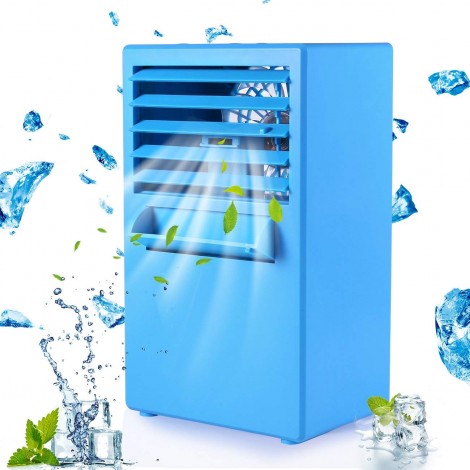 Let's go, Shambo! It's a little tune we've started singing since we found this miraculous product. This little unit proves you can't judge a book by it's cover. It packs a powerful punch in such a tiny package! It's not the size of the fan in the fight, but the size of the fight in the fan! … Alright, we promise we're done with the cliches. It's just that we're so over the moon about Shambo's personal cooling unit. We're sure after reading more below, you will be, too. So, click that expand button and keep reading!.
Cubicle/Office Friendly
This is one of the smaller models we've included on the list. Because of this, it won't actually cool down a whole room. However, do you sit in a hot cubicle all day? Is your office boiling because the boss won't let you turn on the AC? Then Shambo is the brand for you. This little guy will sit right on your desk, circulating air, and adding cool moisture into your workspace. Don't worry about being hot on the job!
Energy Saving
Large cooling units can rack up a fortune in bills. It's true! This is part of the reason why most people choose to suffer in the summer. Heat is a huge problem… but affording a high electric bill is another altogether. Shambo offers a practical, small design which can be used anywhere, by anyone. Keep it with you when you're on the go, too! It can easily be put in your purse or bag so you can have it right when you need it. You can save yourself from heat stroke, and save a few bucks while you're at it!
Cost and Value
This is probably one of the cheaper options available, but the price might still make you cringe a little. It is well worth the investment if you need a small device that keeps you cool while you're stationary. This does impact overall value, however. Not being able to cool an entire room, or be effective from more than 4ft away, means it won't be a good model for everybody. We recommend it for offices, cubicles, desks, dorms, and your bedside table. If you have a need for cheap cooling on the go, then Shambo is the choice for you.

3

. Kasstino Mini Handheld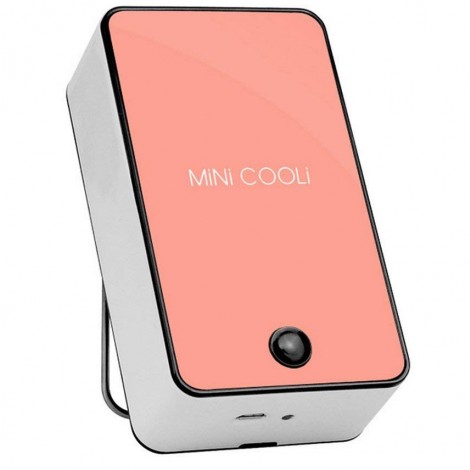 Kasstino is really delivering the goods this time! This is a portable, USB-rechargeable unit that puts a modern twist on an old favorite. C'mon, now. We all knew this day would come! USB seems to charge almost every device these days, after all. Why not your handheld air conditioner? It also has a smooth, unique design that won't look trashy in your office. Save your aesthetic and go with the Kasstino Mini Handheld!
Modern Aesthetic
Tired of ugly, loud units that take up space and drive you bonkers? We are, too. That's why we love the Kasstino Mini Handheld. It skips all the obnoxious features and gets right down the business. The design is sleek and looks great in any environment. You'll hardly even notice it's there! Of course, you actually totally will, since it'll be keeping you oh-so-cool in an otherwise horribly hot climate.
USB Rechargeable
Picture this: You're on the go, it's 105 degrees out, and your cooling unit runs out of juice. Or, perhaps there just isn't an available outlet for you to plug into. Both of these scenarios lead to unnecessary heartache, and the possibility of heat stroke (I mean, honestly, which one is worse!?). Kasstino crafted their design to charge by way of USB port. This means that you can get a solid charge no matter where you are, how many outlets are available, or what you're doing.
Cost and Value
We just LOVE this little guy! Between the sleek craftsmanship, the easy portability, and the USB charging, we just can't get enough. This is not only the best value price-wise! The Kasstino Mini Handheld is also the best value in terms of features as compared to that price. You're getting so many bonuses when you make this purchase. We have seen some unhappy reviews, but they aren't too scary! We say, "Go for it!" It's a low enough price that even if you don't care for it, you haven't really lost that much at all!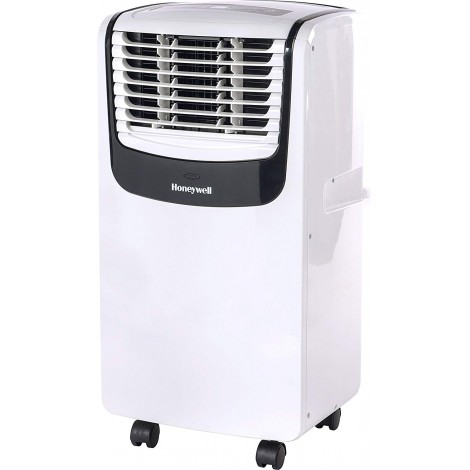 This is a well-known, popular brand that has swept the nation- and even the world! Honeywell is known for crafting amazing products that can be found in most stores across America. They've won over their fans with sleek designs that get the job done. Honeywell has a long legacy of excellent customer service, and the fanbase to show for it. You know that if a company has lasted this long, they must be doing something right! So, keep reading this review to find out why you should invest in the best!
Dehumidifies
Breathing problems can be triggered by a wide variety of things. One issue that pops up especially in the summer is humidity. This can put a huge strain on compromised lungs! Asthmatics especially will rejoice in knowing that they can breathe easy in their own home. This Honeywell model takes the excess moisture out of the air and replaces with it a cool, dry breeze that'll leave you feeling better than ever...
Cools The Whole Room
How big is the room you're looking to cool? Pretty big? That can be a huge obstacle to tackle when you're looking to invest in a cooling unit… especially a mobile one! However, Honeywell claims that this model can cool up to 350sq. ft. That's a helluva large space! It's perfect for big family rooms when you have your friends over, or a night of board games the kids can enjoy!
Cost and Value
Honestly, most of these models are going to be fairly expensive. This is an unfortunate byproduct of what they're used for. After all, when people are so willing to buy something, you can basically set whatever price you want! So, as you probably already know, these units come at a premium. However, we really do think this unit is well worth every penny spent. It's a great design, backed by a warranty, and made by a brand we all know and love.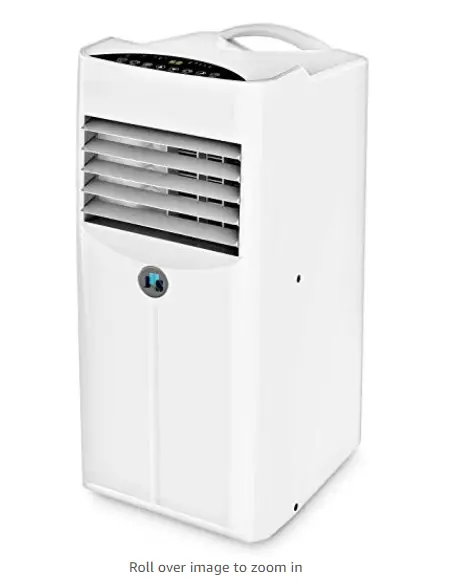 This portable unit is designed to cool an area up to 220 Sq. feet with a 2-speed fan, while be controlled either by the remote control or through the JHS Smart app which allows you to control the app when away from home.
Portable and Programmable
This unit comes in 2 different options either standard or WiFi enabled for an extra $10.00. The JHS is a 3 in one unit, it is an air conditioner, dehumidifier, or fan. This is a portable unit which casters on the bottom which allow you to move it effortlessly. The digital control allows you to program temperature range of 61°F-88°F with a programmable 24 hour on/off timer.
Cost and Value
This unit is moderately priced and comes with the exhaust hose and window kit for easy installation in any room with a window. The filter is electrostatic and washable.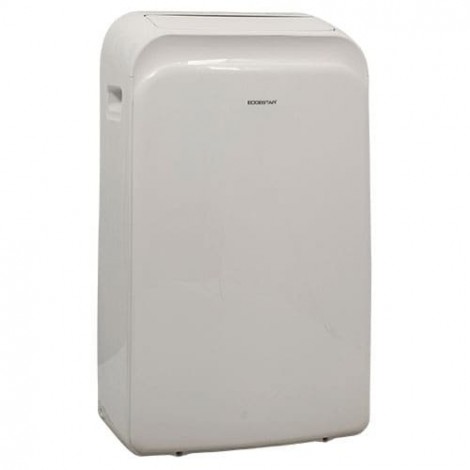 EdgeStar is keeping us on the edge of our seats! They have plenty of great products at reasonable prices, most of which have pretty stellar reviews. While we aren't as familiar with this brand as we are, say, Honeywell, we still like what we've seen so far. This particular product by them is definitely a bullet point on their list of good ones! This mobile room cooler has a super high-tech vibe for the modern, savvy consumer. You'll love the LED display, as well as the intelligent auto mode. All the technology they piled in has us going crazy! We're sure you want to know more, so click that "Expand" button and let's get to it.
LED Display
While some devices in the same style may have old-fashioned screens, this model features an LED display. This not only looks great but provides a more resilient product overall. LED displays are better than screens because there's a smaller chance of them breaking. They're also brighter, and can be seen even in the middle of the night. LED is truly the way to go, and most products that are modern will sport this style of display.
Multi-Function Controls
Need something that can do just about everything? We know, we know. That was, like, super vague. But the thing is that this unit can actually do just about everything! It dehumidifies the air and has three separate fan speeds. On top of this, it also does a "fan only" mode for energy saving! There's a remote control included so you can change and adjust settings from across the room without having to move. In the dead of the summer heat, that's always a plus.
Cost and Value
This is probably one of the more expensive products on the list. We don't like to mislead our readers, so we won't lie and claim it's the "best thing ever". We do think very fondly of it, and it's a great product, which is how it's on the list. But the overall price to value ratio could be improved. It's essentially like the Honeywell model, but with a few extra bells and whistles. The price point between the two is so similar, however, that you might as well splurge for the LED screen and modern aesthetic! Whether or not you're up to it, however, is up to you.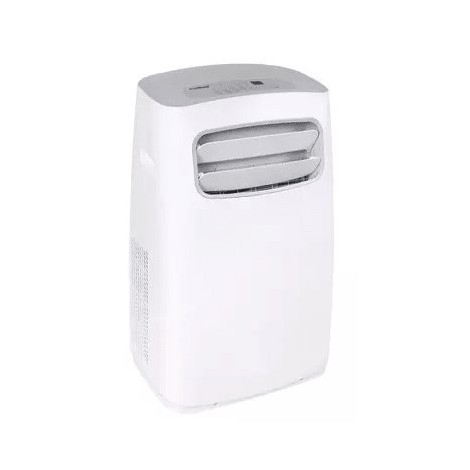 Currently experiencing a heat wave? Cure it with a cold front! A Koldfront product, that is. These revolutionary products will both amaze and relieve you. Sweating the summer away indoors is no the way to go. If you're stranded inside because of heat advisories, you want your living space to be cooler than, well, the outside world. Duh, right? Too few people rely on models that can't get the job done. However, Koldfront has many happy customers that will happily attest to their prowess at producing top-quality products.
All Inclusive Package
Nothing is worse than getting your new product in the mail, only to realize that you're missing a few parts. Running out to the store is an unnecessary hassle, and quite frankly it should never happen. Koldfront does their best to keep you indoors and out of the heat by including everything you need! The hoses, a window adapter, adhesive foam seals, NON-adhesive foam seals… seriously, they really went above and beyond. That, quite frankly, is not even a complete list of all the things they decided to include. Can't beat that!
Removes Moisture In A Snap
Humid air can make life unbearable. A lot of people can handle "dry heat", but as soon as you add that sticky, thick feeling that humid air brings it's a different story. Dry heat, even past 100 degrees, can be almost pleasant! Wet heat? Oh, heck no. That's why you need a unit that will take out as much moisture from the air as possible. This leaves your residence feeling refreshed, cool, and, y'know, not sticky. Not sticky is always a plus!
Cost and Value
Don't let the name fool you- this company isn't about to leave you out in the cold. This Koldfront model is relatively reasonably priced in comparison to the other products in the same category. It's not a surprise at all that it would be so popular! With a great price and stellar features, people flock right to it.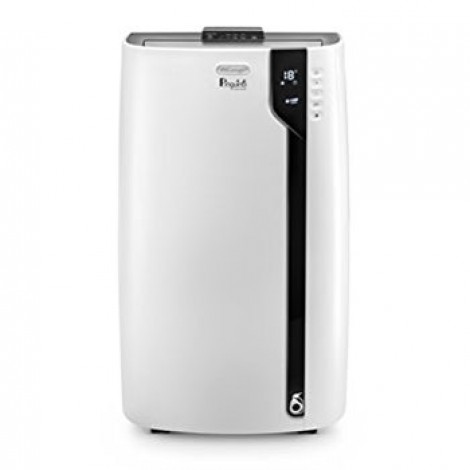 What a cute name! Seriously, we can't get enough of it. It makes us think of cute, little birds dancing around in the snow with their tuxedo print bodies. Everybody loves penguins… and, as it turns out, everybody loves the DeLonghi Pinguino, too! This fashionable statement piece is as much a decoration as it is a functional piece of equipment. You won't find a better stylish flair when it comes to cooling units. The gorgeous aesthetic it brings is great by itself, but once you combine it with the features this unit has to offer? Incredible!
Easy Breathing
Mold and mildew are two disgusting words that sound like what they are. Nobody likes to hear either of them out loud. Moist, too. That's another bad one! Unfortunately, when you have moist conditions, both mildew and mold can rear their ugly heads. Are you cringing yet from the usage of these words? Well, you'll cringe even more when you realize your air conditioner has been infiltrated by all things gross. Delonghi has a BioSilver filter which works to remove any trace of the bad stuff, leaving you breathing easy all day long.
User-Friendly
Are electronics ruining your life? Does newfangled technology drive you absolutely bonkers? Then you're like many Americans who are growing tired of the constant development of automated devices. However, DeLonghi has heard your cries and answered them with this model. You'll find that the set-up is incredibly easy! It doesn't require tools, and they went out of their way to make it extremely user-friendly.
Cost and Value
This is by far the most expensive unit on our list today. However, it's also probably one of the best. It didn't steal first place because of the price tag, but it's still stolen our hearts. If we had the money, we'd totally invest in one! DeLonghi obviously took great care in crafting this unit, and it really shows. They also obviously want to be compensated for the time they spent on its creation, which is fair! Great quality comes at a price, after all, and those who are willing to pay it, know that well! If you're looking to splurge, or you live in a horribly hot climate, we definitely recommend giving it a closer look. It might be the perfect fit for your family!

9

. Black+Decker BPACT12WT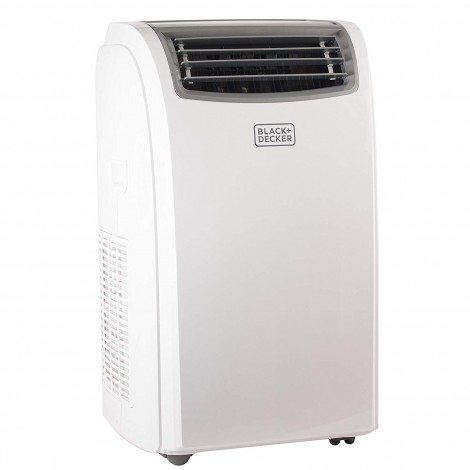 Yeah, you know what it is! Black and Decker, black and decker… Tell us you didn't sing that in your head. If you do, we know you're lying. There's a reason why this is such a well known, notorious brand that a Rap song was parodied using it. Black+Decker has been around for years and is a top-rated brand in the industry. They don't just make tools, although that's a very popular line of products from them! No, Black+Decker actually makes a wide range of products for all users. Let's take a closer look at this particular one by pressing that "expand" button below.
Environmentally Friendly
If you're worried about your impact on the environment, then this is the machine for you. They use a special refrigerant that doesn't have a negative impact on the environment some others might. It's called R410a, and it's a great choice for those among us who want to keep cool, but not at the cost of mother earth. So, if you're one of "those" people (we definitely are, ourselves), then this is the best buy you can find.
Some Seriously Fancy Features
There are so many bonuses packed into this design by Black+Decker that it can be hard to pinpoint which ones we like best! Firstly, there is a special engineering used in the process of building this portable cooler. The vertical motion provides a steady, powerful flow of air which keeps your space at the specified temperature. On top of this, they also included some great programming which allows you to have precision control over how cool you want the room to be.
Cost and Value
Black+Decker is pretty expensive on the whole. This unit is really no exception to that rule. It's a solid, sturdy build with great features that comes from a brand you can trust. This much is true. However, you really need to weigh your pros and cons here. This model doesn't exactly cool down as big of a space as others on the list might. It also has some questionable reviews about its durability, as well as how much noise it actually makes. Worst-case scenario, you can always just return it! Honestly, if you're a fan of Black+Decker products, it's certainly worth the buy.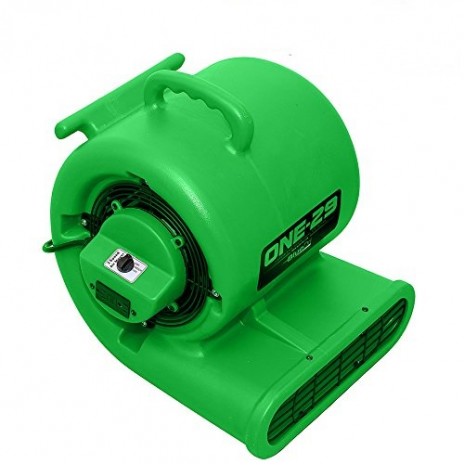 It works, it's efficient, and it's ugly! Don't let looks deceive you, however. This little model by BlueDri is a great medium between value, price, and overall features offered. We recommend it more for professional usage, or in more rugged places. Barns, machine shops, garages, and more would all benefit greatly from having a BlueDri on the job. This is awesome for those who do construction or roadwork. As long as you can plug it in, you can have a nice breeze while you work.
A Rugged Option
Again, this is not a unit that you're going to want indoors. It's just not pretty. You can tell just by looking at the BlueDri One that it's meant for use in a place where it might incur some damage. The overall aesthetic of it definitely screams "machine shop" or "garage", so keep that in mind. However, for those who work in any of these fields, it's a fantastic option! The BlueDri One keeps you cool and does so while remaining durable, and powerful.
Daisy Chain Compatible
On a big job? Have a huge garage? Need multiple units? That's totally fine! BlueDri made this model with those needs in mind. This cooling unit can be hooked up to a whopping four other units, which means ultimate cooling power right where you need it. It also clears up space on your regular outlets and allows you to better organize. With the price being low enough, it's fairly easy to hook yourself up with multiple units for a better cooling experience.
Cost and Value
You'll find that the BlueDri One is reasonably priced for what it does. It's fairly low compared to some others on this list, such as the Black+Decker or Honeywell models. However, it still can definitely produce a little sticker shock for most consumers. We recommend this model only to those who need it for professional jobs. Carpenters, road workers, construction workers, and more can all benefit from a constant stream of cool air while they're on the job. After all, when you're doing hard labor in the hot sun, there's a large chance of heat stroke. Avoid the medical mishaps, and keep one of these by your side!

Subscribe to our Newsletter