Best Running Belts Reviewed & Rated for Comfort
In a Hurry? Editors choice: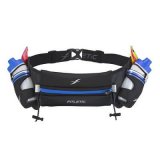 Test Winner: FitLetic Hydration Belt

Running
or not, part of all modern life requires us to
carry some important personal belongings
like our identification, money, debit cards, or even something as
basic as food and water
. Unless you were gifted with a kangaroo pouch or a few sets of arms like the woman from mortal kombat you're likely going to struggle to find a clean, dry area to store all these items while you're running. One of the best solutions for small and light carrying capacity is a running
belt
. These belts are generally designed to hold more than your standard pocket and do so in a way that is more comfortable while running and will prevent them from bouncing out of your pocket. This list features the best on the market to make your choice easier.
Standout Picks
Criteria Used for Evaluation
Durability
One of the most important aspects of durability when you consider these belts is the fabric used in their construction. While you could use a fully plastic design that wouldn't be durable, efficient, or look very good. Many of these belts use spandex, elastane, neoprene, and other expendable and durable fabrics that will keep your belt in fine running order for some time to come.
Aside from how annoying a bouncing belt can be while you run this design flaw will cause your belt to wear more quickly. While selecting each of these belts I sought traits that would ensure that belt bounce was not a common issue amongst them and if it did occur it wouldn't happen too frequently.
The most common area any fabric-based product will struggle to maintain is the stitching. These seams have a knack for tearing, fraying, and ripping when you need your belt the most. Any belt that had reinforced stitching or used a sealed stitching approach was given a higher value and placed towards the higher end of the list.
Fit
Runners come in all shapes and sizes and finding a belt for the extremes in either direction is a very difficult task. Many of these belts will only accommodate the standard sized runner but a few on this list go above and beyond to ensure most anyone can use these belts.
No surprise to nearly anyone that has run before but you can generate a substantial amount of movement while running. This movement causes added stress to your running belt and will work to jostle it out of place and even cause it to slide down. Each of these belts will be capable of remaining on your waist even during the most vigorous runs.
Features
While my primary focus was the best running belts sometimes the best products work hand in hand with another. In this case, it is generally a water bottle or some other small but wonderful addition to your purchase. I didn't use this as a requirement or way to select the products but when it came down to organizing this list belts that went the extra mile to include a water bottle or other added item increased their value.
One of the best ways to focus and get the most of your run is to listen to music. Something about the repetitive nature and the music brings out the best performance you're capable of. While Bluetooth technology is readily available many people still rely on the use of an auxiliary cable. Any belt that had a grommet for headphones was given a few brownie points when it came down to placement.
Weather Resistance
Part of being a reliable belt is keeping your personal items safe during each and every use. Bad weather can and will occur during your run and should your belt not be waterproof you can say bye bye to many electronics. Waterproof belts were given a higher rating and value due to their reliable nature.
Another trait I tried to consider with these belts was whether or not the possessed a unique feature that wasn't common among other running belts. Those that had insulated pouches or a separate waterproof bag as an added layer or protection were placed higher on the list while the more basic and standard belts were lower.
Value
With any product, these belts include, the pricing point speaks volumes about the item and the manufacturer. When selecting these belts I compared the prices to other belts on the market and other belts on this list. I established what the average price was and then compared each item on this list and assigned a value based on features. The higher the value was the better rating I would give a specific belt.
One of the most important parts of running is making sure to stay hydrated. Your performance can be directly linked to the amount of water in your system and with the perfect mix of the elements and dehydration failure to have the proper intake of water could spell disaster during any run. As holding water isn't a specific requirement of being a running belt any belt that did go the extra mile and had a way to store water was place higher on this list.
Many runners myself included the need to carry a small set of items no matter where they go and being able to do so without using your hands would be a challenge without one of these belts. Knowing that these items will generally be important and or expensive I tried to select belts that had storage pouches and any that were waterproof providing extra protection helped their positioning.
BEST RUNNING BELTS REVIEWED & RATED FOR COMFORT
1

. FitLetic Hydration Belt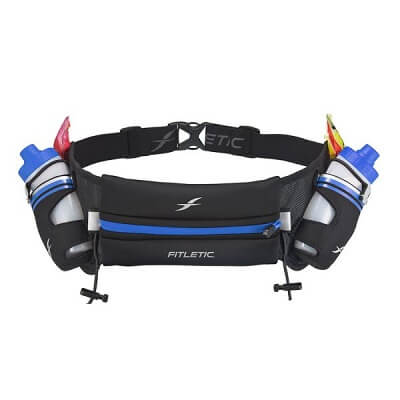 When you finally commit to a long run you need to prepare. While you could probably push yourself to your limits and not use a belt opting instead to use water stations will slow you down. By using the Hydration belt you won't need to worry about your time or endure the discomfort of thirst. With the two 8 oz water bottles, you can easily hydrate at any time during your run.
Endurance Race Option
Whether you're a marathon runner or simply enjoy a longer run this hydration belt is the ideal companion. The no bounce design, dual water bottle, and large insulated pouch are time-tested and valued features that will speak volumes during that long run.
Insulated Pouch
Fitletic thought of everything with this one by using an insulated pouch to keep your drinks cool and refreshing. Fitletic uses reflective insulation that works to slow the warmth conductivity through the pouch.
Cost and Value
This belt seemingly combines all the best features you could ask for into one unit but unfortunately for us, the price tag reflects that. Although that isn't necessarily a bad trait as you do in this instance get what you pay for. One very unique feature is the insulated pouch that is very rare amongst other running belts. As the most expensive belt on this list the price played the biggest role in its positioning on this list.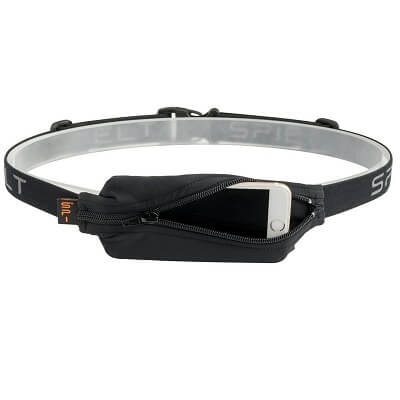 The belt you choose will often be dictated by the type of run you're planning on going on. Should you be going on a short run and don't intend to need much in the along the lines of gear or storage the SPIbelt is one of the best options around. This slim spandex belt has a small elastic pouch designed to hold only the most basic of personal items like a phone, keys or your wallet. It attaches to the use of an adjustable three pronged clip and can be orientated in nearly any position that suits you best.
No Bounce Construction
One of the most common areas of concern whenever any runner is buying a belt is the amount of bounce the pouches or water bottles will generate while you run. Over time this repetitive movement can be annoying and if you're running far enough even hurt a bit. With the pouch being an extension of the belt rather than an addition you won't experience any bounce with this belt.
One Size Fits Most
With the use of spandex and adjustable straps, this belt can accommodate most runners. The belt can sit comfortably on a waistline as small as 26" and expand up to a maximum of a 47" waistline.
Cost and Value
This belt is exceptionally well designed and should it have had more carrying capacity could have been in the number one spot. With that being the only clear limitation this belt is hands down the best for short distance running that you can find today. Coming in at the mid-price range when compared to the other products on this list the SPIbelt delivers the performance you would expect from a more expensive belt.

3

. Waterfly Water Resistant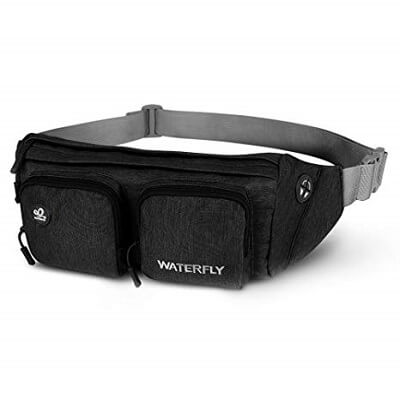 With multiple storage pouches and the ability to mount it nearly anywhere you would like this running belt is perfect for any runner that has the need to carry many different items while out and about. With a huge selection of assorted colors to select you can find easily find one, you match your running outfit. As one of the only water resistant belts on this list, it offers a unique benefit that is generally overlooked in the production of these belts.
Double Zippered Main Compartment
There are ample amounts of storage space on this belt and it uses a double zippered compartment for your primary personal belongings. Additionally, they use a hidden inside compartment and two smaller front compartments.
Polyweb Belt
This belt is made with a poly web material and uses a ripstop design that keeps your belt strap securely attached the pocketed bag. This high-quality belts strap is soft to the touch and will firmly but gently grabs your body as you run.
Cost and Value
Not only does it fulfill its primary purpose of being a great running belt but it has all those amazing amenities that you wouldn't consider necessary but still love. The ability to store many different items and separate them in the same pouch is a wonderful way to keep your items organized on your run. Combined with the water-resistant materials this belt makes your daily run more enjoyable. Now it's time for the catch right? Well fortunately for you and the rest of the world this belt is one of the cheapest belts on this list.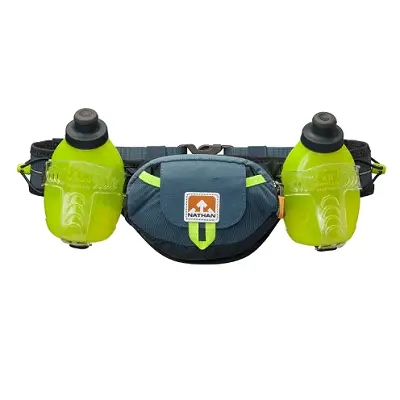 This belt offers a dual water flask design that separates 20 ounces of water into two small and separate flasks that can be easily accessed with a single hand due to their speed fit holster design. Between these flasks is a rather large storage pouch capable of holding most anything you could need while you're running.
Dual Water Flask
This belt has a dual water flask design that spreads 20 ounces of water across your belt. This separation spreads the weight of your water and the weight of the contents of your pouch out over the belt allowing it to rest on your waistline and feels very balanced.
Speedfit Holster
Many belts struggle to combine the ease of access we need out of our water with the stability the belt needs to provide to hold your water in place while running. The Trail Mix Hydration bag uses speed fit holsters that hold the water firmly in place while you're running but can also be easily removed by a single hand when you need a drink.
Cost and Value
Not only meeting but exceeding my expectations this belt was the decisively and clearly the top choice I found while researching these belts. The inclusion of the dual water bottles and spreading them apart to make for excellent weight distribution allow you to stay hydrated during the most taxing runs. At a comparatively higher price than every other belt on this list and many other belts on the market, this is a belt you won't regret spending the extra penny on due to the ingenious design and simplicity of use.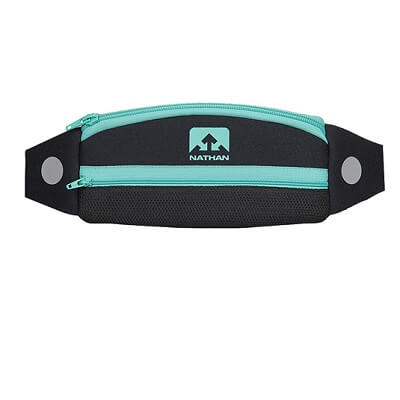 A nighttime run can be one of the most relaxing exercises that you can experience and not only will the 5K by Nathan Sports hold your items but it works to keep you safe. This belt uses 3M Scotchlite Reflective surfaces that will stand out on the darkest nights. In an attempt to produce a versatile and fully accommodating belt the 5K can fit anyone that has an 18" and up to a 55" waistband.
Dual Pocket Design
Sometimes simplicity is the most effective path to take and the dual pocket design embraces this method. Using a smaller mesh pocket and a larger full pocket allows you to divide your items and keep to ones to access more frequently visible and easily accessible.
Scotchlite Reflective Surface
Early morning or late night runs do come with a bit of risk due to low visibility. This belt has a retroreflective surface that increases the contrast of your belt to the surrounding area keeping you visible at night.
Cost and Value
Your wallet and phone would be easily stored in this pouch and you would have some room for a protein bar or running gel in the easily accessible mesh pocket. The use of 3M Scotchlite reflective surfaces could potentially prevent an injury which could prove to be invaluable. All in all, with an average pricing point compared to other running belts one could be content with this simple belt.

6

. Amphipod Airflow Microstretch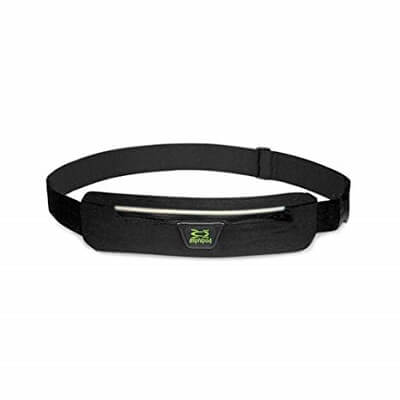 Practically a minimalists dream belt this sleek and slim running belt is a strong contender that can be used by most short distance runners. The Microstretch belt as the name implies is fully adjustable in size and is capable of expanding to more than 4x its sitting diameter. With a 9" stretchable pouch you can store most of your basic running essentials.
Add-on Number Tabs
If you've ever participated in a marathon, triathlon, or really and timed running event you're already familiar with the number tab. This belt will readily accommodate your number tab so everyone knows exactly who is ahead of them winning the event.
Elastic Storage Pouch
With how wildly the sizes of items you may carry will vary finding a pouch that can conform to the all can be challenging. The Microstretch uses a 9" expandable pouch that will bend and contort to any shape you may need for your items.
Cost and Value
As one of the most cost-efficient products on this list, the value is instantly apparent during use. The thin waistband that holds this belt firmly and comfortably in place is made to prevent chafing and reduce bouncing. Using an interior divider allows you to separate your items and acts as a second pouch.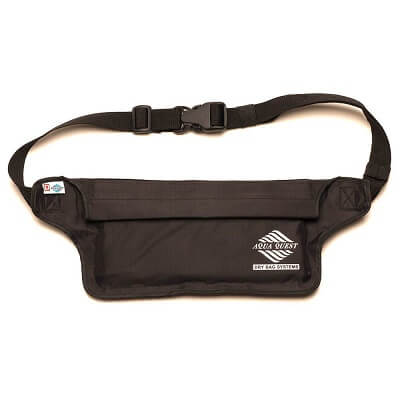 While many times rain can be the most unpredictable element you can encounter there are those days that you know without a doubt the downpour is inevitable. Should you have the blessing of knowing in advance the Aqua Quest running belt will make the perfect sidekick. Using a waterproof pouch and DWR treatment this belt will remain dry during your run regardless of where the water comes from.
Water Resistant Pouch
Aqua Quest used an ingenious design in the construction of this belt when they implemented the use of a removable waterproof pouch. This pouch has enough space to accommodate your standard sized phones, keys, or even a smaller wallet.
Durable Water Repellent
The fabric used in the production of this belt is treated with a DWR ( Durable Water Repellent ) coating that has hydrophobic characteristics and will prevent water from penetrating your belt.
Cost and Value
Possessing the most basic requirement of being a running belt that is capable of storing the items you carry while running this belt can be an effective choice. The separate waterproof pouch that can be stored in the main compartment is a great way to divide your items between what can or cannot be exposed to water. This belt is a more expensive belt compared to others on this list and finding any one aspect that redeems this cost wasn't possible causing this product to be placed lower than it could have otherwise.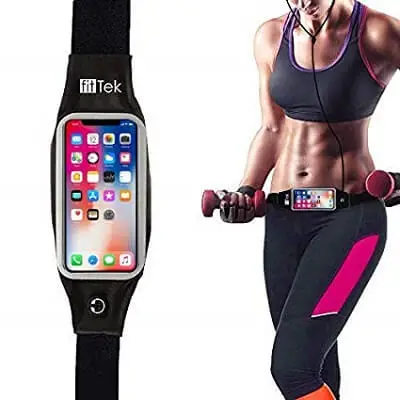 This belt is a much more phone friendly belt than many others on this list and allows for you to manipulate your touchscreen and has a grommet for your headphones to be fed through providing easy access to your music. This belt is made with only the highest quality materials including that of Lycra and a thermoplastic polyurethane clear window.
Easily Worn Under Clothing
The ability to wear a belt under your running clothing is a discrete way to keep your items safe and out of sight. With a much thinner design and more specific purpose this belt is one of the better candidates should you have concealment in mind.
Touch-Screen
With nearly everyone having a cell phone these days of uninterrupted media is a thing of the past as many apps use forced advertisements. The TPU clear window is touch screen friendly plastic that will allow you full access to your phone to change a song or close an ad even while it's in your belt.
Cost and Value
Being uniquely suited and limited to use with a phone this belt has a very specific runner in mind and should your carrying needs be limited to the only phone this is likely the best choice. My favorite feature was the use of reflective trim along the edges and zipper is a great safety feature. As the cheapest running belt on this list, it's hard not to give this belt a chance and it's well worth the small amount you'll spend.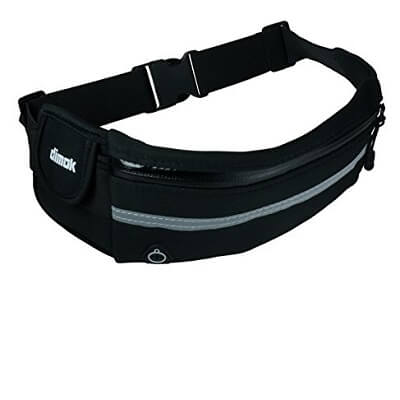 This belt by Dimok would be a great choice for those days where you only have time to get in that 30 minutes of cardio. Dimok uses a three pouch compartment construction and going the extra mile includes a headphone hole. This belt uses the almost industry standard strap and clip design allowing it to fit your specific shape and size.
Three Section Pouch
Whether you run with your dog and want a separate pouch for some dog treats or just need a separate pouch for storage Dimok provided plenty of space with a three pouch compartmentalization.
Headphone hole
Should you prefer a traditional pair of headphones to the new more modern Bluetooth set this belt is the best bet. It has a small grommet on the front of the pouch that you can use to feed your headphones through allowing access to your device.
Cost and Value
Of all the features on this belt, my favorite quality is the assorted colors. This belt is very simple but that is one of the reasons I chose to include it in this list. It is one of the cheapest belts on this list and the only thing it's missing is a way to store water.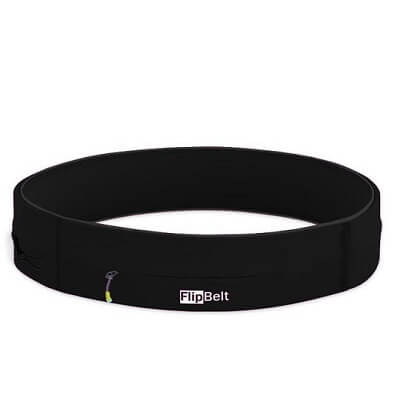 The Flipbelt is a dream belt for many runners and with its simple concept, it is easy to use and comfortable belt that can carry everything you might need for a short run. Using a micro poly and lycra based composition fabric this belt has an uncanny ability to wick moisture. All the while being machine washable makes this belt practically maintenance free.
Easy Slide Storage
With many belts, your items have a way of catching onto any bit of fabric that is close and could cause you to drop what you were reaching for. The fabric used to make this belt allows your items to slide in and out with ease.
Moisture wicking Fabric
Being that this belt may be exposed to moisture the fabric composition was made to wick moisture away from you and your items to keep you dry for a short run.
Cost and Value
With how close the items are and the form-fitting design of this belt it is better suited towards a short run limiting its purpose slightly. As one of the more expensive options, this belt does little to provide any substance associated with the increased price.

Subscribe to our Newsletter