Best Gifts for Runners Reviewed & Compared
Running is one of the first activities we learn to enjoy as a child. As we got older, we realized how important running is to our health as well. Whether you're a professional racer or some who enjoys weekly runs as part of an exercise regime, you understand the importance of being prepared and having the right equipment. So if you have friends or family members who run, buying them a gift that relates to the sport can be your best option if you don't know what to get them.
After spending quite a lot of time researching, we chose these gift ideas based on convenience, price, and quality. There's just so much to choose from, I could easily go on for pages about this stuff cool stuff. Every one of these items should be on my wish-list and yours too if you're a runner. Hopefully, this list did what I intended: provided a variety of gift options suited to make even the pickiest run junkie happy.
Featured Recommendations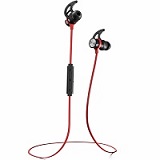 Phaiser BHS-730

Our rating
HD Sound
Price:

See Here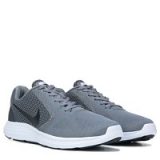 Nike Revolution 3

Our rating
Soft foam midsole
Price:

See Here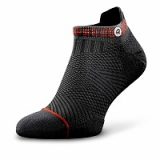 ROCKAY Accelerate

Our rating
Compression
Price:

See Here

15 Best Gifts for Runners
1. Phaiser BHS-730 Bluetooth Earbuds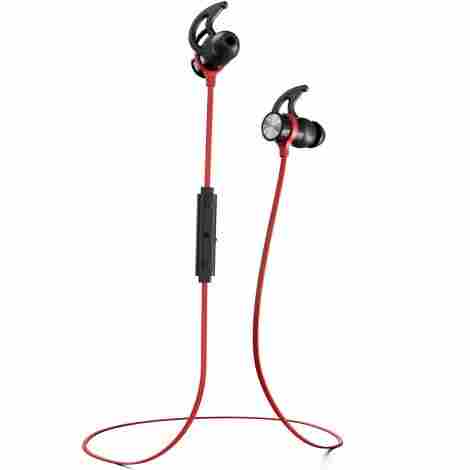 I used headphones at the gym all the time. Not for running, but I can understand how wired headphones can be a nuisance when you're out, I know they were a pain for me. Then came wireless headphones, but that option was expensive and unreliable. These headphones go a long way toward solving those issues with solid, quality features without the hefty price tag, making them an ideal deal for any
sports enthusiast
.
Expand to see more
They sound good!
Umm, good? They're headphones, they're supposed to sound good, otherwise, no one would buy them. No, these sound GOOD. Super accurate HD sound and powerful bass combine to give your ears an experience they won't forget.

Water damage? No sweat!
While it isn't likely to happen, occasionally your headphones could get some damage from excessive sweating. Fear not! Their lifetime sweatproof warranty will make sure you're running along to your playlist again in no time.

Cost and Value
Sturdy enough to hold up to your vigorous everyday use, yet priced well enough that you won't worry about damaging your investment.

HD sound
Sweat proofing prevents water damage
Fit securely in place
Lifetime sweatproof warranty
Not the best battery life
Speakers are known to cut out
2. Nike Revolution 3 Running Shoe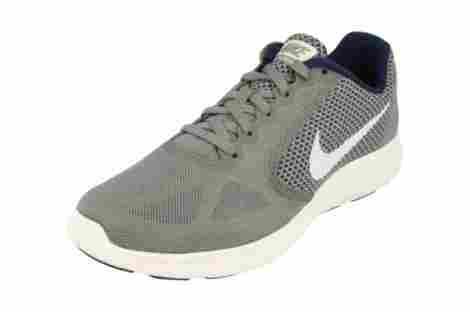 We're starting with the obvious here. A running shoe? Wow, thanks for the no-brainer. Well, guess what, it's the perfect starting point for this list, and your favorite running enthusiast, for that matter. The Nike Men's Revolution 3 Running Shoe is a high-end product not necessarily in the high-end price range, that provides the wearer with everything you need to get out and hit the track: comfort, style, and...what else do you need?

Expand to see more
I'm walking on cloud Nike.
See what I did there? It's like being on cloud nine, because they're so comfortable, but they're made by Nike too, so there's that. Very clever, eh? But for real, there's a soft foam midsole, and the shoe is lightweight, which all makes for a good time for your feet.

They're like works of art for your feet!
Look at them, they are slick. I'm personally a fan of simple, practical design with clean lines and lots of aesthetic appeal. If you feel the same way, these shoes were made for you.

Cost and Value
Like most shoes, the cost does vary based on your size and the style you choose. But no matter the choice, this shoe will perform exactly the way it needs to, every time you go out. Just the comfort factor alone makes this a very good value though.

Mesh upper is breathable
Lightweight cushioning
Rubber outsole for solid traction
Very clean, minimal design is appealing
Not the sturdiest construction
Sometimes you pay for the name
3. ROCKAY Accelerate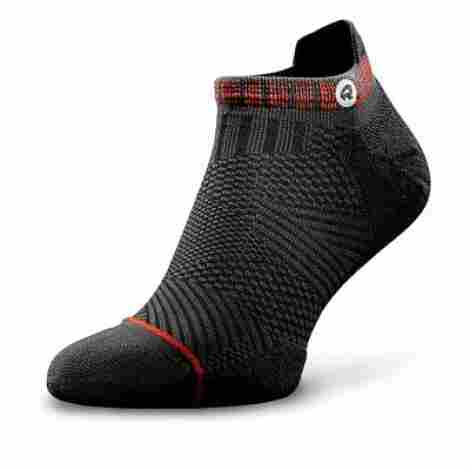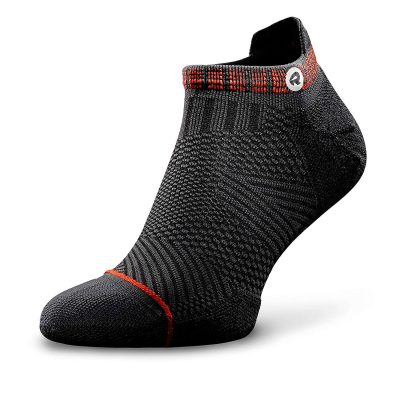 You have shoes, you have your music, your headphones, your shorts, your shirt--the right socks, of course! Most people think of socks as something that covers their feet and protects them, maybe keeps them warm. Others may think of socks as accessories. If you run, you know how important a function socks really play. To run effectively, you'll need something that can keep you cool even as you sweat, something that actually fits properly and won't ride down on you. You'll need a pair of Rockay socks.
Expand to see more
Compression fit

These socks offer an excellent compression fit that isn't too tight and not at all loose. They provide superior arch support too. Taken together, it guaranteed that, with a pair of Rockay socks, you will never have to worry about your socks sliding or causing any discomfort.

Ventilation

If you've been running for a while, you know how important breathability is. If a sock offers very little of it, you could find yourself dealing with clammy, sticky, stinky feet after the run is over. With this Rockay socks, you won't have that problem--they offer superior ventilation for superior breathability.

Cost and Value

The bottom line is, if you're a runner, you need a pair of Rockay socks. They may run a bit on the expensive end of the spectrum, but for the durability they offer, and the comfortability, and functionality, it is entirely worth it.
4. FlipBelt Waist Band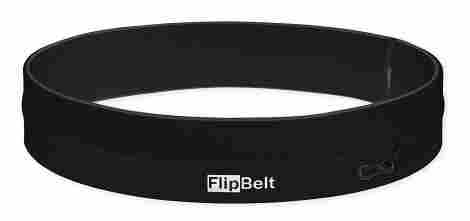 It looks like a giant bracelet, for your waist. So, a belt? No, not really. It's thin, but it holds whatever you need to carry, and it fits like a band with no annoying buckles or straps. It's machine washable and dryable too. Try doing that with a belt.
Expand to see more
It's all you need
This eliminates the need for multiple carrying implements when out during a run, which is good because too much stuff can throw off your balance. Being unbalanced when running isn't good, so thank you FlipBelt, for taking care of that.

Give me your money! What money?
As an added bonus to the FlipBelt, even when you're not running, it can be used as a hidden money belt, keeping your cash tucked away safe and secure. This is especially helpful when traveling.

Cost and Value
For less than the cost of a belt, you get a device that holds everything you'd want to take with you on a run without being cumbersome and eliminates uncomfortable buckles and other fasteners, so I'd say you get your money's worth.

Lots of pretty colors
Reflective logo for visibility
Easy to clean
Holds the largest phones
Small openings for the pockets
Not the sturdiest construction
8. ROCKAY Blaze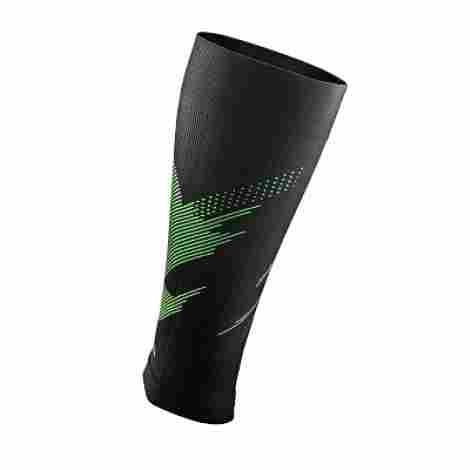 The runners in your life are sure to love the ROCKAY Blaze compression leg sleeves. Backed by both science and Swisslastic's compression test, these sleeves are designed to help runners perform better. Available in five different color options, there will a style that appeals to every runner.
Expand to see more
Documented Compression
When you receive your pair of compression sleeves in the mail, they will come with proof that the sleeves have passed Swisslastic's compression test. This proves that these sleeves are not only backed by state of the art science but that the manufacturers stand by their product so much that they're willing to be fully transparent as well.

Anti-Odor
These sleeves are treated using Polygiene Stays Fresh Technology. This technology is designed so that your sleeves won't need to be washed as often and will remain fresher for longer. After wearing them, you can hang them to dry and then they'll be ready to use on your next run.

Cost and Value
These sleeves are priced a little higher in comparison to other sleeves on the market. But this is a small price to pay for the quality and guarantee you receive by purchasing this product. They offer state of the art and science-backed compression technology that other sleeves simply cannot.
Guaranteed for life
Extremely breathable
Moisture-wicking
Anti-odor
Fun color options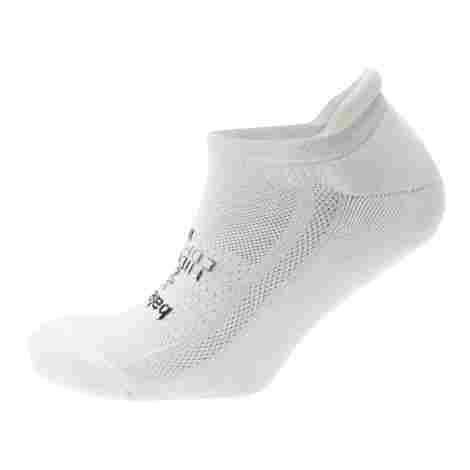 I don't wear socks often, I find them constricting. When I go out, though, and certainly when I do something strenuous such as running, even I'm not crazy enough to go sock-free. With these, they sit low, so they don't constrict. Also, I can wear socks, but you won't know it, hence I get to keep my reputation as a free spirit.

Expand to see more
Don't mesh with my socks.
If you run, you sweat. That sweat is unpleasant and uncomfortable. Enter the DryNamix moisture management technology, and that doesn't happen. They are designed to keep your feet cool and dry and breathing freely.

Stay!
I hate when I'm wearing socks, walking around, and my socks start slipping. It's annoying. The Balega Hidden Comfort Athletic No Show Running Socks are built with an extra deep heel pocket so they fit perfectly, and they stay put.

Cost and Value
They're socks. How much could they be? By virtue of what they are, they are not pricey. Add in the fact that they offer so much and are specifically made for running, and you've got yourself a great product and value.

Large variety of colors
Nice structured fit
Mesh ventilation
Perfect fit
Not the most comfortable
Not a lot of cushioning
6. Foxelli Headlamp Flashlight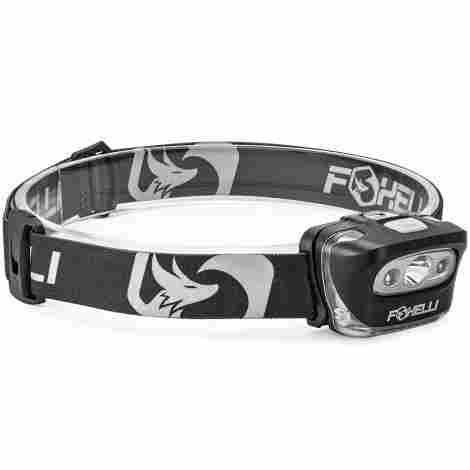 You're at home after work a bit stressed out, and a bit more bored. Suddenly, a light bulb appears above your head. Go for a run, that solves everything! The only problem is it's dark outside. Also scary. Just strap the Foxelli Headlamp Flashlight to your head, and get out there and shine. Even better, you'll look kind of like a miner out for a run!

Expand to see more
Blinded by the light.
The lamp has S.O.S. and strobe mode, making it the most versatile, as well as the brightest, headlamp out there.

What's that on your head?
Oh, I forgot it was there. That's right, I'm trying to illustrate how light and compact it is, by saying that there may be times that you forget you're wearing it. Try not to though, you might get weird looks.

Cost and Value
Well built construction, a long lasting bright LED, and a good price all combine to bring you a headlamp that you can rely on any time you want to hit the road at night.

Super bright LEDs
Waterproof
Battery lasts up to 48 hours while running
Tough construction
No red light as advertised
Has trouble changing modes at times
7. Timex Ironman Classic 30 Watch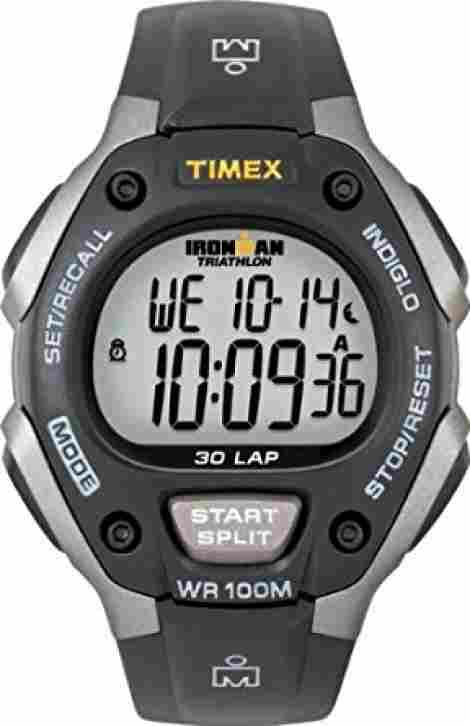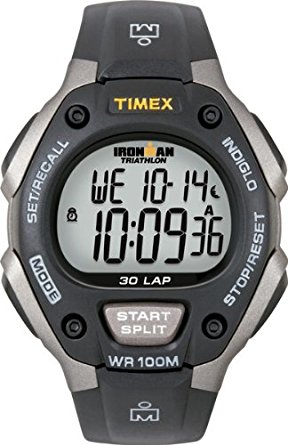 When I was around 10 years old, a long, long time ago, I started losing interest in my toys. It was time to grow up. So that Christmas I asked for the most grown-up
thing
I could think of, a Timex Ironman watch. This watch has been synonymous with performance for forever and is the perfect gift for a runner. For the ones that remember what a watch is, anyway.
Expand to see more
It's a Timex!
What more do I need to say? These watches were designed with athletes in mind. Quality, performance, great features, it all adds up to Timex.

So many alarms!
My son sleeps in all the time. His alarm goes off-and nothing. This watch could solve that problem. It has three alarms that can be set simultaneously, ensuring that he should wake up to at least one of them. If that doesn't work, maybe I can just throw it at him next time. Don't worry, I probably won't.

Cost and Value
Timex is classic. You know what you're getting when you buy one of their watches: a great price and the excellent quality that made the company famous decades ago.

Light up watch dial
Simple operation
Iconic Timex quality
Multiple programmable alarms
The screen can be hard to read from the wrong angle
The band tends to break.
9. Rocket Pure Natural Deodorizer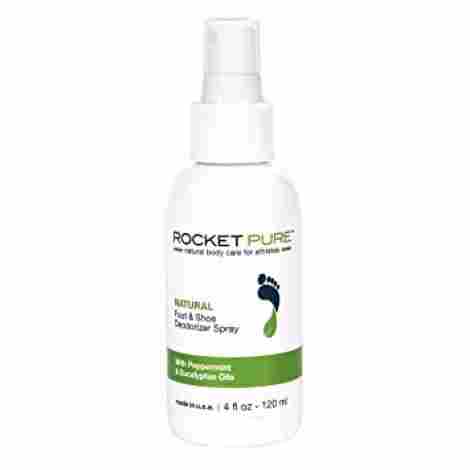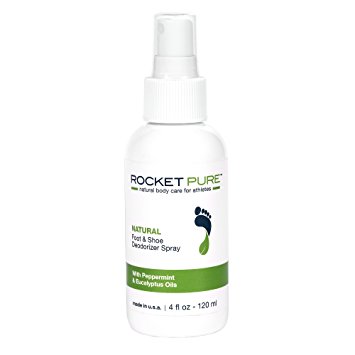 Warning, if you're just coming in from a run, try to make sure you're alone before you take off your shoes. If you're not, you soon will be. That is, of course, unless you've already used Rocket Pure Natural Mint Shoe Deodorizer. In that case, you'll be good to go, free of all the nasty odors wafting from your well-worn running shoes. It's made with all natural ingredients, so you can feel confident spraying it.

Expand to see more
All natural
I really can't stress this enough. Nowadays, eco-friendly is the way to go. You don't want to smell like harsh chemicals, and you won't. It's made with natural essential oils and is paraben free, so no artificial preservatives either.

Minty fresh!
After spraying on the deodorizer, either in your shoes or directly on your feet, you're met with a gentle peppermint aroma with no chemical smell. It's almost like aromatherapy, and your loved ones will appreciate it more than your previous foot odor.

Cost and Value
With hundreds of sprays in each bottle, you won't have to worry about constantly running out. Once you do run out, just go buy another bottle of this well-priced, quality product.

Long lasting odor control
Hundreds of sprays in each bottle
Smells nice
All natural ingredients
The smell can be overwhelming
Tends to mask odors instead of eliminating them
10. Apace Vision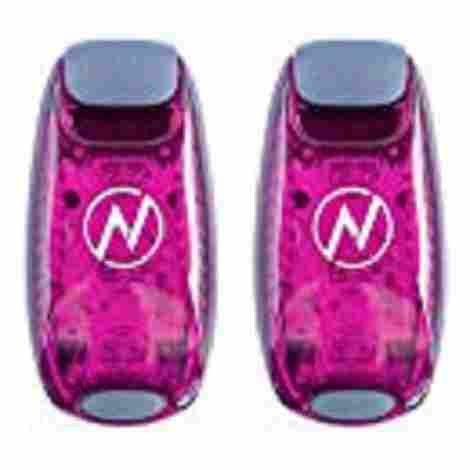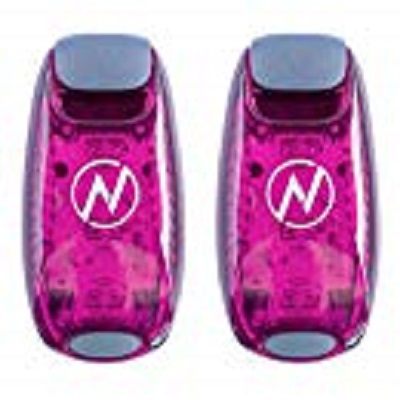 This is one of the best gifts you could buy for an enthusiastic runner. The set of 2 safety lights are perfect for a safe and relaxing run on an unlit runway. It comes together with 4 extra batteries, 2 fasteners, an elastic band, and a mini-screwdriver. The fasteners make it easy to attach the lights wherever you want and the screwdriver is useful when changing the batteries. Moreover, these safety lights are lightweight. Therefore, you won't even feel their weight!
Expand to see more
Clips Easily

Whatever the outdoor activity you enjoy is you can count on these staying in place. They using a hook and loop design that can be fixed on clothing, bikes, collars, and backpacks.

Weather Resistant

What's more, you don't have to worry about the weather conditions. The Apace Vision LED Safety Light works really well even under the most difficult weather. No matter if it rains or it's a high heat, you'll always be safe while wearing this safety light!

Cost and Value

This comes in a compact design that is lightweight, yet durable. Moreover, if you're not satisfied with this product in 30 days, you can get a full refund. You also benefit from a 1-year warranty.

Features three light modes
Includes two sets of batteries
Includes clips and hooks
Weather resistant
Hard to change batteries
Some complaints about brightness
11. Health Warrior Chia Bars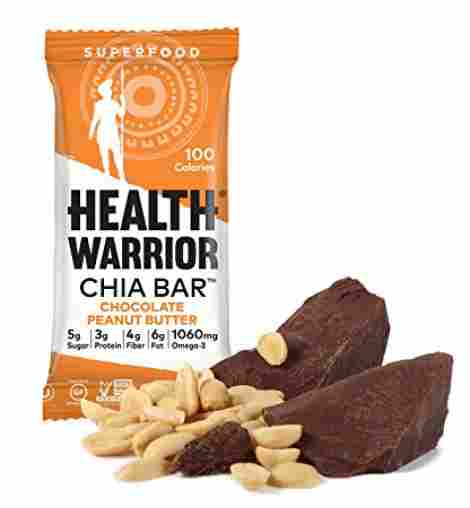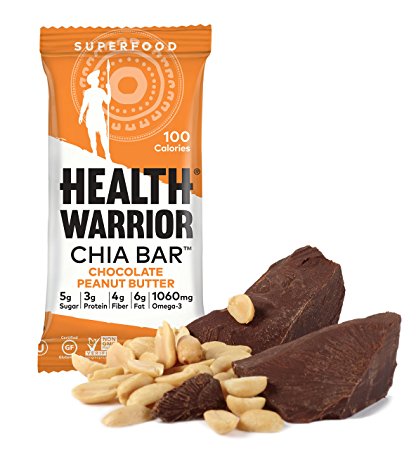 Mmmm, chia. What is chia, actually? Is it good? If you ask me, it's a resounding "sort of?". That's a matter of opinion, but you know what's fact? Chia is really good for you. Good for you doesn't always taste great, but when you pack it together with a bunch of other great ingredients, you get a bar with great taste and texture built to power you through the day.
Expand to see more
I feel super!
Full of calcium, tonnes of magnesium, more protein than an egg, soy free, gluten free, dairy free. But not flavour free. These little bars have more than enough of everything to give you the energy need to tackle the day.

Like the colors of the rainbow…
That was supposed to allude to the fact that there are many different flavors to pick, making sure you're never bored with your snack. Take a look at their website, they even have a rainbow sampler pack with eight different flavors to try. So many options.

Cost and Value
All in all, a decently priced health bar compared to what's out there. Different flavors to choose from, which does give these bars good "replay value". They seem a bit small, but keep in mind that they are packed with good stuff, so they don't need to be huge.

Packed with super foods
High in antioxidants
Doesn't taste artificial
Good variety of flavors
Quite small
Can be an acquired taste
12. Alfamo Cooling Towel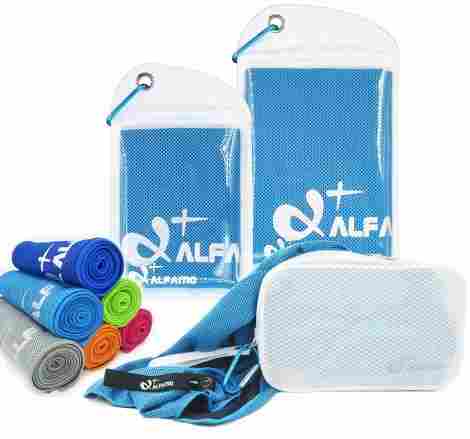 It's a towel. There haven't really been any innovations in towel technology since there were discovered to have the ability to dry things. That's all changed now, because the Alfamo Cooling Towel keeps you, well, cool. It chills instantly and holds that chill for up to three hours, making it absolutely perfect for after a hard run, when the cooling touch is just what you need.
Expand to see more
It keeps you cool.
This should be pretty self-explanatory by now, but fine, let's talk about it again. Soak it, ring it out, and snap it. Now apply it to your skin. There. Now you're cool. Which is pretty great, really.

A carrying case for a towel?
As cool as it looks to walk around with your towel draped over your shoulders all carefree like, it can get annoying after awhile. That's why this one comes in its own case with a carabiner clip, so it's always ready for you.

Cost and Value
It cools. For a long time. That right there is worth any price, just for the relief it offers. It's almost like witchcraft. Good thing it also has a great price point, which only varies based on the size of the towel that you choose.

Activates instantly
Continues cooling for hours
Comes with a handy carrying pouch
Very soft
Color can run
Can start to smell a bit after awhile
13. Aennon USB Rechargeable LED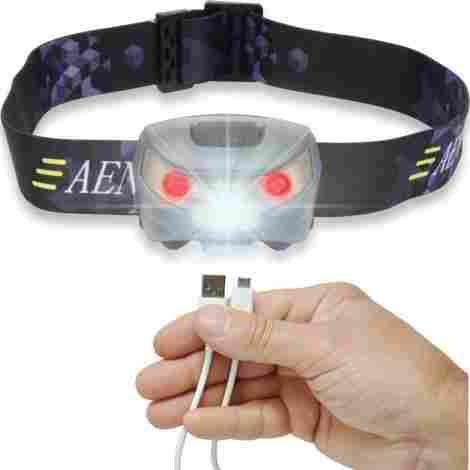 To be fair, I didn't want to include more than one headlamp on this list, because honestly, it doesn't seem too exciting. Once I saw this one however, it really stood out with its unique look. So I decided to research it a little bit, and then I was convinced. It recharges super easily and is built to last, so how could I not include it?
Expand to see more
Easy to use
Three handy lights that are super bright all at the touch of a button? That's right, this lamp offers simple, hassle-free operation because really, do you want to fumble around for a light in the dark?

Recharge it
Of course, I'm going to talk about the USB charging feature, how could I not? You save money on batteries, and you can just plug it in and forget about it until you need it, and then it's fully charged and ready to go.

Cost and Value
This headlamp provides the convenience of not having to worry about batteries, being able to keep it charged at all times until you need, and packing a very bright light, all for a very small price. I'm glad I included it on this list.

Very bright light

No batteries needed

Single button controls

Shock resistant glass lens
Doesn't hold a charge for very long

Not ideal for prolonged use
14. TrailHeads Ponytail Headband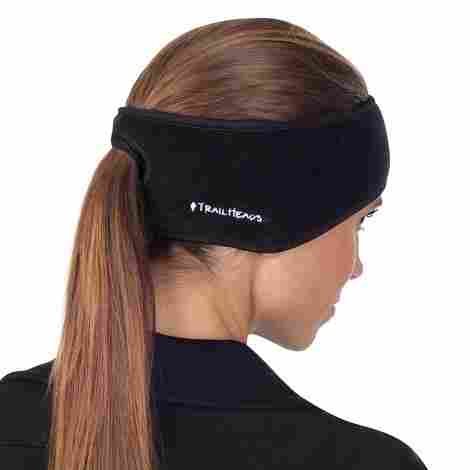 The listing for this particular gift idea does state that it's meant for women, but make no mistake, it can easily be used by those men who happen to be gifted with healthy flowing long hair. I chose this ponytail headband because it has a very classic non-descript aesthetic that doesn't make it stand out as being for women only.
Expand to see more
Unisex design
I really want to drive home the fact that this headband works for everyone. I understand that the target market is women, but really, its very unassuming appearance is perfect for all runners.

Important aspect 2
This is something I didn't think of. In colder weather, this headband will absolutely cover your ears and protect them from freezing. It's not an alternative to proper winter headgear, but for those early morning jogs, it's perfect.

Cost and Value
This is a simple, well-constructed piece of gear that performs a deceptively important function. It was designed solely to do just that and doesn't waste time, or your money, with useless additions.

Several color options to choose from

Simple, no-nonsense design

Great value

Contoured fit provides warmth in cold weather
Made from a thin layer of fleece

Fits too small
15. RJ-Sport Elastic No Tie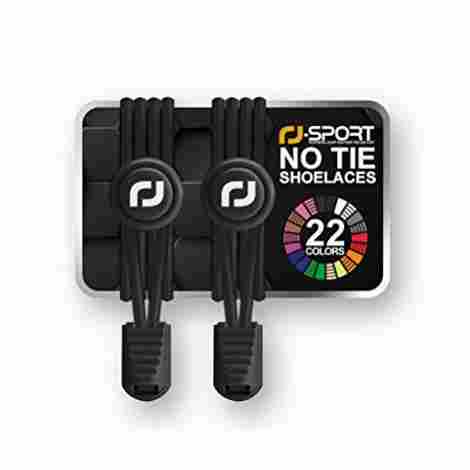 Wow, the pursuit of convenience has sure come a long way. I wasn't even aware that no tie shoelaces were a thing, though I shouldn't be surprised. This innovative accessory strives to make running as efficient and time savvy as possible, making it the perfect gift for runners with a busy lifestyle where every spare second counts.

Expand to see more
Amazing innovation
Instead of highlighting a specific feature, I'm going to touch on these laces as a whole. Designing something to keep runners from having to stop and tie their shoes, thereby killing their momentum, was a very smart idea.

Not just for runners
Not only are these a great idea for runners, but they wok in a variety of other situations as well. For senior citizens who have mobility issues and struggle to bend over or young children who have yet to master the task of tying their shoes, this can be seen as a blessing.

Cost and Value
Essentially an elastic drawstring that keeps your shoes properly fitting your feet, the cost of these laces was never going to be all that much, but the value you get in return is substantial.


Contours for comfort

Great functionality

Easy to install

Water resistant
Can be too tight

A bit large for some shoes
Criteria Used in Evaluation
Since this buying guide is meant to cover a broad range of topics in order to give the best gift options available for the runner in your life, the same rules for criteria can't be used here as they don't translate very well in this case. That being said, the criteria was quite a bit more subjective, yet structured in a way that would encompass all the subcategories equally if possible. So while there were some different criteria for each individual listing as determined by what I wanted to include that I won't be getting into this time, the following list was meant to be used as a general guide.
Price
Price really wasn't a factor in the sense that I wanted to include only low priced, bargain bin items in this guide. Sure, we all love a bargain, but there is always that person who expresses their feelings and emotions through buying large extravagant gifts. For that reason, I wanted to include a range of prices, from the small gifts that only cost a few dollars and are perfect to show someone that you're thinking of them, all the way to the high tech, gadget-heavy watch that checks your pulse and heart rate, and keeps track of your mileage while costing a small fortune. So hopefully I did my job, and you are able to find gifts that met your needs and are comfortable for your wallets.
One thing that I did take into account, and that I felt was non-negotiable, was value. It didn't matter how much the item cost, it had to offer something above and beyond, more than justifying its price point. Whether this means having a ton of useful features, being built incredibly well, or just being exceptionally versatile, the value had to be such that it left you feeling good about your purchase with no second thoughts.
On the other hand, sometimes having the latest smartwatch, or ergonomic, recycled, light as air running shoe, regardless of whether you truly need it or not, is just for the sake of showing off. Once in a while, you just need to feel cool.
Availability
Even though there are thousands of different possible gift ideas available for your favorite runner, not everything is equally available in every area. This can be due to regional differences, different laws governing the region, climate, or just public demand for the item.
To combat this potential obstacle, I first made sure that each and every item on this list can be easily purchased online. Not only does it need to be sold on the most widely used sites, but it needs to be in stock on a regular basis. More available stock means that there is a lower chance that if there is ever an issue, there is no replacement or the warranty can't be honored.
Once online availability was assured, I did what I could to make sure that these items are popular enough to be carried in most large retail chains across the country. Sometimes things happen, and a gift is needed as soon as possible, and the sometimes lengthy delivery times just won't do. Most of these gifts are by well known, established brands that aren't likely to go away any time soon.
Of course, these gifts can be hard to find, especially during peak holiday times. In that case, it's best to be as productive as possible and purchase them as far ahead as you can.
Relevance
This was one criterion I mentioned above that was a lot more subjective than most, and therefore I had to use my discretion when using it to select the ideal gift. Not every accessory is regarded highly by every runner. Some things are impractical, or even silly, to some people.
Depending on what type of running you choose, some items won't make sense. Trail runners don't need ultra-thin flexible runners. Sprinters don't need as much fuel. I've said this several times already, but it fits in as much here as anywhere else: I focused on covering as broad a spectrum as possible in order to make sure these gifts were relevant in as many situations as possible. The rest is really up to you and your runner to decide.
Versatility & Functionality
Normally I'd have versatility and functionality as their own separate categories, but in this circumstance, I realized that one is only possible because of the other. If it wasn't functional, it wasn't going to be very versatile. There was no getting around that fact no matter how much I tried.
A runner wants to optimize their performance when out on the track or street, and that means really being aware of what they bring with them. Not only is this due to weight issues, but also, as strange as it sounds, wind resistance and drag play a part. Not to mention that you really just don't have a lot of room to carry stuff with you. That's where functionality comes in. For the most part, I chose accessories that served several purposes during a run. The ones that were more limited weren't usually taken on the run but used as part of a pre- or post run ritual, as in the case of the energy gels and chews.
The small items and the clothing were easier to forgive. Regardless of how many tricks they could perform, I couldn't really get away from the fact that runners need shoes in most scenarios. More so, I couldn't omit shorts or shirts, because running naked is just streaking, and that's a whole other category. The other wearable items were included because they took care of a fairly pressing need, such carrying your identification, keys, and phone while being reasonable unobtrusive.
It was the larger items that came under more scrutiny. These invariably were heavier and/or took up more space, so you need to be very careful when deciding whether to bring them along. The electronic devices, such as watches or earphones aren't critical to being able to run, but they offer such features that can either monitor progress or provide a distraction during the more mundane moments.
Aside from those items, anything else I've pretty much left up to the discretion of the runner in question since nobody really knows what they need better than them.
Terminology
Antioxidants: Oxidizing agents can create free radicals that float throughout a person's body and cause cell damage. Antioxidants are molecules that inhibit the oxidation process.
Chafing: This can occur when something, usually a piece of clothing, fits too tight against the body, rubbing the skin and causing friction, resulting in redness, welts, and in severe cases, open wounds.
Breathable: This refers to the density and structure of the fabric being used. Breathable fabric allows some airflow to circulate around the body, drying moisture and minimizing the chances of sweating. A good naturally breathable and very widely used material is cotton. Being a natural fiber, cotton will absorb the moisture rather than expelling it.
Electrolytes: A liquid or gel containing ions that can be decomposed when exposed to water, allowing it to conduct electricity in the body, helping to regulate nerve and muscle function, rehydrate cells, and help rebuild damaged tissue.
BCAA: Branched-Chain Amino Acid. They help stimulate protein synthesis. Supplementing with BCAAs can help prevent the catabolic (protein breakdown) effects of dieting and intense exercise.
Hydration bladder: Also known as a hydration pack, this is a hydration system built into a backpack or in some cases a waist pack. The bladder is a reservoir usually made of rubber or plastic that holds water and helps to keep it cool. There is a hose attached to it with a capped mouth on the end that can be filled with water, allowing for hands-free drinking while running.
Polarized: The lenses of sunglasses are coated with a chemical film that reduces glare. This helps the wearer to see more clearly while wearing their glasses on sunny days.
FAQs
Frequently Asked Questions
Q: How do I know which gift to get?
A: That's all going to depend on what the runner in your life needs the most. Each gift was included because we thought it was an ideal addition to any runner's gear, but again, you may only need or want specific items.
Q: Should I just get them all?
A: You could. Like I stated above, each of the selections were hand-picked because of their versatility and importance to runners. Chances are that at some, any runner will find a use for all of these.
Q: Do runners actually use any of these products?
A: With only one exception, these items are all deemed necessary to one degree or another. One of these are novelty gifts or useless trinkets. I included a wider variety in order to ensure that there was something for everybody for exactly this reason.
Q: Won't any type of shoe do the same thing?
A: Not even a little bit. It's always been known that different shoes are ideal for certain situations, and the wrong shoe can cause pain, discomfort, and sometimes injury. Running shoes were specifically designed to be lightweight and extremely breathable, with a contoured shape to conform to the foot offering comfort and support. All of these are crucial in delivering a safe, rewarding experience without fear of hurting yourself. Other types of shoes will offer one or even a few of these features, but none will address all of your need like a runner will.
Q: Hydration bladders look heavy and bulky. Does that defeat the purpose?
A: At first glance, yes, hydration bladders do seem like they'd be at least somewhat prohibitive, but manufacturers have taken steps to make them as comfortable as possible, From being constructed from breathable lightweight materials to adjusting the harness to not constrict, hydration bladders today are still noticeable, but inconveniently so. Keep in mind though, that they are meant for long distance endurance runs, and not so much for sprints or other runs where speed is the goal.
Q: Why not a hat?
A: When I compiled this list, I want to include items that wouldn't necessarily come to mind immediately. Gift buying can be difficult, especially when you're not one hundred percent sure what to buy. With that in mind, I tried to make selections that are well thought out, and maybe even a bit unique. As this isn't an all-encompassing list, there is nothing saying that any runner wouldn't absolutely love having a hat while on a run.
Q: Do sunglasses have to be polarized?
A: No, it's not a requirement that all be sunglasses be polarized. Some people find the effect disorienting or uncomfortable. Not using polarized lenses, however, will likely limit a runner's availability to cloudy or overcast days, or even evenings and nights.
Sources: