Best Hydration Backpacks Reviewed & Rated
In a Hurry? Editors choice: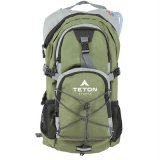 Test Winner: Teton Sports Oasis 1100

Hydration backpacks are more than just bags with a water cooler built-in. Over the years they have even replaced some smaller consumer bags, offering extra space where needed. Depending on what you use them for, the designs will play a large role in which one will get maximum usage. With choices for casual, hobbyists and professional users, the choices continue to grow. Whether you need one for your next adventure or just something convenient while hiking and enjoying the outdoors, our list of top models on the market is sure to have the perfect fit for you. Our criteria and frequently asked question section will help guide you if you have any questions!
Standout Picks
Criteria Used for Evaluation
Comfort
A proper fit is critical. That's obvious the moment you start sticking external objects on to your body. This is especially true when you're running or participating in a long-distance physical activity. A proper hydration pack will fill the contours of the human body accurately and allow adjustments with straps, buckles, etc. Make sure to check if there are adequate adjusting points for the straps that hold the pack to your body. If it's a solid strap design, it's likely a cheap knock-off and will be a pain trying to deal with it bouncing around on you. Rashes and irritation are common with improper fitting packs. On the other hand, a pack that fits too tight in any area will restrict blood flow, and, well, that's a whole other article and problem.
Durability
Durability is an important factor to consider, especially if you plan on using it in rougher environments. Considering that it will be holding liquid, the material needs to be able to hold it without leaking and at the same time remain comfortable against your back. The outside of the backpack also needs to be made with material that will be able to withstand snags and bumps as well as different weather. Check out reviews from other customers and see what they also had to say about the product's durability. After all, you should get your money's worth!
Capacity
Depending on your particular venture with the hydration pack, the liquid volume adequate for the task will differ. Most of the time, you will see long-distance runners utilizing 3 liters (or in that range) packs. They will be carrying much less liquid than someone with a 15-liter hydration pack but the more hardcore you are, the likeliness that you understand the need for less weight and rationing is much higher. What I mean to say is less weight equals less energy spent. The right balance is key.
Features
There are many useful features that may go un-noticed so I'll take this time to highlight some things we really liked about hydration backpacks we've tried. Your hydration pack will come with a bladder that holds the liquids. From this bladder, there is a tube that feeds the water into your mouth. The quick-disconnect feature on these tube components is very handy. It makes cleaning as simple as can be and allows for extensions. Our suggestion is to shy away from bladders that lack in this regard.
You will also do well to pay attention to the mouth that allows feeding water into the bladder component. A wide mouth is much better and much more practical. It will save you time and effort compared to trying to fill a narrow-mouthed bladder. Hydration backpacks allow for interchangeable bladders so if you find yourself with a great hydration pack but the bladder is less than adequate, don't panic. Just find a replacement bladder that works for you. You don't need to buy a different pack. Most bladders are crack resistant and allow freezing, but they will break over time. We do not recommend freezing them, but a quality pack will contain a bladder with thermoplastics strong enough for the elements.
Brand
Teton Sports reigns supreme on this list and others, as the company continues to expand its products. The best thing about the company is its limited lifetime guarantee, which is backed by one of the best customer support teams in the industry. Any product from this company deserves special attention since it always lives up to expectations.
BEST HYDRATION BACKPACKS REVIEWED & RATED
1

. Teton Sports Oasis 1100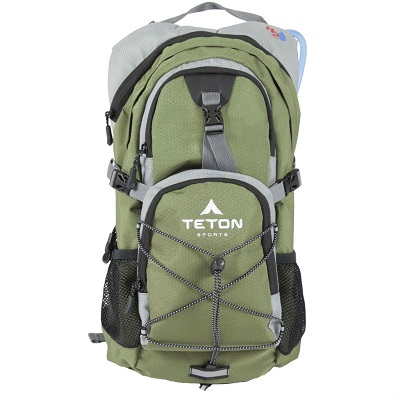 One of the best on the list is the Oasis 1100, one of the premiere bags from the Teton Sports lineup. This is the best you could possibly buy when you want a bit of everything in one bag.
Feature Rich
Having a lot of the best extras in one bag works out really well, and every included feature seems useful. Notable inclusions are the weather guard, butterfly opening, bungee cord system, and large pockets.
Features and Specifications
2 liter hydration bladder
Push lock bite valve
Cost and Value
All five colors are low priced, with minor variations between them. The value comes from being able to load just about anything in the pack like a normal backpack. There is a lot of space to play around with if you purchase this hydration backpack. And when it comes time to quench your thirst, it fulfills that role just fine.

2

. Teton Sports Trailrunner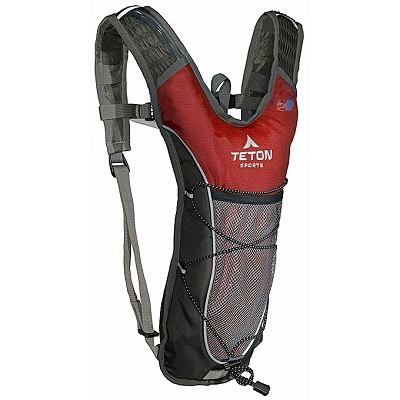 Teton Sports makes the list with their Trailrunner, a product that works as good as it looks. As one of the leaders in the industry, it's only fitting that they make it in the top three.
Limited Lifetime Warranty
Teton Sports backs its products with this warranty, with an excellent customer service line. If something goes wrong, you won't have to go through hoops to resolve the problem.
Features and Specifications
Weighs 0.9 pounds
2-liter hydration bladder
Cost and Value
All of the colors are the same price, and it has the same great value as other Teton Sports products. This is a real winner from top to bottom when you compare it to the others on the list. Buying from one of the best brands in the industry is always a smart choice. This is a hydration pack that is built for the long haul and has a warranty attached to back that up.

3

. Sports Imagery-Hydration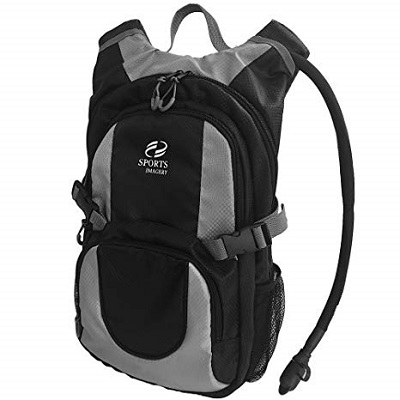 There is a lot more meat to this hydration backpack than the others, for better or for worse. It has been reviewed favorably by many satisfied users, with praises for having more space.
One Size Fits All
Not only is it one of the bigger backpacks on the list, but it is also a universal fit for chest sizes of 27-50 inches. This is the first large volume backpack on the list, with more than enough room for all of your accessories.
Features and Specifications
Dimensions of 18x12x6.5
10-liter hydration bladder
Cost and Value
The price is low, even with this being one of the larger packs on the list. Buyers that need space will get the most value out of this backpack. With the extra bulk working as a pro and a con, users will have to decide if they will use all of the space. Even with moderate priorities, you'll be surprised at how much space can be utilized with this backpack.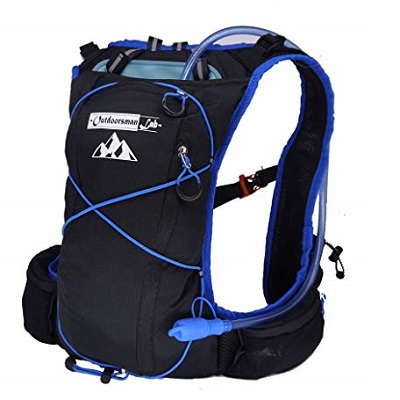 Being able to count on this hydration backpack from OutdoorsmanLab isn't too hard when you consider the core features. While taking things to a new level this product also keeps the weight low.
Great Water Bladder
The included 50-ounce food grade water bladder is big enough to last all day without needing a refill. It's FDA approved, and leak proof so beverages aren't wasted.
Features and Specifications
Adjustable shoulder/chest straps
Breathable mesh
Cost and Value
Both colors are the same low price, so buyers can pick and choose whichever style they want. The bottle is the selling point of this backpack so there is value in that alone. There are good backpacks, and there are great backpacks in the hydration industry. This is right between the two, with the included bottle being one of the greatest additions on the list.

5

. Unigear Tactical Hydration Pack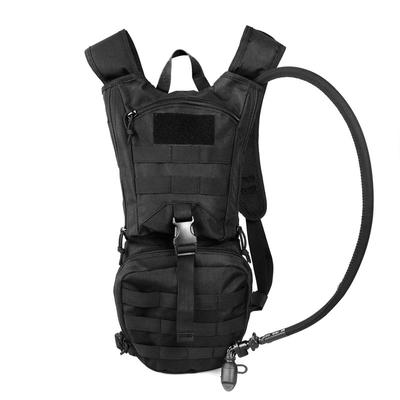 Unigear made a hybrid hydration backpack that will appeal to casual users that have never owned one before. They also included enough features in it so that even hardcore users would find it appealing as a purchase.
Replaceable Bladder
Having a removable bladder helps out a lot when it is the only thing damaged and you need a quick replacement. There is a tremendous upside to this feature and no downside.
Features and Specifications
Fits chest sizes from 27-50 inches
5-liter hydration bladder
Cost and Value
The low price of this product is a pleasure, including the replacement bladder if you need to purchase one. Users that are rough on their packs will find this the most valuable hydration pack on the list. There are two colors to choose from and endless options with this hydration backpack. With enough time to customize it, buyers will get the deal of a lifetime.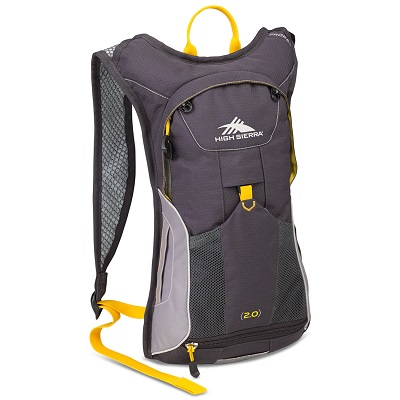 A nice sense of style and good materials round out some of the better features of this hydration pack. With all of the basics included, this turns into a great choice for buyers that want a quality product.
Rich Color Choices
A lot of people will take a look at these hydration packs and admire the design. There are five available colors, all with distinct tastes in mind.
Features and Specifications
Nylon material with mesh
Five total pockets
Cost and Value
For what can be considered a great starter hydration backpack, the price is low. Buyers that need the most minimal of features will get a great deal. Some users have this as the main pack while others use it as a backup. No matter your preference, this bag will do the job just fine.

7

. Wacool Waterproof Bladder Pack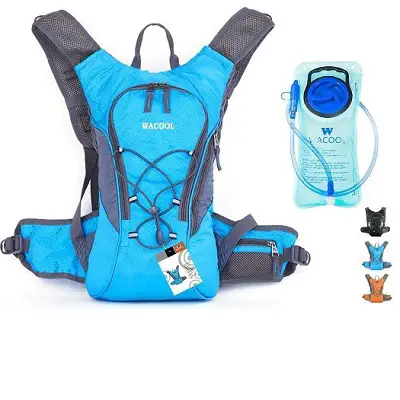 The Wacool hydration backpack is exactly what buyers need on a long trip. With a lot of extra accessories that aren't available in other hydration packs, it gets a leg up on the competition.
Built For All Weather Conditions
Along with being waterproof, the backpack is also anti-scratch. This turns out to be quite a formidable product when you take it through the punishment test.
Features and Specifications
Double layer design
2-liter water bladder
Cost and Value
Following the lead of the other products on the list, this is also another low priced choice. Available in 3 colors, you'll be able to find one that matches your style the most. Buyers can consider this a good deal if they value tough bags. Even if hydration backpacks aren't known for their durability, this one stands out more than most.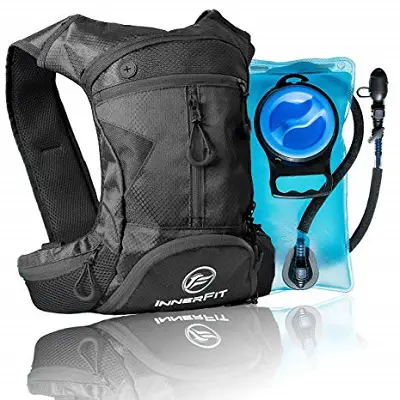 Another option on the list is the Oasis 1100, one of the premiere bags from the Teton Sports lineup. This is the best you could possibly buy when you want a bit of everything in one bag.
The Perfect Fit
With a fit size from 27 inches to 50 inches, teenagers and adults will have a use for this hydration backpack. As a bonus, it's also comfortable and won't rub your shoulders while you wear it.
Features and Specifications
Replaceable 50 ounce bladder
Water resistant
Cost and Value
This is another on the list that rocks the low price point, with extra attention going to the replaceable bladder. There's always value in that since it saves you money from repurchasing the whole bag. With so many people having good things to say about this hydration pack, it's a hard purchase to pass up. Fitting both teens and adults, the universal fit is one of the better ones available.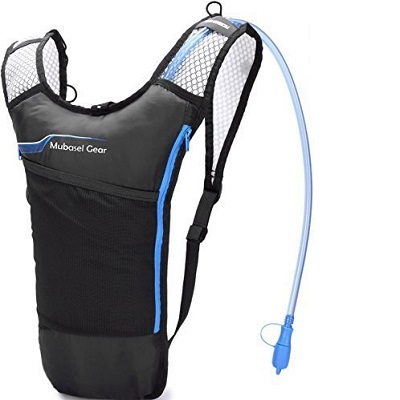 This sometimes hard to find hydration pack from Mubasel Gear makes its place on the list with some really cool features. The FDA approved hydration backpack is more than just looks and is a functional jack of all trades.
Storage Compartments
While the storage compartments on hydration backpacks can sometimes be an afterthought, it's not the case here. They are roomy and placed in an area that's easy to reach from any angle.
Features and Specifications
2-liter hydration bladder
Weighs 0.77 pounds
Cost and Value
Like all the other items on the list, this one bears a low price. The value is pretty high if you want an extra wide hydration bladder opening. This is a bit of a standout on the list, and one that you'll be using for many years. This applies to cycling, climbing and other big-time sports.

10

. CamelBak 2016 Hydrobak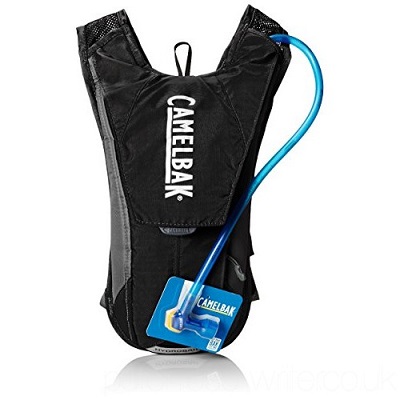 When the bare minimum is what you need, a good choice becomes the 2016 Hydrobak. It's been featured in magazines as a must-have pack in the industry.
Minimalist Design
The barebones look and feel of the back are fantastic when you don't want to lug around extra weight. You'll barely notice it's there, and still, get the extra benefits of a hydration backpack.
Features and Specifications
210 nylon
1 exterior pocket
Cost and Value
Depending on which color you get the price will fluctuate, but still remains low. This is a good value for cyclists or other users that need as low a weight as possible. Good materials and a very attractive overall weight make this a winner for many users. As a bonus it holds a nice amount of fluids, so you won't run out anytime soon.

Subscribe to our Newsletter