Best Hydration Backpacks Reviewed & Rated
Hydration backpacks are more than just bags with a water cooler built in. Over the years they have even replaced some smaller consumer bags, offering extra space where needed. Depending on what you use them for, the designs will play a large role in which one will get maximum usage. With choices for casual, hobbyists and professional users, the choices continue to grow.
Featured Recommendations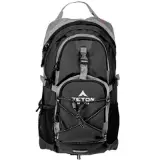 TETON Oasis1100

Our rating
Feature Rich
Price:

See Here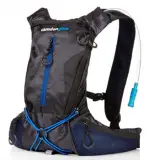 Hydration Pack 1.5 L

Our rating
The Perfect Fit
Price:

See Here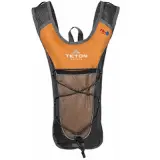 TETON Trailrunner

Our rating
Lifetime Warranty
Price:

See Here

Best Brands
Teton Sports reigns supreme on this list and others, as the company continues to expand its products. The best thing about the company is their limited lifetime guarantee, which is backed by one of the best customer support teams in the industry. Any product from this company deserves special attention since it always lives up to expectations.
Maintenance and Cleaning Tips
The most important thing to keep clean in a hydration bag is the mouthpiece. They usually have advanced features like dust covers and leak-proof designs, but that doesn't mean you can neglect minor upkeep. Always clean the mouthpiece when you're done using the pack for the day so that the entire system remains bacteria free.
10 Best Hydration Backpacks
1. Teton Sports Oasis 1100

Tops on the list is the Oasis 1100, one of the premiere
bags
from the Teton Sports lineup. This is the best you could possibly buy when you want a bit of everything in one bag.
Expand to see more
Feature Rich
Having a lot of the best extras in one bag works out real well, and every included feature seems useful. Notable inclusions are the
weather
guard, butterfly opening, bungee cord system and large
pockets
.
Features and Specifications
2 liter hydration bladder
Push lock bite valve
Price/Value
All five colors are low priced, with minor variations between them. The value comes from being able to load just about anything in the pack like a normal backpack.
Decision Time
There is a lot of space to play around with if you purchase this hydration backpack. And when it comes time to quench your thirst, it fulfills that role just fine.
Limited lifetime warranty
The most space of any bag on the list
2. Standard Hydration Pack 1.5 L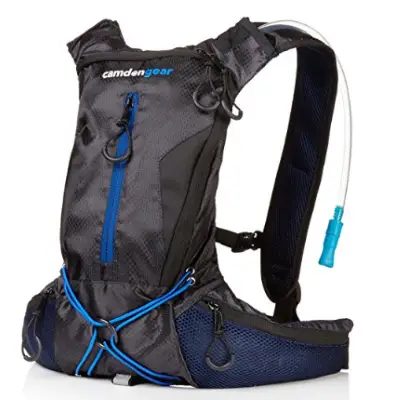 Having a good fit helps when you wear hydration backpacks for
long periods
of time. And that is exactly what Camden Gear is banking on with their product, with comfort levels that are off the charts.
Expand to see more
The Perfect Fit

With a fit size from 27 inches to 50 inches, teenagers and adults will have a use for this hydration backpack. As a bonus, it's also comfortable and won't rub your shoulders while you wear it.

Features and Specifications

Replaceable 50 ounce bladder
Water resistant

Price/Value

This is another on the list that rocks the low price point, with extra attention going to the replaceable bladder. There's always value in that since it saves you money from repurchasing the whole bag.

Decision Time

With so many people having good things to say about this hydration pack, it's a hard purchase to pass up. Fitting both teens and adults, the universal fit is one of the better ones available.
Can fit up to an 11-inch laptop
Comfortable to wear for hours at a time
Waist straps are unnecessary
3. Teton Sports Trailrunner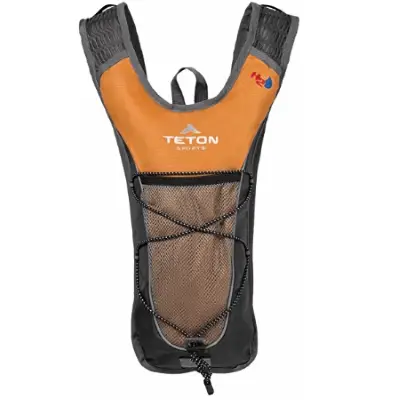 Teton Sports makes the list with their Trailrunner, a product that works as good as it looks. As one of the leaders in the industry, it's only fitting that they make it in the top three.


Expand to see more
Limited Lifetime Warranty

Teton Sports backs its products with this warranty, with an excellent customer service line. If something goes wrong, you won't have to go through hoops to resolve the problem.

Features and Specifications

Weighs 0.9 pounds
2-liter hydration bladder

Price/Value

All of the colors are the same price, and it has the same great value as other Teton Sports products. This is a real winner from top to bottom when you compare it to the others on the list.

Decision Time

Buying from one of the best brands in the industry is always a smart choice. This is a hydration pack that is built for the long haul and has a warranty attached to back that up.
Available in 5 different colors
Lots of safety features built in
Plastic taste from bladder until it is fully broken in
4. Tactical Hydration Pack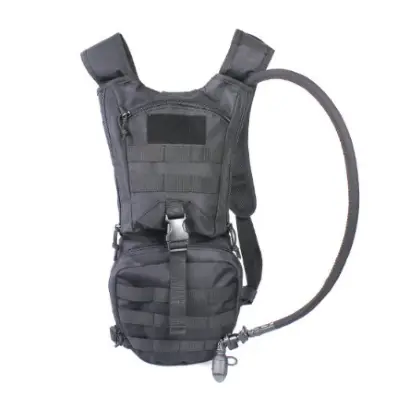 Unigear made a hybrid hydration backpack that will appeal to casual users that have never owned one before. They also included enough features in it so that even
hardcore users
would find it appealing as a purchase.
Expand to see more
Replaceable Bladder

Having a removable bladder helps out a lot when it is the only thing damaged and you need a quick replacement. There is tremendous upside to this feature and no downside.

Features and Specifications

Fits chest sizes from 27-50 inches
5 liter hydration bladder

Price/Value

The low price of this product is a pleasure, included the replacement bladder if you need to purchase one. Users that are rough on their packs will find this the most valuable hydration pack on the list.

Decision Time

There are two colors to choose from and endless options with this hydration backpack. With enough time to customize it, buyers will get the deal of a lifetime.
600 denier polyester
Hands free hydration hose
5. Ultra lightweight Hydration Pack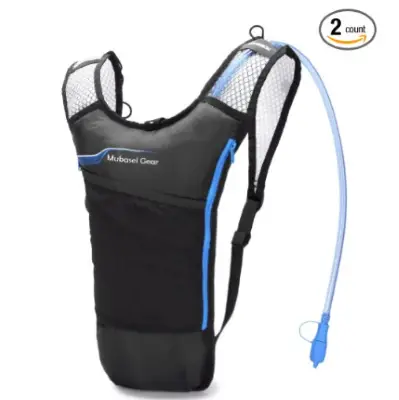 This sometimes hard to find hydration pack from Mubasel Gear sneaks into the top five with some really cool features. The FDA approved hydration backpack is more than just looks, and is a functional jack of all trades.


Expand to see more
Storage Compartments

While the storage compartments on hydration backpacks can sometimes be an afterthought, it's not the case here. They are roomy and placed in an area that's easy to reach from any angle.

Features and Specifications

2 liter hydration bladder
Weighs 0.77 pounds

Price/Value

Like all the other items on the list, this one bears a low price. The value is pretty high if you want an extra wide hydration bladder opening.

Decision Time

This is a bit of a standout on the list, and one that you'll be using for many years. This applies to cycling, climbing and other big time sports.
High quality nylon
Ice cubes can be added to hydration bladder
Straps rub shoulders sometimes
6. CamelBak 2016 Hydrobak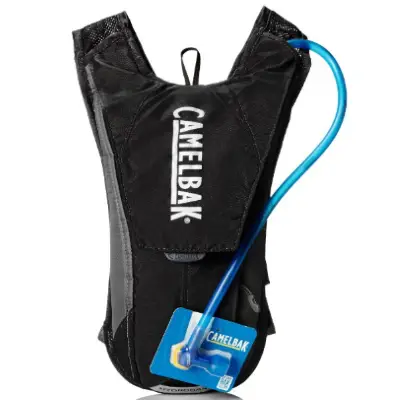 When the bare minimum is what you need, a good choice becomes the 2016 Hydrobak. It's been featured in magazines as a must-have pack in the industry.


Expand to see more
Minimalist Design

The barebones look and feel of the back are fantastic when you don't want to lug around extra weight. You'll barely notice it's there, and still get the extra benefits of a hydration backpack.

Features and Specifications

210 nylon
1 exterior pocket

Price/Value

Depending on which color you get the price will fluctuate, but still remains low. This is a good value for cyclists or other users that need as low a weight as possible.

Decision Time

Good materials and a very attractive overall weight make this a winner for many users. As a bonus it holds a nice amount of fluids, so you won't run out anytime soon.
Comes in five different colors
Lightest bag on the list
7. Wacool Waterproof Bladder Pack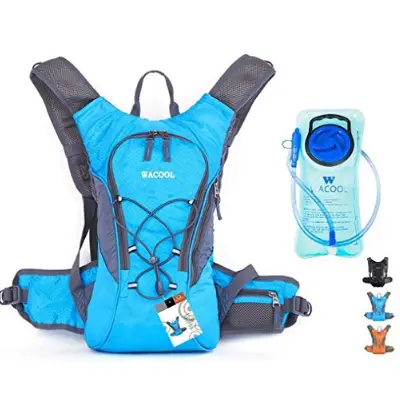 The Wacool hydration backpack is exactly what buyers need on a long trip. With a lot of extra accessories that aren't available in other hydration packs, it gets a leg up on the competition.


Expand to see more
Built For All Weather Conditions

Along with being waterproof, the backpack is also anti-scratch. This turns out to be quite the formidable product when you take it through the punishment test.

Features and Specifications

Double layer design
2-liter water bladder

Price/Value

Following the lead of the other products on the list, this is also another low priced choice. Available in 3 colors, you'll be able to find one that matches your style the most.

Decision Time

Buyers can consider this a good deal if they value tough bags. Even if hydration backpacks aren't known for their durability, this one stands out more than most.
Airflow system keeps backpack dry
Good nylon material
Mouthpiece is prone to dripping
8. Sports Imagery-Hydration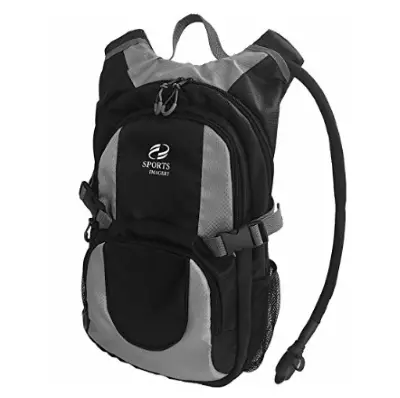 There is a lot more meat to this hydration backpack than the others, for better or for worse. It has been reviewed favorably by many satisfied users, with praises for having more space.
Expand to see more
One Size Fits All

Not only is it one of the bigger backpacks on the list, but it is also a universal fit for chest sizes of 27-50 inches. This is the first large volume backpack on the list, with more than enough room for all of your accessories.

Features and Specifications

Dimensions of 18x12x6.5
10-liter hydration bladder

Price/Value

The price is low, even with this being one of the larger packs on the list. Buyers that need space will get the most value out of this backpack.

Decision Time

With the extra bulk working as a pro and a con, users will have to decide if they will use all of the space. Even with moderate priorities, you'll be surprised at how much space can be utilized with this backpack.
Lifetime warranty
Plenty of space
9. Hydration Pack Bike Backpack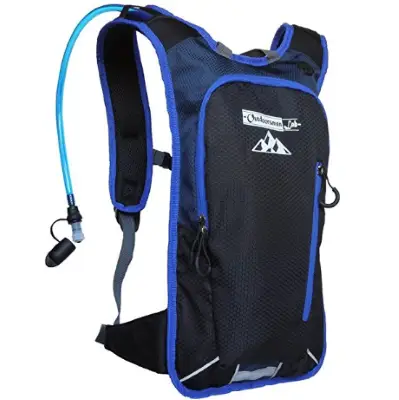 Being able to count on this hydration backpack from OutdoorsmanLab isn't too hard when you consider the core features. While taking things to a new level this product also keeps the weight low.


Expand to see more
Great Water Bladder

The included 50-ounce food grade water bladder is big enough to last all day without needing a refill. It's FDA approved, and leak proof so beverages aren't wasted.

Features and Specifications

Adjustable shoulder/chest straps
Breathable mesh

Price/Value

Both colors are the same low price, so buyers can pick and choose whichever style they want. The bottle is the selling point of this backpack so there is value in that alone.

Decision Time

There are good backpacks, and there are great backpacks in the hydration industry. This is right between the two, with the included bottle being one of the greatest additions on the list.
Absorbs shock and keeps dry
Lots of large pockets
10. High Sierra Propel 70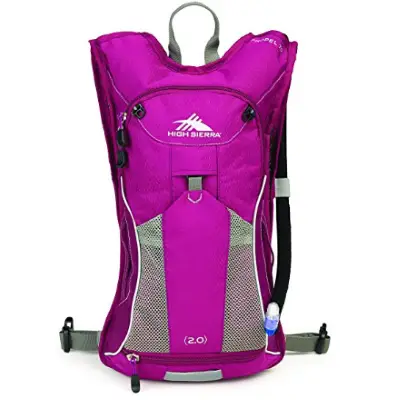 A nice sense of style and good materials round out some of the better features of this hydration pack. With all of the basics included, this turns into a great choice for buyers that want a quality product.


Expand to see more
Rich Color Choices

A lot of people will take a look at these hydration packs and admire the design. There are five available colors, all with distinct tastes in mind.

Features and Specifications

Nylon material with mesh
Five total pockets

Price/Value

For what can be considered a great starter hydration backpack, the price is low. Buyers that need the most minimal of features will get a great deal.

Decision Time

Some users have this as the main pack while others use it as a backup. No matter your preference, this bag will do the job just fine.
Fantastic design in all colors
Easy to fill
Criteria Used to Evaluate the Best Hydration Backpacks
What you plan on using it for will make a huge difference in deciding what type of backpack to purchase. There are the smaller designs that are meant for cyclist, then the larger designs for regular outdoor activities. If the only thing you want is to stay hydrated, then a smaller style will work best. Users that want to utilize space in their hydration backpack will end up settling on the bulkier models.
Adjustable fit & Overall Comfort
A proper fit is critical. That's obvious the moment you start sticking external objects on to your body. This is especially true when you're running or participating in a long distance physical activity. A proper hydration pack will fill the contours of the human body accurately and allow adjustments with straps, buckles, etc. Make sure to check if there are adequate adjusting points for the straps that hold the pack to your body. If it's a solid strap design, its likely a cheap knock-off and will be a pain trying to deal with it bouncing around on you. Rashes and irritation are common with improper fitting packs. On the other hand, a pack that fits too tight in any area will restrict blood flow, and, well, that's a whole other article and problem.
Weight Versus Liquid Volume
Depending on your particular venture with the hydration pack, the liquid volume adequate for the task will differ. Most of the time, you will see long distance runners utilizing 3 liters (or in that range) packs. They will be carrying much less liquid than someone with a 15-liter hydration pack but the more hardcore you are, the likeliness that you understand the need for less weight and rationing is much higher. What I mean to say is less weight equals less energy spent. The right balance is key.
Key features to look out for
There are many useful features that may go un-noticed so I'll take this time to highlight some things we really liked about hydration backpacks we've tried. Your hydration pack will come with a bladder that holds the liquids. From this bladder, there is a tube that feeds the water into your mouth. The quick-disconnect feature on these tube components is very handy. It makes cleaning as simple as can be and allows for extensions. Our suggestion is to shy away from bladders that lack in this regard.
You will also do well to pay attention to the mouth that allows feeding water into the bladder component. A wide mouth is much better and much more practical. It will save you time and effort compared to trying to fill a narrow-mouthed bladder. Hydration backpacks allow for interchangeable bladders so if you find yourself with a great hydration pack but the bladder is less than adequate, don't panic. Just find a replacement bladder that works for you. You don't need to buy a different pack. Most bladders are crack resistant and allow freezing, but they will break over time. We do not recommend freezing them, but a quality pack will contain a bladder with thermoplastics strong enough for the elements.
FAQs
Frequently Asked Questions
Q: How are hydration backpacks and ordinary backpacks different?
A: Hydration packs are small with the focus on one small bladder fit into its minimal design. That's practically it. Let's compare that to a day-pack that although can be used as a hydration pack is very much different. A daypack fits all the items that you may take on the trail. A hydration pack is made to follow you in and out quickly, as with trail runs.
Q: Where can I buy high-quality hydration backpacks?
A: Hydration packs can be found in popular retail locations such as REI, Dick's Sporting Goods, Big 5 and other similar places. If you want it easy, you can save a trip to the store and make a few clicks. Amazon is a popular go-to for products from the best brands. Alternatively, hydration backpacks can be ordered directly from the brand's website.
Q: Is size an important factor?
A: Yes. Size is extremely important. This is especially true for endurance runners. Size equals weight, and in the long run, any extra or un-needed ounces will take their toll. Not to mention, a bulky, large pack while running isn't something you want. Hydration packs typically consist of small pockets and one main compartment for the bladder. The bladder will be most of the weight be far when filled.
Q: Will The Water Stay Cold?
A: Only with insulated backpacks. There are also styles that let you drop ice in the bladder, so that may prove to be more valuable than insulation.
Q: What Happens When The Bladder Is Punctured?
A: A punctured bladder is only a big issue if you don't have a removable model. So if you tend to be rough on your accessories, a brand that offers removable hydration bladders is the best choice.
Q: What Liquids Can You Put In A Hydration Backpack?
A: Water, Gatorade, Propel and other non-carbonated liquids. As a rule, rinse it out after each use and store it in the freezer when you're not using it since that prevents bacteria growth.
Sources