Best Electric Coolers Reviewed for Durability & Quality
Coolers have come a long way over the years, with the size, functions and overall look of them changing dramatically. Now that most electric coolers come with DC attachments, they are more portable than ever (you may also like these coolers).
Featured Recommendations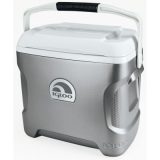 Igloo Iceless Cooler

Our rating
Durable
Price:

See Here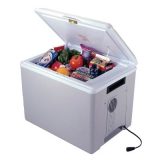 Koolatron P75 36

Our rating
36 quart capacity
Price:

See Here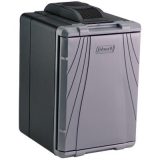 Coleman PowerChill

Our rating
Adjustable
Price:

See Here

Best Brands
Igloo is the most recognizable name, but Koolatron has made some noise for the past few years. They may very well be the company to look out for, and with their latest models sporting warming functions they may even change the industry.
Maintenance and Cleaning Tips
Treat an electronic cooler like you would a refrigerator, keeping it clean so that mold doesn't grow. Getting a bad smell out of an unmaintained cooler can be a pain, so always use warm soap and water after a long use on a trip.
Now that warming functions have been introduced to coolers, it is vital to consider if that is an important feature to have. And remember that not all electronic coolers come with AC adapters, so a separate purchase may be necessary. Usually, they only cost a few dollars, but research is the key here.
15 Best Electric Coolers
1. Igloo Iceless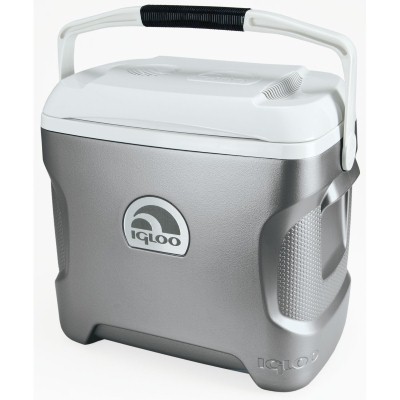 Having a top ten cooler list without Igloo at the top just wouldn't be correct. So it should surprise no one that one of the industry leaders lands in the top spot.


Expand to see more
Hard Coolers Can Be Comfortable

They just have to be made correctly, which is why Igloo put a curved back in this design so that it hugs the side of whoever is carrying it. The entire design is a worthwhile change if you're used to the other uncomfortable hard case options.

Features and Specifications

Comes in 26 or 28-quart sizes
Eight-foot-long power cord

Price/Value

Selling for a high price, even without a heating function this is the most technically sound cooler on the list. Igloo is great to their customers so this purchase is an easy one to make.

Decision Time

Durable and comfortable to carry, Igloo made an Iceless cooler that blows the competition out of the water. No matter which size you get, the value will be incredible.


The most durable cooler on the list
Motor is brushless and almost silent
2. Koolatron P75 36-Quart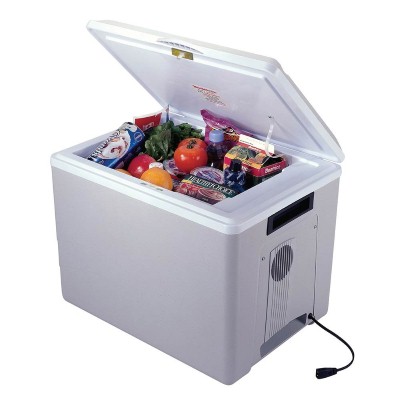 A cooler for all occasions is the best way to describe the P75, which is the second one on the list that has a warming function. At a much friendlier price than its competitors, Koolatron looks to attract even more customers.


Expand to see more
Horizontal Or Vertical

The cooler can be used in either position, allowing you to use it as a fridge or a chest. There are many added benefits to this small feature, the biggest being how it will be used on a particular day.

Features and Specifications

Cools to 40F and warms to 135F
Shelf included for storage

Price/Value

Buyers will find that the midrange price of this model is very friendly for the features it offers. With only one moving part it remains the most durable cooler on the list and will last for years.

Decision Time

Koolatron hit the mark with this cooler and almost took the #1 spot. With the right size and a lot of good features, this turns out to be one of the best high-end coolers you can purchase.
The fan motor is the only moving part
36 quart capacity is big but not too big
Doesn't come with an AC adapter
3. Coleman PowerChill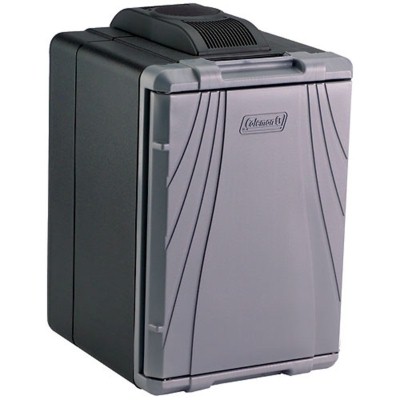 Coleman is a recognizable name in the industry, and their PowerChill cooler has been a favorite for years. If you've never used a Coleman product before, then the stability of this model will be a refreshing change of pace.


Expand to see more
Almost Like A Mini Fridge

With 40 quarts to spare, customers can load 44 drinks plus snacks into it. This is one of the largest coolers on the market and almost touches on mini-fridge territory.

Features and Specifications

Plugs into the cigarette lighter
The adjustable door can be opened on the left or right

Price/Value

There are a couple of college students that have converted this into a mini fridge in their dorms. With a midrange price, it fits the needs of several customers.

Decision Time

It's surprising that the price is so low for this cooler, which is probably why it's so high on the list. Buyers won't get much better than this at the current price.
Chills strong and fast to 40 F
Durable and has a ton of space
4. Igloo Real Tree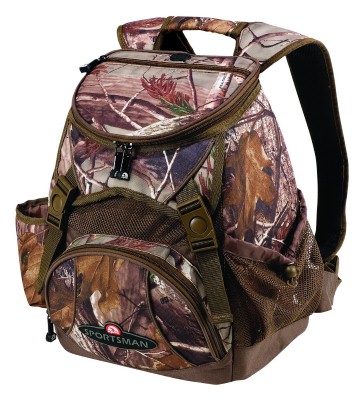 This product is a little different from the rest of the list and is the first of this style that functions as a true cooler. Functional and light, campers will find this the most useful when they are on short trips.


Expand to see more
Ultra-Portable

The difference between using two shoulder straps with this sort of cooler and using a single handle with a regular cooler is night and day. Carrying your goods becomes effortless, and all without compromising space.

Features and Specifications

Holds up to 18 cans
Adjustable padded straps

Price/Value

The price is low and there are other uses beyond using it as a cooler. Buyers that need an ultraportable cooler will find it is a safe buy.

Decision Time

The idea that coolers have to be bulky boxes is a thing of the past. A bag like this that functions like a cooler is a great choice if you want to pack light.
The exterior pockets are very roomy
Full insulation functions just like a regular cooler
Not as sturdy as other competing coolers
5. NutriChef PKTCEC32SL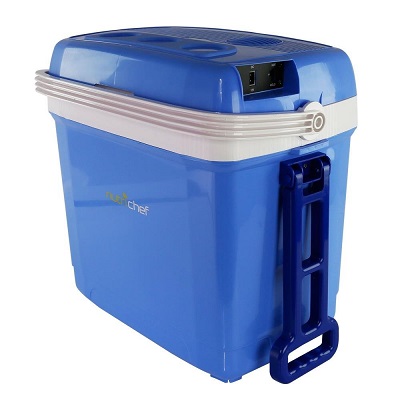 This NutriChef cooler option on our list is slightly larger than the other NutriChef brand option on our list, offering a whopping 32L capacity which is approximately 35 cans.


Expand to see more
Convenient for Travel
The NutriChef PKTCEC32SL 32 L Cooler features a flip-up telescopic handle for easy portability as well as rolling wheels to help get you from point A to B.

Features & Specifications
Integrated fan for temperature regulation
Rapidly cools and warms

Cost/Value
This NutriChef cooler is reasonably priced considering its size and extra features.

Decision Time
The NutriChef PKTCEC32SL 32 L is the cooler for you if you require a larger cooler to store all of your goodies.

Heavy duty handle
Easy to transport
Only arrives with the 12V plug-in
6. Koolatron P27 Voyager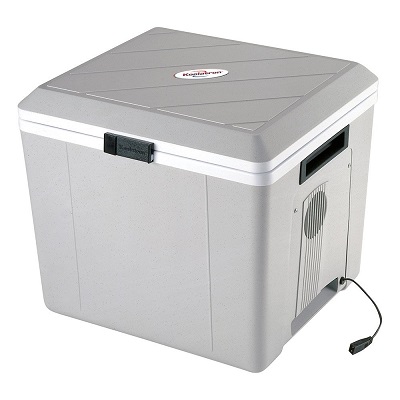 The mid-sized Koolatron P27 Voyager features a large 29-quart capacity that will fit up to 48 cans. It cools to 40°F below ambient temperature and will heat food up to 145°F.
Expand to see more
Horizontal or Vertical
The Koolatron P27 Voyager offers the buyer the flexibility of using it in a horizontal position (like a chest) or a vertical position (like a refrigerator).

Features & Specifications
Comes with 12V plug-in for use in a vehicle
Brushless motor for even temperature distribution

Cost/Value
This Koolatron cooler is mid-range in terms of price but it offers a large amount of space for the traveler which means less money spent on road trip food and drinks.

Decision Time
The Koolatron P27 Voyager, with its 29-quart capacity, is a great option for families who are on the road often. It comes with the 12V plug for use in the vehicle and will save you money by eliminating the need for expensive restaurant stops on your trip.

Light in weight
Doesn't overheat
7. Dometic CFX-35US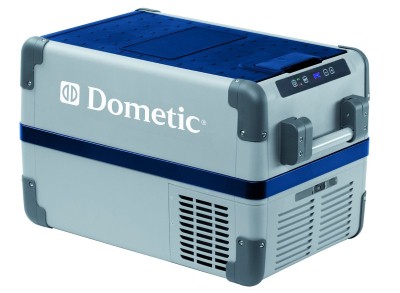 Buyers that need a hardcore cooler to last them for several trips will find this model a really good buy. The CFX-35US comes in a lot of sizes and is incredibly useful in every iteration sold.


Expand to see more
Great Amount Of Choices

Dometic fully understands that customers will have different needs for this cooler. They offer it in 26, 35, 38, 46, 61 and 94.5 liters.

Features and Specifications

Refrigerate or Freeze
Electronic thermostat with LED display

Price/Value

Expensive and heavy, buyers will have to open their wallet wide if they want this cooler. All versions are worth it for what they do, and all versions come with everything you need to get started.

Decision Time

This is one of the most advanced coolers on the list so the price will be high by default. If it falls even close to your desired range, then buying it should be second nature.
USB ports for charging smaller devices
Both AC and DC cords are included
8. Koolatron P25 26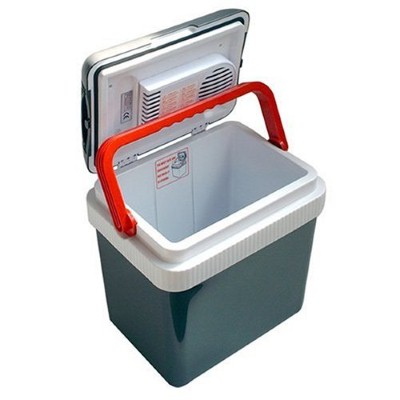 Koolatron goes the extra mile with this large cooler that is more than just a place to store a couple of drinks. With the right setup, you could store a lot of food and drinks for the weekend in one spot, keeping them all refrigerated.


Expand to see more
Two Different Types Of Power

The cooler comes with a cigarette lighter adapter, standard in all units. If you have an AC outlet nearby there is an optional adapter that uses 110V.

Features and Specifications

Cord storage compartment and flip locking handle
Cools down to 40F

Price/Value

This is the first midrange priced cooler on the list, and even without the ac adapter included it is a good deal. Buyers just need to account for the extra cost of the AC adapter if they plan on purchasing the unit as is.

Decision Time

Koolatron made a really good model with excellent cooling features. Even without the AC adapter included it will turn out to be a bargain buy for a lot of people.
Good cooling temperature with lots of space
Only weighs 12 pounds
AC adapter is sold separately
9. Koolatron P9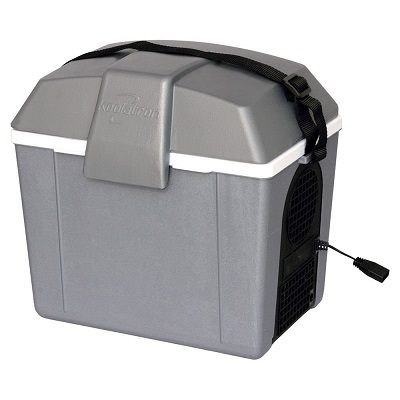 This small Koolatron cooler is the perfect companion for the solo traveler. It comes with a 12V plug-in for use on the road and features a wide anti-slip pad on its shoulder strap for added comfort while toting it around.
Expand to see more
Domed Lid
The Koolatron P9 9.8 Q Traveler III holds about nine 12oz cans but it features a domed lid which allows for some extra storage space.
Features & Specifications
8-quart capacity
Can keep foods warm up to 135°F

Cost/Value
This Koolatron cooler is affordably priced for the solo traveler looking for a cooler without any added frills.
Decision Time
If you're searching for a cooler for your own personal use, the Koolatron P9 9.8 Q Traveler III might be right up your alley. The price tag is affordable and the included 12V plug-in for your car is convenient for the person on the go.

Small size tucks in nicely in vehicles
Dual use – can be used for warm/cold items
Need to purchase AC adapter separately
10. Igloo Sportsman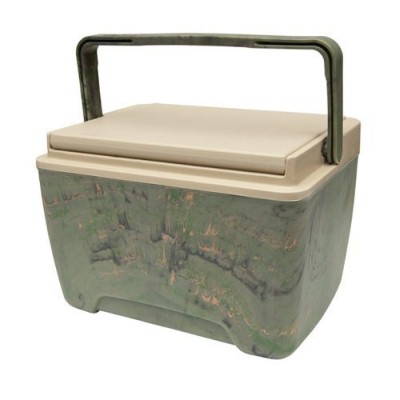 Reinventing the wheel won't do most buyers any good if the wheel was perfect, to begin with. That is the idea behind the Igloo Sportsman Cooler, and it sticks to that ideology quite well. There are a few bells and whistles where necessary without adding anything out of the ordinary.


Expand to see more
Stack As Many As Possible

Purchasing a lot of these makes sense since they can be stacked on top of one another. For camps that travel in large groups or even scouts, this is the perfect addition to their storage needs to keep things organized.

Features and Specifications

Reinforced Handles
Swing up bail handle

Price/Value

The price is low, and most of the buyers will be purchasing a lot of these at once. The more you purchase, the better the value becomes over the years.

Decision Time

Trying to find a stackable cooler within a good price range is not hard if you end up picking the Igloo Sportsman Cooler. The price is fantastic, and it holds great value when bought in bulk.
Lid can be reversed to tray and cup holder
Stackable with dimensions of 14x10x9
11. Dometic CC-40US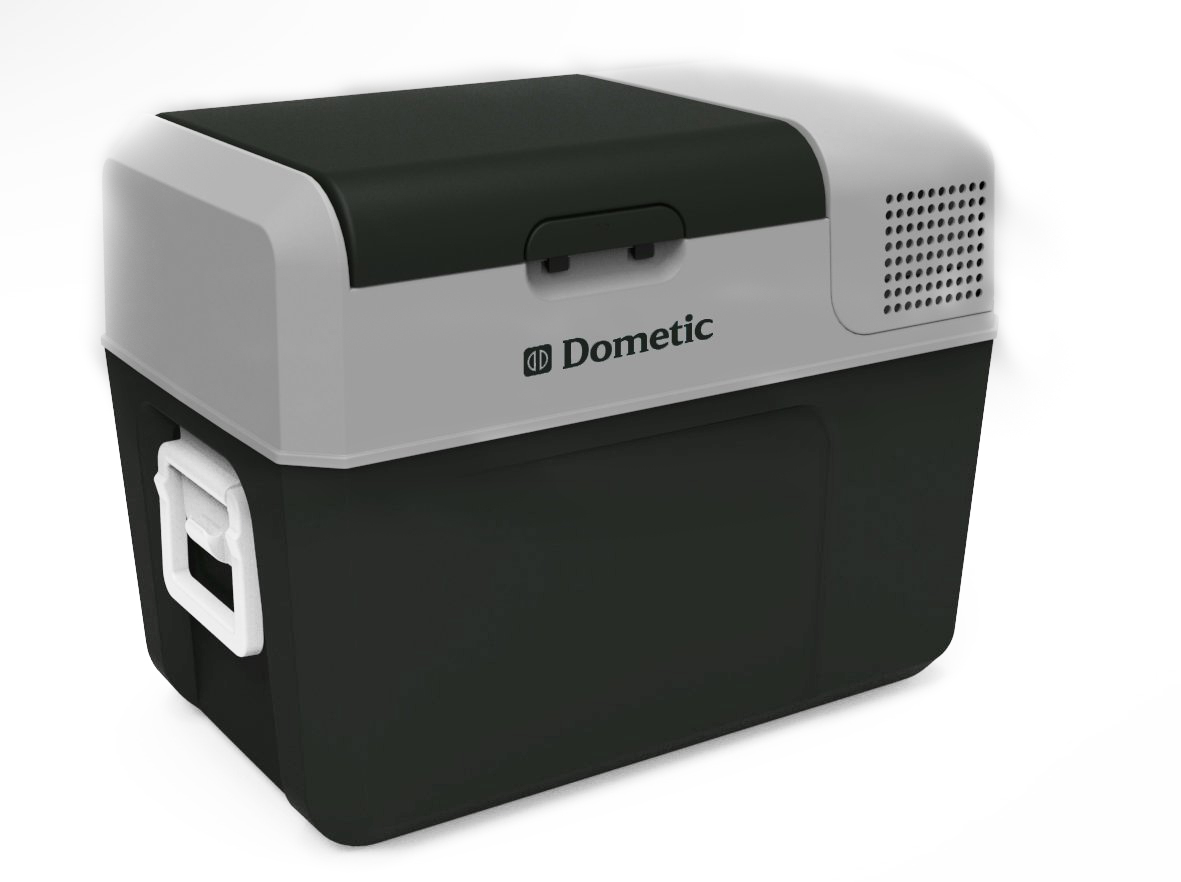 The Dometic CC-40 cooler features a lightweight compressor, making it the ultimate in portability weighing in at less than 25 pounds. With it's 1.3 cubic foot capacity, this Dometic cooler can hold up to 51 12-oz cans.

Expand to see more
Versatile
The Dometic CC-40 works on 120-volt AC, 12-volt DC or 24-volt DC making it a great cooler option for people who need the refrigeration space at home, in the car, camping or anywhere in between.
Features & Specifications
LED digital temperature display
Temperature settings from 3.2°F to 50°F

Cost/Value
Though this cooler will require a bit of an investment, its quiet volume, portability, and versatility make the Dometic CC-40 well worth its price point.
Decision Time
With its low power consumption, battery protection system and energy-efficient LED light inside, the Dometic CC-40 is made for the environmentally-conscious consumer.

Low power consumption
Very quiet
Inconvenient L-shaped interior
12. Rockpals 30Q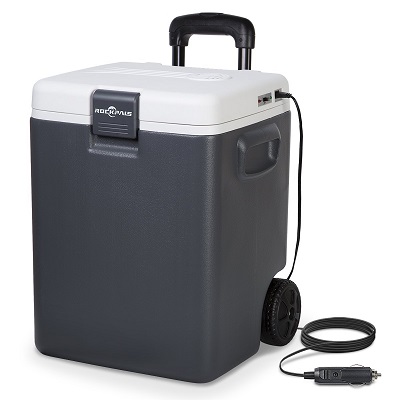 Featuring a huge interior made to hold 40 cans, there's plenty of space for everyone's favorite food and drinks in the Rockpals 30Q cooler.
Expand to see more
Convenience
The Rockpals cooler is made for convenience and travel. It features a telescoping handle for easy transport and its durable wheels pull like a suitcase. The cooler comes with a 8.5 foot 12V DC cable which ensures that there's plenty of cord to reach even in the most inconvenient of spaces in your vehicle.

Features & Specifications
On 'cool', cools to 45°F below ambient temperature
On 'hot', warms to 140°F

Cost/Value
Priced quite a bit lower than other models on our list, the Rockpals cooler definitely won't break the bank. It is a great option for use in a vehicle with its handy included cigarette lighter cord.
Decision Time
The Rockpals 30Q cooler is a great option for people who need a cooler to plug into their vehicles. The AC cord adapter for home use is sold separately.

Convenient size and shape
Very quiet
13. Cooluli Electric Cooler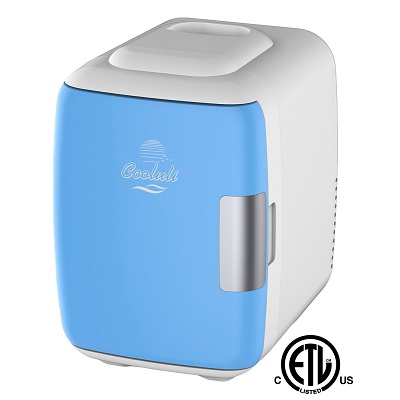 Available in five different colors and styles, the Cooluli Electric Cooler is the perfect choice for someone looking for a portable and stylish cooler. Smaller in size than other options on our list, the Cooluli holds just six 12-oz cans making it a great choice for the office or spare bedroom.
Expand to see more
Thermoelectric Cooler System
The Cooluli cooler is a thermoelectric cooler as well as a food warmer. It works by using electric energy to transfer heat from one side to another. Because this system of cooling works without refrigerants, the Cooluli cooler/warmer is also proudly environmentally friendly.
Features & Specifications
Includes AC, DC and USB power cords
4-liter capacity

Cost/Value
The Cooluli is one of the more affordable options on our list. Its sleek portability and the low price tag makes it a cost-friendly way to cool or warm your food.

Decision Time
The Cooluli cooler is a fantastic option for people wanting a small, space-saving cooler. It's six can capacity may not be the best for people looking for a large capacity cooler but it would work great in many situations such as dorm rooms or the baby's nursery.

Easy to move around
Convenient for small spaces
Won't cool as much if ambient temperature is high
14. Suaoki Electric Cooler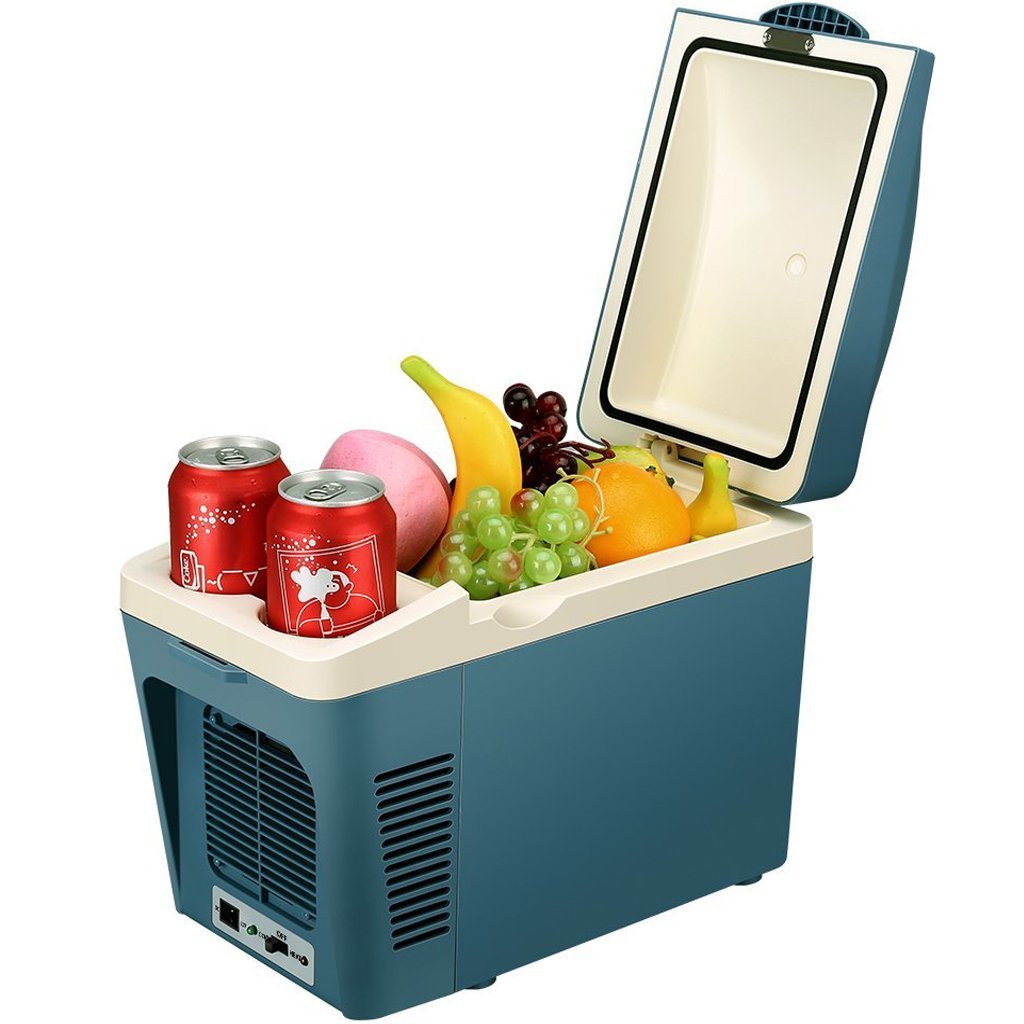 This 7-quart cooler offers both a cooling or warming option thanks to its thermal insulation system. The Suaoki cools to a temperature of 18-36ºF lower than ambient temperature and heats to 104-140ºF. This cooler has a vacuum-like seal to ensure that contents stay warm or cold.
Expand to see more
Convenient & Portable
The Suaoki cooler comes with a shoulder strap, making transportation a snap. It's made of a lightweight material and won't break your back when you're hauling it. The cooler arrives ready to be plugged into your vehicle's 12V DC outlet.

Features & Specifications
7-quart capacity
Convenient built-in cup holders

Cost/Value
The Suaoki cooler is very affordably priced for what it offers. With its 9 can capacity, this cooler is perfect if you plan to have a small picnic or BBQ.
Decision Time
The Suaoki cooler is a great, affordable cooler for someone looking for a dual use, lightweight and portable cooler option.

Compact size for fitting in vehicles Built-in cup holder
Must buy AC adapter for home use
15. Nutrichef PKTCEC28SL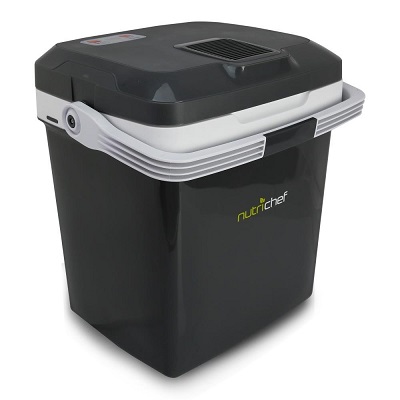 The Nutrichef cooler is an energy efficient dual-use cooler/warmer. It has a 28-liter capacity and will hold up to 30 cans at a time. This cooler features a telescoping handle and easy-to-roll wheels making it the perfect companion for travel.
Expand to see more
Technologically Advanced
This cooler offers upgraded technology with its LCD display as well as a digital control panel. It also features a USB port to charge your devices.
Features & Specifications
Dual charging options
LCD display screen

Cost/Value
The Nutrichef cooler is midrange in terms of cost but its energy efficiency, unique digital display, and 28-L capacity make it a popular choice for people on the go in the 21st century.

Decision Time
The Nutrichef is an average-sized cooler that offers both cooling and warming options. It's a great choice for many different occasions as it arrives with both DC and AC adapters.

Fast cool down
USB port for device charging
Possible inconsistent cooling
Criteria Used to Evaluate the Best Electric Coolers
We looked at a lot of important features when ranking the best electronic coolers in the industry. Our top ten list featured a lot of products that were close, even when you count price. The ordering of the list turned out great in the end, with the top three products coming from Igloo, Koolatron, and Coleman.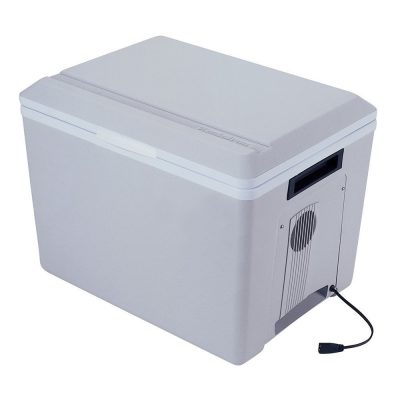 Efficiency
Efficiency was at the top of our list of things to pay attention to when it came to electronic coolers. We based this on how well the coolers on the list handled everyday tasks, most notably how well they handled maximum capacity. Coolers that advertised great temperatures but took an hour to reach them were left off of the list. The best way to test whether a company was being honest about their temperatures was by loading the cooler until only a little room was left. This knocked out a lot of the competitors, shortening our list early from the start. Features were a huge thing with the coolers, with USB powered units going to the top. Models with warming features also went to the top of the list and were highly regarded even before we got to that portion. Any modern feature that was hard to find on other models was considered a pro, even if it wasn't widely used. Electronic coolers don't always get a lot of updates year to year, so when the innovative ones come out of the bunch they really knock it out of the park. The best part about the models with USB is that they provide unlimited functionality that far extends the normal use of the product.
Power Options
Power options turned out to be the third most important thing for us, with most of the products on the list opting for a 12v adapter. We gave points for products that included multiple adapters but didn't take away points for models that didn't provide the converters out of the box. As long as the initial adapter was included, getting access to the converters was no problem at all. If the cord was too short we took points off since it can be a hassle to extend it. Detachable power cords were considered a big deal, and we ranked models with this feature highest. The hardest thing to rank among all of the coolers on the list was their ability to maintain a steady temperature. We looked at how well models would maintain their best temperature with a -5 degree difference. The coolers that handled this the best were the ones that could handle drastic changes in the outside temperature without too much of an effect on what was inside. Some of the results were minimal, but the top five had some notable differences that helped reorder the list. When consumers plan to take long trips in hot temperatures, these are going to be the models that perform the best in those conditions.
Size
Adjusting the list based on size was tricky, as we couldn't show favoritism for a specific size. Everyone has a size they favor, so small, medium or large sizes shouldn't carry a penalty. When it came to sizes, we instead focused on the design and how well it took advantage of the room it had. There were small coolers that handled their open space better than large coolers. And there were medium coolers that had more usable space than larger coolers. Exact measurements really made a difference with this criteria, and it cut down on a lot of the large (and some small) choices on the list.
Because of the earlier discussion of how an electronic cooler can hurt the battery of a car that isn't running, we took special time to look at power usage. Products that took the lowest amount of power while maintaining a good temperature gained instant favor. These coolers
are great on any battery, even on particularly weak vehicles. It also enabled some of the USB enabled models to go further up the list if they handled the power consumption at the same level as the non-USB models. Even with some of the USB models having an active draw, they still came out to a similar power level as the others on the list.
Lid Sealing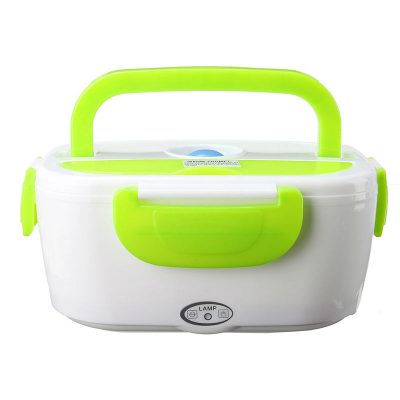 How well the lid sealed is something that we couldn't ignore, and it may have led to some of the better products being left off of the list. Leaks meant an immediate removal from the list, which was surprising since that meant a lot of good choices were removed immediately. The remaining coolers also had to show that they didn't drop too harshly in temperatures when they were opened and closed. A slight temperature drop was expected, but when it was too drastic, that pointed to an issue with sealing. All of this was not only temperature related, and we put focus into how well it closed off smells. If you are camping with an electric cooler, having the odor of food in the air will invite a lot of unwanted critters. Branding is something that we always include in our criteria. Igloo and Coleman were obvious choices and were always ahead on the list. Branding is based on customer service, satisfaction, warranty and the past success of the company. Brands that had a proven track record got the benefit of the doubt if there was a close call in how we were ordering the list. They were safe bets that guaranteed quality, with an easy process to return the product if something went wrong.
Heating Power
The last thing we looked at was heating power, which more or less was the least important criteria. None of the models on the list outputted heat that would be considered beyond 'warm', nor were they expected to. We looked at the quality of heat, with a lot of priority going to how long it kept the contents of the cooler warm. Weak heating power didn't lead to a loss of points, while strong heating power pushed some models a little higher.
Additional Maintenance Tips
If you have already bought a thermoelectric cooler, you probably have an idea of the costs involved. While no one can argue that this is the most expensive equipment you will ever buy, it is safe to assume that once you have bought one, you would want to keep it for as long as you can. One of the ways you can be guaranteed that your electric cooler will do its work efficiently is to ensure that you follow the maintenance tips we have put together in this article.
Even though electric coolers are not meant to last as long as your refrigerator will, maintaining them well will help you extend the time you will be using yours.
Read the Operator Manual
Maintaining your cooler should start with reading the user manual. Very few people can pretend that a user manual is the most interesting document to read. However, discovering that you have voided your warranty because you have not followed the instructions on the operator manual will leave you with a bad taste in the mouth.
Many manufacturers will also require for you to have the original packaging in order to claim your warranty. Also, keep the proof or purchase receipt and warranty card in a place where you can find them. The packaging should also be kept so that you can use it when you are moving the cooler, sending it for repair or claiming your warranty.
Operator manuals are created for an important reason: to give you the instructions on how you should look after your electric cooler. The user manual tells you how to use the product in an efficient manner. It will also help you to deal with common problems; you can troubleshoot without having to wait for endless minutes to get help from a call center.
Install In a Ventilated Location
Your cooler should be stored in an area that is well ventilated. Also, make sure that it is not stored in direct sunlight. If you want to keep food inside this unit, ensure that it cools down sufficiently before you place it inside the cooler. Also, the lid seal should also be cleaned regularly.
Cleaning
Before you start cleaning your cooler ensure that it is unplugged from the power source. As a device used for the storage of food, it is always advisable that you keep it clean all the time on both the exterior and interior.
When cleaning the cooler, never do so under running water. If the cooler is cleaned using abrasive cleaning agents or objects that are hard, it could easily be damaged.
Always Operate the Device Safely
Every time before you use the device, ensure that both the plug and power supply cable are dry. Make sure that the cooler is not sitting near heat sources such as heaters, gas oven, and others like that as this could present a risk of overheating.
Do Not Use If Damaged
If you look at the device and notice that it is visibly damaged, do not operate it. If there are any problems with your device, do not attempt to repair it yourself unless you are adequately qualified to do so. If it is improperly repaired, the unit could become a safety hazard.
Know When to Buy another One
As it has already been indicated above, thermoelectric coolers have a planned obsolescence. This is the reason why you would usually be advised to rather get rid of a cooler that has started giving you many problems. The challenge with attempting to replace parts one by one is that you will just end up buying one part after another without solving the problem. This is the reason why is more important to consider the lifespan of the unit as opposed to just the single parts that constitute it.
Even though these units may a have a limited lifespan overall, you should consider the warranty given when you buy one. The duration of the warranty could be an indication of the confidence the manufacturer has in the product. Stay away from any units that have warranties of less than 90 days. A good thermoelectric cooler should have a warranty of at least one year.
FAQs
Frequently Asked Questions
Q: What Is An Ideal Size?
A: When you try to size an electric cooler, looking at them in specific size ranges should shorten the list considerably. Small can be considered 7.5-18 quarts and will do the job for ice or drinks. Medium is about 21-36 quarts and can handle drinks, food, and snacks. Large is 45 quarts and up, which is more than enough to handle anything you throw at it. There is no wrong size if you know what it is you'll be using it for. When in doubt, always go for midsize to large since it will cover more than the bare essentials.
Q: How Effective Is The Warming Function?
A: The heating function in electronic coolers are not meant to fully cook food, so you won't be able to convert them to portable stovetops. Electronic coolers give off about the same amount of warmth as the warm-low setting on a stove. Some of the better ones can make some eggs for you, but beyond that, it is not meant to be on for long periods of time outputting a lot of heat. You can still depend on it in a pinch, like when hot drinks need to be at a certain temperature for extended periods of time.
Q: Do All The Coolers Come With Adapters?
A: Not all coolers come with adapters, and this can be a troubling aspect if you have never owned one before. Always pay attention to whether the package comes with an adapter or not. This is not for the initial adapter if it is 12 volt, but rather the converter that makes it useful in a regular outlet. Switching from the car to a regular outlet is great when the option is available. And even if the model doesn't include an adapter, you can purchase a 12-volt car adapter to ac adapter for cheap. Just make sure that the converter is compatible with your current electronic cooler.
Q: What's The Difference Between A Carrying Bag Type And Regular Cooler?
A: There are pack coolers on the market that are really useful if you need an electric cooler that's easy to carry. They are often used for carrying drinks and keeping them at the desired temperature. Another added benefit of such a cooler is using it to transport medicine. With the purchase of a cheap lock, an electronic strap bag cooler can be a really big help when traveling. The only downside is the limited space, which can sometimes be smaller than a regular cooler. As an alternative option, it's also great to pair with larger coolers for the most versatility.
Q: Do All Coolers Come With USB Ports?
A: No. Coolers that come with USB ports are great, and often underrated for how useful they are. There are an unlimited amount of USB devices that could prove useful for regular ports. The obvious use would be to charge tablets, phones and any other device that can handle the power output. With a little creativity, you could even add a USB powered cooktop or fan. The options are unlimited if you look at all of the available electronics that can be powered by it. Your electric cooler could turn into your command center, making it an invaluable tool when you leave the house.
Q: Can You Use Electric Coolers As Permanent Solutions?
A: It's possible, but not efficient. A cooler won't get anywhere near as cold as you would want a home freezer. You would also be limited with the size, as even the largest isn't suitable for a full-time home freezer. Even if you just want to use it in place of a mini-fridge, the advantages are still in favor of the fridge. A mini-fridge cools faster, and many have a small portion dedicated to freezing. They also have better shelving, spacing and overall size. Electric coolers will only work well in a permanent setup for mobile users that are lacking space.
Q: What Are The Different Type Of Coolers?
A: There are two main types of coolers that consumers can choose between. Thermoelectric and Compressor-driven coolers are the industry leading types, with the latter having the more powerful cooling ability. For portability and ease of use, thermoelectric is favored and requires a lot less upkeep. The tradeoff is that you can't freeze your contents like you can with a compressor-driven cooler. When comparing the two, thermoelectric has a slight advantage when you rack up all of the features. It is also the one that is most likely to have modern features like USB ports.
Q: Is There An Optimal Temperature To Aim For?
A: You want the cooler to at least be able to handle cooling 40 degrees Fahrenheit below the outside temperature. This will keep anything you put in the cooler at a comfortable temperature for a long period of time, even if it isn't plugged into power. Electronic coolers keep steady temperatures once they are sealed shut, so there are no worries of a drastic drop when you unplug it. Consumers that want it to be colder can always add ice to the cooler to keep a lower consistent temperature while transporting it for long periods of time.
Q: Where Does The Cooler Plug In?
A: Depending on the model, you can plug it into the wall or into a standard car 12-volt outlet. When using it with your car's 12-volt outlet, it will also work with any type of converter. So if you have it running through a hub or a socket extender, the effect will be the same. The power draw for coolers won't be that much higher than a regular electronic device, although it tends to idle on the higher side based on the cooler. For obvious reasons you can expect a larger cooler to have a much stronger draw, but nothing that your car or truck battery can't handle.
Q: How Efficient Are Electronic Coolers?
A: Opinions vary based on what the cooler is used for. If you are expecting to freeze items in it for long periods of time, then you're going to be disappointed. And if you are getting it primarily for the heating function, then you're purchasing it for the wrong reasons. Electronic coolers are perfect for keeping anything you want cool for long periods of time. They also make great use of keeping hot food warm until it reaches its destination. When the features of a cooler are properly utilized, it is the most efficient product of its kind on the market.
Q: Do You Need Ice With An Electric Cooler?
A: Ice is optional when using an electric cooler. They were made to do away with the need for ice and the many frustrations it can cause. That doesn't mean that ice shouldn't be put into an electric cooler, and if used properly it can enhance the temperature in positive ways. When you need a lower temperature than what can be provided by the cooler, ice is the best way to achieve it. Using ice doesn't damage the cooler, so it's a great choice for longer trips providing you have space.
Q: Can 12 Volt Coolers Damage Your Battery?
A: While the car is running, it won't be an issue. Where you will have to be careful is when you run an electric cooler off a car battery when your vehicle isn't running. This applies to all 12v products and is not specific to a cooler. Some say a safe bet is 3 hours without the car running, which is assuming the car has a strong battery, to begin with. At some point, you will drain your car's battery if it is sending all of the juice to the cooler and doesn't have enough to turn the car over. Be wary of how long you leave any 12v object powered by a non-running vehicle and you won't suffer any damage to your battery.
Q: Without Power How Long Will The Unit Stay Cooled?
A: If your cooler stays sealed and isn't opened, then it can last for hours. Just like a refrigerator, the more you open it while it isn't actively cooling, the more the temperature will drop. Most electric coolers have great sealing elements in place to keep your items fresh. Consumers should also remember that once plugged back in, it will still take some time to reach an optimal temperature. If there are a lot of items in the cooler, getting to the temperature you want can take upwards to half an hour.
Q: Will It Fit In Enclosed Spaces?
A: You can place coolers in enclosed spaces, but it's important to make sure they have breathing room. Because it is an electronic item, it will give off heat while in operation. This isn't to say it is a fire hazard and instead points to how easy it is to make the unit work harder to maintain a good temperature. If it is so tight in its area that it has to work double time to stay cool, then you're burning up energy and the amount of time your contents will stay cool. Outside temperatures affect how well your electric cooler performs.