Best Electric Coolers Reviewed for Durability & Quality
last updated:
Oct 16, 2019
How much do we love the idea of an electric cooler? It's hard to express how much we love being able to keep things cold on long trips as long as you've got a handy power source.
ith these bad boys, you can carry food for days, without having to worry about changing ice or about the food getting above a safe temperature. Let's just say if you can carry mayonnaise on a long trip then that is a sure sign that things are going good for you. But surprisingly this is a really big market and there are all kinds out there at all different price ranges. So we scoured the internet and came up with some of our favorites.
This is the best product on our list that is currently in stock: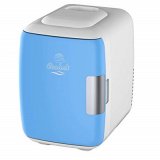 Cooluli Electric Cooler
Why is it better?
Easy to move around
Convenient for small spaces
In a
Hurry? Editors choice: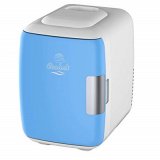 Test Winner: Cooluli Electric Cooler

16
Researched Sources
12500
Reviews Considered
15
Hours Researching
15
Products Evaluated
Effectiveness
Size
Power Source
Insulation
Value
By Default
10 Best Electric Coolers Reviewed for Durability & Quality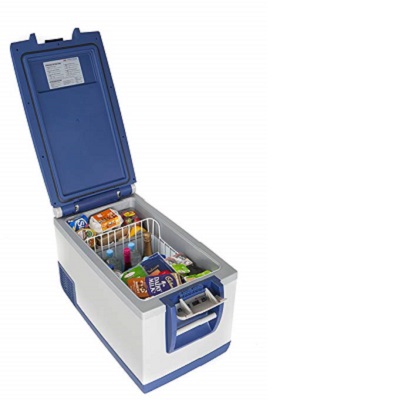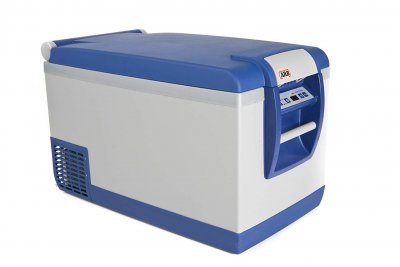 Internal LED cabinet light
Interior drain plug
Separate dairy/fruit compartments
The unique hinge has a quick-release mechanism
The freezer is meant to keep foods frozen, not freeze them
An ARB Fridge Freezer is the perfect way to keep beverages and food froze or froze or chilled on a 4 X 4 adventure, regardless of the weather. Do not confuse this cooler with a less effective 12-Volt cooler.
Versatile
The cooler can be used at home with a 120-Volt AC operation or in your vehicle with the 12/24-Volt DC operation. This 82-quart model maintains sub-freezing temperatures when the outdoor thermometer reads 90° F. It draws only 1.35 amps/hour from a 12-Volt power source. It is compatible with a generator or solar panel. The lid and basket are fully removable for easy cleaning and access. Ventilation grills allow operation in confined cargo areas.
User-Friendly
The list of features is almost too numerous to count. The cabinet shell is powder-coated steel that provides excellent corrosion resistance. Fixed carry handles are also made of recessed powdered coated steel. The integrated battery protection system has a convenient on/off indicator. Large bottles fit in the deep storage capacity. The forward-facing thermostat is user-friendly. The rounded corners and edges protect vehicle upholstery.
Cost and Value
This item is indeed a refrigerator-freezer. After buying one, you will never find a water-logged lunch due to shifting ice. Cold drinks will always be on hand in the summer months. A truck driver who purchased the ARB cooler stated it was pricey, but saved him at least $150 per week by carrying his food.
2

. Cooluli Electric Cooler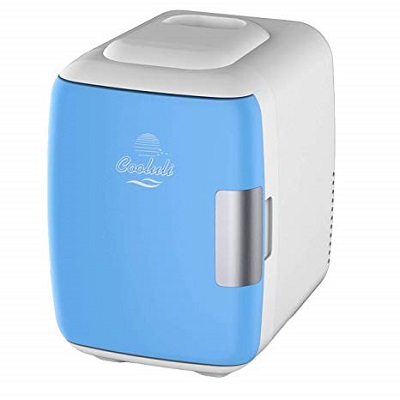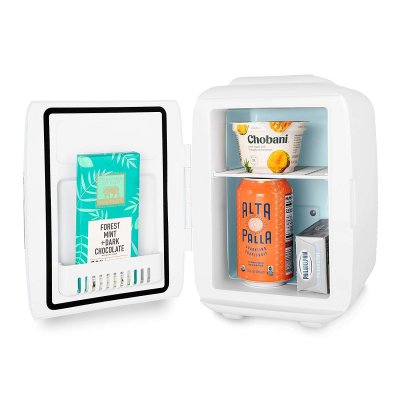 Easy to move around
Convenient for small spaces
Won't cool as much if the ambient temperature is high
Available in five different colors and styles, the Cooluli is the perfect choice for someone looking for portable and stylish cooler. Smaller in size than other options on our list, the Cooluli holds just six 12-oz cans making it a great choice for the office or spare bedroom.
Thermoelectric Cooler System
The Cooluli cooler is a thermoelectric cooler as well as a food warmer. It works by using electric energy to transfer heat from one side to another. Because this system of cooling works without refrigerants, the Cooluli cooler/warmer is also proudly environmentally friendly.
Compact Size
The Cooluli cooler is a fantastic option for people wanting a small, space-saving cooler. It's six can capacity may not be the best for people looking for a large capacity cooler but it would work great in many situations such as dorm rooms or the baby's nursery.
Cost and Value
The Cooluli cooler is a fantastic option for people wanting a small, space-saving cooler. It's six can capacity may not be the best for people looking for a large capacity cooler but it would work great in many situations such as dorm rooms or the baby's nursery.
3

. Coleman Cooler, 40-Quart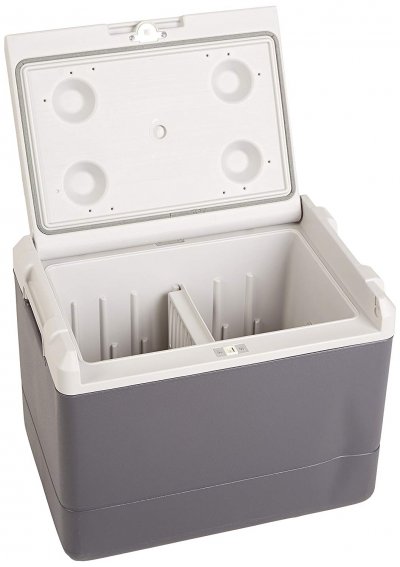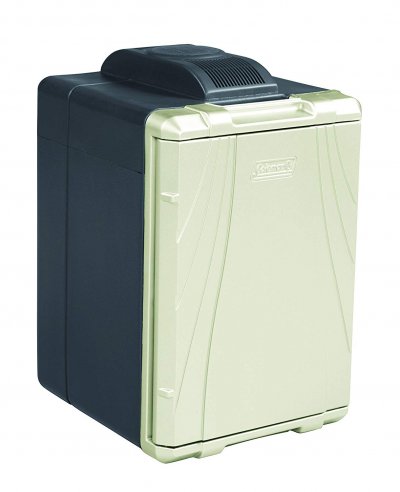 40 Quart Capacity
Multi-Door Open
8 Foor Power Cord
Car and Boat Adaptor
Coleman is a great brand and this cooler is going to come in incredibly handy on your next road trip or camping trip. You'll have to be near a power source but it has a car adaptor and a boat adaptor so it's great for car camping and just as great to keep onboard your boat. It has room for nearly 4 dozen cans as well.
40 quart capacity
40 quarts is a lot of room. For instance, it will hold nearly 4 dozen cans which is plenty of liquid. That also means plenty of room for a few dinners and you don't have to worry if the food is perishable, because this cooler will keep everything plenty cold.
Multi Open Door
This is an interesting function that allows you to open the door from the left or the right. What that means for you is it's just easier to load up this cooler and since it has such a high capacity you might need that extra room.
Cost and Value
This comes in at about the mid-range and for a cooler this large that strikes us a really good price. Plus you get the Coleman name and that comes with a guarantee of quality.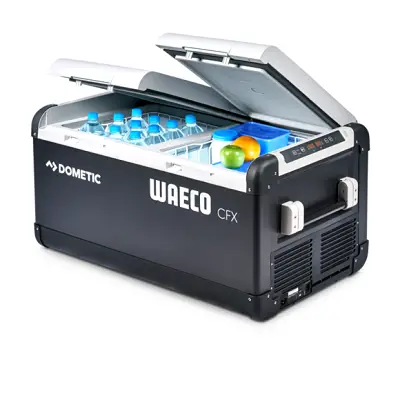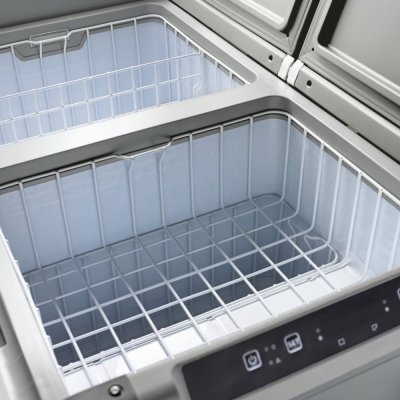 LED electronic display thermometer
Folding carry handles save space
The lid is detachable and reversible
A USB port can charge small devices
Using a CB radio can interfere with the microprocessor system
The CFX-35US model is a compressor mini fridge and freezer. It keeps drinks and food chilled when traveling on the road. The cooler features a removable wire basket that has a divider, steel hinges, reinforced corners, and digital temperature displays. The cooler has drop-down handles, hinges made of heavy-duty steel stainless steel, and latches. Memory in the system maintains preset temperatures when the system is off. It runs on 120-volt AC and 12-Volt and 24-Volt DC power sources.
Performance
The cooling performance is fantastic at high external temperatures. It withstands harsh conditions and provides exceptionally efficient cooling performance. Temperatures can be set from 50° F to -8° F.
Internal Temperature Sensor
It can hold 106 12-ounce cans. The cooler is suitable for solar operation. Weatherproof construction includes a Waco compressor that is hermetically sealed. An easy-to-use soft-touch control panel utilizes an internal temperature sensor to guarantee food stays at the desired temperature.
Cost and Value
It is easy to clean and provides practical storage. Power cords for AC and DC are included. The Dual-Zone feature allows freezing and refrigeration simultaneously. The money saved by taking food on a trip pays for the cooler in no time.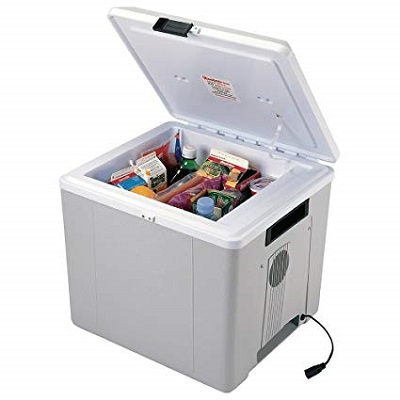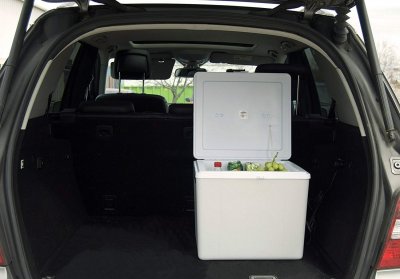 Light in weight
Doesn't overheat
The mid-sized Koolatron P27 Voyager features a large 29-quart capacity that will fit up to 48 cans. It cools to 40°F below ambient temperature and will heat food up to 145°F.
Horizontal or Vertical
The Koolatron P27 Voyager offers the buyer the flexibility of using it in a horizontal position (like a chest) or a vertical position (like a refrigerator).
Road Trip Ready
The Koolatron P27 Voyager, with its 29-quart capacity, is a great option for families who are on the road often. It comes with the 12V plug for use in the vehicle and will save you money by eliminating the need for expensive restaurant stops on your trip.
Cost and Value
This Koolatron cooler is mid-range in terms of price but it offers a large amount of space for the traveler which means less money spent on road trip food and drinks.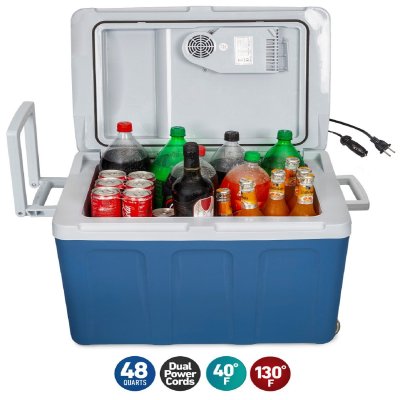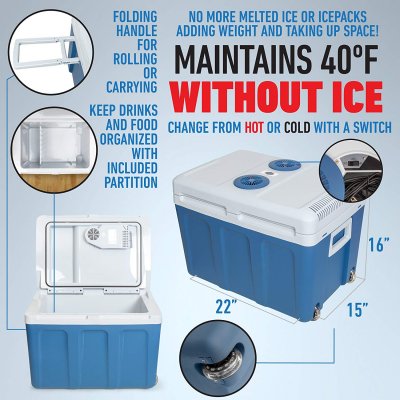 Constant Temperature
Works for Car/Boat
Huge Capacity
Double Handles and Wheels
Plugs Break Easily
Doesn't Work Well in High Temps
The Koozam Cooler gives you the tradition cooler look and it's highly portable and has built-in wheels so it goes wherever you go easily and also comes with two cords, one for normal outlets and one for car or boat outlets. It also has a massive storage space of 48 quarts so you'll be able to put just about anything you can imagine inside this cooler.
Maintain's a constant temperature
This cooler is guaranteed to maintain a constant 40 degree Fahrenheit temperature. That ensures that even some of your most dicey perishables will be safe for as long as this cooler is running.
Giant Capacity
A few things about this cooler make it an easy go-to for our list. The two cords that allow it to work at home or in a car/boat but the thing we really love is the 48-gallon capacity. That's about 4 dozen cans and honestly, you can load up just about everything you can imagine into this cooler.
Cost and Value
This is a bit on the pricey end but we love the fact that this cooler is portable. We love the fact that it comes with two cables. We love the fact that it has a giant capacity, and we love the fact that it keeps your stuff at a constant 40-degree temperature. Honestly, this is just a solid cooler and worth the extra money.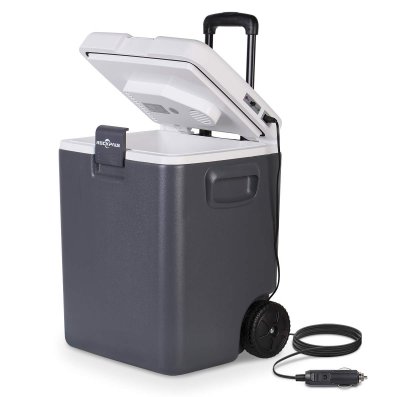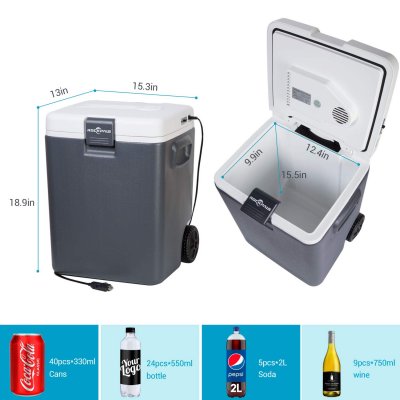 Car Adaptor
Cools and Warms
32 Quart Capacity
Easily Portable
The Rockpals is meant almost exclusively for your car or boat, it comes with an adaptor that plugs directly into what used to be your cigarette lighter (I guess for some folks it still is), but it doesn't hold as much stuff as other coolers on our list because it's built to be small and sit quietly in the car to keep your stuff cold.
Small but Roomy
The capacity is only 32 quarts but this is actually plenty roomy for most of what you'll need for a long drive. Plenty of room for drinks and sandwiches and snacks galore. More than enough to keep even the hungriest family satisfied.
Warms and Cools
This can also keep your warm stuff warm. It's a nice addition if you just need a way to keep your entry in the pot luck toasty while you drive across town. We admit this little feature comes in quite handy.
Cost and Value
A bit higher priced than some of our other entries but the cool and warm functions and the design speak well of this entry.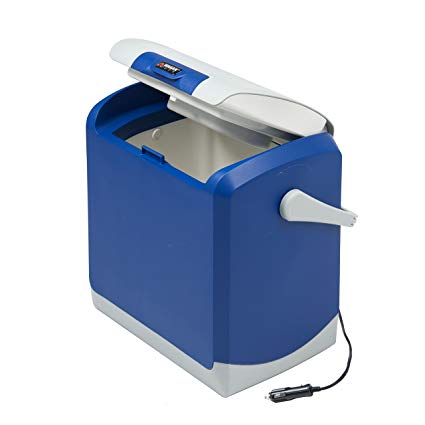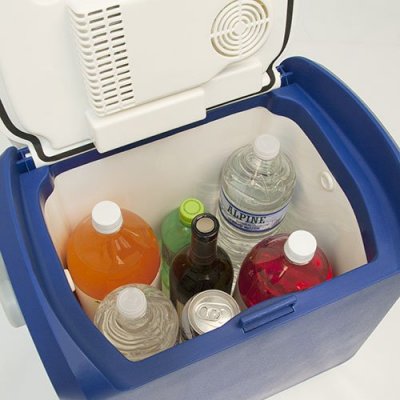 A heavy-duty handle allows easy transport
Easy to use
It can hold four two-liter bottles of 27 12-ounce cans
Cools or warms contents
An optional AC adapter must be purchased separately
The Wagan Cooler/Warmer is an essential item for those who get thirsty or hungry when driving in a vehicle. The device is ideal for those who drive frequently or for family road trips. It keeps beverages and food cool without messy ice.
Cools and Heats
This item can be used as a cooler or warmer. The Wagan Cooler/Warmer cools to a maximum 32° F. It will cool to 36° below the ambient temperature. The maximum warming temperature is 140° F.
How to Use
To use the cooler/warmer, plug the 12-Volt adapter into the vehicle's 12-Volt DC outlet. Select the setting with a switch on the back. There is an indicator light that lets you know the setting that has been chosen - hot, cold, or off.
Cost and Value
The appliance is insulated with polyurethane foam to keep temperatures steady. This warmer/cooler has a 10A fused plug and a built-in fan. Forty watts of power is consumed.
Those who have purchased the product report the temperature settings to be accurate.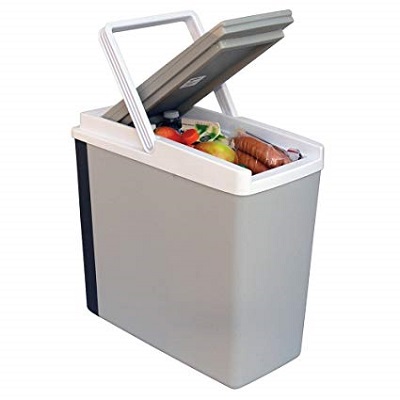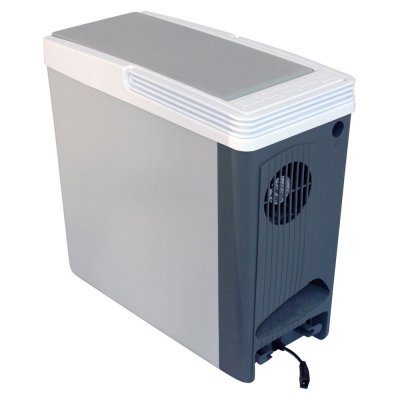 Compact design is perfect for small cars, SUVs, and minivans
Can be used to cool or warm food and drinks
Unique cord wrap and lighter storage
Quiet fan and motor circulate air evenly
Interior walls slope inward and reduce the inner space
The Koolatron P-20 is a compact 12-Volt cooler that was specially designed for tight spaces behind and between the seats of cars, van, and trucks. The 12-Volt cooling unit plugs into a vehicle's cigarette lighter or electronic port.
Convenient
The lid is latch-less. It can be opened using one hand. A swinging foldaway handle makes it easy to carry. It is the perfect cooler for on-the-go families. Pack the cooler with snacks for sports events or family trips.
Features
Other features include an interior fan, lighter storage spot, and a unique cord wrap. An AC adapter is available so that the cooler can be plugged into an outlet in a hotel, motel, or in a home. A heating mode warms to 130° F. The cooler has an 18-quart capacity. It holds twenty-three 12-ounce cans. The cooler has a state-of-the-art cooling system.
Cost and Value
Koolatron has manufactured coolers for more than 20 years. People who purchased the cooler felt it was a good size for practical use needing a cooling function. They are happy with the product and have recommended it to others. There are no puddles of condensation.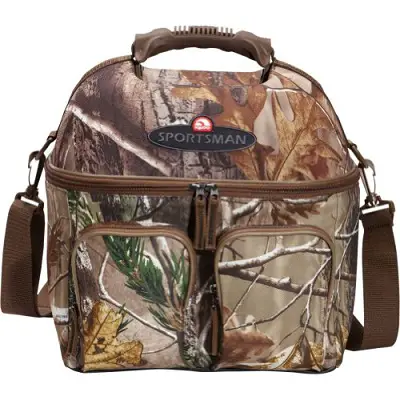 The exterior pockets are very roomy
Full insulation functions just like a regular cooler
Not as sturdy as other competing coolers
This product is a little different from the rest of the list and is the first of this style that functions as a true cooler. Functional and light, campers will find this the most useful when they are on short trips.
Ultra-Portable
The difference between using two shoulder straps with this sort of cooler and using a single handle with a regular cooler is night and day. Carrying your goods becomes effortless, and all without compromising space. A bag like this that functions like a cooler is a great choice if you want to pack light.
Features and Specifications
It can surprisingly hold up to 18 cans, which allows you to bring enough supplies for a few days if you're camping. The adjustable padded straps make it easy and comfortable for everyone, no matter your body shape.
Cost and Value
The price is low and there are other uses beyond using it as a cooler. Buyers that need an ultraportable cooler will find it is a safe buy.
Criteria Used for Evaluation
Effectiveness
Efficiency was at the top of our list of things to pay attention to when it came to electronic coolers. We based this on how well the coolers on the list handled everyday tasks, most notably how well they handled maximum capacity.
Coolers that advertised great temperatures but took an hour to reach them were left off of the list. The best way to test whether a company was being honest about their temperatures was by loading the cooler until only a little room was left. This knocked out a lot of the competitors, shortening our list early from the start.

Size
Adjusting the list based on size was tricky, as we couldn't show favoritism for a specific size. Everyone has a size they favor, so small, medium or large sizes shouldn't carry a penalty. When it came to sizes, we instead focused on the design and how well it took advantage of the room it had.
There were small coolers that handled their open space better than large coolers. And there were medium coolers that had more usable space than larger coolers. Exact measurements really made a difference with this criteria, and it cut down on a lot of the large (and some small) choices on the list.

Power Source
Power options turned out to be an important factor for us, with most of the products on the list opting for a 12V adapter. We gave points for products that included multiple adapters but didn't take away points for models that didn't provide the converters out of the box. As long as the initial adapter was included, getting access to the converters was no problem at all. If the cord was too short we took points off since it can be a hassle to extend it. Detachable power cords were considered a big deal, and we ranked models with this feature highest.
Products that took the lowest amount of power while maintaining a good temperature gained instant favor. These coolers are great on any battery, even on particularly weak vehicles. It also enabled some of the USB enabled models to go further up the list if they handled the power consumption at the same level as the non-USB models. Even with some of the USB models having an active draw, they still came out to a similar power level as the others on the list.

Insulation
How well the lid sealed is something that we couldn't ignore, and it may have led to some of the better products being left off of the list. Leaks meant an immediate removal from the list, which was surprising since that meant a lot of good choices were removed immediately.
The remaining coolers also had to show that they didn't drop too harshly in temperatures when they were opened and closed. A slight temperature drop was expected, but when it was too drastic, that pointed to an issue with sealing. All of this was not only temperature related, and we put focus on how well it closed off smells. If you are camping with one, having the odor of food in the air will invite a lot of unwanted critters.

Value
If you have already bought one of these, you probably have an idea of the costs involved. While no one can argue that this is the most expensive equipment you will ever buy, it is safe to assume that once you have bought one, you would want to keep it for as long as you can.
You also have to keep in mind that these have planned obsolescence. This is the reason why you would usually be advised to rather get rid of a cooler that has started giving you many problems. The challenge with attempting to replace parts one by one is that you will just end up buying one part after another without solving the problem. This is the reason why is more important to consider the lifespan of the unit as opposed to just the single parts that constitute it.
Even though these units may have a limited lifespan overall, you should consider the warranty given when you buy one. The duration of the warranty could be an indication of the confidence the manufacturer has in the product. Stay away from any units that have warranties of less than 90 days. A good cooler should have a warranty of at least one year.
Expert Interviews & Opinions
Most Important Criteria
(According to our experts opinion)
Experts Opinion
Editors Opinion
Users Opinion
By Default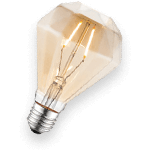 Maintenance Is Important!
One of the ways you can be guaranteed that yours will do its work efficiently is to ensure that you follow the maintenance tips the producer provides. Even though these are not meant to last as long as your refrigerator will, maintaining them well will help you extend the time you will be using yours. Keeping it clean will also prevent mold from growing.
Read the Operator Manual
Operator manuals are created for an important reason: to give you the instructions on how you should look after your electric cooler. The user manual tells you how to use the product in an efficient manner. It will also help you to deal with common problems; you can troubleshoot without having to wait for endless minutes to get help from a call center. However, discovering that you have voided your warranty because you have not followed the instructions on the operator manual will leave you with a bad taste in the mouth.
Other Factors to Consider

Features
Features were a huge thing with the coolers, with USB powered units going to the top. Models with warming features also went to the top of the list and were highly regarded even before we got to that portion. Any modern feature that was hard to find on other models was considered a pro, even if it wasn't widely used.
These coolers don't always get a lot of updates year to year, so when the innovative ones come out of the bunch they really knock it out of the park. The best part about the models with USB is that they provide unlimited functionality that far extends the normal use of the product.

Brand
Branding is based on customer service, satisfaction, warranty and the past success of the company. Brands that had a proven track record got the benefit of the doubt if there was a close call in how we were ordering the list. They were safe bets that guaranteed the quality, with an easy process to return the product if something went wrong.
Igloo and Coleman were obvious choices and were always included in the list. Igloo is the most recognizable name, but Koolatron has also made some noise for the past few years. They may very well be the company to look out for, and with their latest models sporting warming functions they may even change the industry.
Frequently Asked Questions
q:

What Is An Ideal Size?

a:

When you try to size, looking at them in specific size ranges should shorten the list considerably. Small can be considered 7.5-18 quarts and will do the job for ice or drinks. Medium is about 21-36 quarts and can handle drinks, food, and snacks. Large is 45 quarts and up, which is more than enough to handle anything you throw at it. There is no wrong size if you know what it is you'll be using it for. When in doubt, always go for midsize to large since it will cover more than the bare essentials.
q:

How Effective Is The Warming Function?

a:

The heating functions are not meant to fully cook food, so you won't be able to convert them to portable stovetops. They will give off about the same amount of warmth as the warm-low setting on a stove. Some of the better ones can make some eggs for you, but beyond that, it is not meant to be on for long periods of time outputting a lot of heat. You can still depend on it in a pinch, like when hot drinks need to be at a certain temperature for extended periods of time.
q:

Do All The Coolers Come With Adapters?

a:

Not all coolers come with adapters, and this can be a troubling aspect if you have never owned one before. Always pay attention to whether the package comes with an adapter or not. This is not for the initial adapter if it is 12 volt, but rather the converter that makes it useful in a regular outlet. Switching from the car to a regular outlet is great when the option is available. And even if the model doesn't include an adapter, you can purchase a 12-volt car adapter to ac adapter for cheap. Just make sure that the converter is compatible with your current cooler.
q:

What's The Difference Between A Carrying Bag Type And Regular Cooler?

a:

There are pack coolers on the market that are really useful if you need an electric cooler that's easy to carry. They are often used for carrying drinks and keeping them at the desired temperature. Another added benefit of such a cooler is using it to transport medicine. With the purchase of a cheap lock, an electronic strap bag cooler can be a really big help when traveling. The only downside is the limited space, which can sometimes be smaller than a regular cooler. As an alternative option, it's also great to pair with larger coolers for the most versatility.
q:

Do All Coolers Come With USB Ports?

a:

No. Coolers that come with USB ports are great, and often underrated for how useful they are. There is an unlimited amount of USB devices that could prove useful for regular ports. The obvious use would be to charge tablets, phones and any other device that can handle the power output. With a little creativity, you could even add a USB powered cooktop or fan. The options are unlimited if you look at all of the available electronics that can be powered by it. Your electric cooler could turn into your command center, making it an invaluable tool when you leave the house.
q:

Can You Use Electric Coolers As Permanent Solutions?

a:

It's possible, but not efficient. A cooler won't get anywhere near as cold as you would want a home freezer. You would also be limited with the size, as even the largest isn't suitable for a full-time home freezer. Even if you just want to use it in place of a mini-fridge, the advantages are still in favor of the fridge. A mini-fridge cools faster, and many have a small portion dedicated to freezing. They also have better shelving, spacing and overall size. Electric coolers will only work well in a permanent setup for mobile users that are lacking space.
q:

What Are The Different Type Of Coolers?

a:

There are two main types of coolers that consumers can choose between. Thermoelectric and Compressor-driven coolers are the industry-leading types, with the latter having the more powerful cooling ability. For portability and ease of use, thermoelectric is favored and requires a lot less upkeep. The tradeoff is that you can't freeze your contents like you can with a compressor-driven cooler. When comparing the two, thermoelectric has a slight advantage when you rack up all of the features. It is also the one that is most likely to have modern features like USB ports.
q:

Is There An Optimal Temperature To Aim For?

a:

You want the cooler to at least be able to handle cooling 40 degrees Fahrenheit below the outside temperature. This will keep anything you put in the cooler at a comfortable temperature for a long period of time, even if it isn't plugged into power. Electronic coolers keep steady temperatures once they are sealed shut, so there are no worries of a drastic drop when you unplug it. Consumers that want it to be colder can always add ice to the cooler to keep a lower consistent temperature while transporting it for long periods of time.
q:

Where Does The Cooler Plug In?

a:

Depending on the model, you can plug it into the wall or into a standard car 12-volt outlet. When using it with your car's 12-volt outlet, it will also work with any type of converter. So if you have it running through a hub or a socket extender, the effect will be the same. The power draw for coolers won't be that much higher than a regular electronic device, although it tends to idle on the higher side based on the cooler. For obvious reasons you can expect a larger cooler to have a much stronger draw, but nothing that your car or truck battery can't handle.
q:

How Efficient Are Electronic Coolers?

a:

Opinions vary based on what the cooler is used for. If you are expecting to freeze items in it for long periods of time, then you're going to be disappointed. And if you are getting it primarily for the heating function, then you're purchasing it for the wrong reasons. Electronic coolers are perfect for keeping anything you want cool for long periods of time. They also make great use of keeping hot food warm until it reaches its destination. When the features of a cooler are properly utilized, it is the most efficient product of its kind on the market.
q:

Do You Need Ice With These?

a:

Ice is optional when using this type of cooler. They were made to do away with the need for ice and the many frustrations it can cause. That doesn't mean that ice shouldn't be put into the cooler, and if used properly it can enhance the temperature in positive ways. When you need a lower temperature than what can be provided by the cooler, ice is the best way to achieve it. Using ice doesn't damage the cooler, so it's a great choice for longer trips providing you have space.
q:

Can 12 Volt Coolers Damage Your Battery?

a:

While the car is running, it won't be an issue. Where you will have to be careful is when you run one off a car battery when your vehicle isn't running. This applies to all 12v products and is not specific to a cooler. Some say a safe bet is 3 hours without the car running, which is assuming the car has a strong battery, to begin with.

At some point, you will drain your car's battery if it is sending all of the juice to the cooler and doesn't have enough to turn the car over. Be wary of how long you leave any 12v object powered by a non-running vehicle and you won't suffer any damage to your battery.
q:

Without Power How Long Will The Unit Stay Cooled?

a:

If your cooler stays sealed and isn't opened, then it can last for hours. Just like a refrigerator, the more you open it while it isn't actively cooling, the more the temperature will drop. Most have great sealing elements in place to keep your items fresh. Consumers should also remember that once plugged back in, it will still take some time to reach an optimal temperature. If there are a lot of items in the cooler, getting to the temperature you want can take upwards to half an hour.
q:

Will It Fit In Enclosed Spaces?

a:

You can place coolers in enclosed spaces, but it's important to make sure they have breathing room. Because it is an electronic item, it will give off heat while in operation. This isn't to say it is a fire hazard and instead points to how easy it is to make the unit work harder to maintain a good temperature. If it is so tight in its area that it has to work double-time to stay cool, then you're burning up energy and the amount of time your contents will stay cool. Outside temperatures affect how well your cooler performs.
Subscribe to our Newsletter