Best Electric Coolers Reviewed and Rated
Coolers have come a long way over the years, with the size, functions and overall look of them changing dramatically. Now that most electric coolers come standard with DC attachments, they are more portable than ever.
Our Top 3 Picks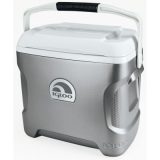 Igloo Iceless Cooler

Our rating
Durable
Price: See Here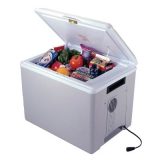 Koolatron P75 36

Our rating
36 quart capacity
Price: See Here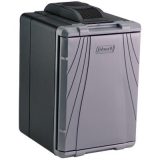 Coleman PowerChill

Our rating
Adjustable
Price: See Here
Best Brands
Igloo is the most recognizable name, but Koolatron has made some noise for the past few years. They may very well be the company to look out for, and with their latest models sporting warming functions they may even change the industry.
Maintenance and Cleaning Tips
Treat an electronic cooler like you would a refrigerator, keeping it clean so that mold doesn't grow. Getting a bad smell out of an unmaintained cooler can be a pain, so always use warm soap and water after a long use on a trip.
Best Electric Coolers Reviewed
Below you will find the 10 best electric coolers reviewed in detail. We highlighted the good and the bad of each one and included an overview of everything you need to know in regard to each item on our list.
1. Igloo Iceless Thermoelectric Cooler
Having a top ten cooler list without Igloo at the top just wouldn't be correct. So it should surprise no one that one of the industry leaders lands in the top spot.


Expand to see more
Hard Coolers Can Be Comfortable

They just have to be made correctly, which is why Igloo put a curved back in this design so that it hugs the side of whomever is carrying it. The entire design is a worthwhile change if you're used to the other uncomfortable hard case options.

Features and Specifications

Comes in 26 or 28 quart sizes
Eight foot long power cord

Price/Value

Selling for a high price, even without a heating function this is the most technically sound cooler on the list. Igloo is great to their customers so this purchase is an easy one to make.

Decision Time

Durable and comfortable to carry, Igloo made an Iceless cooler that blows the competition out of the water. No matter which size you get, the value will be incredible.


The most durable cooler on the list
Motor is brushless and almost silent
2. Koolatron P75 36-Quart Kool Kaddy Electric Cooler/Warmer
A cooler for all occasions is the best way to describe the P75, which is the second one on the list that has a warming function. At a much friendlier price than its competitors, Koolatron looks to attract even more customers.


Expand to see more
Horizontal Or Vertical

The cooler can be used in either position, allowing you to use it as a fridge or a chest. There are many added benefits to this small feature, the biggest being how it will be used on a particular day.

Features and Specifications

Cools to 40F and warms to 135F
Shelf included for storage

Price/Value

Buyers will find that the midrange price of this model is very friendly for the features it offers. With only one moving part it remains the most durable cooler on the list and will last for years.

Decision Time

Koolatron hit the mark with this cooler, and almost took the #1 spot. With the right size and a lot of good features, this turns out to be one of the best high end coolers you can purchase.
The fan motor is the only moving part
36 quart capacity is big but not too big
Doesn't come with an AC adapter
3. Coleman PowerChill Thermoelectric Cooler with Power Supply
Coleman is a recognizable name in the industry, and their PowerChill cooler has been a favorite for years. If you've never used a Coleman product before, then the stability of this model will be a refreshing change of pace.


Expand to see more
Almost Like A Mini Fridge

With 40 quarts to spare, customers can load 44 drinks plus snacks into it. This is one of the largest coolers on the market and almost touches on mini-fridge territory.

Features and Specifications

Plugs into the cigarette lighter
Adjustable door can be opened on the left or right

Price/Value

There are a couple of college students that have converted this into a mini fridge in their dorms. With a midrange price, it fits the needs of several customers.

Decision Time

It's surprising that the price is so low for this cooler, which is probably why it's so high on the list. Buyers won't get much better than this at the current price.
Chills strong and fast to 40 F
Durable and has a ton of space
4. Igloo Real Tree Softside Hunting Cooler Backpack
This product is a little different from the rest on the list, and is the first backpack that functions as a true cooler. Functional and light, campers will find this the most useful when they are on short trips.


Expand to see more
Ultra-Portable

The difference between using two shoulder straps with a backpack and using a single handle with a regular cooler is night and day. Carrying your goods becomes effortless, and all without compromising space.

Features and Specifications

Holds up to 18 cans
Adjustable padded straps

Price/Value

The price is low and there are other uses beyond using it as a cooler. Buyers that need a backpack/cooler will find it is a safe buy.

Decision Time

The idea that coolers have to be bulky boxes is a thing of the past. A backpack that functions like a cooler is a great choice if you want to pack light.
The exterior pockets are very roomy
Full insulation functions just like a regular cooler
Not as sturdy as other competing coolers
5. Knox 48 Quart Electric Cooler/Warmer with Built in Car and Home Plug
Halfway down the list and now something innovative comes along that changes the game a bit. The Knox cooler is not your average product, and may very well change the way you think about coolers forever.


Expand to see more
Cooler And Warmer

With the ability to both chill and heat, there are a lot of extra things you can place in the cooler compared to a normal one. And the heating function isn't weak at all, with the ability to go all the way up to 130F.

Features and Specifications

Chills to 40 degrees and heats to 130 degrees
Built in AC and DC adapter

Price/Value

For the included features, the value of this model is incredible. At only a midrange price you can get an all in one cooling and heating solution for any trip.

Decision Time

Coolers with adequate heating functions are hard to find, so the Knox model is a very good deal. Buyers can go in confident knowing they will get everything they need in one package.
Fairly large cooler
Heats up and cools down rapidly
Doesn't get as cool as stated in the features
6. Koolatron 26 qt. Soft Bag Cooler
Koolatron makes the list again, this time with a more feature rich model than the last. There is plenty of storage space both on and inside and outside of this soft bag cooler.


Expand to see more
A Pocket For Everything

There are zippered pockets on the inside and outside of the bag, so customers will have room for everything. Even the outside cell phone pockets are roomy and made to fit modern smartphones.

Features and Specifications

Cools to 30F
26 quart capacity

Price/Value

Buyers can expect to spend at about the midrange price when it comes to this Koolatron model. As long as they count in the separate AC adapter, then the value is fine for most users.

Decision Time

Koolatron is on the list again for a reason, and they are a company you can count on to make quality coolers. Whether you're doing serious or light traveling, this model will get the job done.
Only 8 pounds
Soft mesh pockets
7. Dometic CFX-35US Portable Electric Cooler Refrigerator/Freezer
Buyers that need a hardcore cooler to last them for several trips will find this model a really good buy. The CFX-35US comes in a lot of sizes and is incredibly useful in every iteration sold.


Expand to see more
Great Amount Of Choices

Dometic fully understands that customers will have different needs for this cooler. They offer it in 26, 35, 38, 46, 61 and 94.5 liters.

Features and Specifications

Refrigerate or Freeze
Electronic thermostat with LED display

Price/Value

Expensive and heavy, buyers will have to open their wallet wide if they want this cooler. All versions are worth it for what they do, and all versions come with everything you need to get started.

Decision Time

This is one of the most advanced coolers on the list so the price will be high by default. If it falls even close to your desired range, then buying it should be second nature.
USB ports for charging smaller devices
Both AC and DC cords are included
8. Koolatron P25 26-Quart FunKool Cooler
Koolatron goes the extra mile with this large cooler that is more than just a place to store a couple of drinks. With the right setup you could store a lot of food and drinks for the weekend in one spot, keeping them all refrigerated.


Expand to see more
Two Different Types Of Power

The cooler comes with a cigarette lighter adapter, standard in all units. If you have an AC outlet nearby there is an optional adapter that uses 110V.

Features and Specifications

Cord storage compartment and flip locking handle
Cools down to 40F

Price/Value

This is the first midrange priced cooler on the list, and even without the ac adapter included it is a good deal. Buyers just need to account for the extra cost of the AC adapter if they plan on purchasing the unit as is.

Decision Time

Koolatron made a really good model with excellent cooling features. Even without the AC adapter included it will turn out to be a bargain buy for a lot of people.
Good cooling temperature with lots of space
Only weighs 12 pounds
AC adapter is sold separately
9. Heavy-Duty Soft Sided Collapsible Cooler Bag by Bayfield Bags
A cooler that comes built like high end camping gear will always be favored by customers. With all of the clamoring for equipment that cools and protects at the same time, Bayfield Bags has created a real winner with this one.


Expand to see more
Lightweight

Hard sided coolers offer protection, but shouldn't be considered the best protection by default. This bag offers great protection with its padded build while also being several times lighter than typical hard coolers.

Features and Specifications

Sealed PEVA liner with leak-proof protection
Attached steel bottle opener and key clip

Price/Value

The price almost reaches midrange territory, yet still manages to be low cost for the average consumer. Since it is made from soft materials there is value in using this beyond its intended purposes.

Decision Time

Don't get turned off by the soft materials used, as this turns out to be a lightweight bag with a lot of durability. Creative buyers will find some great uses for it over the course of a summer.
Holds 16 cans
Comes in camo or blue colors
Doesn't have a shoulder strap
10. Igloo Sportsman Cooler
Reinventing the wheel won't do most buyers any good if the wheel was perfect to begin with. That is the idea behind the Igloo Sportsman Cooler, and it sticks to that ideology quite well. There are a few bells and whistles where necessary without adding anything out of the ordinary.


Expand to see more
Stack As Many As Possible

Purchasing a lot of these makes sense since they can be stacked on top of one another. For camps that travel in large groups or even scouts, this is the perfect addition to their storage needs to keep things organized.

Features and Specifications

Reinforced Handles
Swing up bail handle

Price/Value

The price is low, and most of the buyers will be purchasing a lot of these at once. The more you purchase, the better the value becomes over the years.

Decision Time

Trying to find a stackable cooler within a good price range is not hard if you end up picking the Igloo Sportsman Cooler. The price is fantastic, and it holds great value when bought in bulk.
Lid can be reversed to tray and cup holder
Stackable with dimensions of 14x10x9
How To Make The Best Decision When Choosing An Electronic Cooler
Now that warming functions have been introduced to coolers, it is vital you consider if that is an important feature to have. And remember that not all electronic coolers come with AC adapters, so a separate purchase may be necessary. Usually they only cost a few dollars, but research is the key here.
FAQ
How Good Are The Warming Functions In Select Coolers?
They are good for thawing and keeping things warm. There aren't many that go above 130F, so the idea of cooking in them is not going to happen.
Should I Buy A Size Bigger Than What I Need?
Buying a bigger cooler means adding more weight. While futureproofing an electronic cooler is a good idea by buying big, if you spend years not using that extra space then you end up carrying around extra weight for nothing.
Will Using The DC Jack In My Car Cause Problems?
Coolers use low power consumption by default, and even in older cars it won't be much of a risk. Failsafe's are built in that are basic yet get the job done, so no harm will come to your car.
Subscribe to our Newsletter