Best Cartridge Belts Reviewed & Rated for Quality and Safety
You know how people argue all the time that "guns don't kill things, people kill things?" Well, we here are of the opinion that it's actually bullets that kill things. And if you're on the hunt for dinner, well then you best make sure you have plenty of bullets when it's hunting season. So here's our list of cartridge belts specifically designed that when that perfect shot presents itself well you've got plenty of armament to get the job done.
So, for instance, have you ever been out hunting with a rifle, and after a few errant shots, you have your rifle dialed in? You had to move from your hunting stand to lower ground, and when you did that, you ended up finding a perfect hidden area to squat and wait. After a little while, you see a seven-point buck and you are able to line up the perfect shot. You pull the trigger, and it grazes the buck. You quickly go to pull the trigger again, only to realize you are out of ammunition. You frantically look for more and realize all of your equipment is up in your stand. If only there was a way to prevent this from happening again.
Luckily for you, there is – when you have a cartridge belt around your waist. By utilizing a cartridge belt, you can keep your ammunition close to you so you can have access to it when you need it most. There is no need to be out hunting, and not have an easy way for you to replenish your gun with the ammunition it needs easily and efficiently.
Featured Recommendations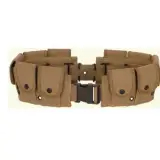 Ultimate Arms

Our rating
10 Pouches
Price:

See Here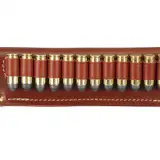 Hunter

Our rating
12 Rounds
Price:

See Here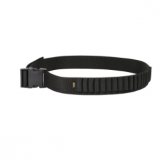 Allen Rifle

Our rating
20 Elastic Loops
Price:

See Here

However, we realize you may not have ever carried a cartridge belt with you, or perhaps you are just looking for more information concerning what is in the marketplace. We have these concepts covered for you within this buying guide. We will cover what makes a great cartridge belt, along with some brands of belts to be on the lookout for. We'll review 10 different cartridge belts for you, giving you the benefits of each belt. Then, we'll help you come up with a checklist of what you need to look for with a cartridge belt, to help you find the right belt for you and your needs.
Let's get started!
10 Best Cartridge Belts

1. Ultimate Arms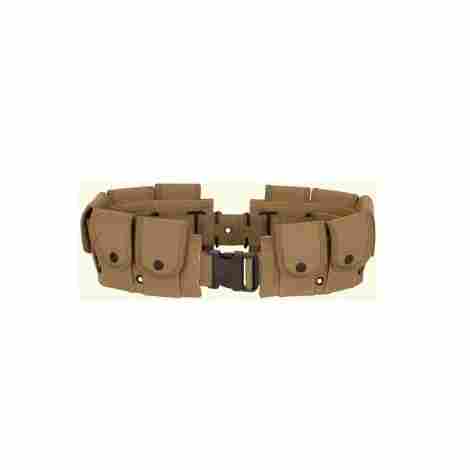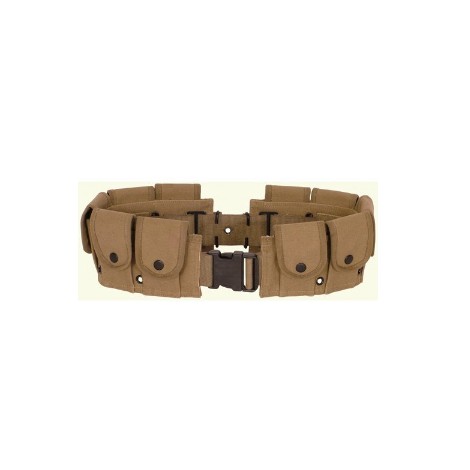 Our number one cartridge belt come from Ultimate Arms. This belt comes with 10 different pocket pouches, which allow you to store numerous types of
ammunition
and other accessories easily and securely. This belt can adjust for any size between 28" up to 58".
Expand to see more
Each pocket is 4" tall and over 2.5" wide, and comes with a buckle on each pocket to ensure the storage is safe and secure. This belt is made out of a cotton canvas, which makes it very easy to wash when needed. It also has a quick release buckle, so you can easily get in and out the belt. To check out the information on this top rated cartridge belt and see if it is the right one for you, just click on the product image.
Very easy to wash
Comes with 10 different pocket pouches
Can adjust for any size between 28" up to 58"
Pockets might not be deep enough
2. Hunter Pistol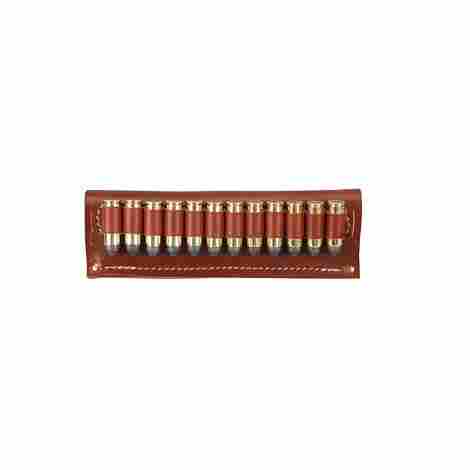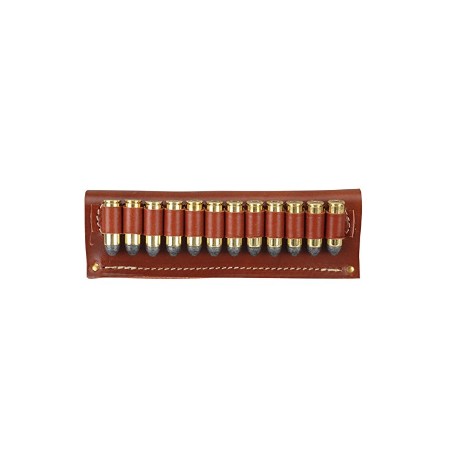 This
pistol
belt comes in two different sizes, which can hold either 12 rounds or 6 rounds.
Expand to see more
It is made out of a 100% leather material, allowing you to feel comfortable in taking this out in any weather environment. The belt is 2" wide, which means you can fit most caliber size rounds within this belt. The recommended caliber is between a .38 and .45. This Tan Leather cartridge belt ranges in retail price, depending upon the size of round belt you choose.
Made out of a 100% leather material
Belt is 2" wide
Offers some of the best value on this list.
Can last for many years if taken care of.
This belt comes only in two different sizes
3. Allen Rifle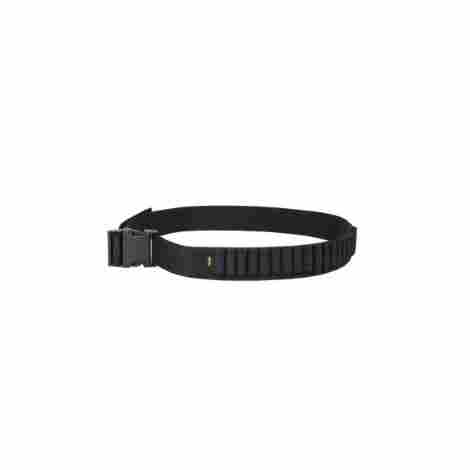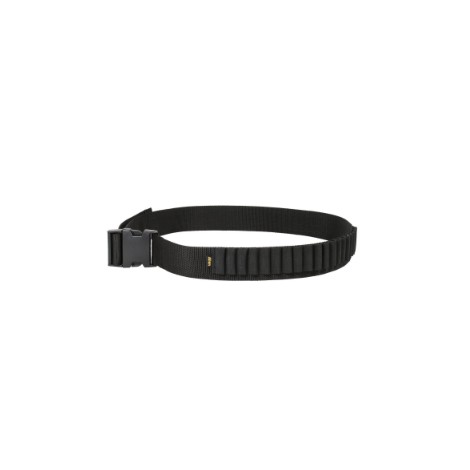 This cartridge belt from Allen Rifle is made out of a black nylon material which is very tightly knit, so you know it will stay durable and stand the test of time. This belt has 20 different elastic loops, and can fit any waist size from 36" up to 52".
Expand to see more
The belt is 2" thick, meaning it can hold most sizes of ammunition rounds. It comes with a quick release buckle, so you can easily take this belt off when needed, and strap it on when you need to get going.
Made out of a black nylon material
This belt has 20 different elastic loops
2" thick and it can hold most sizes of ammunition rounds
4. Hunter Company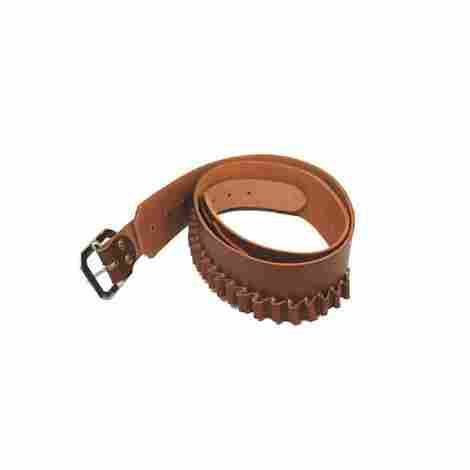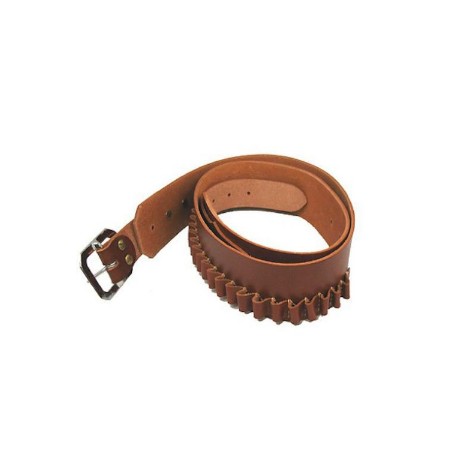 It comes in a tan color, and is adjustable from 32" up to 58". The belt is 2.4" wide, allowing you to fit most sizes of bullets within the belt.
Expand to see more
The loops can hold up to a .45 caliber bullet, giving you the necessary flexibility to carry multiple types of bullets. The belt can hold up to 25 bullets, which are stored along the side and back of your body. Comes with a belt buckle, so you can wear it very similar to how you would a normal belt.
Necessary flexible and can carry multiple types of bullets
Can hold up to 25 bullets
Comes with a belt buckle
Needs retaining straps for some people
5. Bagmaster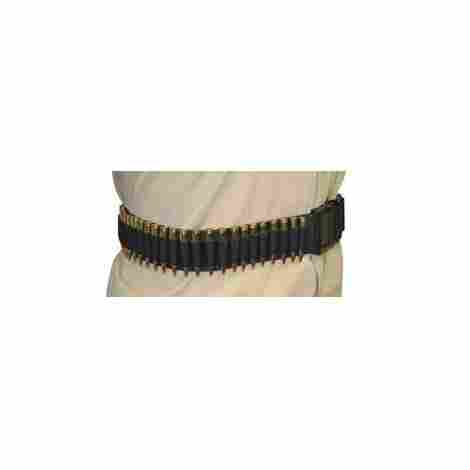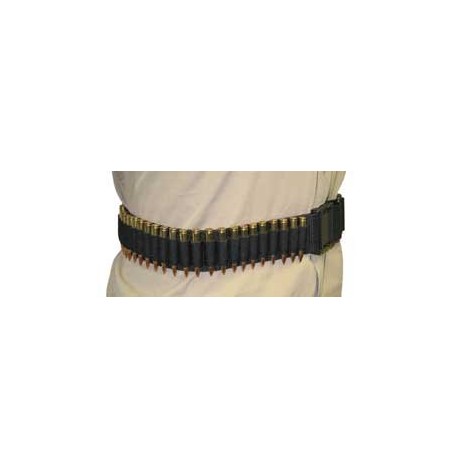 Bagmaster has this cartridge belt which is made from a tight-knit nylon material, and is 2' thick. This belt can hold up to 50 different cartridges at once, which can range in caliber from .223 to .44.
Expand to see more
This belt is fully adjustable, and can range in size from 30" up to 54". The nylon material is very durable, and will last thru a variety of different weather elements. It also comes with a quick release buckle, allowing you to strap it on and take it off with ease.

2' thick
Made from a tight-knit nylon material
Fully adjustable, and can range in size from 30" up to 54"
Loops are very close and tight
6. Brown Genuine Leather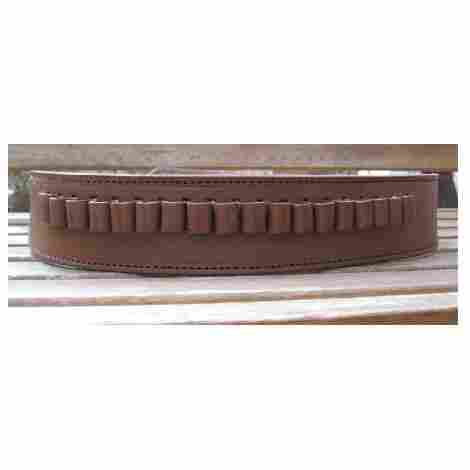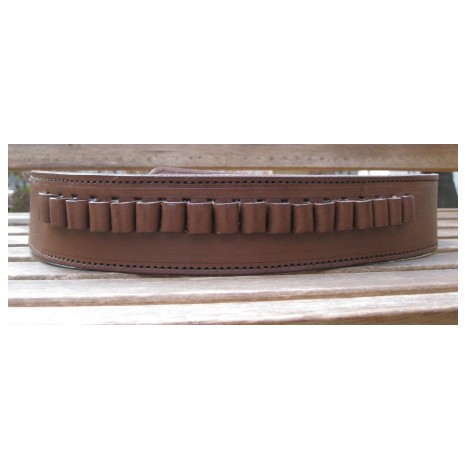 This natural leather cartridge belt is 2.5" wide, allowing you to have plenty of room to store your bullets as needed. This belt can hold up to a .45 caliber bullet. The leather is a natural brown color, and the bullets are stored all around the belt, including along the back. This belt can hold up to 18 bullets at once.
Expand to see more
The leather material will ensure it stays durable and long-lasting, no matter the type of weather you encounter. This belt is available in sizes between 36 and 52, and it is recommended that you purchase a belt which is 4-6 sizes larger than you normally get to ensure it is the right size. The retail price varies depending upon the size you choose.
Natural brown color
Has plenty of room to store your bullets
The leather material will ensure it stays durable and long-lasting
Sizing might be problematic
7. Tourbon Hunting Bandolier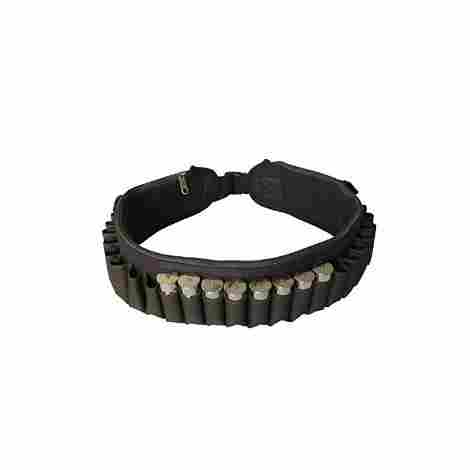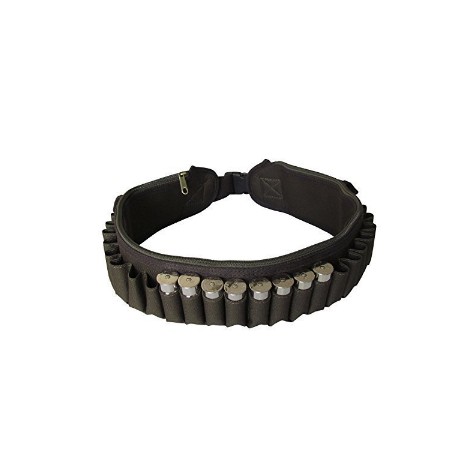 Tourbon has this model of a cartridge belt, which can hold up to 24 different shells at once, all up to a 12 gauge. This belt is made from tightly woven polyester, meaning it will be durable thru all weather environments, and is washable.
Expand to see more
The belt is fully adjustable, as it can go all the way up to 43". This belt only comes in a green color, but does come with two extra pockets and a long zipped pocked to allow you to store some extra things if needed. The shells are stored all around the belt, including across the back.
Can hold up to 24 different shells at once
Durable through all weather environments
Easily washable
Fully adjustable, as it can go all the way up to 43"
8. Hunting Sports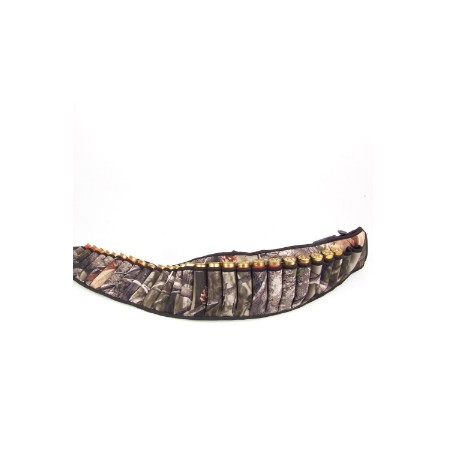 It has a camouflage design to help the belt blend in with the surroundings, especially if you are already wearing camo. This belt can hold up to 27 different shotgun shells at once, which are stored all the way around the belt, including along the back.
Expand to see more
This belt also comes with three pockets, which can be zipped up or down, which allows you to store various different types of things within the belt. It comes with a quick release buckle, making this very easy to take on and off. The waist is fully adjustable up to 130cm.
Camouflage design
Can hold up to 27 different shotgun shells at once
Also comes with three pockets
9. CS Force Shotgun Shell Bandolier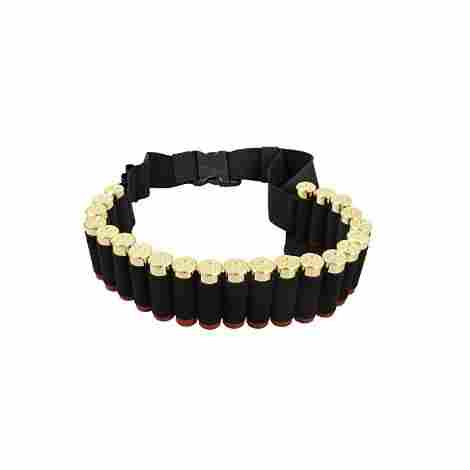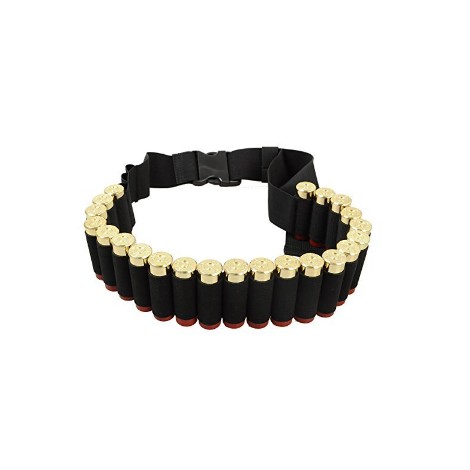 This belt only comes in black, and can hold up to 25 12-Gauge shells at once. These shells would be stored all around the belt, including around the back. It is made from a nylon material, and is very adjustable to where it can go out to 140cm.
Expand to see more
The tightly stitched nylon will stay durable in most weather conditions, allowing you to feel comfortable in using it within any environment.


Very adjustable
Tightly stitched nylon
Stay durable in most weather conditions
10. Fox Shotgun Canvas Bandolier

It comes in four different styles. You have a Black nylon material, a Dark Tan nylon belt and a Light Tan nylon belt.


Expand to see more
Each belt can hold 10, 12, 16, or 20 shotgun shells, and comes with a very easy buckle to operate, so you can strap it on and take it off very quickly. The belt has a length of 110cm. The shells will be stored around the entire belt, including along the back of the cartridge belt.
Comes in three different styles
The belt has a length of 110cm
Comes with a very easy buckle to operate
Checklist for Picking the Best Cartridge Belts for Your Needs
After determining that you want a cartridge belt, or that you need to replace your current, you will need to run thru a checklist of ideas to help determine which belt will be the best cartridge belt for you. Taking some time to research each belt that fits within your needs will lead to a longer lasting satisfaction with the belt that you choose.
The most important factor for you to consider is the type of material you want out of a belt. Some things to consider when determining the material is both the weather environment you typically hunt within, as well as the kind of ammunition you typically use.
When it comes to weather, it is more about how often it rains, as well as how cold it can become when you hunt. The more often it rains, the more you will want to lean towards going with a leather material, as leather tends to be more waterproof than nylon. Although nylon won't be damaged in weather, the nylon tends to become slippier when wet, which means it will not hold your ammunition as well as leather will. Leather has natural waterproof benefits, allowing you to feel secure in using this belt in this non-optimal weather.
If you tend to hunt in colder weather, this is another area where leather will thrive in comparison to nylon. If nylon gets too cold, it will once again become a little slippier which will mean your ammunition has a greater chance of slipping out unintentionally. Leather tends to hold up better in colder weather and will allow you to feel secure and comfortable in the most adverse conditions.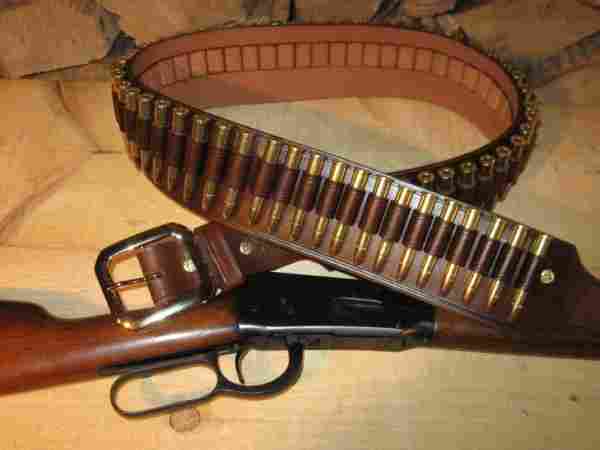 If neither of these kinds of conditions is present during your typical hunting trip, then you can go with the material which feels most comfortable to you. As you are out hunting, you need to ensure you are comfortable out in the environment, so you can ensure you are set up for the best shot possible at all times.
Once you determine the material, next you can determine if you need to have a belt which goes around your waist or comes over your shoulders. The option of having a belt going around your waist will be the one that feels the most natural as wearing a belt is something which happens on nearly a daily basis. The only difference here is that you will have pockets which will be carrying rounds of ammunition, both along the side of your body, as well in the back. The ammunition along the back could cause the biggest problem, especially if you have a hard time reaching around your back, or if you forget it is there and then lay down on your back and the ammunition pokes into your lower back. Also, this type of belt typically only allows you to carry certain sizes of ammunition, so it is not a one size fits all option.
Your other option is to have a belt which straps over both shoulders, with a front-facing pouch which is easy to access. This does make it easier to carry varying sizes of ammunition, and you can carry as much or as little ammunition you want. And with the straps along the shoulders and across the back, it is a very secure way of ensuring the pack stays in place. However, it can be difficult at times to reach into the pouch, especially if you have larger hands, and especially true if you are wearing gloves. It can be difficult to grab single bullets out of the pouch, and the bullets are easier to mishandle. Plus, it takes a little while to get used to; if you feel like you can get used to this option, and want a more outside of the box solution to carrying ammunition, then this option might be best for you.
Criteria Used for Evaluating the Best Cartridge Belts
Materials made up the most of our decisions when deciding on how to order the list. Everything else was secondary since so much goes into the buying decision based on the original materials alone. After that, we looked at features, sizes, and as a wildcard, we added in how gender friendly the product was. Points were taken away if customers had to go out of their way when finding out if a belt would fit a feminine body.
Material
The top materials with those belts are leather, nylon, cotton, and polyester. Starting with leather, it is the most durable of the four materials and has an arguably has the most professional look. When a company sticks with the regular brown or tan leather look, it's timeless and hard to take your eyes off of. You can care for leather a lot easier than the other materials since it is rare you'll have to worry about it getting roughed up. The downside to a leather belt is that it doesn't stretch, lacking the elasticity needed for customers that are over the waist maximum. And of course, the feel of the leather is nice, but average when judging it by comfort alone. Durability led to it being in higher parts of the list than others, with the comfort level being concerned that were raised in the cons if needed.
Nylon is the best all-around material and scores high on comfort and durability. A lot of high-end knife sheaths are made of nylon, so it is fitting that the cartridge belt counterpart would be just as useful. The material is stretchy and can accommodate over whatever the waist limit is listed as. And when done right, black nylon can be just as attractive as tan leather. We scored the nylon belts on the list by their durability and storage options, since nylon seems to cover a lot of the top spots in the industry. Our rating also looked at styling, with the nylon options being more flexible in their appearance than the others on the list.
Now where things got tricky with the positioning is with the introduction of cotton cartridge belts. They have high durability out of the box and are the most comfortable available. The material was often compared to thick shirts, which is a big compliment for something that is supposed to carry them. Where thing falters with the material is that it has a shorter lifespan than all of the others on the list. So even though it will take a beating like leather, it won't hold up well to wear and tear on a consistent basis. Yet there is no other material on the list that matches the great feeling of wearing it all day, so when ordering it on the list, we took into account lifespan vs. comfort.
The last material is actually two different ones, polyester, and in-house materials. The former falls between nylon and cotton in terms of strength and comfort, while the latter is all over the place depending on the brand. Polyester is a jack of all trades material and works out well for anyone needing a cartridge belt. Rather than going for the cheap polyester, companies will often splurge for 600D polyester, and that makes a world of difference. When a brand decides to do all of its materials in-house, the risk is huge but works out with a couple of tweaks on their end. We only included belts from companies in this category that have a track record of great mash-up materials that still meets the standards of a quality belt.
Features
With materials out of the way, we looked at what features were popular among customers trends. The sash style is not the norm anymore, so wasn't listed too high unless it could also be worn as a belt. Minor changes were also made when deciding if closed pockets were more valuable than the loops. We prioritized ammunition first and closed pockets second, with special exceptions being made for high-grade materials. Belts that contain both closed pockets and selections were put higher up on the list if they met the material specifications from before. The biggest change with features came when reordering the list based on rounds that could be held at one time.
Size
Sizes were a toss-up since there is no industry standard to go by. Companies with the same listed max and minimum sizes were wholly different when tried out by customers. When ordering the list based on sizes, we stuck to the information on hand. Brands that offered to size information for both women and men were more likely to be accurate than companies that didn't. This put a couple of belts higher on the list since customer experience is a big part of the process. Since sizing can sometimes be an issue, we also took into account warranties and return policies within the size category. The pairing was odd but made sense for people that would have to eventually return the item if it didn't fit. Brands that had rock solid warranties and return policies would be better to deal with if there was a sizing issue. They would also be quicker to respond and replace when a problem was found.
Representing multiple materials, this list took a lot of variables into account during the reorganization process. Some good names were kept off of the list in order to reach the ten product limit, and some lesser names were kept on after they passed the initial tests. All of the listed cartridge belts work great for personal and professional use, and if you're a hunter there are even models with optional camo designs. Think of this list as having a bit of something for everyone interested in owning a new belt.
What Makes a Great Cartridge Belt?
When it comes to finding the best cartridge belt, there are certain attributes, features, and benefits which should be considered. Here are a few of those:
The Material
The type of material the cartridge belt is made from will go a long way in determining how effective the belt will be long-term for you and your hunting trips. There are some materials which tend to be stiffer, and conversely, there are others which are more flexible. There are some which are more waterproof than others, as well as some which just have a longer durability compared to others. Here are some of the different types of materials within the marketplace currently.
Leather – Leather is the most often used material when it comes to cartridge belts. The leather is not very flexible, but it is very waterproof. The leather belt tends to be very durable, as long as you do a great job of maintaining it. The leather will not fade over time, although it can become worn and crack when not properly taken care of. Once you have this belt, it cannot be expanded upon, so even if your body type changes over time, the belt will not be able to adapt. Leather will ensure your bullet doesn't slip out of its pocket, meaning you won't lose any bullets randomly as you are walking along the hunting path.
Nylon – A material which has started to gain some traction over the last few hunting seasons is nylon. The nylon material is a very durable material, which will hold up during any kind of weather environment. What you have to watch for with nylon is how closely knit it is – the looser the knit, the sooner the belt will fail you. The closer it is knit, then the less likely it will break down over time. With nylon, it is a very flexible material and allows you to have more versatility with the type of ammunition you can carry. However, this flexibility can cause the ammunition holders to become loose over time, which means it will have a harder time carrying smaller bullets the older it becomes.
Around the Waist of Over the Shoulder?
There are two different types of belts out in the marketplace, each of which has their own benefit and drawbacks.
First off, there is the traditional belt which goes around your waist. This belt comes in varying sizes to ensure you have the right fit, just like any other belt. This type of belt can hold a lot of ammunition at once. The belt is a perfect accessory for you, as more than likely you are wearing a belt anyways as you are out hunting, and so it is something which is enough out of the way where you don't notice it, but close enough for you to utilize fully the ammunition that is now close by. The major drawback to this belt is that the ammunition, although close by, can sometimes be hard to reach or get out, especially the ammunition which is around your back. This is especially true when you need to access it quickly. Also, the belt around the waist typically can only hold one type of ammunition, so if you like to hunt with multiple types of guns you will need to have multiple belts
The other type of belt is actually an over-the-shoulder belt. This type of belt usually has a dual shoulder strap, meaning it looks like a book bag but carries the ammunition instead. The pouch is typically in the front, so it is very easy to access and you can fill it with whatever kind of ammunition you would like. However, this kind of belt takes some getting used to, as it is not like anything else you currently wear. Plus, with a pouch, the ammunition is not very secured meaning that when you open the pouch, multiple bullets could come out when you only wanted one. Moreover, if you have bigger hands and are wearing gloves, it can make it very difficult to get the ammunition out in a timely manner.
Brands
There are many different brands of cartridge belts, each with their own style and design. Whether you go with a cartridge belt made from Buffalo Arms, Bandolier, Midway USA, Triple K or others, you are destined to find one which will meet your needs. The brand of the belt can have an effect on the durability of the belt, as each brand has a different manufacturing process, and tend to get their raw materials from different sources. There is no harm in trying out a couple of different brands until you find the one which suits you and your needs and personality.
FAQs
Frequently Asked Questions
Q: What belts do most professionals use?
A: Military and police style cartridge belts differ from one another, as the former is usually worn as a satchel and the latter has holsters for guns. The differences between the two go further, as the police style cartridge belt has a lot more storage for multiple items besides bullets. The downside is that it doesn't have actual bullet holders, which is one of the priority features of some buyers. There are always going to be two main kinds of cartridge belts, one that favors storage for the ammunition and one that favors universal storage.
Q: Is leather a good material for all-day wear?
A: The leather isn't always the most comfortable to wear, especially when it isn't done correctly. That is why cheap leather should be avoided at all costs. None of the options on the list come from cheap leather, which tends to wear out pretty quickly when worn all day. When not looking at the comfort level of leather, customers find the materials to be durable and long-lasting. So buyers that use their cartridge belts daily might settle on leather as a material due to reliability. That doesn't mean other materials aren't durable, it just means they lack the track record of leather.
Q: Are extras included with most cartridge belts?
A: A manual should be the only thing expected out of the package, as the belts are an all in one product. Every now and then a company will throw in something like an extra buckle or even removable pockets. Those are considered a rarity, and shouldn't be expected from any major maker of cartridge belts. The manuals are the most important extra you'll get, and often contain specific care instructions for maintaining the belt. This will keep you from destroying the product before you get a chance to really break it in.
Q: What are some must-have features?
A: Materials are going to be at the top of the list, with a strong preference for nylon or other stretchable materials. You never know when the sizing is going to be a little off, so having a belt that can stretch comfortably without losing form will work out great. And as a bonus, if that belt has both closed pockets and open loops, then it should be favored by multiple types of buyers. Buckles or fasteners that aren't a pain to open and close also rank pretty high on the must-have list. And any cartridge belt using a quick release technology is not only preferred but mandatory.
Q: How accurate are the sizes?
A: Sizing is where a lot of people will run into trouble when dealing with leather as their main material. Leather doesn't stretch well, so if the max waist size given by the belt runs small, you'll end up in a situation where you have the right size yet still have to settle for an uncomfortable fit. Stretchable material like nylon lets you get away with sizing errors of an inch or more, depending on how much the material gives. Just like shoes, cartridge belts will run in different sizes (of the same size) depending on the brand. A maximum 54-inch waist in one brand will be different for another, so be wary of the differences. If you aren't reaching the maximum size of a particular belt, then this won't be an issue to worry about.
Q: Can buckles be switched out?
A: On some models, yes. This can be beneficial for more than styling since it lets you swap out a buckle that may be broken. With the extra weight that is added with items and guns, over the years the stress on the buckle could wear out. Being able to swap out a worn part for a brand new one is a big pro, and is even better when a company includes the extra buckle with the original package. But even with companies that offer alternate buckles, the choices are still considered limited. Buyers should pay close attention to the buckle options before deciding on a purchase, that way they will know what styles are available.
Q: Are sash styles still useful?
A: The sash style was the original look for the cartridge belt. Worn over the shoulder, it would hold the cartrige of whatever weapon was being used. Most modern belts have abandoned the sash style and use the regular belt loop, but there are still some popular sash models available. Some of them even double as around the waist models, making for a very popular choice when you want the best of both worlds.
Q: Can you combine two belts?
A: Users that go beyond the maximum belt requirements can sometimes modify the belt and attach two of them. This is a warranty voiding situation, so tread with caution. There are times where the maximum waist size is too small, so a small modification to the belt attaches two of them together without losing durability. This isn't something that would work great with leather material and is more useful with stretchable materials from mod-friendly brands.
Q: How accurate are the features?
A: Like sizing, the features can be slightly off from what the user expects. This is more about belts with those slots than the ones with closed pockets. The bullet slots usually support more than one type of armament, even if the features list it as one. The slots hold the bullets in place until you need them, and many users have taken the time to expand on the manufacturer's original assessments. Always make it a point to check out tips related to what bullets are support from actual users of the product rather than depending solely on the manufacturer's description.
Q: Are some belts better for female users?
A: Yes, as only a select few are made solely based on gender. Majority of the cartridge belts on the market are sized for men, leaving a lot of female buyers guessing when it comes to sizing. A few companies that have universal fits will post both male and female sizes on their website, but this is rare. Since some women could fall under the size minimum of certain belts, checking with the brand for gender-based requirements can prevent a bad purchase.
Conclusion
Once you have decided that you need a cartridge belt for when you go out hunting, you will see there are many choices when it comes to picking the best one. Having a cartridge belt will ensure you don't run out of ammunition during your time of need while you are on a trip, while also allowing you to bring more ammunition on any trip, to ensure you don't run out while on your expedition. After the hunt, remember to store them safely at home. Hopefully, this guide has helped you in your thought process towards a cartridge belt, and we wish you luck and success in your future hunting trips!
Sources