Best Bullet Belts Reviewed
Bullet belts look cool, yet serve a very important function to users that have guns. They allow freedom of movement and the ability to carry even more ammunition than you normally would otherwise. Having instant access to this extra ammo on the fly can make a big difference, and it isn't uncommon to see multiple bullet belts worn at once.
Best Brands
There are no dominant brands on the list, although there are a lot of choices that are used by professionals. These everyday bullet belts can be recognized by their extra pockets or specific holsters. Customers can repurpose the extra space and use it for whatever they want, if necessary.
Maintenance and Cleaning Tips
Bullet belts are made of different materials, and if neglected can lead to cartridge corrosion. No one wants to lose ammo over missing light maintenance, so make sure to check the cleaning instructions for your particular product. Leather-based products, in particular, need special attention if you want them to age well over the years.
Featured Reccomendations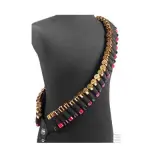 AIM Sports 56

Our rating
The Best Design
Price:

See Here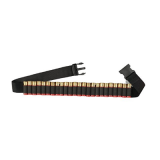 Specialties Ammo Belt

Our rating
Rifle Or Shotgun
Price:

See Here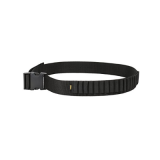 Allen Rifle Belt

Our rating
Top Durability
Price:

See Here

10 Best Bullet Belts
1. AIM Sports ASBS2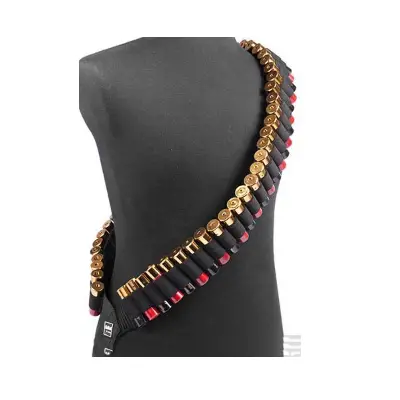 Maybe it is the
look
, or maybe it has more to do with the quantity of shells it holds. Whatever it is, the classic bandolier design of this model is the best of its kind.
Expand to see more
The Best Design
It almost looks cartoonish or even Rambo-like, but make no mistake about the functionality of this bullet
belt
. This is where it's at, and
the look
is absolutely fantastic when paired with the rest of your gear.
Features and Specifications
Holds 56 shotgun shells
Nylon construction with elastic shell loops
Price/Value
The price won't come back to bite you, since once again it's low. Customers didn't need another reason to buy this great product, so having a kind price only makes it more attractive.
Decision Time
Sometimes the classic look is always the best, which is something that this product pulls off very well. You'll have plenty of ammo to carry with the use of this high-end bullet belt.
Can be worn on either shoulder
Holds the most shotgun shells on the list
Not practical for tall users
2. Hunters HNT00680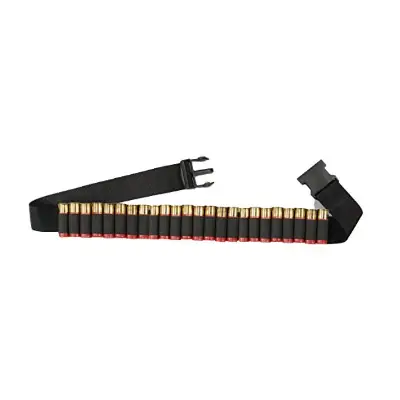 Hunter's Specialties offered buyers a choice when it comes to their bullet belts so they don't have to settle for one. That decision paid off, and launched the product to #2 on the list.


Expand to see more
Rifle Or Shotgun
These two specialized belt versions are straightforward in their approach and are the same minus the
ammo
they gold. It's a wonderful way to get customers interested in purchasing both versions so they don't have to compromise.
Features and Specifications
Holds 20 rifle cartridges/25 shotgun shells
Adjustable belt with quick release buckle
Price/Value
The value here is in the choice between the
rifle
and
shotgun
variants, which are both available at a low price. For the price of both of these together you would still spend less than buying a single competitors bullet belt.
Decision Time
Customers with multiple
guns
don't have to worry about not having a compatible belt, and can own two mainstream ones at an incredible price. You're not going to find a price lower in the industry, especially one that maintains top class quality.
Lowest priced on the list
Only weighs 4 ounces
Not as tough as other bullet belts
3. Allen Rifle 212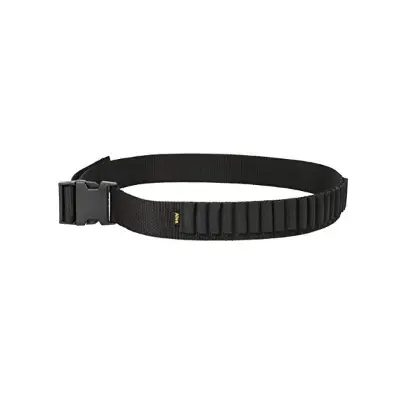 It's always nice to see top items show up with the same low prices as the rest of the products on the list. Yet it's more than a low price that sets this bullet belt apart from the others and puts it into the top three.


Expand to see more
Top Durability
Buyers that want a bullet belt to outlast even their
guns
need to look no further than this product. All of the materials are heavy duty in this rugged belt, and it holds up well after multiple years of use.
Features and Specifications
Holds 20 rifle cartridges
Fits waist sizes up to 52 inches
Price/Value
Once again the purchase price for this product is low, and the quality remains high. With only a few other bullet belts on the list with a higher price, this one is going to get a lot of attention.
Decision Time
The only thing holding back this from being higher up on the list is the irritations associated with adjusting the size. Other than that it is an incredible bullet belt that will serve its purpose regularly.
Sturdy release clasp
Elastic loops can fit other ammo
Adjusting the size is a pain
4. BLACKHAWK! 74BC00BK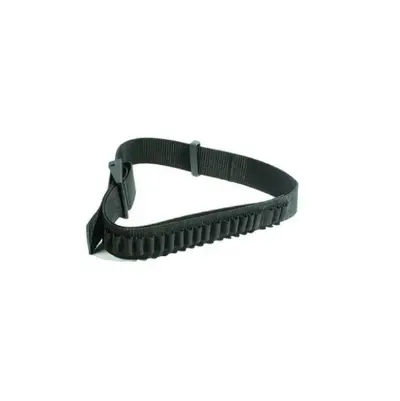 There is nothing particularly outstanding about this bullet belt, yet it is favored by a lot of customers. After a close look, it's clear to see why this is one of the better choices on the list.


Expand to see more
Plenty Of Room To Adjust
Up to a 50-inch waist is supported, which is one of the best max sizes being offered. The key to the sizing is that whether you are using the minimum or maximum settings, the
comfort
level remains universal.
Features and Specifications
Nylon Construction
Holds handgun cartridges
Price/Value
Another bullet belt makes the list with a low price, potentially sending a lot of customers towards Blackhawk! and their products. Customers that need larger sized bullet belts will get a lot of value out of this purchase.
Decision Time
Landing just outside of the top three, this bullet belt is a nice choice for
handgun
users. The universal fit is great and the comfort level is underrated.
Great quality buckles
Belt is heavy and strong
5. Deli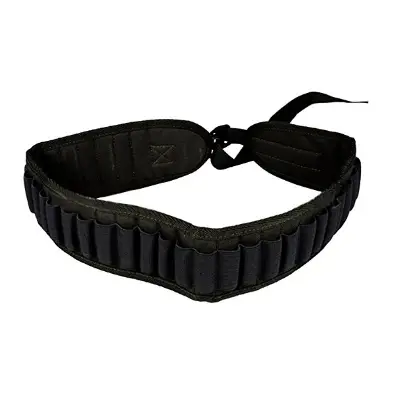 Things keep getting better on the list thanks to products like the Deli Waterproof Hunting Bullet Bag. Some small features here and there turn this into a specialized choice for buyers in rainy environments.


Expand to see more
Waterproof Design

Using a combination of 600D+Elastic Oxford cloth, this belt will hold up well when the water comes pouring down. If you live in an unpredictable area, this feature can come in handy multiple times per year.

Features and Specifications

Holds 30 shotgun shells
Weighs 11 kg

Price/Value

There is nothing to see here, as the price is so low that users should purchase this as a reliable backup. Serving as the main bullet belt, it still does a fantastic job and rivals others in the industry.

Decision Time

The waterproof feature is very important to have since nothing with the environment is guaranteed. With the extra layer of protection provided by this belt, buyers can go through their day without any troubles.
Lightweight but tough during bad weather
One of the lowest prices on the list
Would have been perfect with some extra pockets
6. UTG PVC-PISTOL BELT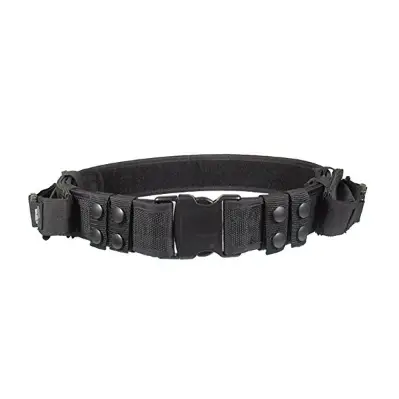 This familiar bullet belt is worn by some law enforcement officers so has the appropriate pouches. As bullet belts go, this is one of the best you can get for functionality.


Expand to see more
Good Selection Of Colors

It seems minor but still helps to choose between black, OD green and green. The choice is there for customers if they want it, giving an option where others don't.

Features and Specifications

Dual mag pouches
Reinforced threads with double-edge stitching

Price/Value

Depending on which color you get, the price changes. But they all remain low and pretty close to one another in value.

Decision Time

Dual mag pouches and color options are the selling point for this bullet belt. And of course, it helps the buying decision when some of the world's finest use it every day for their chosen profession.
Fits up to a 44-inch waist
Magazine pouches are extra large
Not as comfortable as other belts
7. Tourbon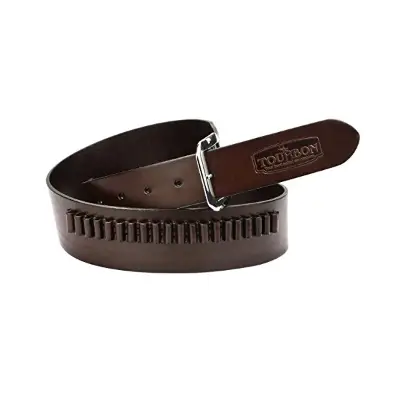 Tourbon takes on a familiar style with their bullet belt, adding some major focus to getting the design just right. The attractiveness of this product starts with its good looks and ends with world-class toughness.


Expand to see more
The Leather Makes It

The top grain leather used literally makes the belt, and also distinguishes it from the rest of the list. It's great to look at, tough to the touch and even smells the part of a high-end leather bullet belt.

Features and Specifications

20 cartridge loops
Fits waist sizes between 36-42 inches

Price/Value

The price is low, which is amazing when you factor in the belt is made of leather. That alone should make the buying decision much easier.

Decision Time

Even with the limited ammo type for this belt, it's still hard to overlook when you want that sharp leather look and feel. This may very well be the best choice on the list for .22 caliber ammo, even with its open limitations.
Wax lined thread
Incredible leather feel
Only fits .22 caliber ammo
8. Ultimate Arms Gear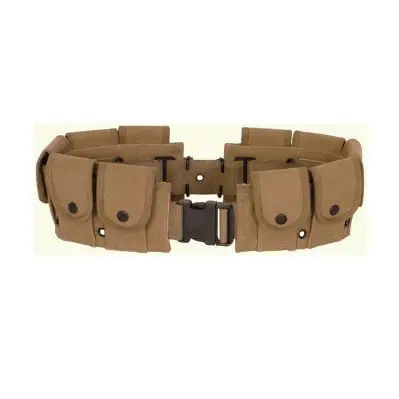 Bullets belts should provide comfort when carrying ammo rather than feeling like rough materials grating your body. Ultimate Arms Gear put together a product that accomplishes that without taking away from some of its better features.


Expand to see more
Better Fit Than Most

Accommodating sizes from 28 to 58 in the waist area, more users will be able to wear this than other belts. Nothing is worse than having to lug around a belt that's too tight.

Features and Specifications

Ten 4.5 inch tall/3 inch wide pockets
Double snap secure closure

Price/Value

A low price awaits interested buyers of this product, with the closed pockets giving it some serious value. Weather can influence this decision if you're from a rainy area and need your accessories protected.

Decision Time

This bullet belt is more than just a holder of ammo, going beyond that to give users a lot of extra room. Add to that the almost universal fit and this turns into one of the best choices on the list.
Supports a wide range of sizes and styles
Pockets can carry ammo or personal items
Quick release feature is hit or miss
9. Tourbon HA191NL-C04-C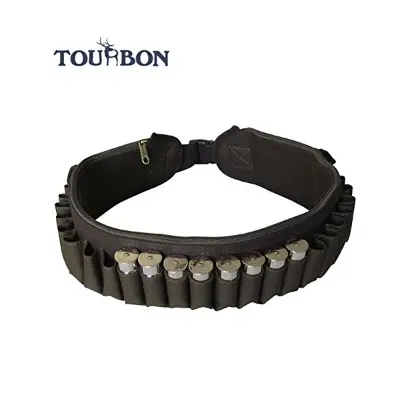 Things get serious with the inclusion of this Turbon bullet belt, with plenty of great things to be said about the materials. With toughness on its side, buyers will have a lot of faith in the longevity of this product.


Expand to see more
Strong Materials

Made from 600D polyester, the belt will stay in form for years even with a lot of roughhousing. This is especially important when it comes to keeping bullets from falling out of worn pockets.

Features and Specifications

Fits waists from 89 to 110 cm
Carries 24 shells 12GA

Price/Value

High quality and low priced, customers are getting really good value from this deal. The belt won't wear down too much over the years and could become your primary belt of choice.

Decision Time

There are a lot of reasons to give this bullet belt a chance, even when looking further down the list. You'll get the support you need from a company that has proven it listens to their customers.
Great pocket placement
Tough high end materials
10. Docooler 25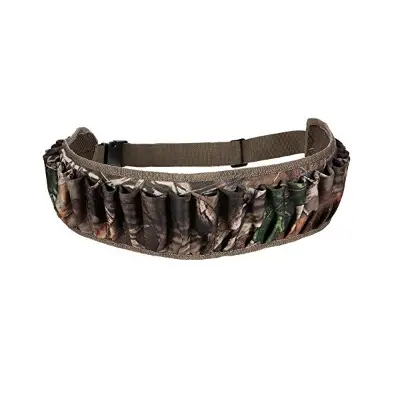 Docooler put this belt to the test several times and it passed with flying colors. Customers that want a good look that holds a lot of ammunition would agree this is a good
beginner'
s bullet belt.
Expand to see more
Padded Just Right

Thick pads with a lot of cushion will absorb a lot of punishment when put into rough contact. It feels good to the touch and makes a big difference when there is a lot of movement.

Features and Specifications

Holds 25 shot shells
Nylon strap with quick release buckle

Price/Value

Since there is nothing too outrageous with the features of the belt, the price remains low. There is great value in this for hunters that want their first bullet belt.

Decision Time

The bare minimum does a nice job of introducing beginning users to the wonders of a bullet belt. With a little bit of customization, this is a very likeable product to add to your list.
Fits multiple body types
600D Oxford cloth is comfortable material
Lacks a lot of advanced features
How To Make The Best Decision When Choosing A Bullet Belt
Check to see what type of ammo it holds, but don't take the manufacturer's word on it. They list ammo they have tried, but sometimes people are able to successfully use different types even though it isn't listed on the package. Do some research to see what type of ammo customers have successfully used with your bullet belt, and you'll be pleasantly surprised.
FAQ
Frequently Asked Questions
Q: Can Ammo Get Damaged With A Bullet Belt?
A: Not directly. Bullet belts that aren't cleaned properly and have ammo left in them could face corrosion problems. It's a natural effect that can only be avoided by cleaning your belt regularly.
Q: Can I Wear More Than One Belt At A Time?
A: Yes, and it works out really well for the same or mixed ammo. Just make sure to move around with it before committing a full day so that you know how the extra weight feels.
Q: Should I Only Consider A Waterproof Belt?
A: It depends on what you want personally. A waterproof belt is all pros with no cons, but for many people, they will never encounter a situation where the protection is needed.