Best Bullet Belts Reviewed & Rated for Quality
In a Hurry? Editors choice: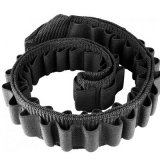 Test Winner: AIM Sports ASBS2

For the want of a bullet, it's an old saying that goes something like that but the point is if you want to be the best at whatever you do, or if you even just want to be successful at whatever you do then you have to
have the right equipment
. And then you have to have some extra equipment because the one thing that's always certain is that there will be uncertainty. When you're sure you have just the right amount of ammo, you just know that you're going to need just a bit more, or a lot more. And that's where bullet belts come in. Sure you've packed everything in your vest and in your ammo pouch, but in a pinch, it's nice to have just a few extras, because extra is like a guarantee that you can get the job. Done.
Standout Picks
Criteria Used for Evaluation
Capacity
Bullet belts are a great item to have at the gun range or while you are hunting because they provide you with an easy place for you to access additional rounds of ammunition for your gun. This is great for when you have to load your gun one shell at a time, such as when you have a gun with a small magazine or a single shotgun such as a break action shotgun. These are a simple and safe way for you to store your extra ammunition because it keeps your extra rounds organized and readily accessible. It is much better for you to store extra rounds in, rather than having them loose in your pocket.
Since the purpose of owning one is to give you a place to keep extra ammunition, you will need to figure out what kind of ammunition you need to carry on you and how many rounds. For example, you are going to need to decide first if you are going to use yours with a rifle or a shotgun and then the loops of the belt will need to be proper for the size of the bullet that you are going to carry.
Size
The size will be an important consideration when you are purchasing a belt. The reason for this is that you need the holster belt to stay around your waist while you are wearing it. As you pack more bullets into your belt, your belt will start to weigh more which means that it can sag on your body if the belt does not have the proper fit on your body. While you need yours to have a tight fit, you do not want it to be so tight that you can't buckle it either. Therefore it is important that you pick out an option that has the proper size and length for your needs.
Like all belts, these will specify what size waist the are meant to fit. In other words, if you have a 32″ waist, then you will need one that is long enough for this waist size. The bigger your waist, the longer your belt will need to be. One of the first things you will want to check on the belt is the waist size so that you get one that has the proper length for your body.
Materials
You may want to consider what sort of material is used when you are shopping for a good option. The material used to make the belt will be a driving factor in how much the belt costs and how much weight the belt can hold. It will also determine how the belt looks so if the style is important to you then you will want to think about the belt's material as well. Some people even have moral or ethical reasons that cause them to choose one sort of belt material over another kind. These come in a vast variety of material so it is worth knowing about the more common materials so that you can make a decision that is right for your needs.
One of the least expensive materials used is plastic. Typically speaking, plastic is not used for hunting or range purposes but is more about style. Many people will wear plastic belts as part of an outfit or a costume because plastic versions are inexpensive. Due to the low quality, you are best avoiding one that is made from plastic unless you are planning on using it for fashion purposes rather than for hunting or range shooting.
Nylon is a material that is used that you plan on using at the range or for hunting. Although nylon is technically a form of plastic, nylon is made from heavy-duty polymer strands that make it a strong yet lightweight material to use. The strength is a critical factor since ammunition will add weight and it needs to be strong enough to hold the weight of your bullets without stretching or getting loose on you.
Of course, not all belts are made from nylon and there are many that are made of leather. The leather is a popular material because of its strength which makes the belt durable and unlikely to stretch or break under the weight of the bullets. One of the main reasons for choosing leather is that it has an excellent look at it. The leather is often associated with hunting gear such as gloves, boots, hats, etc so having one that is made from leather will allow the belt to match the rest of your hunting outfit.
Finally, you may see some that are made from synthetic or artificial leather. These may be more common than you may think because, like nylon, artificial leather can be massed produced in a factory. This will help keep the cost down and in many cases, artificial leather can be just as strong as leather or nylon. It is also less prone to cracking or fading as opposed to real leather. Artificial leather does not allow air to pass through it may accumulate some moisture on the surface near your bullets but this really should not be an issue in anything but the most extreme cases
Style
A belt's buckle is used to connect the belt around your waist while you are wearing the belt and to take the belt off when you are done using it. However, the belt buckle also has the job of keeping the belt tight while you are wearing the belt. This is important because these belts can get heavy so you will need a belt with a high-quality buckle that has been designed to maintain the fit of the belt while it is under stress. You will so a wide variety of belt buckles while you are shopping so be sure to inspect them carefully. This will ensure you get the one that suits you best.
Value
One of the things that you will always want to think about when you are shopping is the overall quality of the belt. Quality is important because it will help increase your satisfaction with the belt by making sure it lasts longer and performs its intended function. A low-quality belt may end up costing you more money in the long run because you have to keep replacing the belt. On the other hand, a high-quality belt can save you money because you end up purchasing the belt only one time and then you can use it for as long as you need it.
10 Best Bullet Belts Reviewed & Rated for Quality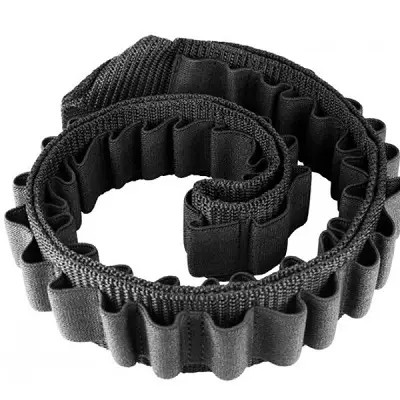 Maybe it is the look, or maybe it has more to do with the number of shells it holds. Whatever it is, the classic bandolier design of this model is the best of its kind.
The Best Design
It almost looks cartoonish or even Rambo-like, but make no mistake about the functionality of this belt. This is where it's at, and the look is absolutely fantastic when paired with the rest of your gear.
Higher End
Sometimes the classic look is always the best, which is something that this product pulls off very well. You'll have plenty of ammo to carry with the use of this high-end belt.
Cost and Value
The price won't come back to bite you since once again it's low. Customers didn't need another reason to buy this great product, so having a kind price only makes it more attractive.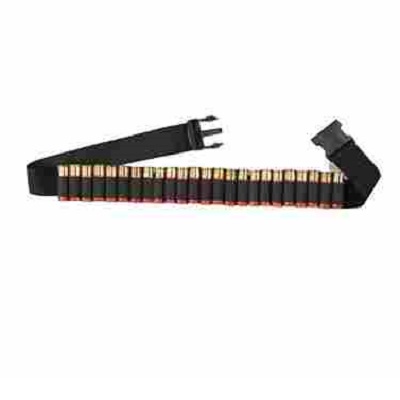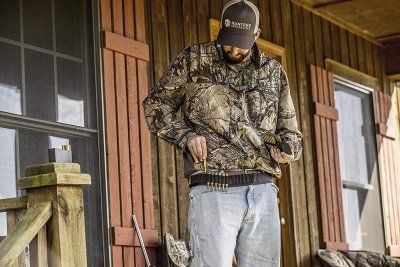 Hunter's Specialties offered buyers a choice when it comes to their belts so they don't have to settle for one. That decision paid off and launched the product to #2 on the list.
Rifle Or Shotgun
These two specialized belt versions are straight forward in their approach and are the same minus the ammo they hold. It's a wonderful way to get customers interested in purchasing both versions so they don't have to compromise.
Fit
This is made to fit most body types and sizes as it can be adjusted to fit. You will also find that it has a quick release for easy on and off.
Cost and Value
The value here is in the choice between the rifle and shotgun variants, which are both available at a low price. For the price of both of these together you would still spend less than buying a single competitor's belt.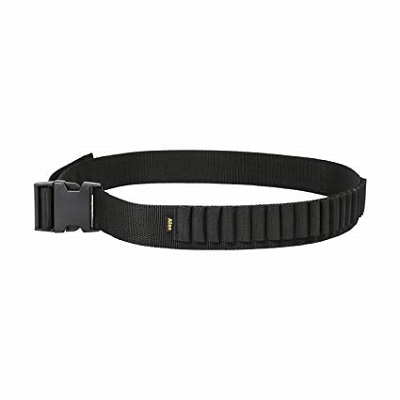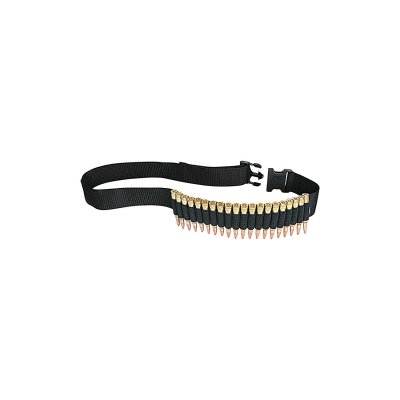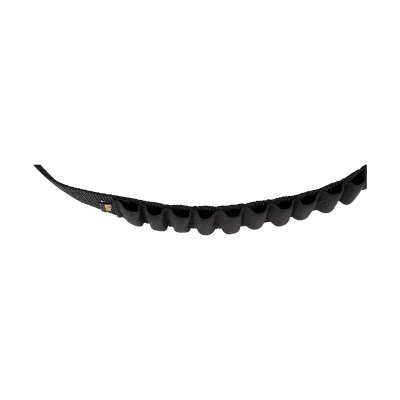 It's always nice to see top items show up with the same low prices as the rest of the products on the list. Yet it's more than a low price that sets this apart from the others and puts it into the top three.
Top Durability
Buyers that want a belt to outlast even their guns need to look no further than this product. All of the materials are heavy-duty in this rugged belt, and it holds up well after multiple years of use.
Capacity
With the number of bullets, this belt can hold you will have plenty for youe shooting needs. This has the capacity to hold up to 20 extra shells.
Cost and Value
Once again the purchase price for this product is low, and the quality remains high. With only a few others on the list with a higher price, this one is going to get a lot of attention.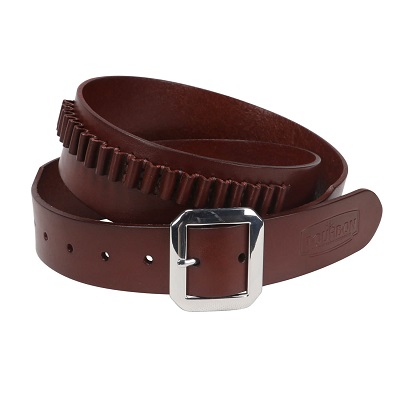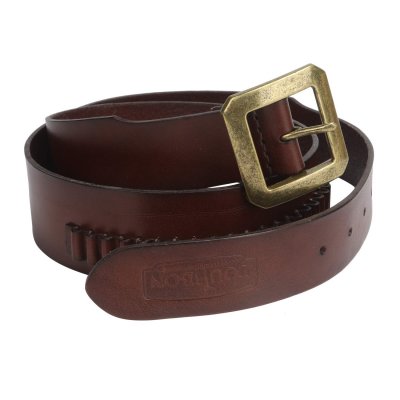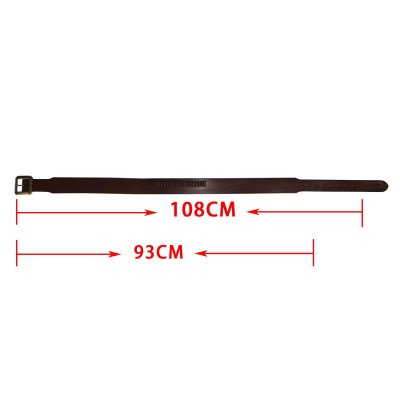 Tourbon takes on a familiar style, adding some major focus to getting the design just right. The attractiveness of this product starts with its good looks and ends with world-class toughness.
The Leather Makes It
The top grain leather used literally makes the belt, and also distinguishes it from the rest of the list. It's great to look at, tough to the touch and even smells the part of high-end leather.
Sizing
This has plenty of room for all different waist sizes. Made to fit waist sizes 32-42 inches.
Cost and Value
The price is low, which is amazing when you factor in the belt is made of leather. That alone should make the buying decision much easier.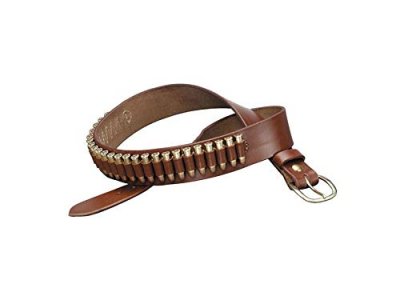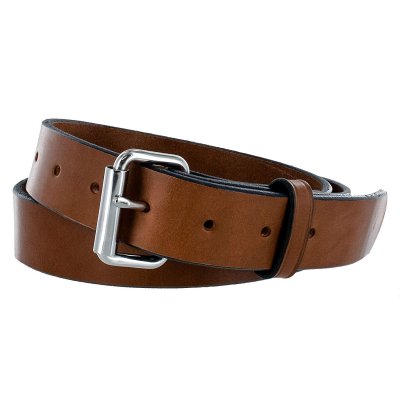 Things keep getting better on the list thanks to products like the Deli Waterproof Hunting Bullet Bag. Some small features here and there turn this into a specialized choice for buyers in rainy environments.
Waterproof Design
Using a combination of 600D+Elastic Oxford cloth, this belt will hold up well when the water comes pouring down. If you live in an unpredictable area, this feature can come in handy multiple times per year.
Capacity
This one holds enough to go to war. Topping out at one of the highest capacity on the list, this will hold up to 100 extra shells.
Cost and Value
There is nothing to see here, as the price is so low that users should purchase this as a reliable backup. Serving as the main belt, it still does a fantastic job and rivals others in the industry.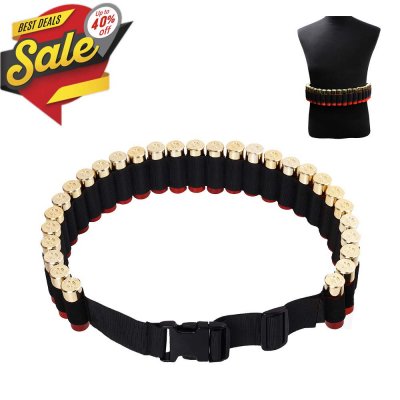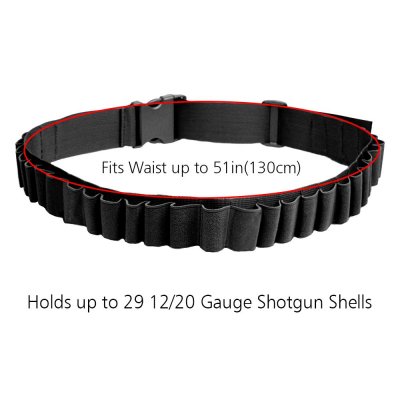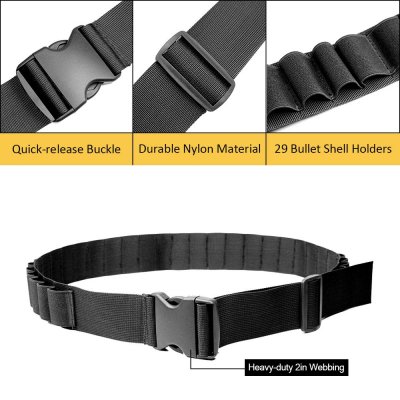 When we say it's good to have a belt with room for some extra ammo well the folks at CS force come to the rescue with more than just a belt for extra ammo, this belt holds so much ammo you might just be able to do away with all your other pouches and pockets. This baby holds 29 shotgun shells and if you're hunting that's a lot of shells. We also like that it's built tough and is easy on, easy off piece of equipment.
Heavy Duty Construction
This Nylon belt is going to take the worst your day out in the woods can throw at you and never let you down. The easy latch makes it convenient to get on and off and the wide nylon belt will fit snugly around the biggest or the smallest waist. It's also fully adjustable and that just adds to the comfort.
29 round of Ammo
A full day of shotgun ammo for the expert shooter slings right into this belt. No need to go digging through pockets or pouches when you need a shell, you've got just about everything you need right here on this belt. The shells slide in and out easily so you can get to them quickly so when the time comes to take that shot, you're in good shape.
Cost and Value
This belt comes in at a great price. It's a no-frills tough nylon belt that carries a chunk of ammo, comes on and off easily adjusts easily to the biggest or smallest frames and looks pretty cool doing it. This is a must-have for any shotgun hunter who doesn't want to keep remembering where he's keeping his shells.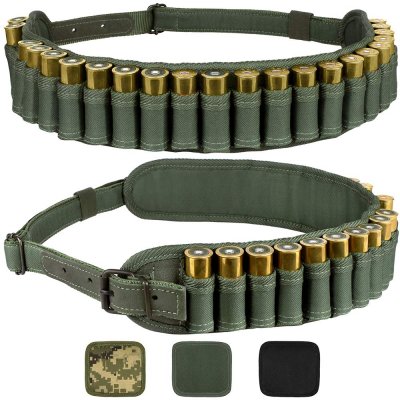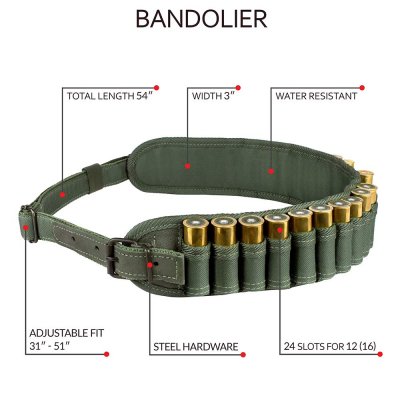 Another great shotgun shell holder that's not only tough but carries a nice set of 24 shells that'll be easy to get to when you need them most. It's made of nylon and is adjustable with an actual belt and buckle loop so it won't break. This shell holder is also easily convertible into a bandolier cross shoulder holder if you're more comfortable with that.
Belt or Bandolier
We like this little element because it just makes this product that much more easy to use. It works really well as a belt but it also can do double duty as a cross shoulder bandolier that holds up to 24 shells. It's easy to adjust and easy to use.
Durable
This nylon belt has double stitching and extra stitching at each slot that allows easy pull of the shells and is also really durable. The belt is also well made with a buckle, instead of plastic so it won't ever break, and it's easy to adjust.
Cost and Value
Pretty inexpensive but not quite as cheap as some of the others on our list. Still, it's durable build and easy to use shell holders are worth a few extra bucks.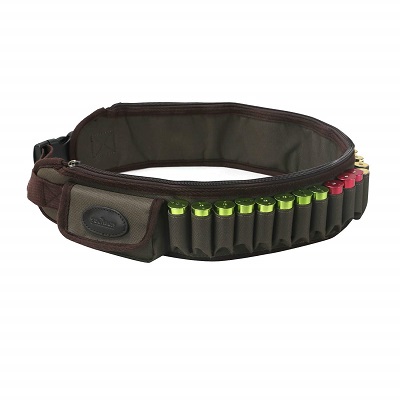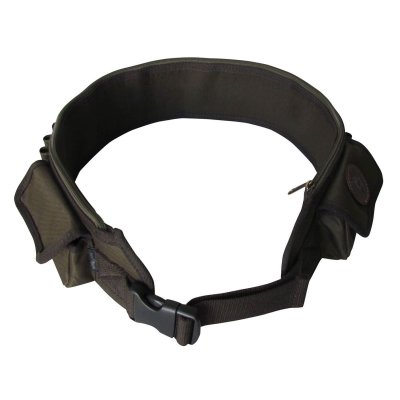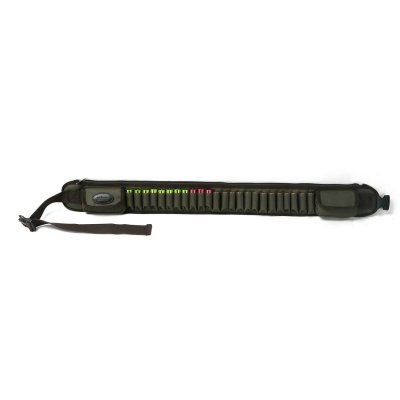 Things get serious with the inclusion of this Turbon, with plenty of great things to be said about the materials. With toughness on its side, buyers will have a lot of faith in the longevity of this product.
Strong Materials
Made from 600D polyester, the belt will stay in form for years even with a lot of roughhousing. This is especially important when it comes to keeping bullets from falling out of worn pockets.
Pocket
Along with shell storage comes a smaller size pocket on the belt. Now, this won't be big enough to hold your phone, but still handy for keeping smaller objects from getting lost.
Cost and Value
High quality and low priced, customers are getting really good value from this deal. The belt won't wear down too much over the years and could become your primary belt of choice.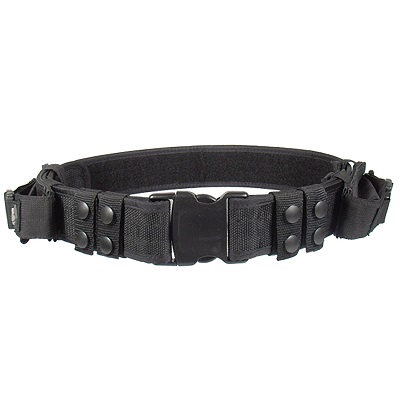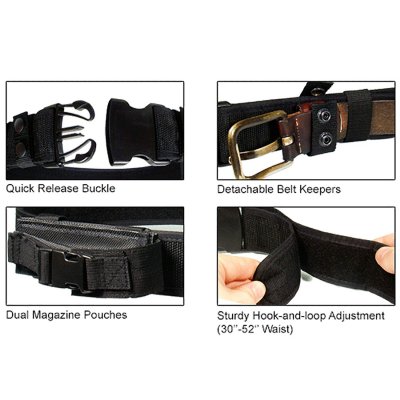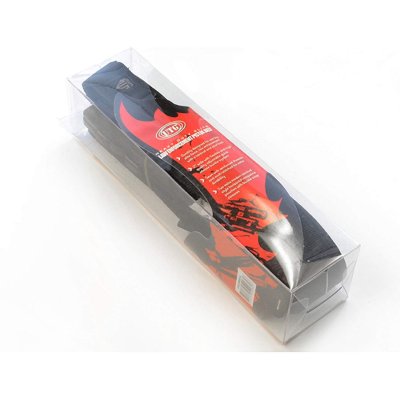 This familiar model is worn by some law enforcement officers so it has the appropriate pouches. As these go, this is one of the best you can get for functionality.
Good Selection Of Colors
It seems minor but still helps to choose between black, OD green and green. The choice is there for customers if they want it, giving an option where others don't.
Durable
You can be sure that seeing as law enforcement leans to using these they must be durable. You will find that the edges have been double stitched to reduce fraying and separating of the belt.
Cost and Value
Depending on which color you get, the price changes. But they all remain low and pretty close to one another in value.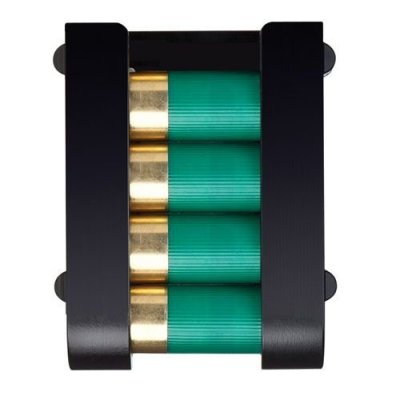 A nice little hold that fits on your belt that's going to hold few extra shells for when you need them most. This fits onto your belt and allows incredibly easy access to four shells all at once if you need them.
Easy Access
These shells can all be accessed at once if needed so with one motion you can get for shells right into your palm. This is built tough and it's really easy to use.
Easy Belt Clip
This clips easily onto your belt so you can get going and when you need them to get to these shells easily.
Cost and Value
A bit more expensive than some of the full belts on our list but this is a nice little gadget that can give you just a few more shells when you need them.

Subscribe to our Newsletter