Best Humidifiers Reviewed & Rated for Quality
last updated:
Oct 31, 2019
Pull up any beauty vlog and you'll see that they talk about something called "dewiness". The dampness of someone's skin is no longer a gross after-effect of gym class. People are now throwing themselves fully towards this idea of having a gentle, wet glow. We don't quite get it, to be totally honest. Some of these people look like they dipped their faces in the sink and are now walking around permanently wet. However, we can see the good intentions behind the trend. After all, moisture has been a skin-saver, voice-saver, and life-saver for a long time now. So if you're into being damp, we're here to help. Here are our favorite humidifiers.
In a Hurry? The test winner after 7 hrs of research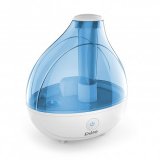 Pure Enrichment MistAire
Why is it better?
Small size and excellent style
Full tank gives about 2 full days worth of mist
Easy-fill tank
Directional mist nozzle
Nightlight option
In a
Hurry? Editors choice: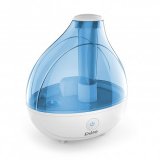 Test Winner: Pure Enrichment MistAire

14
Researched Sources
9k
Reviews Considered
7
Hours Researching
10
Products Evaluated
Materials
Features
Accessories
Value
Effectiveness
By Default
10 Best Humidifiers
1

. Pure Enrichment MistAire


Small size and excellent style
Full tank gives about 2 full days worth of mist
Easy-fill tank
Directional mist nozzle
Nightlight option
Some issues with mold/grime (must be cleaned fairly regularly)
Some reports of leaking after a while
Forget those big, bulky squares that are bigger than your toddler; humidifier technology has moved further and farther, just like the rest of the world's technology. Pure Enrichment's MistAire Ultrasonic humidifier is the perfect addition to any room. The stylish look of this product makes it a must for anyone who's got limited space but is still thinking about purchasing a humidifier. Small enough to fit on a table, but effective enough to improve the air quality in any room, this product looks more like an art piece than technology.
Continuous Power
Unlike some tabletop humidifiers which require you to turn them on and turn them off, this humidifier can be put on a 16-hour cycle. The humidifier itself is a wall plug-in, which means you never have to think about replacing the batteries, recharging the pack, or placing it in a spot that lets it garner energy from the sun. The continuous power means you can rest assured it'll be continuously working; that is, as long as there's enough water in the tank. The best part? Pure Enrichment's product is so quiet that it's nearly impossible to detect.
The Mist Nozzle
It sounds like something you'd find at a gas station or frozen yogurt store. The mist nozzle could even be the name of a new mystery book. What it actually is is much more exciting, though. How many times have we been told by our parents to pull the kettle out from underneath the cupboard before turning it on? If you're like us, they'll tell you every time you make a cup of tea even though you've been out of the house and living on your own for almost 6 years now and know how to make tea. It's not that they think you're incapable; they just don't want the steam to damage the underside of the cupboard. The same can be said for these humidifiers. You don't want to place it somewhere where the mist can damage a shelf or table. With the mist nozzle though, you can arm where the mist comes out. The nozzle spins 360 degrees to allow for you to aim the mist stream up, up, and away from anything that might get damaged.
Cost and Value
This humidifier is one of the middle-of-the-road options on our price list, which is partially due to the fact that it's a smaller unit. Folks who are looking to humidify a single room or small apartment will likely have the most success and happiness with this product. It's not necessarily a whole-house improver, but the features we've seen make it well worth the cost. We know you'll be happy with this cute little tabletop humidifier.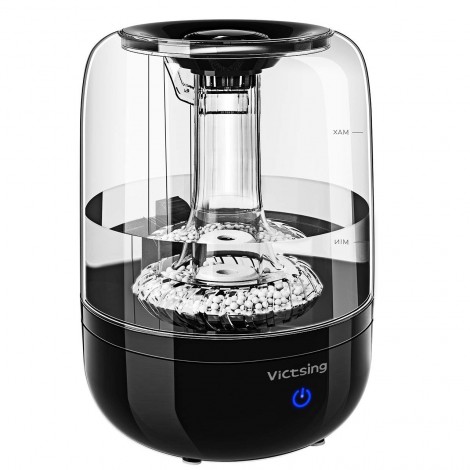 Low, high, and off mist settings
Refills from the top (easy access)
Auto-off function
Includes a filtration system
Very quiet
Light cannot be turned off without shutting machine off
Does not turn off when water is gone; only when there's a problem
The second on our list comes to us from a company called VicTsing. Their product description boasts a long list of positives, leading us to believe that this is a top-quality product. Combined with positive reviews and a high star rating, this might be one of Amazon's top humidifiers! While the mist doesn't quite last as long, there are a couple of great benefits to this product. Not only does it have an auto-shutoff, but it also features a filtration system too!
The Filter
It might not seem like much, but one of the important things to consider when getting a humidifier is the fact that you're still ingesting this water. Just because it's turned into mist doesn't mean it's that much different from drinking the water. You want water that's safe for your family, and water that isn't going to include any sort of dirt or gross stuff in it. This is especially important if your humidifier is being used for a medical purpose; aggravating an illness when you're trying to heal it is definitely a bad idea. The filtration system in this humidifier makes almost any tap water safe to mist into the air and breathe in all day long.
The Safety Settings
Sometimes we have difficulty trusting products that come into our lives. Whether that's due to the fact that we've been hurt by lower quality technology before, or simply the fact that we want to know we're going to be safe while we sleep, means we need to trust the safety specifications of whatever humidifier we purchase. The safety settings on this product mean that it's meant to be kept on, without you having to worry about it. The auto-off function will initiate as soon as the machine detects something wrong. With that kind of peace of mind, it's easy to see why this product is one of the most popular ones.
Cost and Value
A little cheaper than our first option, we're personally more inclined to this product than others. Not only does it come with a filtration system, but it's got a myriad of other positive qualities to it. While it's a little bit larger and needs to be filled a little more often, we think that it's a small price to pay for the otherwise brilliant benefits. Plus, this machine boasts a better track record in reviews. The longevity alone ensures that you're getting a great value for your dollar, on top of all the technical benefits.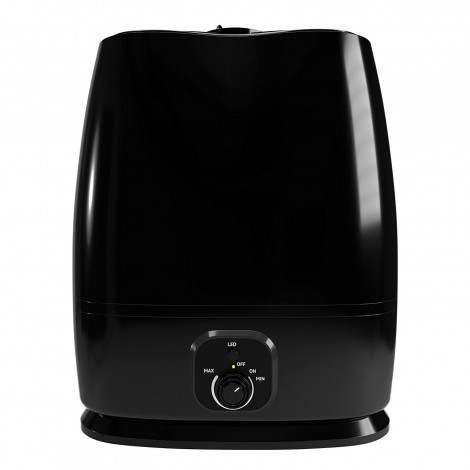 6 days of steam (large water capacity)
Essential oil tray
Shuts off when no water is detected
Thinner design
Excellent reviews on quality and longevity
Essential oil tray may hold onto scent (no replacements)
Difficult to carry when full of water/refilling
Everlasting Comfort is certainly an accurate description of this humidifier. Not only does it include a variety of technical benefits and positives, but it also has a huge number of extra features that other humidifiers don't include. While we've put it at number three on our list, that's not at all a comment on the benefits or effects of this little mist machine. This product is just as good as our top two; there are simply a few different features. Large capacity means a whole lot of moisture, which is ultimately going to give you better, happier air quality. It's the perfect addition to any dry climate location.
Essential Oil Options
Tired of seeing all the social media photos of millennials and their expensive aromatherapy machines? We were too until we started researching things a little more. Essential oils are actually a great option for those that might be sensitive to chemically-derived perfumes and scents. However, we do think it's a little silly to buy a machine solely for the purpose of diffusing the scent into the air. With this humidifier, you get the benefits of both. Not only can you improve the air quality by utilizing the humidifier aspect, but you can also add drops of your favorite essential oil to the mist. There's a special tray that comes with this humidifier that holds the oil, naturally allowing the mist to swirl the scent throughout your bedroom or apartment.
6 Steamy Days
Many of the humidifiers we've seen only last a couple of days before they need to be refilled. The 1 to 2-liter options might be good for single rooms, but when you're trying to fill an entire apartment with steam consistently, it means you need to be really on top of refilling. With this larger water holder, you don't need to be as on top of refilling. This is great for the more absent-minded individuals in the world. It lasts for 6 days, providing you with a huge amount of moisture. That's almost the whole week!
Cost and Value
This product is a great value for the cost. Sitting at around the middle spot price-wise, this gives a great value for what the additional features provide. Think about it like this: if an oil diffuser is going to cost in the three-digit range, rather than getting both that and an air humidifier you can pick up this two-in-one choice for much, much less. We personally like the fact that it's a little bigger as well. The thin design means it can even be slid onto a bookshelf and not take up too much space. All around this is an excellent product.
4

. URPOWER Square Aromatherapy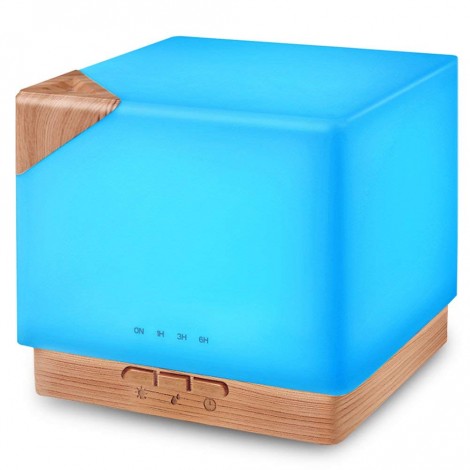 Very well-built, easy to fill
7 different light colors plus brightness options
Very compact
1, 3, or 6-hour timer options
Budget-friendly
No remote
More a diffuser than a humidifier
Remember when we mentioned the essential oil diffuser feature that was included in the humidifier listed above? This is a humidifier that's taking that oil diffuser option to the next level. When you think about it, diffusers are basically tiny, scent-oriented humidifiers. They utilize water to help spread the scent throughout the room or apartment that you're in. While this humidifier is more focused on the oil-diffusing properties, we thought it would be a good idea to include it in case anyone is looking for more of a casual humidifier
Lights and Colors
All of the humidifiers we've looked at so far have featured at least some sort of light, even if it's just from the on/off switch. However, these seem to be more of a half-hearted feature addition than an actual integrated positive. This humidifier/air diffuser is actually built around the aesthetic value of light and color. This big square would add a soft, lightly colored glow to any space, upping the romance factor and giving any room the comfort and uniqueness it deserves. With this product you're able to both control the brightness of the light as well as the color, choosing between rotating color options or one solid color of their 7 color options.
The Little Quirks
There's a part of us that thinks a product doesn't have to be perfect in order for us to love it. Sure, we want our jackets to fit perfectly. Our humidifiers, though? We're a little more willing to be relaxed with some of their quirks, especially if they don't affect the quality of the machine. One of the quirks reviewed in regards to this product is the fact that you can hear the water while the humidifier/diffuser is running. Many people say that this makes it sound like a babbling stream, which can have very soothing and relaxing qualities. Pair this with soothing essential oil and the soft light, and you've got a recipe for a great night's sleep.
Cost and Value
This humidifier/diffuser costs less than an extra-large pizza. If you think that that's a great price for the value you get, then you're right. The cost is an excellent positive with this product, as the value, you get far outweighs what they're charging for it. If you're only using this for a few hours a day, you're definitely going to get quite a bit of run time. While you're not necessarily getting a heavy-duty humidifier, you are going to get a soothing and relaxing oil diffuser. For those that are in the market for an atmospheric product, this is a great choice.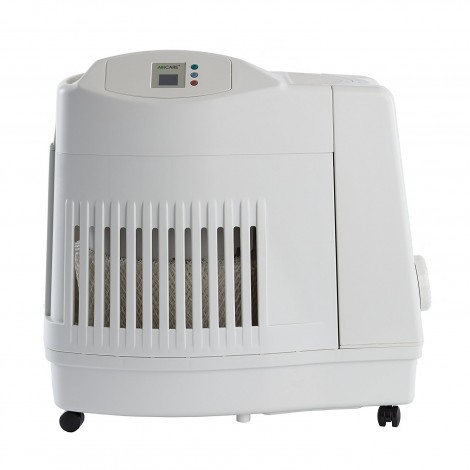 Whole-house reach for humidity/mist
Filtration system
Wheels
Includes customizable humidity settings
3.6-gallon tank (almost 40 hours of use)
Large, obvious size
Reports of inaccurate humidity reading on the machine
This is truly the humidifier of yore. Does anyone else remember visiting their grandparents and seeing something like this hiding the closet? This is what we pictured when we were first assigned this buying guide. While the big white brick isn't exactly as visually stunning as the other options on our list, it's certainly got some incredible benefits. Sturdy and far-reaching, this is the humidifier to pick up for those wanting to improve the dryness in their whole house.
3,600 square feet
That's the amount of coverage you get with this product. While the smaller humidifiers are able to cover 400 to 500 feet of space (which is a generous estimate), this humidifier easily covers a whole house. The benefit of this is huge. If you were to purchase a separate small humidifier for each room or main living space in your home, you'd be spending much more money than what this one unit costs. Not to mention the fact that you'd need to be incredibly on top of refilling all those little tanks. With this large tank and big coverage area, you can rest assured that refilling the water tank won't be an everyday thing.
Casters
Sure, the area of coverage on this product is large. But what happens when you're wanting a little more coverage in one room? It's too large to pick up and carry. Rest assured (literally, go ahead and rest): this baby has wheels. The castors attached to the bottom of this humidifier makes it easy to move between the living room and bedroom. While bringing it up and down the stairs between levels of the house is a little trickier, it can be done as well. Mobility is a great benefit of this humidifier, as it's easy to roll it out of the closet and roll it back in accordance with the seasons.
Cost and Value
More on the expensive end of the humidifier spectrum, this product is a must for anyone who's looking for the health benefits of a humidifier. Said to reduce allergies, dryness, and illness, this product is really and truly listed in the description as being one of the best options for anyone looking for a heavy-duty humidifier. Sure, you don't get any essential oil trays or soothing lights. When you're just wanting a humidifier, though, those things aren't essential. This is going to release mist for much longer than the smaller humidifiers, and it's likely going to last longer as well. While you will need to keep up with the filter changes to get the most impact health-wise, that's a small ongoing price to pay. All in all this humidifier is about what you'd expect. The big white brick is a classic.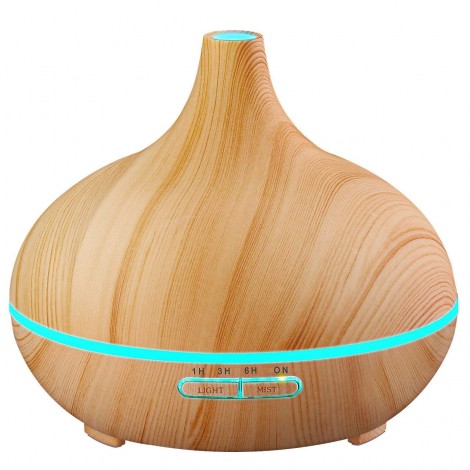 Multiple finish options
Easy user interface
High-quality materials (sturdy)
Auto-off and multiple timer settings
Primarily a diffuser, with humidifier properties
Some reports of cracking (customer service always reached out and offered replacements)
Not very effective as a humidifier
We're back to the VicTsing humidifiers and for good reason. Their other Cool Mist humidifier made it close to our top spot in the second place, but this humidifier is also an excellent addition to a room. Slightly more aesthetically pleasing than the other VicTsing option, this humidifier is a fabulous wood grain look. The size is slightly smaller than the other ones we've looked at, making it not a great option for those trying to fill their whole house. At the end of the day, it's a good thing to have a variety of humidifiers for a variety of needs. That's why we included this option.
The Finish
A lot of times humidifiers can look clunky, technical, or ugly. Not that we're pointing fingers, but even some of the VicTsing humidifiers aren't as aesthetically pleasing as this one is. Part of the reason for that is because of the finish. Clear, metallic, or just plain white plastic scream "I bought this because I read a Good Housekeeping article". Luckily for us, this humidifier offers another style option. The wood grain finish is a casual but sleek style that fits in with any home's design. Not into the light wood grain? Try one of their other options, like the deep brown, gray and black, or redwood wood grain options.
Intuitive Options
Many of these humidifiers have a variety of options. This goes double for products like this, which is again more of an oil diffuser/humidifier hybrid. We're big fans of the fact that this product is a simpler design than others. Not only is it a basic kind of button push, but all the options are listed right on the front of the machine. There's no more guessing when it comes to setting those settings. Essential oils are supposed to be good for getting rid of headaches, but you're not going to get a headache in the first place thanks to this user-friendly, intuitive button set-up.
Cost and Value
Roughly the same price as the other diffuser/humidifier hybrid on this list, we think it's a bit of a toss-up between the two in terms of which to get. We personally like the style of this one better, but there are some legitimate benefits to the smaller cube we looked at earlier. For those that are struggling between the two, it might be easier to look at the technical specifics. This product is a little more straightforward settings-wise, and light pollution will be much less. Are you getting a good value for your money? Absolutely. It really just comes down to which of these ones fits your personal style better.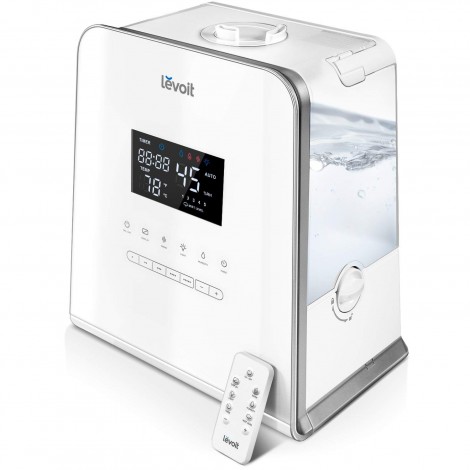 Diffusing capabilities
Comes with a remote control option
The large size and far-reaching humidity capacity
Very quiet
Excellent design
Weak handle. Do not use if the tank is full.
Some issues with water sensor (likely just a manufacturing flaw)
LEVOIT does it again with this warm/cool humidifier. Not only does the product have some unique features that the other humidifiers don't have, but it also provides a lot of peace of mind for the family that's using it. The 5.5 L size is larger than a 4L milk just by about another half. If anyone's been in awe of that huge amount of milk, it's okay. We get you. It's a lot of milk. We mainly wanted you to think about it to get an idea of how big this thing is. Big, but effective, keep in mind.
Getting Warmer
We read once somewhere that humidifiers can actually help to keep the temperature of a home warmer. It makes sense, doesn't it? In the summer we complain about how hot it is only when the humidity gets overwhelmingly sticky. By increasing the amount of humidity there is in the air of your home you're automatically going to increase the temperature of your living space. That is if the humidity is room temperature or warmer. The warm mist option on this humidifier, which isn't explicitly mentioned in most of the other humidifiers and diffusers we've looked at, is the perfect solution to any and all shivers. This will ultimately not only improve that dry skin but also that chill you can't seem to shake.
Warranty and Personal Support
Some people think personal support is only for counseling. We're happy to say that it's now available for your air humidifiers too! LEVOIT, the fantastic company behind this sleek and chic modern humidifier, allows a year of warranty. If, at the end of that year, you're wanting some more coverage? They'll let you extend it. After those two years of support, LEVOIT isn't going to leave you stranded either. They want to ensure that you're pleased with their product, which is why you'll be able to call them any time and receive personal support. Their customer service is generally very, very good.
Cost and Value
This humidifier just squeaks in at the most expensive of our options. This isn't a bad thing. In fact, there's a certain assurance that comes with having a higher priced model. We discussed the warranty options and support, which can be a big seller for some people. On top of that, we've also got the fact that there are so much versatility and other capabilities with this humidifier. Oil diffusing, customizable humidity, and a rapid humidifying mode make this product able to fulfill any need. Is it worth the high price tag? We're becoming convinced that it just might be.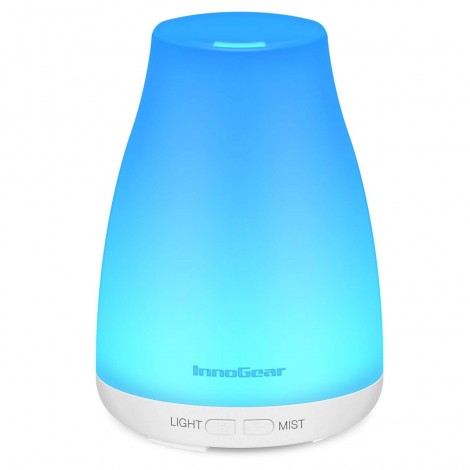 Light on/off misting options
Very compact
Only takes a few drops at a time
Different color options for light
Intermittent misting
Hard to open
Some reports of scent no escaping (customer service is excellent at reaching out)
It seems like the more we look for humidifiers the more we find diffusers. Everybody wants products that are able to do more than one thing. For some, we want computer screens that can coach us through how to make the perfect chicken masala. For others, we want cars that can tell us the directions and weather for the place we're going. The rest of us just want to be able to make our house mist smell like lavender. Luckily, thanks to InnoGear, that's a totally viable option for those of us who are wanting a cheap and effective humidifier/diffuser option.
Misting Modes
Ever wonder how people seem to have a constantly nice-smelling home, but still, manage to go through their essential oils at a semi-reasonable rate? The answer, friends, is intermittent misting. While some folks might embrace intermittent fasting, we're loving this option presented by the InnoGear aromatherapy essential oil diffuser. This product features two misting modes. Other humidifiers and diffusers on our list feature different strengths, but most of them are stuck on one steady stream of mist. This tool makes it possible to have a spurt of mist freshen up your home at regular intervals. It keeps scents in check and doesn't waste your oils; what a great combo.
Many Options Of Mood
On top of the misting options, there are also the options to change and adapt the light it emits depending on what type of mood you're in. This is part of the great versatility of this diffuser. Plus, you can even go so far as to change the color of the light-on option. You can choose whether you want this to mist with the light on or mist with the light off, and what color the light will be.
Cost and Value
Definitely sitting on the cheap end of the spectrum, this is a product that might end with a bit of disappointment if you're looking for a large-area humidifier. This is a great choice for those that are looking for a humidifier/diffuser for a studio apartment or dorm room, but not for someone looking to fill a large home. The variety of options on this product makes it a great choice for those that want to be able to personalize their mist options. Is it worth the price? Sure! At such a low cost there's no way that this product isn't worth its value.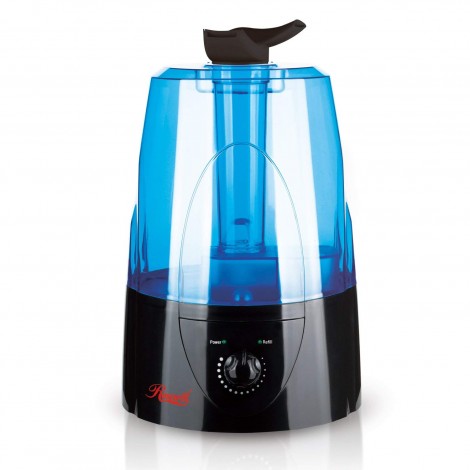 Carry handle for easy filling
Very quiet
Turn knob to change strengths
Excellent price
The cool mist released from two 360 degree nozzles
Some reports of breakage/short circuits
Water accumulates in hose
This sweet humidifier knows how to do a job well done. Sometimes we get caught up in stressing about the effects or benefits of the humidifier. After all, they can be an expensive purchase and the effects aren't exactly visible. The mist dissipates pretty quickly, after all. This humidifier has the unique quality of just being able to look at it and know that it's working. The clear tank lets you see the water turning into hydrating vapor. If that's not effective, we don't know what is!
We Can "Handle" It
Unlike some humidifiers that we can't handle, this one is easily handled. In case you haven't guessed it yet, we're trying to say that this tank has a handle. Some humidifier tanks we've seen aren't even detachable, let alone featuring a handle. The built-in handle is incredibly useful, though, as it makes carrying the jug to the sink a breeze. Carrying it back can be a little trickier, just because of how heavy it gets. Slightly more than a huge 4L jug of milk, it's not necessarily usable for those with weakened muscles or a lack of grip strength. That handle, though: it's just so effective and easy to grip.
Cool Mist
We haven't talked much about the mist on many of these products and for good reason. A lot of the time the mist is just that: mist. There's not much more to be said about it unless it's got some options for essential oils. This product is very specific in its discussion, however, of the fact that it's solely a cool-mist humidifier. Some humidifiers utilize warmth, making the steam come out and improve the temperature of the home as well as the humidity levels. We think that the cool mist is a neat option, though, and would be lovely in the summertime.
Cost and Value
This humidifier is on the lower end of average, and maybe for a good reason. While many of the reviews are glowing, some reviews mention faulty design. That is, that the motor can get wet if the humidifier is moved or twisted at all. This leads to short outs, which dramatically cuts the life of your humidifier short. We're personally not sure if the value is worth the cost. We think you're better off investing in a slightly higher priced one that doesn't have any negative reviews. Though, if you trust that that's just a one-time manufacturing error (which it could very well be) then this is a good option.
10

. Levoit Humidifiers, 6L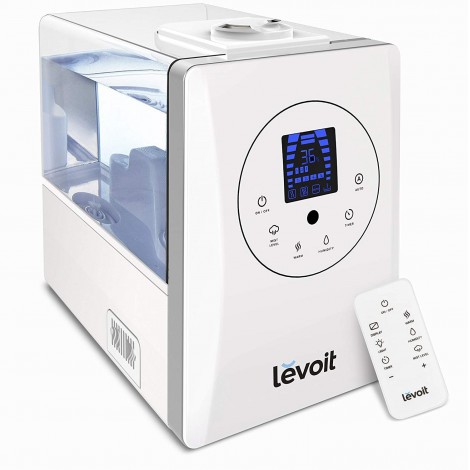 Remote included
Larger size and far reach
Leakproof and sturdy
Auto mode for constant humidity levels
Humidity display
Difficult to move/carry
Water gets used very quickly
The last option on our list, but certainly not the least. Levoit is a brand that we've included on lists before. It seems like no matter what they're building it's going to be of a high enough quality to earn a spot on our list. Part of that is due to their excellent customer service and warranty options. As important as the product is what goes on in the creation and care of the product. With Levoit, you know you're going to be getting a humidifier that's had care put into it from creation to conclusion.
Remote Operation
The biggest complaint we read in many of the reviews for products on this list was the fact that many of the humidifiers don't come with remotes. There's no option to control the humidifier via remote, which is annoying for those with limited mobility (or a very large house). While it might not be a consideration for those looking to purchase a smaller humidifier, the remote is a huge asset for people who want to invest in a long-range, household humidifier.
Leak Proof
We don't want to throw any shade, but this is one of the only humidifiers we looked at that listed leak proof as one of their top product descriptions. The plastic report as being made of an ABS plastic. This means that the plastic is strong. The rest of the manufacturing ensures that there's no leaking, which is typically one of the biggest worries of people who purchase humidifiers and/or diffusers. The large size of this humidifier means that there could be some serious trouble if a leak happened. This is why having a leakproof assurance is so very valuable.
Cost and Value
Not quite as expensive as some of the options on our list, this is a standard humidifier with a few fabulous features. Like most of these humidifiers, they do a great job in improving the air quality and allergen levels in your home. The large reach means it's perfect for a one-floor house. The only drawback to this humidifier is that it's a bit of a pain to move. A lack of casters means you're stuck carrying it from one area to another if it needs to get packed away for any reason. Is it worth the cost? Yes. Is it an outstanding value? Not as much as others we've seen.
Criteria Used for Evaluation

Materials
When reviewing technical machines, it always feels like we repeat the same thing: quality. Whether you're tired of hearing it or not, we have to say that it's one of the most important aspects of technology. Being made of high-quality materials is half the battle when it comes to the longevity of machines. Often times either the outside breaks or the inside breaks; very seldom does something end up out of date and broken all at once. If we can ensure that the material and build quality of a product is going to last, we can feel confident about buying something.
All of these humidifiers are of a very high standard of material quality. Many of them have been made to be very strong and sturdy. The electronic components have enough strength to withstand the weight of the water, and to keep a generous and effective processing speed. Additionally, many of these companies offer technical support, warranties and other customer service aspects that help to ensure a high-quality experience, as well as a high build and material quality.

Features
Unlike iPhones, humidifiers can only have so many options of features. A humidifier is a product that has a specific purpose. Not only are we able to see what it does just by looking at it, but it's also built with that one purpose in mind. Rarely do we find a product that's as on the nose as an air humidifier. Some might think that this means the feature options are limited, and shouldn't be taken into consideration here. We say that that's absolutely not the case. Not only feature just as important on a humidifier, but they feel even more exciting. We expect iPhones to have fun, funky stuff. But a funky humidifier? Now that's something truly special.

Accessories
On all of our listed items, there's at least one special or unique accessory. For some of them, there's the capacity to act as an oil diffuser. Others might feature intermittent misting, or a 360-degree movable nozzle. There's even some that work with specialty lighting.
Others out there even combine speakers in them! There's a shocking amount of features that go into humidifiers. We're long past the days of the big white box that lives in Grandma's closet. We believe we've done a good job of finding a variety of feature-heavy and straightforward options. There's a humidifier out there for everyone. It's just a matter of finding the right one. We believe you'll be able to find the right one now thanks to this list.

Value
Price range is another criteria we used to determine which humidifier should be on our list or not. Some might not want to admit it, but the price range is something that really affects people's decisions on whether or not they're going to buy something. The higher the price is the more rigorously we scrutinize it. The lower the price is, the more skeptical we are of its effectiveness. There's no winning with a price range, but that shouldn't stop us from trying.
We always try to provide a variety of price points and options, so you can choose a product that fits with your budget. We hope that by showcasing lower priced items along with higher-priced items that you're able to really trust those cheaper humidifiers. At the end of the day, all of these products' qualities are very high. They all live up (and often times exceed) their monetary value, providing you with the best options that are out there. Price shouldn't be a barrier, it should be a consideration. We've considered all of these prices and have offered options at all points of the spectrum, so you can find the humidifier that's best for you.
Effectiveness
At the end of the day, the humidifier is only as good as the moisture it gets into the air. So whether we're looking at a big model that's going to keep the Sahara damp or something simple for your child's bedroom we want to make sure the humidifier will perform as advertised and get that moist air right where it belongs.
Expert Interviews & Opinions
Most Important Criteria
(According to our experts opinion)
Experts Opinion
Editors Opinion
Users Opinion
By Default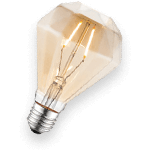 It's All About Control
The one thing that always concerns us about humidifiers is when they work too well and you end up with a room that feels like the shower is perpetually going in the same room. That's why we're big fans of accessories that let you mitigate the amount of moisture that's being pumped into the room. Especially in already humid environments mold is a constant worry and a humidifier can add to the worry, so make sure you look for features that let you set your humidity level and then make sure you're not ignoring recommended humidity levels in your home or room.
Frequently Asked Questions
q:

How easy are these to clean?

a:

Very, though the actual process varies depending on the brand and type of humidifier you get. Most humidifiers will have a filtration system included. The filter needs to be cleaned regularly, and it shouldn't come as a shock to know that eventually, you'll have to replace it. Other humidifiers don't have filters at all, though, and those are easily cleaned by running water and vinegar through them. If you find that there's calcium deposits or other minerals building up, it's not a bad idea to wipe out the actual machine. These are all tips we found in the reviews and questions of a multitude of products. Be sure to check your specific machine for instructions and tips.
q:

Can I use it for essential oils?   

a:

Sometimes you can, yes. It's not recommended to put the essential oil into the water of some of these humidifiers. We assume that's because of the concentration, as well as the fact that it's hard to get strong scents out of 5-liter water jugs. Many of the options on our list feature essential oil trays or diffuser settings. When this is the case, yes. It's totally possible to use essential oils in the machine. As long as it's written in the instructions as a settings option, yes! Go ahead and use it for essential oils as well.  
q:

Does it leak?

a:

Ah, the age-old question of any household product that runs off of water or other liquids. The only honest answer to this is that yes, sometimes they do leak. No product is perfect, and a misaligned hose or spout can result in drips and splats. Accidentally kicking or elbowing it can also cause leaks or splashes.

However, that's not to say that it should be leaking. Humidifiers and diffusers absolutely should not be leaking. If your product is leaking, we recommend shutting it off, draining it, drying it, and reconnecting. If it's still leaking, you might have gotten a faulty product! If that's the case, reach out to the company and they'll be able to tell you what to do next.
Subscribe to our Newsletter