Top 10 Sleeping Bags Reviewed & Rated
In a Hurry? Editors choice: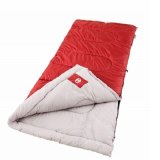 Test Winner: COLEMAN PALMETTO

We don't care if you've got the toastiest fire, and the
best tent
in the world, if you're camping at elevation or if you're camping from October to April and you don't have a blanket for cover, you, my friend are not in for a good night. The fact is that a great sleeping bag is going to keep all your ambient heat around you and not floating around your tent or outside your blankets so this is the one thing that you shouldn't skimp on when it comes to camping. But luckily for you, the tech behind these is moving as quickly as cell phone tech and we've been digging through all kinds of new selections to show off some of the best sleeping bags that are guaranteed to keep you warm in the worst kinds of weather.
Standout Picks
Criteria Used for Evaluation
Effectiveness
The first thing we looked at was temperature ratings for all of the list. The temperature rating shows you the minimum temperature it can handle when in use. As long as it doesn't get cooler than the minimum, you'll be comfortable enough to sleep through the whole night. When things get cooler than expected, you can still warm up by adding a separate liner.
That is the least expensive way to handle weather that is too cool, and when it is hot you can simply unzip them. Buyers that use theirs a lot will want to pick one that stays within the recommended temperature range of the manufacturer. This keeps things simple so you don't have to look at alternative warming options while out.
There were some that were great in winter, but a little less suited for the summer months. In the middle of it, all were ones that had great three-season support, usually, from 10 to 32 F. Listing them at the top that was great through all three seasons wouldn't have been fair for users that were looking for a winter option. And summer bags lack the intricacies of winter ones, leaving even more of a gap in ordering priorities.
We chose to go with winter ones first, and summer/3 season bags second unless extra features overrode that decision. This is based on customer data proving that winter varieties are the most purchased types of the three listed. Astounding features landed non-winter options higher up on the list, so it balanced out nicely for all types.
Insulation
Insulation was a big one for our testing purposes, and in many cases, it knocked some choices completely off of the list. We stuck to the two most popular types of fill in the industry, synthetic and down. They each have their pros and cons but down gets an edge when it comes to the natural ordering of the list. It is the superior choice that continues to get better as technology improves. As a natural fill, it also has some cons for people with allergic reactions.
Down
The two types of downs explored on the list are goose and duck. Goose has the highest fill power rating and is widely considered a top choice for all down related products. This standard goes before sleeping bags, and goose down can be found in expensive hotel blankets, home comforters, and even lavish pillows. Comfort is associated with goose down, but this is where it gets tricky if you're looking for a down type. Duck feathers are cheaper to include than the goose, and over time a lot of products have begun including duck feathers as their down insulation type of choice.
Synthetic
Synthetic insulation costs less and is available in all sizes, from kids to adults. It has been widely used for several years and has some key benefits worth mentioning. Synthetic is non-allergenic, has better water resistance and dries faster than insulated downs. So even when yours gets wet in a damp climate, you can count on synthetic to do an admirable job despite the conditions. But the overall max insulation of synthetic is lower than with goose/duck options and can be bulky once compressed.
Down/Synthetic Combination
Today, some are available with a combination of down and synthetic fills. These types of bags have the benefits of down and synthetic and balance out their imperfections. Depending on the bag, the two materials may be mixed together, or the lofty material may be on the top with durable on the bottom.
Water-Resistant Down
Wet down can no longer retain heat. This is the reason why most have been treated with a water-resistant application. This is frequently referred to as "hydrophobic" down.
Comfort
Nature is beautiful, however, it is not the most comfortable when sleeping on the ground. There are rocks, sticks, grass, and uneven terrain that you have to deal with. That's why it's important that you find a comfortable bag for a good night's rest. Comfort may mean different things to different people.
Some like soft and fluffy while others may prefer a little more stiffness. Fortunately for you, there is a bag for every taste. The best way to find out what type of comfort your new bag will provide is to try it out if possible. You can place it on the ground and use your hand to get a feel of what it's like. If that's not possible, read reviews of what others have said about the product.
Size, material, and design will also play a role in how comfortable you will be. If you move a lot while sleeping, you will want one with more room. If the bag is too small, you may feel claustrophobic. How does the material feel on your skin? Is it rough or smooth? Take all these factors into consideration when searching for your new bag.
Style
We looked at styles, something that can be overlooked when you're focused on the technical aspects. Higher spots were given to bags that offered more style choices, although the top five was unaffected. Buyers that want their purchase to match the rest of their gear will find this scoring portion the most helpful. And the last thing we looked at was the price, something that is directly affected by the type of insulation used. No choices were included that are outrageously priced, even with the inclusion of goose down insulation as one of the top picks.
Value
When you spend your hard-earned money, you want to make sure that you get what you are looking for. There are some really good quality bags out there, and there are also some poorly made ones as well. Reading reviews is a good way of finding out what others felt about the bag and what you can expect. You can also depend on certain brands to make high-quality products base on their reputation.
Teton and Coleman dominate the industry, with everyone else providing good models here and there. You'll notice that is emphasized in the list, as they lead the industry with several designs. Top sellers usually come from these two companies, so buyers should also look for the latest trends to appear with these companies first.
10 Best Sleeping Bags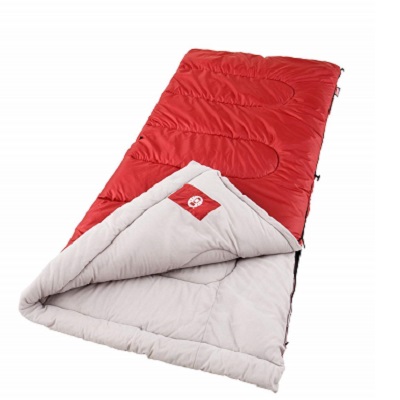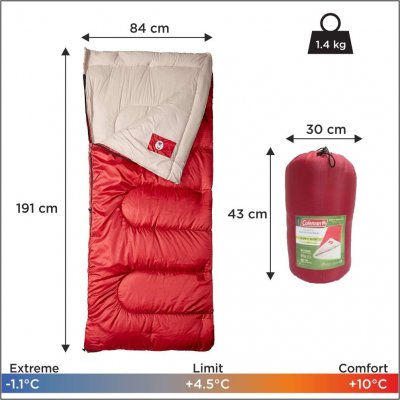 Coleman remains on top of several lists, including this one with the Palmetto Cool model. Sleeping bags don't get much better than this, and it even has an optional extra that has become quite popular in the camping community.
Universal
Out of all on the list, the Palmetto Cool fits all sizes the most comfortably. This was a hard feature to implement but one that Coleman had no problem with. Both children and adults will find that they are quite comfortable with this model compared to others.
Features and Specifications
This three-season variety is made from 100% polyester with tricot liner and three pounds of Coletherm insulation. It's also machine washable and you can zip two bags together to make one.
Cost and Value
Depending on which version you buy, there is a lot of value. This by itself is low priced and the best on the list. If you get the package with the bug spray, it is still low priced but adds a considerable amount to the original.

2

. Sierra Designs Nitro Quilt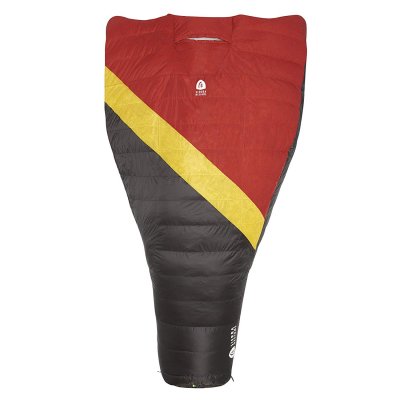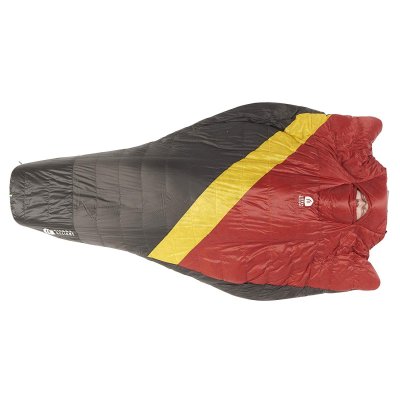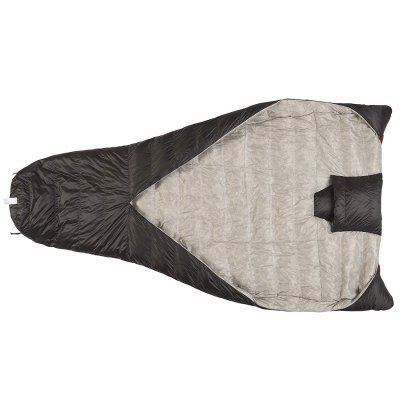 We love this little ice cream cone. Slide into this baby and you'll head right back to that time when you were warm and snug and comfortable all the time. This tapering bag is part blanket but it's designed to keep you warm in winter weather so don't bring it on your summer trips.
Hide Away Hood
The hideaway hood is especially valuable for when things get really cold outside and it'll keep your head as warm as your body. It also has hand and arm holds in case you need to grab something outside this cocoon.
Lifetime Warranty
When you buy this from an authorized Sierra Designs dealer you get a lifetime warranty on this bag against defects and workmanship so you can take it out into the field in confidence. If you have a problem simply get in touch with sierra customer service and they'll fix whatever the problem might be.
Cost and Value
You get what you pay for and Sierra is definitely going to take a bit of a bite out of your camping budget so be prepared. That being said this is a really great all-around bag that doubles as a blanket and gives you plenty of room to maneuver so we think it's well worth the price.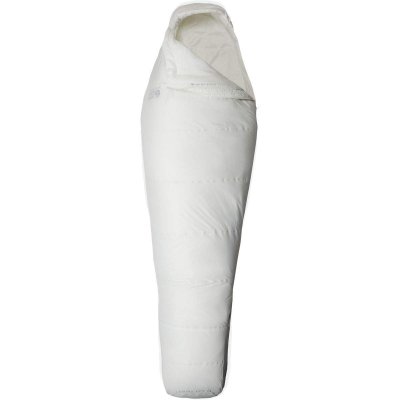 This is a unique bag by a unique company that is a truly eco-design and made with recycled fabric. But it's guaranteed to keep you plenty warm with its cocoon style and it's specially engineered to put an end to cold spots. It's also incredibly lightweight and we have to admit the white makes it look very cool and space agey.
Eco Design
For the environmentally-conscious amongst us, this bag is made with recycled fabric and insulation and trims.
Contoured Footbox
We like this little feature because it allows you to keep your feet in a natural position in the bag whereas some bags will leave you scrunched up at the bottom of the bag.
Cost and Value
This bag comes in at about the midrange of price. Considering it's made of recycled materials that are pretty good so if you want to take care of the planet as you explore it this is the bag for you.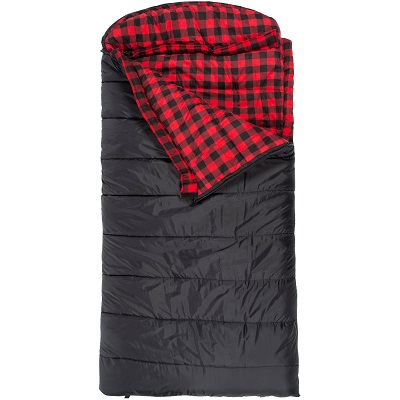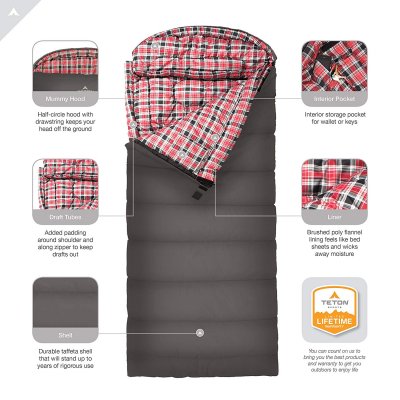 Big is the word to describe the Sports Celsius XXL, which makes even the Mammoth look small by comparison. Anyone can fit in it, and there are also plenty of instances of multiple people sleeping comfortably side by side in it.
You'll Never Run Out Of Room
Campers that like a lot of space can hog the entire bag and use it for themselves. And couples or kids doing sleepovers will find it just as spacious. There are a number of ways to enjoy one this big, so be prepared for a really comfortable night under the stars.
Features and Specifications
This bag is available in olive green, black or gray and measures a whopping 90×39 inches. It features a half-circle mummy hood with drawstring to keep your head warm and right or left-hand zippers for easy access.
Cost and Value
Low in price and high in value, the Sports Celsius XXL is an upgraded model of one of their most popular. Buyers will find it more than meets their needs when camping, and may even be fun for in-home use.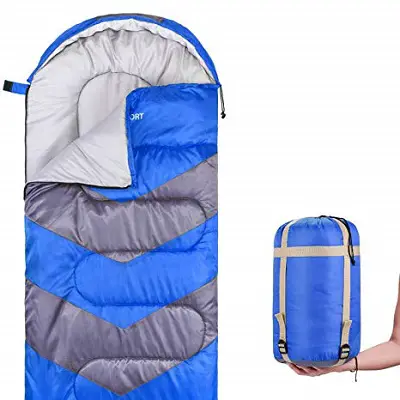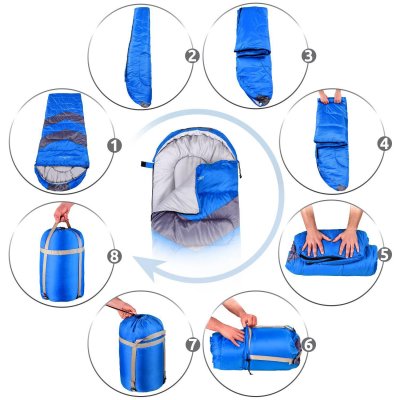 This offers you warmth and comfort for all your camping needs. You will feel right at home no matter where you are sleeping, with adequate space for those who toss and turn, extra filling provides added warmth.
Warmth
This can be used for three seasons, as it is rated for 20 degrees, which means you will be warm even when the nighttime temperatures drop. With a double filling technique used in the design, you can rest assured you will be warm and cozy.
Pack Able
The bag that comes with actually compresses the blanket to a smaller size. That makes it super easy to pack even inside of your hiking backpack, which makes this a perfect addition to your outdoor gear supply.
Cost and Value
This has the potential to become your newest addition to your camping gear. With a temperature rating of 20 degrees and twice the fill as some others, you are sure to stay warm while sleeping like a rock.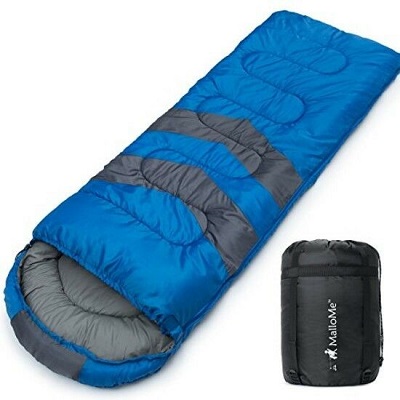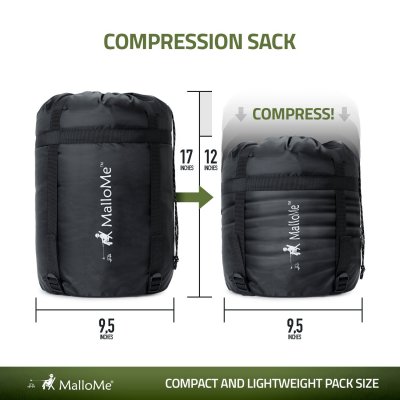 Designed with some added amenities for your comfort. The lightweight design makes it easy to pack and transport. The outer shell is made from materials that make it resistant to tearing, while the inside of the bag was made to be soft and hypoallergenic.
Special Features
This one is packed with added features to keep you feeling warm and comfortable. The top portion was made to be used as a hood, which is perfect for cutting down on drafts. A separate zipper on the bottom for those who like to have free feet while they sleep, and a pocket on the inside for storing your phone.
Size
This bag has been improved upon for it's sizing, redone to make it wider to allow more room. This is perfect for those who don't like the restrictive feel a sleeping bag can sometimes cause. Plenty of room in the length even for those who are taller than average.
Cost and Value
At not much cost to you, this can provide you with warmth and comfort on your next camping trip. Made from materials that are resistant to tears and water, this one offers a good amount of durability as well.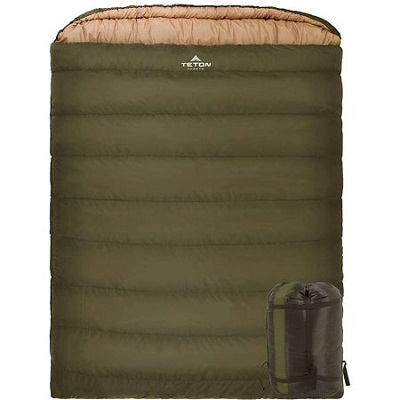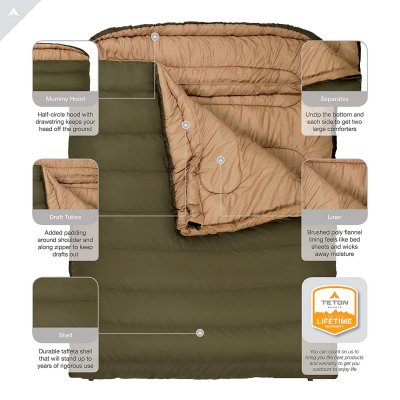 Size is what makes the Sports Mammoth stand out from the rest of its peers. Nothing makes a night under the stars better than being able to fit 4 people in the same bag. And for the selfish individuals, a Queen size is enough space to toss and turn with freedom.
A Massive Amount of Space
What will you do with all of that extra space? There is a lot of sleeping room in here for one person, and it's up to you to decide what to do with it. This is one of the largest on the list and holds true to its name. When you factor in the price there is a lot to appreciate the size, since they didn't sacrifice quality.
Features and Specifications
This huge bag measures at 94×62 inches with a pack size of 27x14x14 inches and features a taffeta shell and brushed flannel liner for comfort and warmth. It comes in blue, olive green and grey and includes a compression sack.
Cost and Value
This Mammoth bag sits at around the low-mid price range, which is fantastic for what it offers. With the included compression sack, this is a deal that is too good to pass up. Just make sure you have a washing machine that can handle queen sets.

8

. Big Agnes Pluton UL 40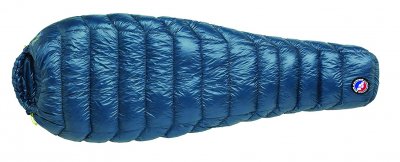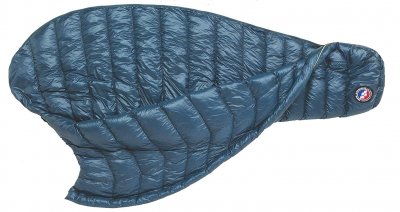 This bag is another one that just kinda sucks you in and holds onto you like a cocoon, but its minimalist design makes it easy to pack easy to take with you wherever you go and still is guaranteed to keep you plenty warm in the worst weather. And to be honest we just like that we can pull the cord uptight around our face and stay warm no matter what.
Cinch Hood for Thermo Control
This cord allows complete thermal control by using the drawstring to cinch the hood tight and keep all that body heat inside or loosen it up and let some heat out so it works well for you in extremely cold weather and when things get a bit warmer outside.
Packable
This bag collapses to almost nothing so it's great to bring out in the wild. Just push the air out of this mummy bag and it easily packs inside your backpack for your long winter hikes. This is just a great really versatile bag.
Cost and Value
While we can't say enough good things about this bag one thing we can say is that it doesn't come cheap. It's a pricey bag but it has some much going for it we don't think you'll be disappointed if you decide to pick up this bag.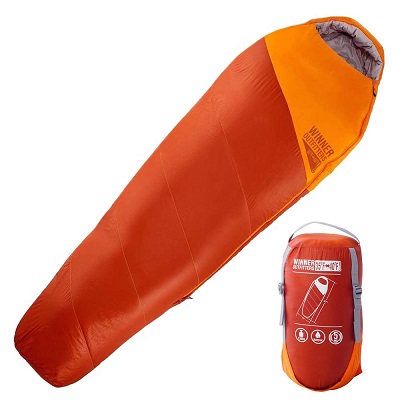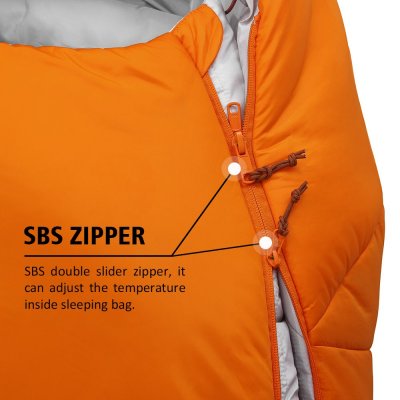 Taking a look at a second mummy-style design, this bag has plenty of benefits to offer the consumer. The design style gives you a lightweight option, while still providing the same amount of warmth as a traditionally designed one.
Design
The design style is said to be more lightweight while providing a good amount of warmth to the user. The mummy design starts out wide in the shoulder area, then begins to slim as it nears your feet. The theory behind this design is to hold in your body heat, helping to keep you warm in cooler weather.
Zipper Design
The design behind the zippers is intended to allow you to control the temperature inside. Meaning you can fully zip the bag for better heat, or open it slightly, to allow your self some cool air inside.
Cost and Value
Coming in at less of a cost than some of the other mummy-style options on the market, this one still offers you plenty of value. Warmth and comfort are both the key to a good night's sleep on any camping trip, this can provide that for you.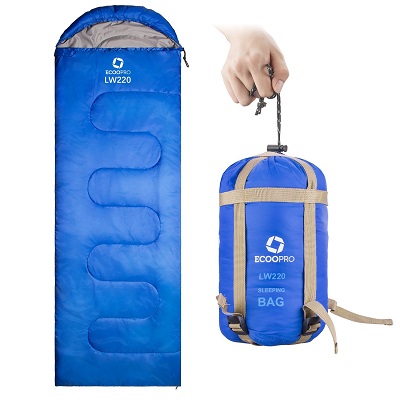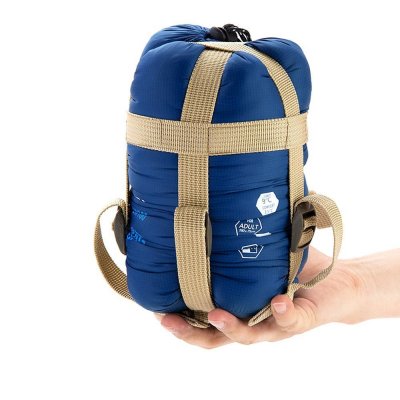 This will have us take a look at camping in warmer weather, while most people think that these are only made for cold weather. This couldn't be further from the truth, this one will keep you warm enough for those slightly cooler summer nights, without causing you to sweat to death.
Lightweight
Being that this was designed for the warmer summer weather, it is extremely lightweight and portable. This is due to the fact that it isn't weighed down by all the heavy materials used for intended for cold weather.
Weather Resistant
The outer shell is made from nylon, which allows this one to resist moisture. Helping to keep you dry on those dewy summer mornings.
Cost and Value
This is perfect for those summer evenings that can become damp and chilly. The water resistance will help prevent moisture from getting into your sleeping bag. For a small amount of money, this packs a big punch.

Subscribe to our Newsletter