Best Sleeping Bags Reviewed and Rated
Sleeping bags are an important part of camping. They need to be the right size for each person that is using them while also fighting off the uncomfortable weather on the outside. Whether you are in cold weather or extreme cold weather, you can count on a quality sleeping bag to make your night much easier to enjoy.
Our Top 3 Picks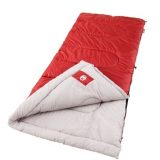 COLEMAN SLEEPING BAG

Our rating
Comfortable
Price: See Here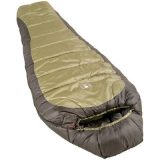 COLEMAN NORTH RIM BAG

Our rating
Polyester
Price: See Here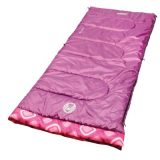 COLEMAN PLUM FUN BAG

Our rating
Lightweight
Price: See Here
Best Brands
Teton and Coleman dominate the industry, with everyone else providing good models here and there. You'll notice that is emphasized in the list, as they lead the industry with several designs. Top sellers usually come from these two companies, so buyers should also look for the latest trends to appear with these companies first.
Maintenance and Cleaning Tips
There is no special technique to cleaning a sleeping bag other than making sure the pockets are empty and throwing it in the washer. Some have special instructions like air dry only, so keep a close eye out for those. About the only time a customer will run into cleaning problems is with larger sleeping bags. Make sure your washing machine supports the larger sizes or you could end up damaging it.
Best Sleeping Bags Reviewed
We reviewed in-depth the 10 best sleeping bags for 2017. Check our reviews here below.
1. COLEMAN PALMETTO COOL WEATHER SLEEPING BAG
Coleman remains on top of several lists, including this one with the Palmetto Cool model. Sleeping bags don't get much better than this, and it even has an optional extra that has become quite popular in the camping community.


Expand to see more
Universal

Out of all the sleeping bags on the list, the Palmetto Cool fits all sizes the most comfortably. This was a hard feature to implement but one that Coleman had no problem with. Both children and adults will find that they are quite comfortable with this model compared to others.

Features and Specifications

100% Polyester with fill
Three season sleeping bag
Polyester cover with tricot liner
Three pounds of Coletherm insulation
Machine washable
33×75 inches
Roll control design
Can zip two bags together to make one
Five year limited warranty
Price/Value

Depending on which version you buy, there is a lot of value. The sleeping bag by itself is low priced and the best on the list. If you get the package with the bug spray, it is still low priced, but adds a considerable amount to the original.

Decision Time

No one is going to argue with Coleman being in the top spot, as they are a proven company that makes superior products. Buyers that don't purchase the bag with the spray should remember to have their own backup before they go camping!
No hassle design to put two bags together
Comfortable down to 30F
Heat loss and insulation are maximized with superior design
Has an optional Bug Spray accessory
Long warranty with a lot of help and support
Only one color
May be a little bulky for some
2. COLEMAN NORTH RIM EXTREME WEATHER SLEEPING BAG
The mummy design is popular for extreme weather conditions since it allows for the best insulation. But the tradeoff has always been comfort, that is until Coleman began to perfect its models. The North Rim Extreme Weather sleeping bag allows customers to be comfortable and warm at the same time.


Expand to see more
Polyester Makes A Difference

If you don't believe it does, then try this bag. The insulation is incredible, and a big bulk of that has to do with the materials that are used to create this model. Campers will be warm in really bad conditions, and comfortable.

Features and Specifications

100% Polyester with fill
32×82 inches
60 ounces of Coletherm insulation
Diamond ripstop polyester cover
100% Polyester liner
Stuff sack storage included
Price/Value

This Coleman model is low priced like every other sleeping bag on the list, even though it comes with ultra-premium materials. There is a lot of work put in by the company to keep the user warm, and that makes this the best extreme weather sleeping bag on the list.

Decision Time

Campers that need the most insulation and a mummy design with the most room can't go wrong with this model. Coleman outdid themselves and produced a really solid product.
Polyester is very comfortable to sleep in
The most spacious mummy bag available
Can handle temperatures down to 15º F
Designed to maximize room for people up to 6'2
2 way zipper helps with ventilation
Hard to get into the stuff sack
A bit heavy
3. COLEMAN PLUM FUN 45 DEGREE YOUTH SLEEPING BAG
Seeing a youth sleeping bag so far down the list is a bit jarring to some campers, but Coleman really nailed it correctly with this model. It's the best youth sleeping bag on the market and really shows innovation and promise in the same category as adult sleeping bags.


Expand to see more
An Alternative For Adults

People come in all shapes and sizes, so it's no surprise that some adults may prefer youth sleeping bags compared to the adult ones, especially if they're under 5'5 inches tall. Any adult under that height will find it increasingly hard to find a sleeping bag that is more made for their size than this one.

Features and Specifications

65×25 inches
Bag stays straight while rolling with Roll Control system
Comfort Cuff keeps your face warm
Snag-free zipper with ZipPlow
Perfect insulation with ThermoTech
Roomie pocket in the interior
Price/Value

This is low priced even by junior standards, so imagine the value it would have for an adult that is purchasing it. Coleman did a good job with the materials, and this sleeping bag will last as long as any other on the market.

Decision Time

It would have been nice to have different color options, but other than that consider this an A+ purchase. Even if it was priced a little higher, Coleman creating a sleeping bag that is hard to beat.
Perfect size for adults and children
Warm, cozy and high quality
Lightweight
Comfort Cuff feature is like a mini pillow for your head
Easiest out of all the sleeping bags to pack
Only one color
No exterior pockets
4. TETON SPORTS CELSIUS XXL -18C/0F SLEEPING BAG
Big is the word to describe the Sports Celsius XXL, which makes even the Mammoth look small by comparison. Anyone can fit in it, and there are also plenty of instances of multiple people sleeping comfortably side by side in it.


Expand to see more
You'll Never Run Out Of Room

Campers that like a lot of space can hog the entire bag and use it for themselves. And couples or kids doing sleepovers will find it just as spacious. There are a number of ways to enjoy a sleeping bag this big, so be prepared for a really comfortable night under the stars.

Features and Specifications

Available in olive green, black or gray
90×39 inches
Half circle mummy hood with drawstring
Right or left hand zippers
Handles temperatures ranging from 18ºC/0ºF
Weighs 7 pounds
Price/Value

Low in price and high in value, the Sports Celsius XXL is an upgraded model of one of their most popular sleeping bags. Buyers will find it more than meets their needs when camping, and may even be fun for in home use.

Decision Time

A bag of this size is a lot to handle, so be prepared! Even though they increased the size, Teton did not lower the quality on an already excellent model. This is a great super-sized sleeping bag for any camper.
One of the largest bags you can buy
Zippers don't get stuck as the bag gets older
Very comfortable interior
Designed to maximize room and comfort
Compatible with several other Teton products
Heavy
Doesn't come with a pillow
5. OHUHU DOUBLE SLEEPING BAG
Sleeping bags that were meant for two people are fun from the start and a tempting buy over large sleeping bags. As a couple looking to camp together, a sleeping bag that has two people in mind from the start will be more comfortable, roomy and better than many alternative choices.


Expand to see more
Made For Two People

Ohuhu didn't just make a big sleeping bag and instead built a double from the ground up. The design was clearly meant for two people and it shows, and should make campers comfortable after a long day of hiking. This is one sleeping bag you will look forward to laying down in.

Features and Specifications

Water resistant 210T polyester shell
Cotton filling with T/C lining
Can be used as 2 separate sleeping bags or one big one
Zippers are on both sides
Comes with two small pillows
Handles temperatures up to 23°F ( -5°C)
Price/Value

The deal is definitely stellar, since you're getting two sleeping bags for the price of one, and with pillows. If you look at it like that, then this becomes the cheapest sleeping bag on the list.

Decision Time

Buyers that want the best deal will find this Ohuhu product to be something special. Couples and users that want to spend the lowest price per bag will get a runaway deal.
Plenty of room for two people
Can be split into two separate sleeping bags
Pillows are a really good addition
Carrying bag included to handle everything
Only 6 pounds for the entire set
Combining and separating both bags can be a chore
Has to be aired dried
6. TETON SPORTS CELSIUS REGULAR -18C/0F SLEEPING BAG
Teton makes the list again with one of their popular sleeping bag choices, this time with a little bit of fun extras. So far this bag remains one of their lowest priced to date, and still keeps in line with the most important aspects of a quality sleeping bag.


Expand to see more
A Tough Outer Shell

Having an outer shell that is tough keeps temperatures steady within the sleeping bag and also makes it resistant to a lot of wear and tear. The taffeta shell has proven to be a great material choice for Teton and the rest of their other products.

Features and Specifications

Left or right zipper choices
Green or Brown/Pink colors
Compression sack included
Double layer construction
80×33 inches
Brushed flannel lining
Price/Value

The price is probably the lowest in the Teton lineup, which is a great thing for buyers that want to try Teton for a bargain price. If you aren't a tall camper then the bag is a good purchase.

Decision Time

Campers will find that a good portion of their sleeping bag needs will be exceeded by this Teton model. With great durability and a low price, this bag will be with you for many trips to come.
The included compression sack is a high quality extra
Very durable even if used regularly
Half circle mummy hood style with drawstring keeps head elevated
Great temperature range of 18°C/0°F
Self-repairing zipper takes away common sleeping bag frustrations
Not a lot of color choices
Anyone over 5'10 may find it a bit small
7. SLEEPING BAG – ENVELOPE LIGHTWEIGHT PORTABLE, WATERPROOF, COMFORT WITH COMPRESSION SACK
Abco Tech is not a name campers will be familiar with, but mark it down. The company has really made a splash with this particular product, and it has already beat out 3 Teton sleeping bags. That alone deserves a bit of praise.


Expand to see more
A Price That Is Impossible To Beat

If they went any lower, they'd be giving it away. Abco Tech has also thrown in an extra or two, so it's baffling trying to figure out how they managed to get the price so low. For large families or groups, a bag like this is great to buy in bulk.

Features and Specifications

Barrel shaped design
Rated for extreme temperatures of 20F
Comes with a carry bag
100% polyester lining
210T Polyester outer side
Machine wash safe
Price/Value

As the lowest priced sleeping bag on the list, it has a big advantage over the rest. Other than low customization options, there is very little to not like about this product.

Decision Time

When deciding between this and the other sleeping bags on the list, price will come up. With everything that Abco Tech provides as an incentive to buy, buying seems like a logical option.
Durable outer shell
Great design for comfortable sleeping
Built for extreme conditions
Compression sack and carry bag are a nice bonus
Works great in warm weather as well
No color/design choices other than the default
No ability to zip two bags together
8. TETON SPORTS TRACKER +5F ULTRALIGHT SLEEPING BAG
Teton again? Yes! The Sports Tracker is an alternative from the normal sleeping bag that frequents this list. It is snug fitting, has a lot of attention to details and may become your favorite of the bunch. When you need absolute protecting from the cold while sleeping, the Sports Tracker may provide some surprising features.


Expand to see more
It Keeps You Warm

This is like the lone requirement of any sleeping bag, with many of them have varying degrees of effectiveness. Where the Sports Tracker wins is with its body mapping technology that hugs your body. Insulation is top notch, and you basically become a human caterpillar in a matter of seconds.

Features and Specifications

Weighs 4.1 pounds
3 piece hood
Anti-snag full length zipper
87×34 inches
Vaulted foot box
Water resistant and tear resistant
Price/Value

Amazingly the Sports Tracker is low priced, and will fit a multitude of sizes. Buyers that have had trouble staying warm with other bags will have a better shot with this Teton product. Remember there is not a lot of room to move around!

Decision Time

A great addition to any camper's collection, the Sports Tracker will meet all of your expectations. With the included compression sack for free, it's a purchase that you will appreciate for years to come.
Hood portion of the bag keeps your head warm
Understated shoulder and leg room
Pockets are on both the outside and inside of bag
Great material that is resistant to a lot of effects
You'll be considerably warmer in this sleeping bag than in others
Mummy style may be uncomfortable for some
Pockets are a bit small
9. TETON SPORTS CELSIUS JUNIOR FOR KIDS
It's always nice when a company makes it a point to differentiate their products by age and size. This junior sleeping bag makes the list for that reason and many more, with some surprising good reviews for both the boys and girls category.


Expand to see more
Choice Matters

Going beyond simple colors when giving customers the choice between boys and girls sleeping bags, Teton also offers different colors and zipper positions. Little things like this is what separates this junior sleeping bag from the others in its class.

Features and Specifications

Boys or girls choice
Hand orientation choice of left or right zipper
66×26 inches
Full Length zipper baffle
Pockets on both the outer and inner bag
No snag two way zippers
Price/Value

Low priced and full of options, parents will appreciate being able to give their kids a sleeping bag that has specific sizes and genders in mind. It will last for a really long time, and is backed by a decent warranty. The only bad part is when your kid grows out of it!

Decision Time

Options are always a good thing when camping, and no kid needs to lug around an oversized adult sleeping bag. This junior sleeping bag from Teton should do the trick and keep your children happy.
Does a good job with keeping cold air out
All of the pockets are great for storing valuables
Limited lifetime warranty with great customer support
One of the highest rated junior bags on the market
Can handle temperatures of -7°C/+20°F
Not flannel lined
Quality is a tad bit lower than adult version
10. TETON SPORTS MAMMOTH QUEEN SIZE SLEEPING BAG
Size is what makes the Sports Mammoth stand out from the rest of its peers. Nothing makes a night under the stars better than being able to fit 4 people in the same sleeping bag. And for the selfish individuals, a Queen size sleeping bag is enough space to toss and turn with freedom.


Expand to see more
A Massive Amount of Space

What will you do with all of that extra space? There is a lot of sleeping bag in her for one person, and it's up to you to decide what to do with it. This is one of the largest on the list and holds true to its name. When you factor in the price there is a lot to appreciate with the size, since they didn't sacrifice quality.

Features and Specifications

94×62 inches with a pack size of 27x14x14 inches
Taffeta shell and brushed flannel liner
Available in blue, olive green and grey
20 and 0 degrees Fahrenheit models available
Compression sack included
Unzips on each side and the bottom
Price/Value

This Mammoth bag sits at around the low-mid price range, which is fantastic for what it offers. With the included compression sack, this is a deal that is too good to pass up. Just make sure you have a washing machine that can handle queen sets.

Decision Time

A big bag at a great price is hard to pass up. The comfort level is just right, and they offer enough customizable options upfront to appeal to a large range of users. Customers that need a huge sleeping bag will not be disappointed with this purchase.
Wider than a normal queen mattress
Materials keep cold weather out
Flannel liner feels like high end bedding
Multiple zippers help with ventilation
A large sleeping bag at a great price
Pack weight is 14 pounds
A bit of a hassle to use with some washing machines
How To Make The Best Decision When Choosing A Sleeping Bag
When choosing among the best sleeping bags, the biggest trick is that adults don't have to commit to buying an adult sized bag. Take your size into consideration when choosing a sleeping bag and you'll get a much better deal. Getting a sleeping bag that is bigger than what you need is a waste, and makes the insulation less effective. Factor in your height when shopping for a sleeping bag and there is a chance that junior/children's bag will offer a better choice.
FAQ
Is There A Difference Between Adult Sleeping Bags And Juniors?
Other than size requirements, no. The same quality material used in the adult model can be found in the smaller children's/junior models.
Will A Large Sleeping Bag Be Better Than A Smaller One?
This depends largely on what you want in a sleeping bag, and what kind of sleeper you are. The biggest downside to having a bag that isn't close to your height is that it will have less effective insulation. But the upside is more room to move around, and maybe even fitting someone else in the bag with you. The rule of thumb is if you aren't facing extreme cold conditions then you'll be fine in a bigger bag.
Is The Mummy Design Comfortable?
Yes, although you should stick to quality brands. It looks uncomfortable on the outside, but it is nothing more than a snug fit with a hood. You'll have adequate room to zip, unzip and even to get comfortable.
Why Are All The Prices Low For Sleeping Bags?
There are medium and high priced sleeping bags, but they are for professional hikers or mountain climbers. For regular customers that aren't doing anything straying away from ordinary camping, spending more than the low price would be a waste.
Subscribe to our Newsletter