Best Hiking First Aid Kits Reviewed
First aid kits can come in handy when injuries occur, minor or major. In some cases they can save a life until adequate hospitalization is required. Although some knowledge of using the medical tools is necessary for a lot of the materials in the bag, there are still a lot of items included that require the bare minimum experience to use.
Best Brands
There are no best brands, but rather compatible products. Some of the kits contain a poncho and compass while others don't. Rather than brand recognition, customers are more invested in the included tools. With the right setup, all minor and major injuries can be handled with the right kit.
Maintenance and Cleaning Tips
There are some one time use items and then there are multiuse items. For obvious reasons, the onetime use items shouldn't be reused. They will usually be sealed away in a separate bag to protect them from germs. The same care to these items should be the same priority you give the entire bag. Keep dirt and germs away from it, and if something looks compromised, replace it immediately.
Our Top 3 Picks
10 Best Hiking First Aid Kits
1. Tripworthy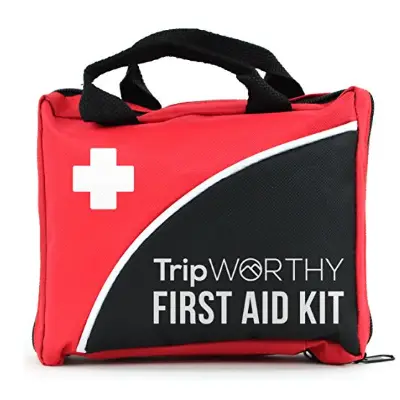 The top spot on the list goes to Tripworthy with their one of a kind first aid kit. With a little bit of innovation they turned something simple into the most special purchase on the list.


Expand to see more
Highest Grade Tools
The best tools are available in this bag, and they manage to be durable all without adding excess weight. You can pit the tools in this bag against any of the others on the list an reach a satisfying result.
Features and Specifications
Dimensions are 5.1×7.5×2
Suitable for camping, outdoors and home use
Price/Value
The best on the list still sticks to the low price structure of the rest, which is amazing when you compare tool quality. A lot of the value will come from the high grade materials, but the price also plays a role in it too.
Decision Time
A great amount of time went into making this the best first aid kit for
hiking
. TripWorthy produced a product that will definitely find a worthwhile place in your adventures.
Tough bag with even tougher tools inside
Long expiration date even when compared to other kits
Some items should have been omitted to make room for more traditional tools
2. Northbound Train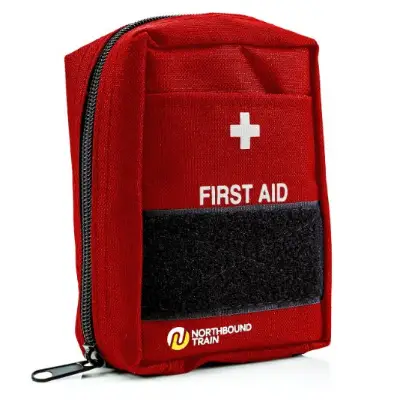 Available in black or red, this kit from Northbound Train will come in handy in or out of the home. While a lot of kits focus on outside injuries, this one has a nice focus on both inside and outside injuries.


Expand to see more
Can Be Used In All Situations

When used inside the home it will have as many benefits as using it outside to treat injuries. Along with the great balance is the ability to strap it onto your backpack when hiking.

Features and Specifications

Water resistant nylon bag with waterproof pouches
Molle compatible attaching system

Price/Value

The price is low again, with the value peaking due to the multiple indoor and outdoor uses. Buyers will find this to be a useful addition to their household.

Decision Time

Having a kit that can be just as useful away from the home as in is a big benefit. The company struck gold with this product that is sure to catch the attention of first aid kit users.
Works great for indoors, outdoors and in cars
Premium quality tools
Requires some customization after opening the package
3. Surviveware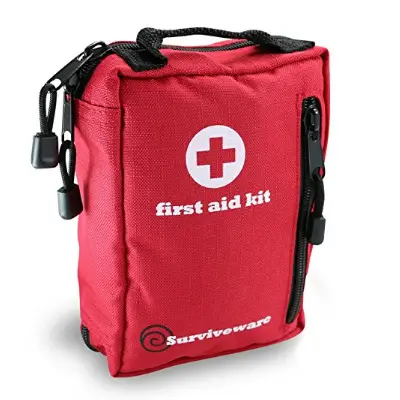 Calling this a small first aid kit doesn't really describe the many items available in the bag. It's anything but small, and may have the most comprehensive set of medical tools on the list.


Expand to see more
Great Bag

As the second best bag on the list, the red 600D polyester kit is one of the strongest in its class. Customers won't have to worry about the bag ripping over the years and it should hold up well.

Features and Specifications

Stainless steel scissors
Waterproof inner bag with laminate pouches

Price/Value

Keeping with the tone of the rest of the list, the price is low. With such a high quality bag, it is a bargain that should not be passed up.

Decision Time

Customers have some really hard choices to make with all of the great kits on the list. At the very least, this first aid kit proves to be one of the leaders in the pack.
Up to 100 tools are included
Bag has a lifetime guarantee attached to it
No room to add on extra tools in or outside of the bag
4. Always Prepared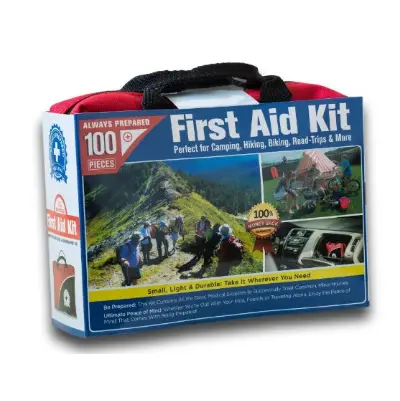 Always Prepared comes in at #4 on the list with one of the best kits available for a multitude of uses. It is another one of the larger first aid kit choices, and comes with a variety of tools to get the job done.


Expand to see more
Bigger And Better
This is an upgraded version of their previous versions, and it features more tools, stronger tools and better organization. It took all of the cons of the previous version and turned them into pros.
Features and Specifications
Weighs 1.1 pounds
Easy to Claim Lifetime Guarantee
Price/Value
Like all of the previous products this is low cost and the lifetime guarantee only sweetens the deal. Any buyer that wants to try it out will get a good value.
Decision Time
There are a lot of things in this kit not found in others, like a poncho and compass. It has enough variation to make it a great
all around camp
for when a first aid kit is needed.
A great assortment of high grade tools
Included bag is the best on the list and the most organized
Band aids are hit or miss
5. Dayhiker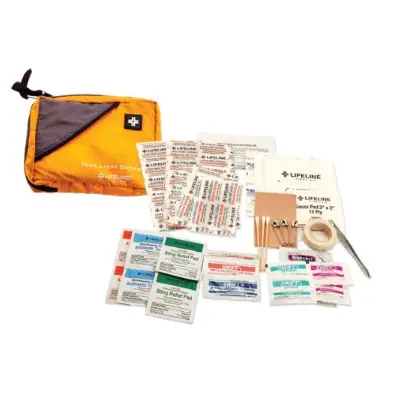 When it comes to finding a first aid kit that is easy to use but still treats an adequate amount of people, there are fewer choices better than the Dayhiker First Aid Kit. It was built with outdoorsman and the relevant dangers in mind, all within a small manageable package.


Expand to see more
Built For Outdoor Injuries

Going beyond the usual multiple tool offerings, this kit focuses on injuries that are usually sustained from hiker. It can treat up to three people and can be carried without adding any extra bulk to your pack.

Features and Specifications

Dimensions are 8.5x6x4.5
Includes a basic first aid guide

Price/Value

This is one of the lowest priced kits on the list, but then again it's also targeting a specific group. Outdoorsman will get the most value out of this pack since it has the most relevant tools.

Decision Time

Hunting, hiking and just general outdoor fun has its dangers, and that is why this kit is so important. Three people can get the major benefit of first aid and not have to consider cutting their trip short.
Handles fractures, sprains, strains and infections
Bag fits comfortably in any pack
6. Northbound Train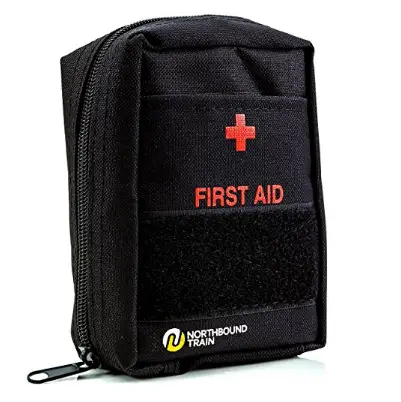 The idea behind this Northbound Train creation is that first aid kits should be ready for any emergency. Balance once again comes into play as the company looked to provide as many tools as possible without compromising size.


Expand to see more
Designed By A U.S. Marine

This holds weight in any industry and it's easy to tell why when you consider some of the features included. Everything is professionally packed and made for an on the go user.

Features and Specifications

Weighs 11 ounces
Dimensions are 5x7x3

Price/Value

With the way the kit needs to be rearranged to fit your lifestyle, this is the perfect jack of all trades value. The price is low and you'll get a lot of use out of it no matter what your emergency.

Decision Time

This is the perfect first aid kit for users that don't want to purchase multiple kits for different emergencies. With a little bit of time you can create the perfect rescue bag for any type of emergency.
Has enough materials to treat four people
Includes tools for tactical, hiking and travel style customers
Requires some personalizing
7. Adventure Medical Kit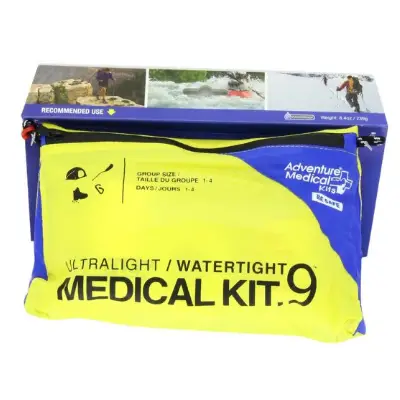 Sometimes the tools need to be protected as much as the people that need them. Adventure Medical Kits goes the extra mile in protecting the same tools that could save your life.t


Expand to see more
Resistance To The Max

Not only is the kit itself water resistant, but the tools are stored in an inner DryFlex bag with outer seam-sealed siliconized nylon. Once zipped up, each individual tool is fully protected from water and bacteria.

Features and Specifications

Two stage waterproofing
Weighs 12 ounces

Price/Value

With a low price, it's worth it if you need the lightest emergency kit available. Without taking up too much space it can be a real lifesaver.

Decision Time

Even though it lacks some of the essential big items in a first aid kit, there is no other product on this list that takes less space. It's a great emergency option that won't add any bulk.
Ultra-portable and can fit in a pocket
Lightest first aid kit on the list
Contains only the bare essentials
8. I Go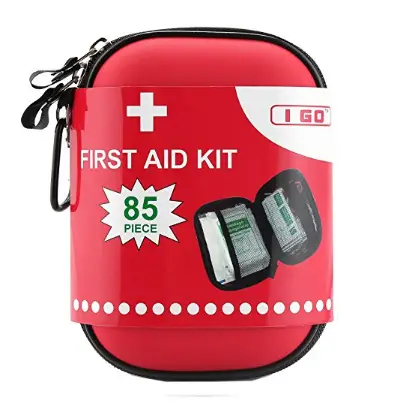 Getting back to the big kits, this one from I Go finds a comfortable middle ground between all the kits. Having a mixture of both important and low level tools, it seems to have struck an overall good balance.


Expand to see more
The Right Amount Of Protection

There are 85 medical items included in the kit, all from low level, mid and high in terms of importance. No major tools were left out, and it seems they took a lot of time balancing out the kit.

Features and Specifications

Water resistant bag
Bag measures 15x11x6

Price/Value

Even with the smallish Band-Aids, this low priced kit is well worth a purchase. The price is low, so you'll get your money's worth even if you buy separate Band-Aids.

Decision Time

This first aid kit does a good job with the basics without leaving out all of the important stuff. It may not be compact, but it provides all you need for an emergency situation.
Great variety in the bag
Good size that isn't too bigger than the compact sizes
Band-Aids in the kit are too small
9. MediSpor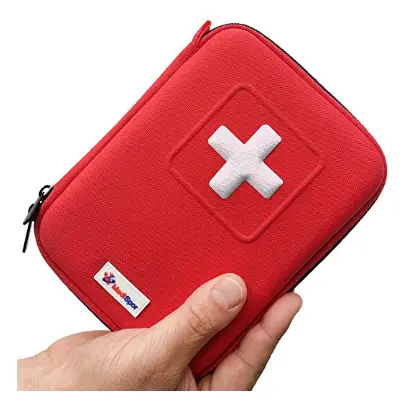 There isn't really a lot a first aid kit can get wrong, which is why it's nice to see what MediSpor has to offer with their kit. There are some slight variations that they made with their model that stands up really well against the others.


Expand to see more
Available In Multiple Colors

The kit can be purchased in either red or green, which may not seem like much but makes it perfect for gift giving. The colors are bright and detailed with signage that make sure the kit is recognizable by strangers.

Features and Specifications

30 medical items included
Measures 7.5×5.9×2.1

Price/Value

Just like the size is compact, so is the price. Buyers will be able to store this in several places for emergency use without putting a dent in their wallet.

Decision Time

This kit contains more than enough to get the job done, even if it sacrifices some key tools in order to meet its size requirements. Customers looking for an ultra-portable first aid kit will still not be disappointed.
Small and compact
Can fit in small purses or bags
Missing a lot of key items
10. Reebow Tactical Gear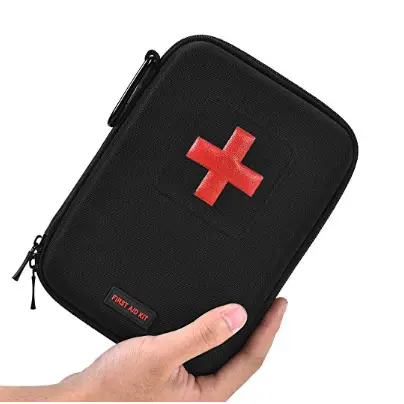 Being prepared is always a good thing when you're outdoors. And thanks to Reebow Tactical Gear, you'll always be ready for the worst.


Expand to see more
Meets Major Standards

This first aid kit meets FDA/CE/ISO13854 standards, so there are no worries about things being out of date within the kit. Everything you need is in the bag and ready to go the moment you unwrap it.

Features and Specifications

110 piece medical supply
Size of 7.5×5.1

Price/Value

This is a very competitively low priced first aid kit that should appeal to all users. With some organization here and there it can be your go to first aid kit.

Decision Time

There is nothing too fancy about this kit, but the good thing is that it works as intended. You'll spend more time using it than trying to figure out how to use it.
Bag is good quality and resistant to rips
Medical supplies are some of the highest quality in the industry
Things are a bit cluttered in the bag
How To Make The Best Decision When Choosing A First Aid Kit For Hiking
Believe it or not, the multiuse kits are sometimes just as useful as the kits meant just for hiking- and it's a prime reason they are included on the list. No one kit is going to have every single thing you need, so often buyers will purchase different ones or opt to get a kit that allows customization. If you tend to not know what you want (or need) these customizable kits can be a good alternative to purchasing multiple different kits. Either way, you'll be in good hands.
FAQ
Can I Reuse Onetime Tools?
No, never do this. These tools were meant to be used once and then thrown away. You risk infecting all of the tools in the bag if you reintroduce them to a used one use tool.
Are There Any Benefits To Purchasing Different Kits?
Yes, and it is recommended if you don't want to purchase a kit that allows customization. First aid kits can be purchased for specific trips, travels or even specific areas of the house. Find the ones that fit their intended purpose and place them accordingly.
Are The Tools High Quality?
All of the ones on the list are high quality, and that's important. The last thing you would want from a tool that is piercing your skin is for it to break off inside of you. This can cause further complications and is the main reason why only premium tools are used in kits.