Best Hiking First Aid Kits Reviewed & Rated
As everyone knows, accidents happen! Whether you're hiking through the woods, or in your backyard mowing the lawn, you never know what life has in store for you. And if you like spending your time outside, then you also have to look out for animals as well. Whatever the case may be, you need to be prepared for the worst. Having a first aid kit at home and during your travels can make the difference between life and death.
A First Aid kit is a collection of supplies and equipment that is used to give medical treatment. Not all First Aid kits have the same content. Some have more variety and quantity while others are more basic. The type of first aid kit you need will depend on where you will be using it and how much knowledge and experience you have. Do you need something for the home or car, or do you need something smaller and compact for easy portability?
We've compiled a list of medical supply kits that meet a variety of different needs. We're confident that you'll not only find the right kit, but our 'Criteria' and 'Frequently Asked Questions' section will provide you with all the information you are looking for!
Featured Recommendations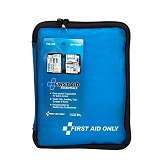 First Aid Only All-Purpose

Our rating
Premium quality
Price:

See Here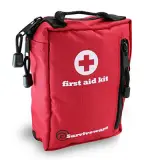 Surviveware Kit

Our rating
Great Bag
Price:

See Here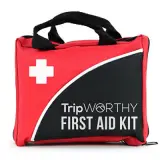 Tripworthy Compact First Aid Kit

Our rating
One of a kind
Price:

See Here

There are no best brands, but rather compatible products. Some of the kits contain a poncho and compass while others don't. Rather than brand recognition, customers are more invested in the included tools. With the right setup, all minor and major injuries can be handled with the right kit.
There are some one-time use items and then there are multi-use items. For obvious reasons, the onetime use items shouldn't be reused. They will usually be sealed away in a separate bag to protect them from germs. The same care to these items should be the same priority you give the entire bag. Keep dirt and germs away from it, and if something looks compromised, replace it immediately.
15 Best Hiking First Aid Kits
1. First Aid Only All-Purpose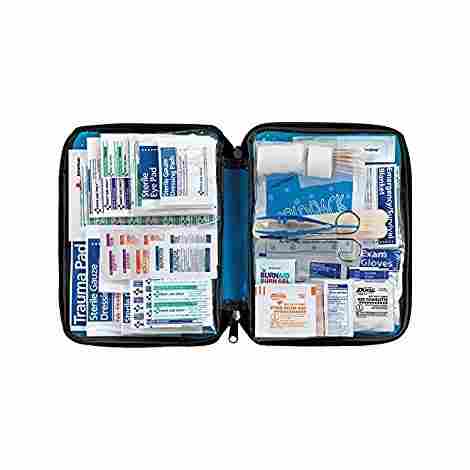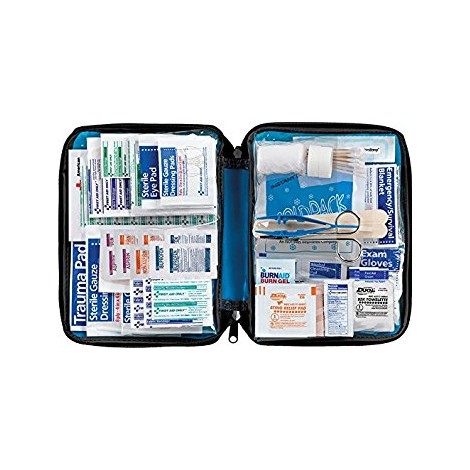 I wanted to put in one more large first aid kit, for variety's sake. While it's not meant for really big groups or prolonged outings, the First Aid Essentials kit is going to be able to support a smaller group quite nicely. It's nearly three hundred piece count will be able to handle all of the most common injuries with ease.
Expand to see more
So much inside
I mention down below how it does not include every essential item usually found in first aid kits, but those are easily found for very cheap. This kit makes room to treat some less common, but no less urgent injuries.

Meets regulations
Meeting OSHA regulations is great and all, but what does that have to do with a hiking kit? Any first aid kit that would be accepted in an industrial workplace setting is going to be able to help anyone in their time of need.

Cost and Value
I couldn't believe what I was seeing when I noticed the cost of this kit. It is so well priced that having one is a no-brainer. Just be aware, you do get what you pay for, as this is not meant for serious injury.

Easy to carry fabric zip pouch

Complies with OSHA regulations

Very comprehensive

Incredible value
Doesn't include all essential items

Only meant for minor injuries
2. Surviveware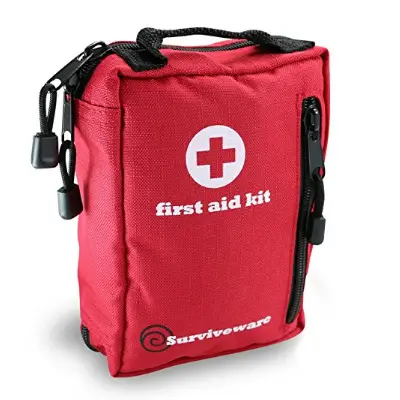 Calling this a small first aid kit doesn't really describe the many items available in the bag. It's anything but small and may have the most comprehensive set of medical tools on the list.


Expand to see more
Great Bag

The red 600D polyester kit is one of the strongest in its class. Customers won't have to worry about the bag ripping over the years and it should hold up well.

Features and Specifications

Stainless steel scissors
Waterproof inner bag with laminate pouches

Price/Value

Keeping with the tone of the rest of the list, the price is low. With such a high-quality bag, it is a bargain that should not be passed up.

Decision Time

Customers have some really hard choices to make with all of the great kits on the list. At the very least, this first aid kit proves to be one of the leaders in the pack.
Up to 100 tools are included
Bag has a lifetime guarantee attached to it
No room to add on extra tools in or outside of the bag
3. Tripworthy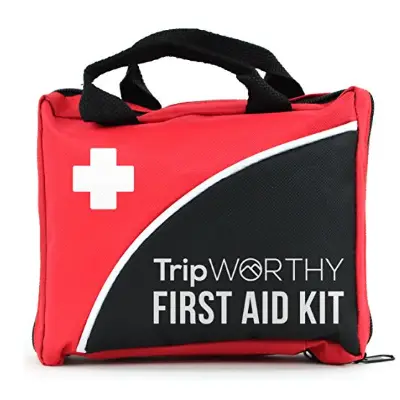 The top spot on the list goes to Tripworthy with their one of a kind first aid kit. With a little bit of innovation, they turned something simple into the most special purchase on the list.


Expand to see more
Highest Grade Tools
The best tools are available in this bag, and they manage to be durable all without adding excess weight. You can put the tools in this bag against any of the others on the list an reach a satisfying result.
Features and Specifications
Dimensions are 5.1×7.5×2
Suitable for camping, outdoors and home use
Price/Value
The best on the list still sticks to the low price structure of the rest, which is amazing when you compare tool quality. A lot of the value will come from the high-grade materials, but the price also plays a role in it too.
Decision Time
A great amount of time went into making this the best first aid kit for
hiking
. TripWorthy produced a product that will definitely find a worthwhile place in your adventures.
Tough bag with even tougher tools inside
Long expiration date even when compared to other kits
Some items should have been omitted to make room for more traditional tools
4. Northbound Train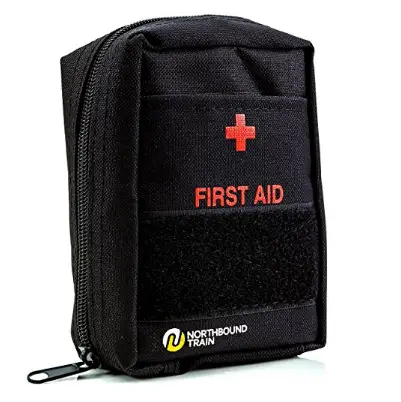 The idea behind this Northbound Train creation is that first aid kits should be ready for any emergency. Balance once again comes into play as the company looked to provide as many tools as possible without compromising size.


Expand to see more
Designed By A U.S. Marine

This holds weight in any industry and it's easy to tell why when you consider some of the features included. Everything is professionally packed and made for an on the go user.

Features and Specifications

Weighs 11 ounces
Dimensions are 5x7x3

Price/Value

With the way the kit needs to be rearranged to fit your lifestyle, this is the perfect jack of all trades value. The price is low and you'll get a lot of use out of it no matter what your emergency.

Decision Time

This is the perfect first aid kit for users that don't want to purchase multiple kits for different emergencies. With a little bit of time, you can create the perfect rescue bag for any type of emergency.
Has enough materials to treat four people
Includes tools for tactical, hiking and travel style customers
Requires some personalizing
5. DeftGet 163 Piece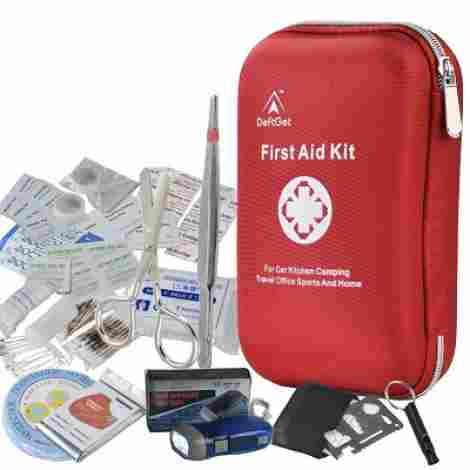 DefGet created a perfect traveling medical gear that is compact and lightweight. They've upgraded their kit with a better variety of items made from higher quality materials. The case is built to be durable and take a beating while safely storing all the valuable supplies you need in case of an emergency. The company is so confident with the quality of their product that they offer a 100% satisfaction guarantee.


Expand to see more
Upgraded Items

DeftGet understands that ensuring customer satisfaction means providing them with the newest and best medical supplies available. This set includes upgraded items including scissors, compass, and tweezers.

Compact Nylon Case

The compact nylon case is organized to make it easier for you to find what you need in case of an emergency. Even though it includes many items, this case is lightweight and perfect for traveling with.

Cost and Value

This medical supply kit comes in the lower price range but has a wide variety of important items. It can easily fit in your glove compartment box or in your backpack, making an important traveling accessory.

Comes with upgraded items
The case is lightweight and durable
Great for traveling
Includes 163 essentials
Some complaints about the quality of band aids
6. Adventure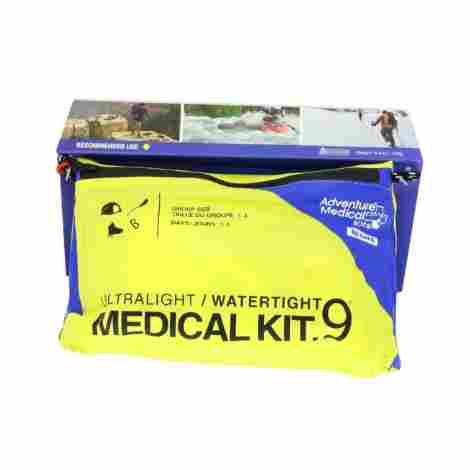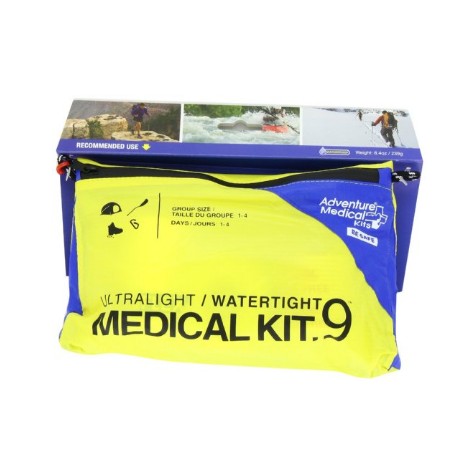 Sometimes the tools need to be protected as much as the people that need them. Adventure Medical Kits goes the extra mile in protecting the same tools that could save your life.


Expand to see more
Resistance To The Max

Not only is the kit itself water resistant, but the tools are stored in an inner DryFlex bag with outer seam-sealed siliconized nylon. Once zipped up, each individual tool is fully protected from water and bacteria.

Features and Specifications

Two-stage waterproofing
Weighs 12 ounces

Price/Value

With a low price, it's worth it if you need the lightest emergency kit available. Without taking up too much space it can be a real lifesaver.

Decision Time

Even though it lacks some of the essential big items in a first aid kit, there is no other product on this list that takes less space. It's a great emergency option that won't add any bulk.
Ultra-portable and can fit in a pocket
Lightest first aid kit on the list
Contains only the bare essentials
7. I Go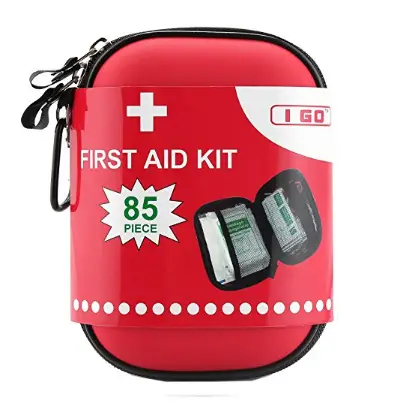 Getting back to the big kits, this one from I Go finds a comfortable middle ground between all the kits. Having a mixture of both important and low-level tools, it seems to have struck an overall good balance.


Expand to see more
The Right Amount Of Protection

There are 85 medical items included in the kit, all from low level, mid and high in terms of importance. No major tools were left out, and it seems they took a lot of time balancing out the kit.

Features and Specifications

Water resistant bag
Bag measures 15x11x6

Price/Value

Even with the smallish Band-Aids, this low priced kit is well worth a purchase. The price is low, so you'll get your money's worth even if you buy separate Band-Aids.

Decision Time

This first aid kit does a good job with the basics without leaving out all of the important stuff. It may not be compact, but it provides all you need for an emergency situation.
Great variety in the bag
Good size that isn't too bigger than the compact sizes
Band-Aids in the kit are too small
8. Dayhiker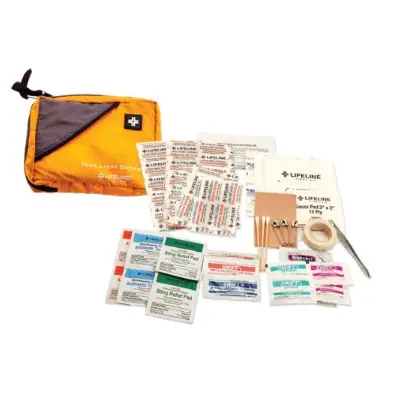 When it comes to finding a first aid kit that is easy to use but still treats an adequate amount of people, there are fewer choices better than the Dayhiker First Aid Kit. It was built with outdoorsman and the relevant dangers in mind, all within a small manageable package.


Expand to see more
Built For Outdoor Injuries

Going beyond the usual multiple tool offerings, this kit focuses on injuries that are usually sustained from the hiker. It can treat up to three people and can be carried without adding any extra bulk to your pack.

Features and Specifications

Dimensions are 8.5x6x4.5
Includes a basic first aid guide

Price/Value

This is one of the lowest priced kits on the list, but then again it's also targeting a specific group. Outdoorsman will get the most value out of this pack since it has the most relevant tools.

Decision Time

Hunting, hiking, and just general outdoor fun have its dangers, and that is why this kit is so important. Three people can get the major benefit of first aid and not have to consider cutting their trip short.
Handles fractures, sprains, strains and infections
Bag fits comfortably in any pack
9. Adventure Medical Kits Sportsman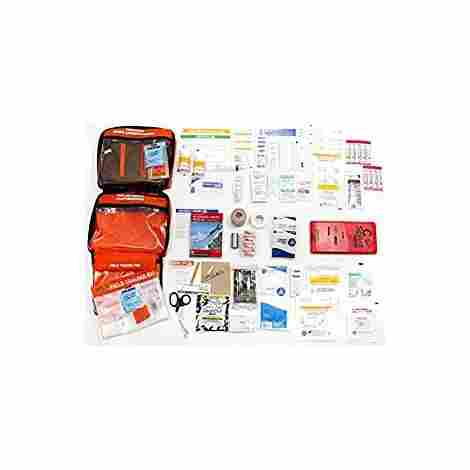 The Sportsman Series first aid kit is for the big boys. The serious players who really get out there and give their all. Or maybe just a really large group of hikers. This kit is designed for long, grueling excursion out into the wilderness. If you like to play hard, here's your first aid kit.
Expand to see more
Heal a village
Not only are you getting long-term care from this kit, but it's going to be able to treat thirteen other people at the same time. Hopefully, needing to help fourteen people at once won't be necessary, but here's the solution, just in case.

Portable hospital
This Sportsman Series first aid kit contains the tools to handle anything from splinters, all the way up to severe bleeding and bullet wounds. Like the saying goes, "always be prepared".

Cost and Value
Make no mistake about it, this is an expensive kit. You are going to pay quite a bit for it, but if you're in need of a serious first aid kit capable of patching up some severe wounds, or sustaining you for up to fourteen days, you won't find a better value.

Provides hospital-quality care

Can treat up to 14 people

Field guide included

Compact for such a large kit
Shoddy case

High price point
10. MFASCO Trauma Bag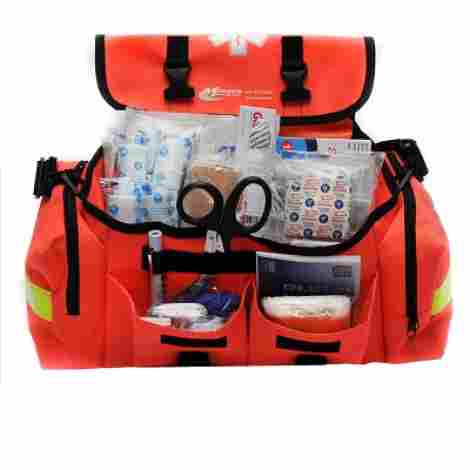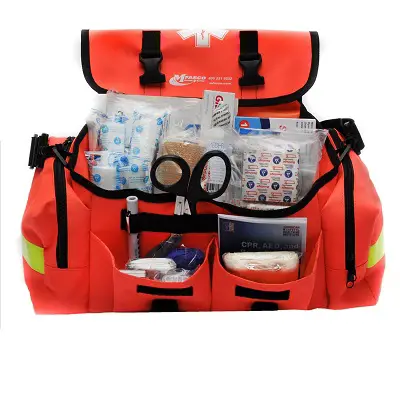 The MFASCO Trauma Bag was designed to handle a wide range of different injuries and medical emergencies in varying situations, including natural disasters such as tornados and earthquakes. The bag is reflective so you can quickly find it in low visibility and includes extra space for custom items. Whether you have a cut, burn, or need to treat low blood pressure, you'll find everything you need here.
Expand to see more
Lots of Storage Compartments

The heavy-duty bag is extremely spacious and includes a large compartment, 2 front pockets, and 2 zipped side pockets. Despite the fact that it contains 407 items, you still have enough room for extra supplies that meet your personal needs.

Great for Emergencies

If you need something for the home, cabin, or the trunk of the car, this is it. The kit includes many of the basics needed to treat minor emergencies, including eye wash, blood stop dressing, and gauze pads.

Cost and Value

This is a little pricier than most of the items on the list, but it also includes 407 medical and emergency supplies. It has all the basics and more, including an emergency blanket, blood pressure cuff, and a stethoscope.

Includes 407 items
Large storage bag includes extra space
Bag material is reflective
Some complaints about bag material
Ideal only for minor injuries
Camping/Hiking First Aid Kit Checklist
The lure of the outdoors can be enriching and worthwhile if you take all the needed steps that will be of help when looking at safety. The camping first aid kit checklist have a number of items on it that requires your personal attention if you are a hiker that places a premium on personal wellbeing.
If you are getting set for that hiking adventure, you need to brace up for the known and the unknown, as far as the wilds are concerned. When you are out in Public Park, there is a certainty that little or no surprises will be expected.
Another comforting fact is that unlike in the remoteness of most hike trails, you can be sure help will reach you wherever you are in your city.
Anyone going on a trail such as the Appalachian landscape will brace up for far more challenges than a mere trip to Disneyland. While the wild offers you unrivaled fun and sightseeing, it comes with its unique threats as well. This is where planning cannot be overlooked so that you will have within your grasp; all that is needed to put you on the safe side.
The Checklist
There are important guidelines that will aid your adventure, but make sure to have your checklist marked out as needed.
The first aid list
Antibacterial ointment
Alcohol-based, BZK-based or other Antiseptic wipes
Fabric-based bandages
Blister treatment pads
Benzoin tinctures and other bandage adhesives
Wound-closure adhesive or Butterfly bandages
Assorted Gauze pads
(Nonstick) sterile pads
Medical adhesive pads
Insect sting instant kits
Analgesics and other pain-relieving drugs
Allergic treatment solutions
Safety pins
Tweezers and Splinters
Information cards
First-aid brochures
Medications/Treatments
Aspirin
Eye drops
Hydrocortisone creams
Antacid tablets
Poison oak treatments
Lubricating eye drops
Hand sanitizers
Sunburn-protection gels
Throat lozenges
Lubricating eye drops
Oral rehydration salts
Anti-fungal powdered solution
Antibiotics
Allergic shot packs
Insect sting solutions
Loperamide or other diarrhea treating tablets
Glucose
Other sugar solutions for relief of hypoglycemia
Tools and Related Supplies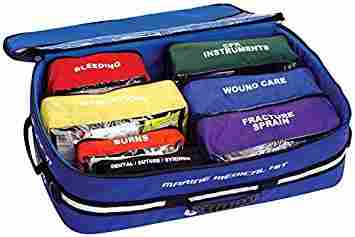 Medical waste bags
Paramedic shears or blunt-tip scissors
Surgical gloves-non latex
Low reading thermometer
Standard oral thermometer
Needle-nose pliers (wire cutting type)
Irrigation syringe (18-gauge catheter)
Steel sewing needle ( heavy-duty thread capacity)
Pains and weather condition
To get relief from pains, aspirin or Ibuprofen can be called to the occasion. These will douse internal pains and headaches. When intestinal discomfort arises, diarrhea stemming drugs like Imodium will be needed.
The open vast spaces can be alluring for suntan but watch out for sunburns. The use of sun spray reliefs will help when considering protection from the sun rays or the harsh midday sun.
Other weather effects like lip chapping can be relieved with chapsticks. A bit of zinc oxide will protect your skin while other burn creams are also recommended. Kits to cater for snake bites should not be overlooked as the wild has such reptiles in their numbers.
A simple multi-tool that can be used for cutting, hammering or extricating can be useful. Just make sure to go along with the Leatherman type that is lightweight.
The checklist you need for camping or hiking needs to be updated periodically. Do not forget that where you might be headed during a spring hike might differ from the fall recommendation. In any case, ensure that you update your checklist and pay attention to the peculiarities of each destination.
A tool for each condition
On the trail, there are occasional scrapes and cuts that happen. This is the reason for a range of bandages. Also in this class, there is the need for swipes fortified with an antiseptic solution. Antibiotic creams are used for soothing purposes while hydrogen peroxide is needed to wash open wounds and cuts.
Having a saline solution will come in handy when you need to wash your eyes after coming too close to fumes, and ashes cinder. The effect of the properties of the wood that is burned might vary depending on the species of the shrubs and flora.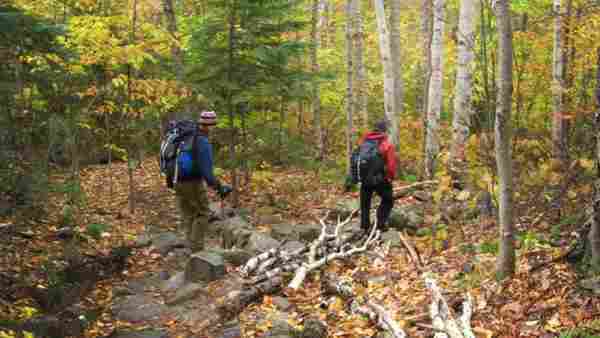 The use of Q-tips is seen whenever there are scratches, insect bites or other small cuts. A pain relief dab is used also in this case to douse any inflammation. A quick attention to bites or cuts will stop the condition from getting aggravated.
The hiking trail, unfortunately, brings you in close contact with thorns and thistles. To remedy this, tweezers are needed to extricate piercing shrubs from your skin pores. After this step, you will need a knife or scissors to rend the tape to use as a binder.
There are many variations of the camping checklist that you can draw up to suit the needs of the time or season. Make sure that you are up-to-date with prevailing trends when you set out for new destinations. No one will be pleased to find a different set of conditions than what was prepared for when the campsite is open for access. The best hike or camping experience is assured when you make sure that you have a ready kit to attend to situations, as they arise.
When To Replace Your First Aid Kit
The scary thing about a first aid kit is that when you need it, you mostly have an emergency and there is no time to start looking around or to go out and buy one. Hence, it's a good idea to know when it's a good time to get a new first aid kit.
If you don't have one
Do you have a first aid kit in your house, car or workplace? If your answer is no, then the best time to get a new one is now. There are a number of advantages that come with buying a new first aid kit. Ask anyone who keeps essential medical supplies in different places and they will tell you how difficult it is to locate something when you need it. Having a first aid kit ensures that you keep all the medical supplies in a central location that everybody can reach during an emergency.
Changing circumstances
Whether you need your first aid kit for the home, outdoors or work environment, it's a good time to get one when your circumstances change. In the workplace, when you have more employees, you may want an extra kit to take care of the growing numbers. The same applies at home. The more members you have in the family and their different conditions will determine when you need to get a new first aid kit.
It is also important to look at the changing nature of the activities you do. For instance, if a member of the family takes up a hobby such as hiking, you may have to get a specific kit for hiking. The same would apply to members of the family who travel for sporting or other outdoor activities.
Buying a new car
It's essential to have a first aid kit in the car. So, whenever you get an extra car, you get a new first aid kit too so that every car has its own kit. While several cars can share one kit, it becomes a challenge when both the cars are in use.
When contents expire
Sometimes you don't need to buy a new first aid kit, you just need to replace the contents as they expire. It's always advisable to maintain a register of the things in your first aid kit and replace them as they expire. You don't want a situation where you rush to the kit in an emergency to discover that the items in there are no longer usable.
Criteria Used to Evaluate the Best Hiking First Aid Kits
A first aid kit is not one of the easiest items to evaluate when you are looking for the best in the market. Why? Because you need to do a lot more work trying to understand what a proper hiking first aid kit should contain. It's also easy to be hoodwinked by marketing tricks into thinking that the box that has the most things is the best. We certainly don't think so. We think that a hiking first aid kit should have only that which is required.
Suitability for hiking
Our evaluation starts with asking whether the people who put the first aid kit together understand that first aid kits should be equipped for a specific purpose. Basically, you could have a first aid kit suitable for adventure, an overnight trip, day trips, home, or for the car.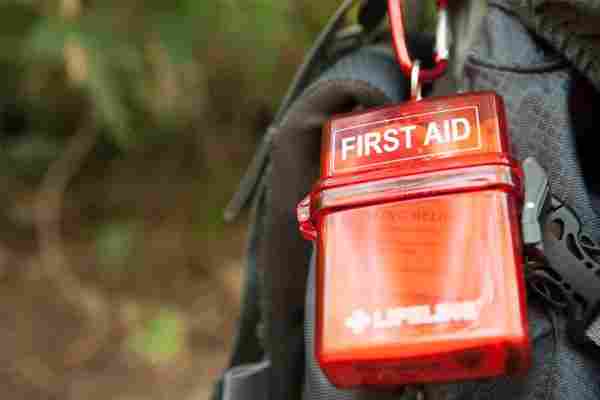 The kind that we were looking for to include in this list was one for either overnight or day trip. To a large extent, this kit should be lightweight and portable. Included in these types of kits would be the basic medication you get over the counter, plaster, and other stuff such as blister treatment.
In terms of the day hiking trip, we looked mostly for a minimalistic kit which you could carry with you to treat small problems that are common on the trail. The kits we selected don't necessarily have to treat trauma or medical problems. If it can take care of burns, everyday cuts, scrapes, and blisters, we certainly think that it's good enough to include on our list.
List of contents
After determining that the kit we had selected was the right one for hiking, we started looking specifically at what is inside the kit. When buying a first aid kit the most vital factor you want to ensure is the contents. We certainly think that there are items which are not negotiable; they simply should be there. Here we were looking for items as a pair of scissors, SAM splint, and tape. Even though these are vital items to have in a first aid kit, many people tend to overlook these when buying one.
Variety of components
We know that it's easy to be hoodwinked by the number of components in a first aid kit to think that it's a good product. Since we are looking for hiking kits, in this case, we started by considering the types of injuries or conditions that may need to be treated when you are out hiking. Then we assessed if the kit contained the right variety of components to treat the typical hiker's injuries.
Useful Information
It's true that information is power, it wouldn't be helpful to have a good first aid kit if you have no idea what to do with the things inside. When we created our list of the best 15, we took a look at the instructions inside.
We always ensure that the guide is properly written. There are too many of these guides translated from one language to the other using translation software so that it's a challenge to make sense of what is being said. The quality of the guide is an easy way to tell the quality of the contents of the kit. We don't think that someone who will not pay attention to something as important as a guide will pay attention to anything else.
We only included those kits that had guides written by credible sources. It is also important to ensure that the information is current and can easily be understood when under stress.
Price
It's almost impossible to have evaluation criteria that don't include price. However, having the lowest price doesn't always mean that the kit is the best for your hiking trip. Manufacturers can always try to outcompete each other by selling their products cheaper through compromising quality. When we see two products that have almost the same contents with prices that are vastly different, we move with care as most of the times, the cheaper product has inferior quality items.
User reviews
We live in an era of information overload where you can search for any information on the internet. We take advantage of this when we evaluate and rate products. We read reviews from users to identify the products that are constantly getting good ratings from different users.
We also took some time to look at other authority websites to see what they are saying about the products on our list. When we look at the reviews by the users, we check to see if the manufacturer's promise is being maintained. If it is, then the product goes on our list.
Pros and Cons
If you look at every kit we have assembled on our best list, you will notice that we always look at the pros and cons of the product. This ensures that we give each product an objective evaluation. You will also realize that none of the products have more disadvantages than advantages. Once we see that a hiking first aid kit on the list has more disadvantages than advantages we remove it.
Availability
It doesn't matter how great a product can be if it's not available on big retailers such as Amazon. Once we have the products on the list, we visit the big retailers to check if it's available. If we discover that it's out of stock, then we can't include it on our list.
Terminology
FDA: The Food And Drug Administration. They protect the public health by regulating medical devices, among other things. When putting together a first aid kit, the contents inside don't necessarily need to be FDA approved, but the ones that show that they comply with the standards set by the agency and are less likely to cause issues when used.
First aid: First aid is the help given to an injured party before proper medical attention can be administered. This is meant to stabilize the victim and prevent further injury.
Analgesics: Any member of a group of prescription drugs meant to provide relief from pain sustained by injury.
Hydrocortisone: A topical steroid found in first aid kits designed to reduce inflammation, redness, and swelling, often caused by allergic reaction.
Antibacterial cream: An ointment used to treat minor infections that occur on the skin.
Expiration Date: As far as first aid kits are concerned, the expiration date is for the medications that are often included inside. It is very important to make sure to regularly check these dates to avoid taking compromised pills.
Wound closure strips: Porous strips made of surgical tape meant to temporarily close large wounds when not close to medical aid.
Sting relief pads: Medicated pads that offer temporary relief of the itching that comes from insect bites and stings.
FAQs
Frequently Asked Question
Q: Can I Reuse Onetime Tools?
A: No, never do this. These tools were meant to be used once and then thrown away. You risk infecting all of the tools in the bag if you reintroduce them to a used tool.
Q: Are There Any Benefits To Purchasing Different Kits?
A: Yes, and it is recommended if you don't want to purchase a kit that allows customization. First aid kits can be purchased for specific trips, travels or even specific areas of the house. Find the ones that fit their intended purpose and place them accordingly.
Q: Are The Tools High Quality?
A: All of the ones on the list are high quality, and that's important. The last thing you would want from a tool that is piercing your skin is for it to break off inside of you. This can cause further complications and is the main reason why only premium tools are used in kits.
Q: What Are Specific Items I Should List?
A: Listing what you need is the first step to packing appropriately for your hike. Items to include should be:
Your preferred Antiseptic wipes
Medicated ointment (with antibacterial properties)
Fabric-based adhesive bandages
Wound closing adhesive strips
Assorted Gauze pads
Sterile pads (nonstick)
Water bottle
To remain energized, you need to have energy-packed foods that will fuel your body system. Just be sure to be on the lightweight slant, when packing these energy bars. Include dried fruits that can boost your energy supply on your list.
Q: What Are the Necessities?
A: It is absolute that you prepare to have some prized necessities as you get ready to hit the wild. There is no overlooking this important aspect of your preparation, as it could make the difference between staying alive or tethering on life's edge.
You need to make a list that includes what you cannot overlook requiring during your field trip. You need soaps to start with. Take such as you need to avoid unnecessary baggage. Keep rolls of toilet paper in neat folds; without the cardboard centerfold, to save space.
Depending on where you are headed to, you can skip some items, and mail them to your desired destination. When you arrive at your destination, you can take delivery of what you need, having sent them through the expedited mail service.
Q: Are You on Prescription Drugs?
A: If you use prescription drugs, it is noteworthy that you include these in your backpack. There cannot be a guarantee that you won't need these on the trail. Some persons need breathing aid when it gets stuffy, and this is also very important to note.
Breathing masks, inhalers, and drugs are all essential if you have bouts of short breaths after getting exerted. Exposure to the elements like dust, smoke, and pollen, also trigger breathing difficulties, and you should make room for this if you are pre-disposed to such reactions.
Q: Do I Make My Kit?
A: The first aid kit is necessary as you plan your hike. While some would ask if it is needed to go DIY here, others might think getting a ready pack is preferred. A DIY experience can be worth it if you know the basics you really need.
A first-time hiker should go along with the kits that are available out there and substitute items that might not be needed. With experience on the trail comes a benefit of hindsight, and this can aid your efforts when you decide to go DIY.
How To Make The Best Decision

Believe it or not, the multi-use kits are sometimes just as useful as the kits meant just for hiking- and it's a prime reason they are included on the list. No one kit is going to have every single thing you need, so often buyers will purchase different ones or opt to get a kit that allows customization. If you tend to not know what you want (or need) these customizable kits can be a good alternative to purchasing multiple different kits. Either way, you'll be in good hands.
Sources